In this section...
We have got 10 Class Stars!
Our class got 10 class stars over the last few weeks which means we get to have a treat. We chose to have doughnuts and a play on the climbing frames outside. We also got to play on the ipads afterwards!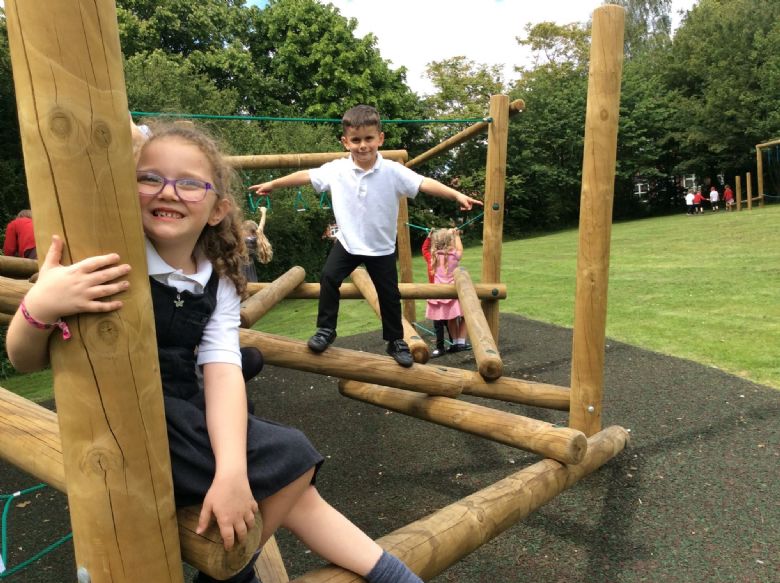 Dance
We have been having dance lessons with Miss Moore. She has been teaching us how to dance to 'I Just Can't Wait to be King' from The Lion King. We are really enjoying dancing along to one our favourite songs!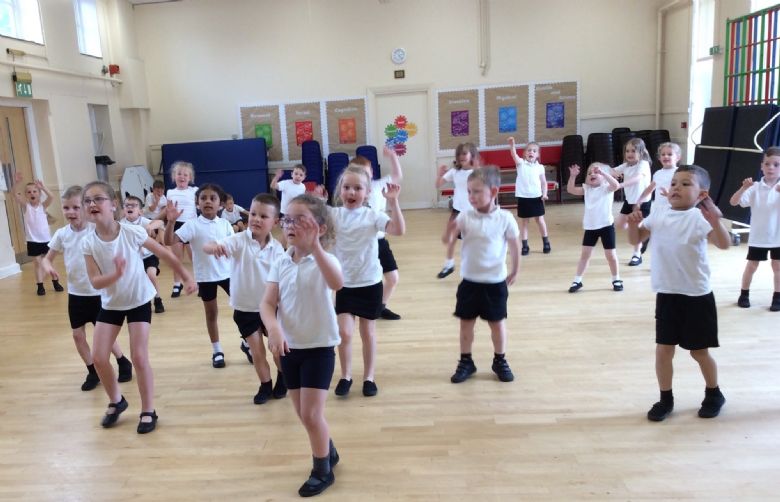 Fathers' Day
For Fathers' Day we painted our dads or a male member of our family and made them a card. We invited them in for the afternoon for a snack and a play. We had lots of fun!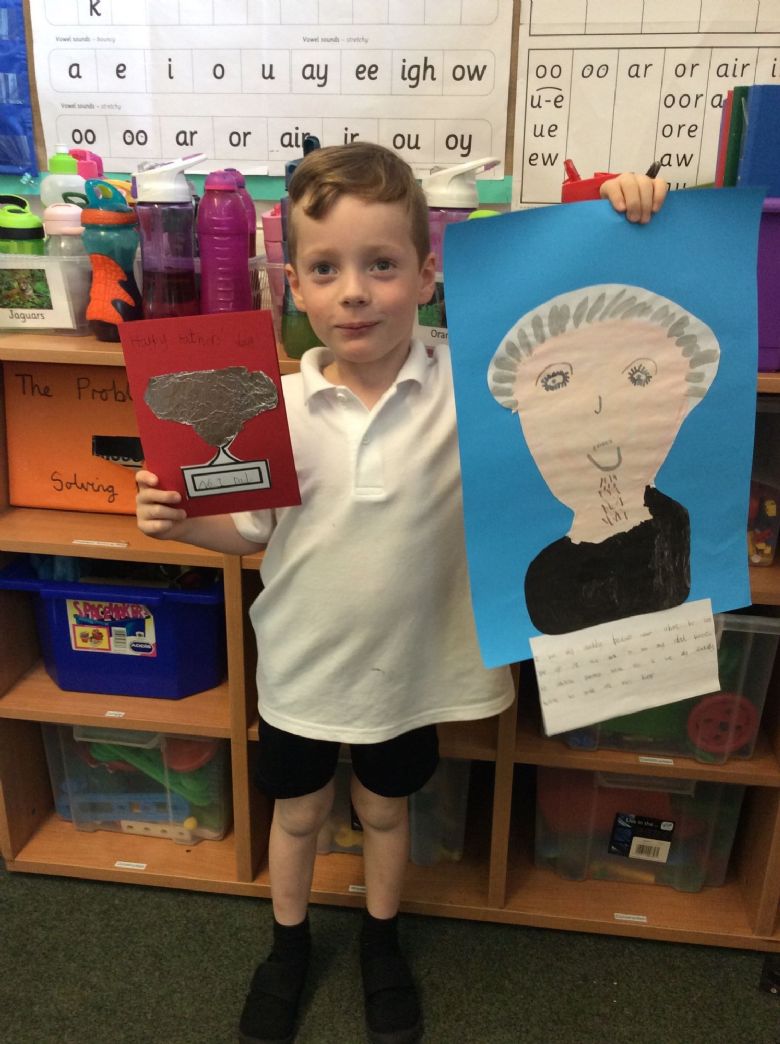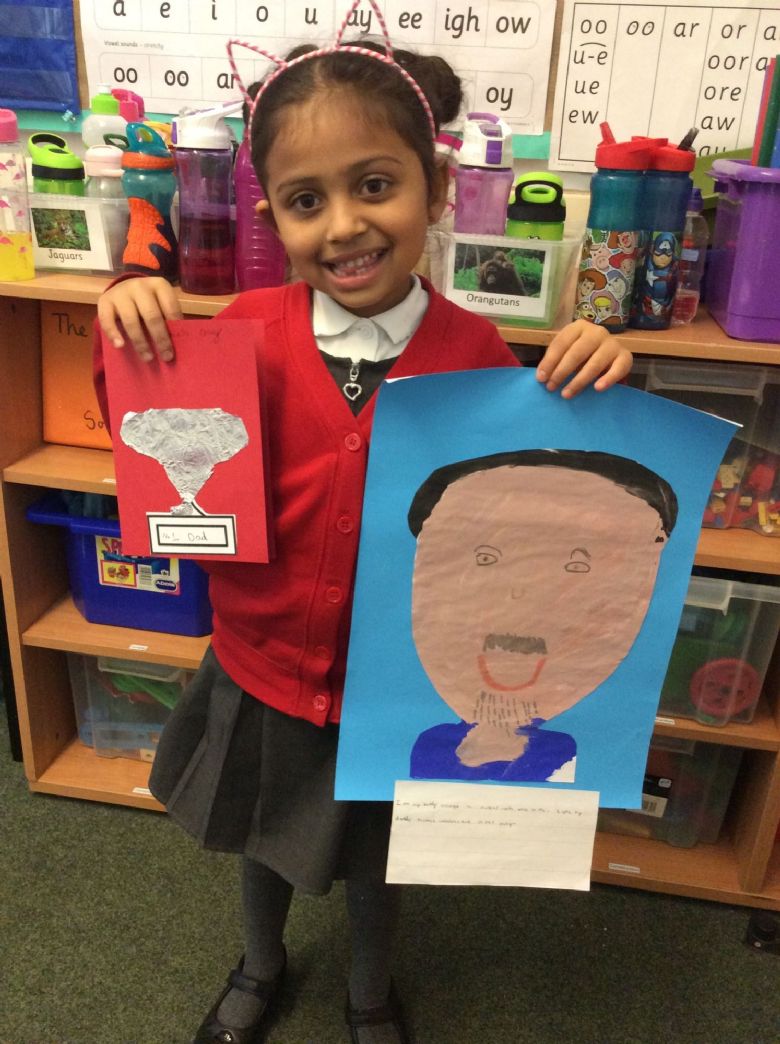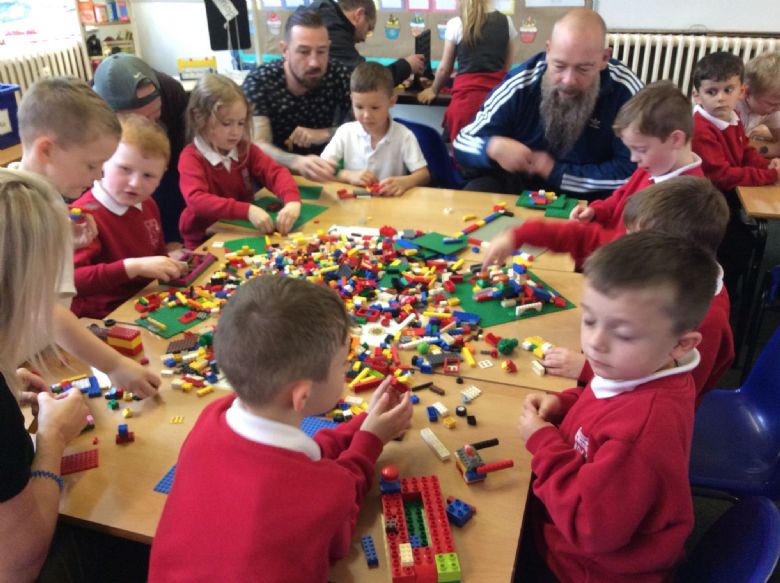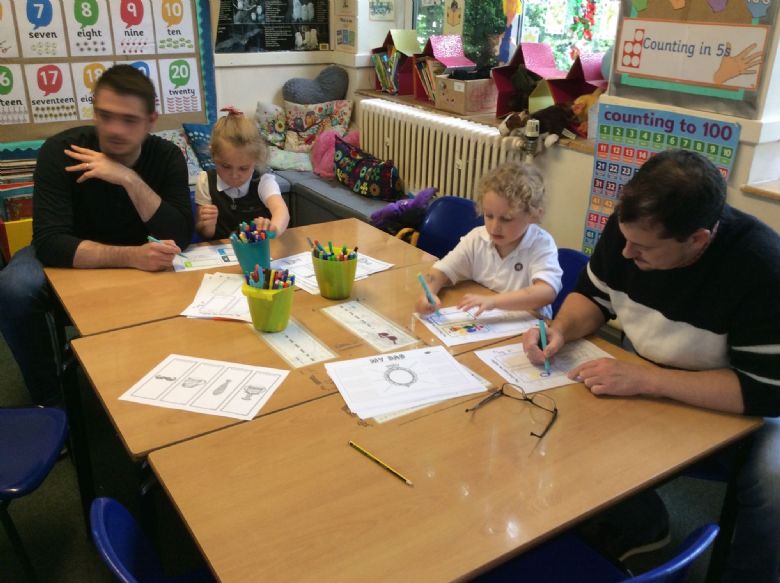 End of Spring Term Treat
Our teacher said we deserved a treat because we have been on our best behaviour all term so we went out for an extra-long play on the equipment on the field. We had a wonderful time!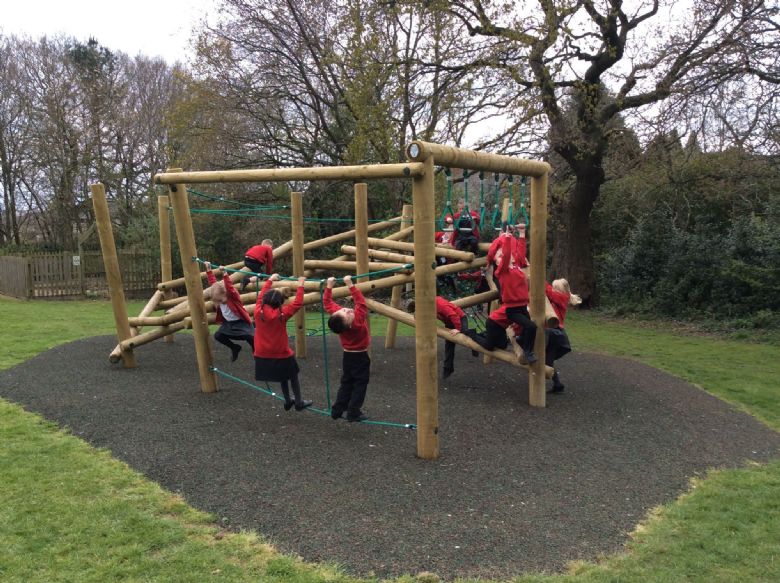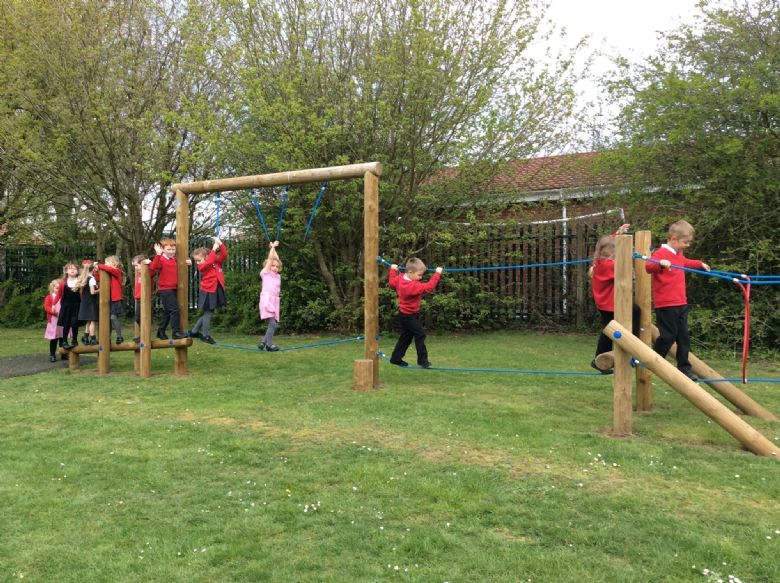 Easter Fun!
This week we have had lots of fun rolling eggs down a ramp to see whose got the furthest, creating egg personalities and making bonnets for our parade. Our teacher was so proud of her class and their creativity!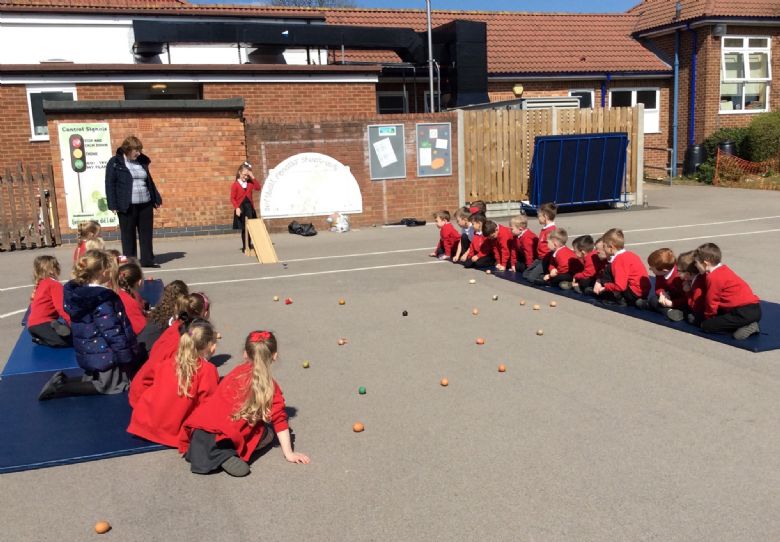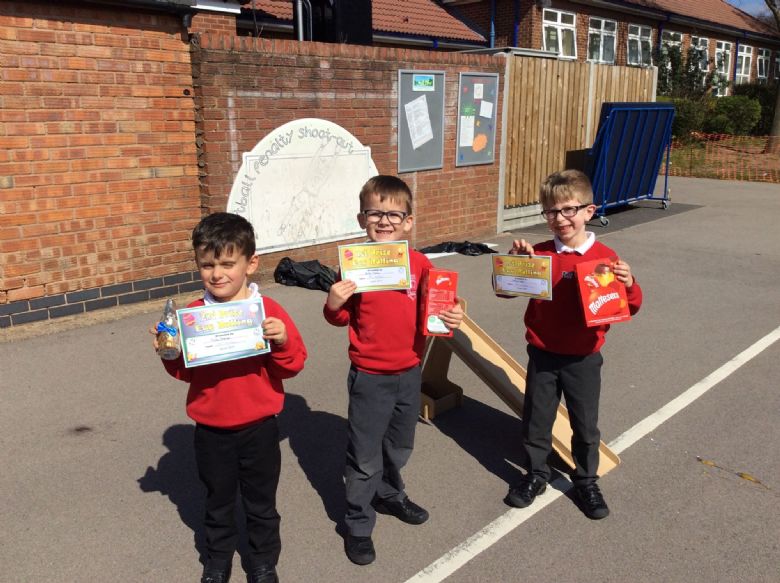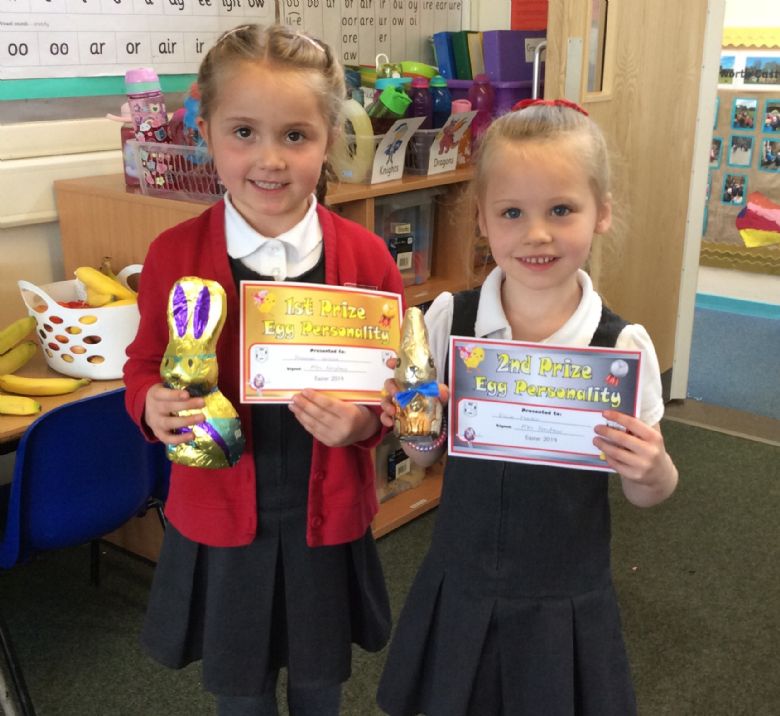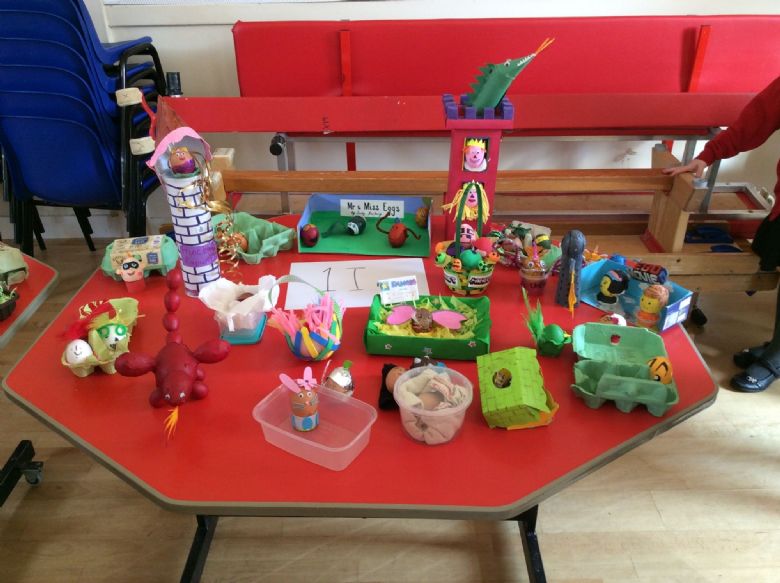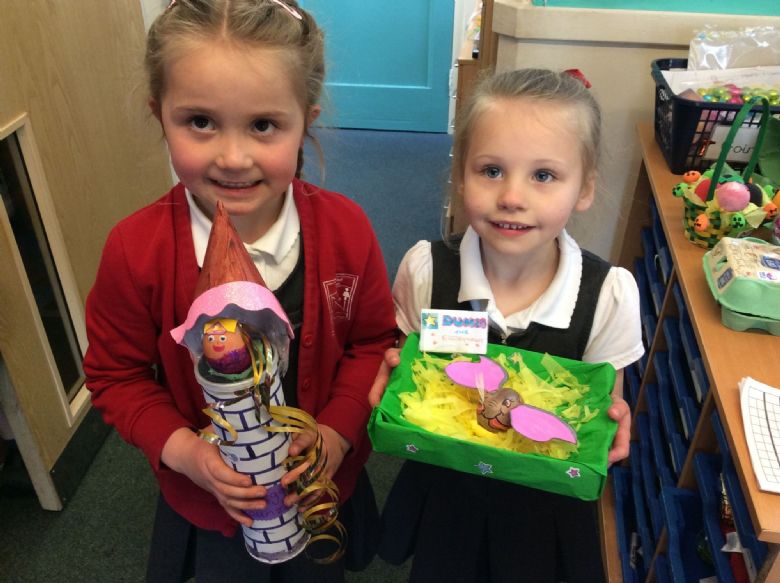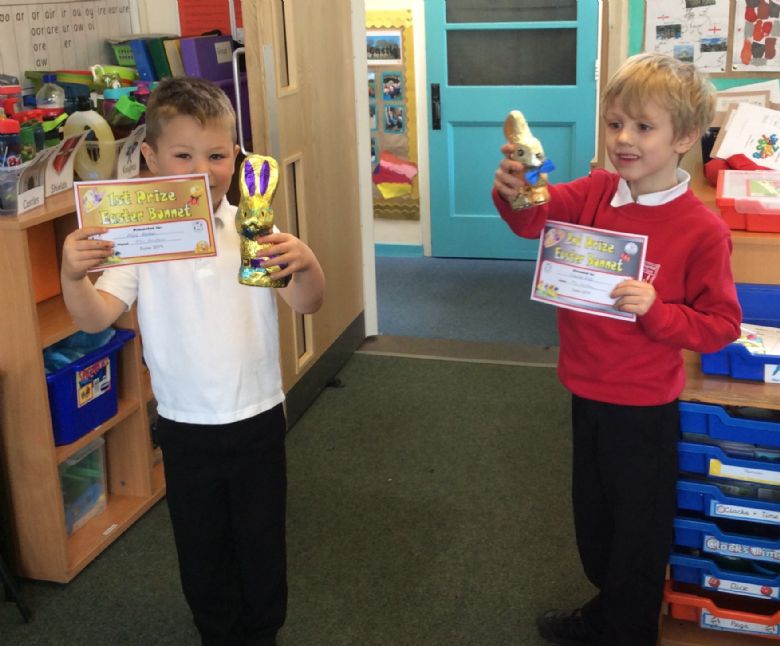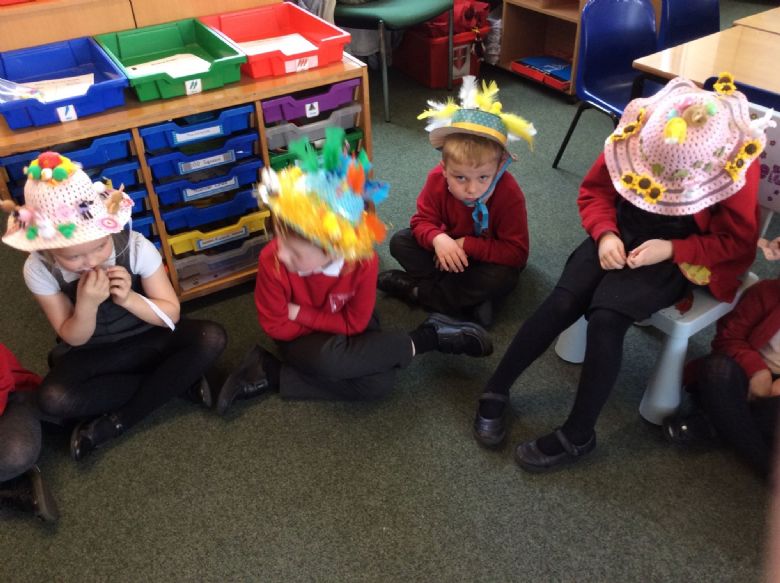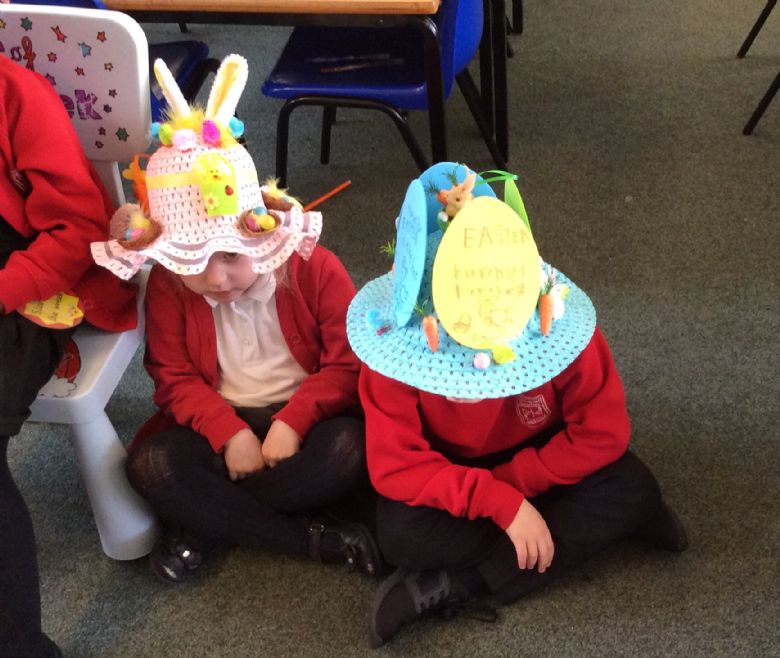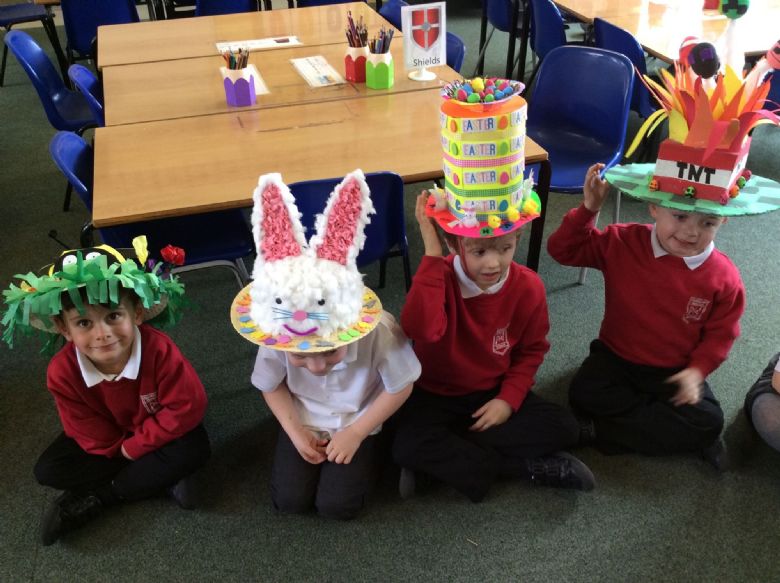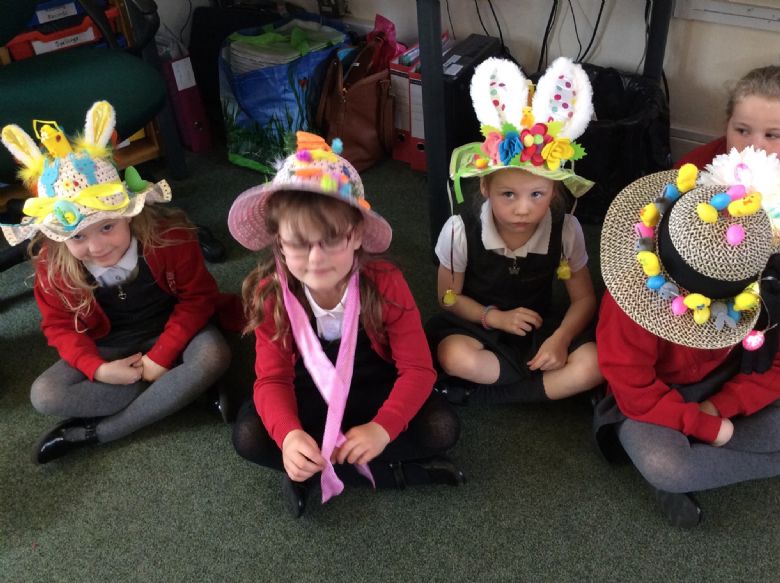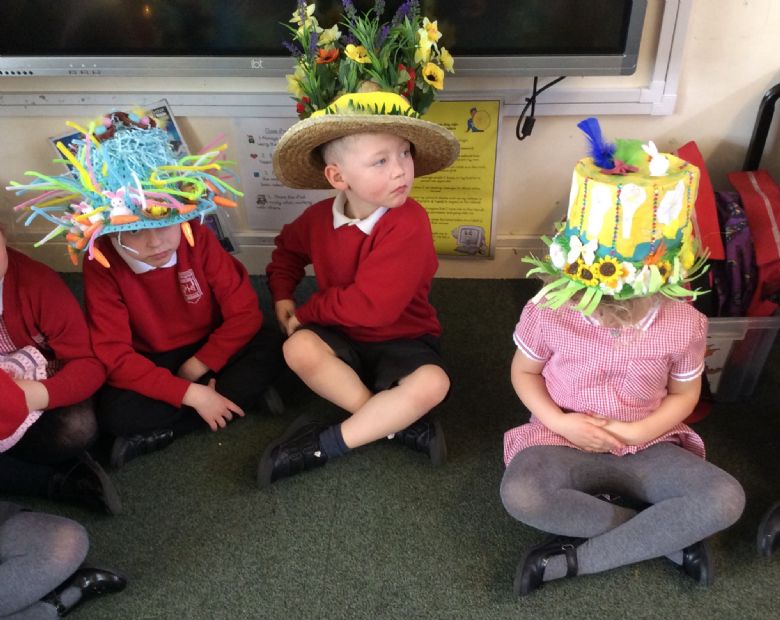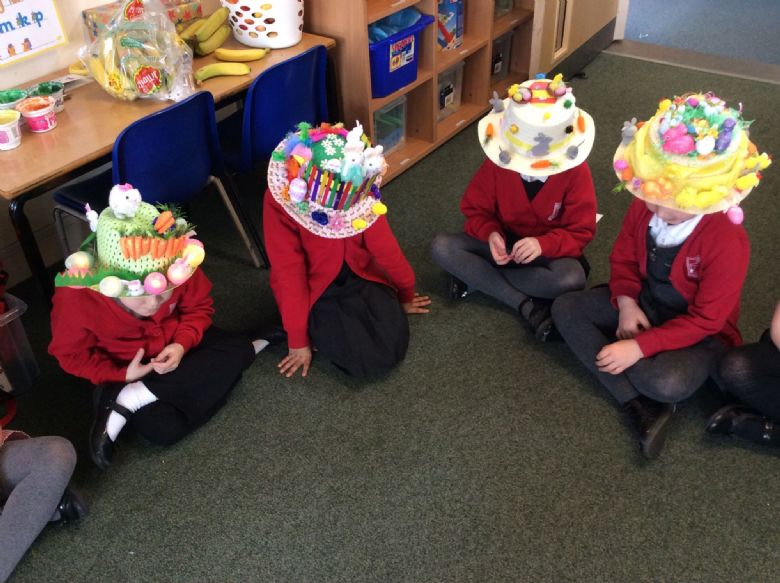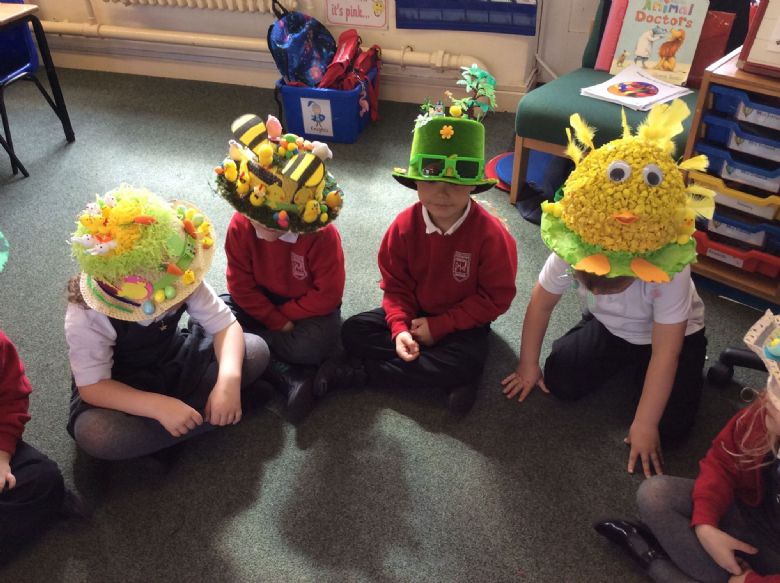 Comic Relief's Red Nose Day
Today we learnt why Comic Relief hold a biennial charity day to raise money to support vulnerable people and communities in the UK and internationally. We designed our own posters encouraging people to give money to the charity. We came to school in our red clothes or red nose charity t-shirts bringing in our own donation.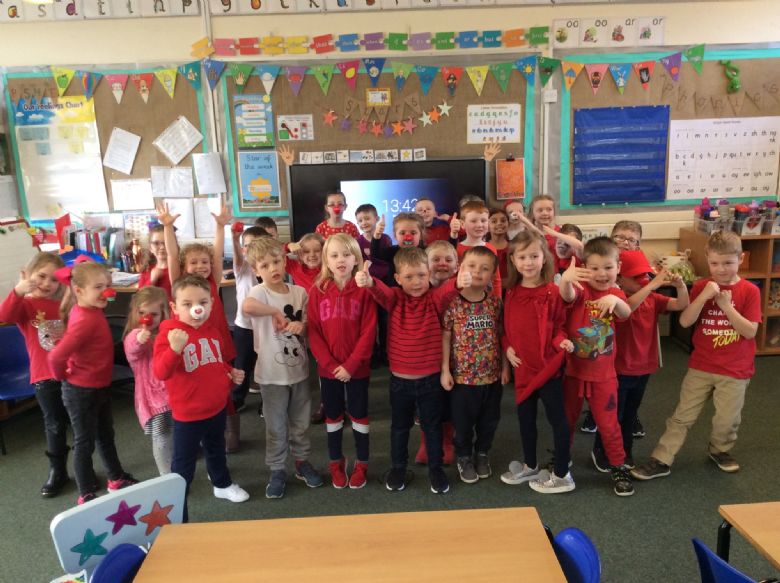 World Book Day
We celebrated World Book Day by dressing up as our best-loved characters and bringing our favourite book to school. At the end of the day our parents came in to read to us. This was a very enjoyable experience for all.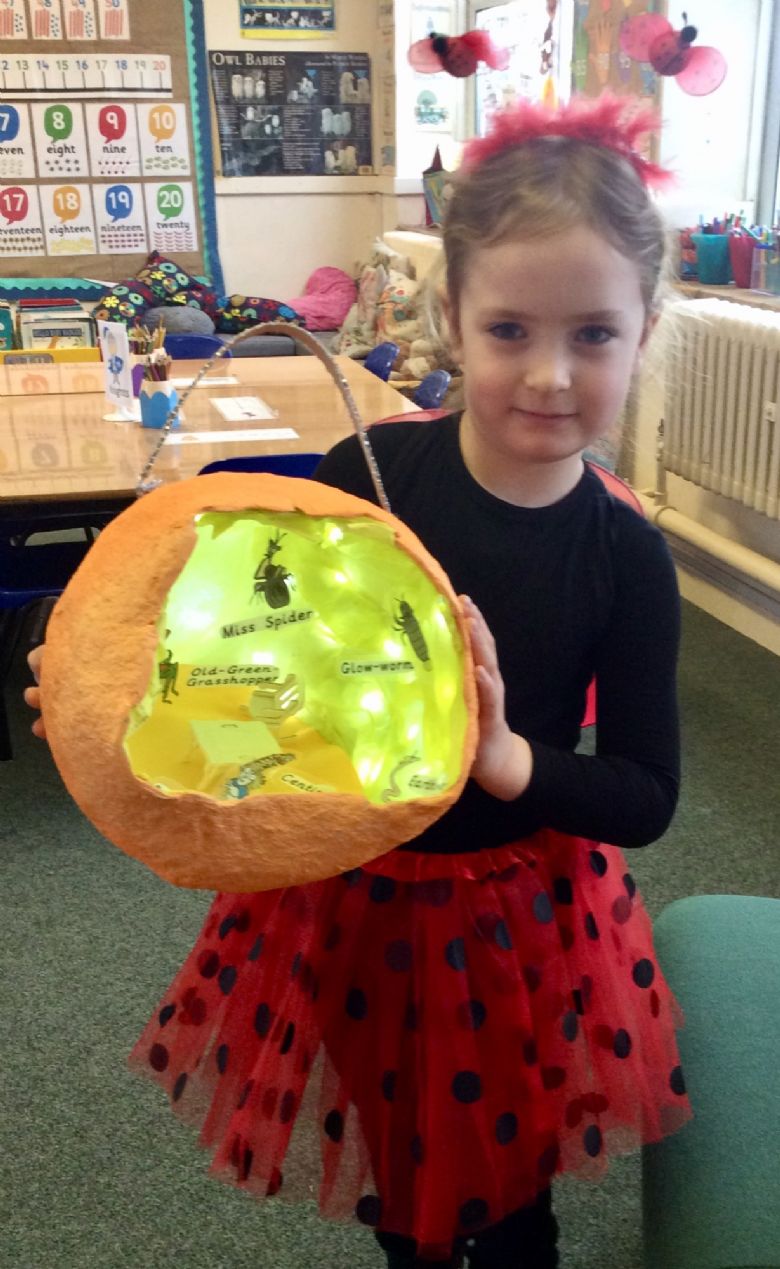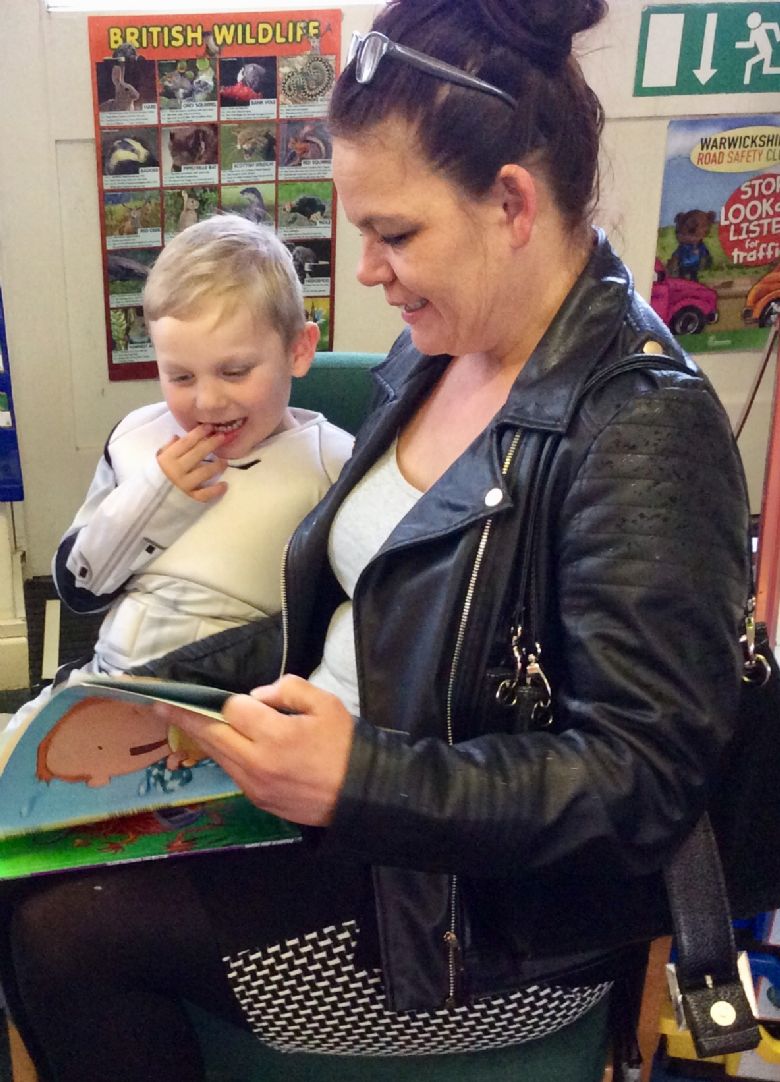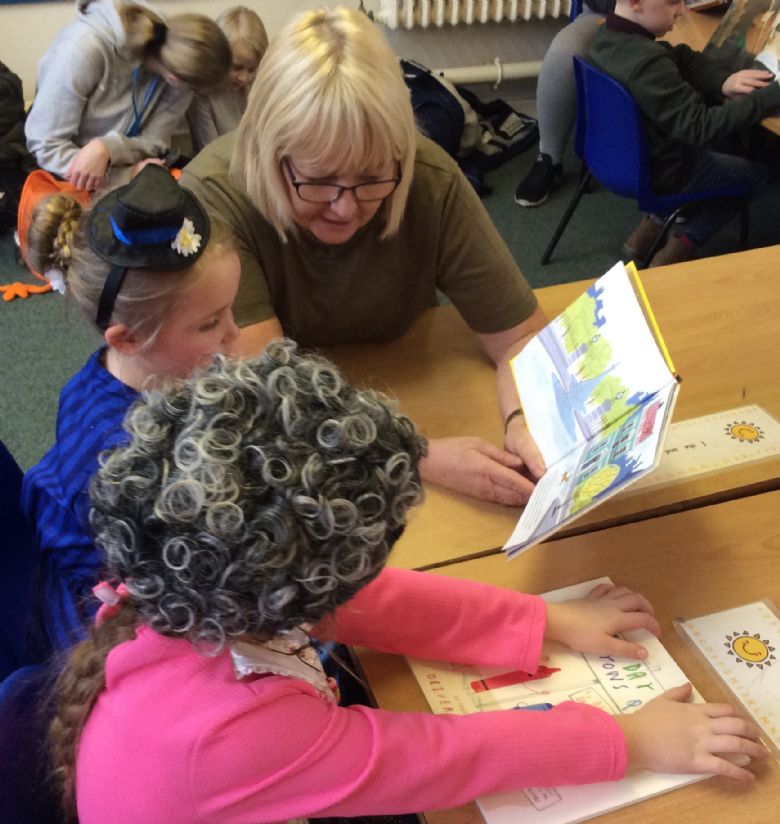 Visit to Kenilworth Castle
We visited Kenilworth Castle to help our understanding of what castles look like and learn about who used to work in a castle. The children were telling the guides all about Arrow Slits and Battlements! We had a wonderful time learning despite the weather.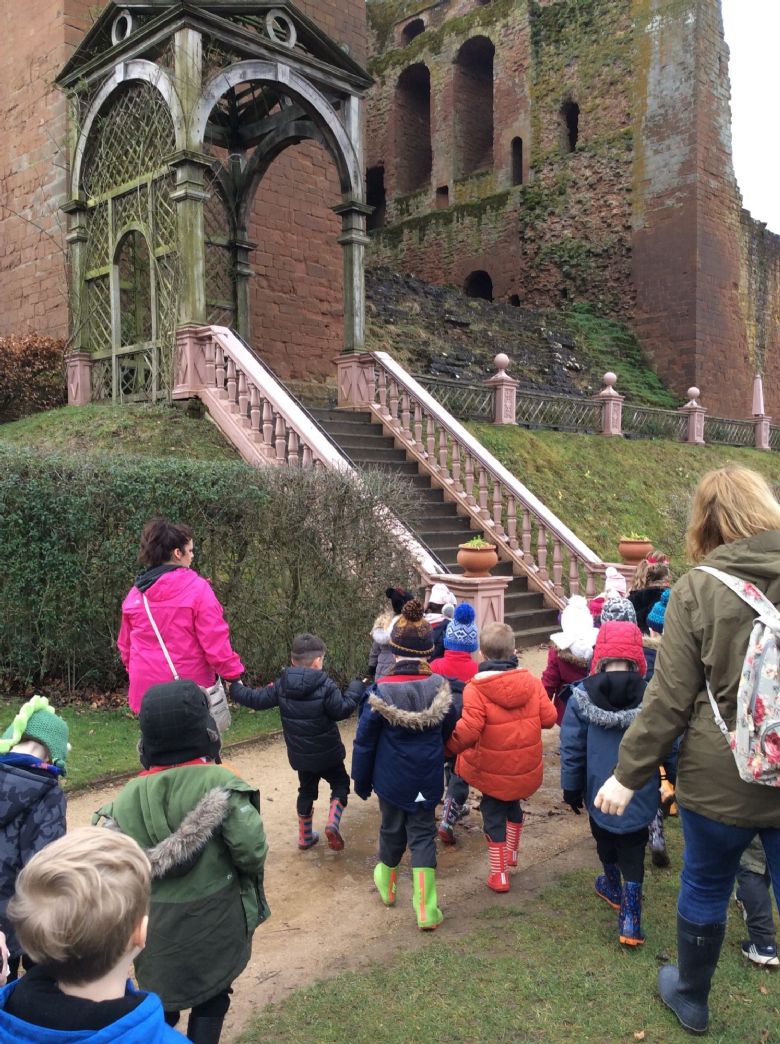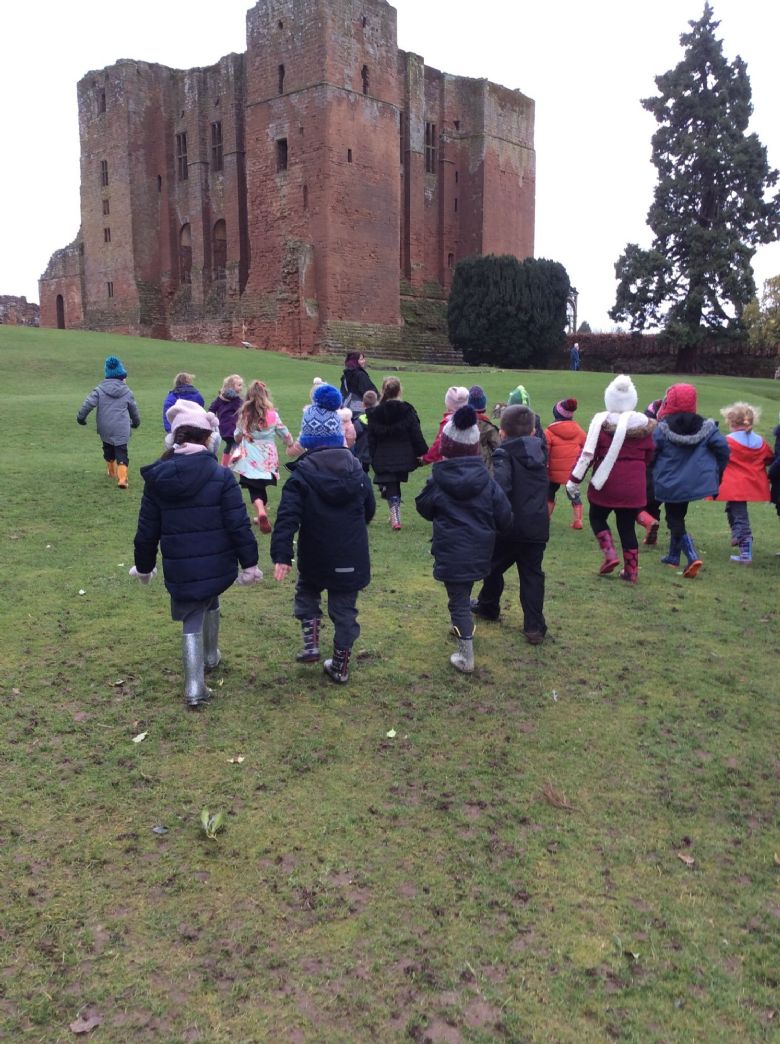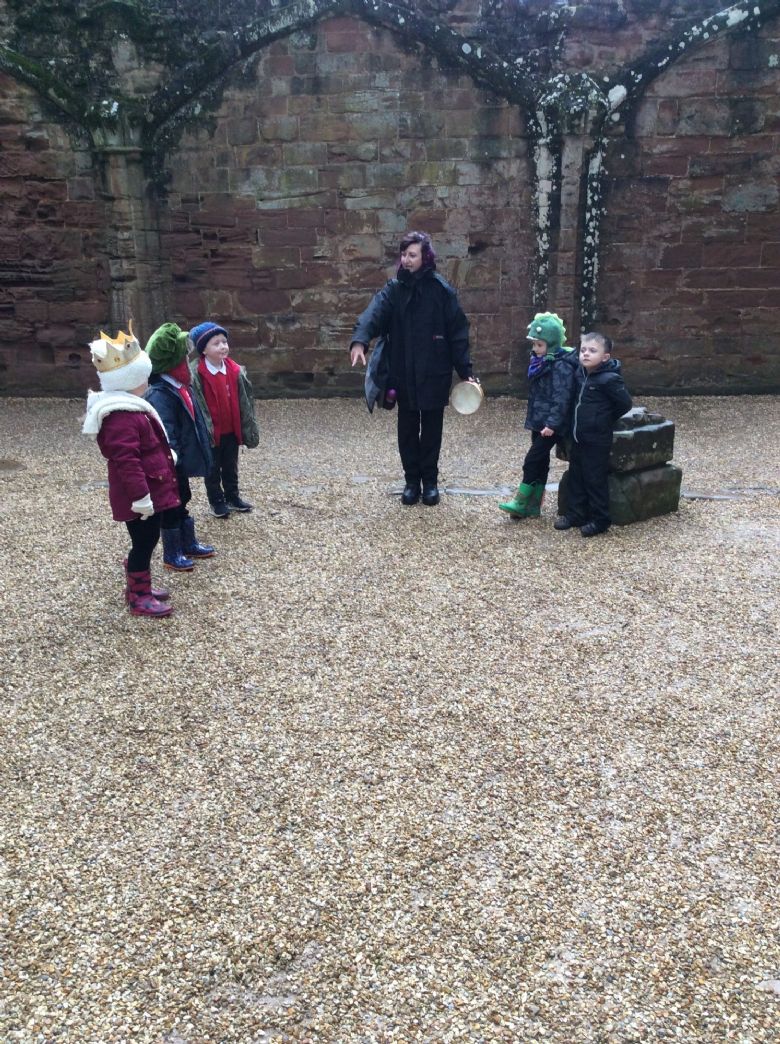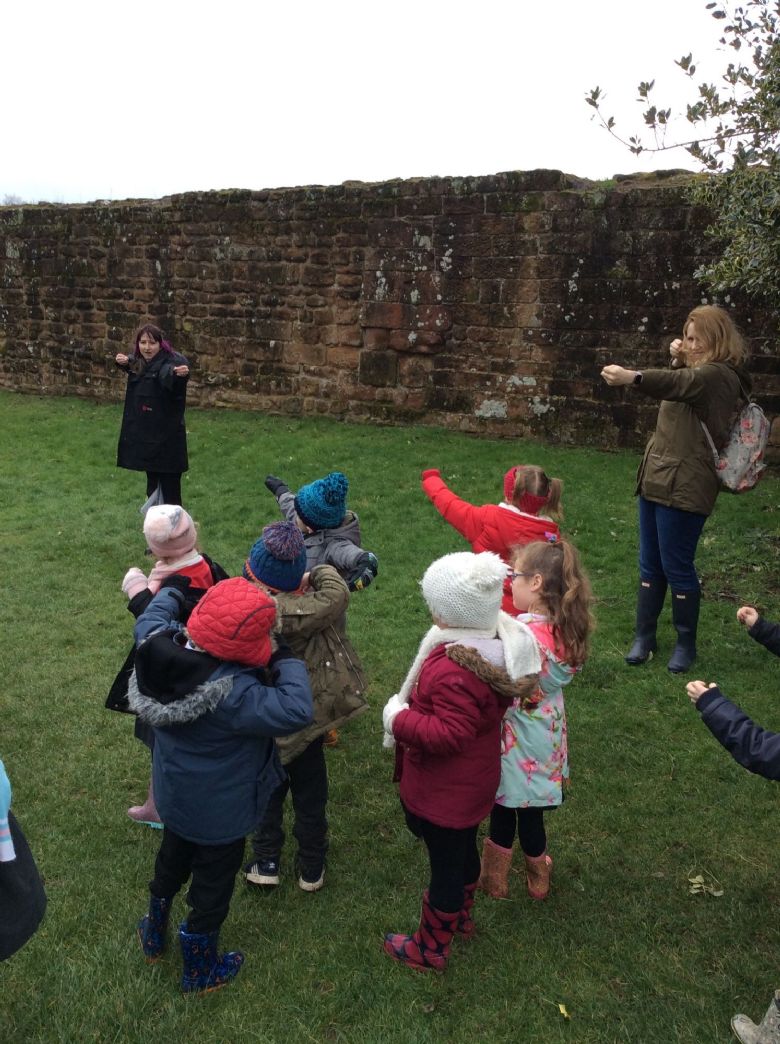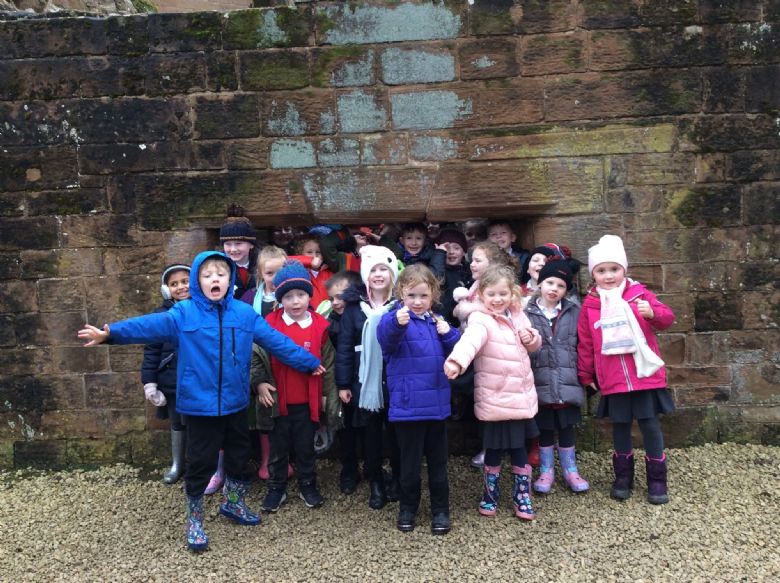 Knights, Castles and Dragons Topic
To start our new topic off we learnt about the Anglo-Saxons and the Battle of Hastings. We designed and created our own shields and re-enacted the battle. Unfortunately some of us lost the battle!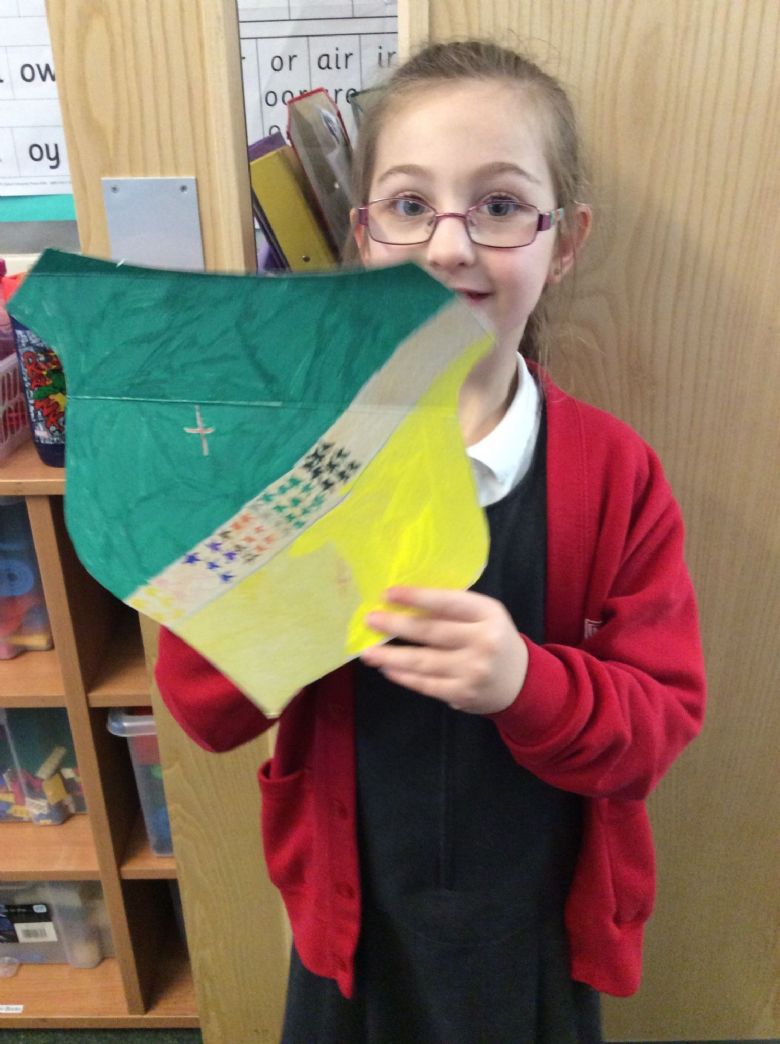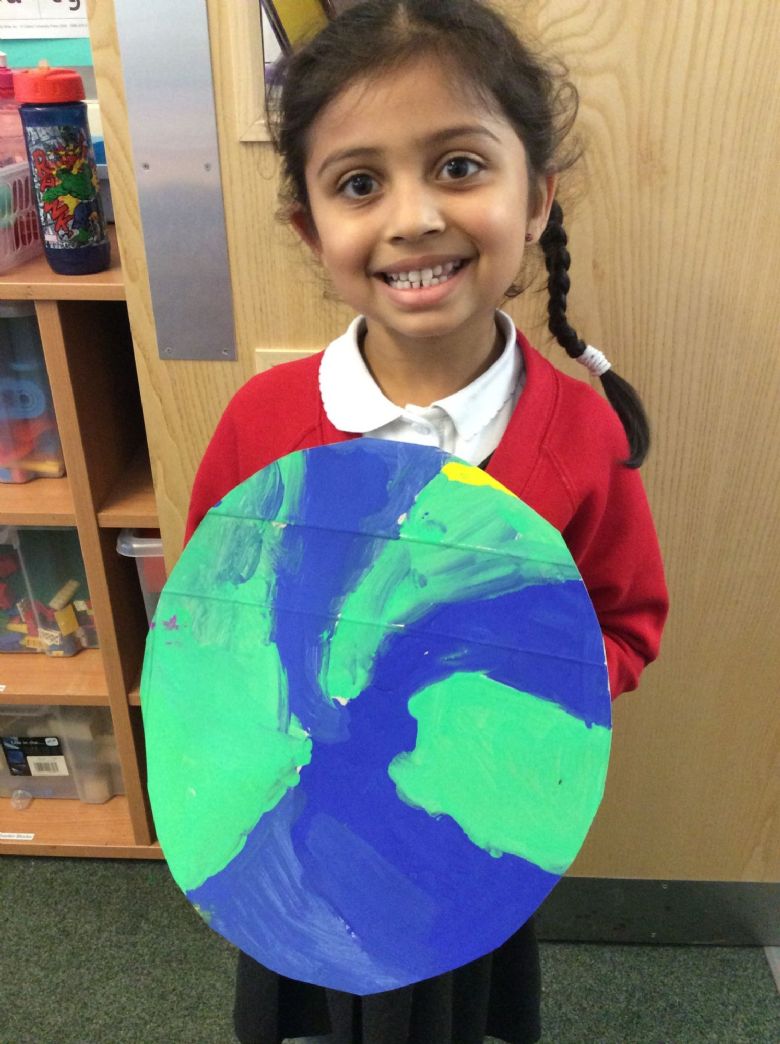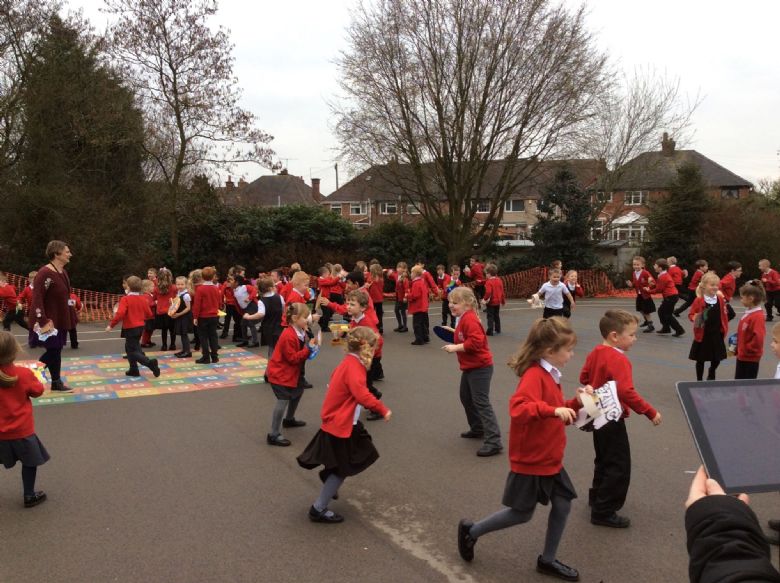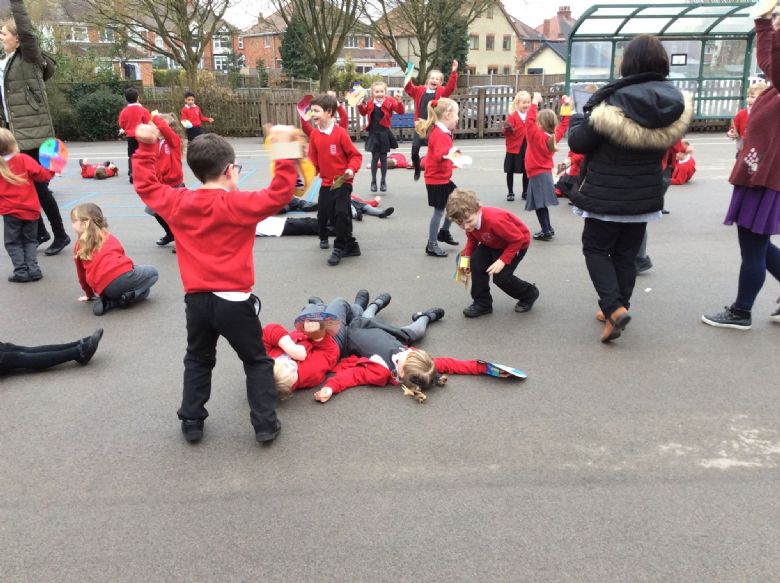 Toy Topic
Our topic this half-term is all about toys. We have been learning about toys which our parents and grandparents used to play with and how they are different to ours. We have painted our own toys and created a cup and ball, a peg doll and circus riders. Here are an example of what we have made.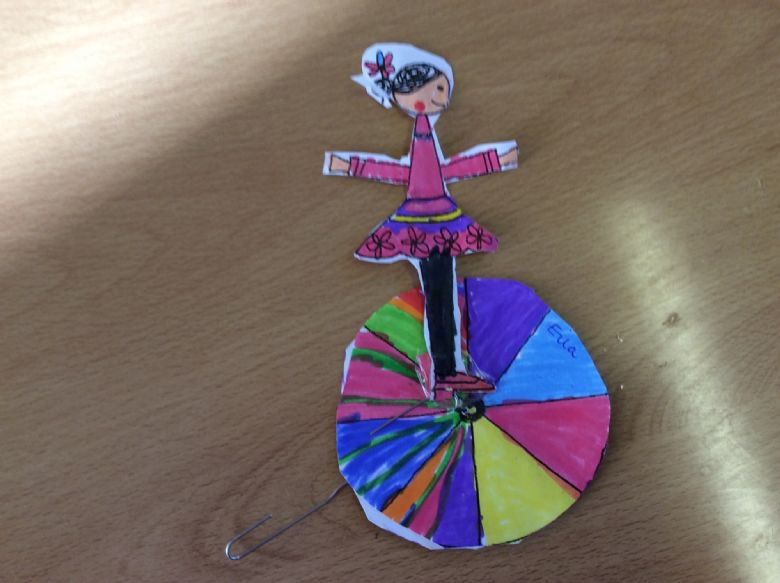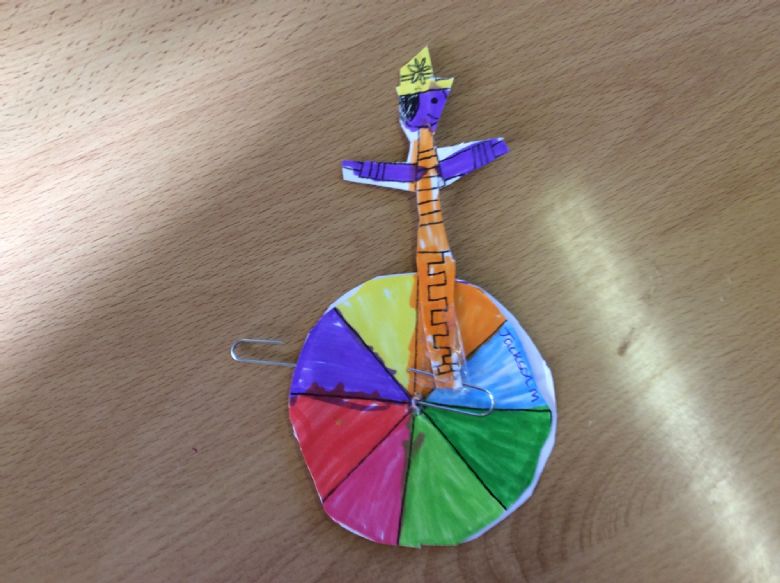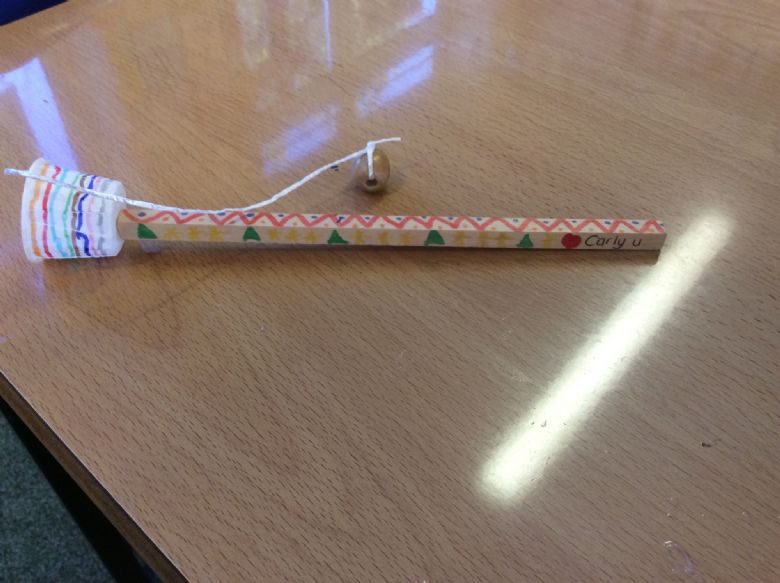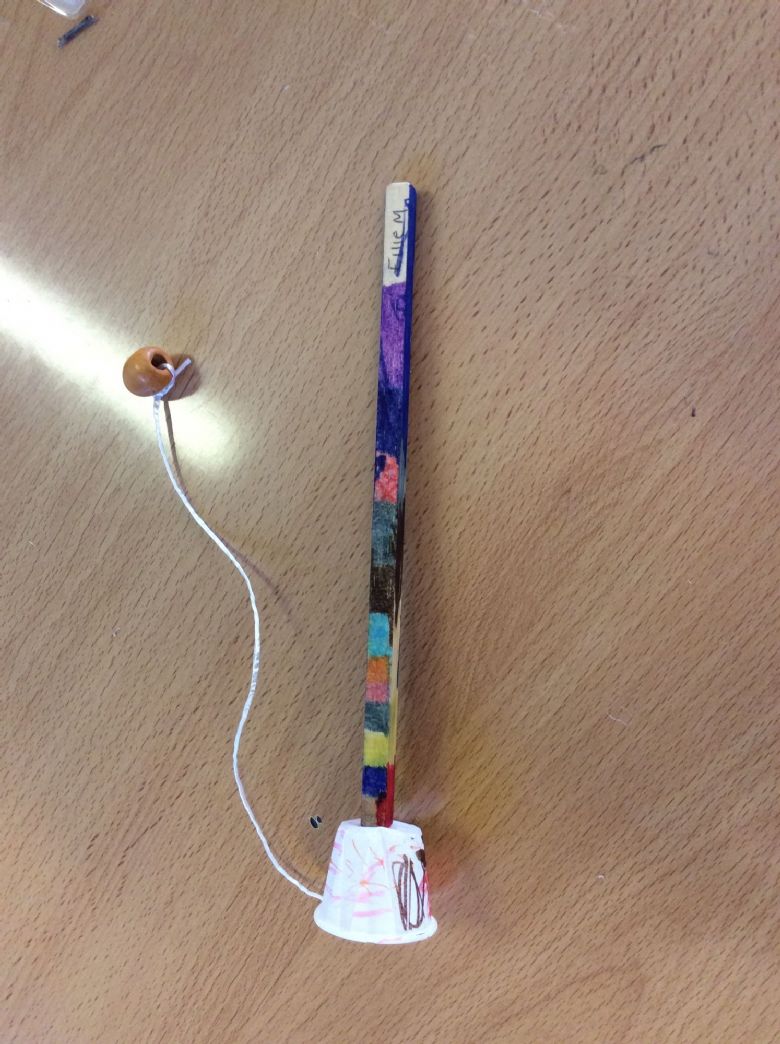 A Visit from the Toy Specialist!
In January we had a visit from Tommy Top Hat who brought in lots of old toys for us to play with. He taught us about old fashioned toys and what materials they were made of. We learnt that years ago most toys were made from wood and metal because plastic wasn't used then. We had a fantastic day exploring and learnt lots about toys from the past and how they are different to toys we play with now.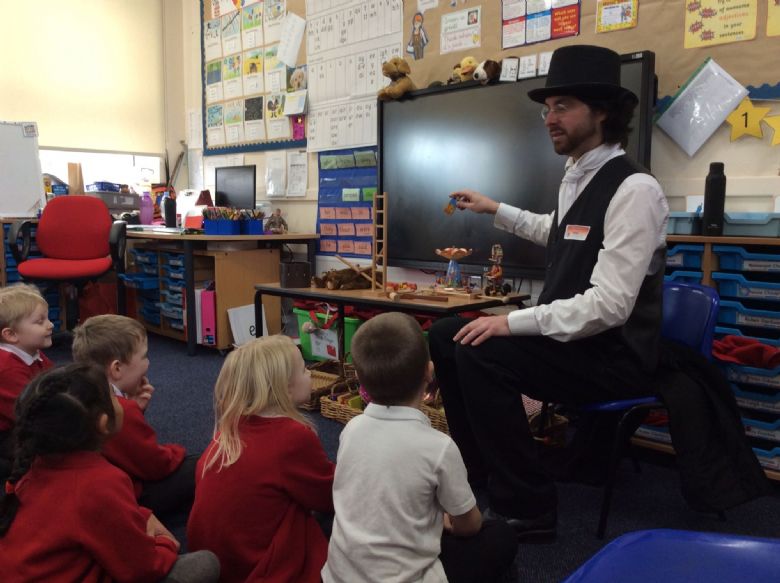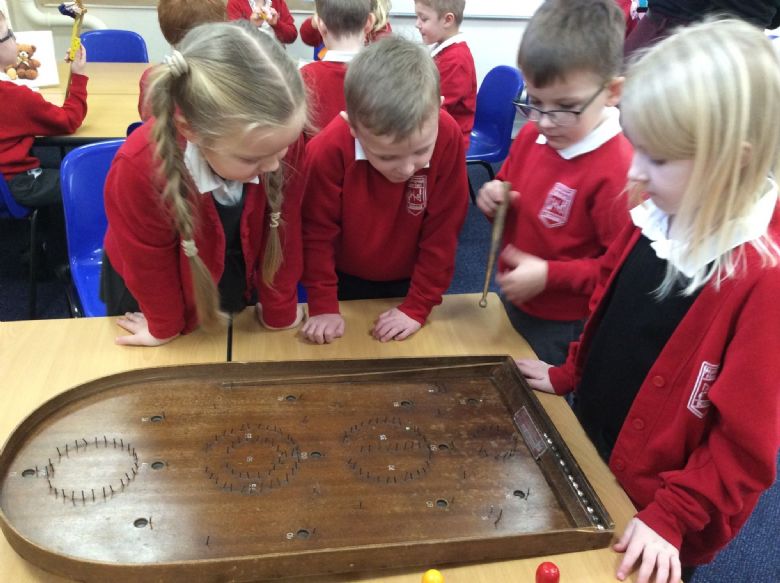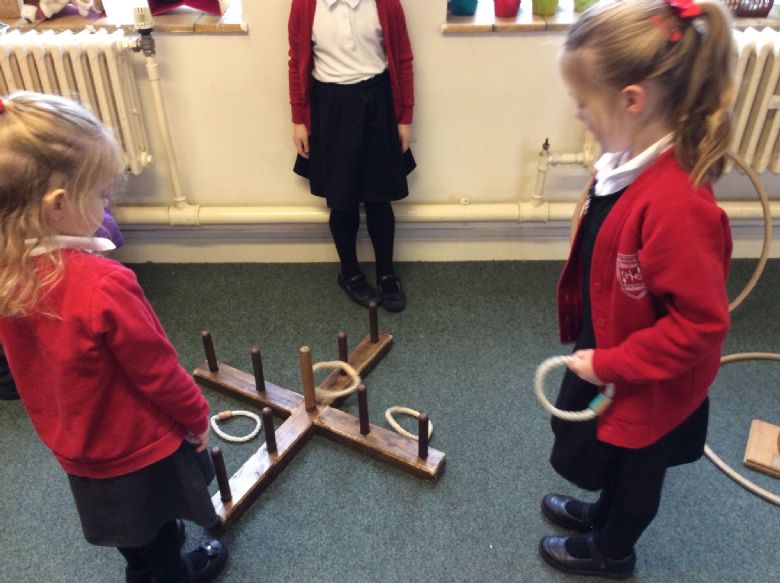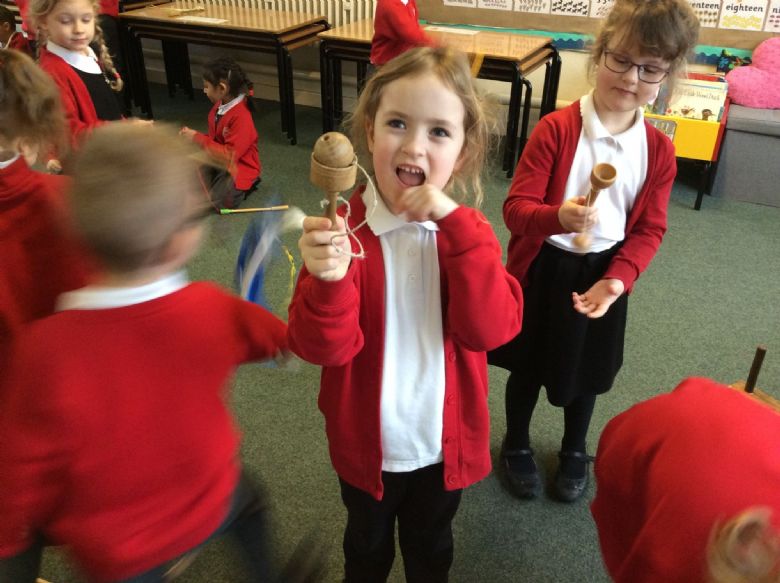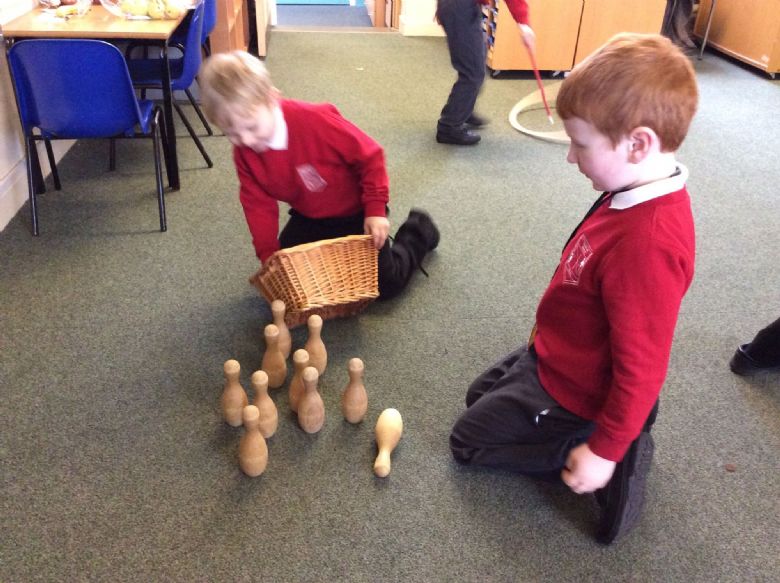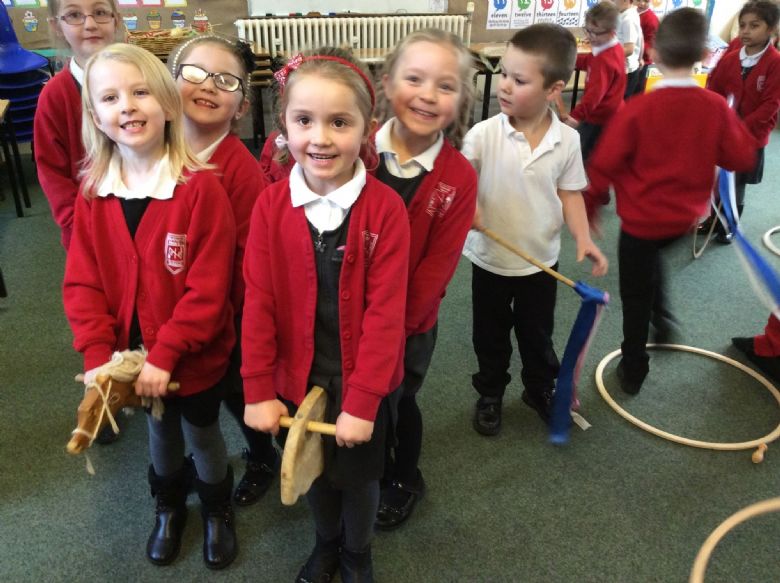 Physical Education
In P.E. we have been learning how to play Dodge Ball. The objective of Dodge Dall is to eliminate all players of the opposing team by throwing one of four balls and hitting the opposing player . We really enjoy playing this game together!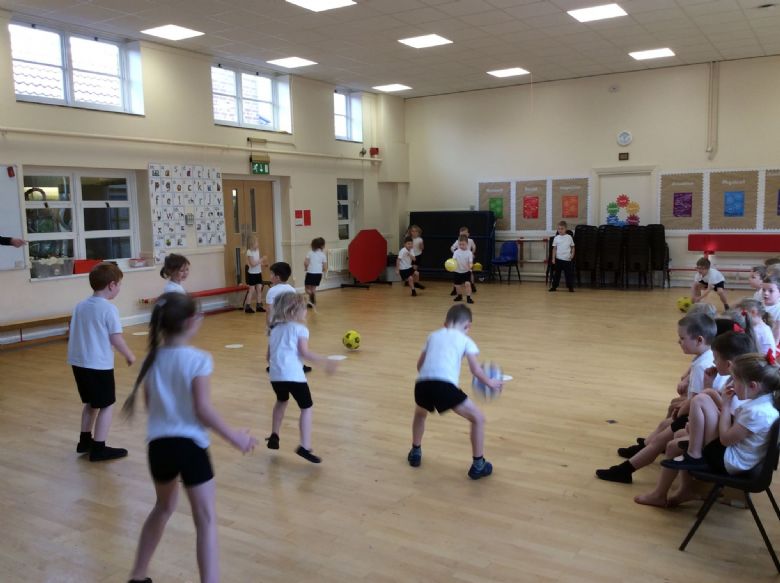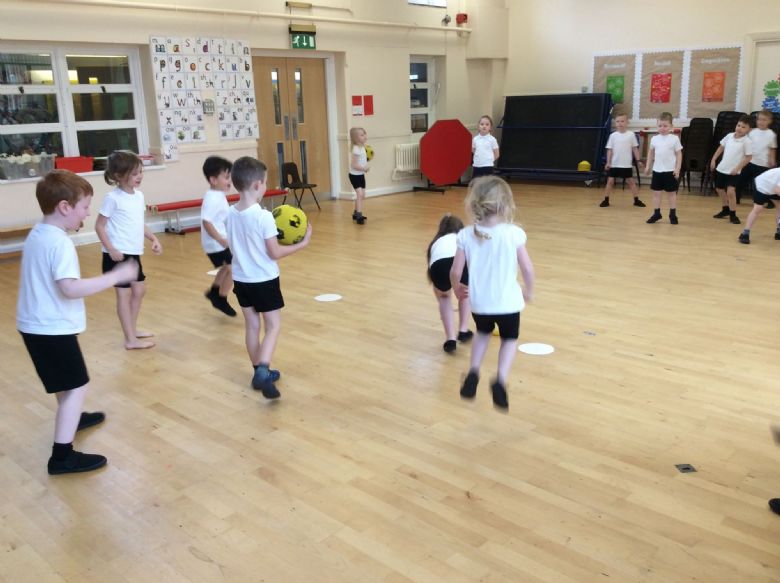 Christmas Party
At the end of the Autumn term we celebrated Christmas by having a party and bringing our favourite toys to school. We have had a fantastic first term in Year 1 and Mrs Ireland is very proud of how hard we have all worked. Merry Christmas and a very happy New Year from 1Ir!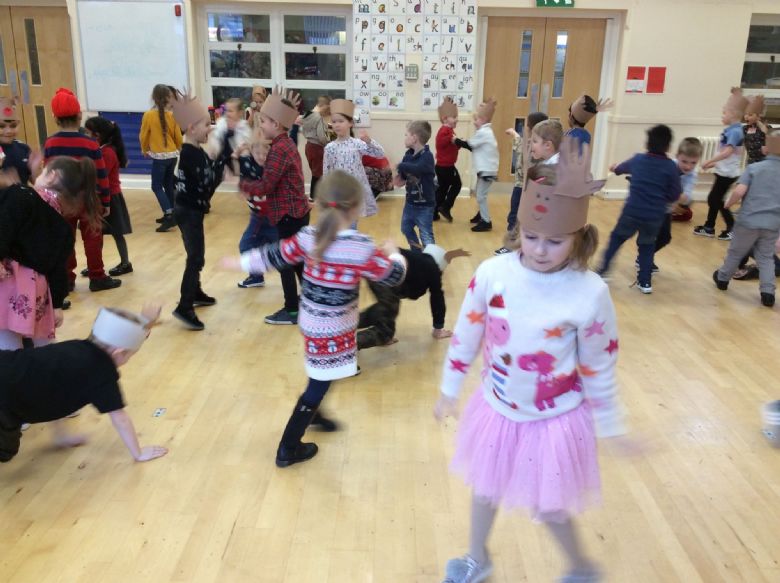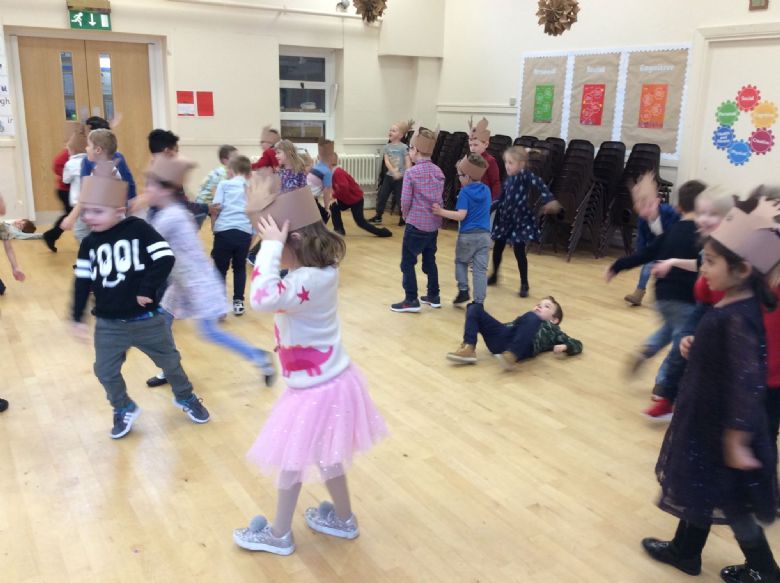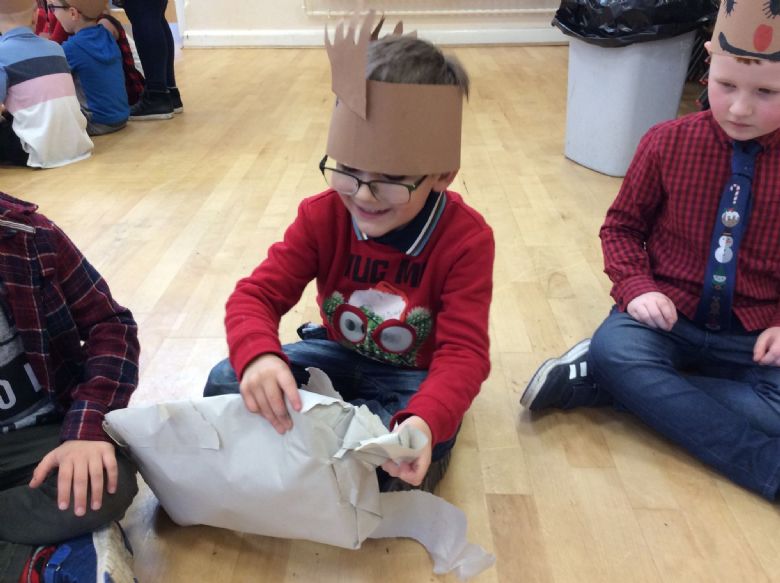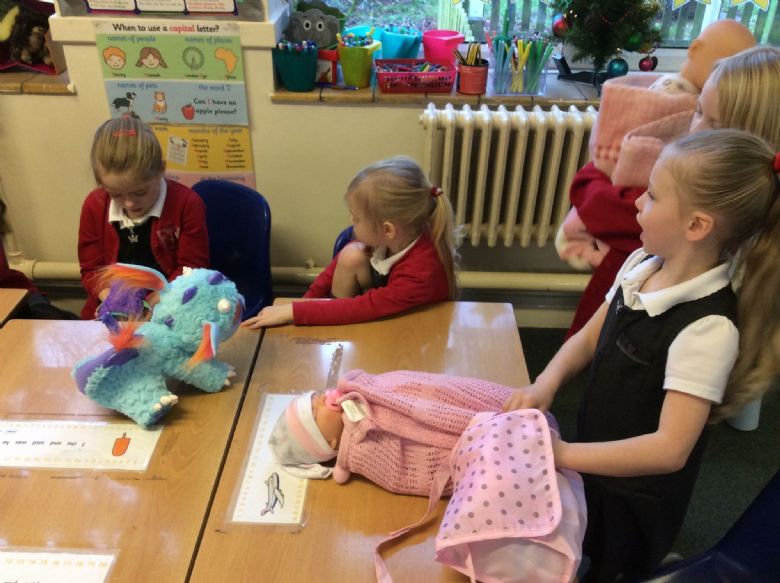 Religious Education
In the last week of term we walked to the local church in Hartshill. We sang some Christmas songs we had been practising and listened to Year 2 tell the Nativity story. The vicar talked to us about Jesus and Christmas time, we learnt a lot about how Christians celebrate at this time of year.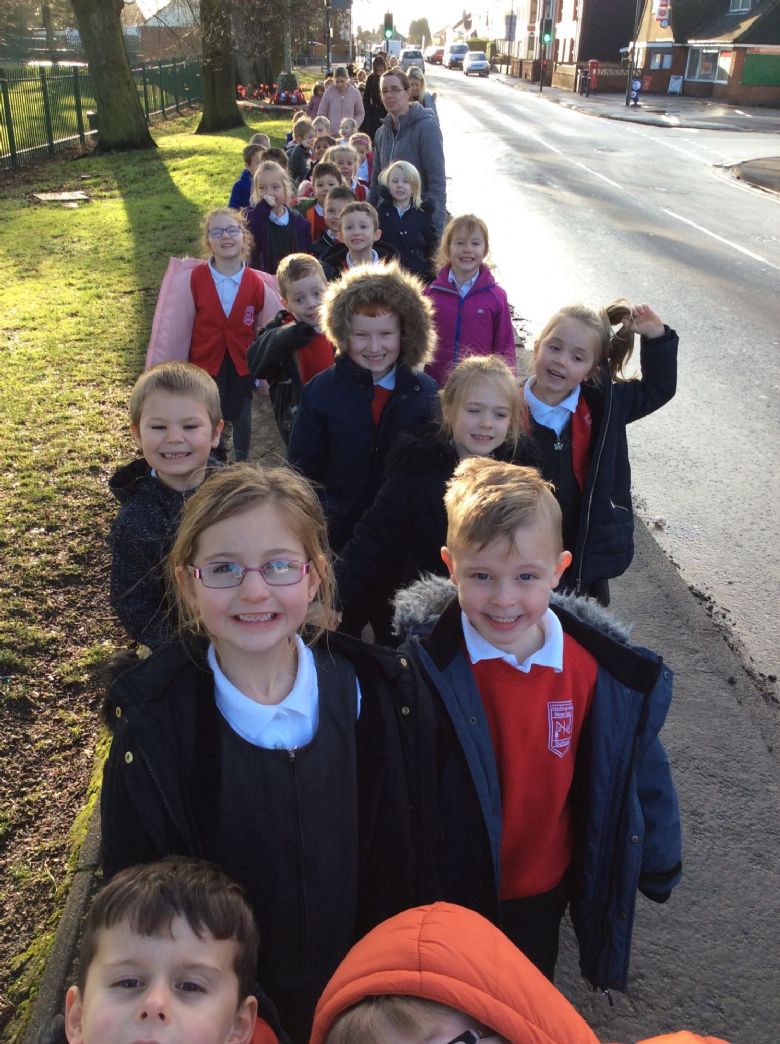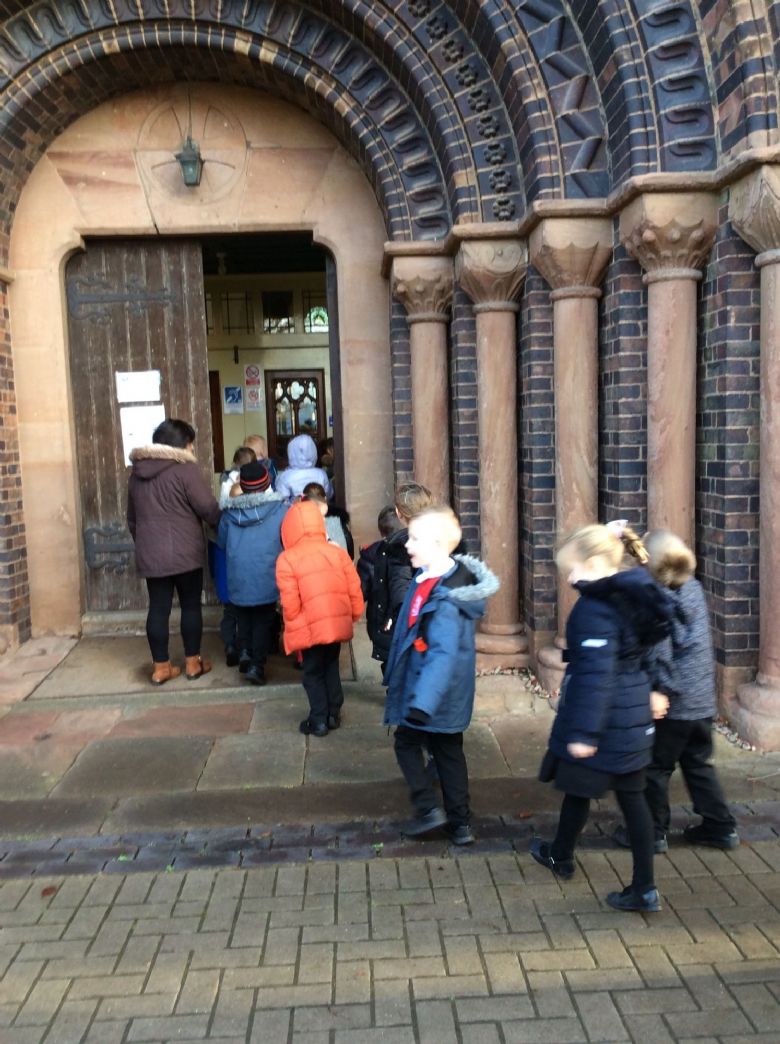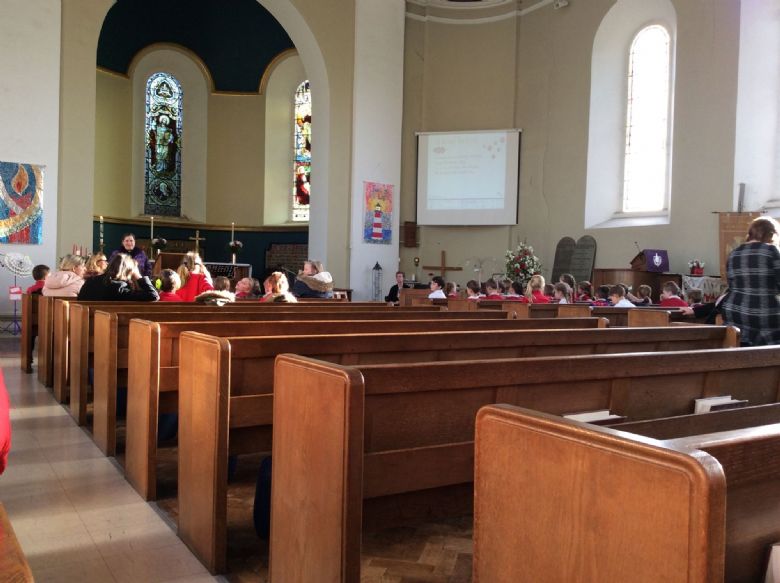 Computing
In our computing lessons we have been learning how to operate a programmable robot. We used Bee-Bots which we dressed up in Father Christmas outfits and controlled to navigate a grid. We had to read then program instructions to get the Bee-Bot to the Christmas presents. The Bee-Bots are great for us to learn how to use directional language because we had to program it to move forwards, left, right and backwards. It also helped us with our estimation and problem-solving skills.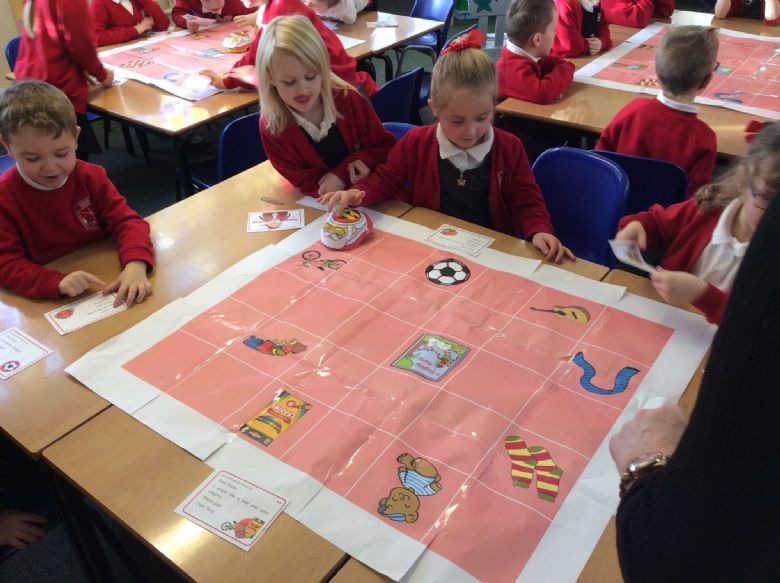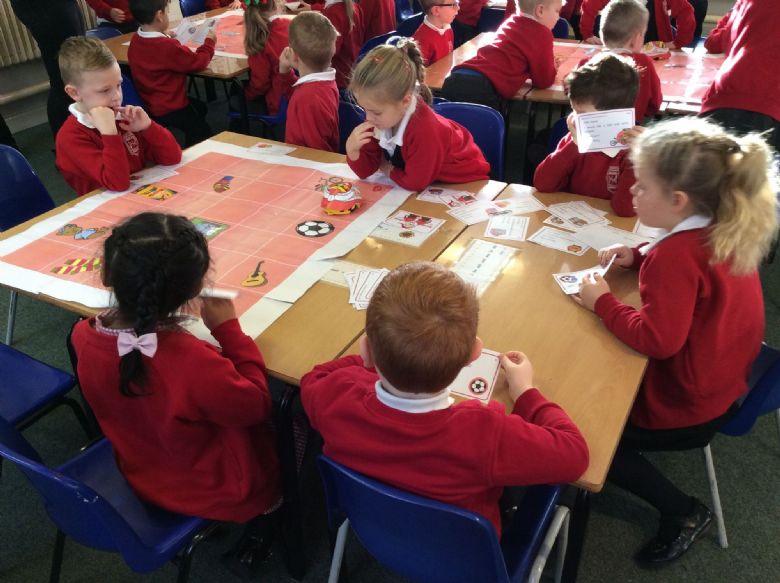 Christmas Pantomime Trip
Every year the whole school go and watch a pantomime performance. This year we went to the Bedworth Civic Hall to watch Aladdin. We were so lucky because the actors came into school the week before our visit to introduce their characters so we could understand the performance better. We had lots of fun joining in with the singing and booing at the baddie!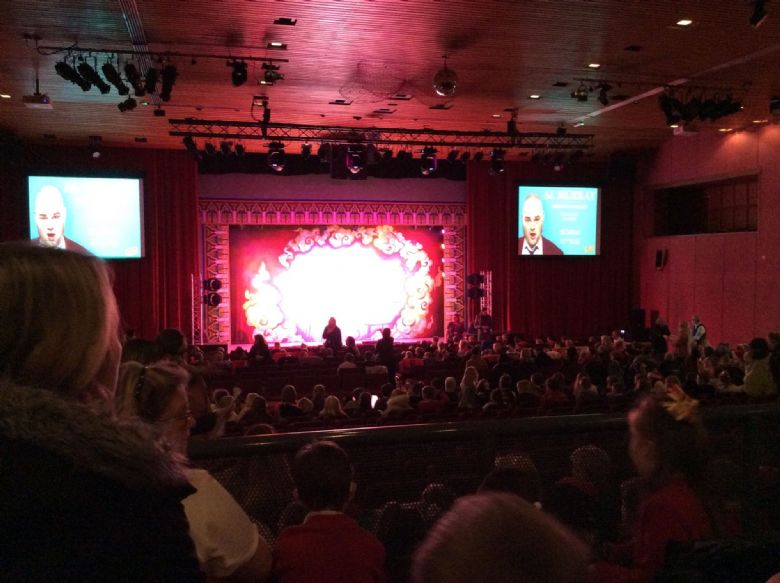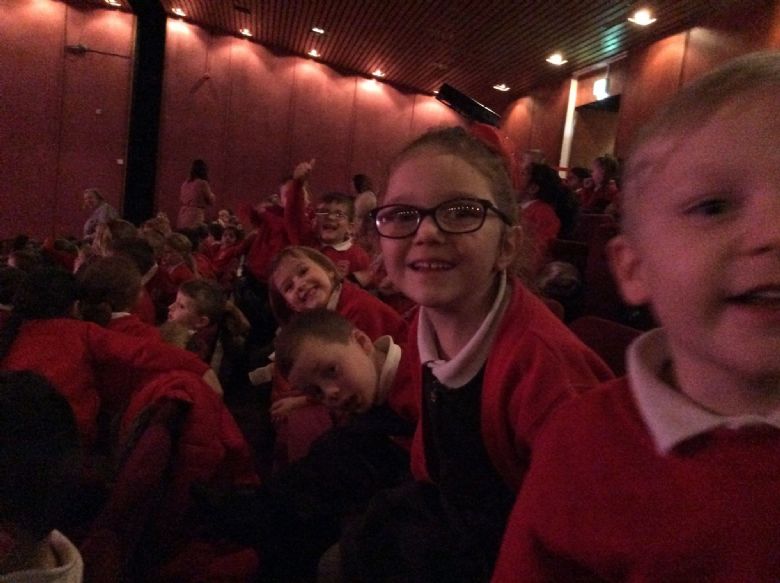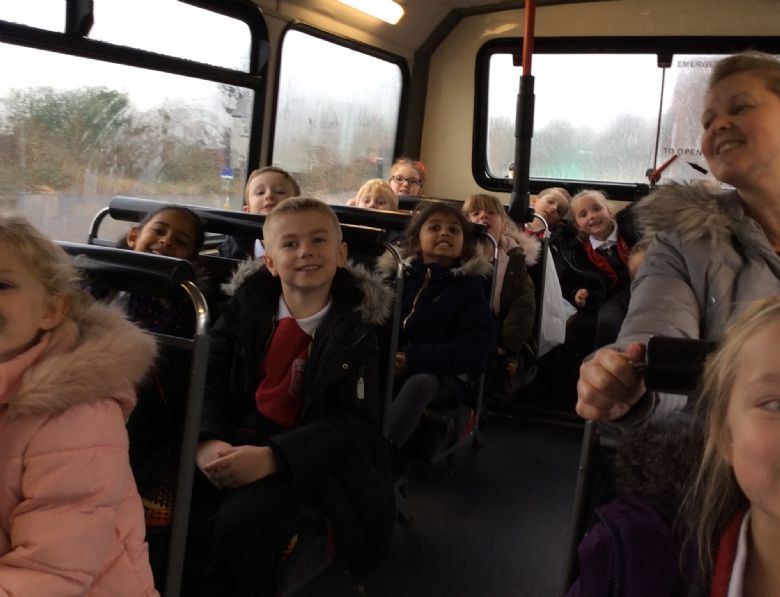 Christmas Concert
In December we performed our annual Christmas concert, this one was called 'Humph the Camel'. We had a fantastic time practising the songs, words and actions. Our teachers were very proud of us when we performed it twice in front of huge audiences. Here we all are dressed up or in our costumes.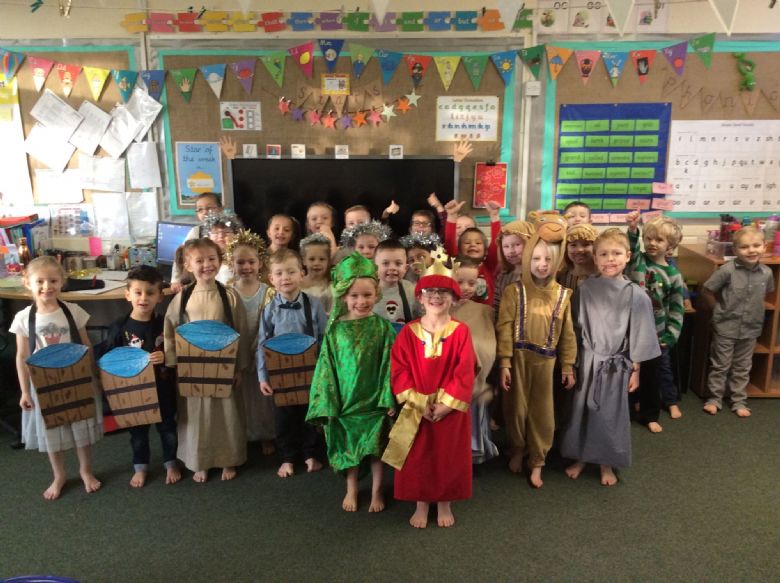 Art and Design
To continue with our study of Seasons we have created a calendar for 2019 demonstrating how the four contrasting seasons affect deciduous trees over a year. We showed the different seasons using various colours and media. We also made greetings cards depicting a wintery scene to give to our families to celebrate Christmas.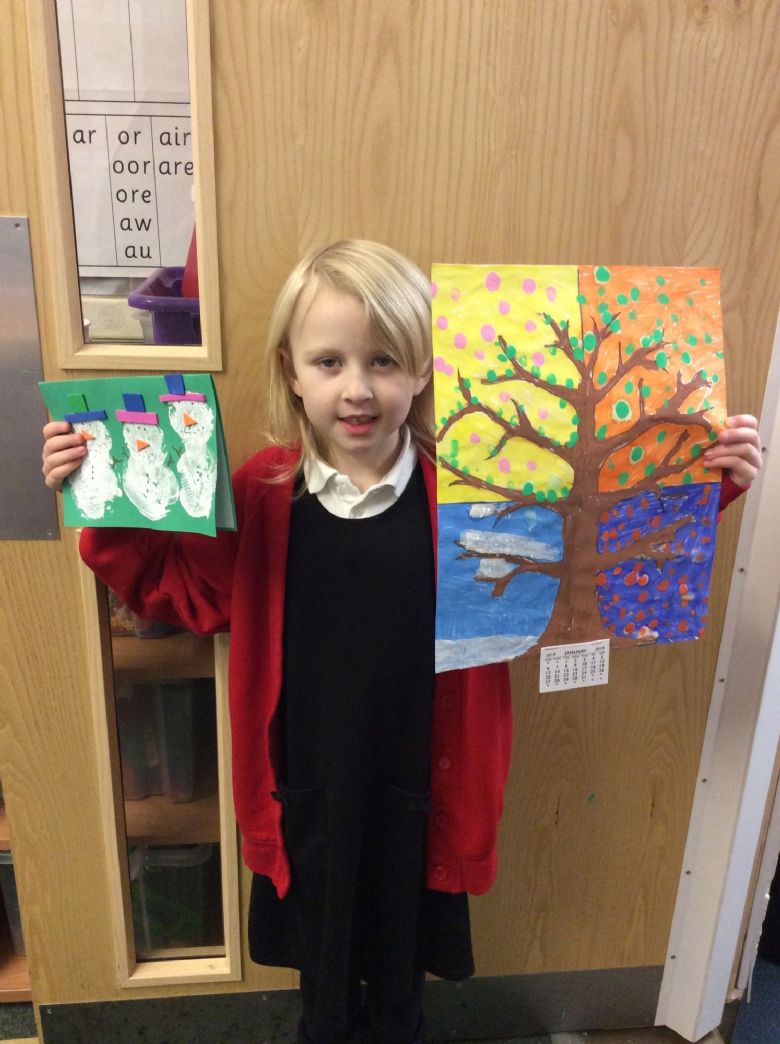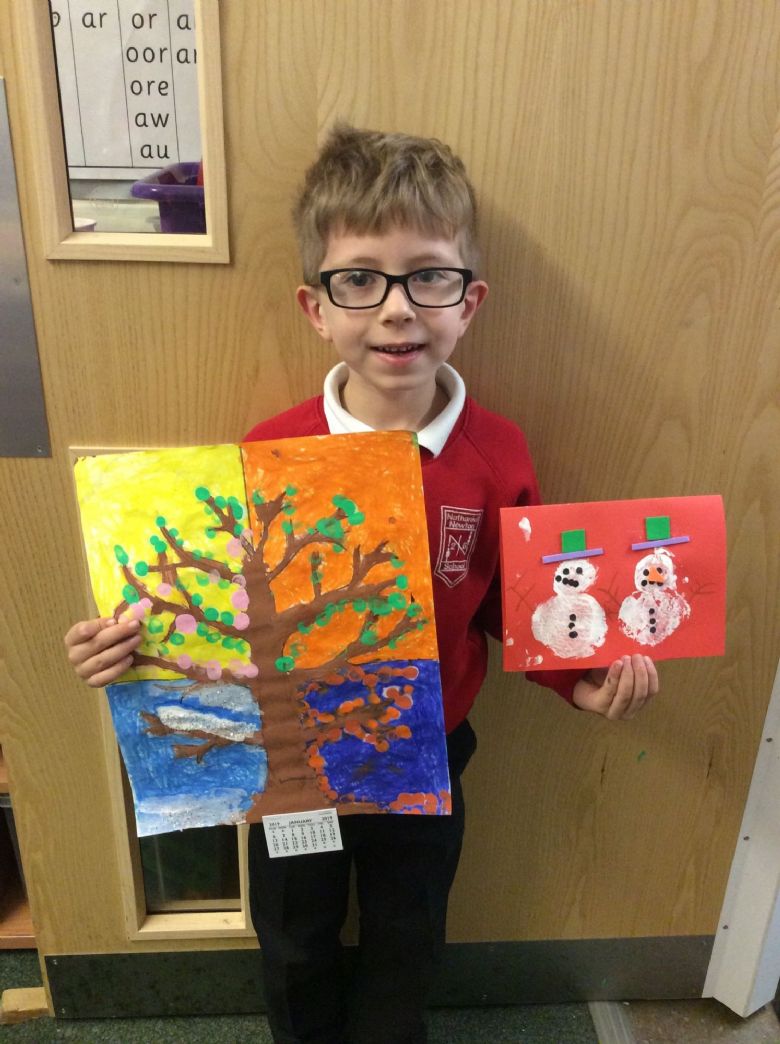 Art and Design
In our topic 'Seasons' we have been learning about Autumn. We have been studying the different colours of the fallen leaves on the ground and mixed paint to recreate the colours.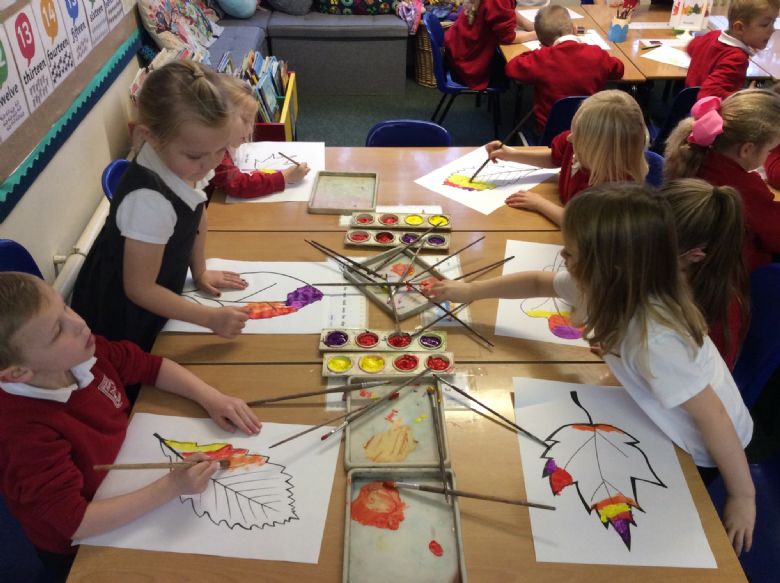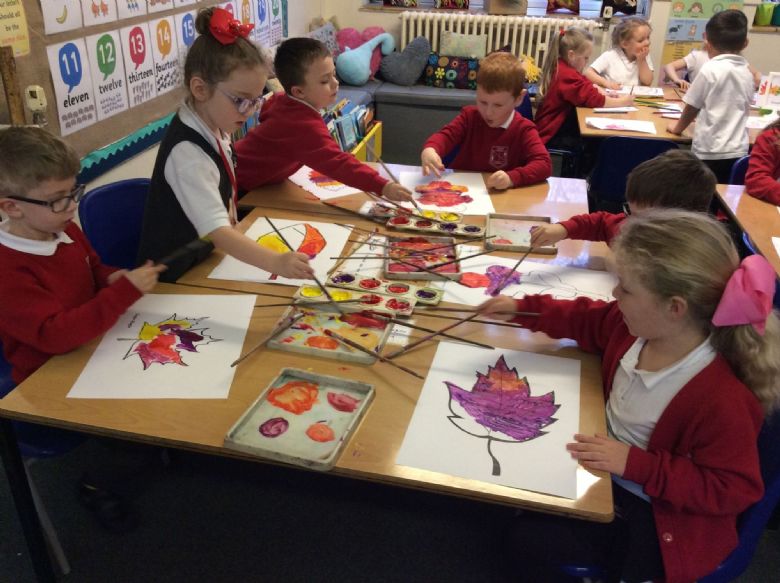 Road Safety Team Visit
We have had a visitor from Warwickshire County Council's Road Safety Team join us this week to teach us about being safe near roads. We were really clever at answering all of Kate's questions and knowing how to keep ourselves safe.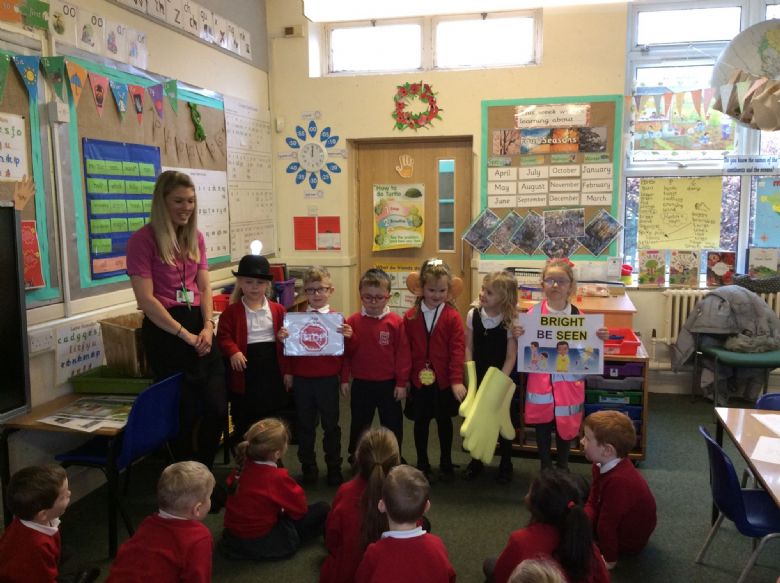 A Visit from the Firefighters
Today we had a visit from some local Firefighters. The children were told about what Firefighters do and that they don't just put out fires, they also help people out of road traffic accidents, get cats out of trees and help people out of canals. They discussed the fire hazards that could be in and around the home, teaching us to 'STOP, DROP AND ROLL' if our clothes set on fire. We watched a story about 'Frances the Firefly' who learnt a very important lesson about keeping safe from fires and we also learnt about using smoke detectors to protect us and our families. They even dressed Mrs Arnold up in their uniform! Afterwards, we went outside to look at the fire engine. The Firefighters showed us all the different tools found on a fire engine; such as hoses, ladders and the 'Jaws of Life' used to cut people out of vehicles when they are stuck in an accident. At the end the Firefighters showed us the lights and siren they use to get through traffic quickly.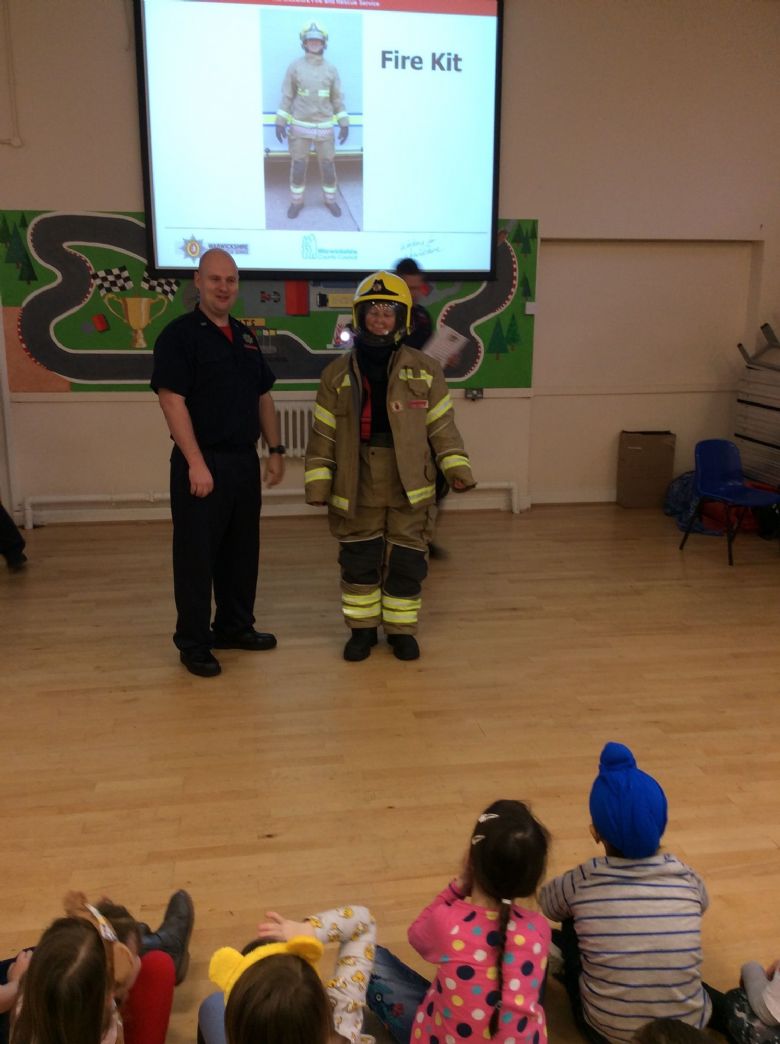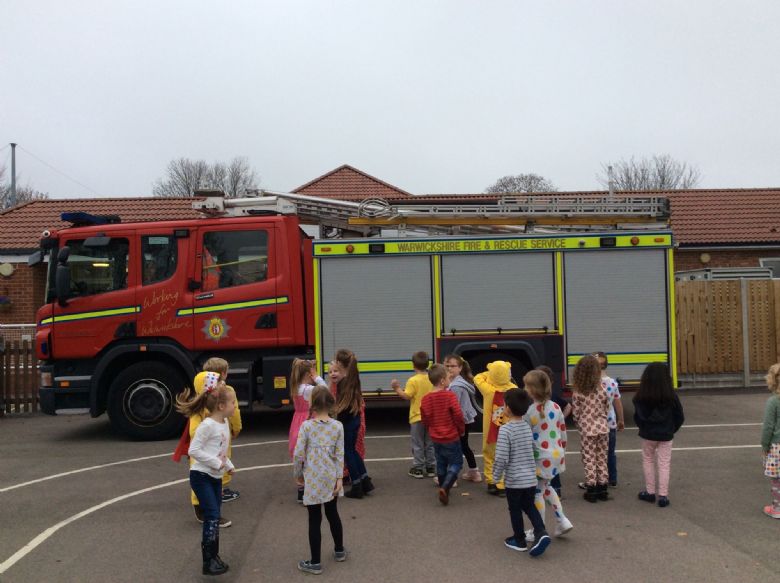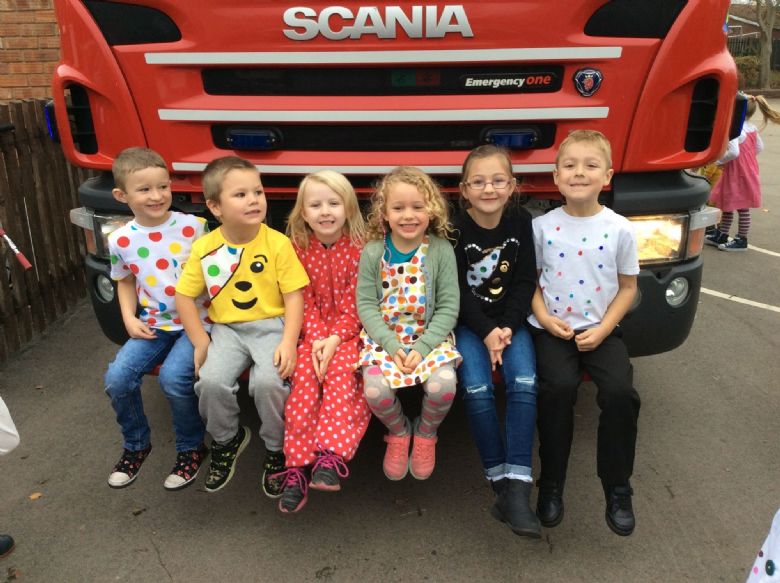 Seasons
Our topic this half-term is called Seasons. We are going to observe the changes to plant life across the four seasons and describe the weather associated with each season including how the day length varies. To start our topic we went to Hartshill Hayes to look at how Autumn has affected the trees and plants. We collected some leaves to make a hat and to help us write some describing words.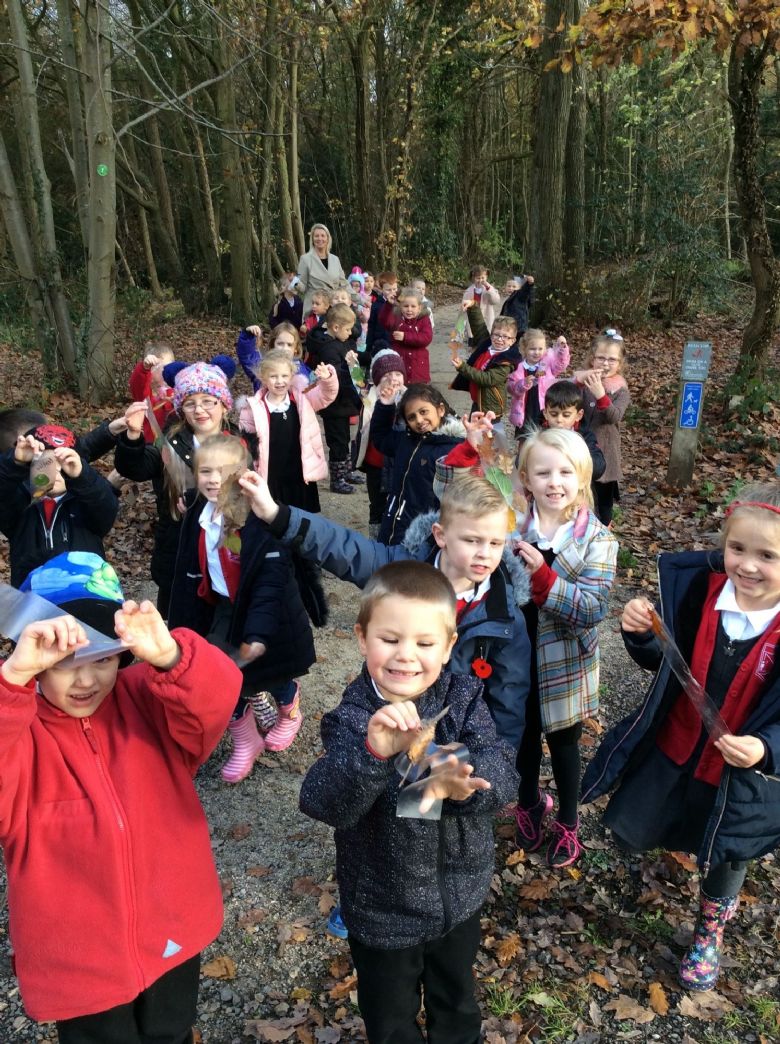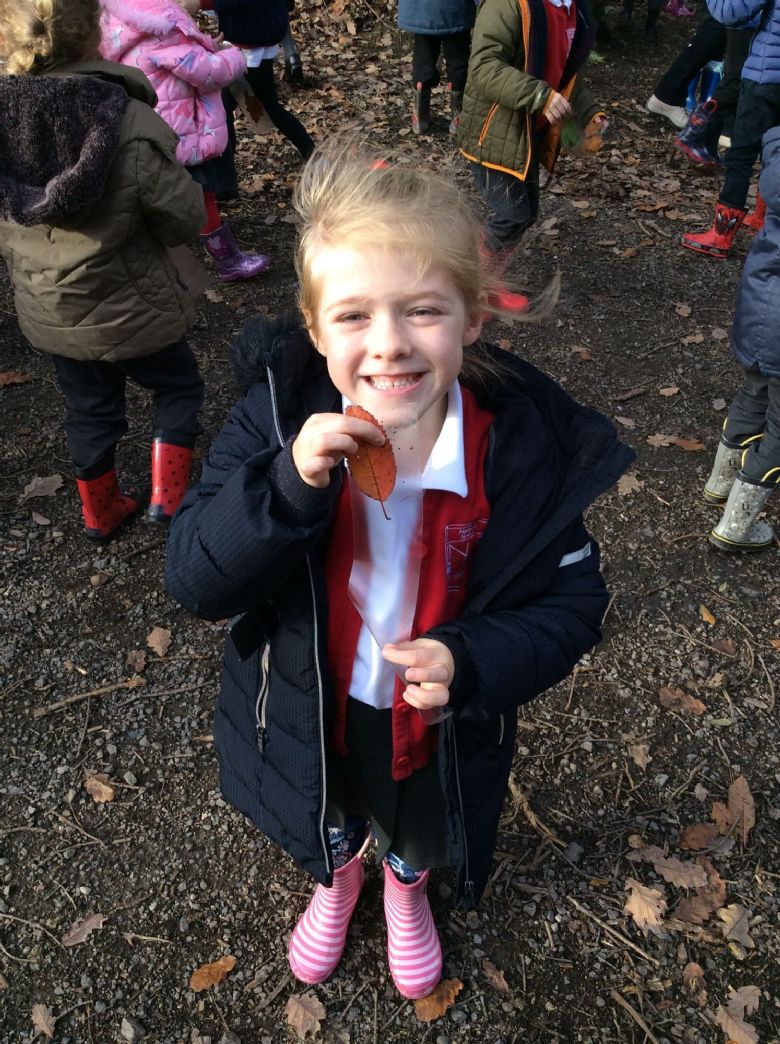 Maths - Greater than, Less than and Equals
This week we are learning to use the < > = symbols. We started our learning by using cubes to understand greater and less than amounts. We showed our understanding by inserting the symbols.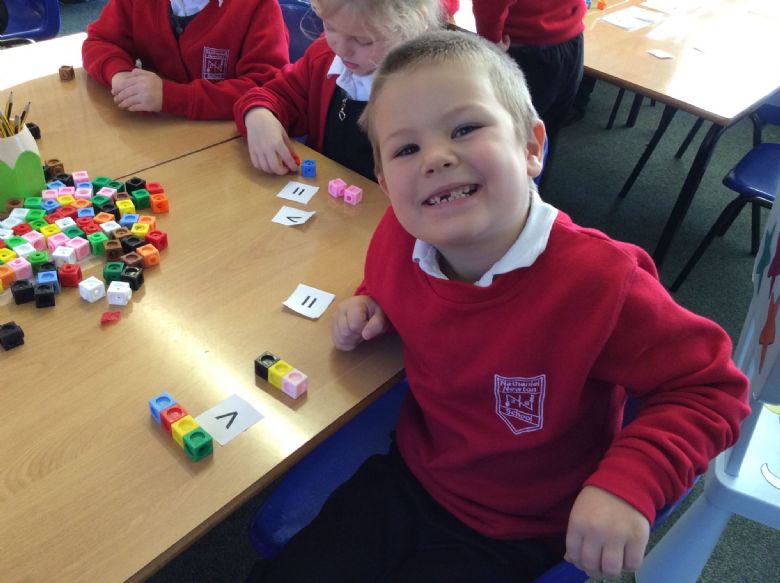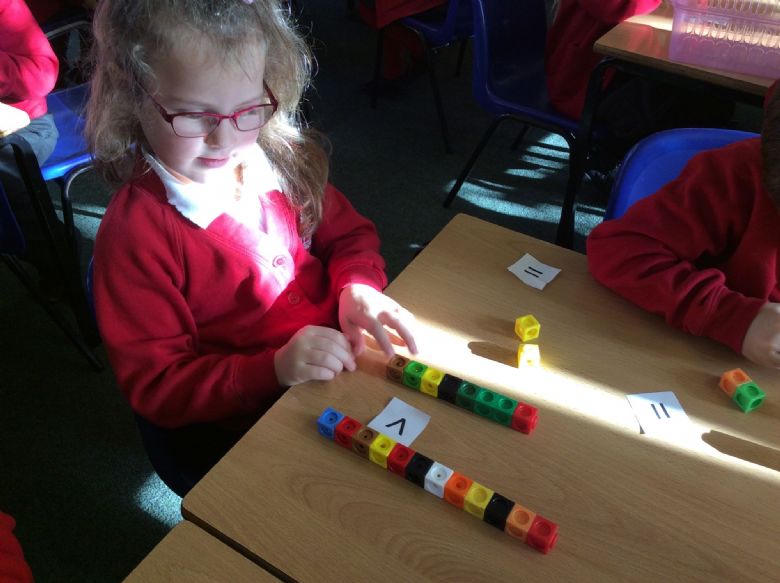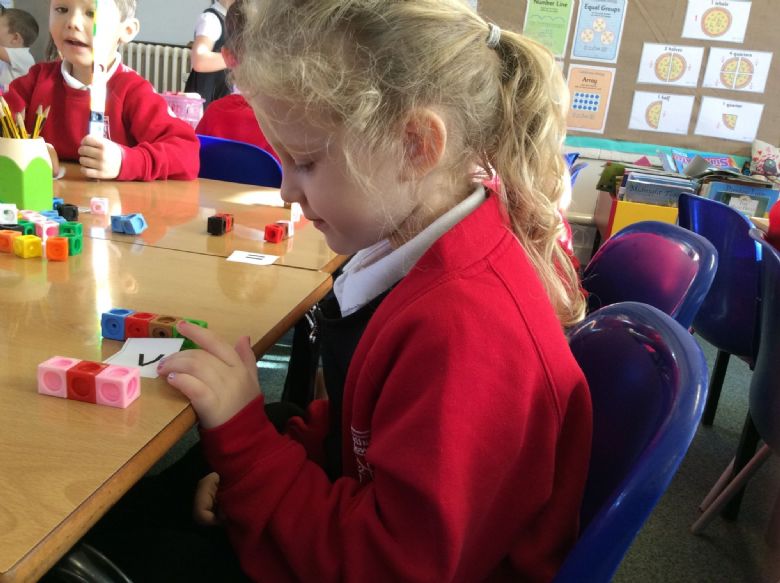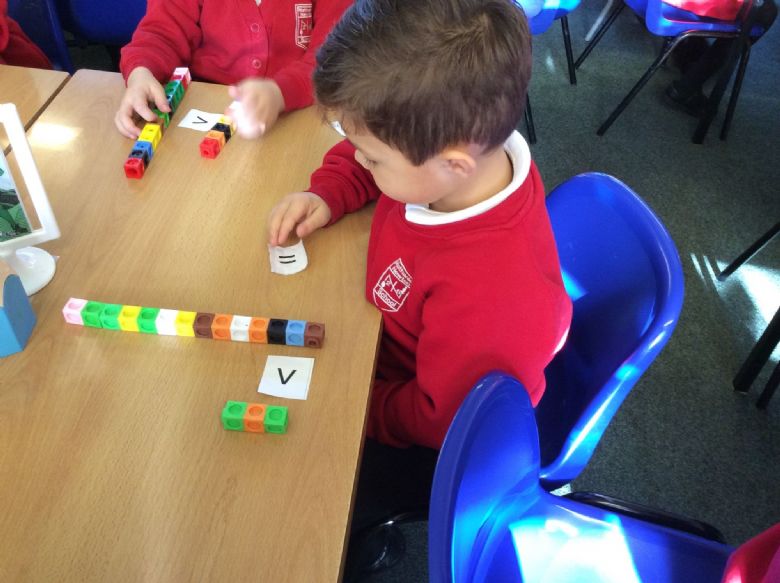 World War 1 Centenary
We commemorated the centenary of World War 1 by doing many things in Year 1. We learnt about the many soldiers, animals and civilians who died and why we wear poppies at this time of year. We painted poppy fields and created our own poppy wreath and medal. Our favourite activity was to paint a poppy onto a pebble to put into the school garden. All of the children in the school did this so it will look spectacular when they are all laid together in a poppy shape. Here are a few photos of us placing our pebbles in the garden.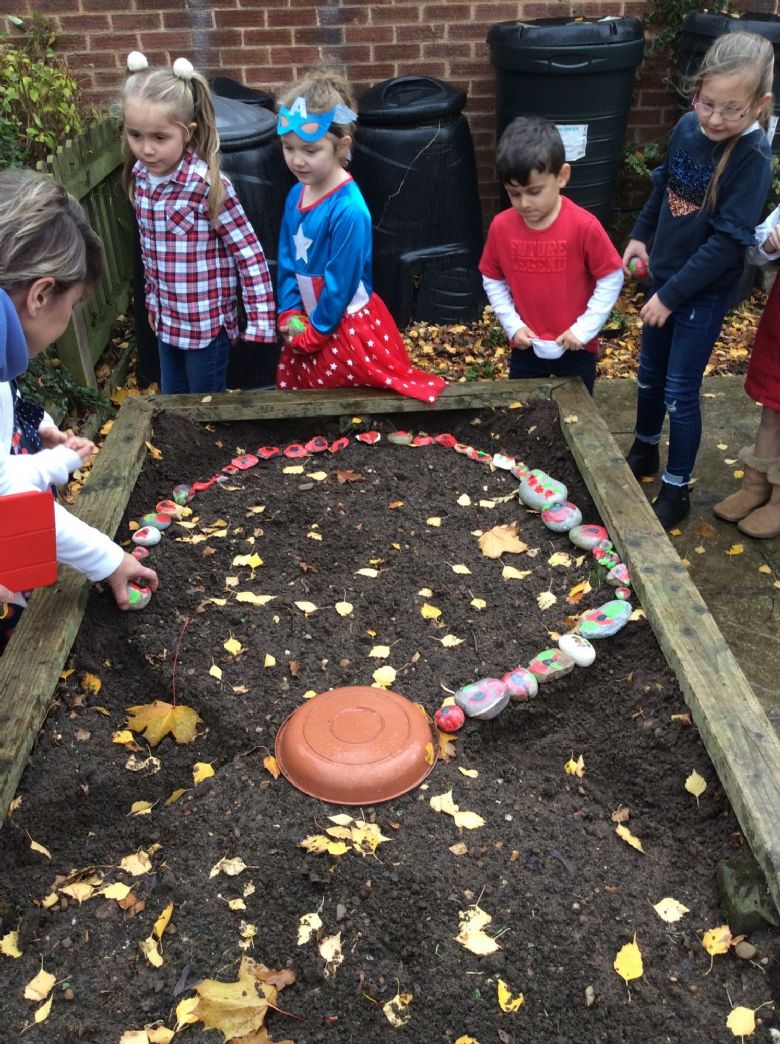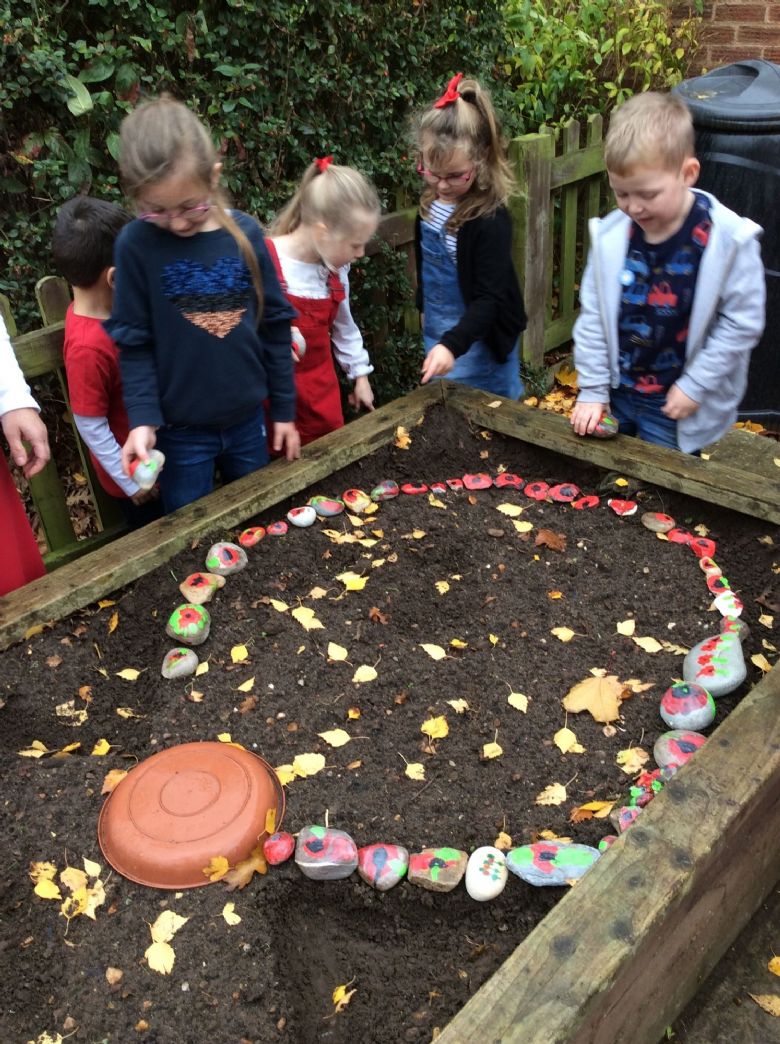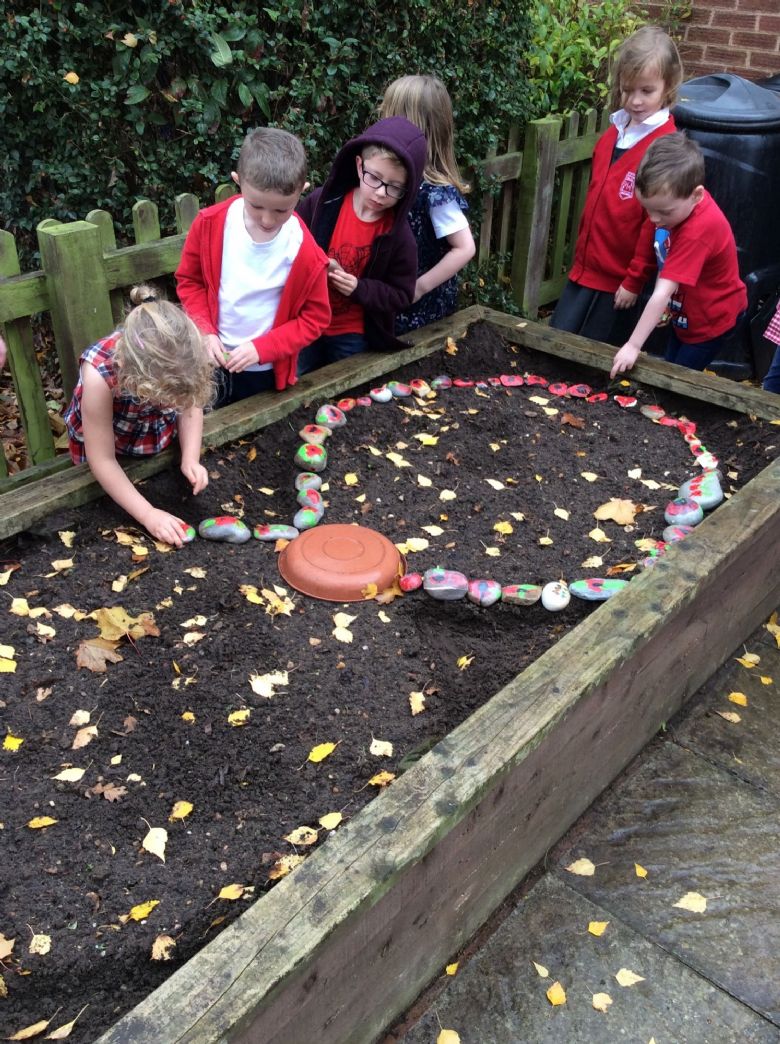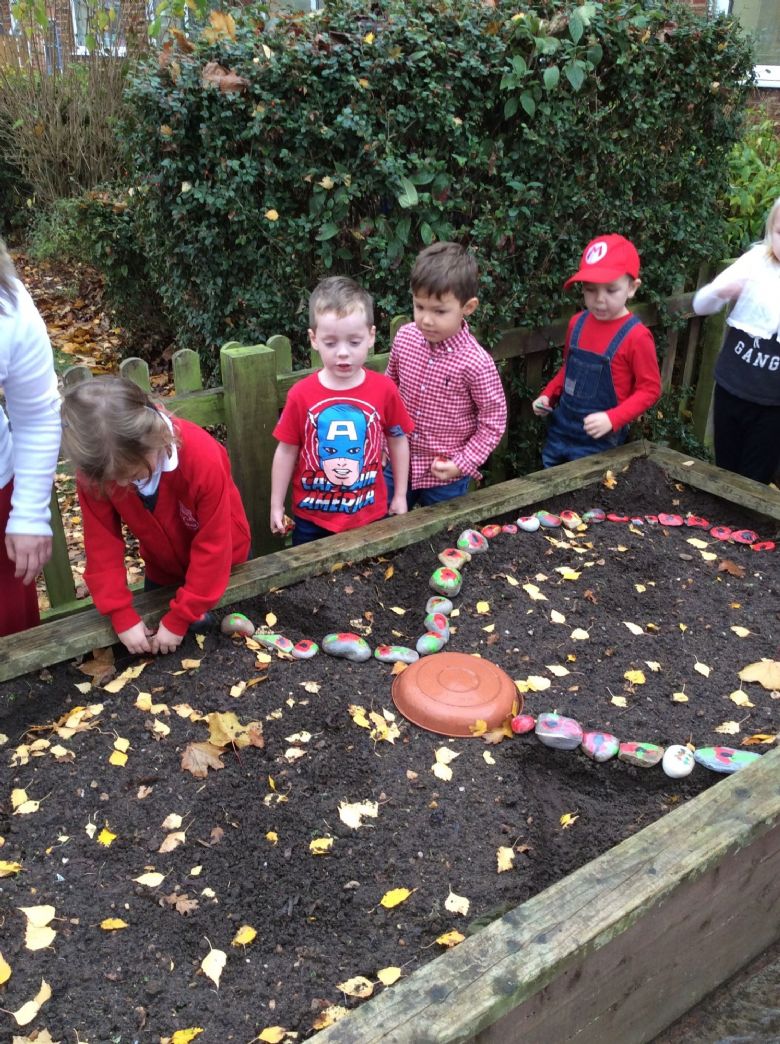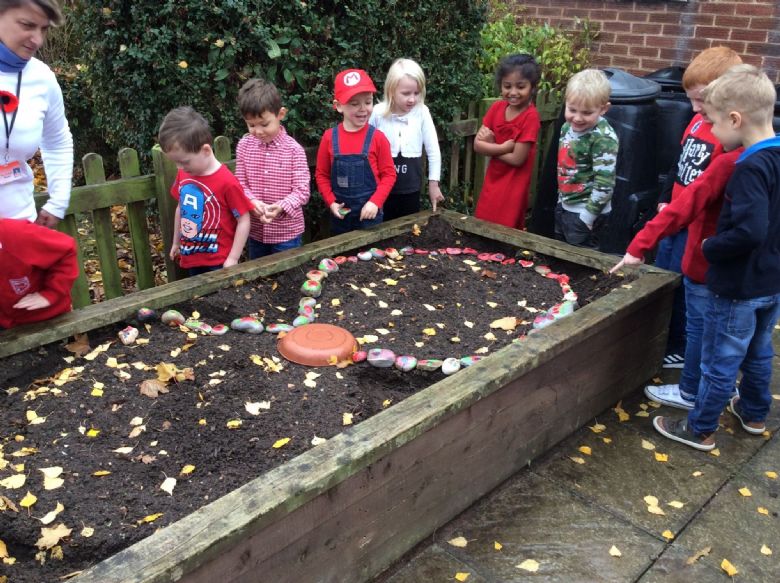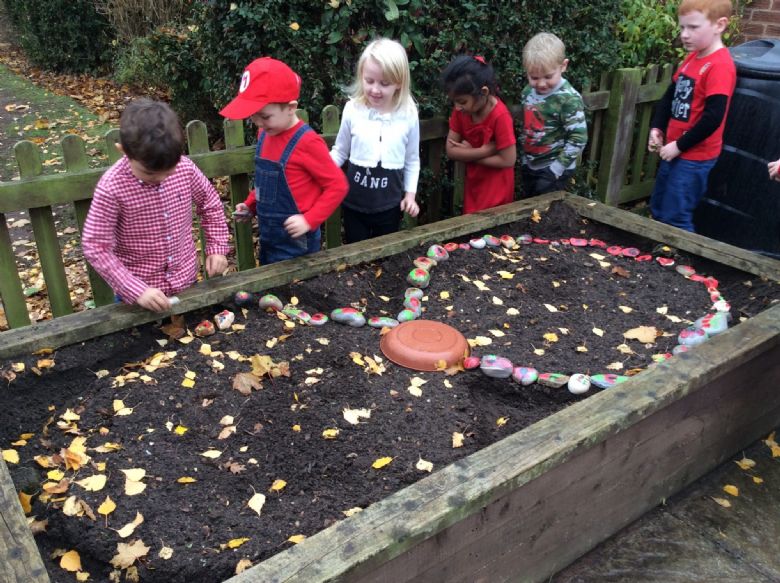 Traditional Tales Topic
This week we have been learning about harvest and linking it to the story of the Little Red Hen. In the story she takes the wheat to the mill to turn into flour before baking the bread. We have been following a recipe, using flour to bake breadsticks.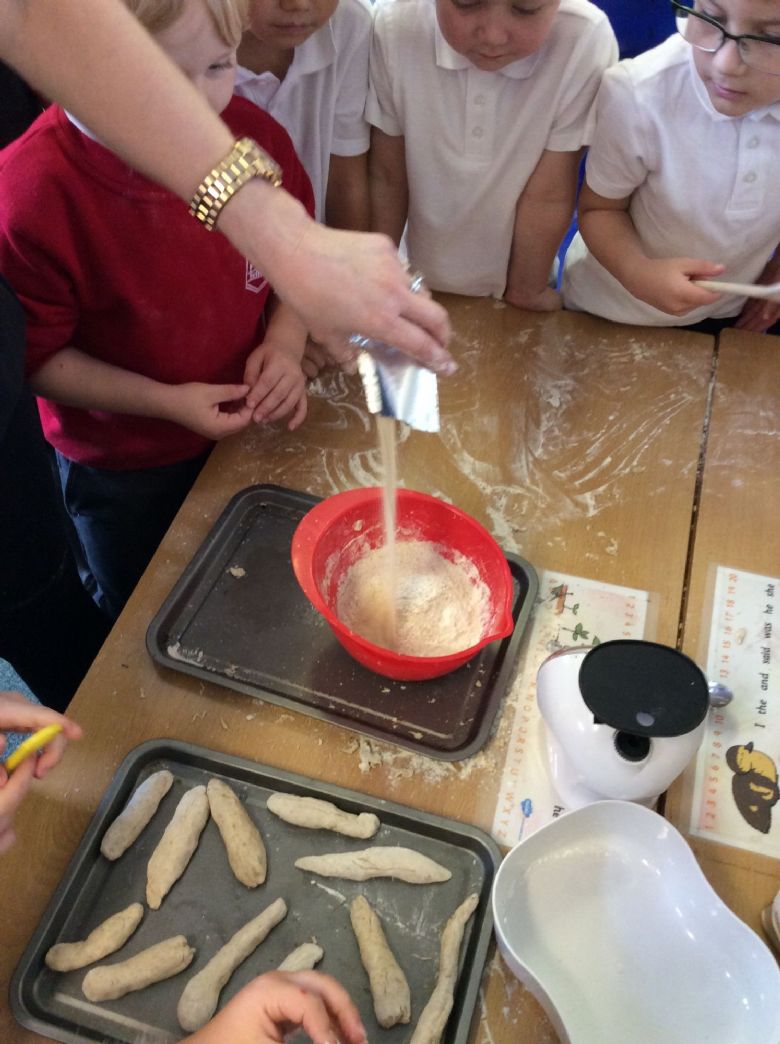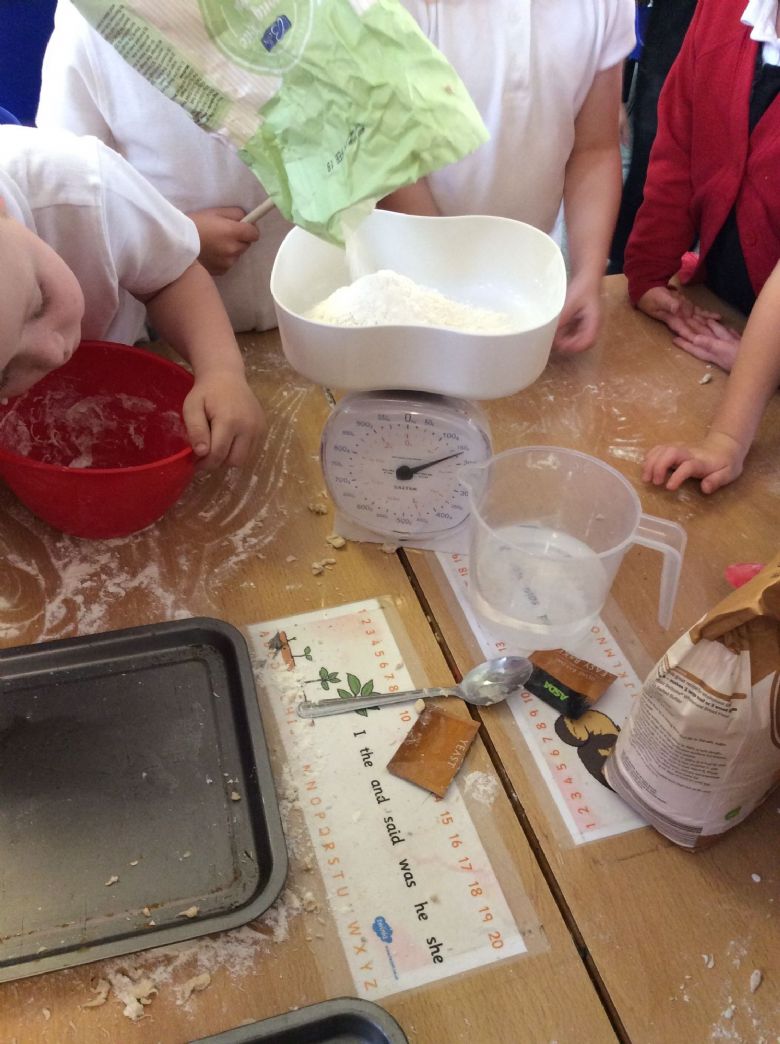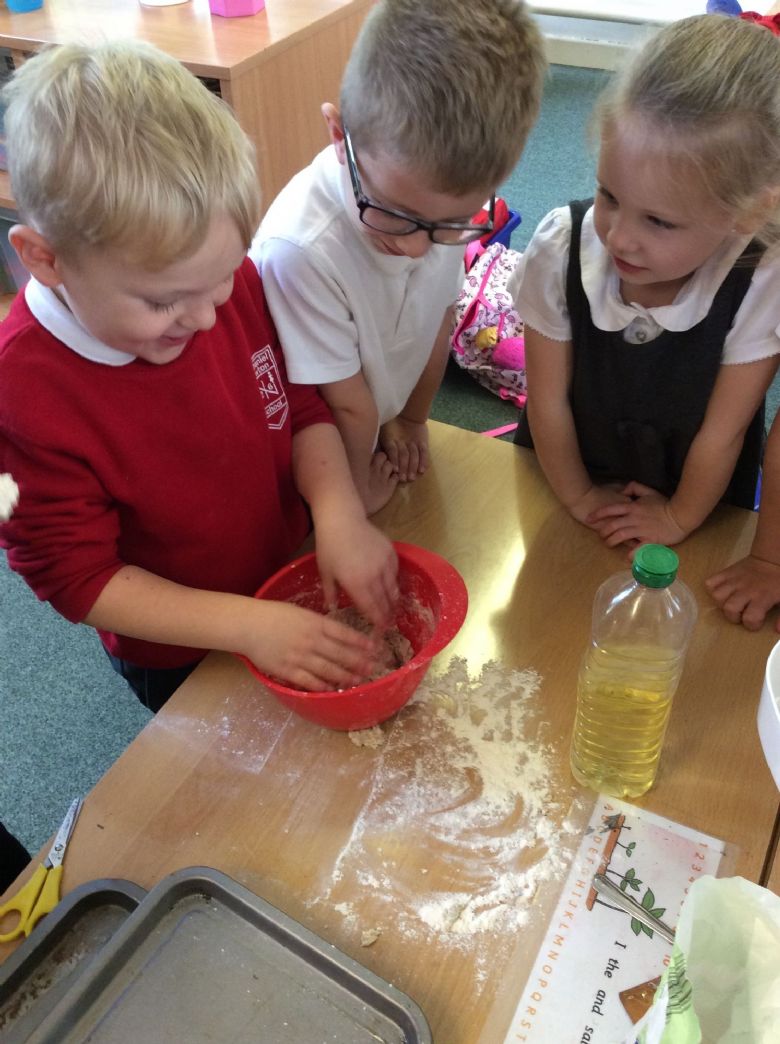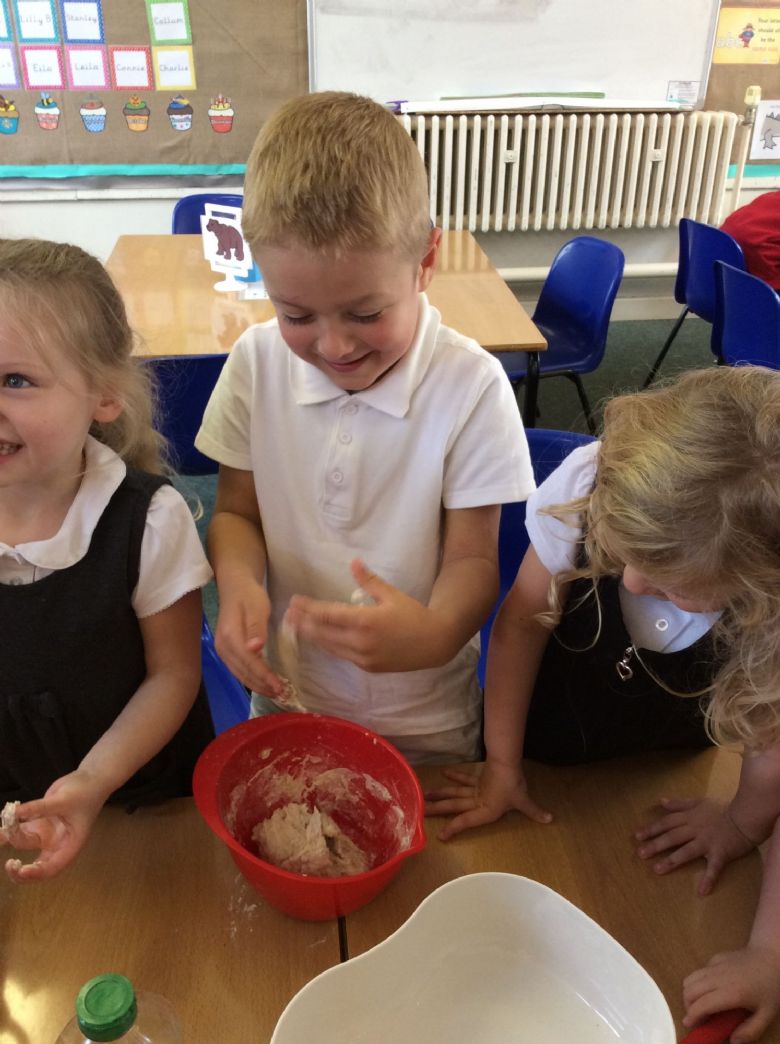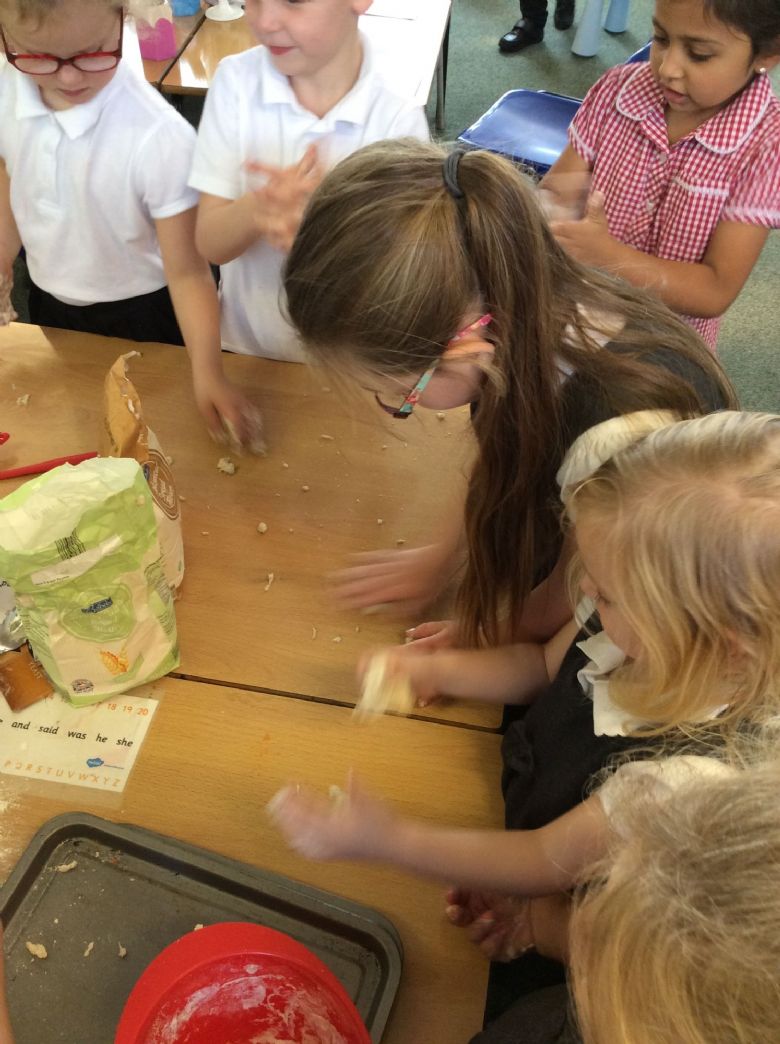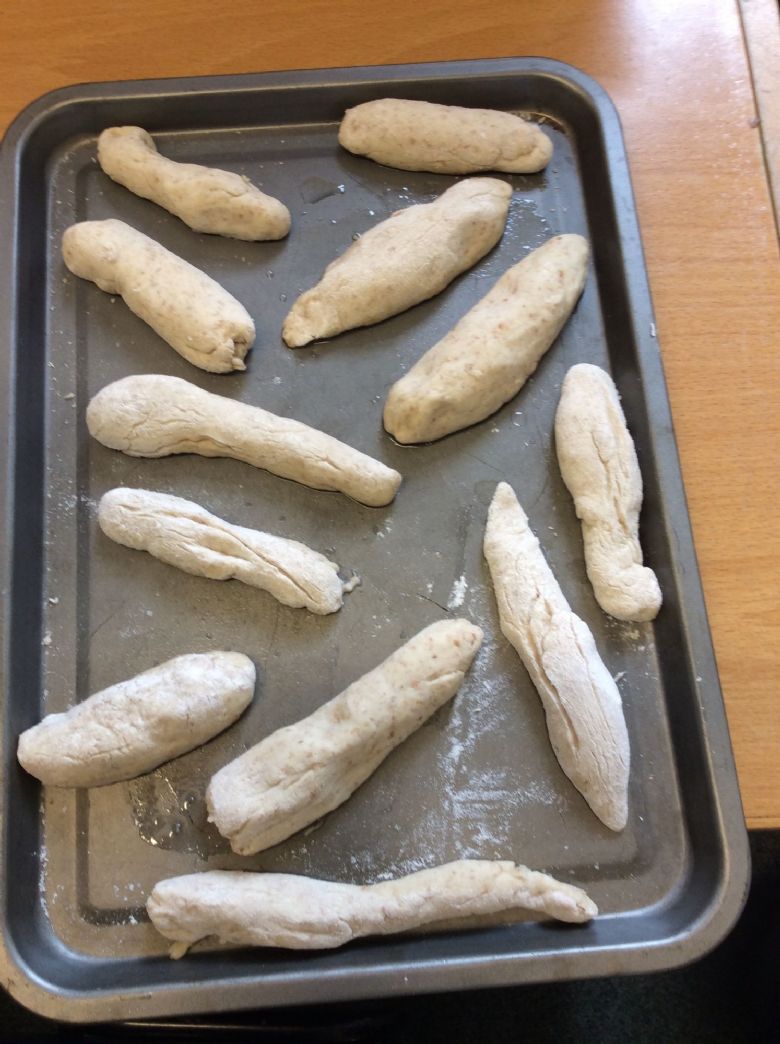 Maths - Using cubes to add
In our maths lessons we are learning how to add by using cubes.