In this section...
And Relax!
As part of our Sport Relief Week, Miss Bilic set us the challenge of completing a 10 minute mindfulness activity. We decided to undertake the challenge especially as we had been doing some really tricky work. We all lay down and closed our eyes and tried really hard to focus on our breathing by listening to the music and relaxing our bodies. When we woke up, we found that we really enjoyed the challenge as we all felt a bit more refreshed and ready to continue our tricky work.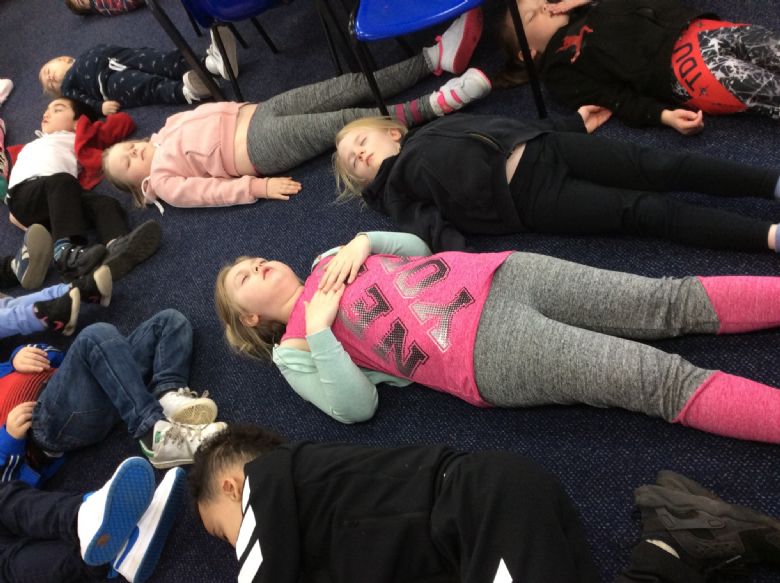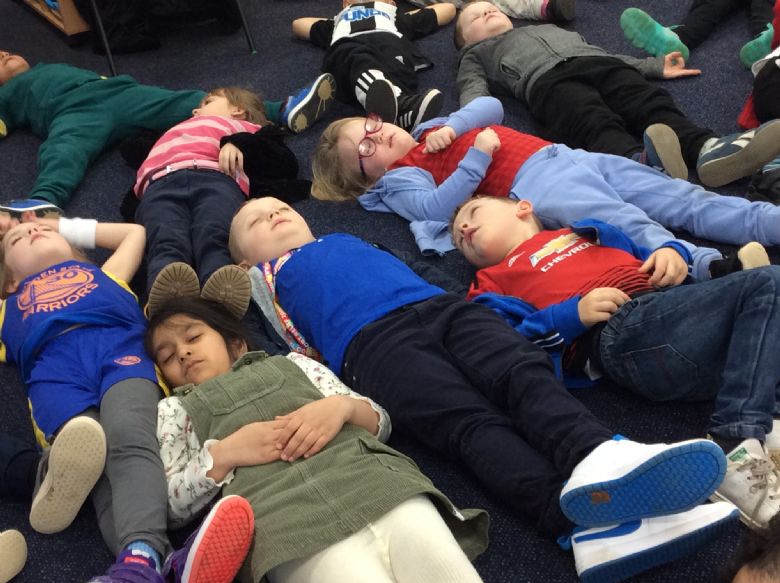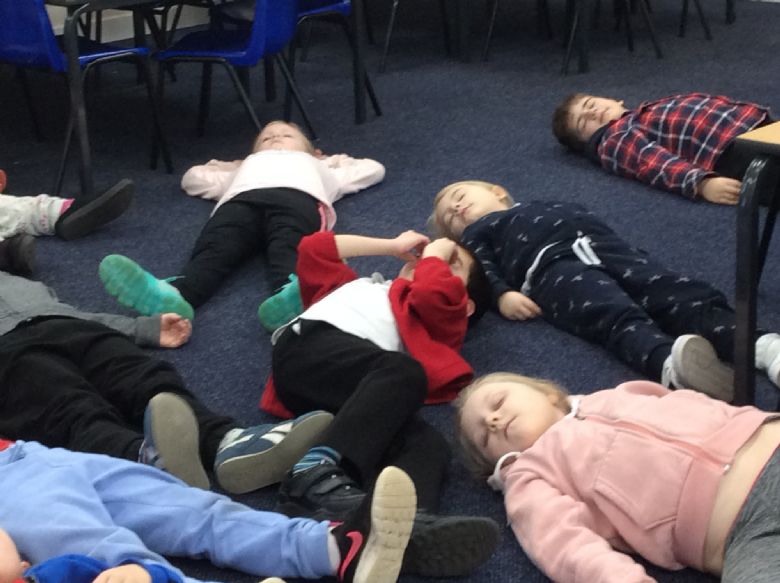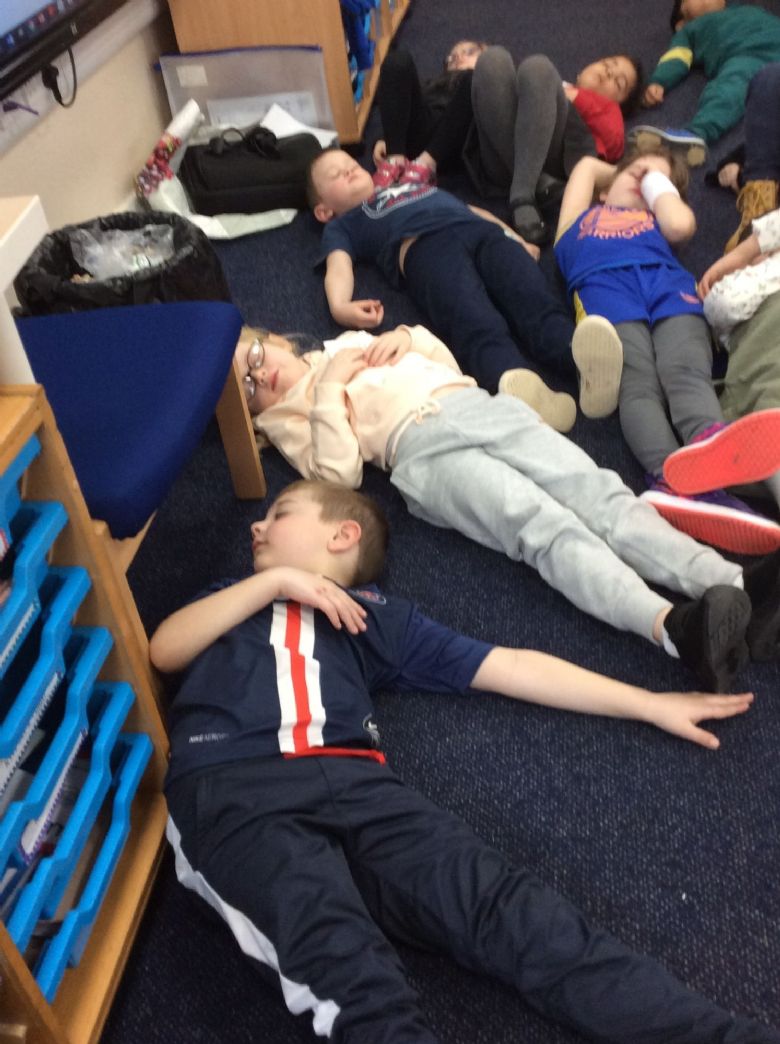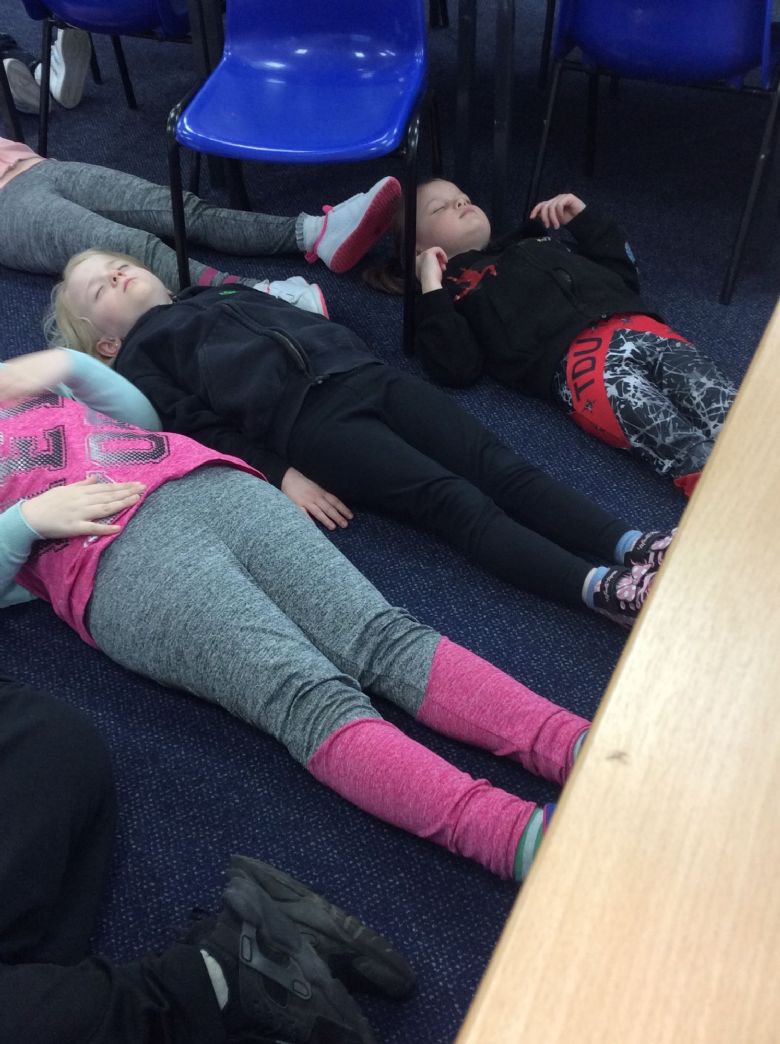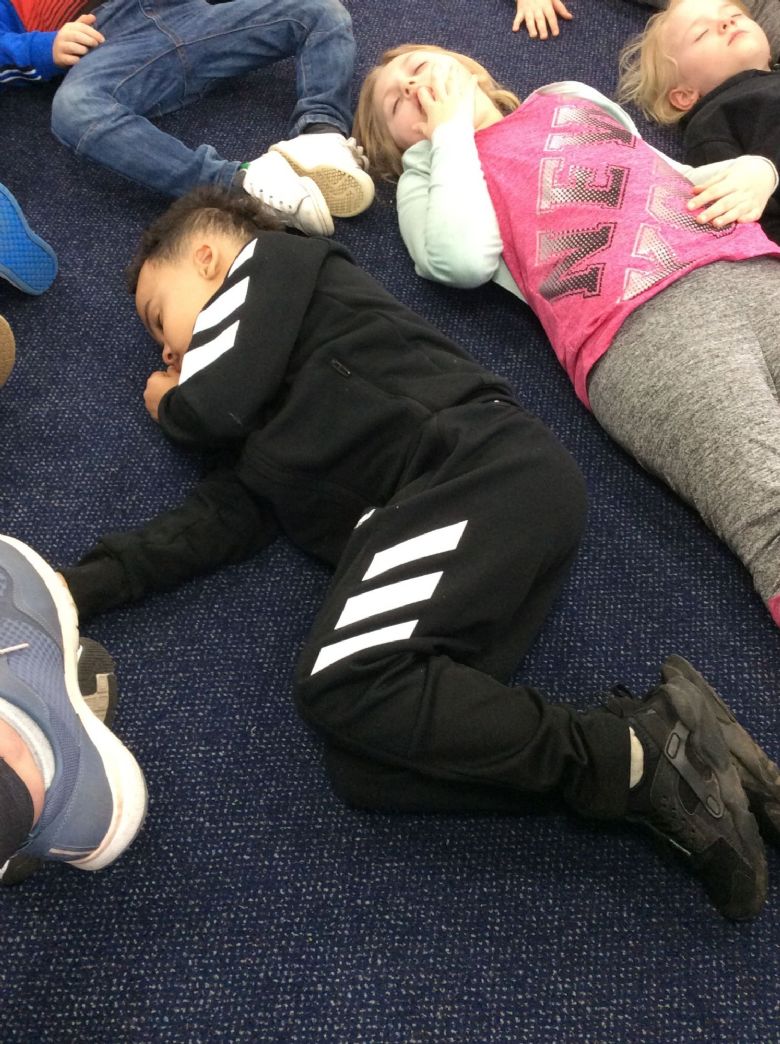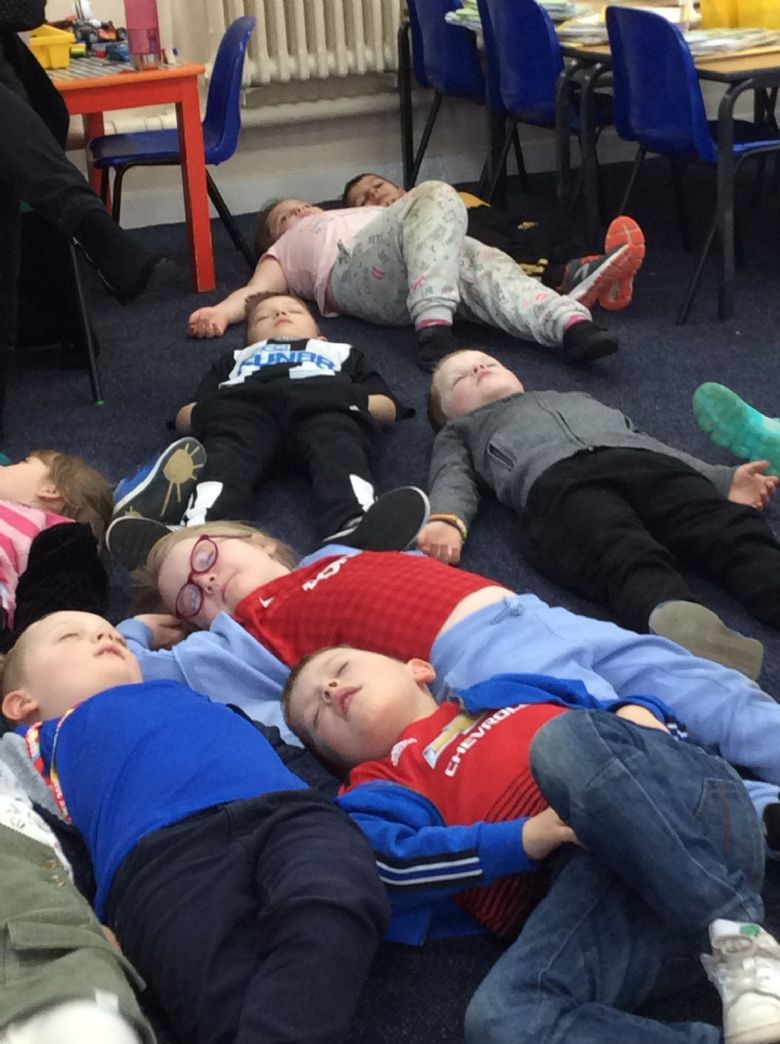 Sports Relief 2p Trail
We had fantastic morning making our 2p trail with all of the 2ps that we had bought in from home for sports relief. Our trail was extremely long as it went from the bottom end of the playground to the wall of Miss Ford's class, which is simply down to the humongous amount of 2ps bought in. Although we didn't win, as a class we were so proud of the amount of 2ps we collected from home, so we wanted to say a huge thank you to everyone who contributed to our collection and raided their piggy banks as the money will make a huge difference to lots of people.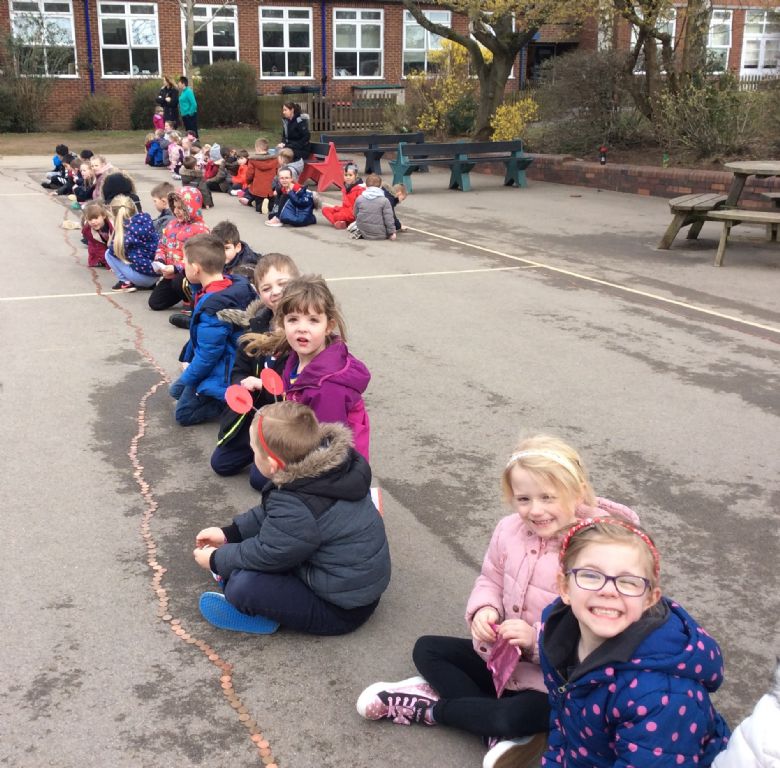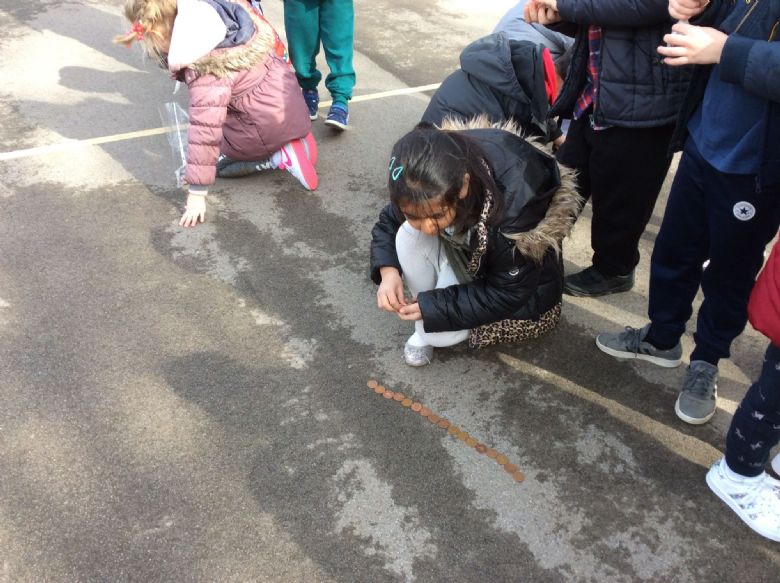 ​​​​​​​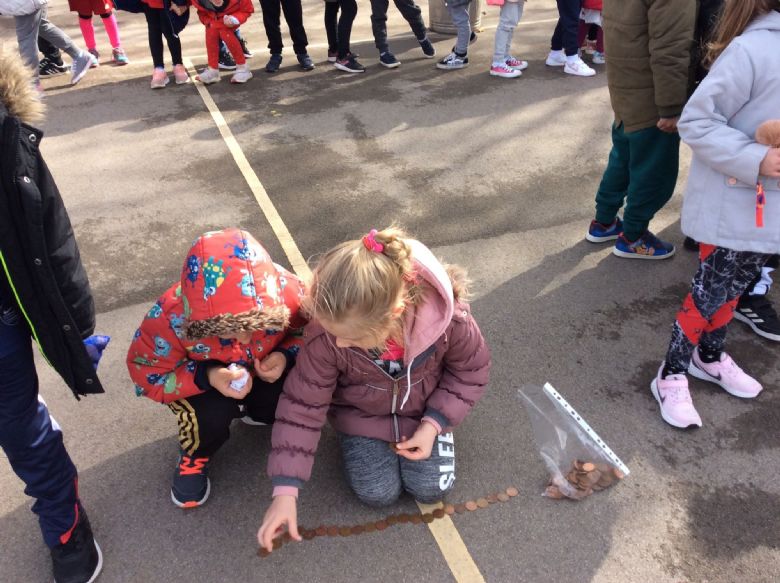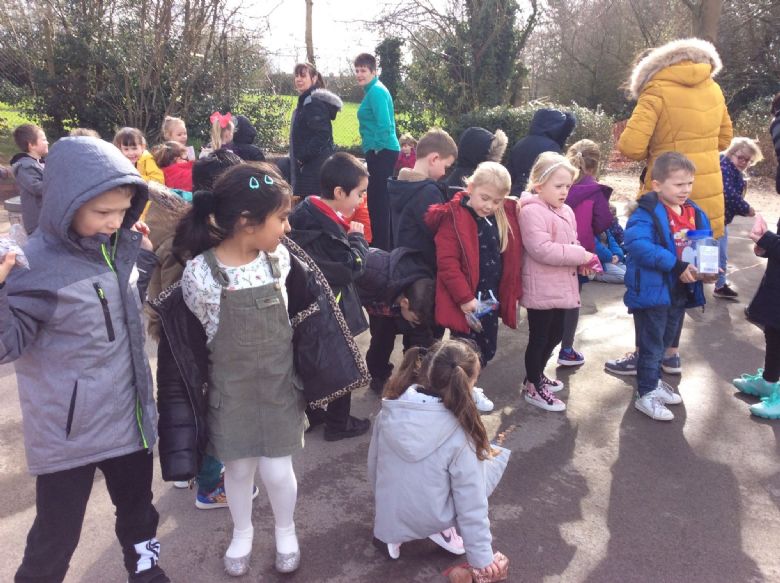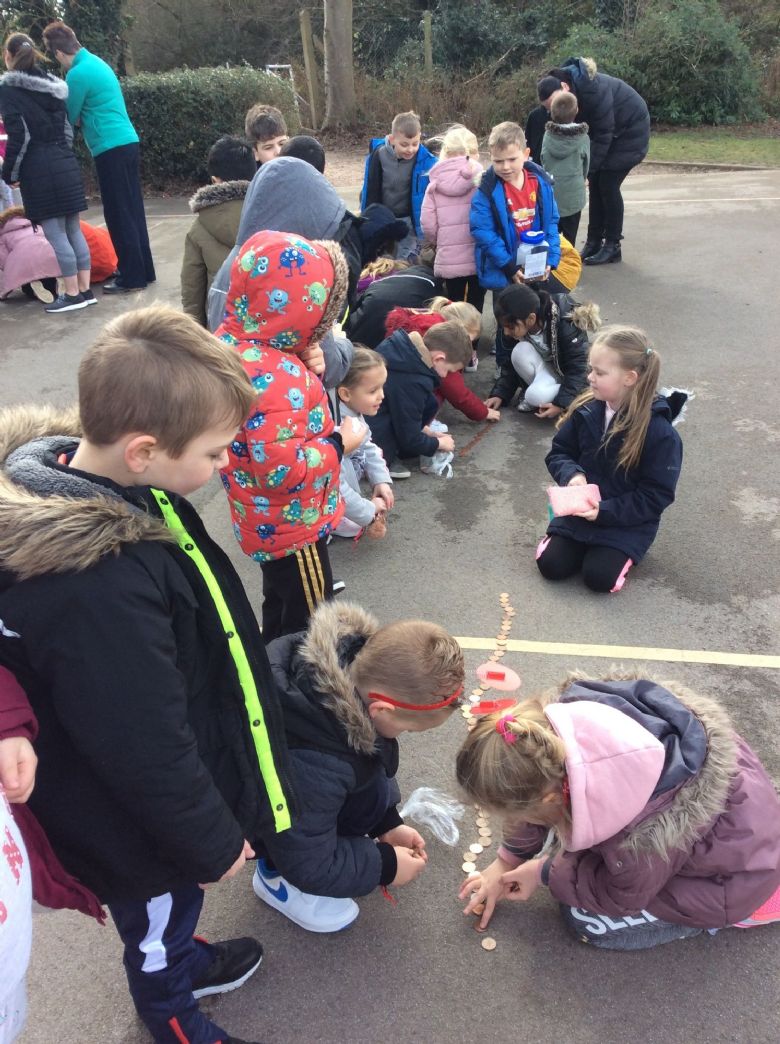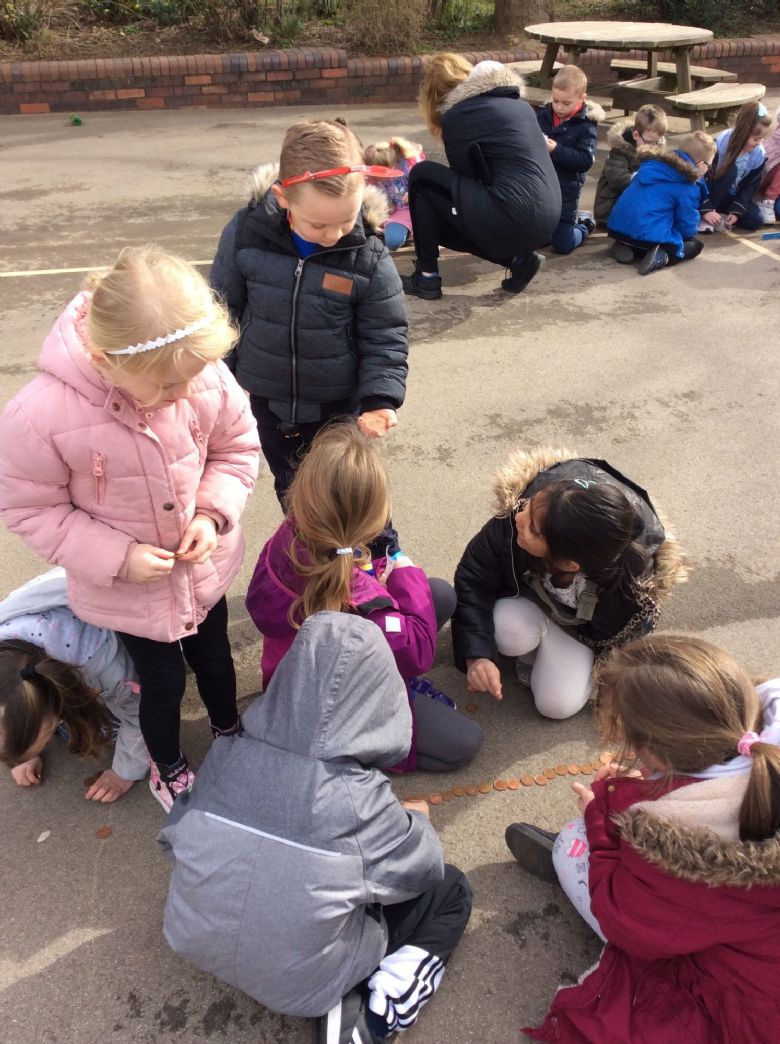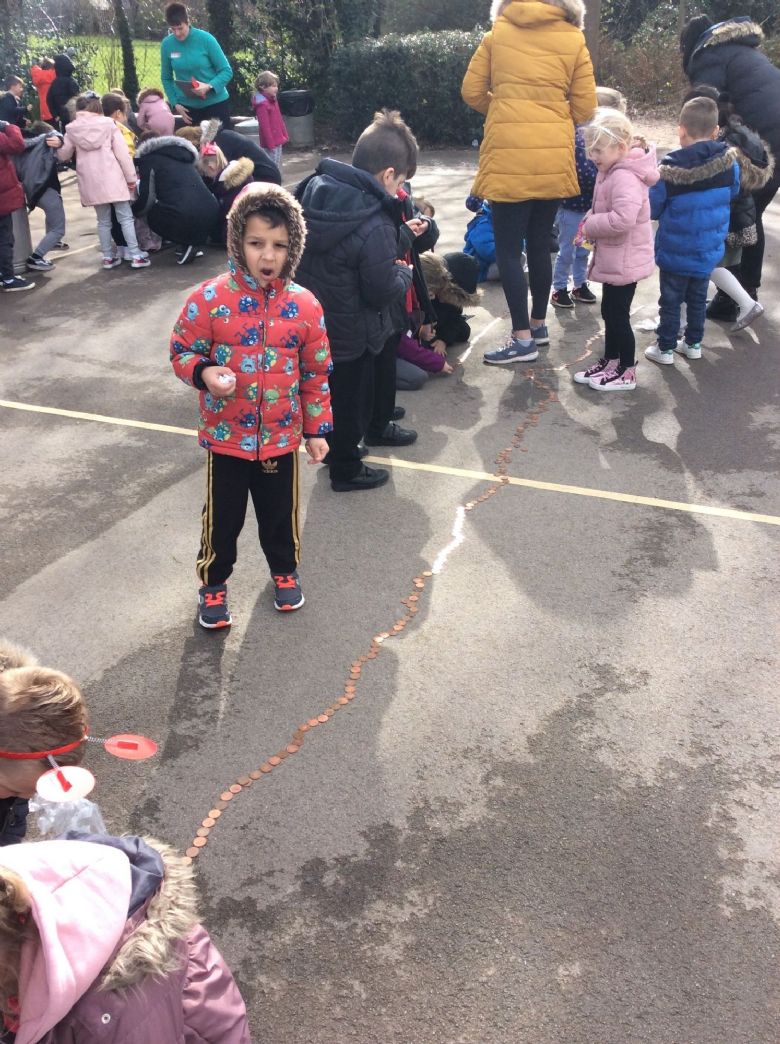 World Book Day
Wow! What fantastic outfits 1McG came in in today! Everybody looked brilliant! We started our World Book Day with an assembly with Miss Huish and then Mrs Ireland came to our class and read us her favourite book. Afterwards we got the opportunity to exchange a book and read our favourite book. Then as the author we are exploring is Michael Bond, who is the author of Paddington Bear, we created our own suitcase of items we would take with us on an adventure, just like Paddington Bear did. We then created our own bookmark too!
Please click here for photos of us completing activities in our World Book Day activities.
Ball Skills
This half term our PE cog focuses on developing our skills on controlling a ball accurately. We have been using a ball and rolling it around our body using both hands and one. We have also been practising rolling a ball from our toes to our head using one hand too. Some of us even did this with our eyes closed too!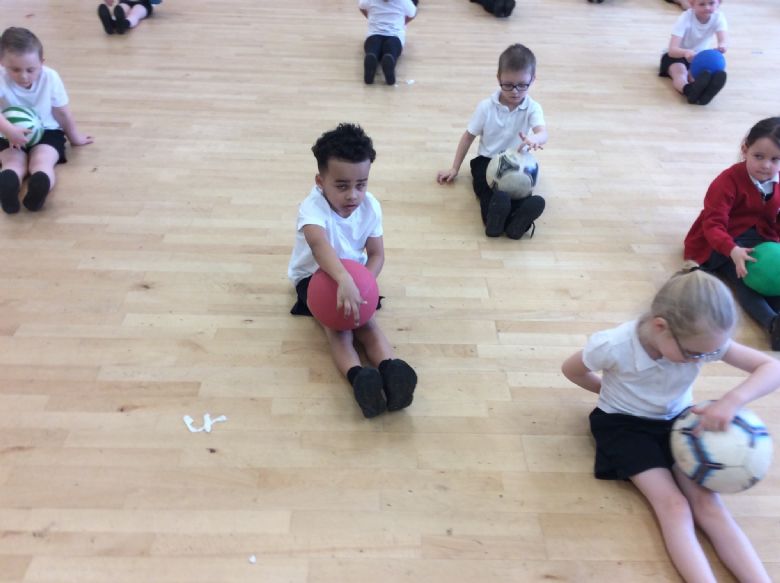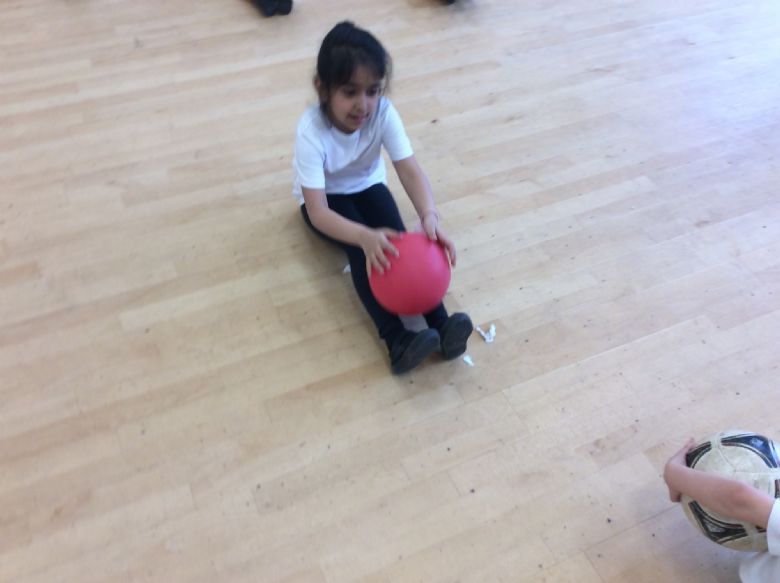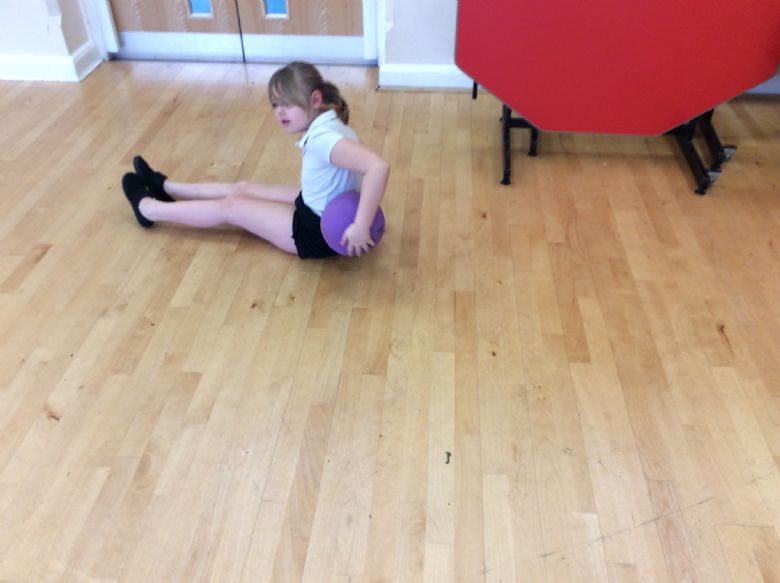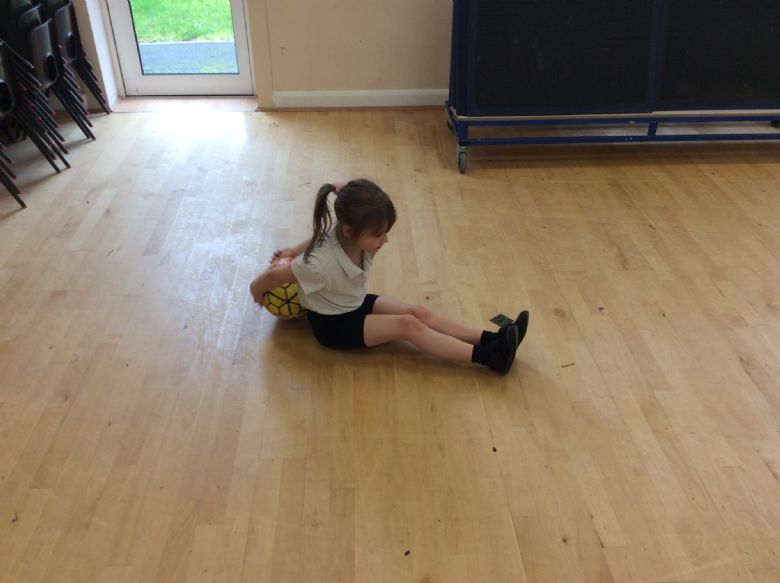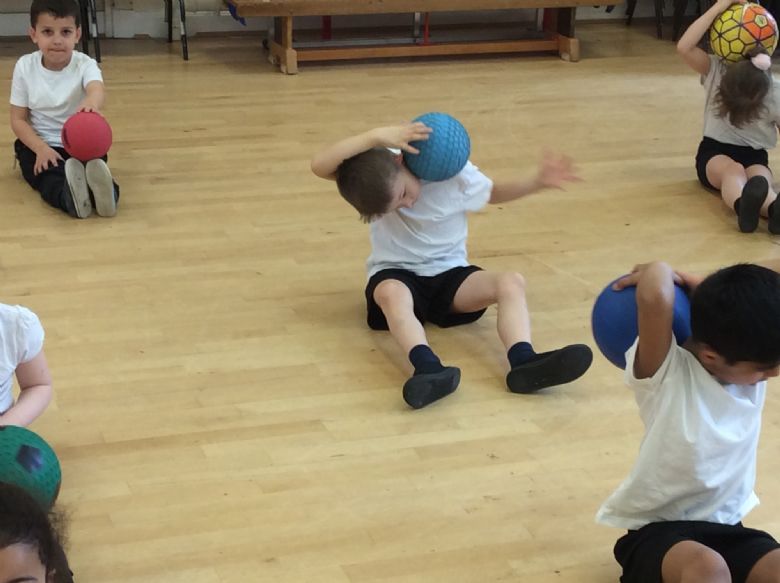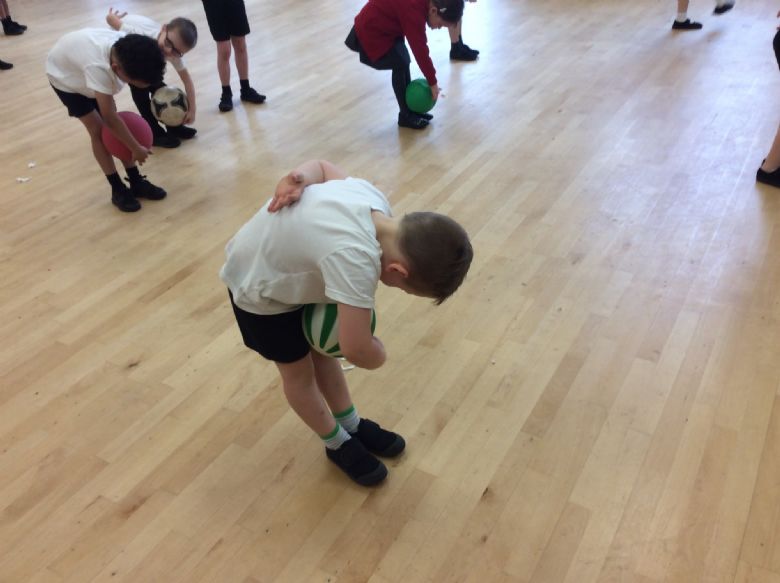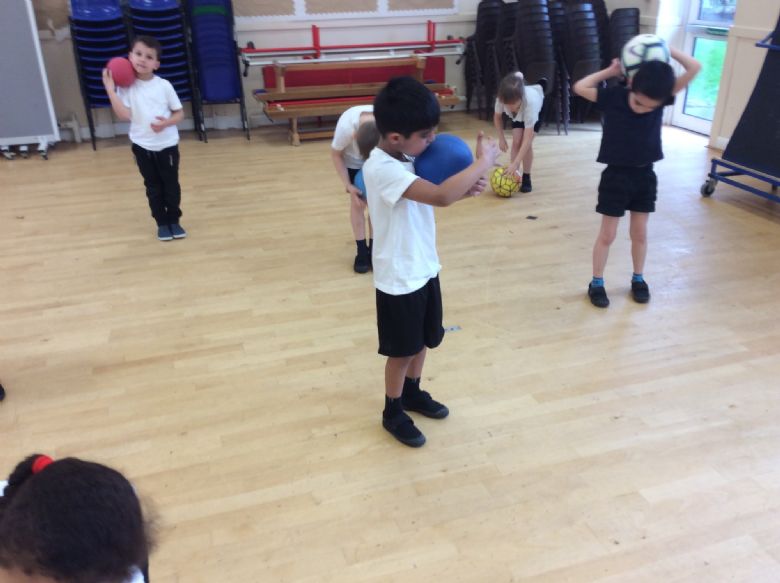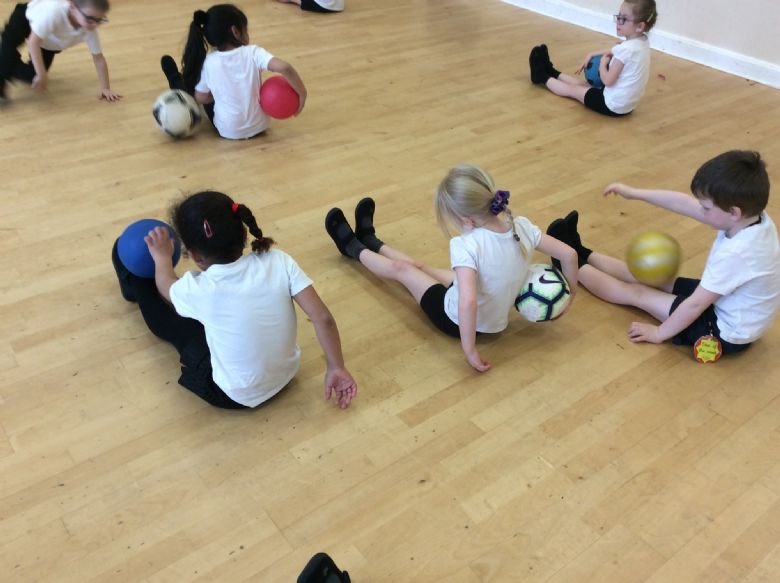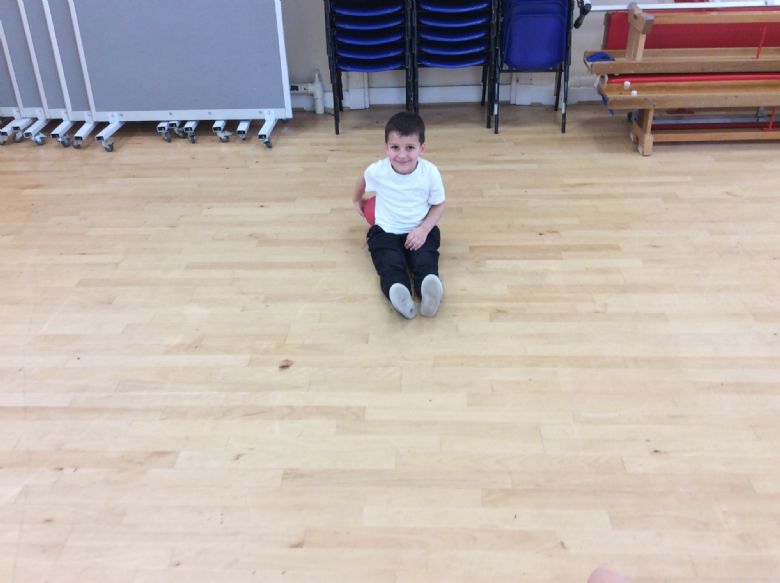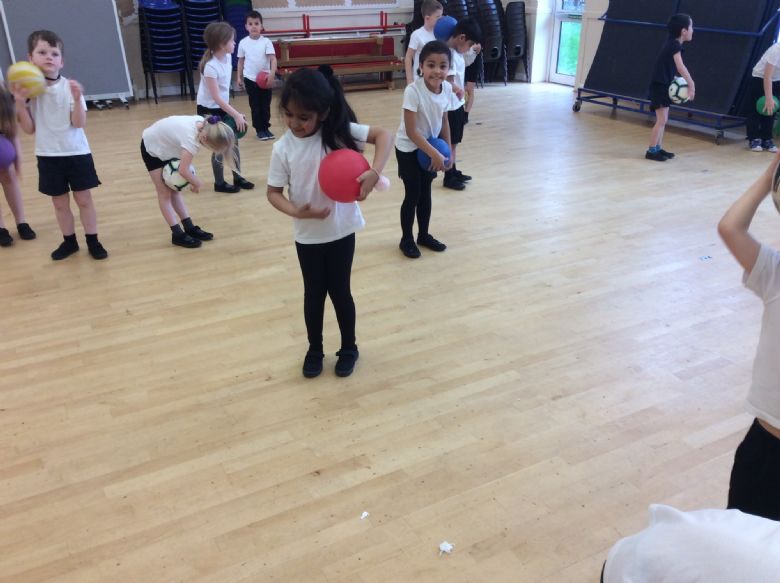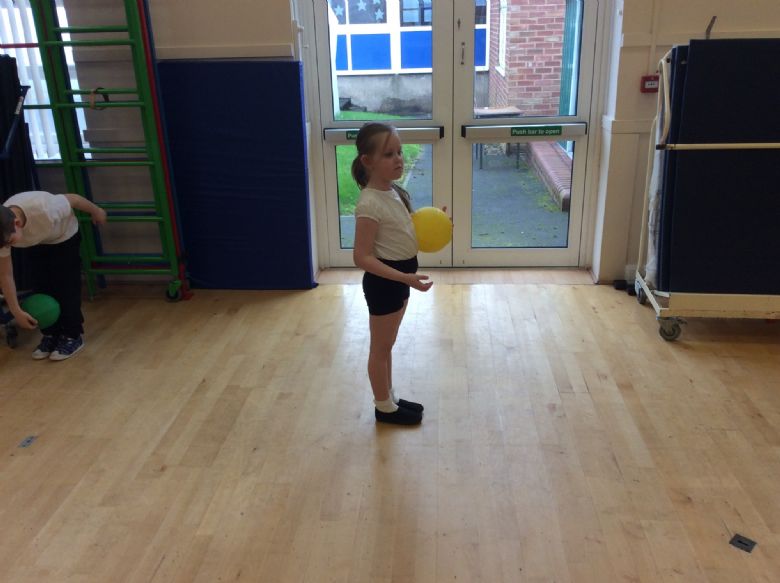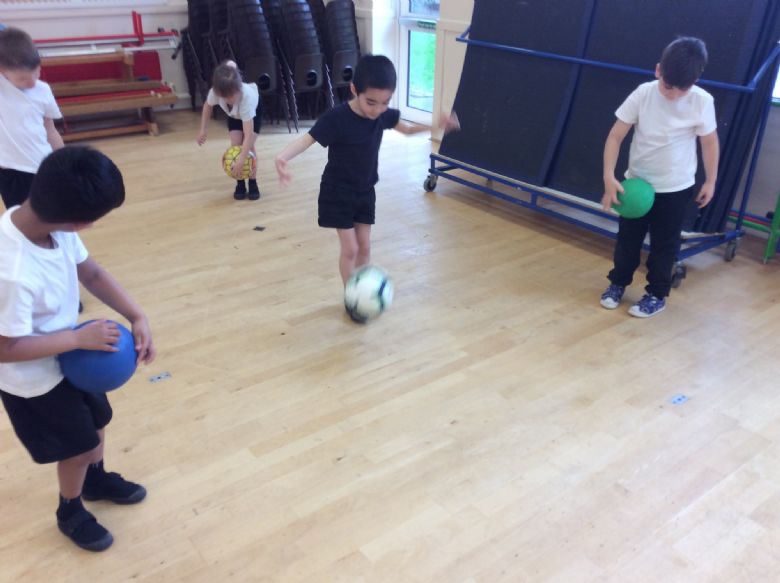 Arrays!
This half term we have been exploring multiplication, focusing on our 2, 5 and 10 times table so that we can not only recall them but also identify patterns within them. For example we have learnt that the 2s only contain even numbers, the 5s only end in a 5 or a 0 and the tens only end in a 0. A method we have used to solve our multiplication problems is through using arrays and making rows and columns to help us solve them. We started the task by using cubes to introduce us to the concept. Below are photos of us solving these sums using arrays.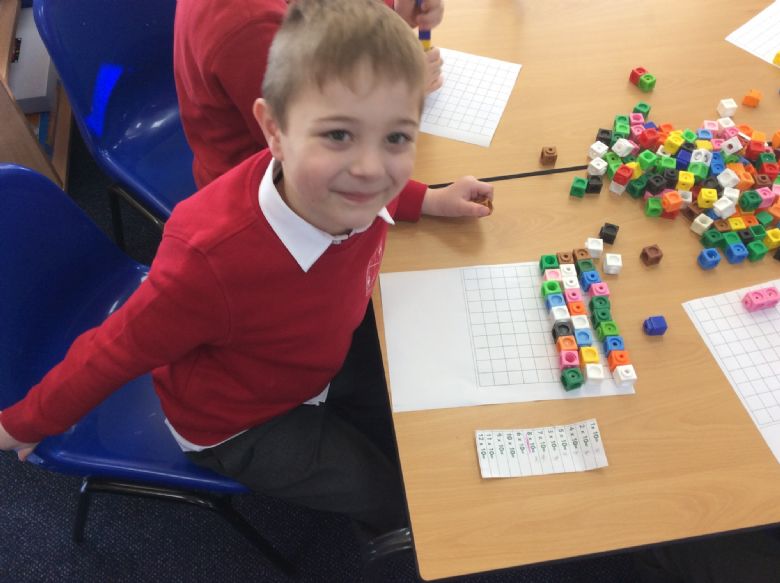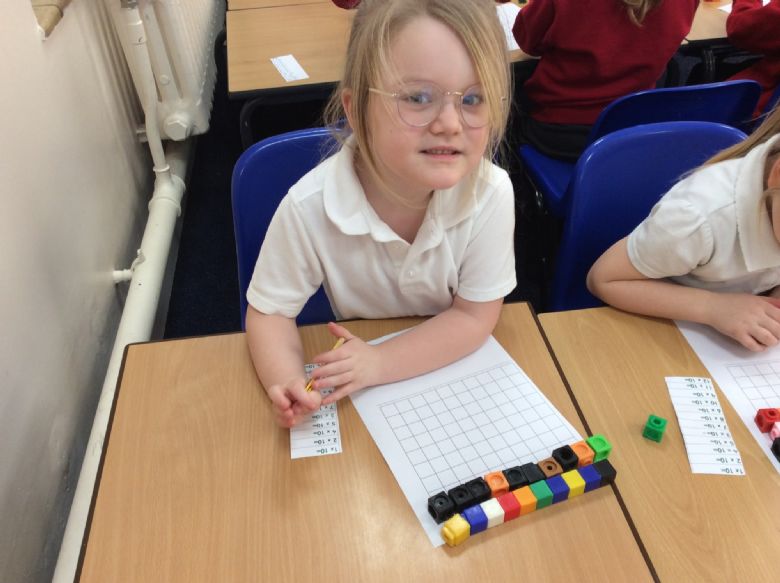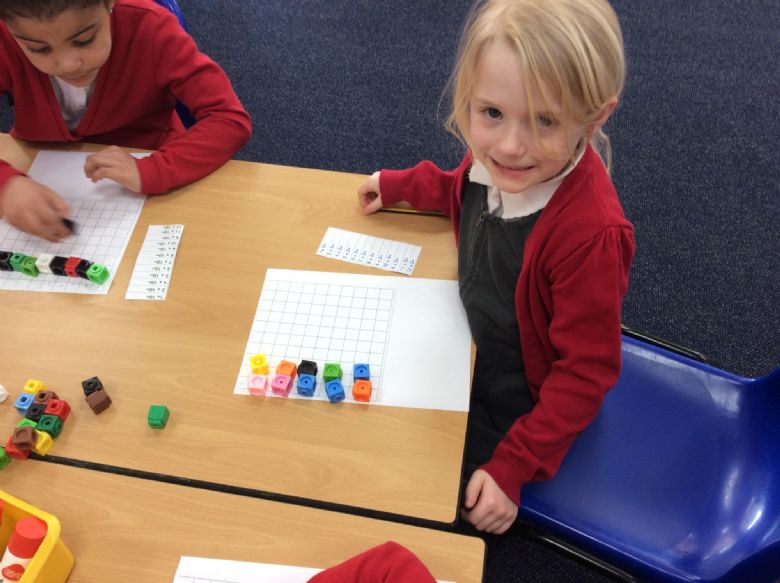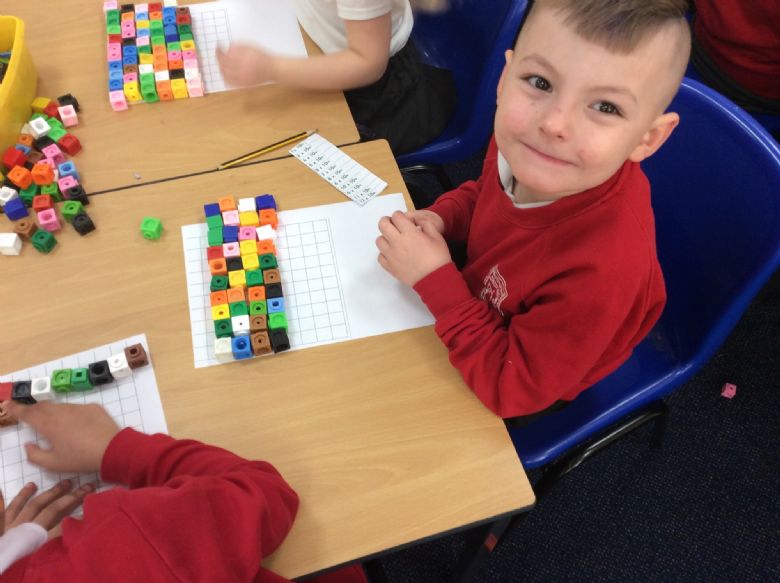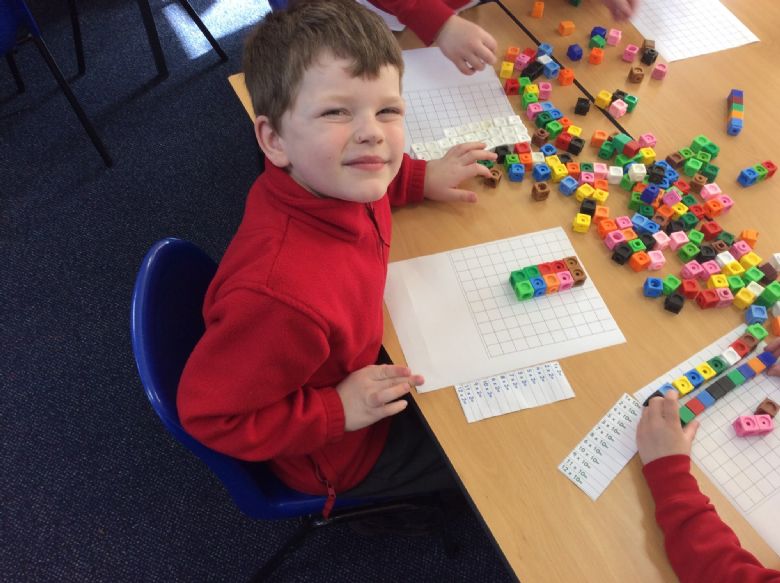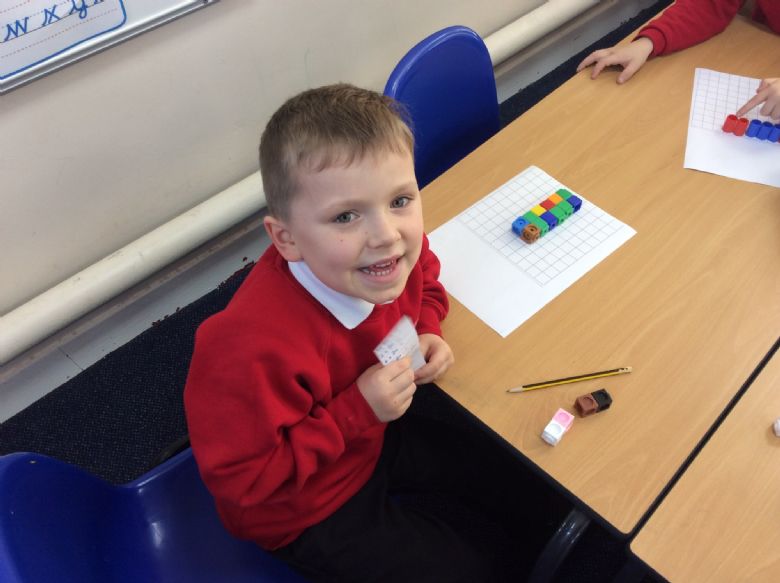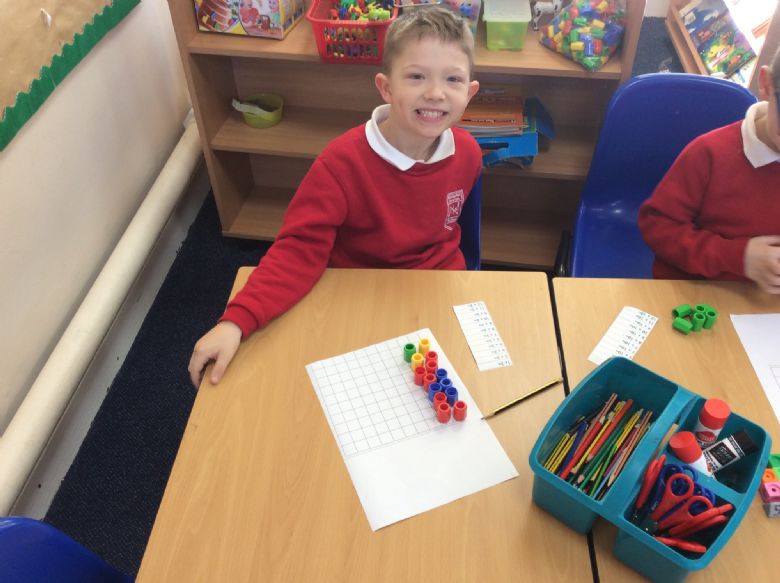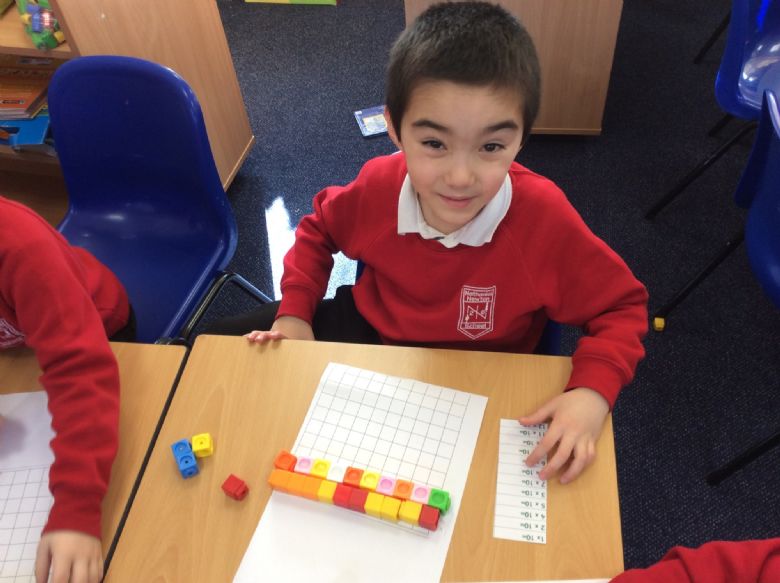 ​​​​​​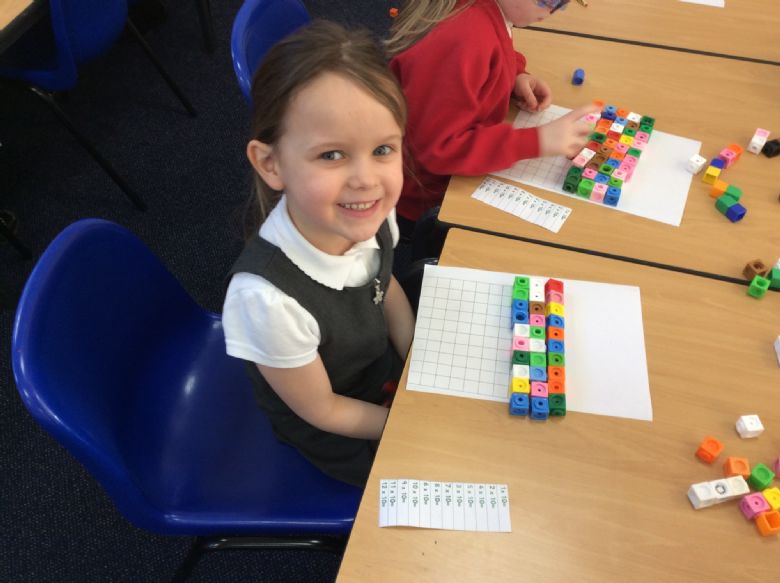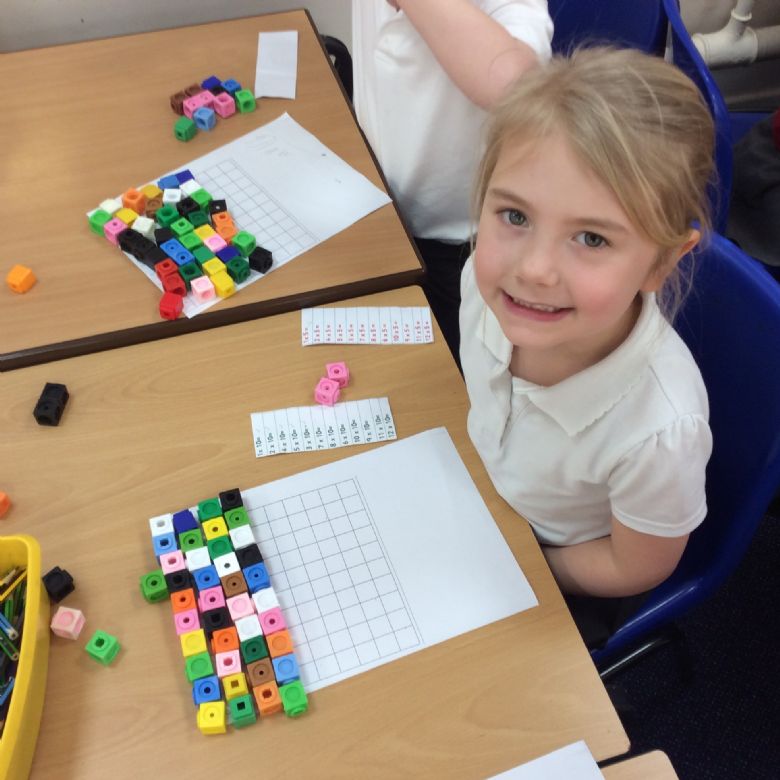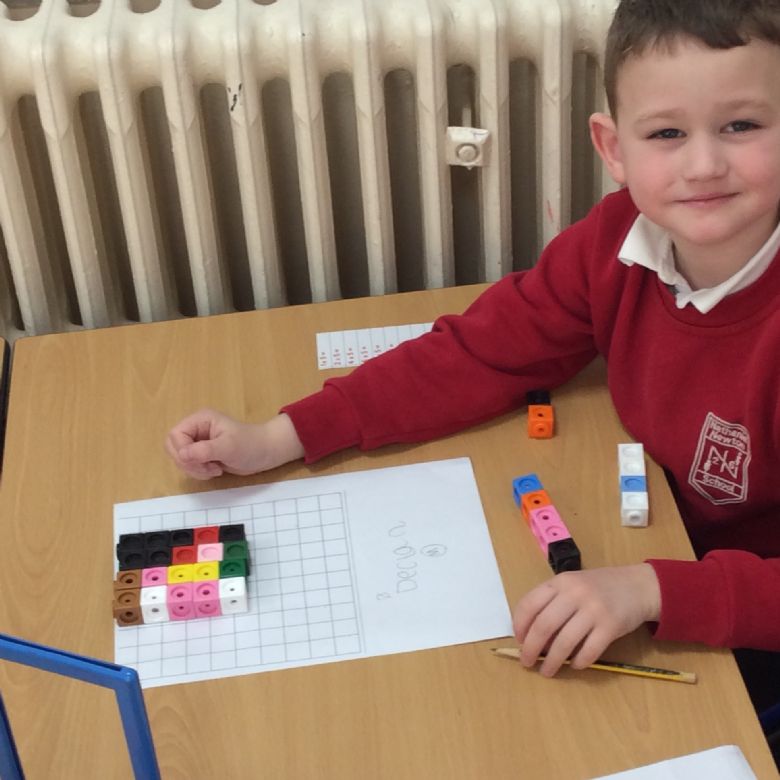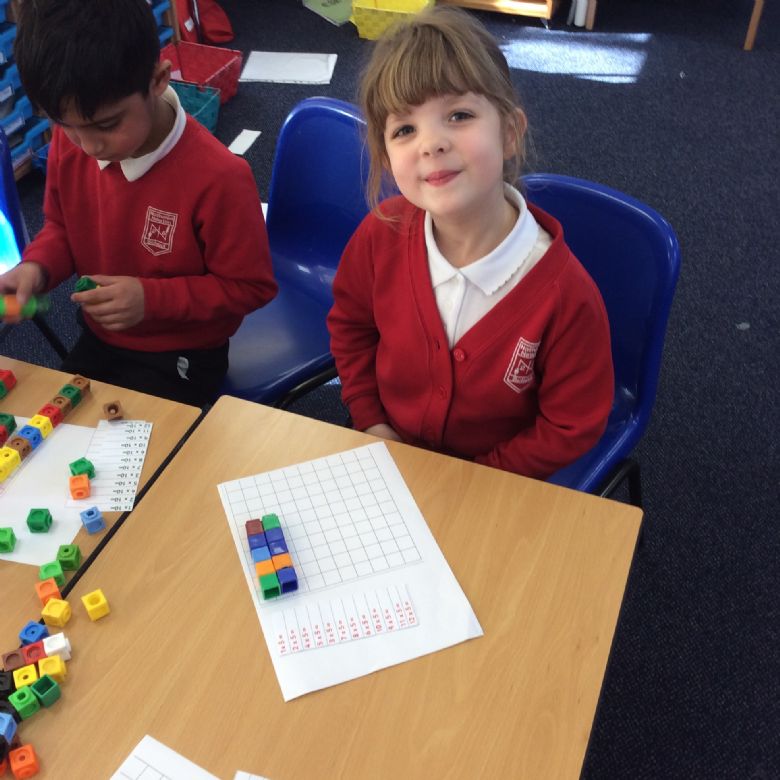 Toy Museum
This week, we had a fantastic morning showcasing all of our lovely work at the Toy Museum Morning. 1McG wanted to say a huge thank you to everyone who came and donated money towards our next school event.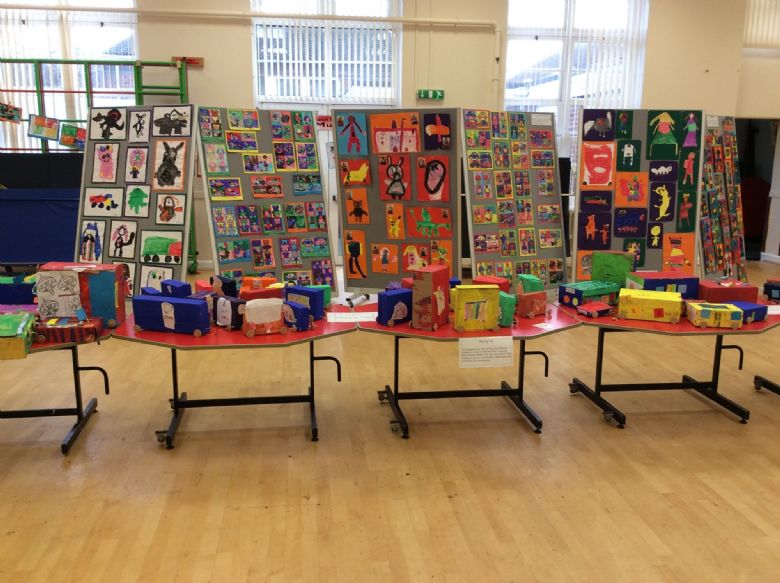 Polystyrene Prints
To follow on in the style of the artist which we have been learning about, Andy Warhol, we have been doing our own repeated images by using polystyrene and pressing our prints on to paper using different colours.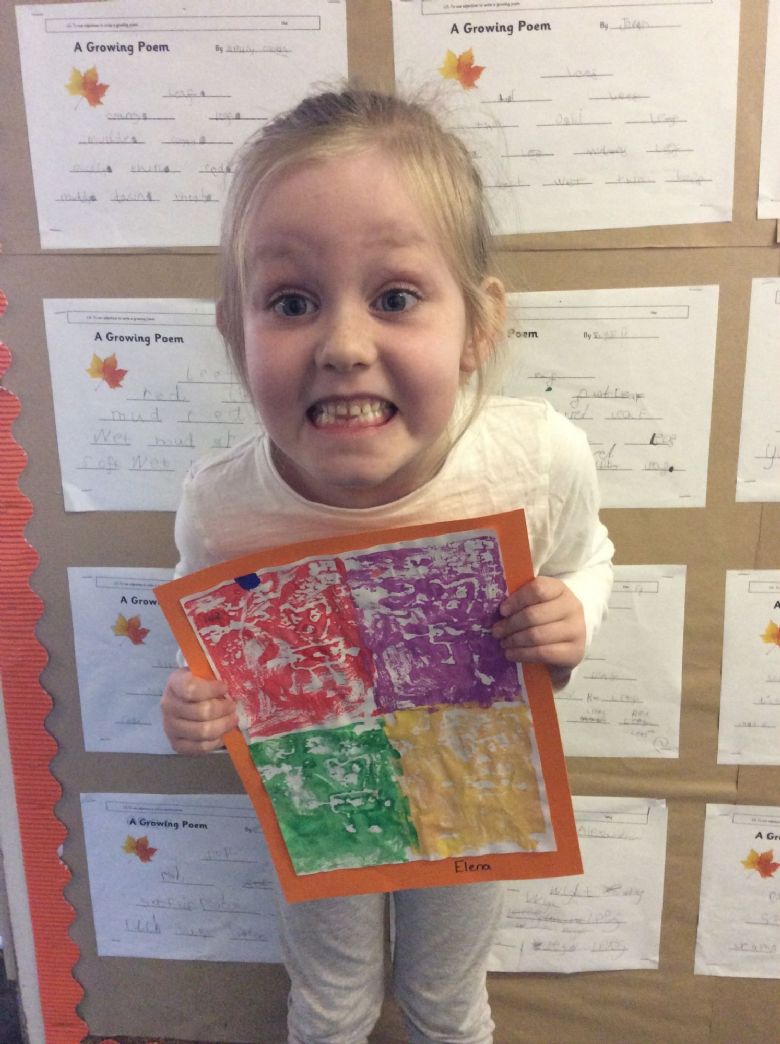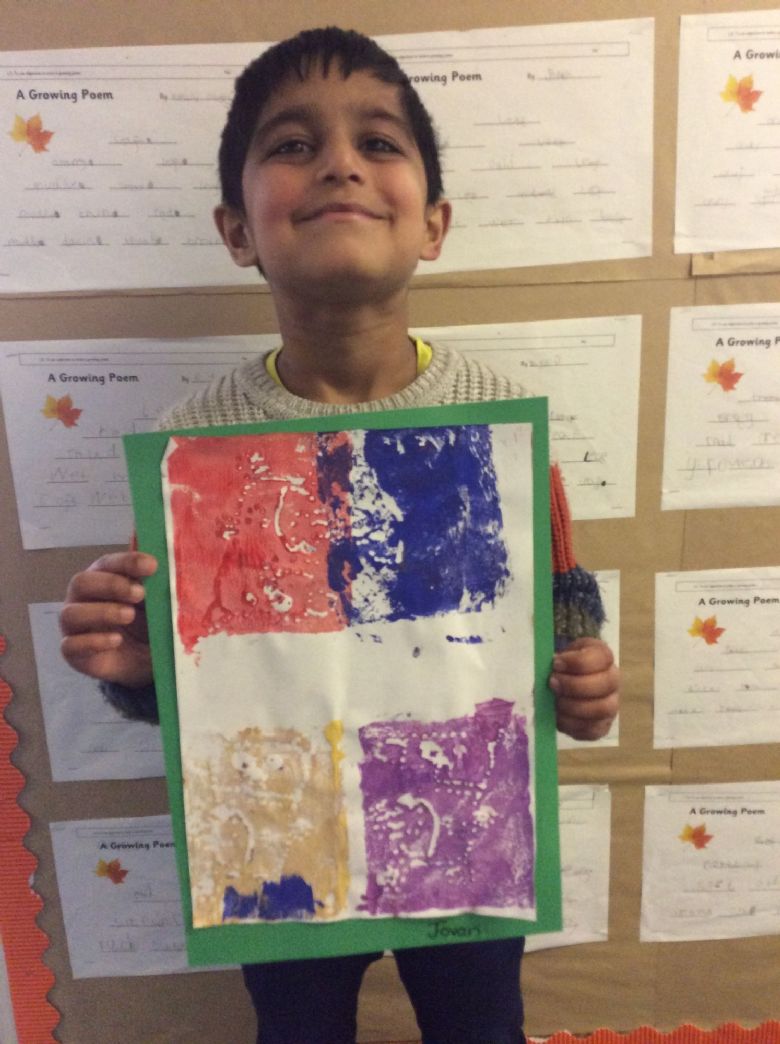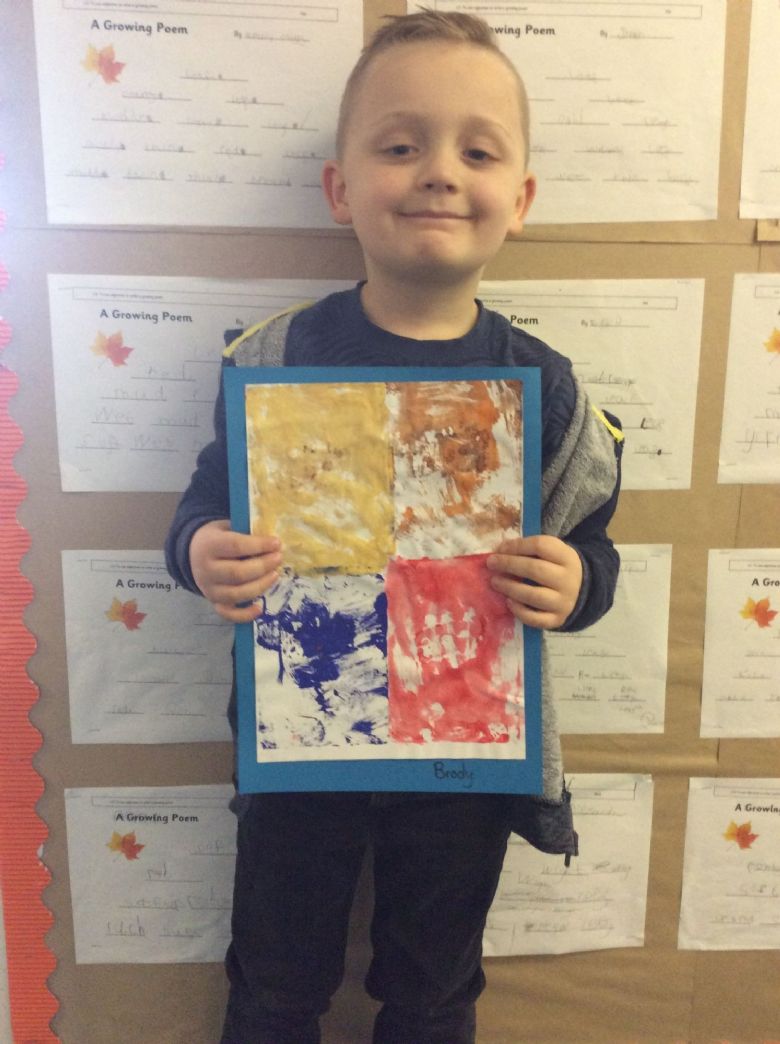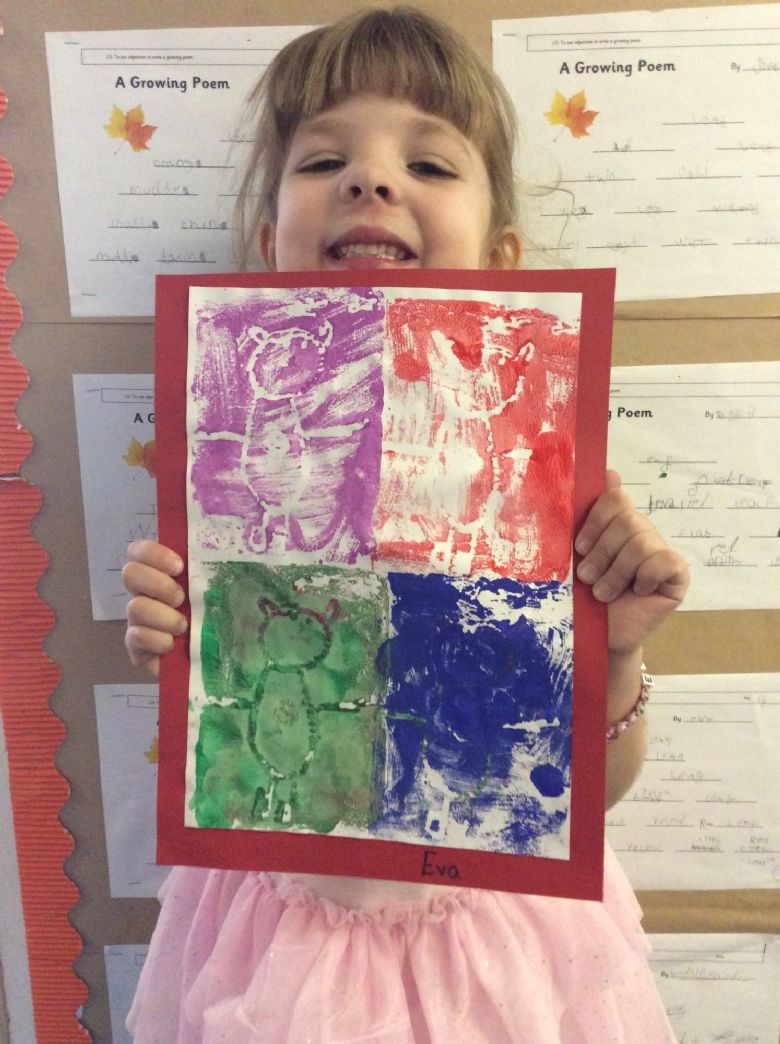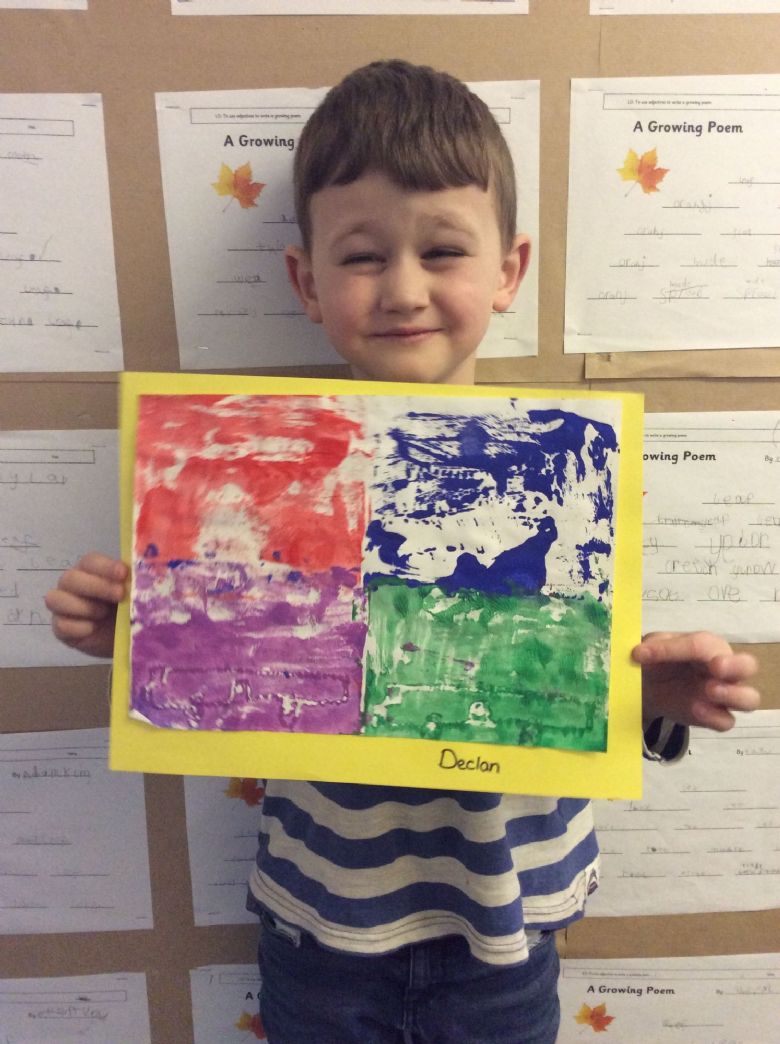 Safer Internet Day
Today (Tuesday 11th February) is Safer Internet Day. To recognise this we have been learning all about the signs of how to stay safe when we are on the Internet through our Lil and Kim Song. Whilst singing this song, we have also been creating our super SID shield to protect which we wear to remind us of all of the Top Tips.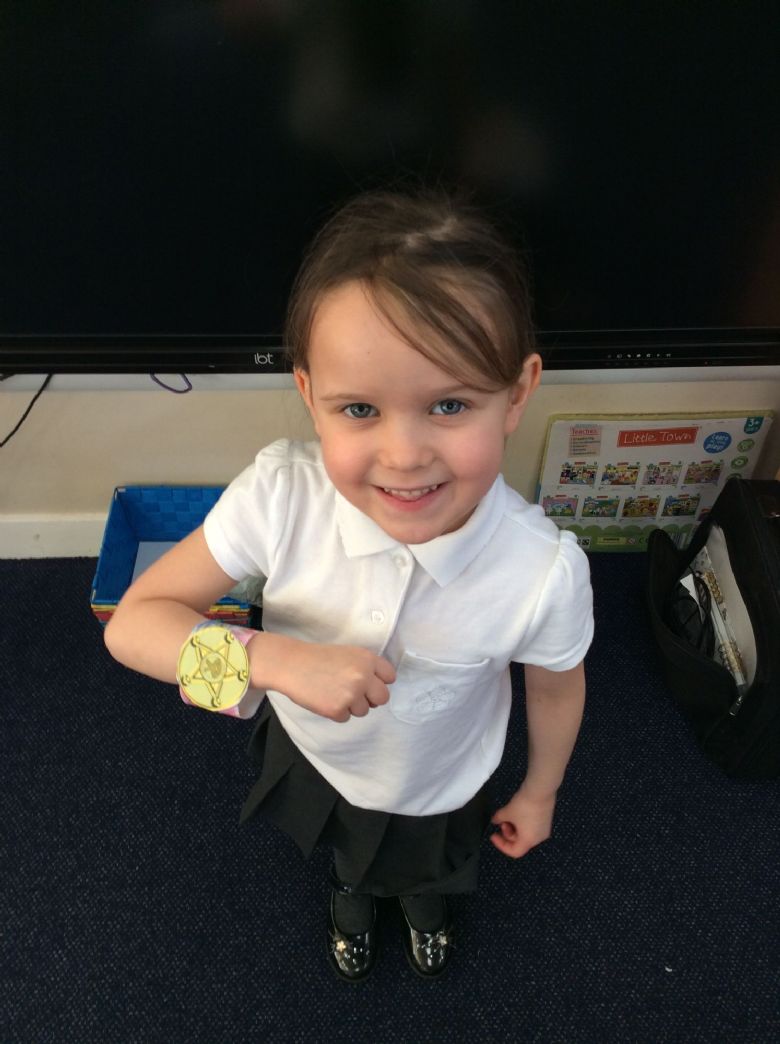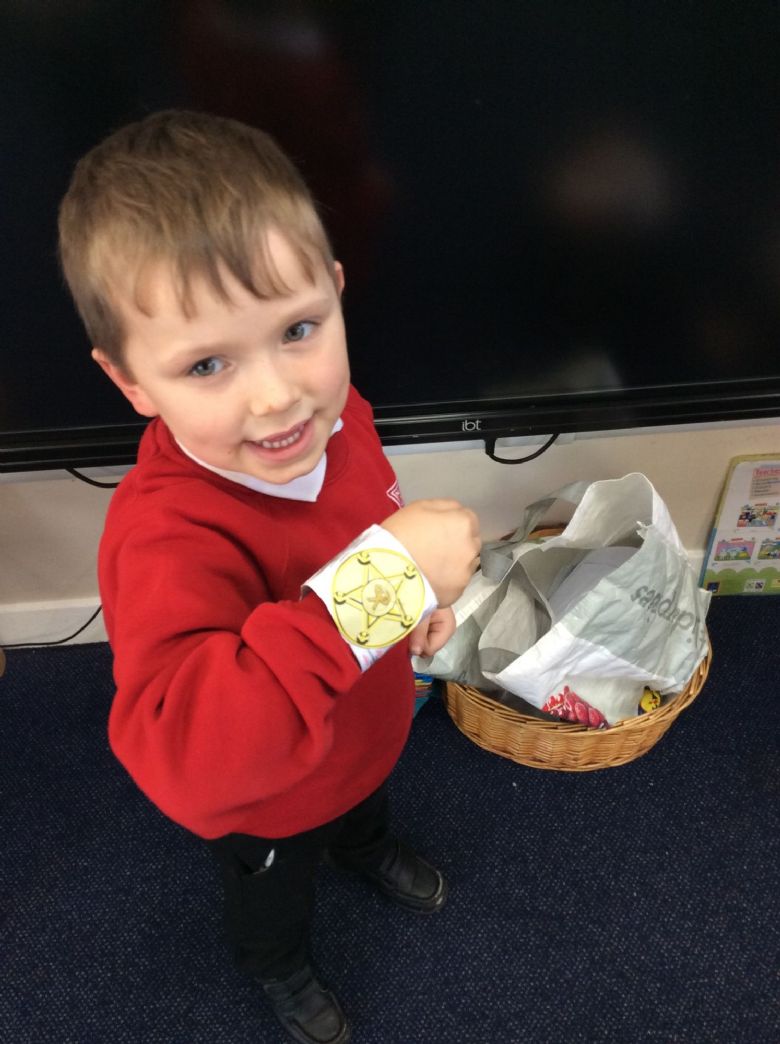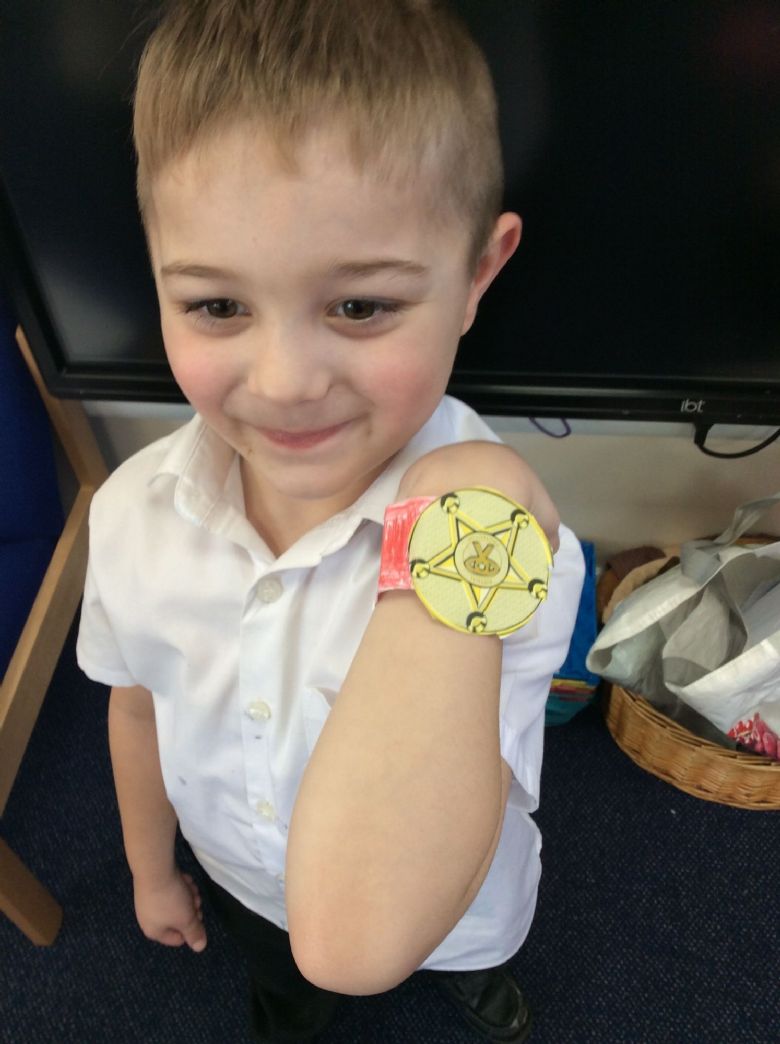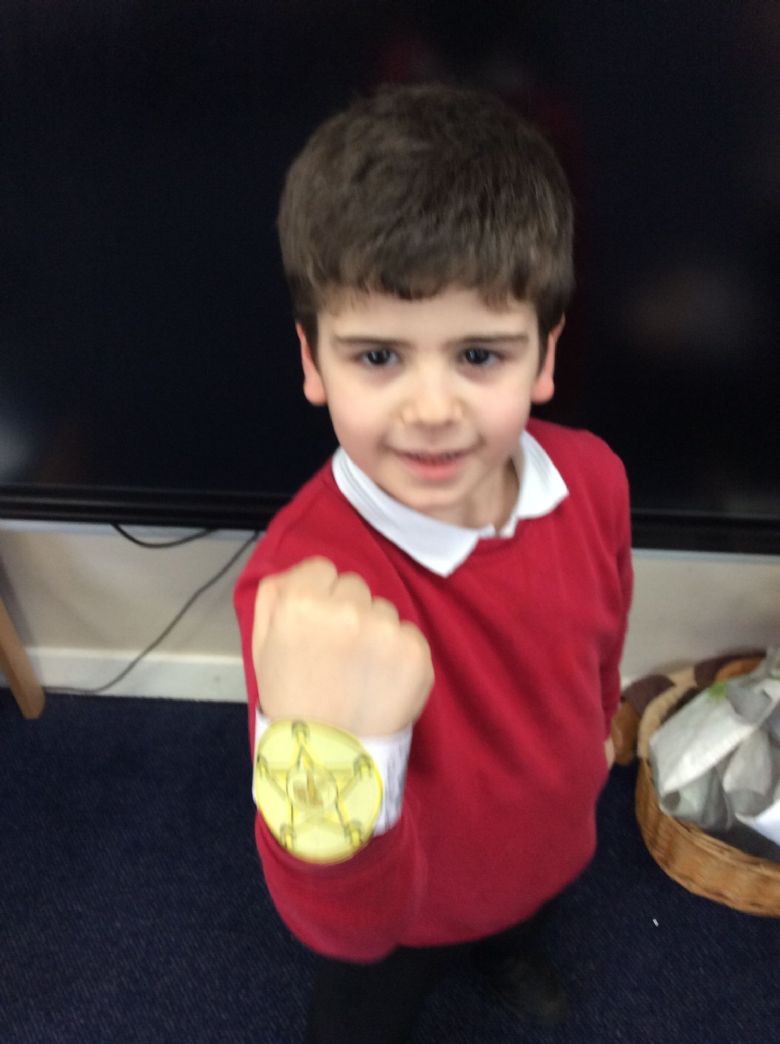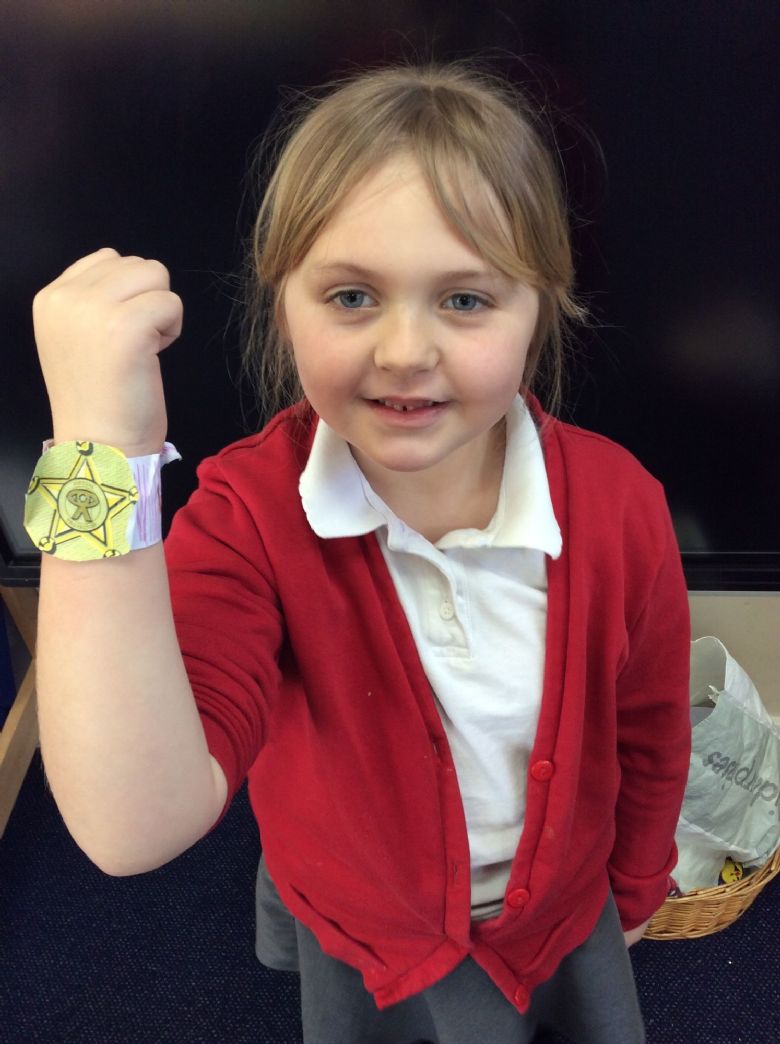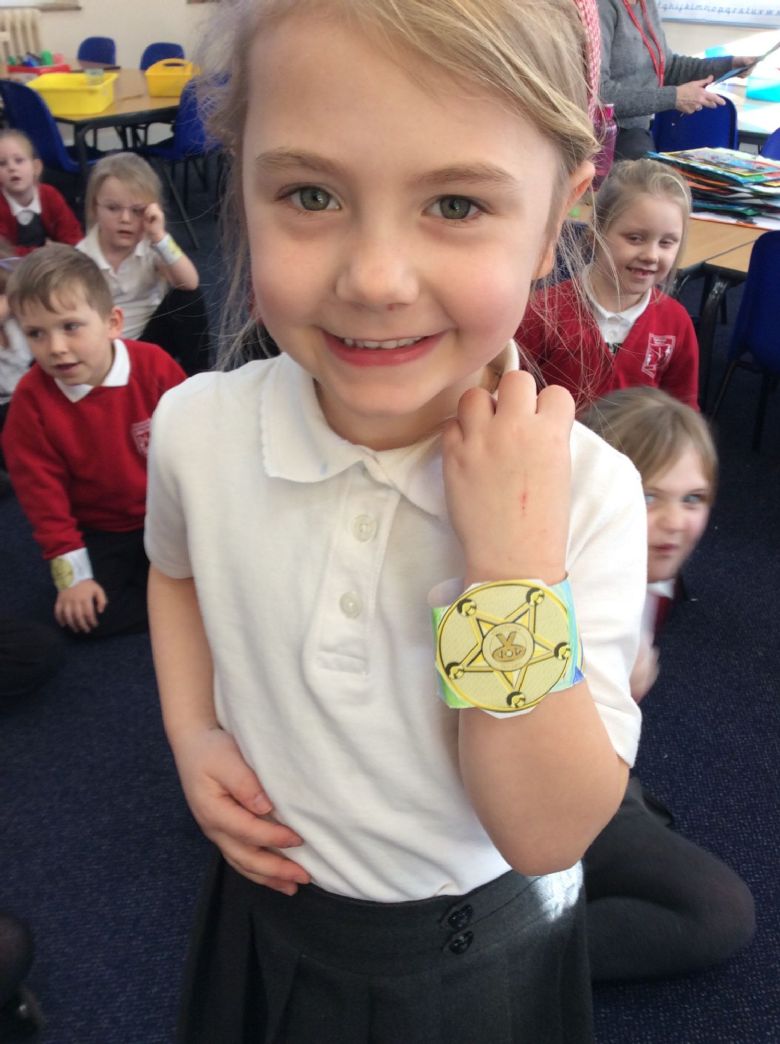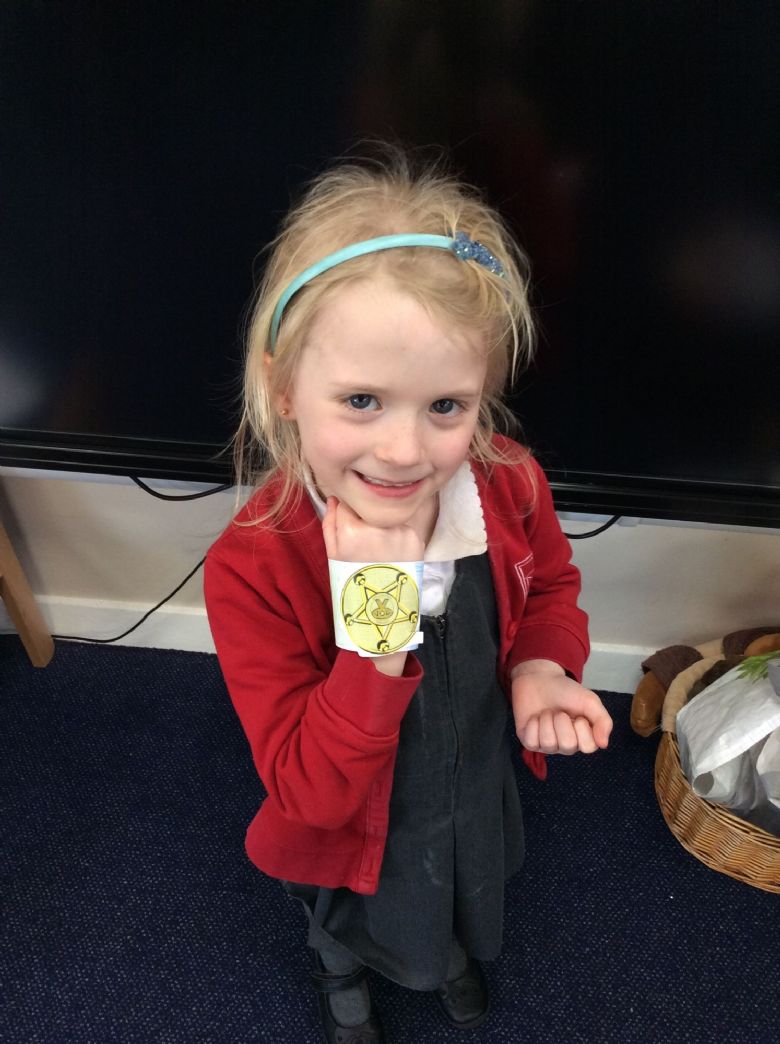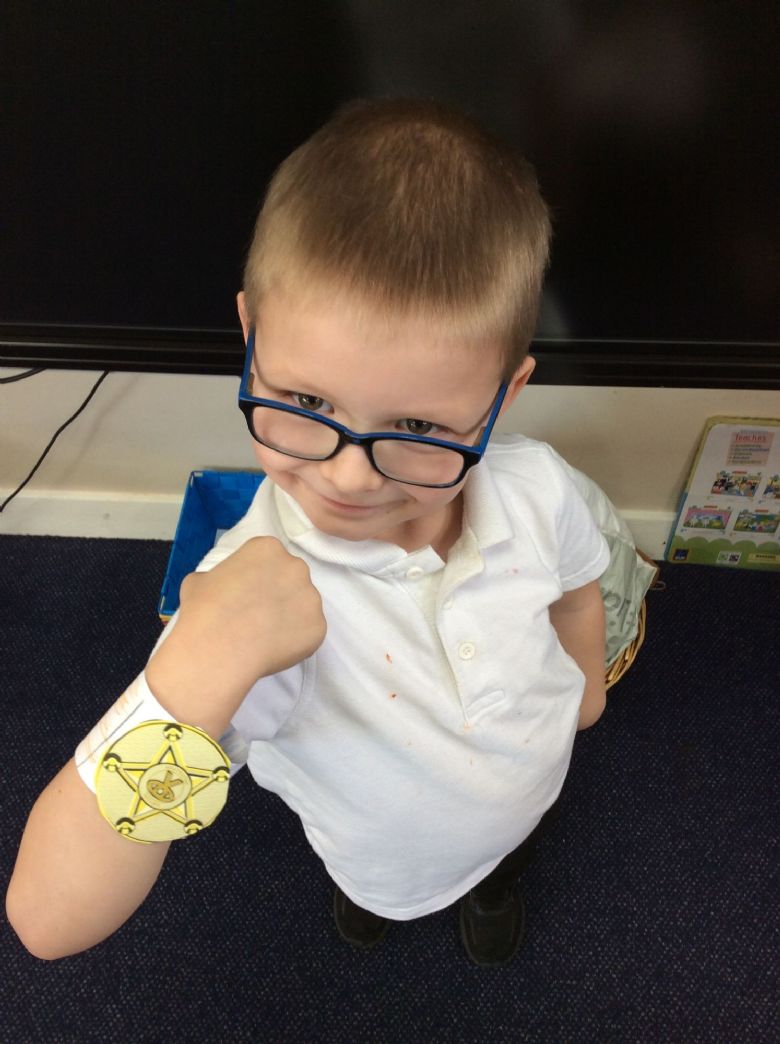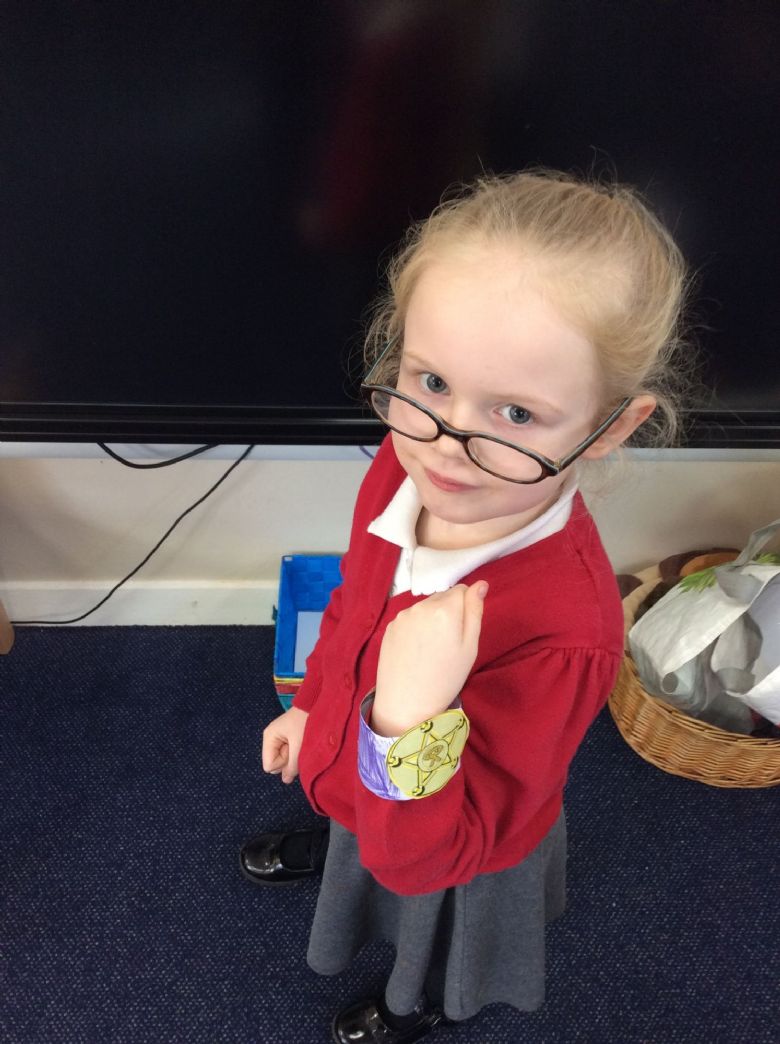 Measuring
This week in Mathematics, we have been developing our skills in being able to measure objects which are different lengths. We started this topic by being given lots of different objects to measure using cubes or cylinders. We had to record our results in our chart.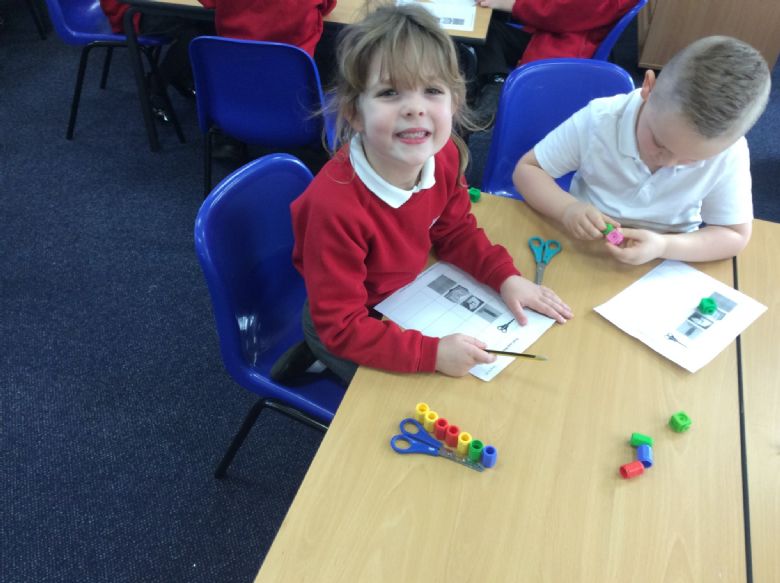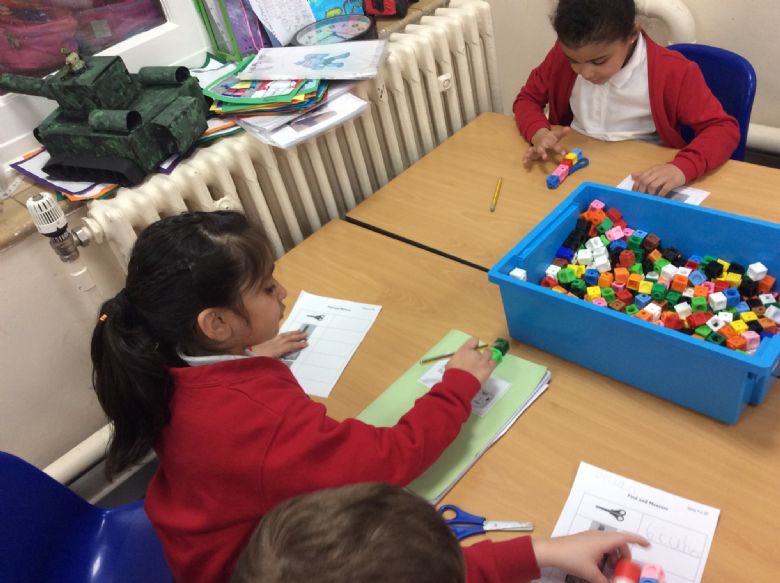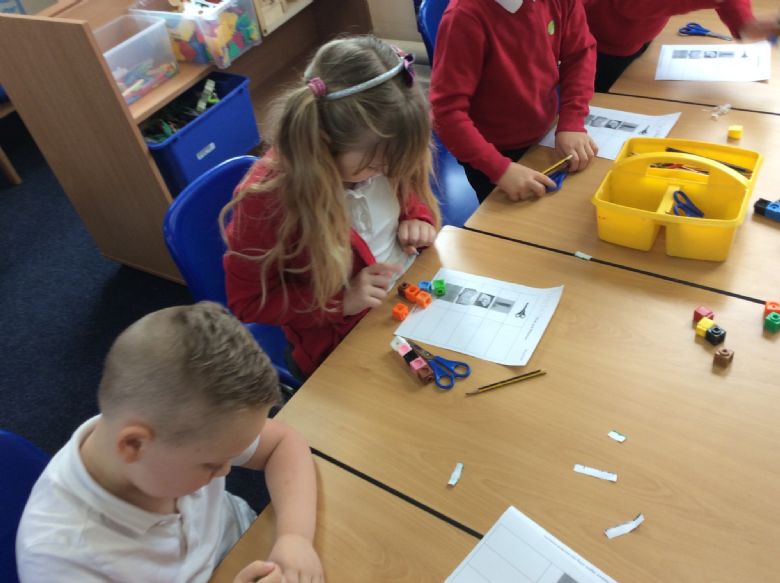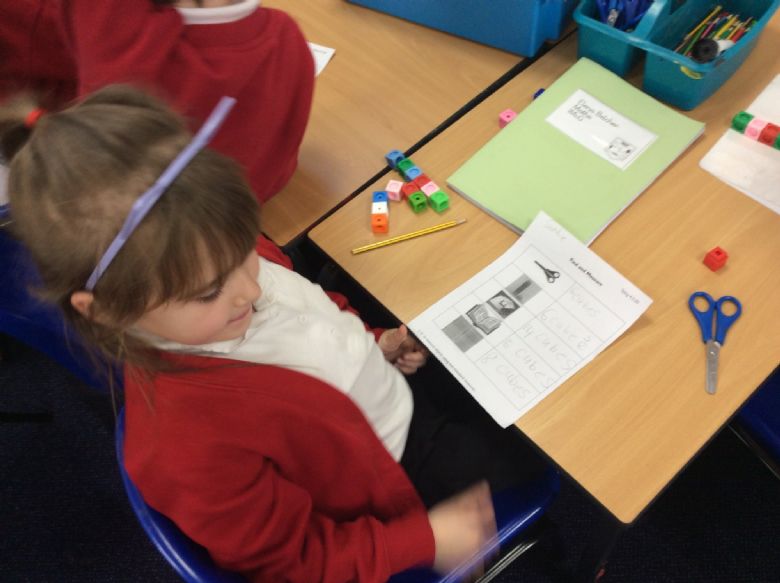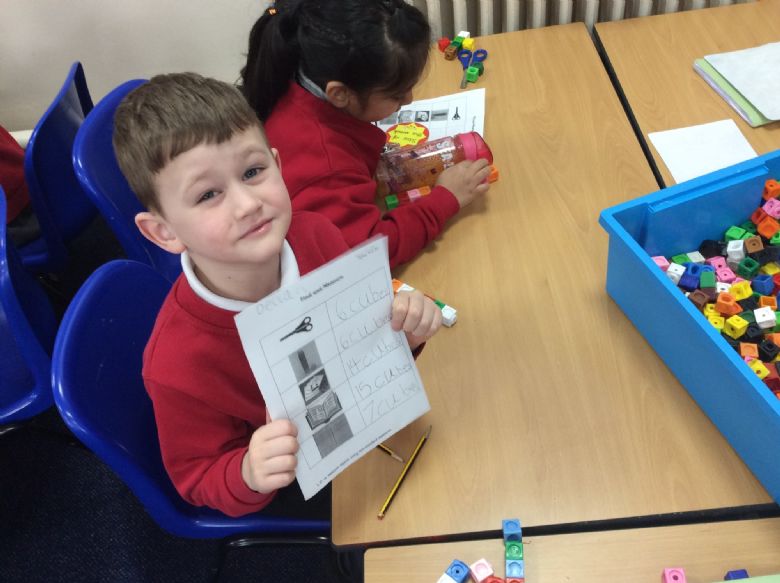 Building Our Toys
In our DT sessions for our Toy topic, we have been creating our own moving toys, which we can play with!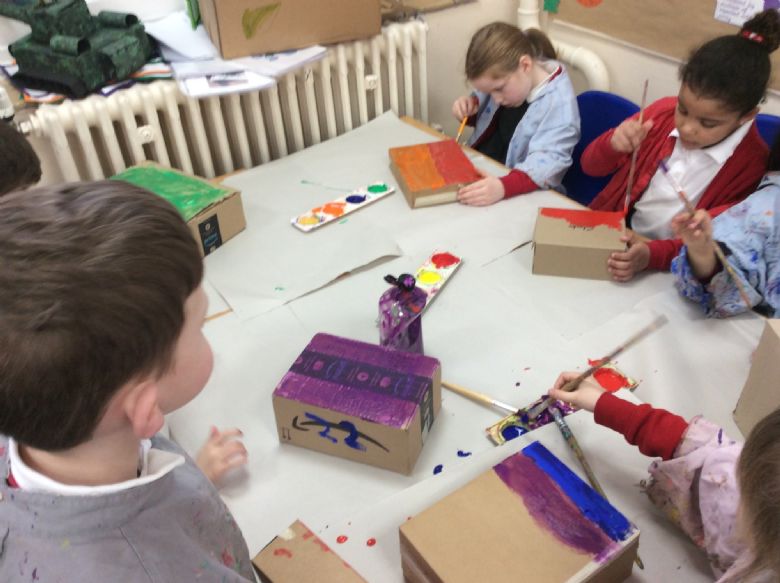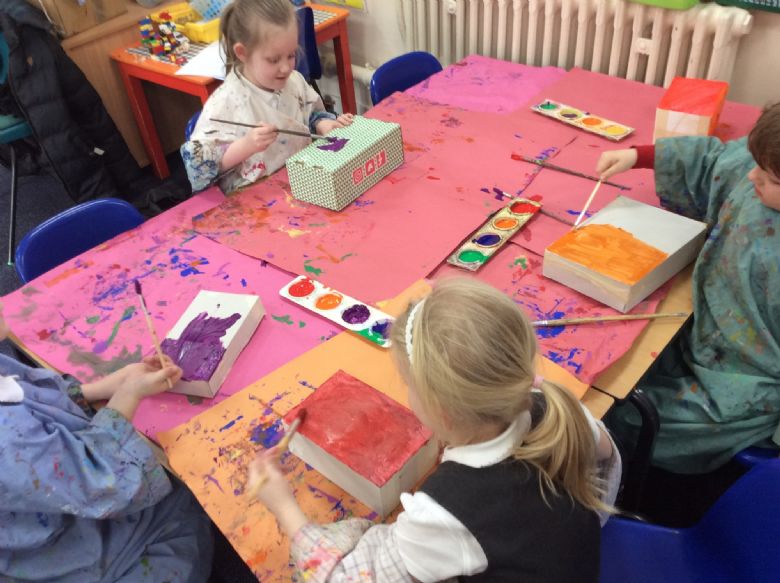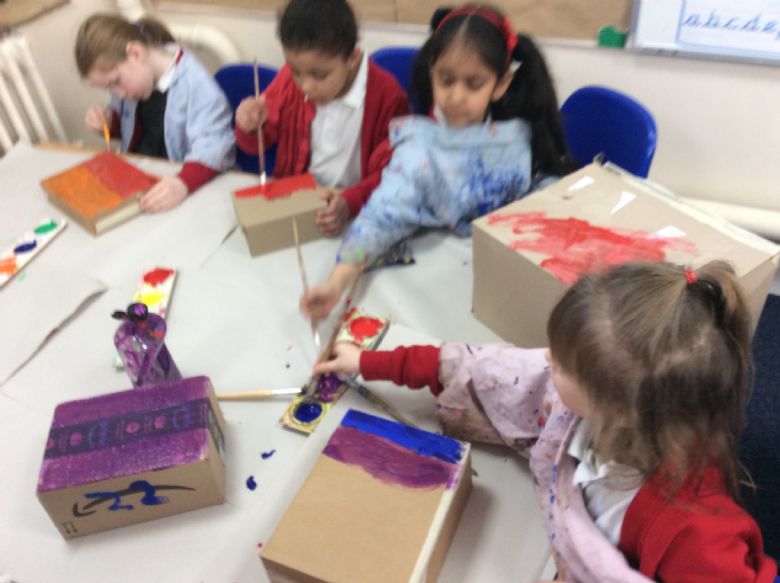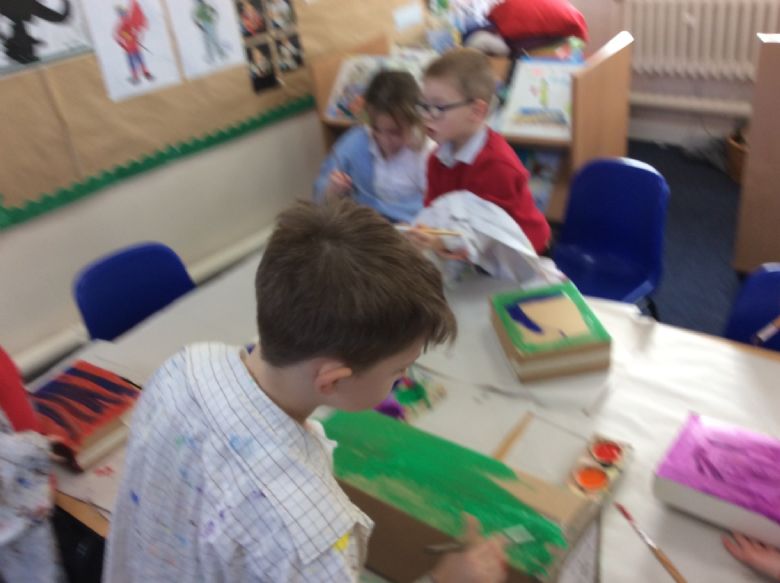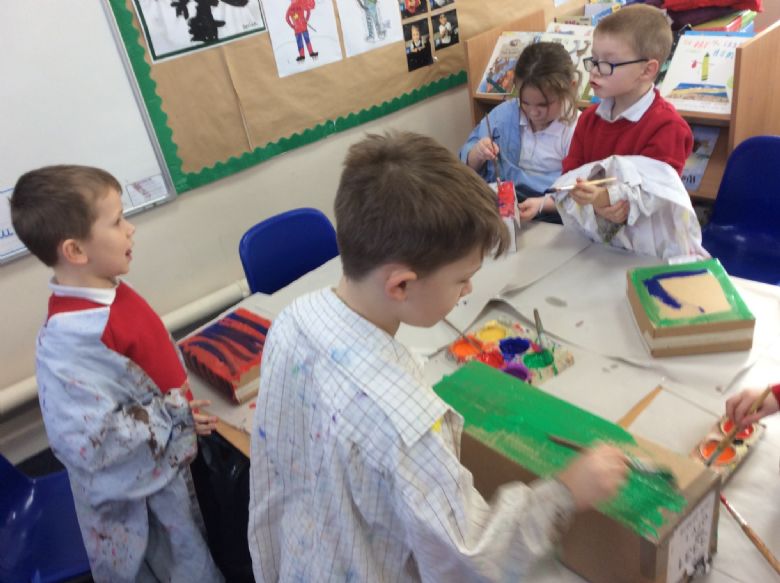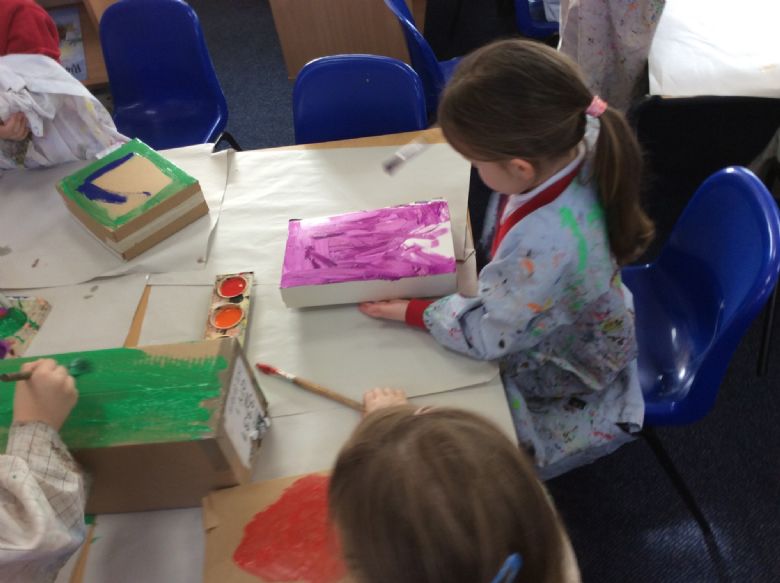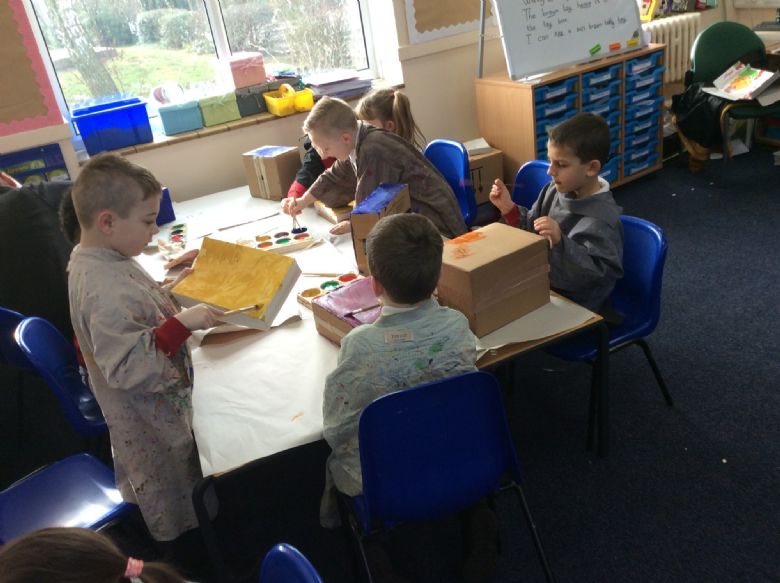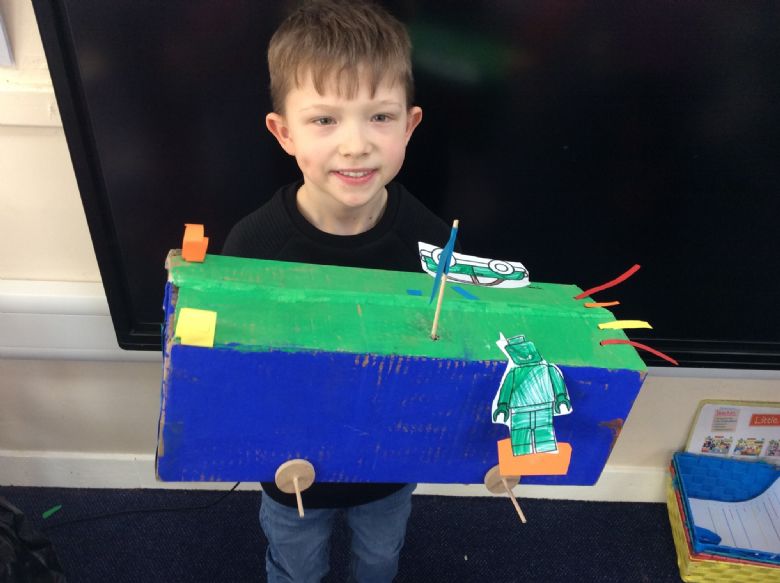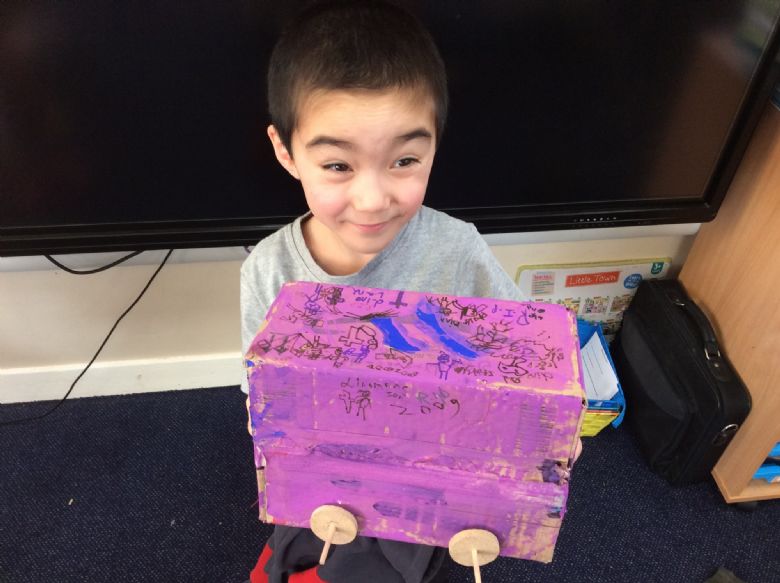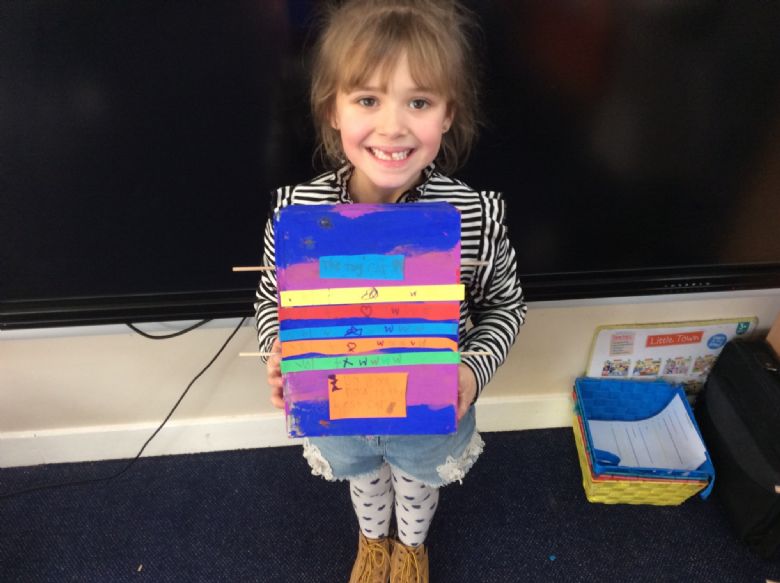 Road Safety
This week we have had had a visit from Road Safety Louise, who taught us everything that we needed to know in order for us to stay whilst we are crossing the roads. To see pictures of us enjoying our visit from Louise, click here
Shared Reading
Today we did our first shared reading for half an hour. We had lots of fun either reading with a grown up from home, someone in school or our friends. 1McG really enjoyed having the opportunity to read a book with their friends.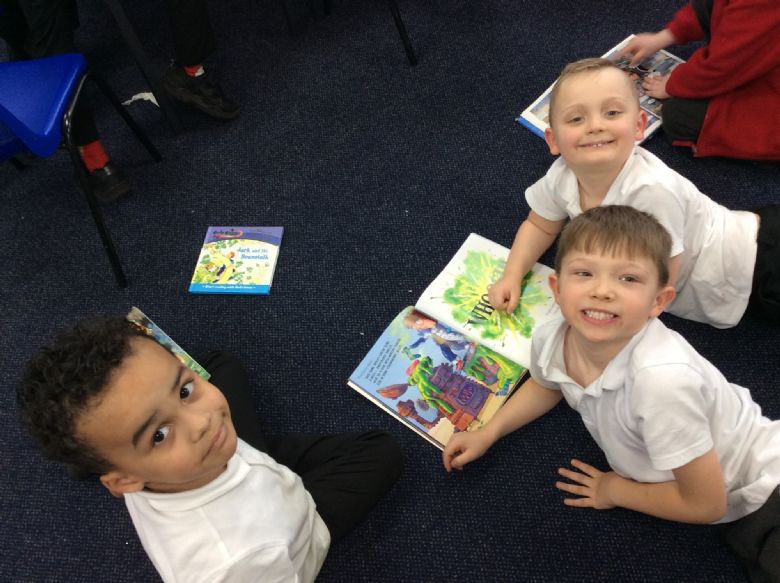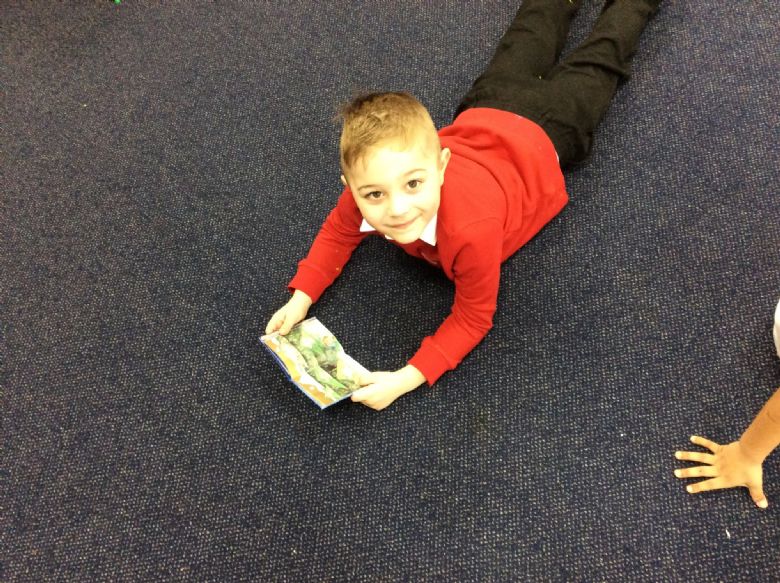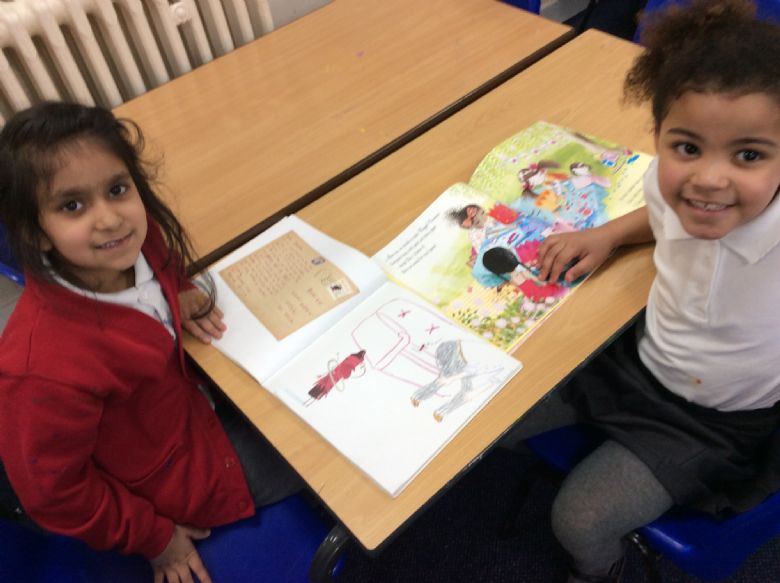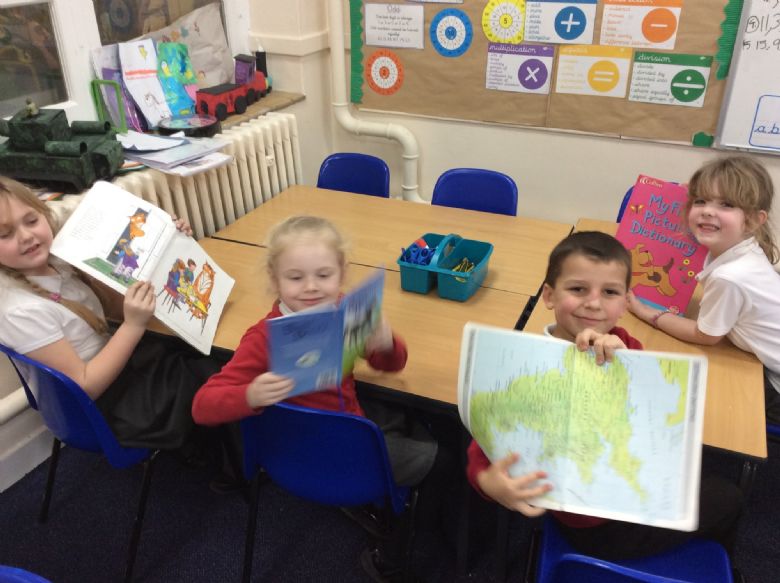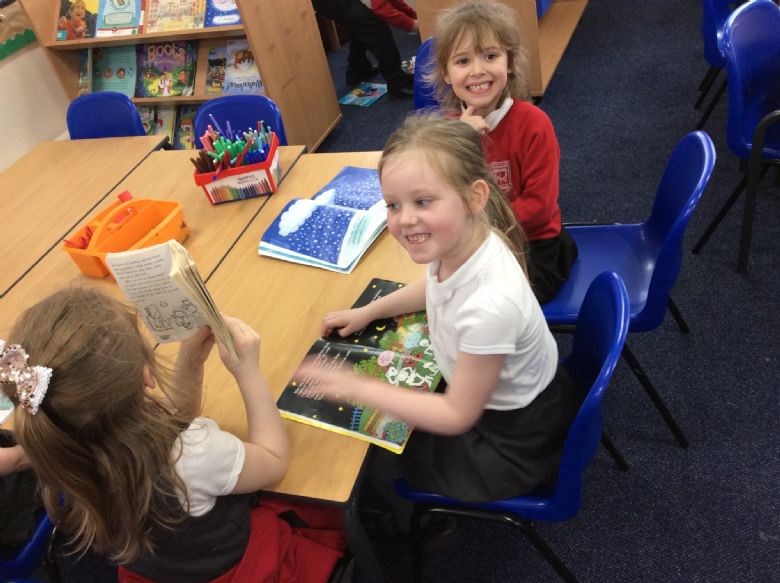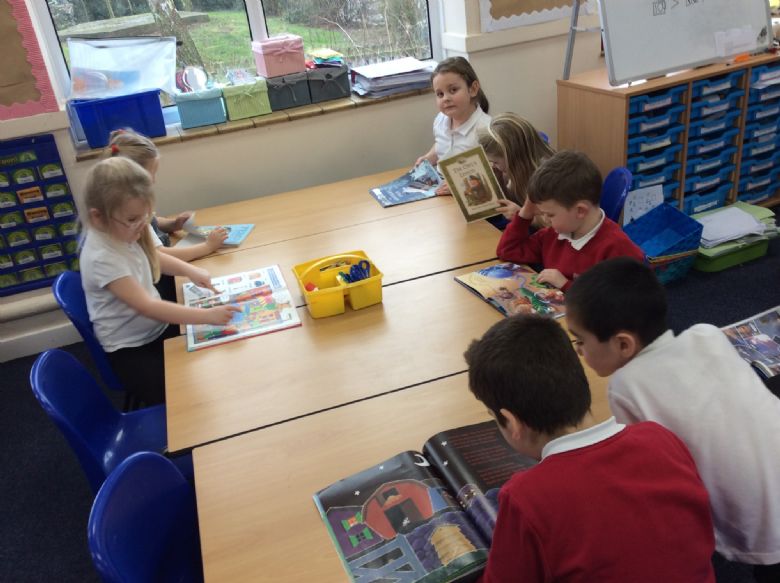 Cup and Ball
Continuing with our DT lessons within our Toy Topic, we have been making our very own Victorian Toy. We have been making a cup and ball using a piece of dowling, a cardboard egg cup, string and a bead. Firstly, we painted our egg cups and then using felt tips decorated our dowling. We then tied a piece of strip to our bead and then using a pin attached it altogether.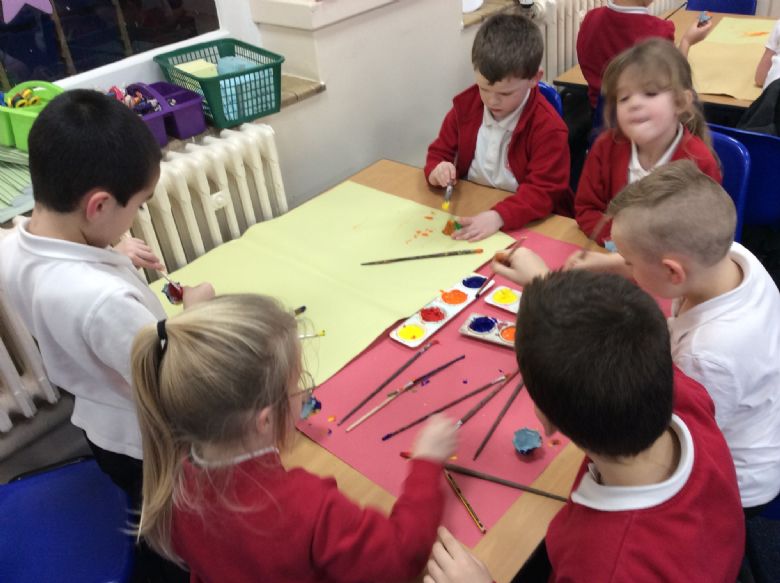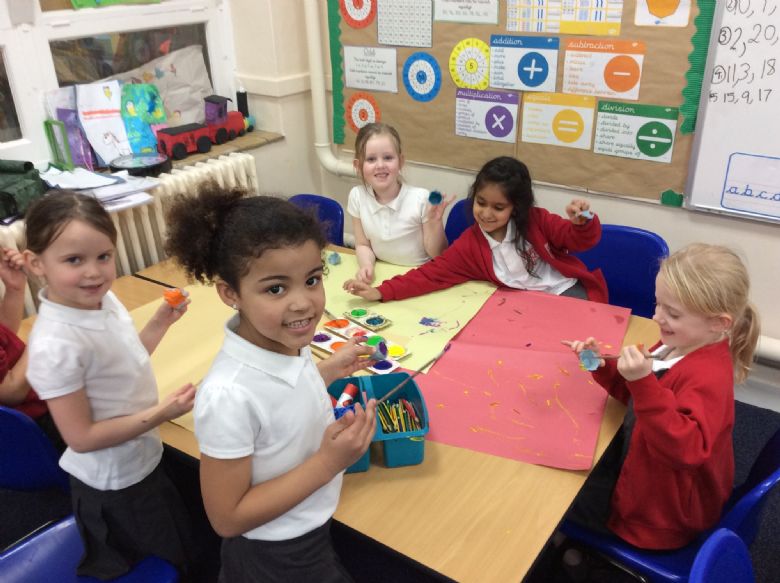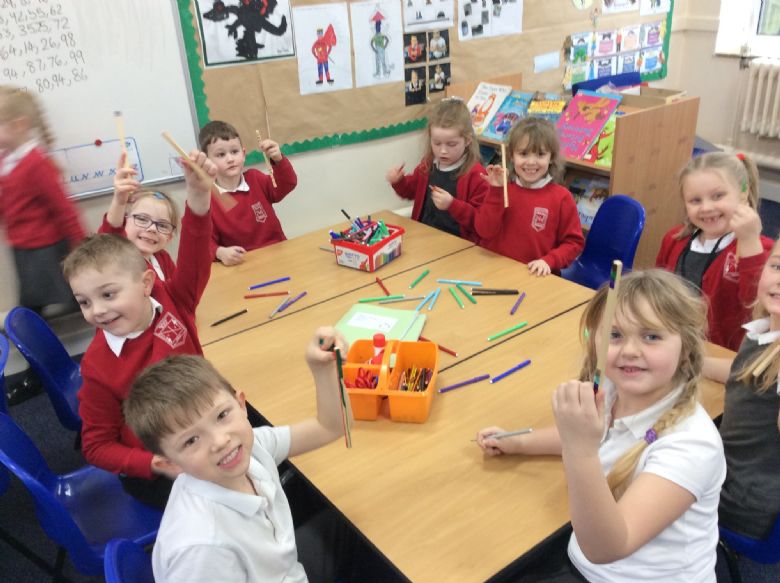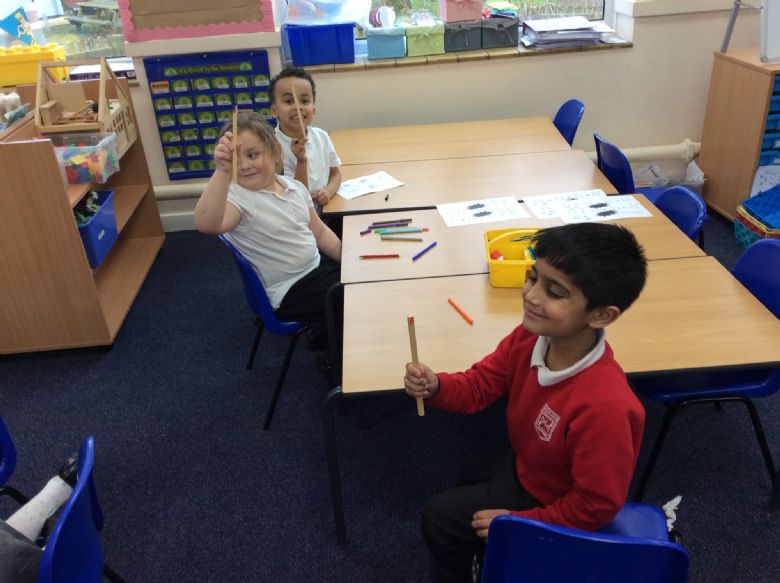 Artists in the Making!
This week we have been learning about the artist Andy Warhol. We firstly discovered lots of interesting facts about him and created a fact file. Afterwards we then decided to copy his screen printing technique, which means having the same image printed lots of time We had to make sure that even though the pictures were exactly the same, we used different colours on each picture just like he did!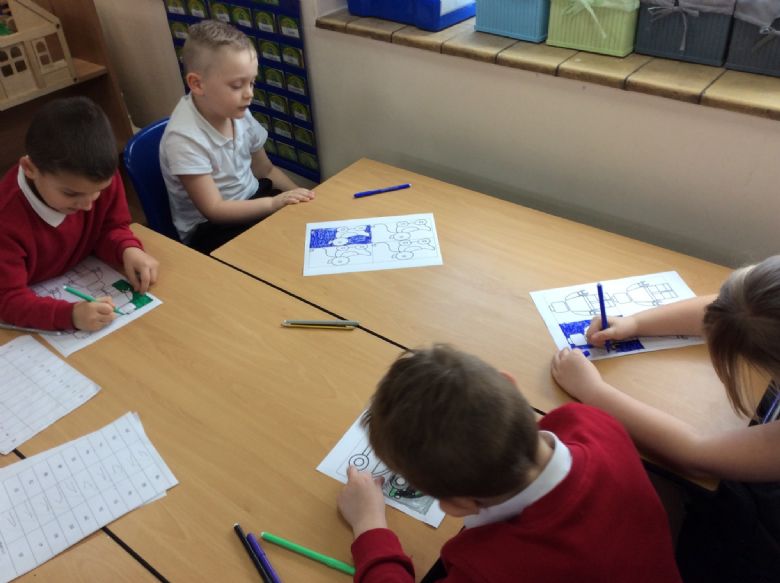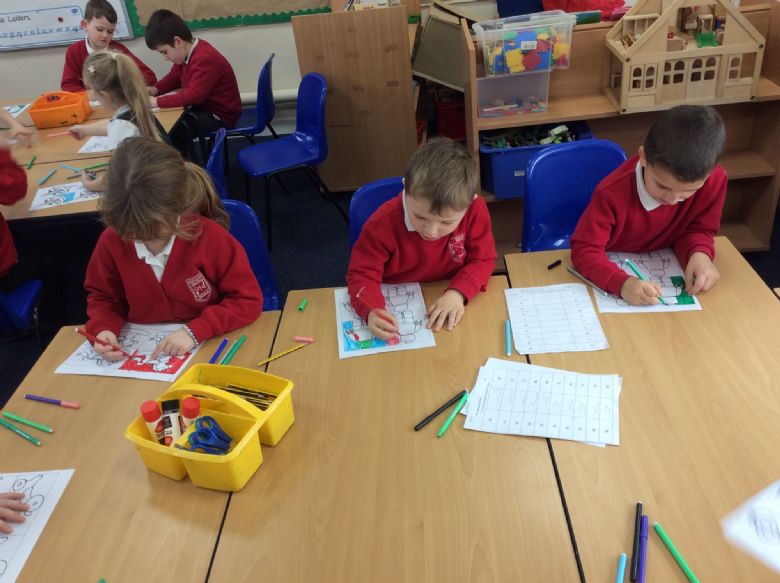 #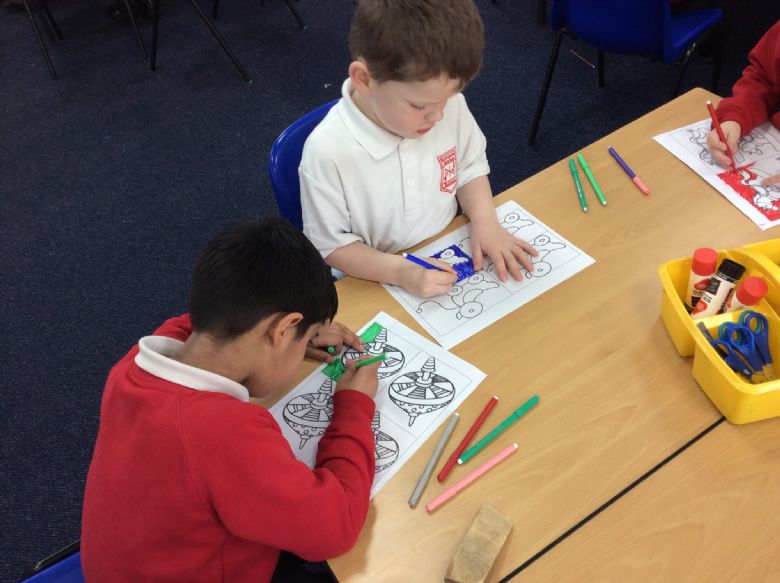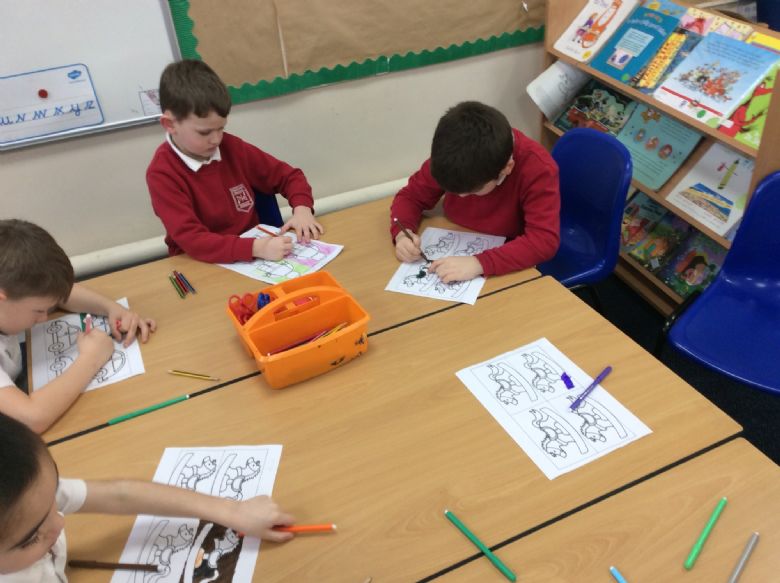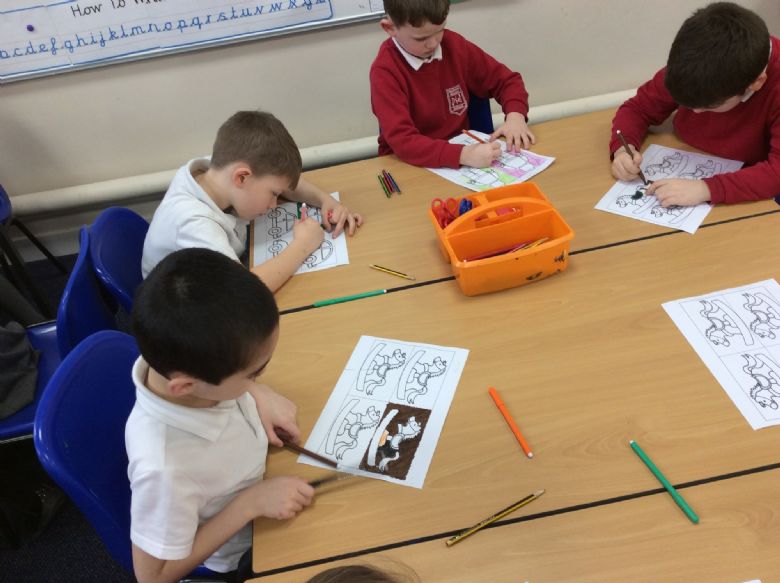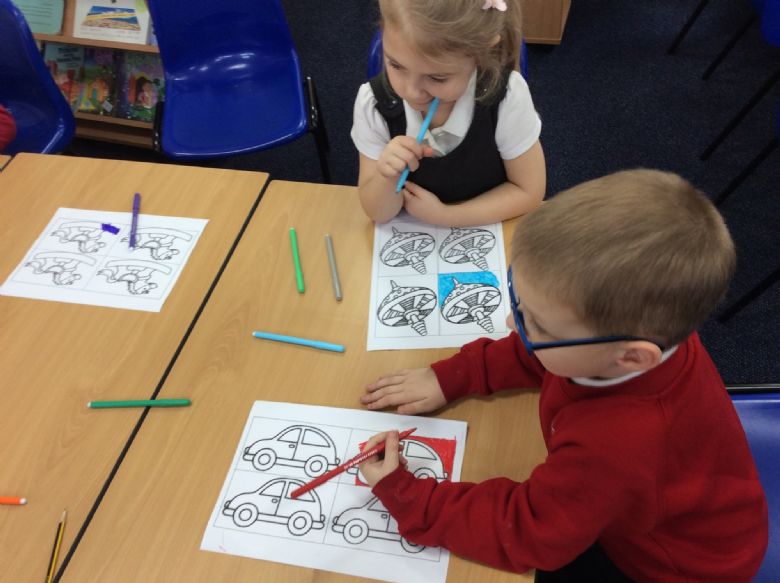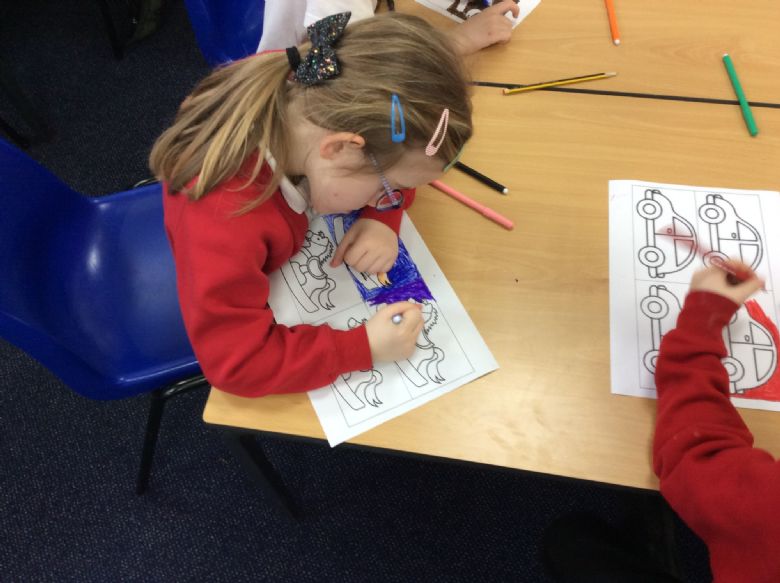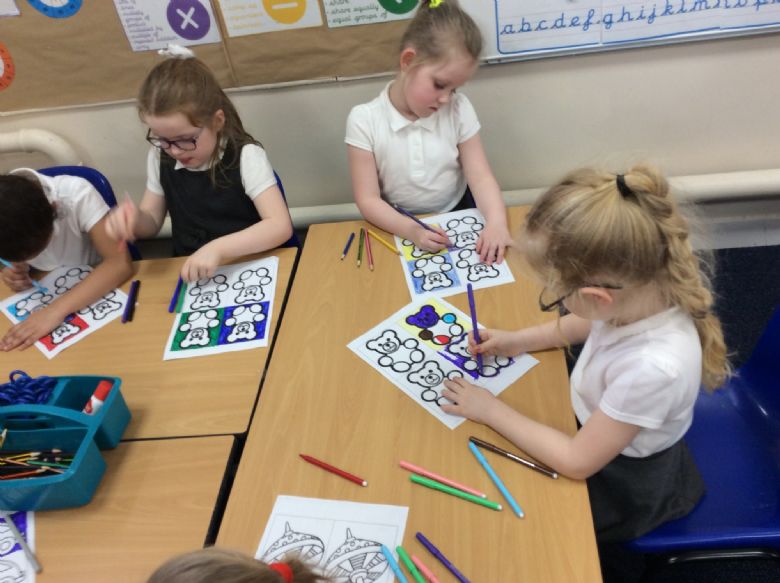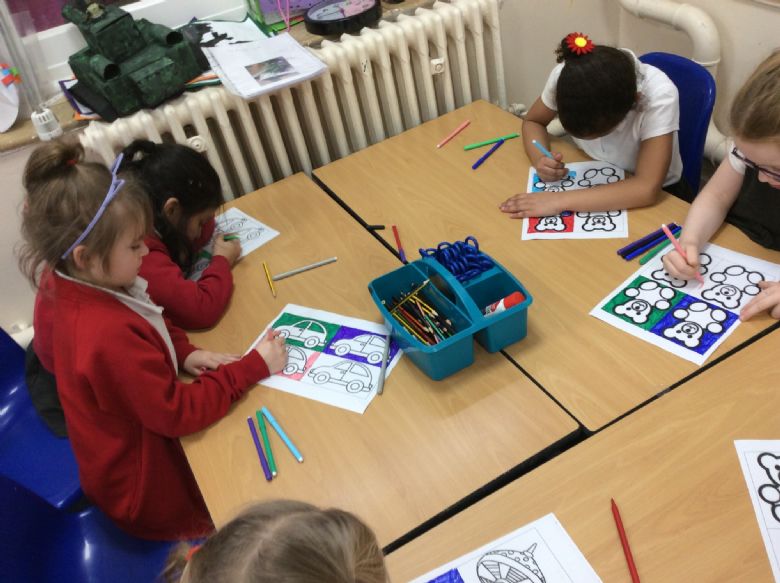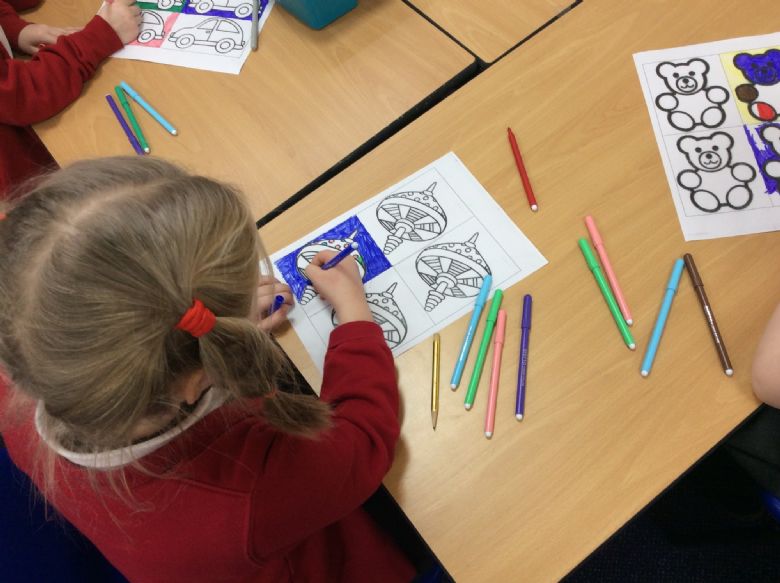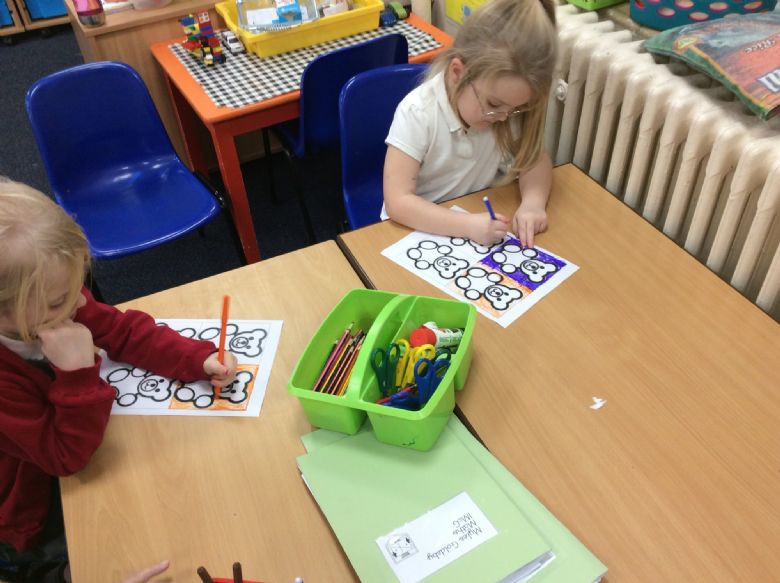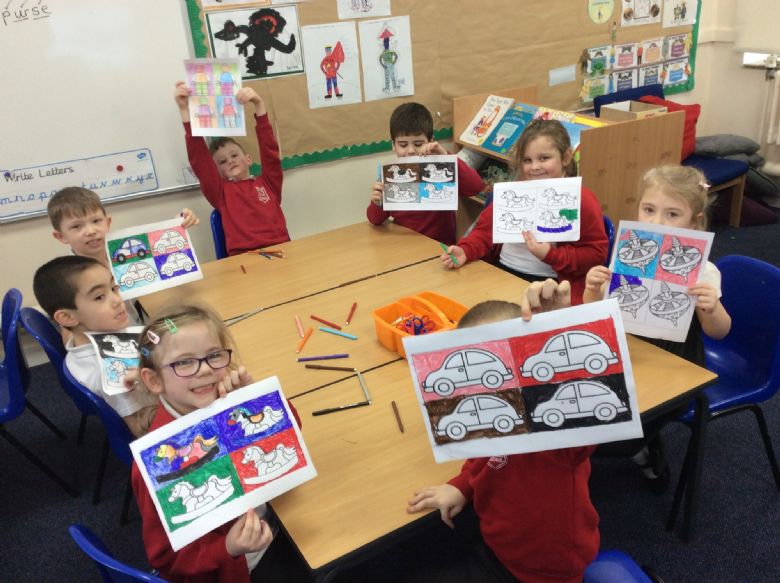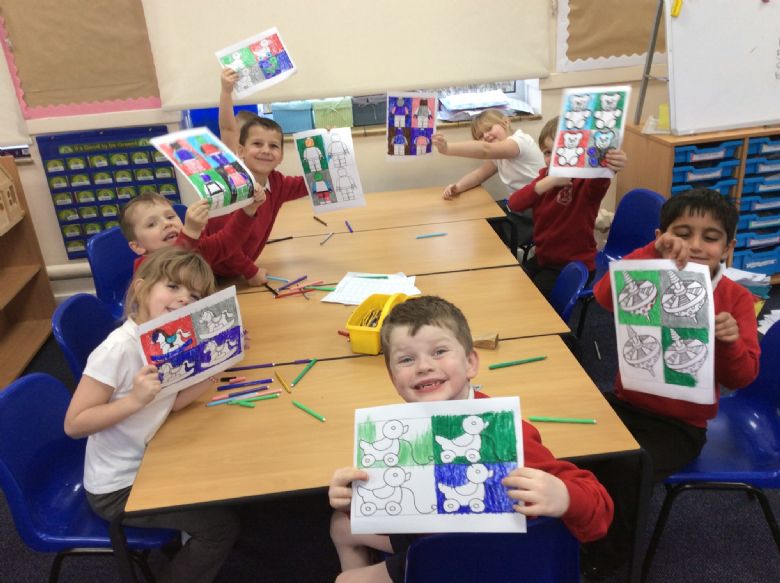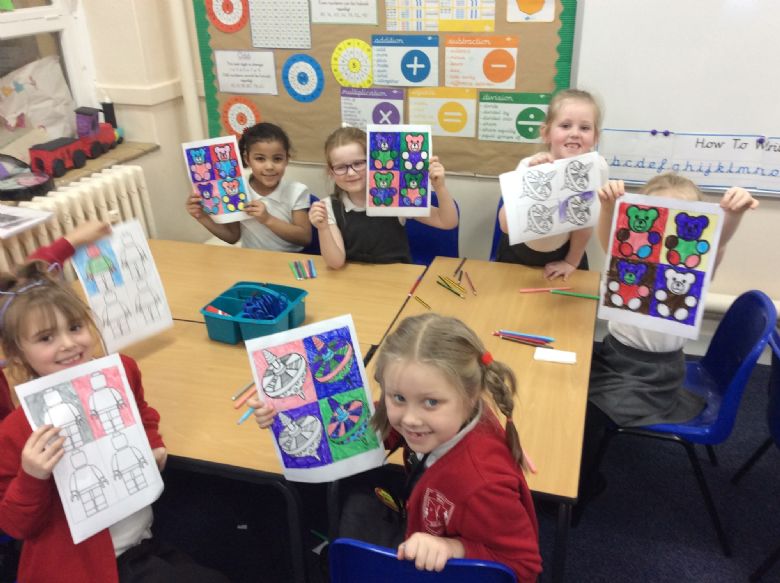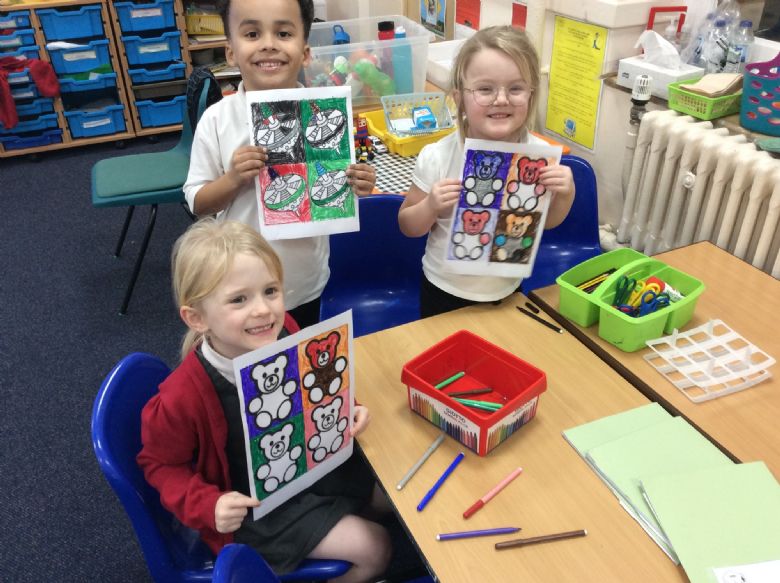 Old or New?
This half term, as our topic is Toys, we have been looking at toys which were made in the olden days and toys that were made more recently. After having a class discussion about why we thought certain toys were made when they were, we then have a selection of pictures which we had to sort into old and new. We really enjoyed this task and discovered lots of interesting facts!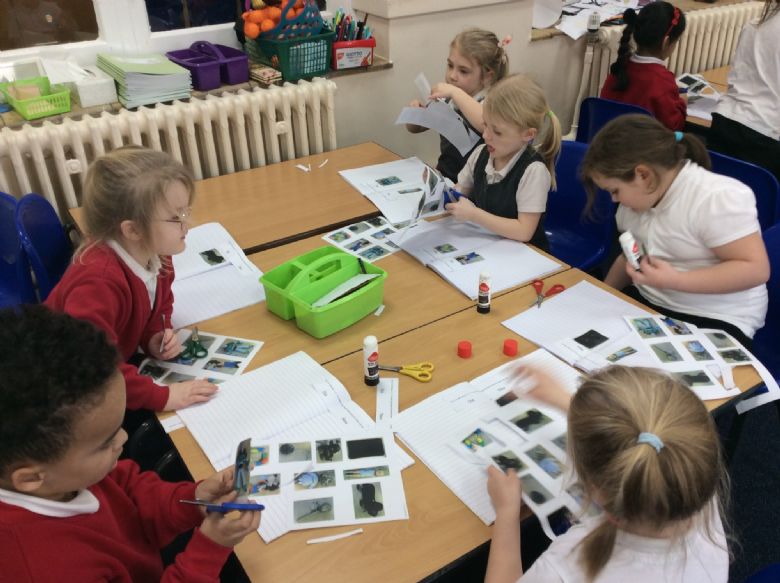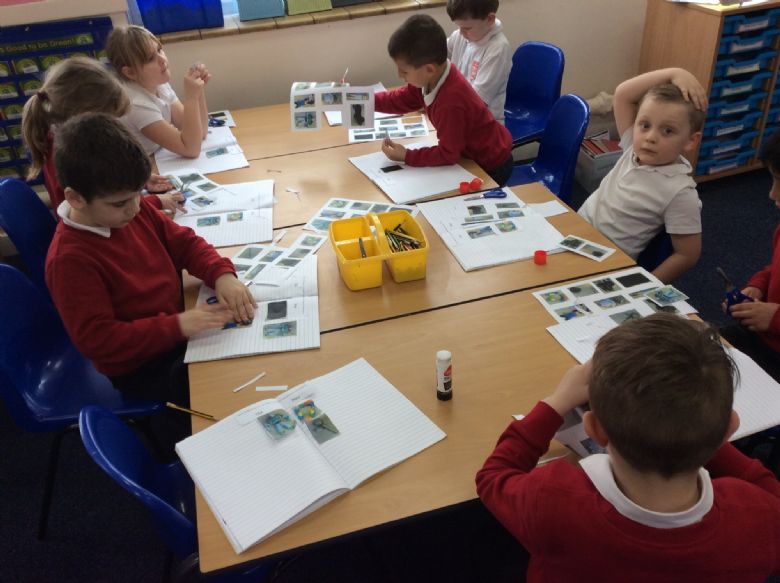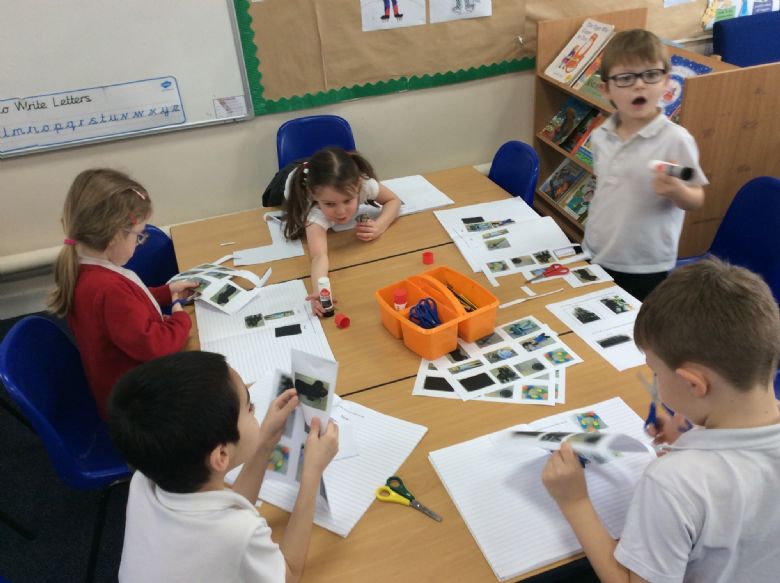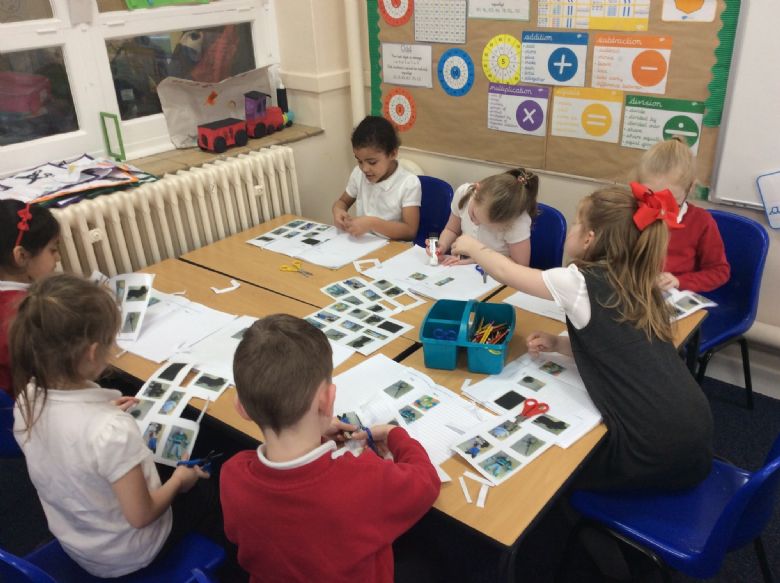 Tommy Top Hat
Today we were very lucky to have a visit from Tommy Top Hat, who lives in the Victorian Times. When he came to visit us he also brought along lots of his Victorian toys for us to learn about and to play with. He also gave us a sheet with lots of games for us to play in a class.
Please click here to see our pictures from our lovely day!
Artists In the Making
As part of our brand new topic 'Toys' we were asked to bring in our favourite toy in to school for a whole week, so that we could lots of exciting paintings and writing about them!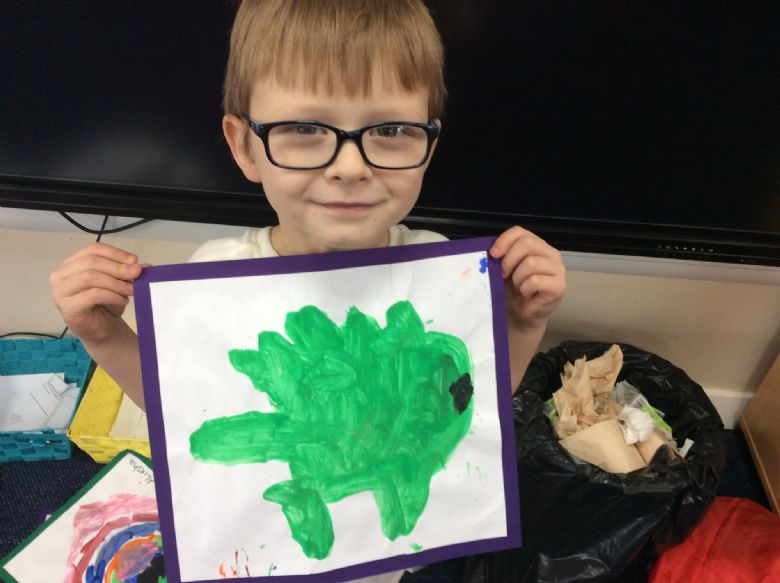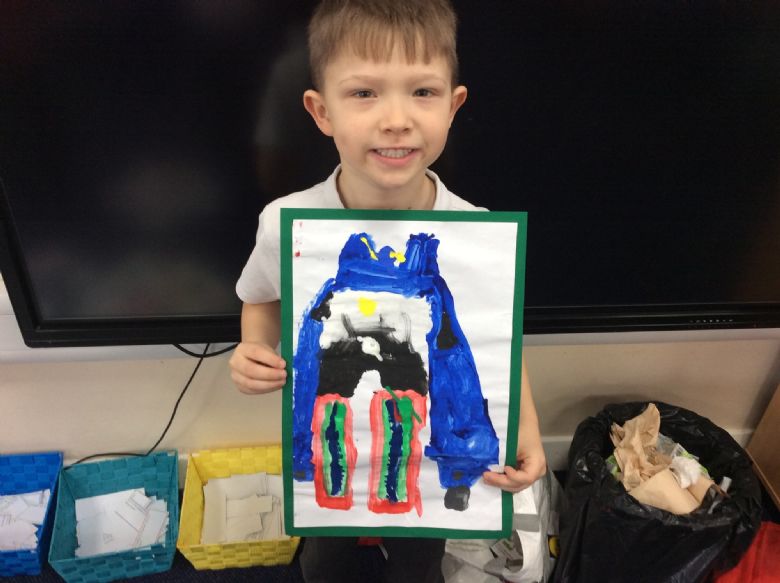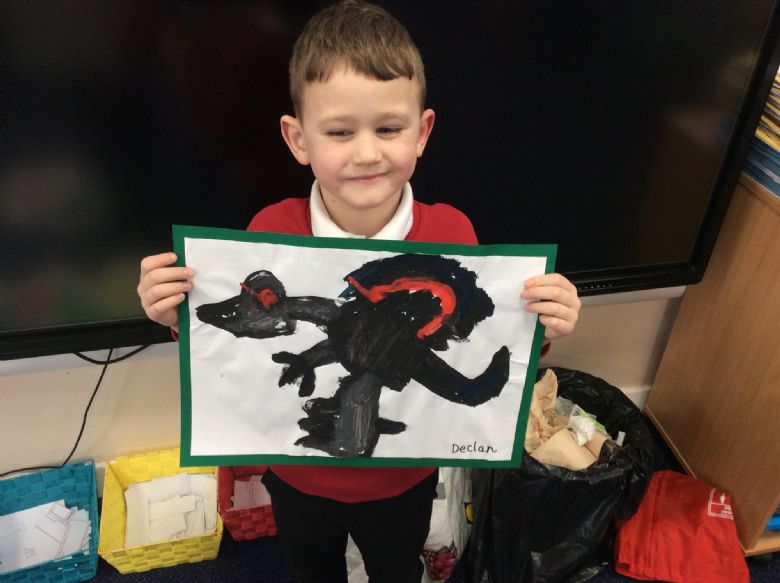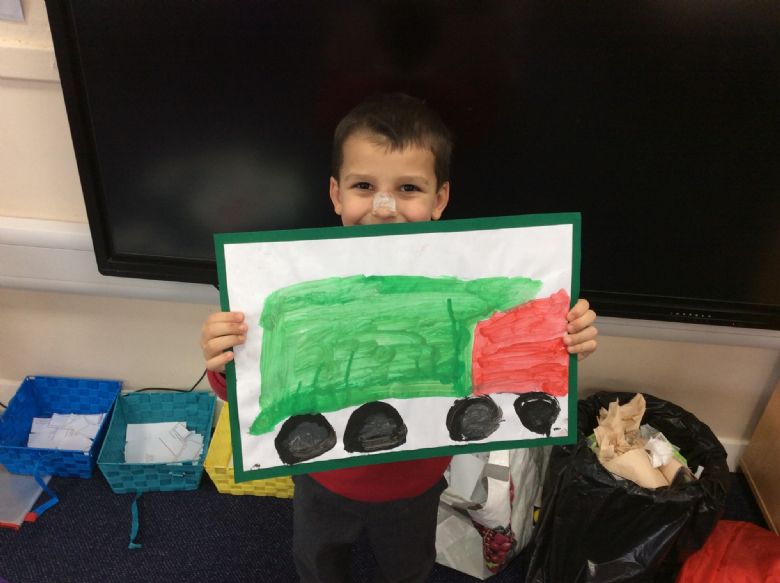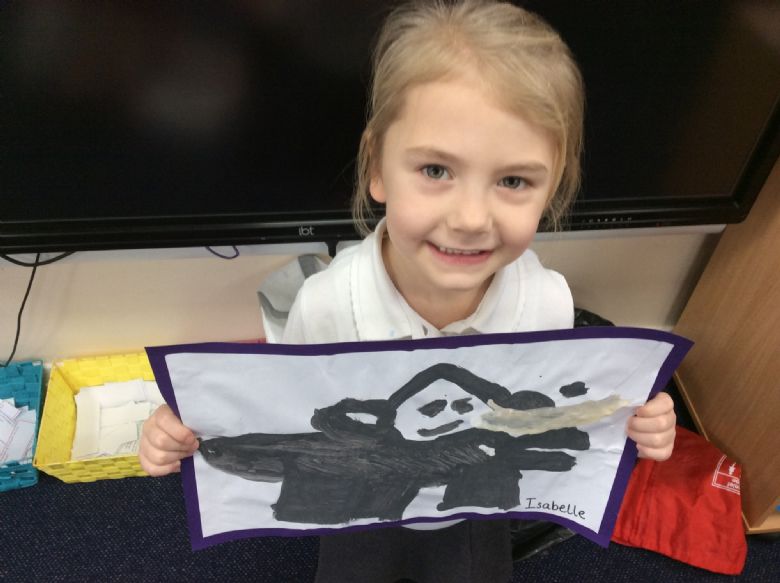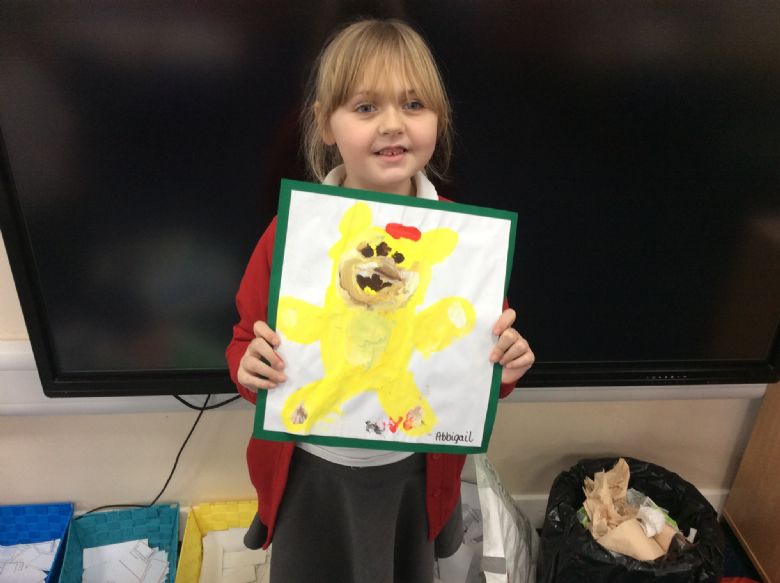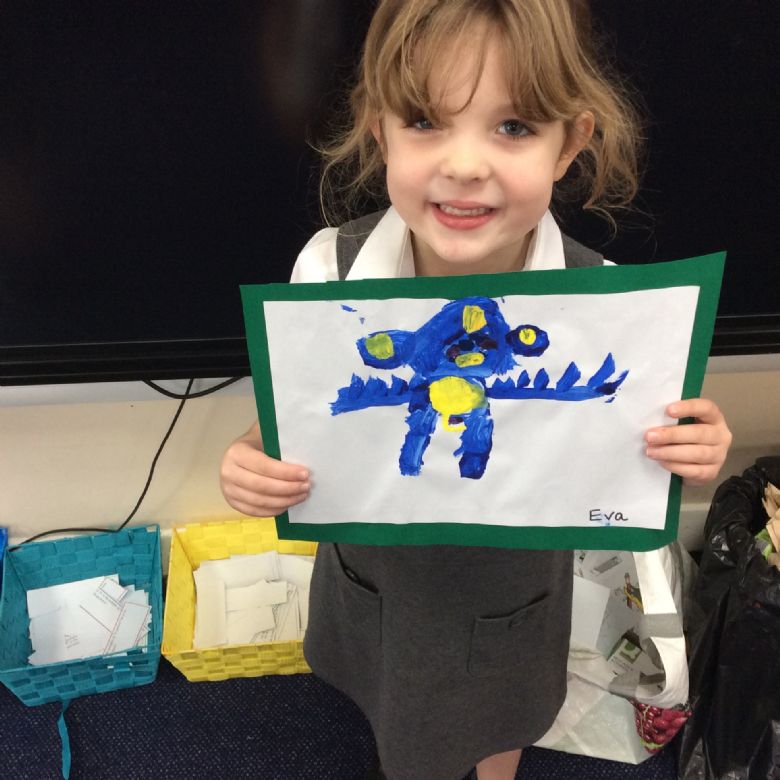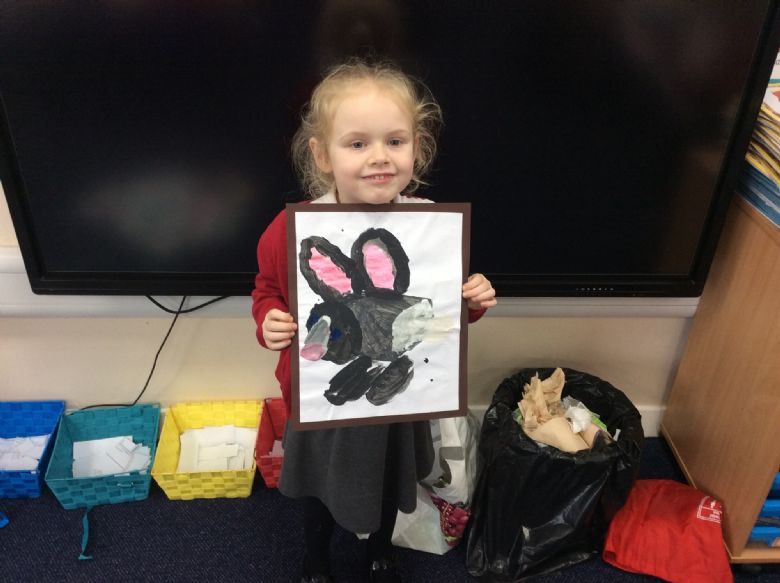 What's the time 1McG?
This week we have been exploring o'clock and half past times. We firstly learnt which hand was the minute hand and which was the hour hand on an analogue clock. We then learnt about which number the minute hand goes on for o'clock times and and which number it goes on for half past times. Afterwards we then were given lots of different times to create on our own special clock.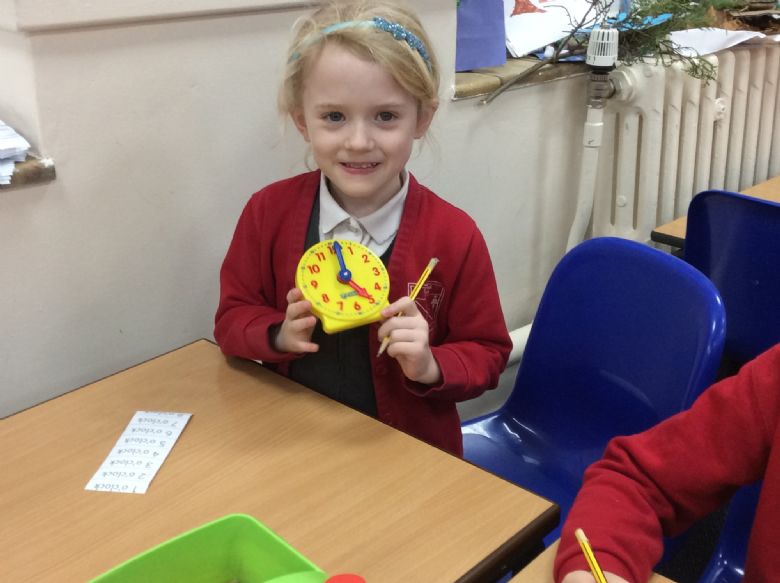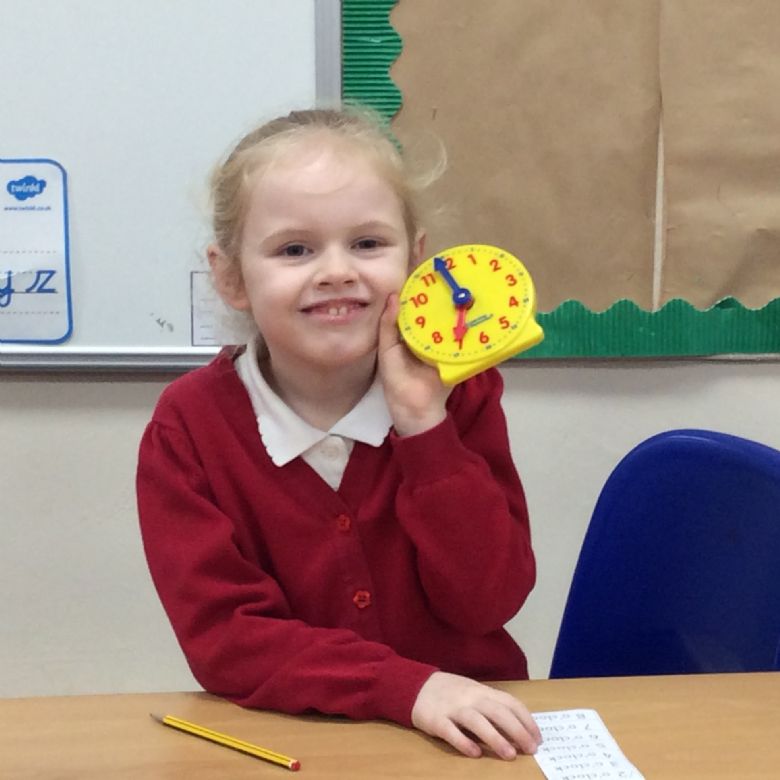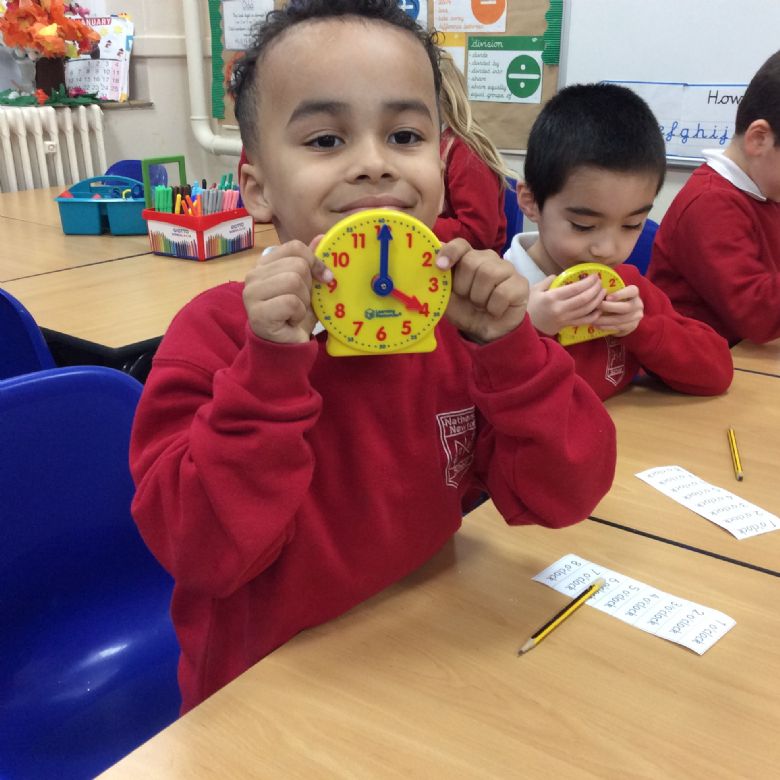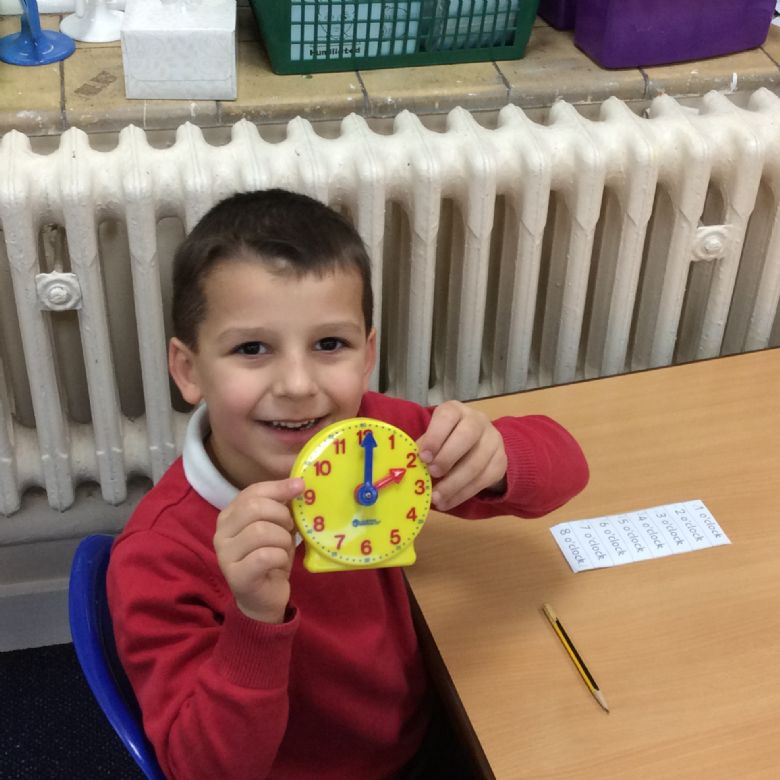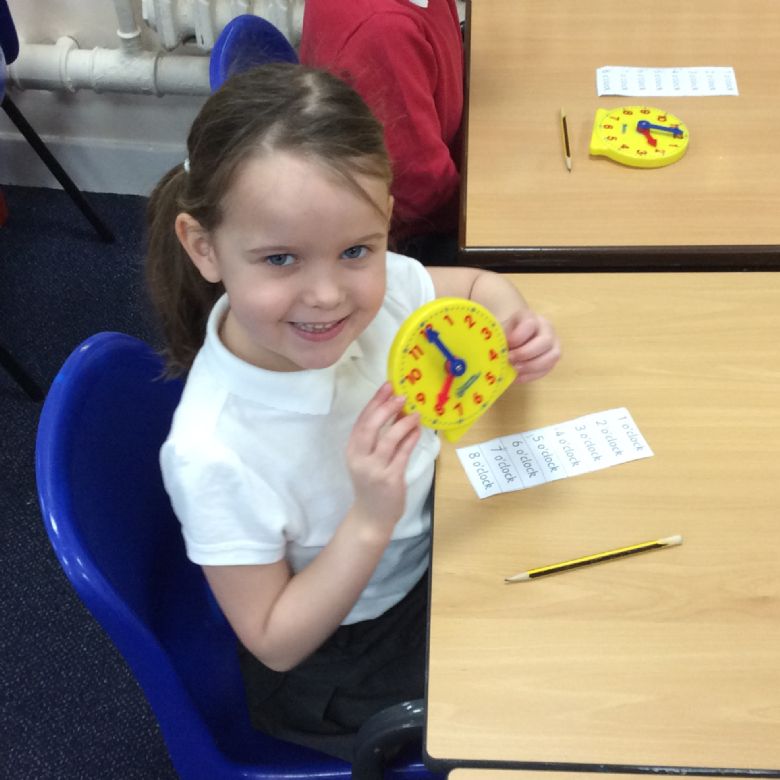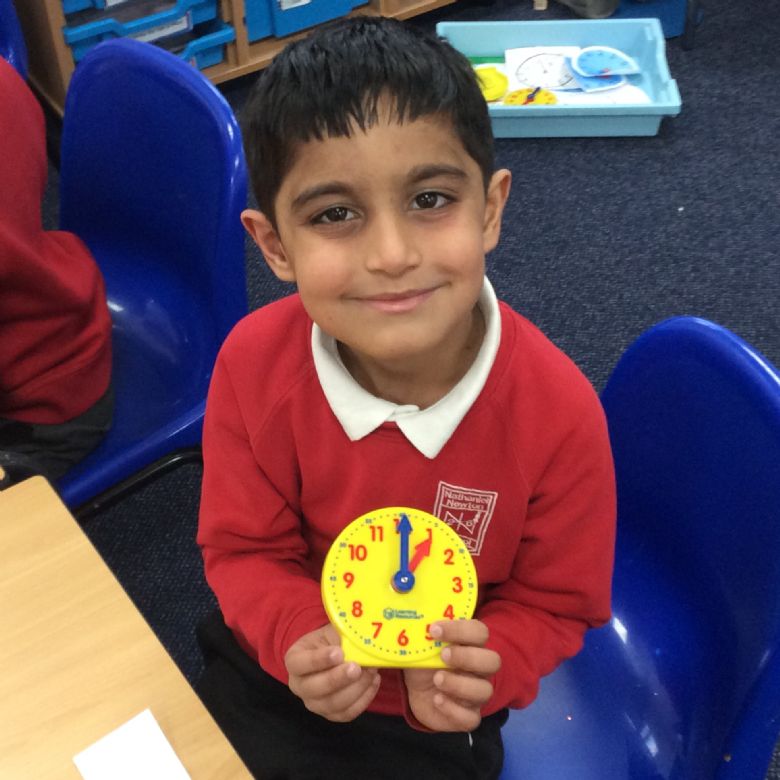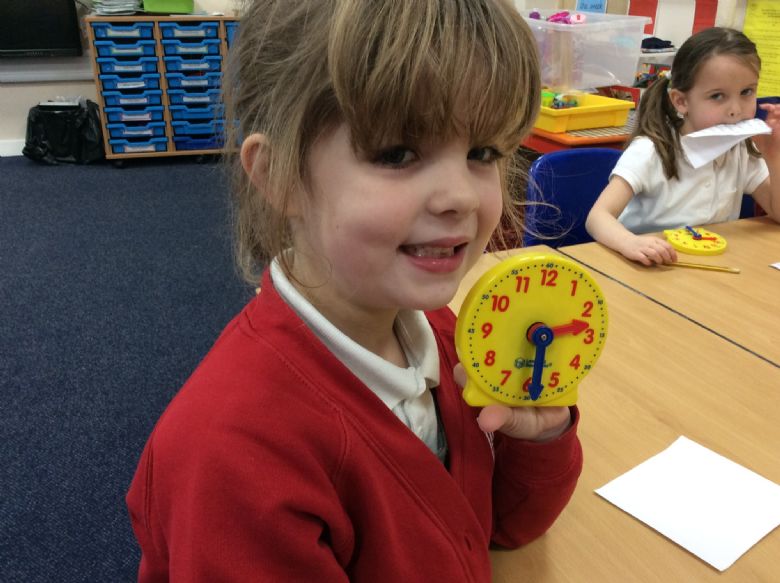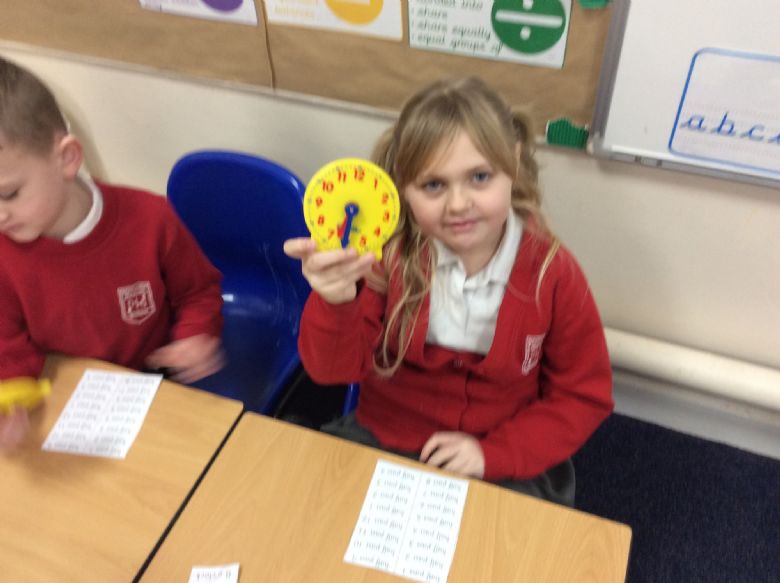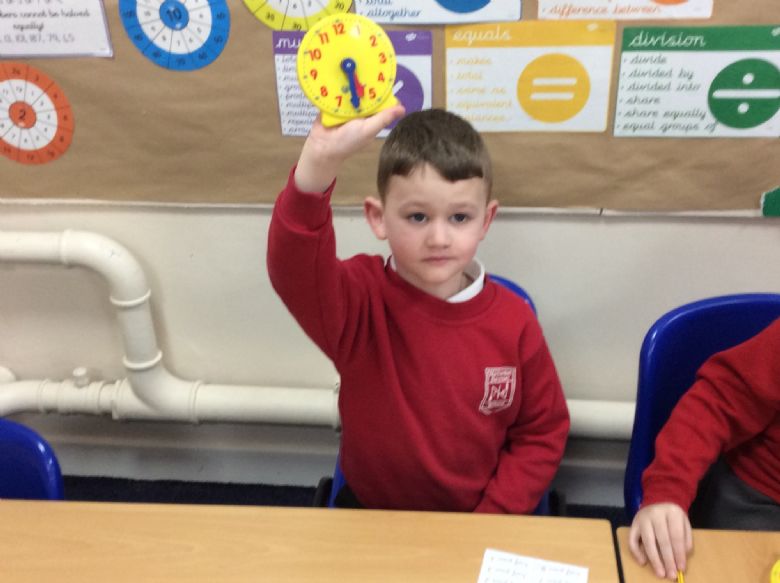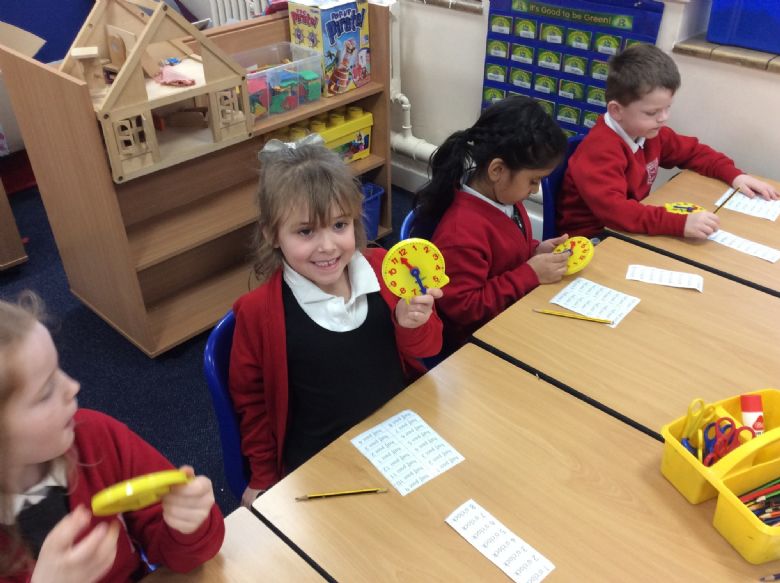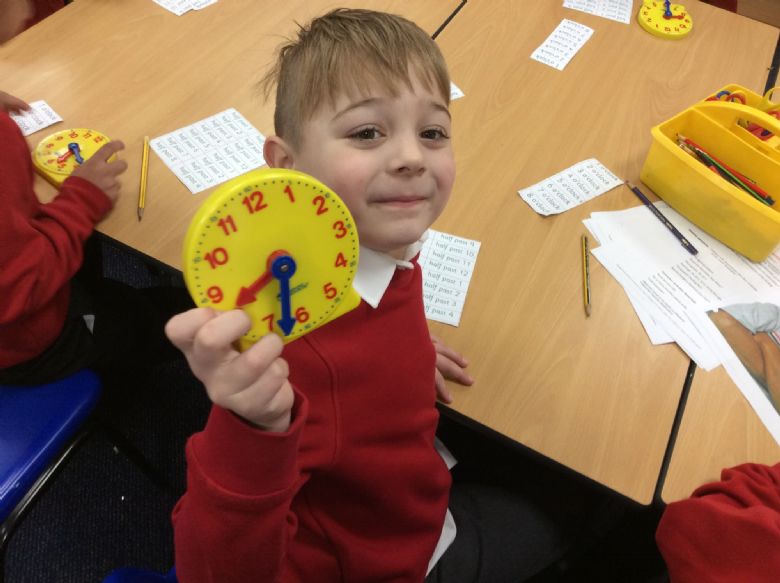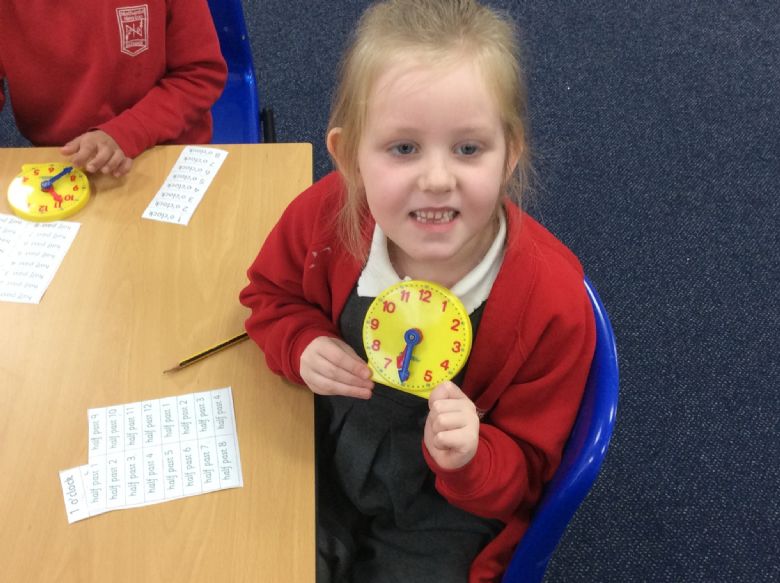 Christmas Party
We had that much fun at the Christmas party, we didn't want it to end. We loved playing lots of different games such as musical statues, musical bumps and best dancer. However our favourite was pass the parcel because we all got to eat sweets!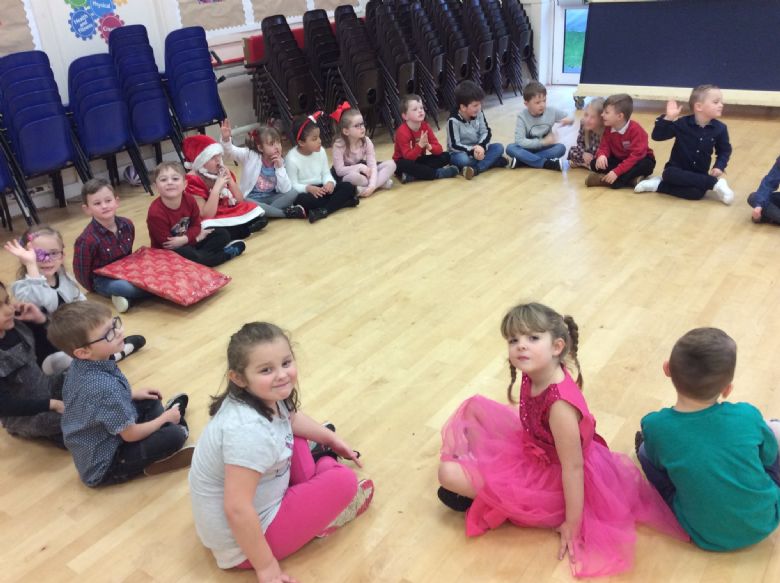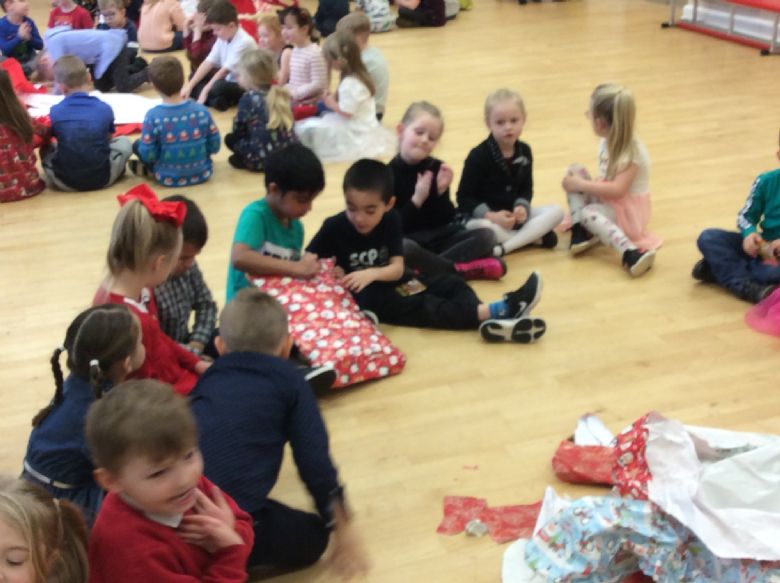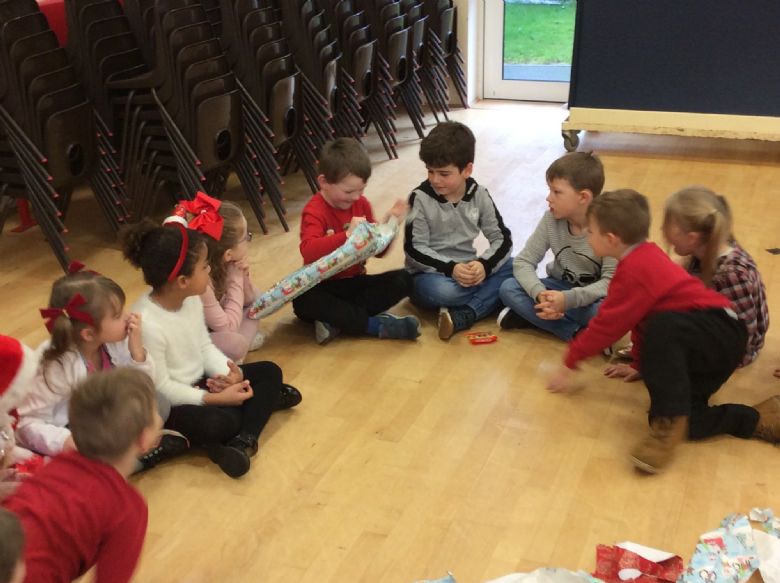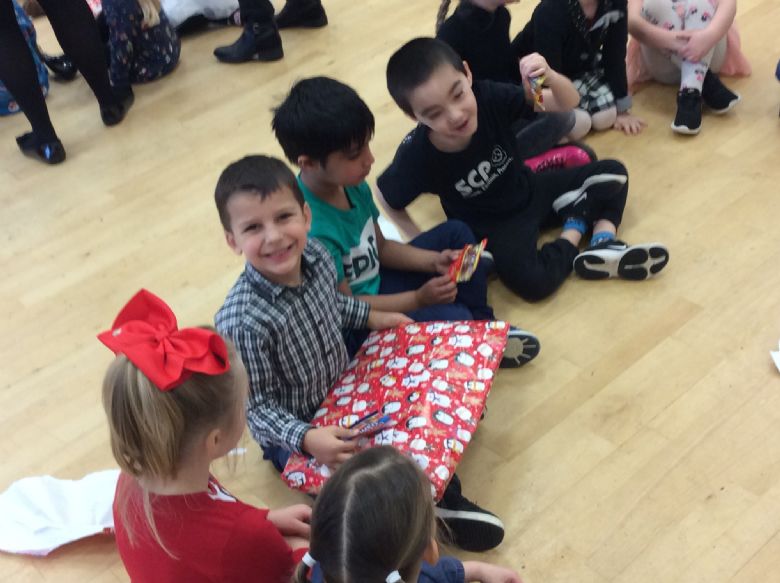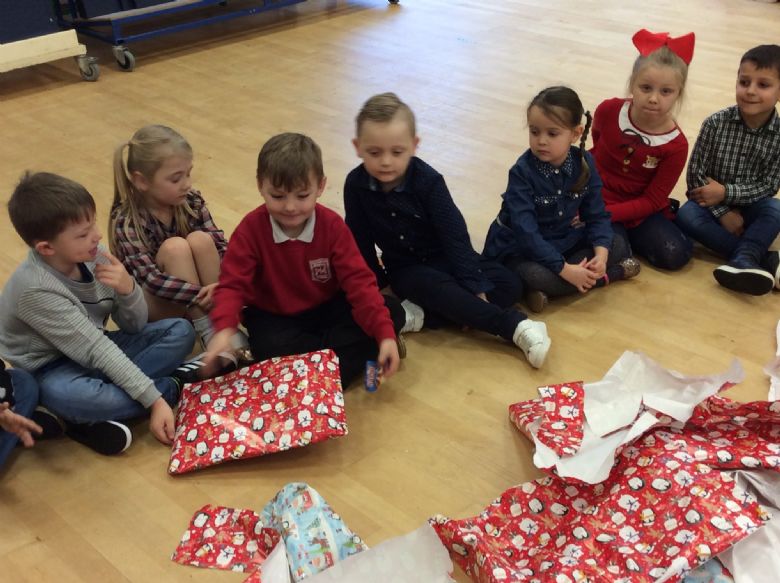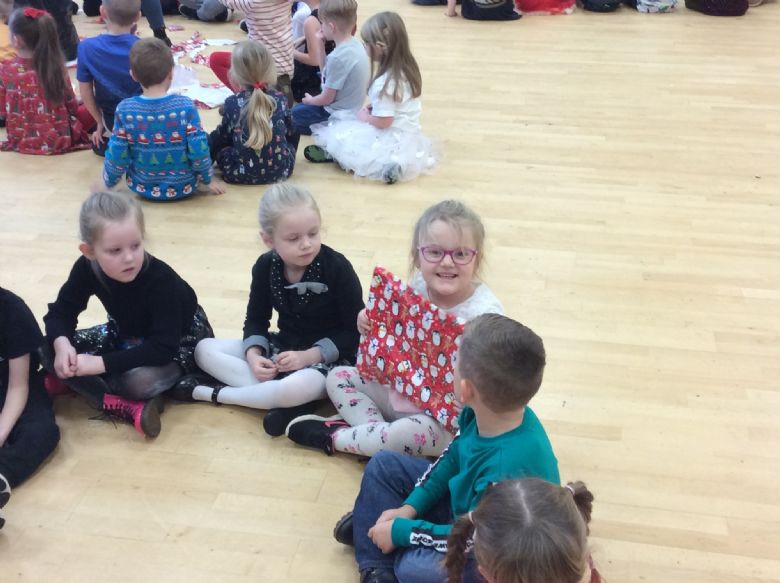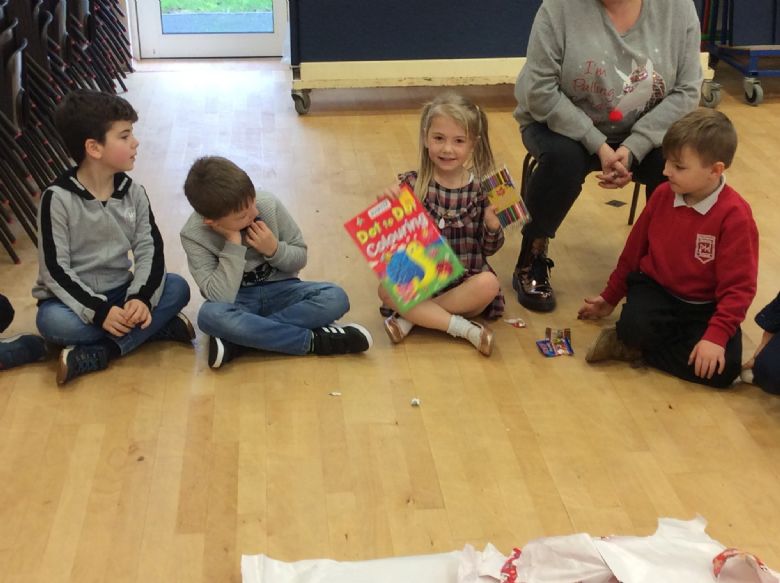 Christmas Calendars and Cards
As part of our Seasons topic, we have been creating winter themed cards and calendars. To create our cards, we used potatoes to print the shape and then added the details with pen and felt to create our fantastic snowmen. For our calendars we decided to design a tree which shows change throughout the seasons. We used paint, pens, tissue paper and glitter to create a multimedia effect.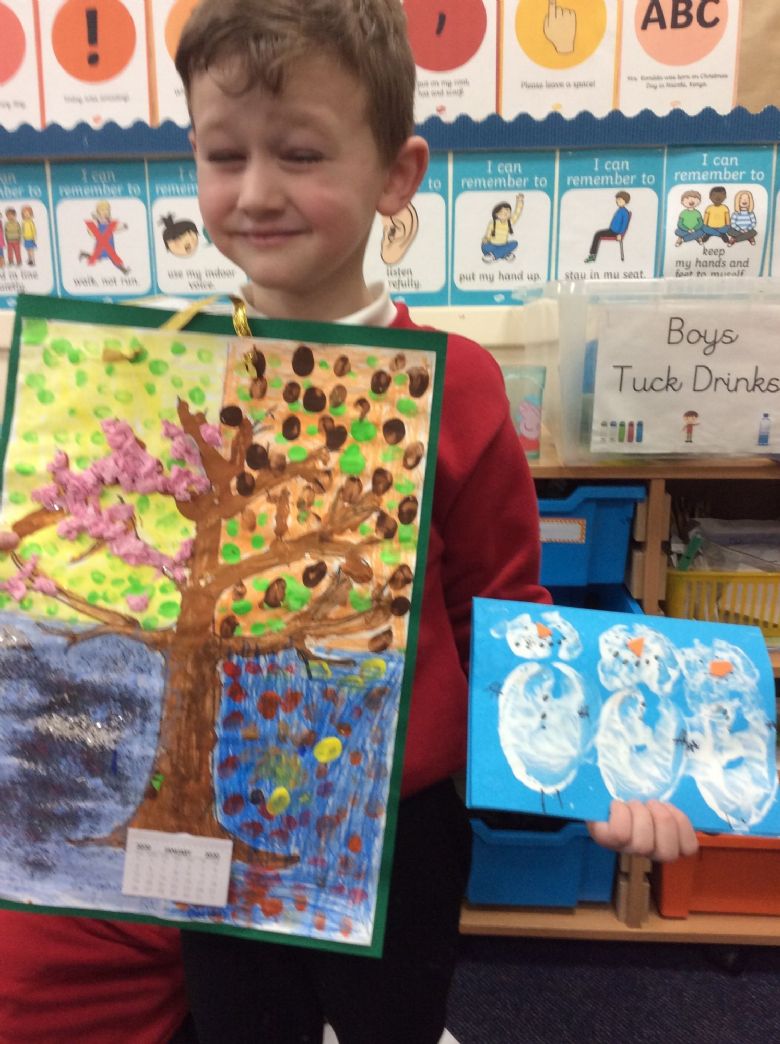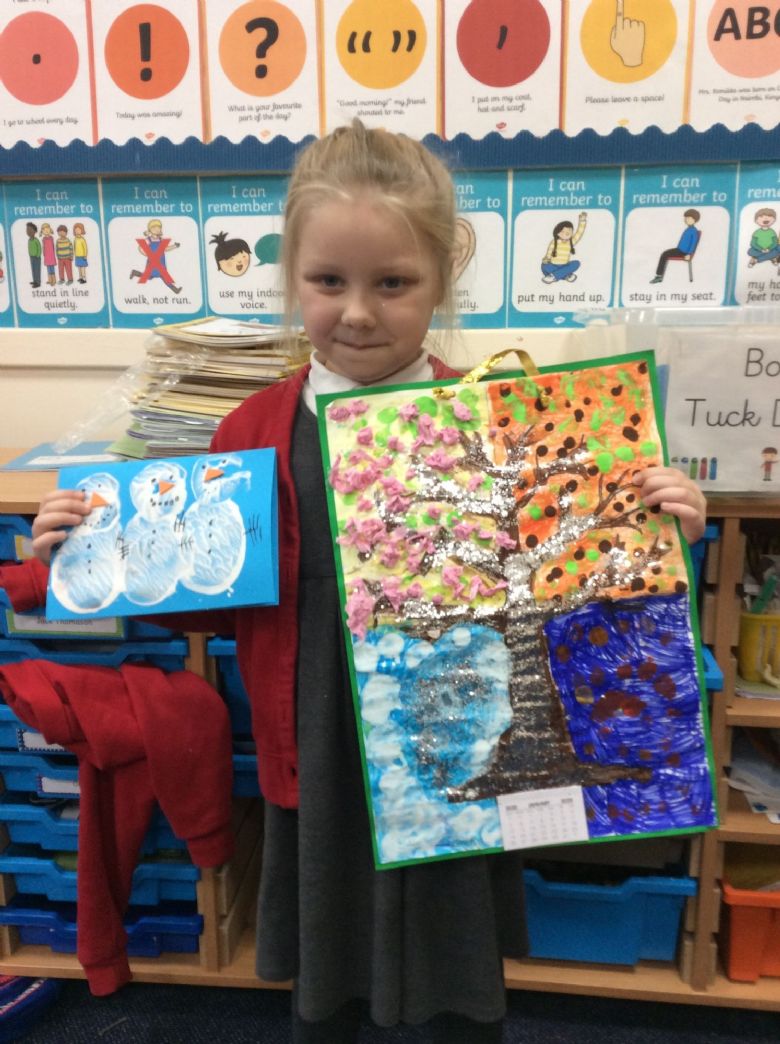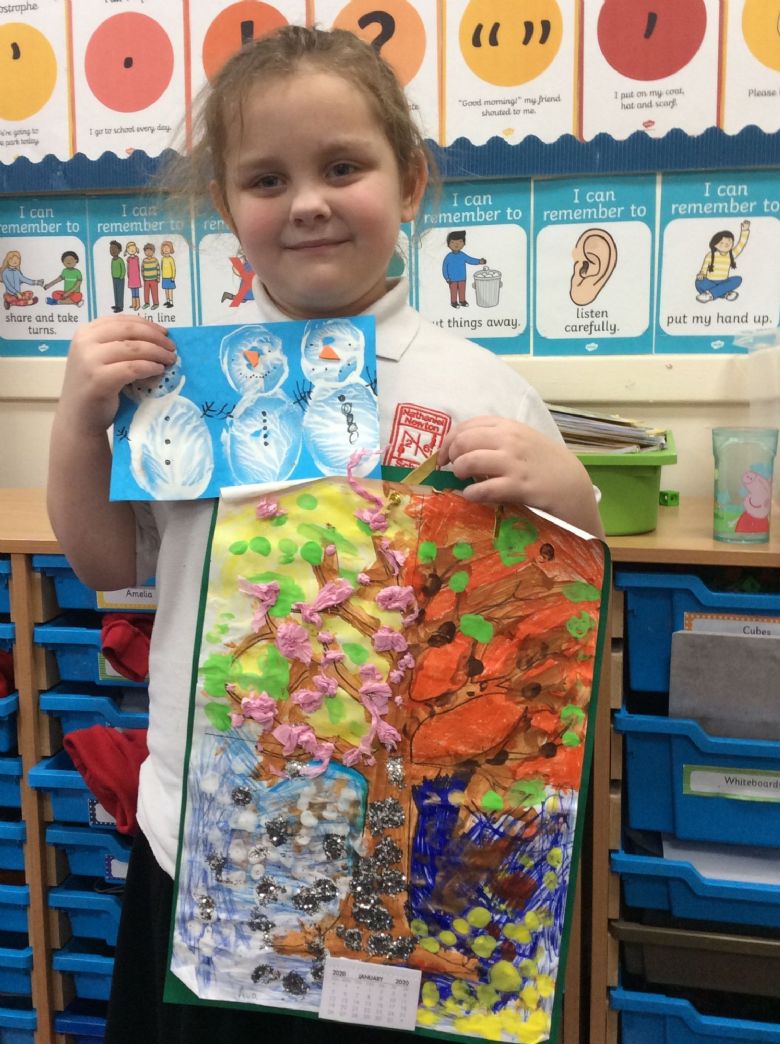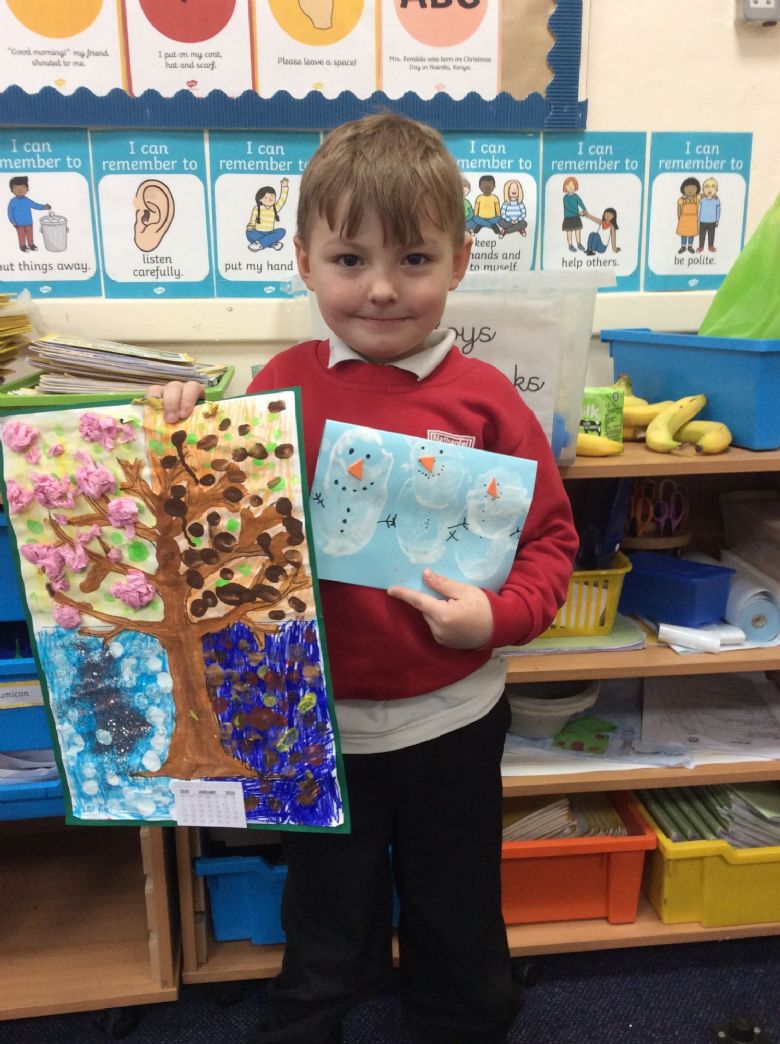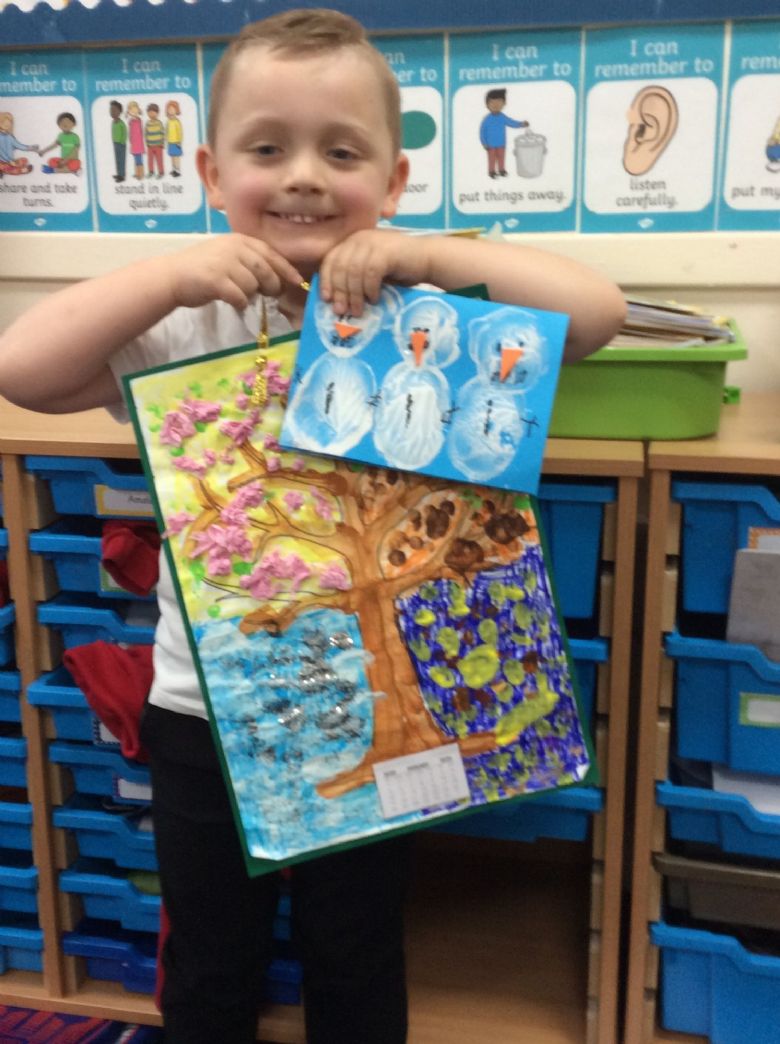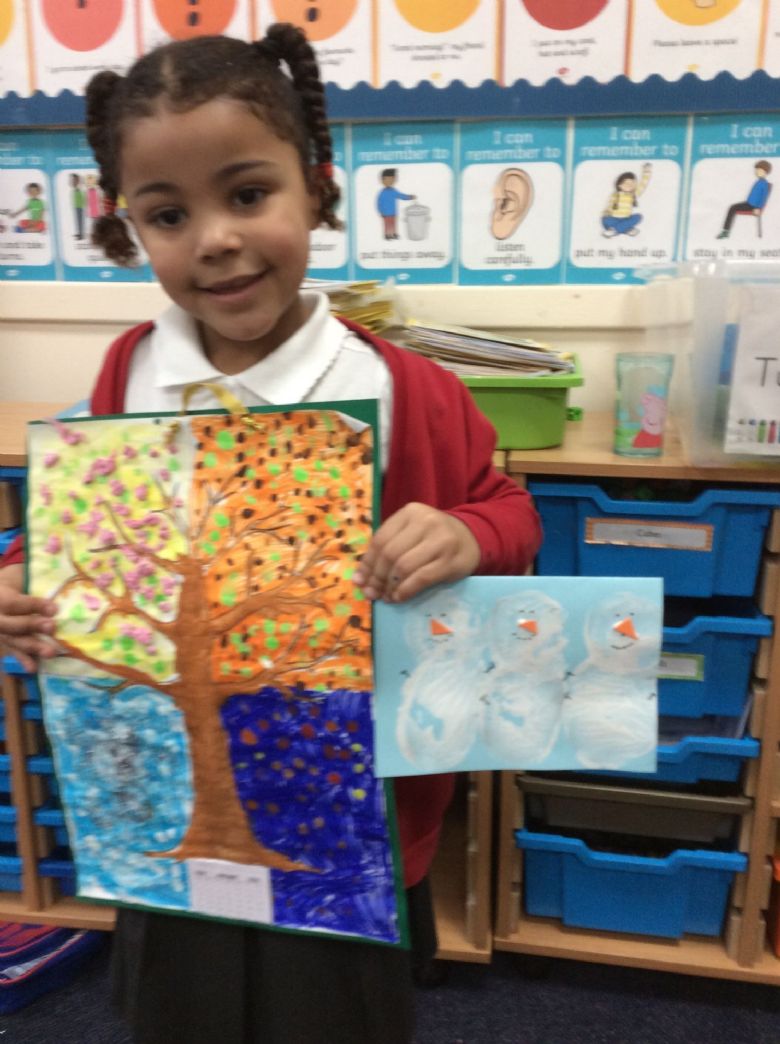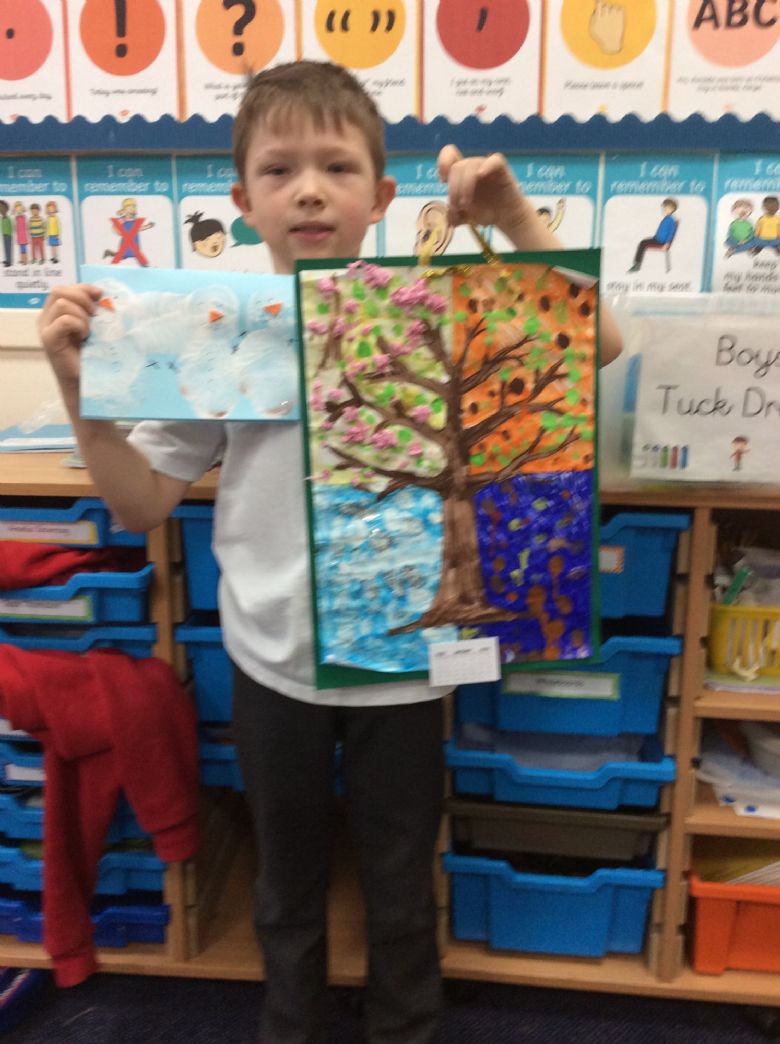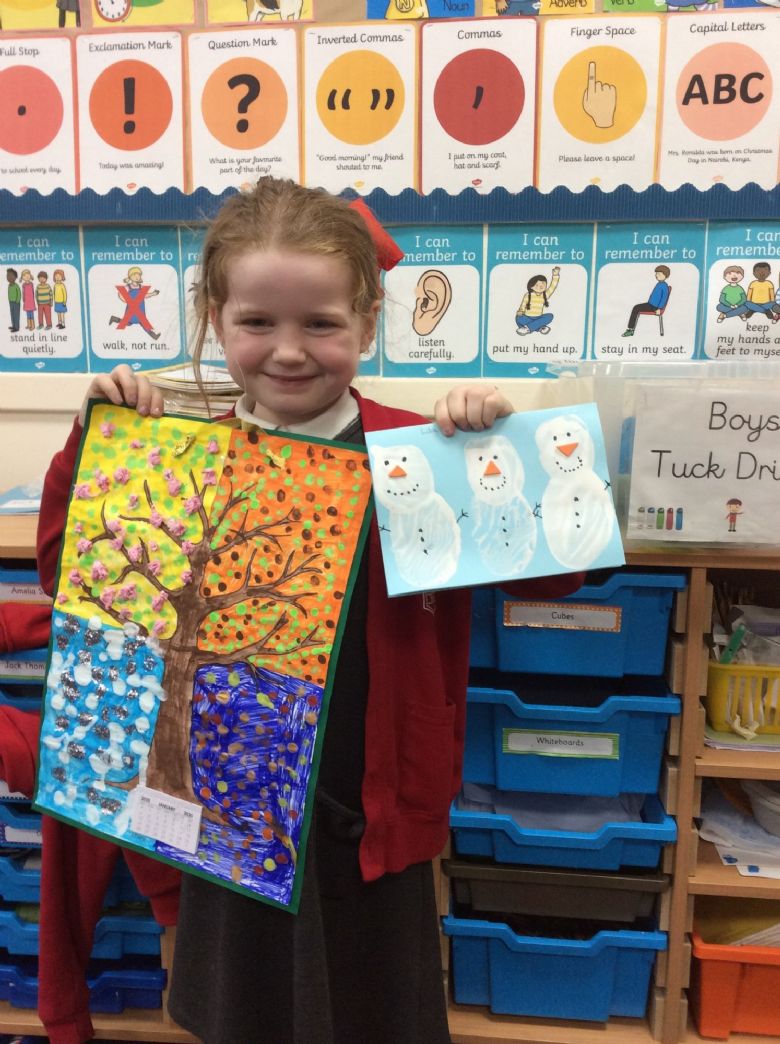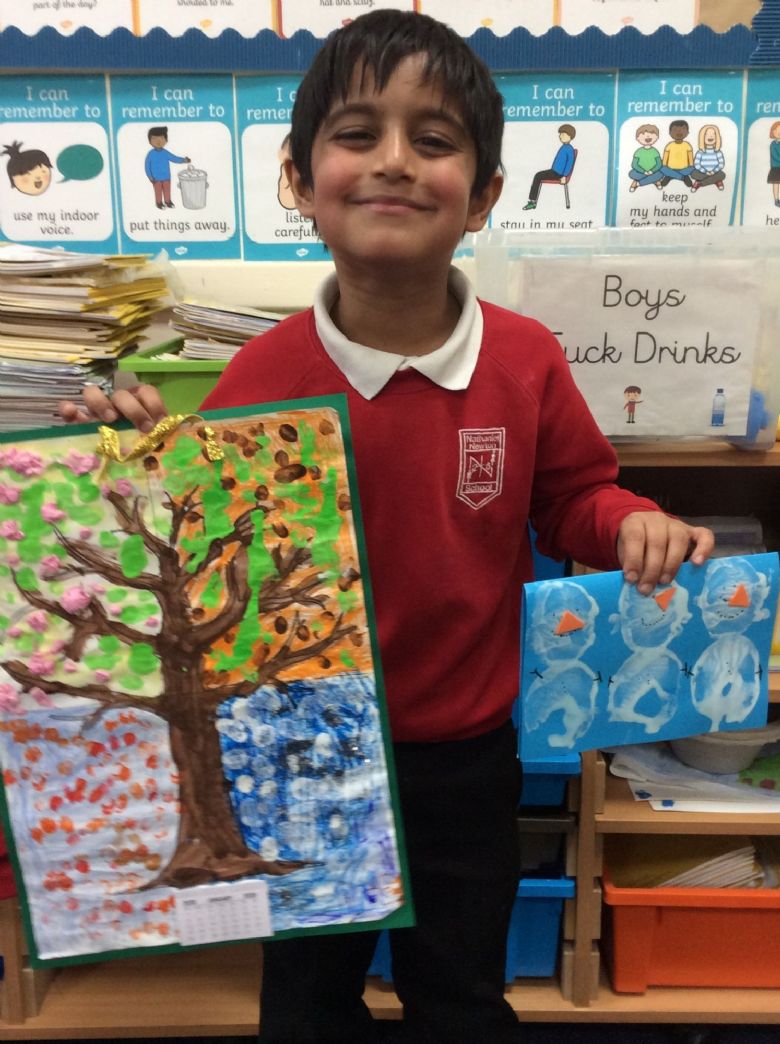 Remembrance Day
After having an assembly from Mrs Peake about Remembrance Day, in Year 1 we created our very own poppies and then attached them to a class wreath, which is displayed on our classroom door. We firstly coloured all of the parts of the poppy in, in the correct colour. Afterwards we carefully cut the pieces out before using the numbers to correctly assemble it.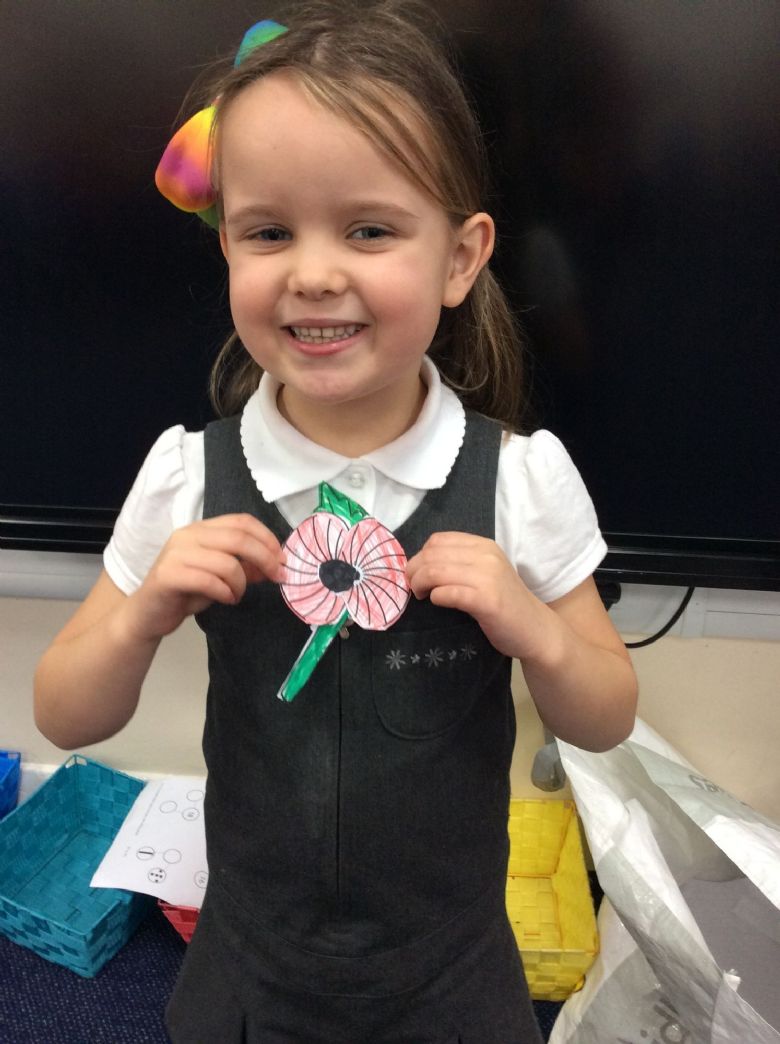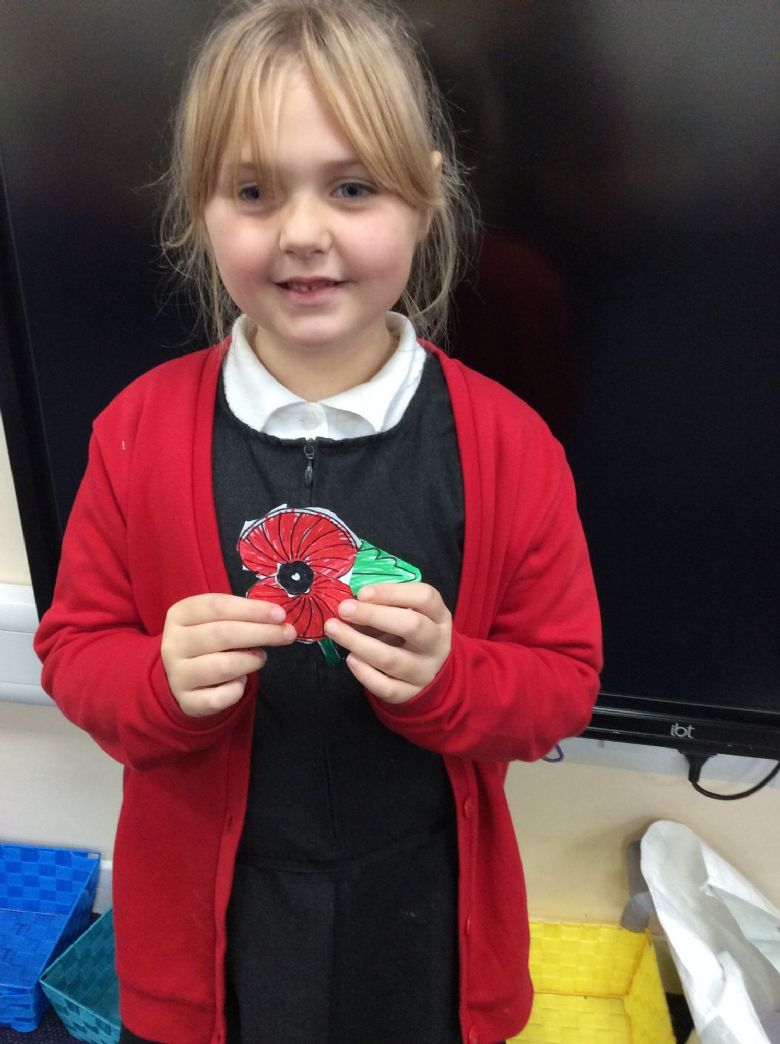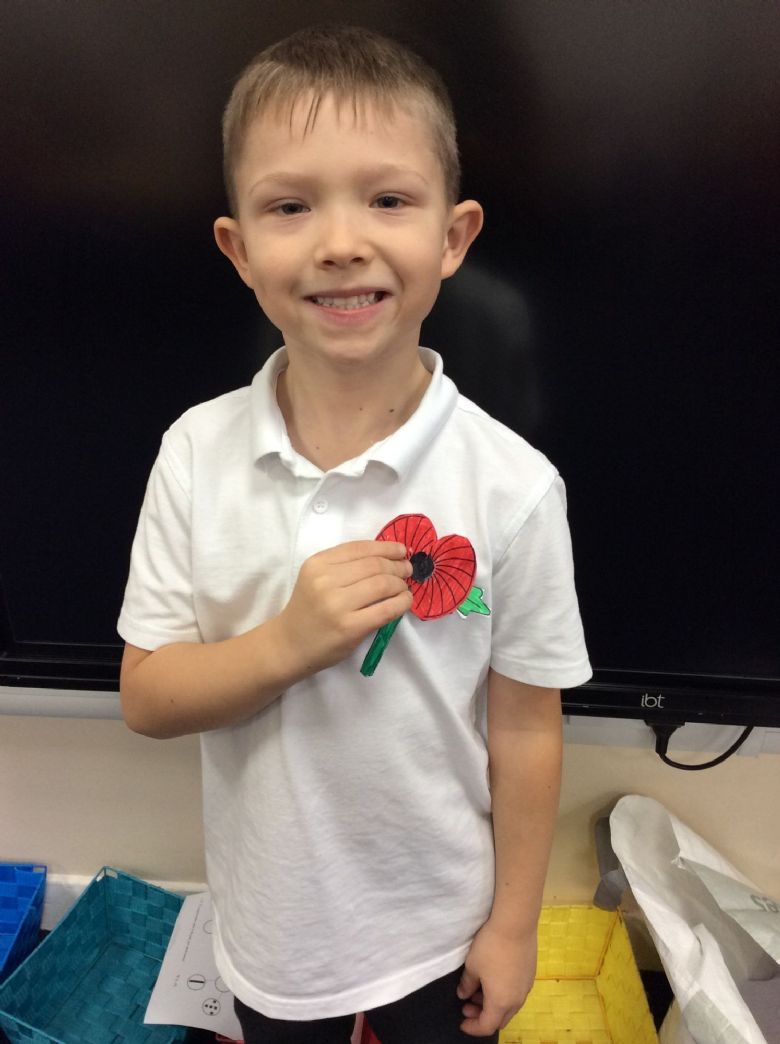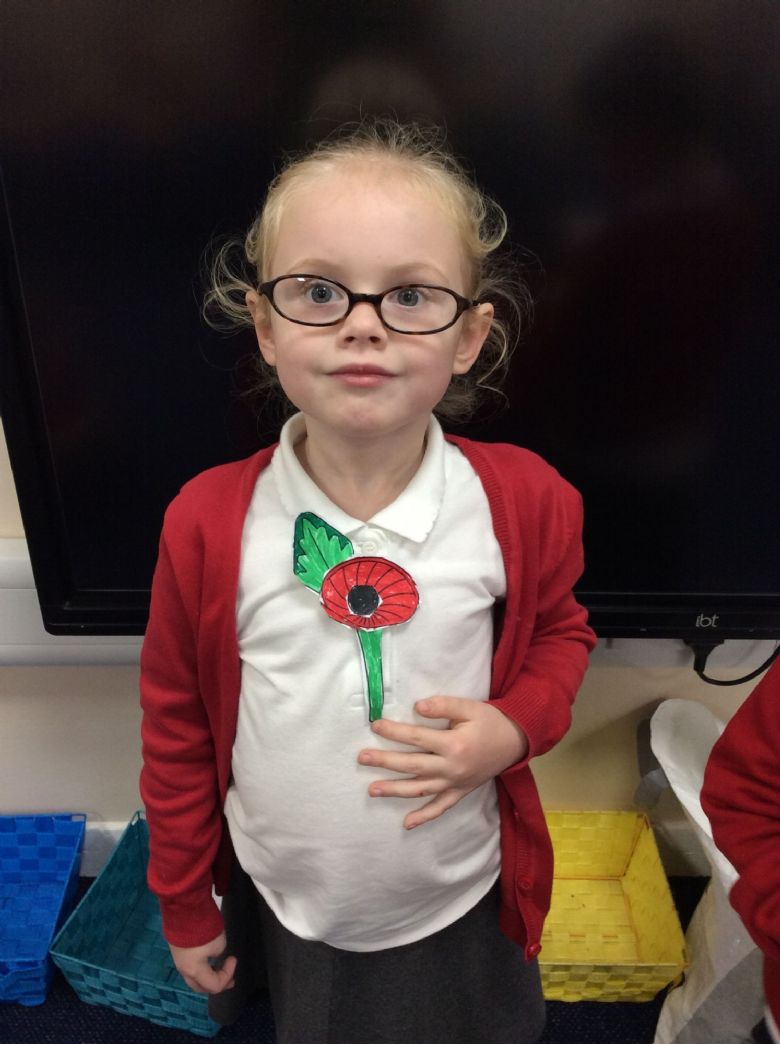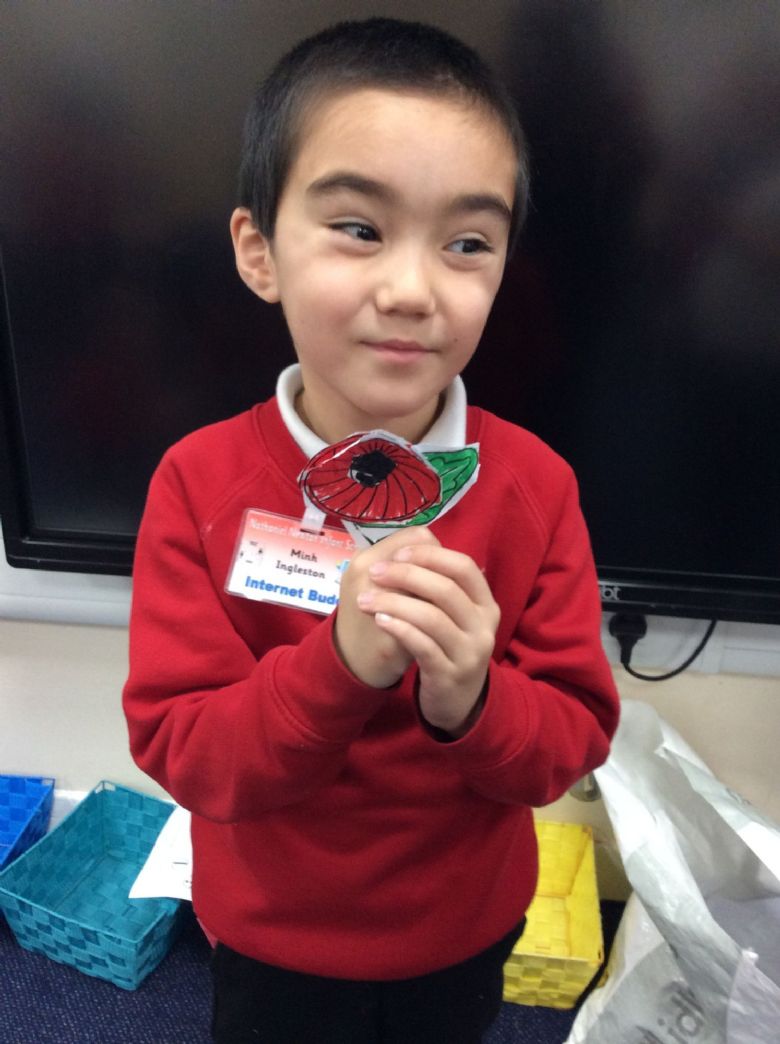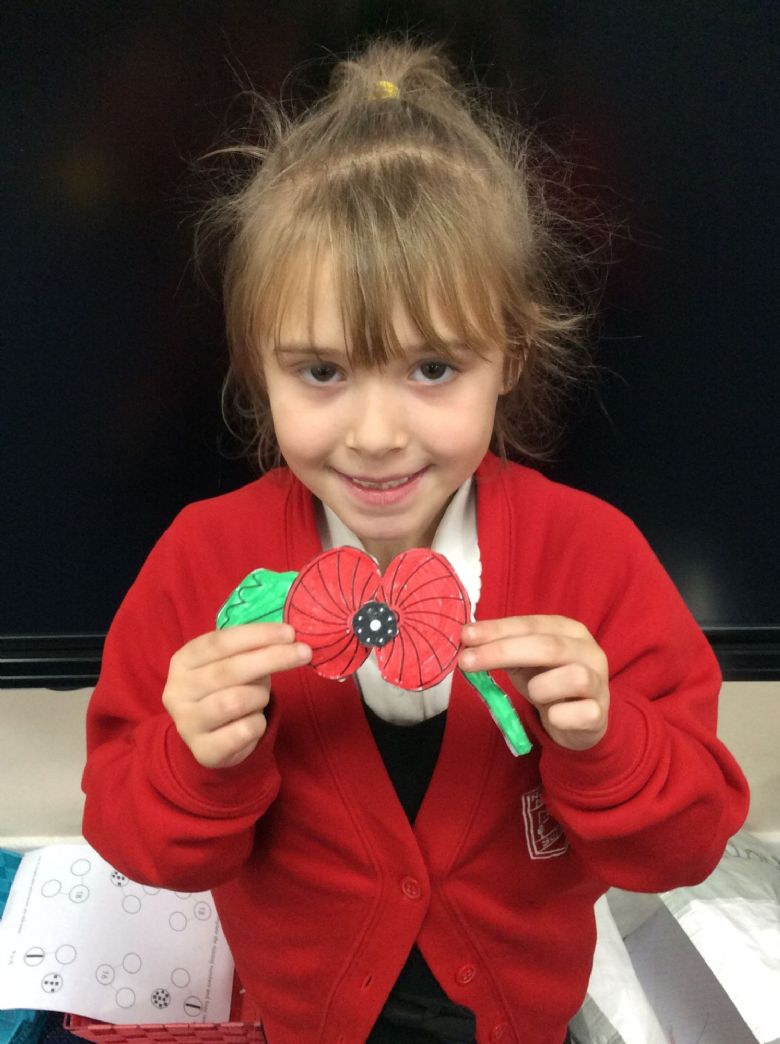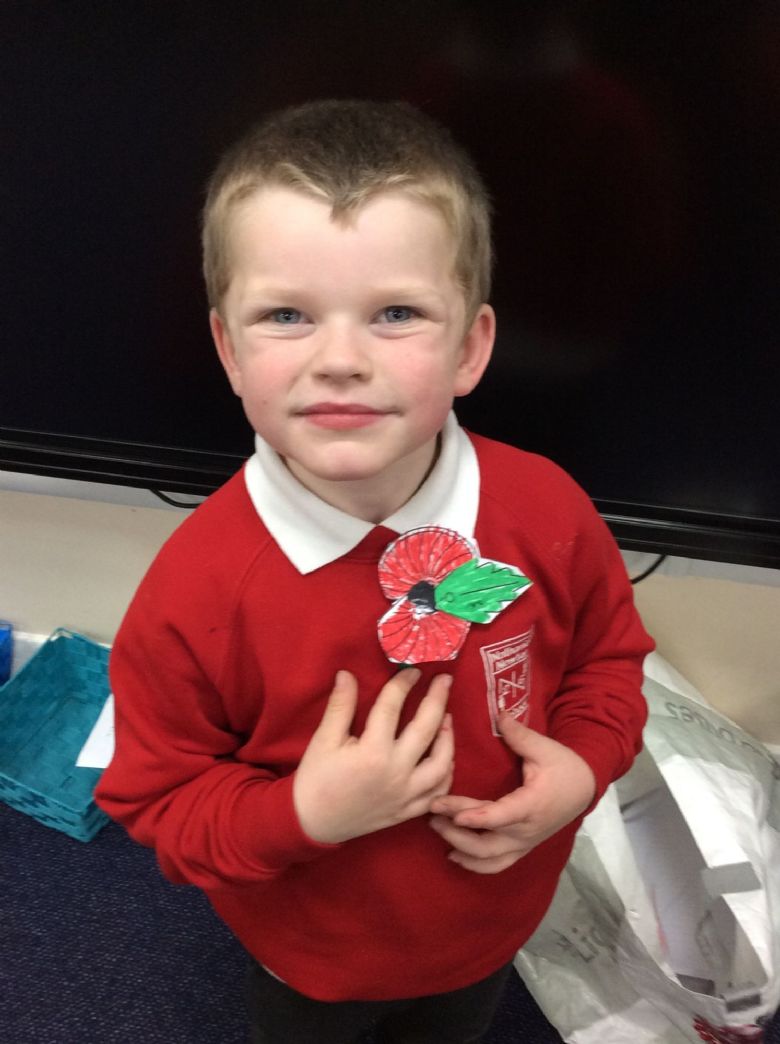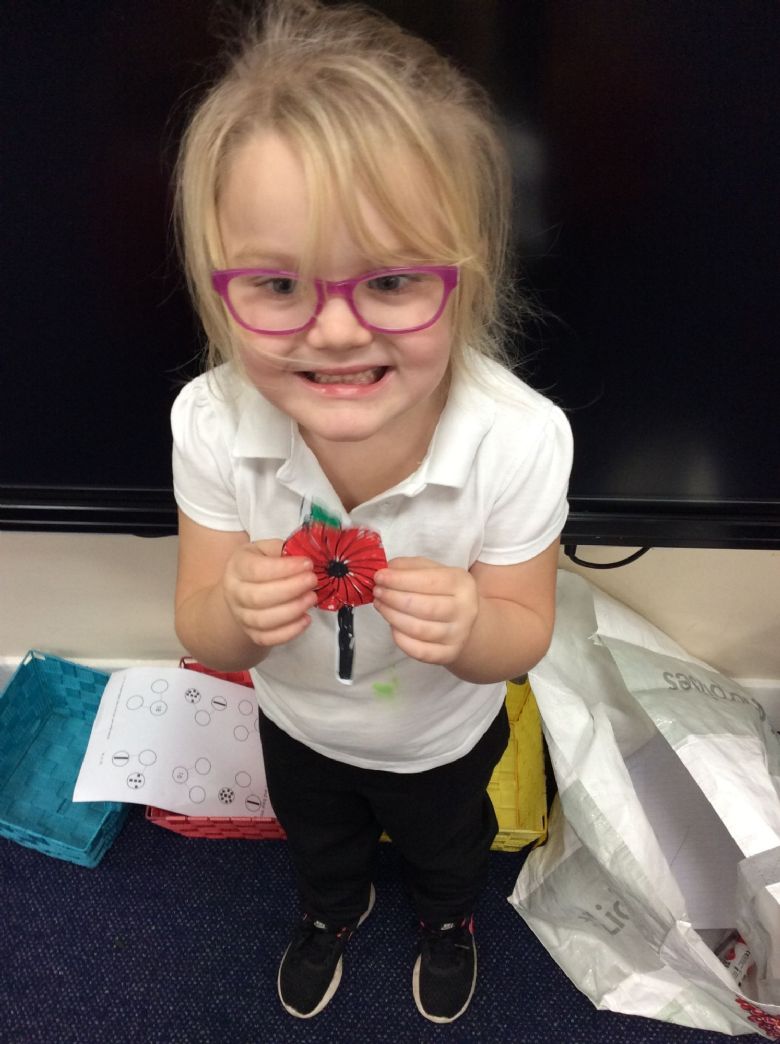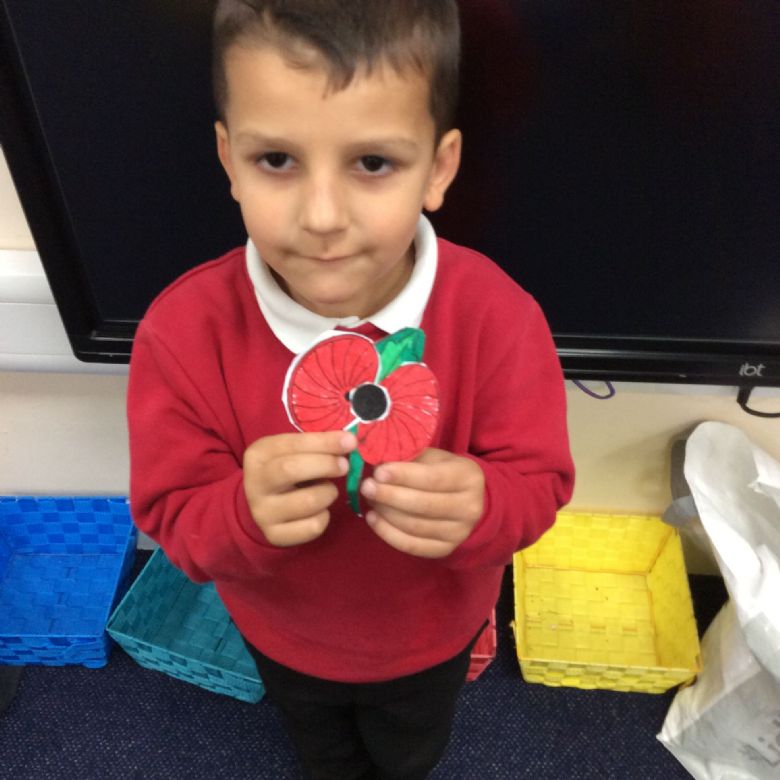 Hartshill Hayes
To start our new topic 'Seasons' we decided to walk to Hartshill Hayes to explore the season of Autumn. We discussed the weather and how features such as leaves have changed within autumn. As well as talking about the leaves, we also collected lots, so that we could make our very own autumn crowns with them. To see pictures of us on our walk, creating our hats and wearing them, please click here.
Virtual I Tshirt
As part of our topic My World and Me, we have been looking at ourselves. Although we have explored our body parts we continued this week to explore other parts such as our spine, ribcage and pelvis. We also got to see using the tshirt where organs such as our heart and lung were located within our body too. To see pictures of us wearing the tshirt please click here
Halving Shapes
After learning how to solve addition and subtraction sums we have now moved on to learning about shapes. We firstly started off by identifying the properties of the shapes and then moved onto halving them. We learnt that half means sharing between two equally, so we had to make sure we folded our shapes accurately so they were exactly the same on both sides.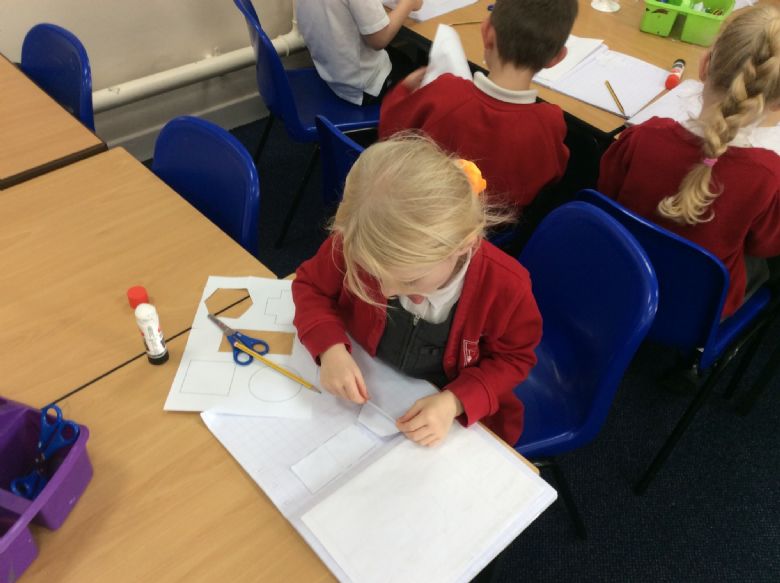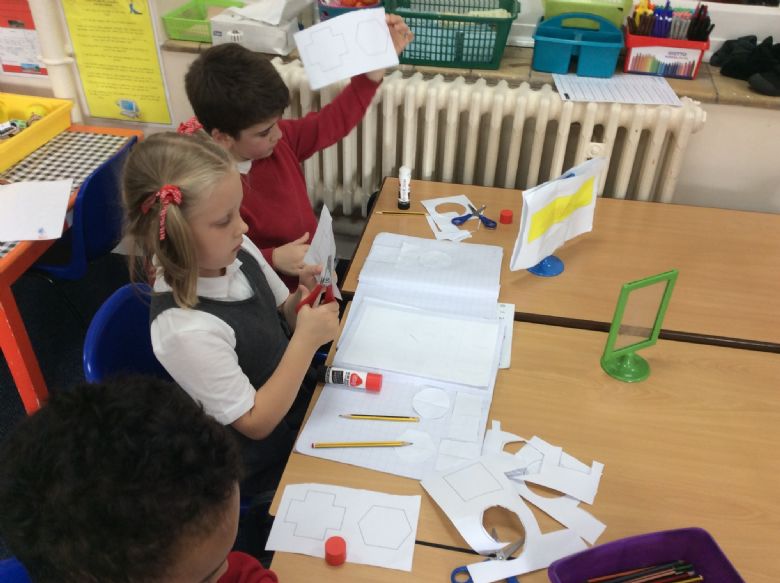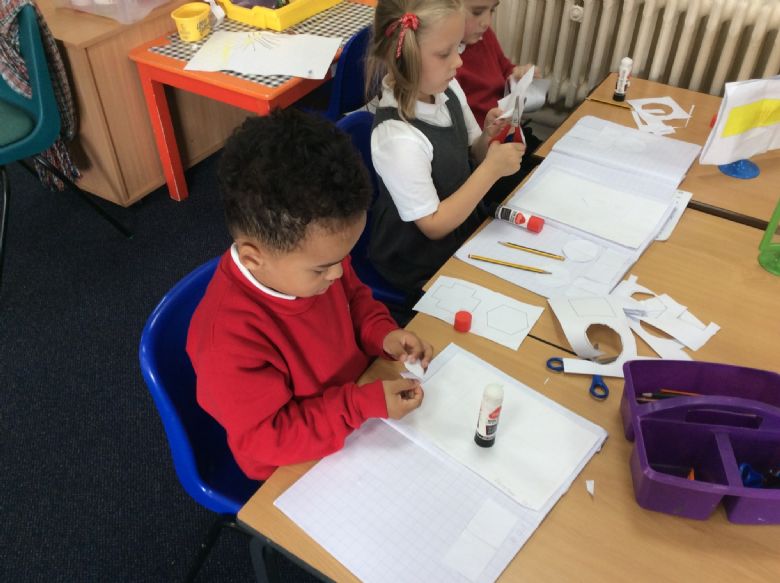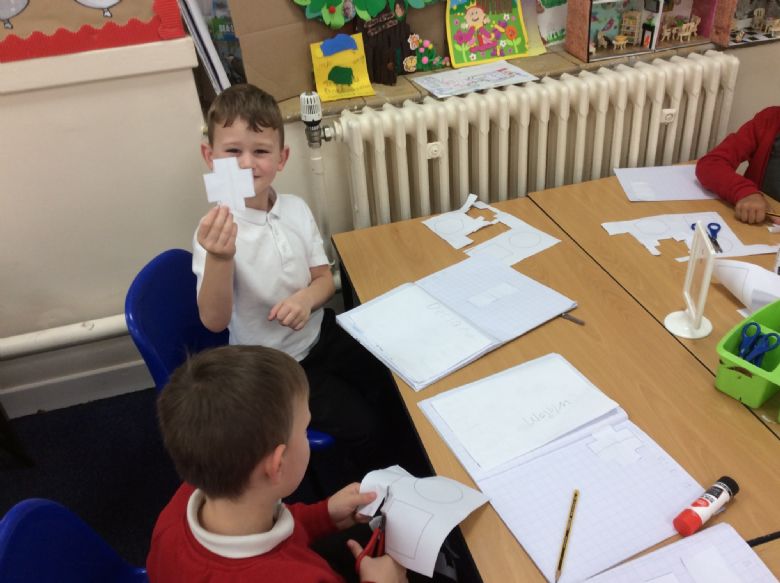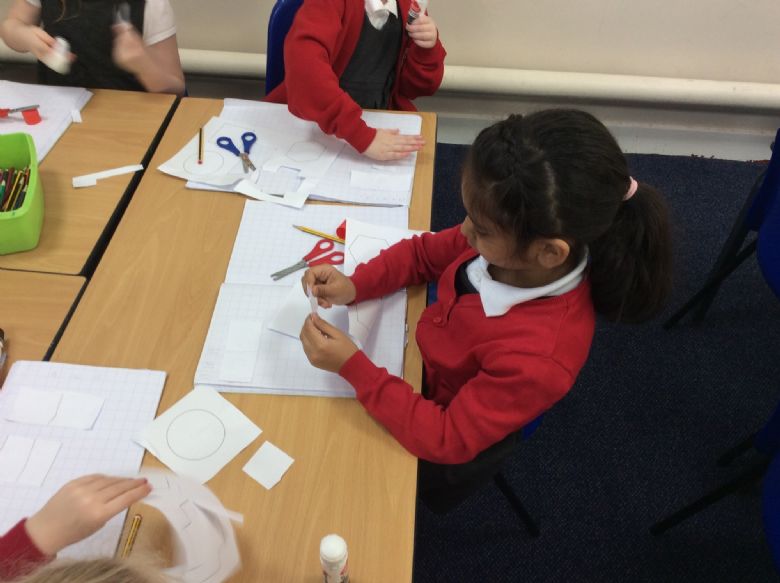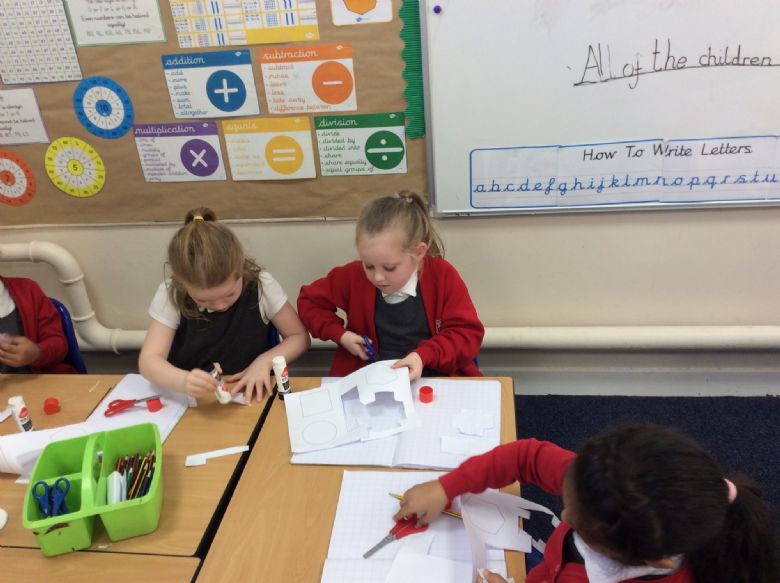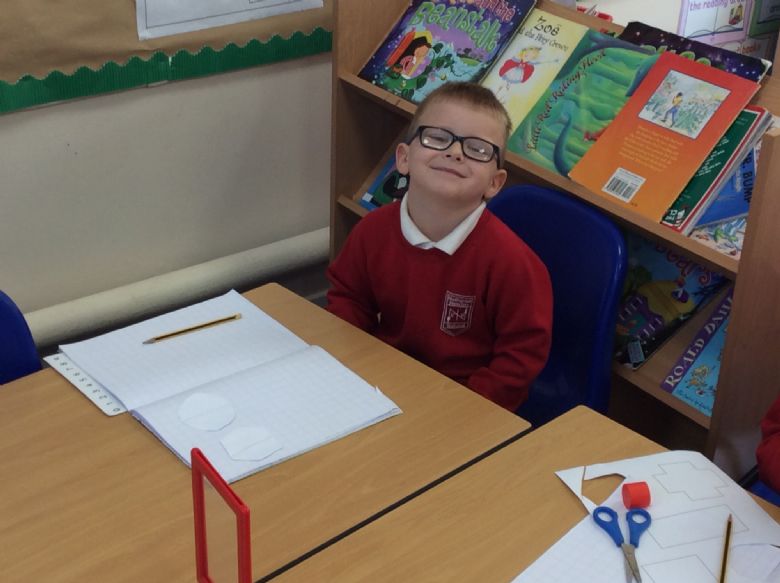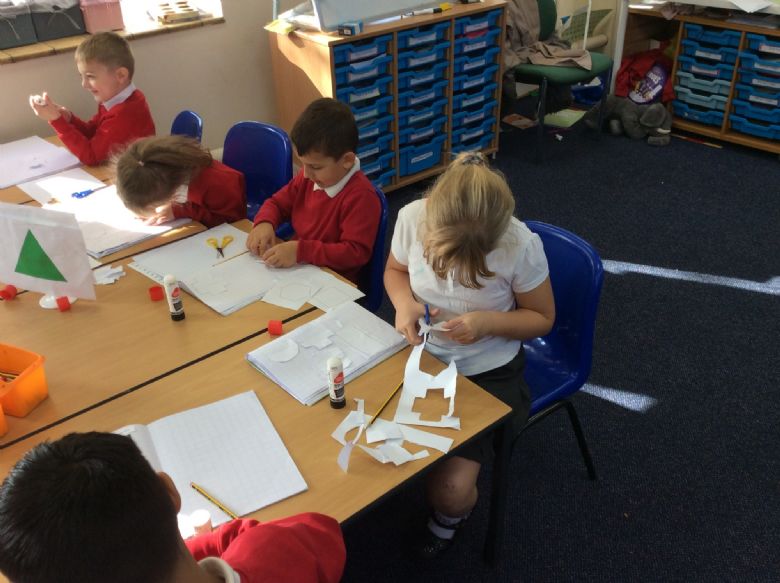 Oh How We've Changed!
Within History this week, we have been exploring ourselves, by ordering photos of ourselves from when we were a baby, toddler and child. We discussed how us being a baby and toddler were things which happened in the past and that us being a child is the present as it is what we are currently.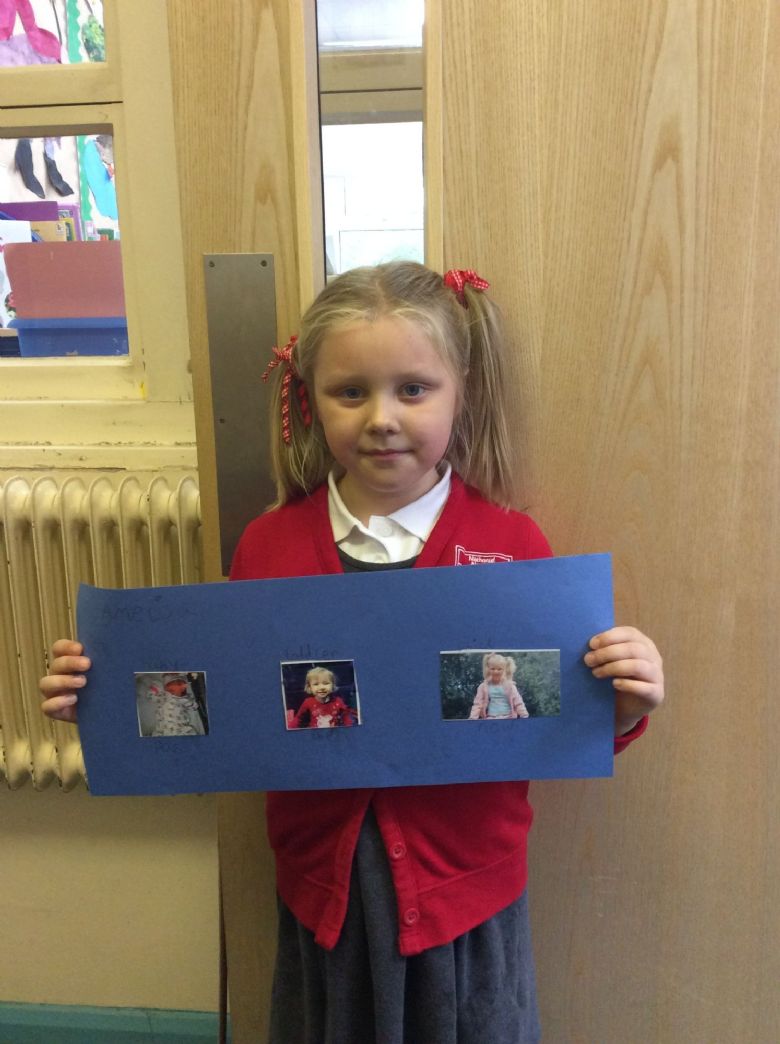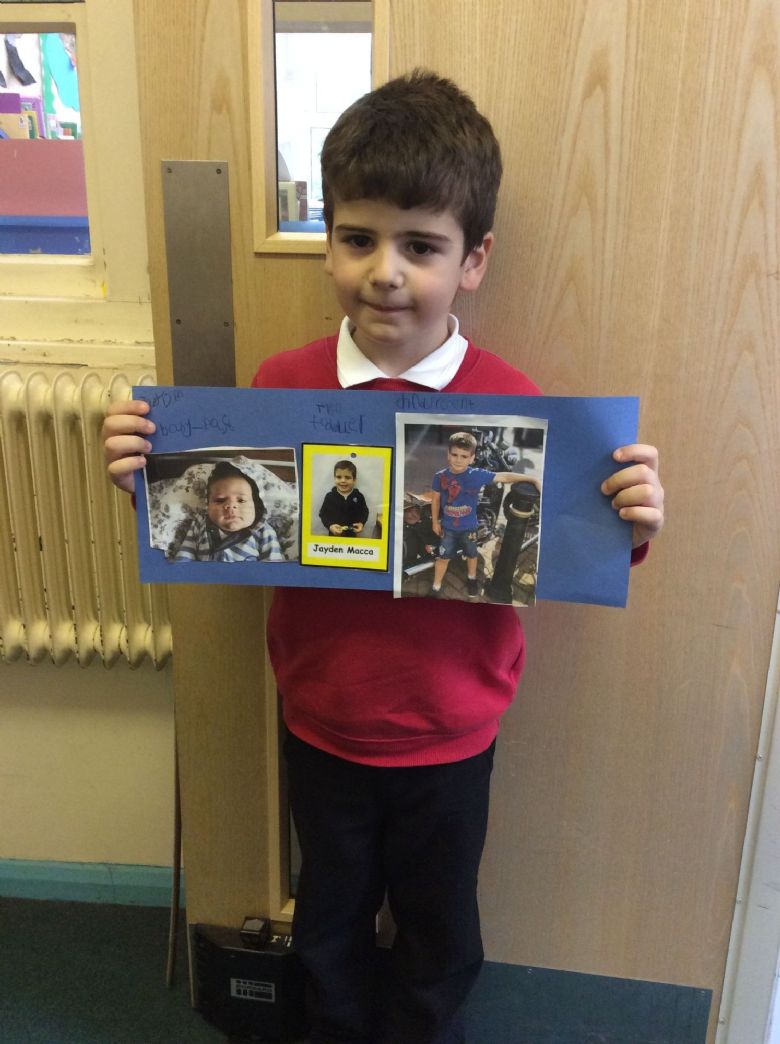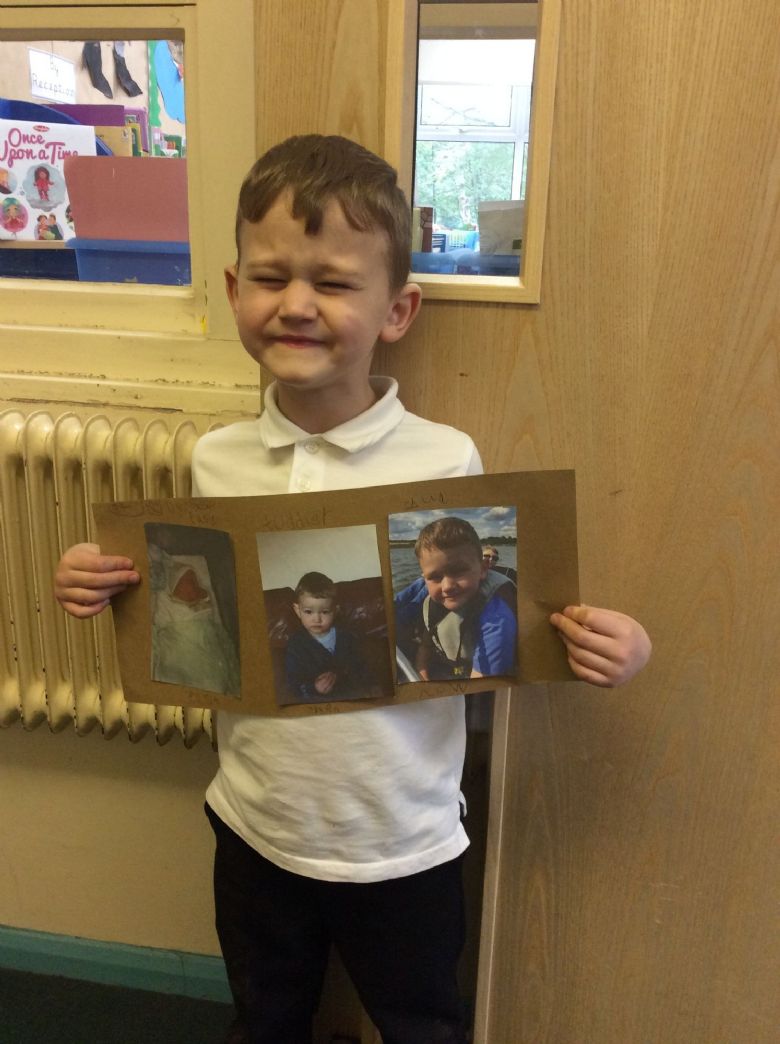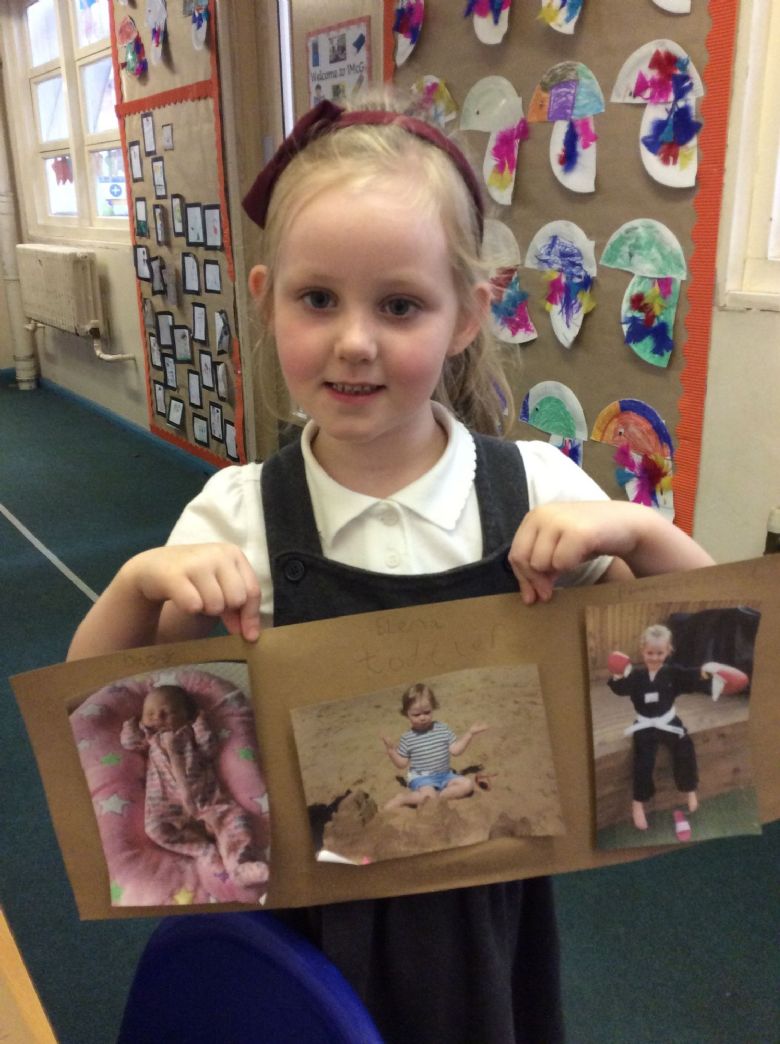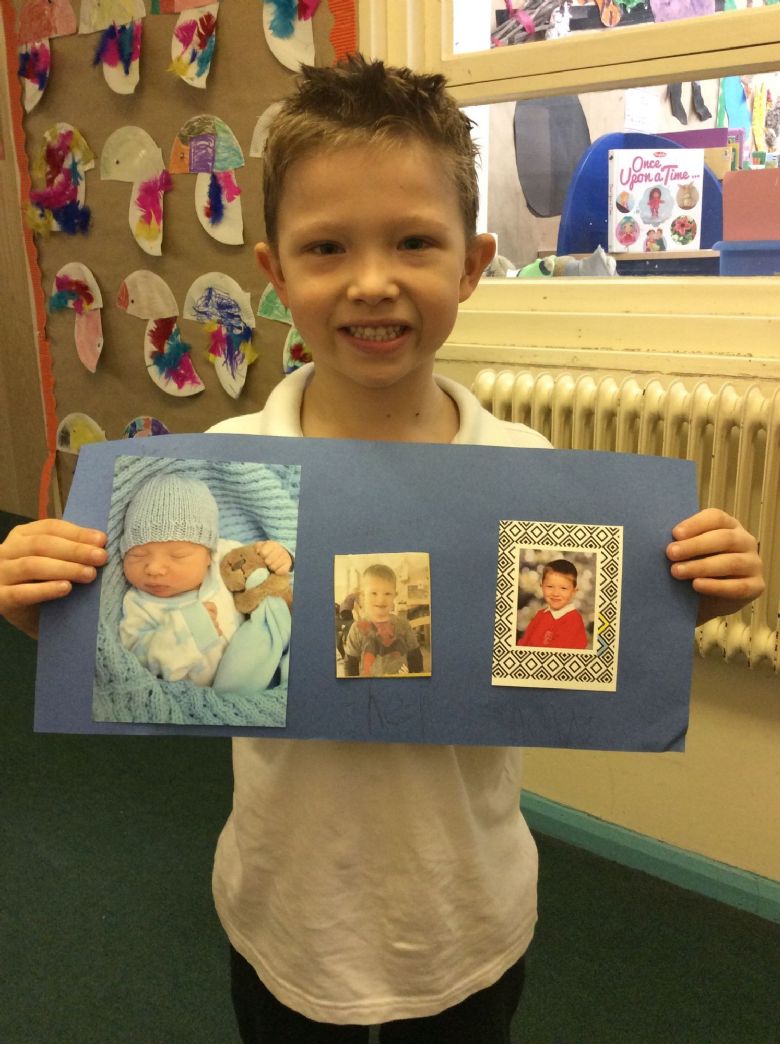 Subtraction and Addition
To conclude our number work, we were given lots of tricky sums to solve which included addition and subtraction sums. We had to ensure that we read the sums properly to make sure we used the cubes to correctly, so that we could get the right answer.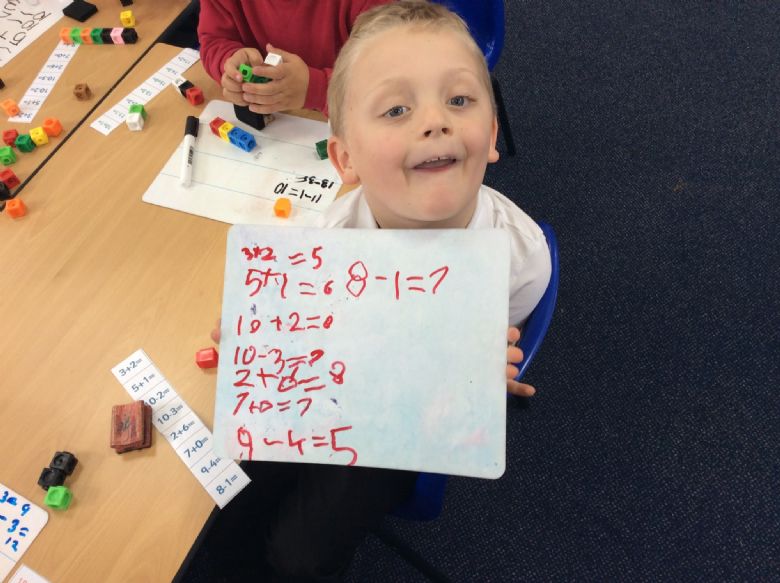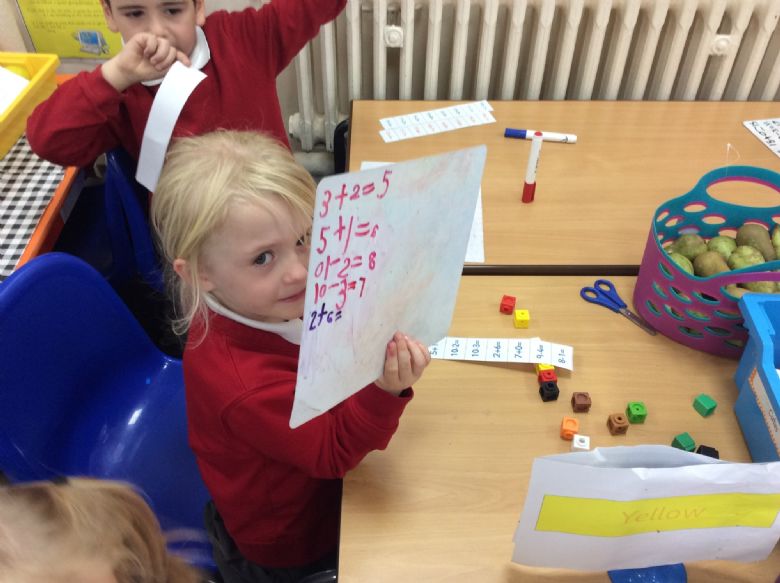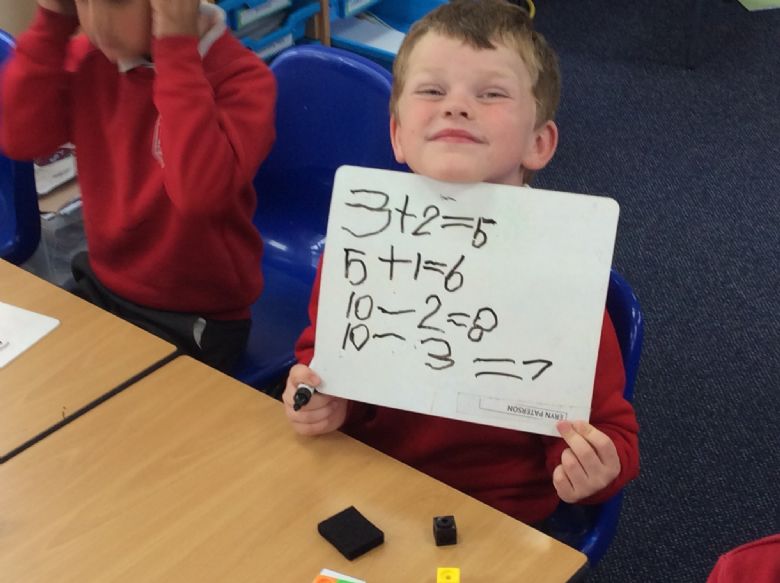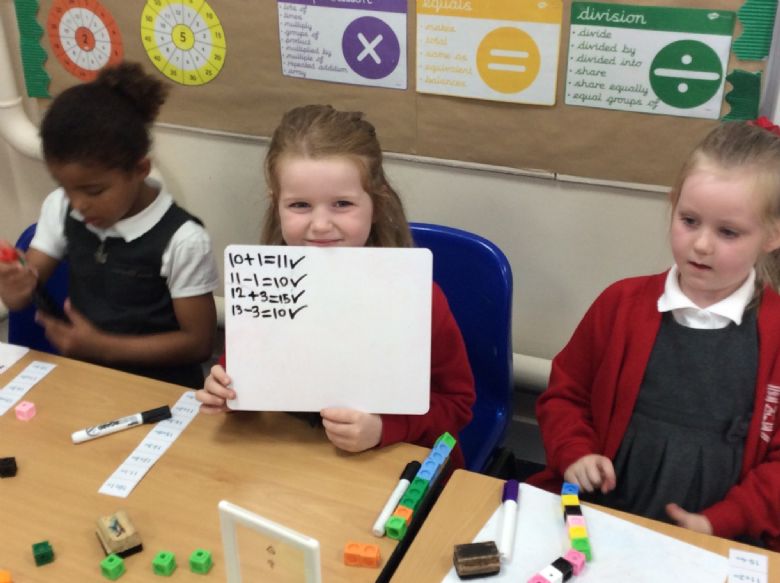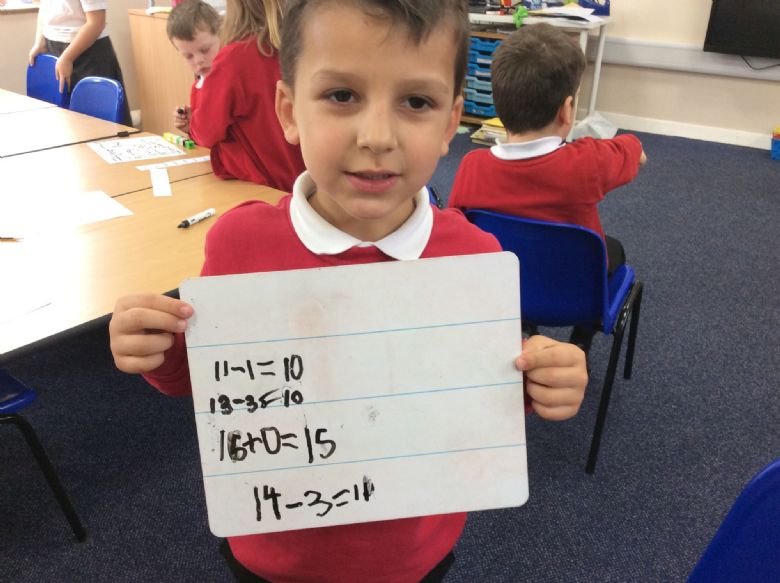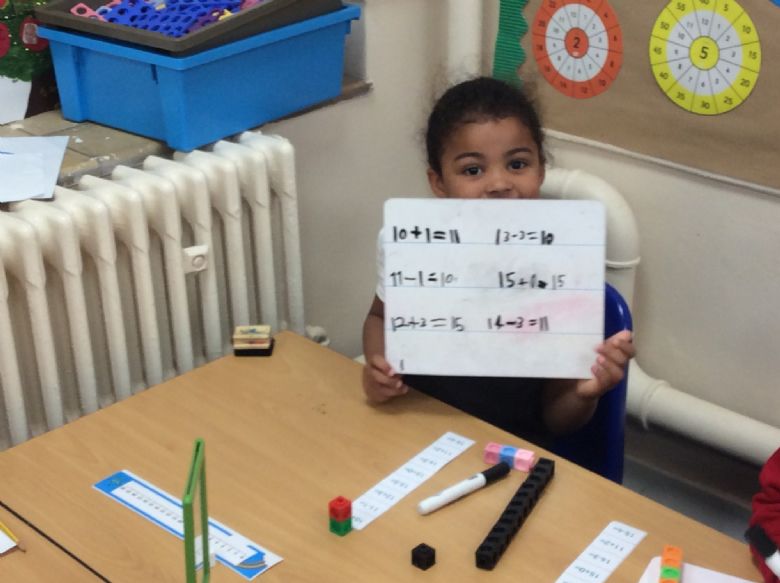 Painting Painting Painting!
As part of our topic, we have been lots of painting work, which has been really exciting. Firstly we painted pictures of ourselves. Afterwards we then created paintings of our house. We also drew the people who we live with at home too!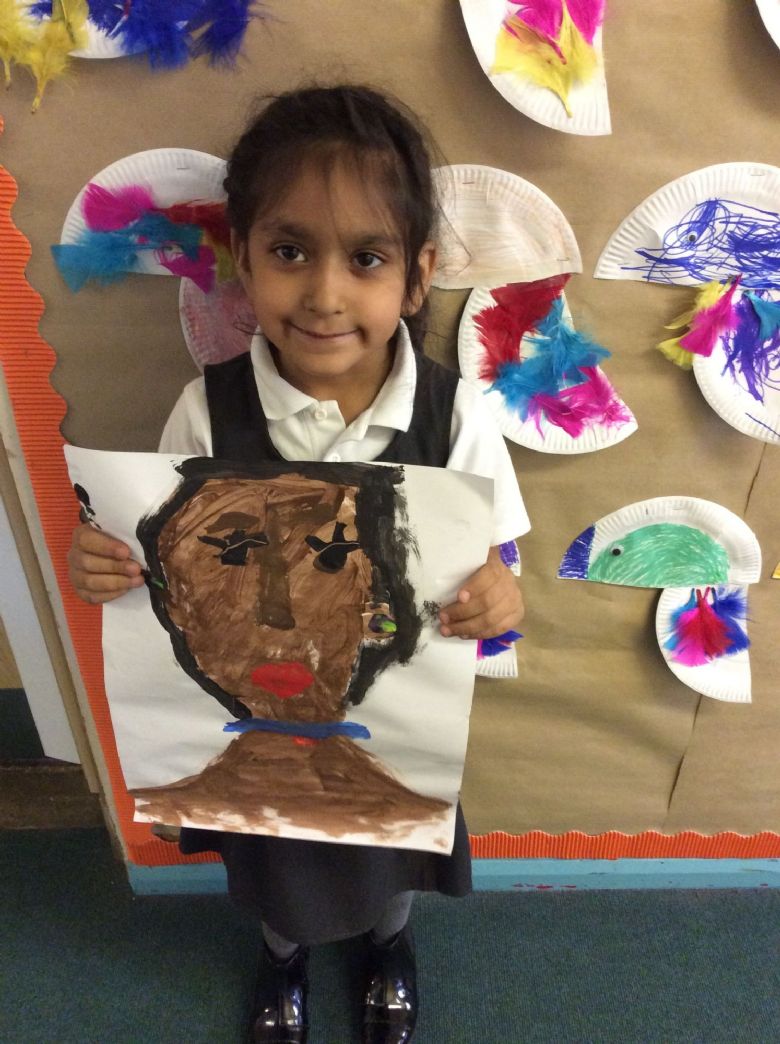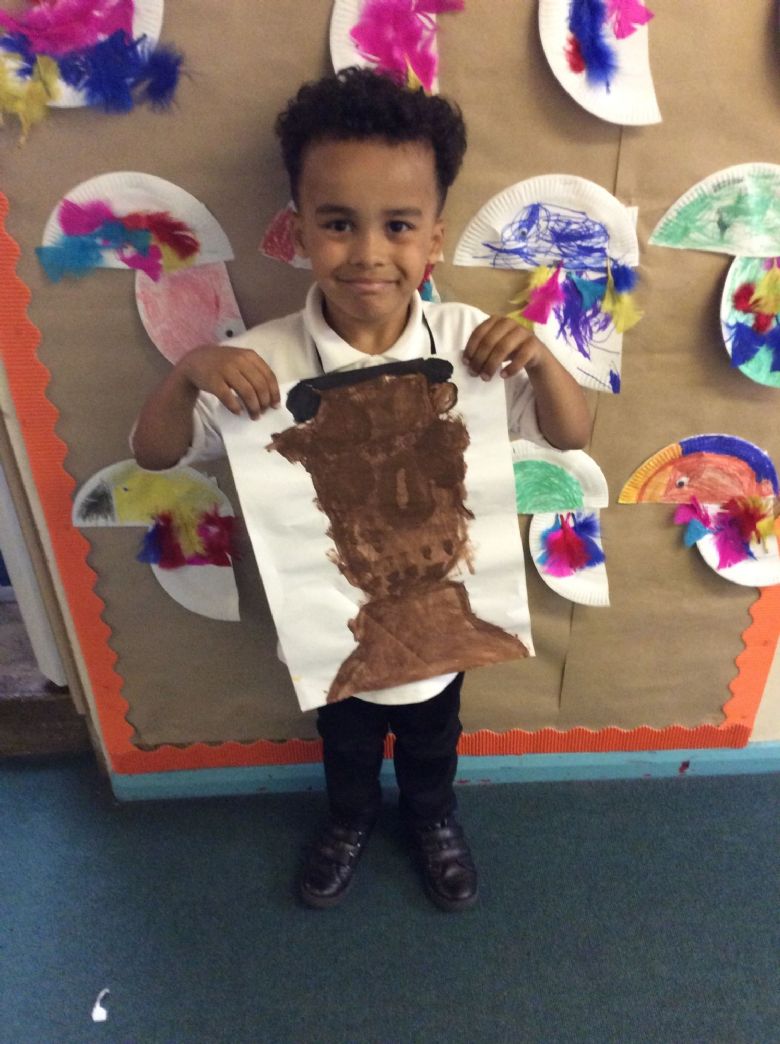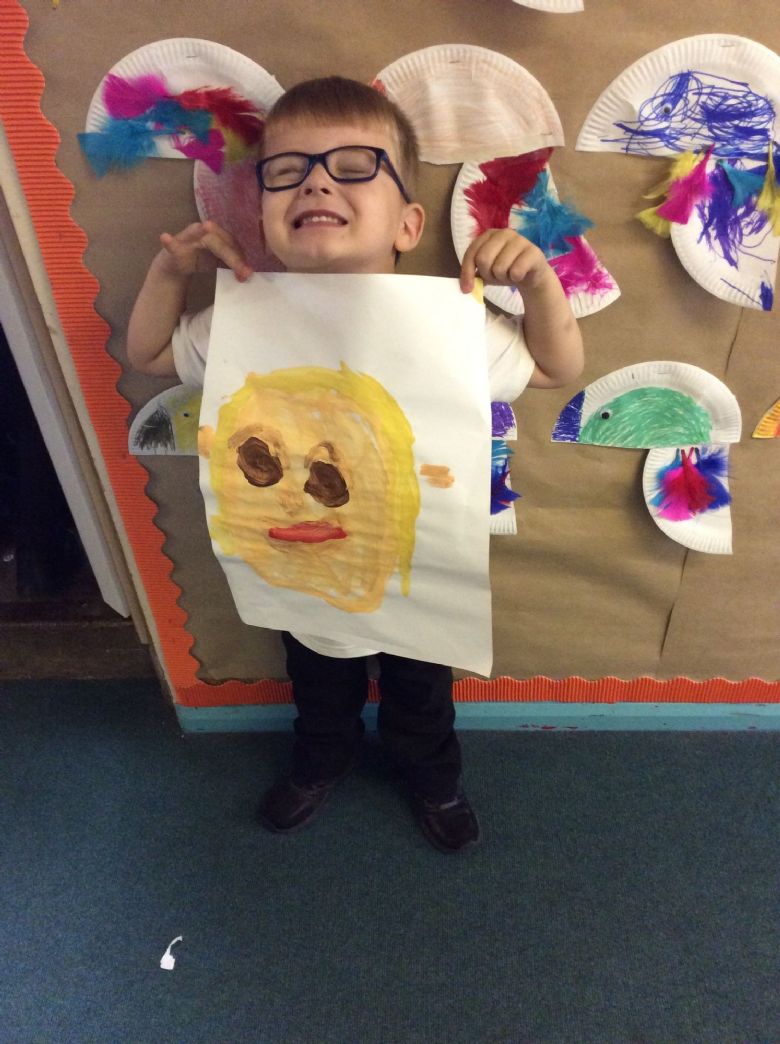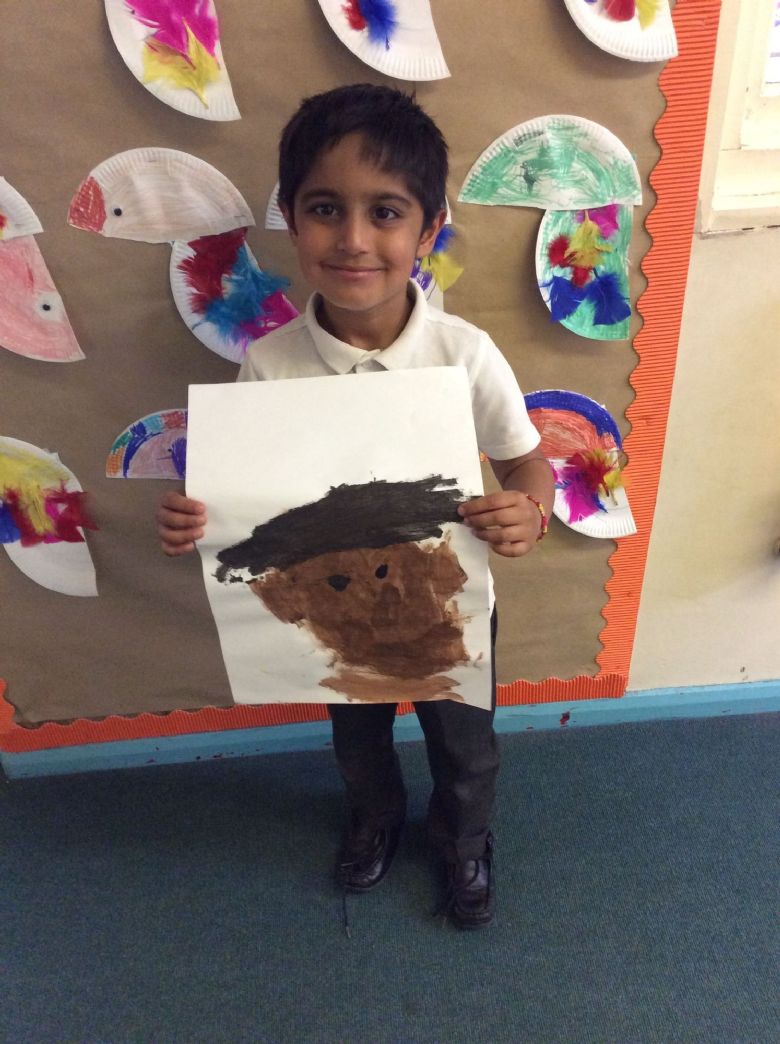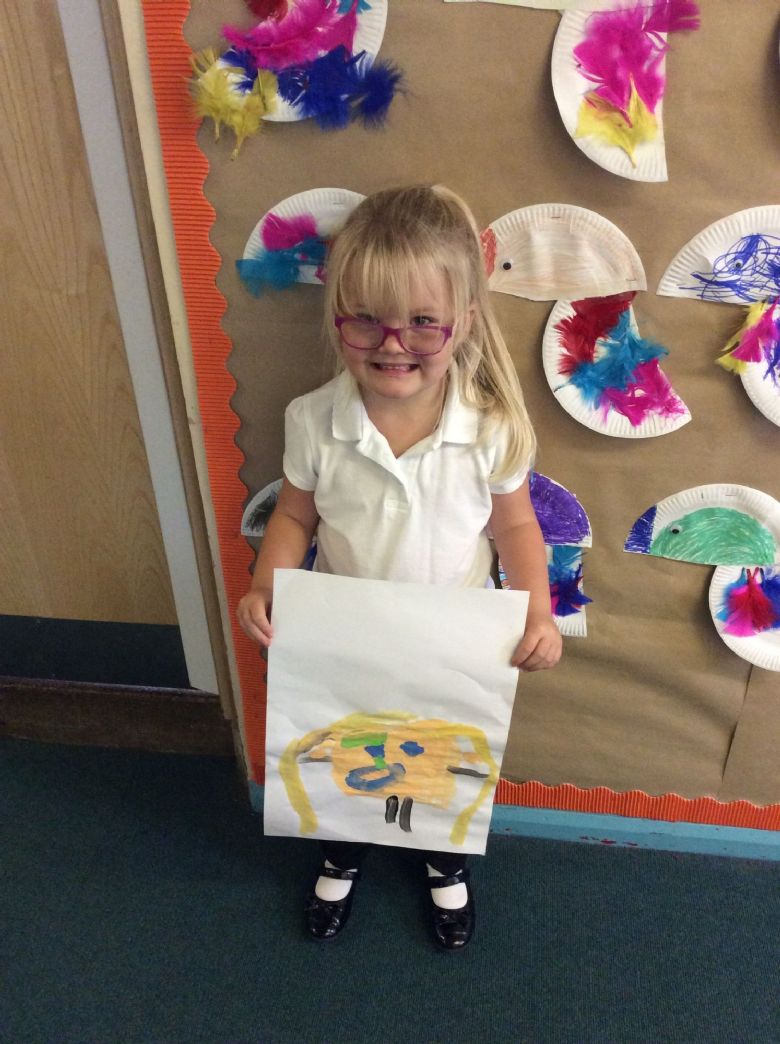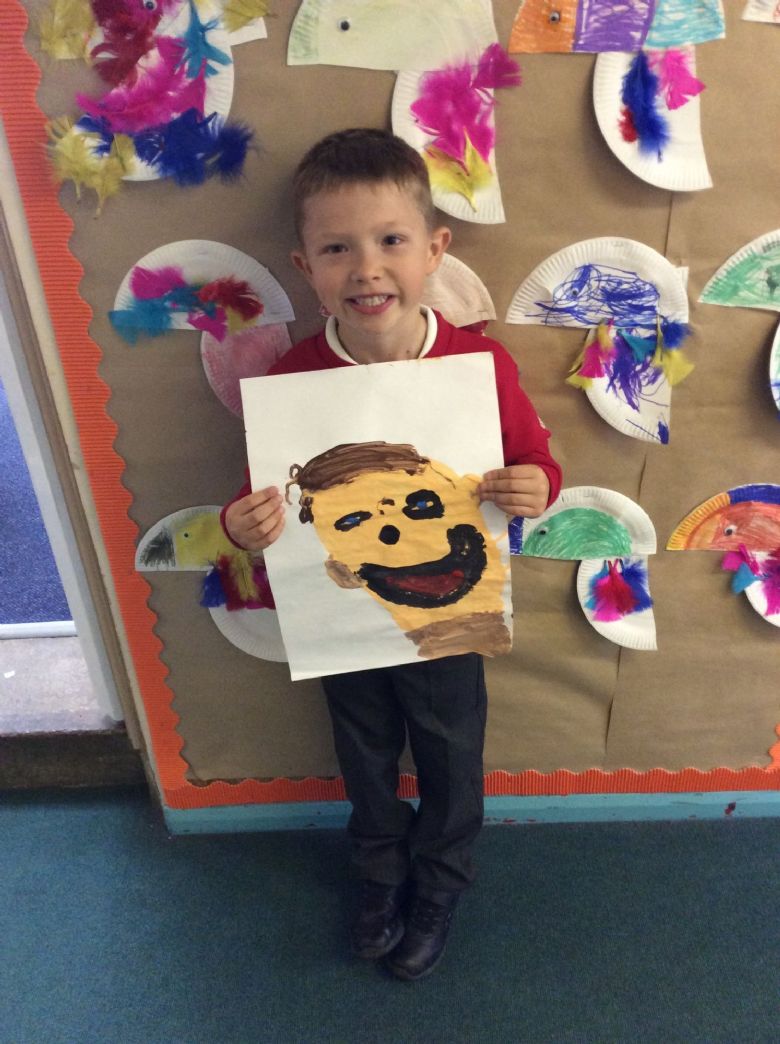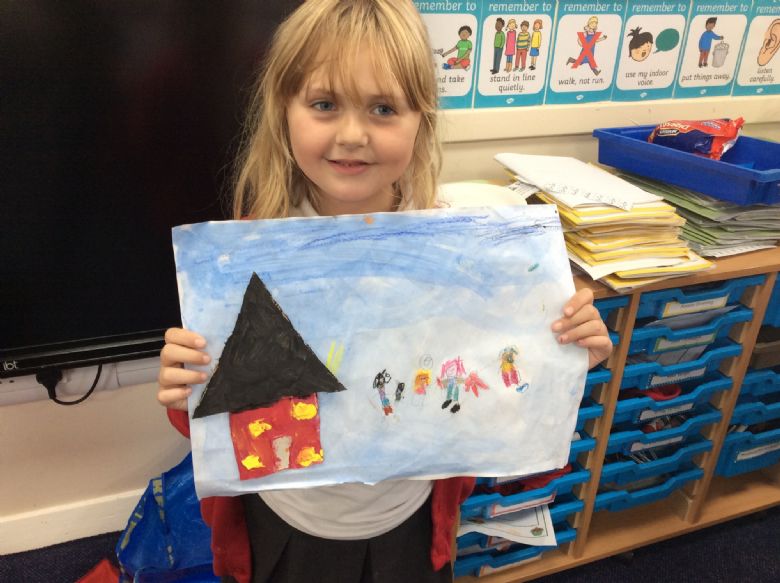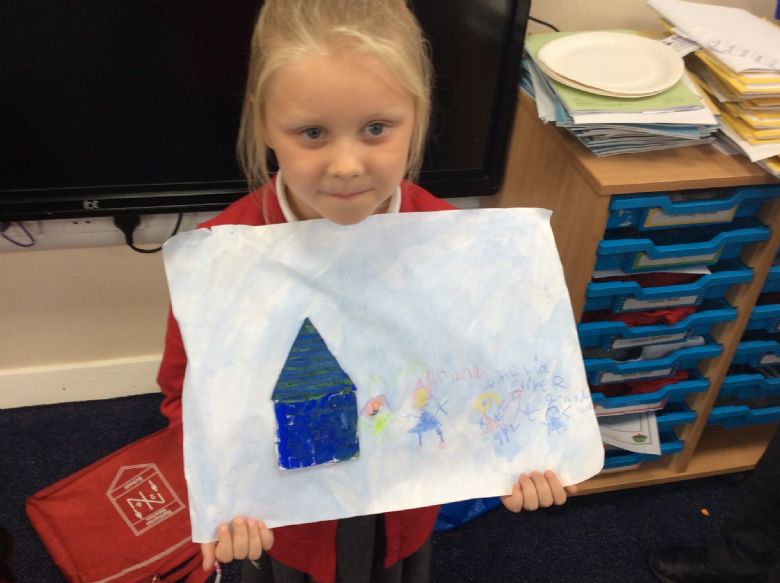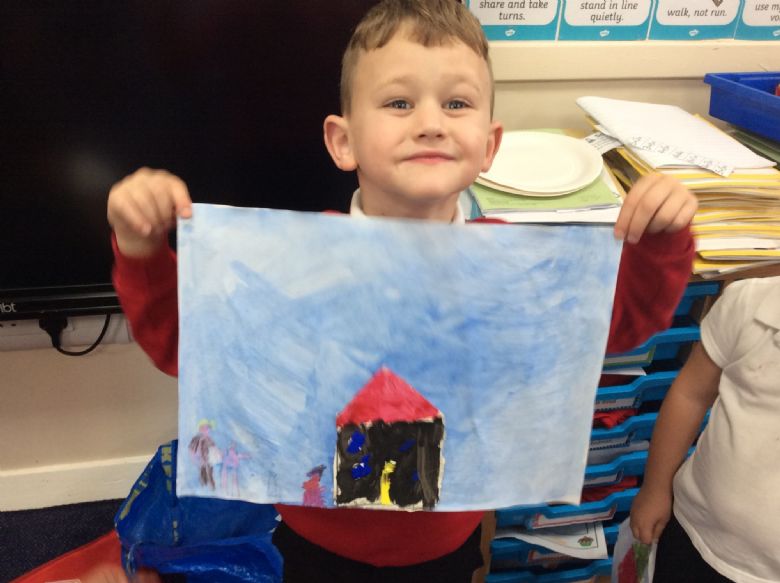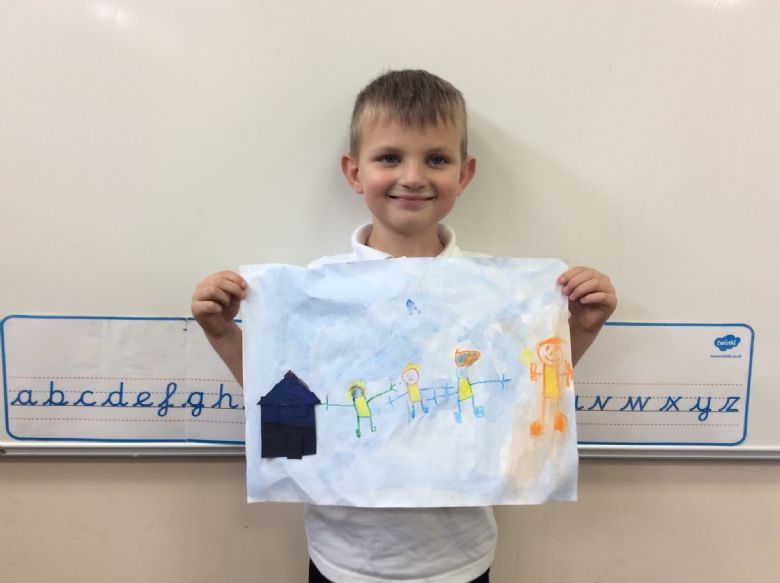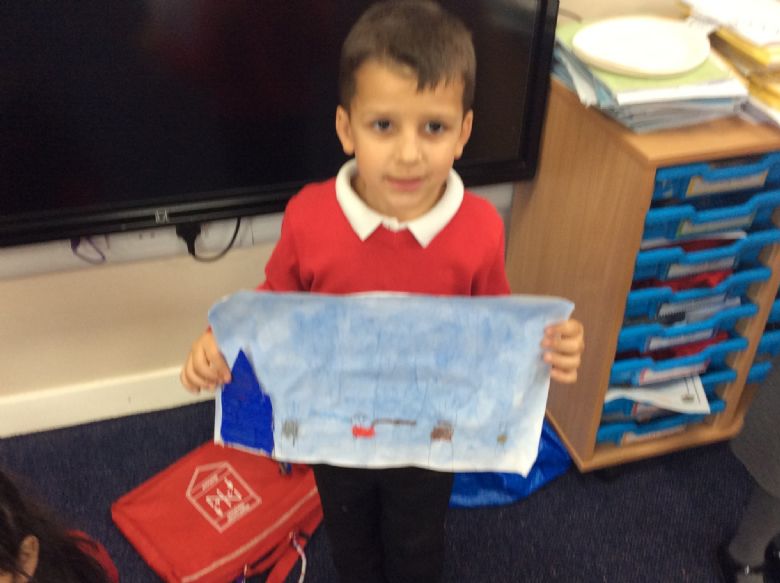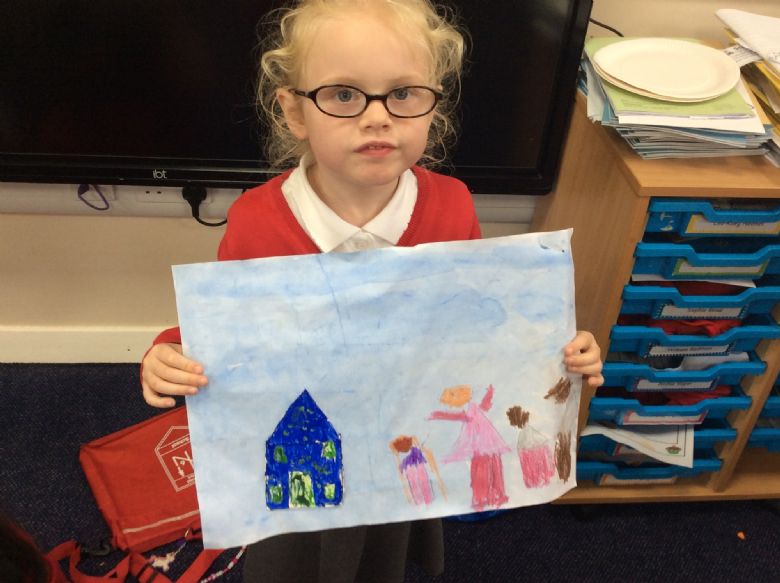 Number Bonds to 10
In Maths, we have been practising our number bonds to 10 using the numicon to help us. Once we had found one combination, we then recorded it on our sheet.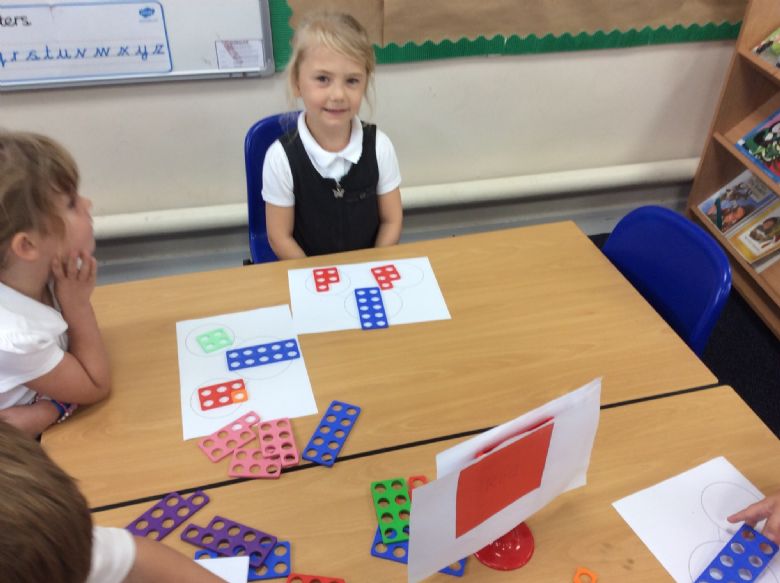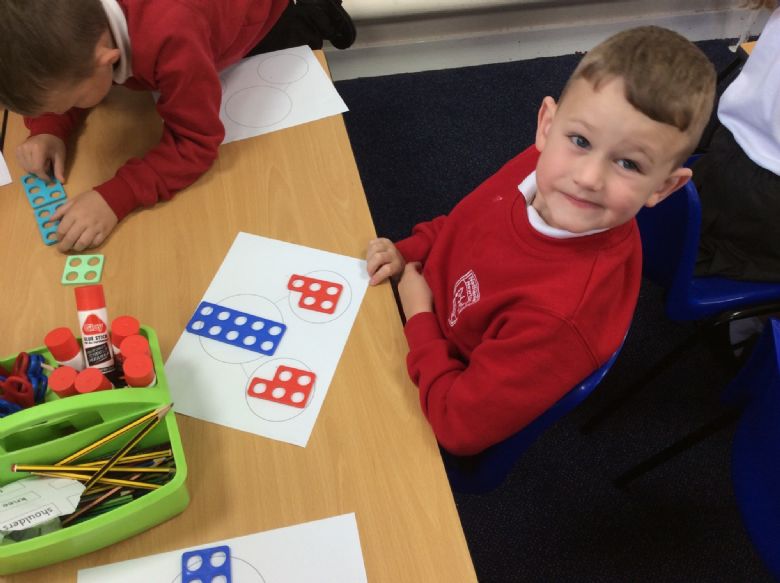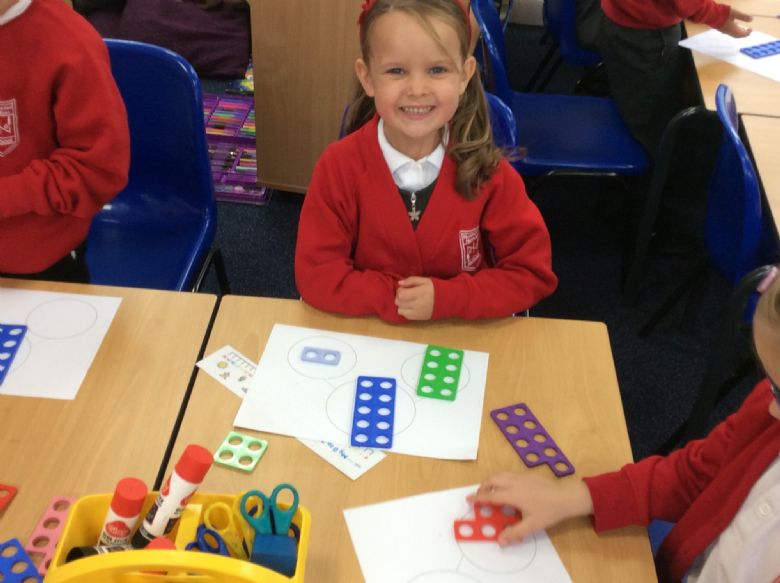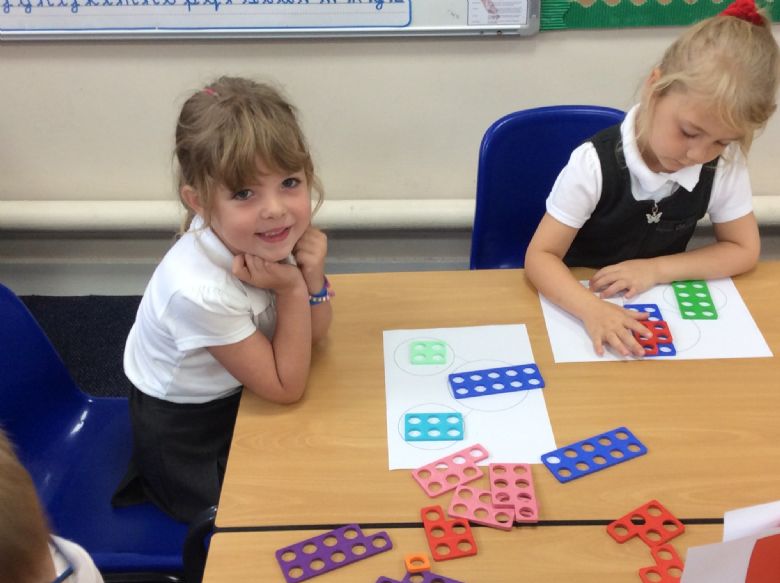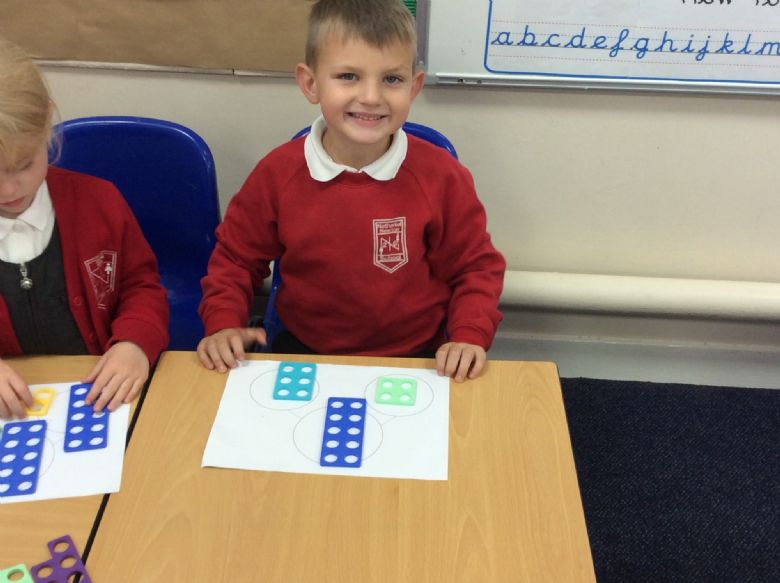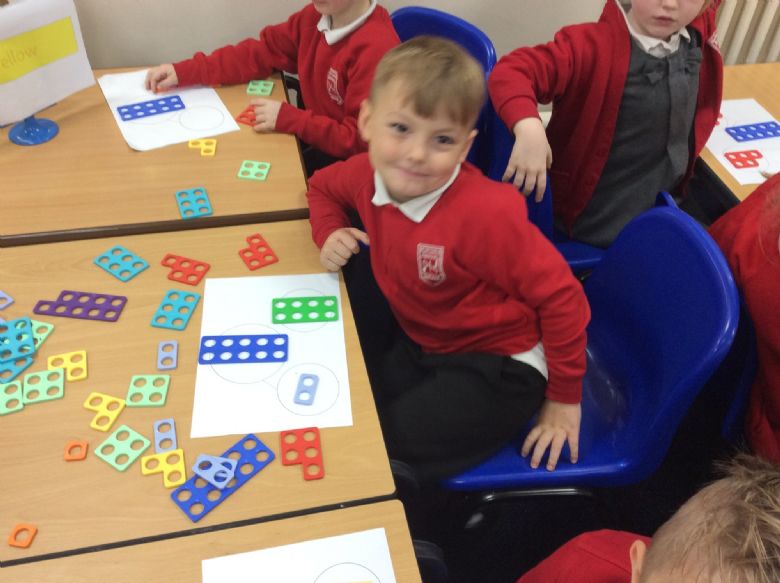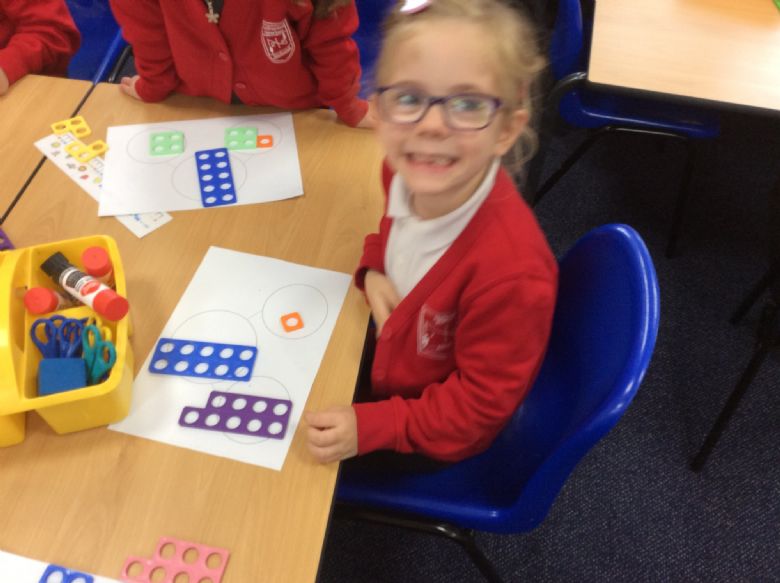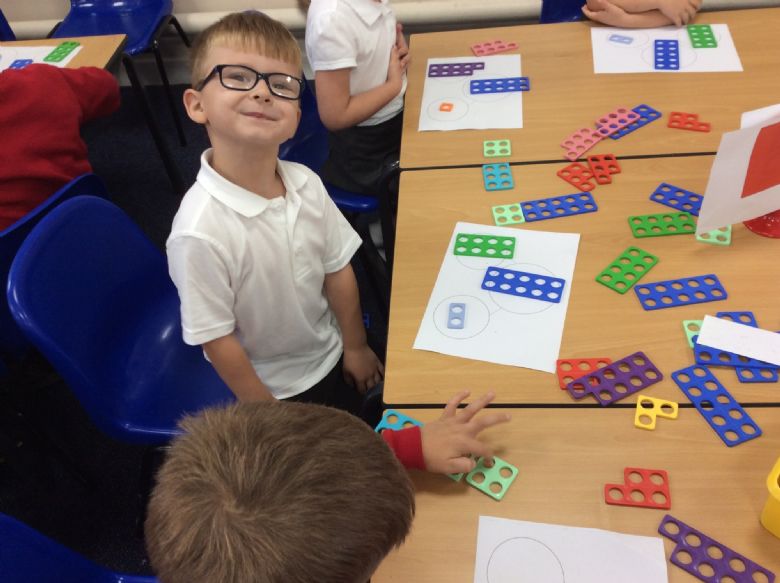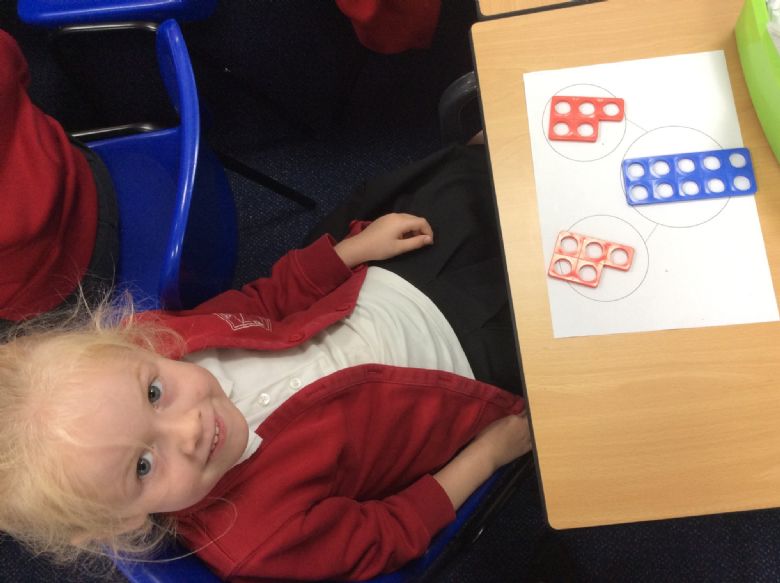 Mr Potato Heads
To conclude learning about our body parts and senses, we have created our very own Mr Potato Heads using lots of different materials. We then stuck pictures of them into our books so we could do lots of writing around them.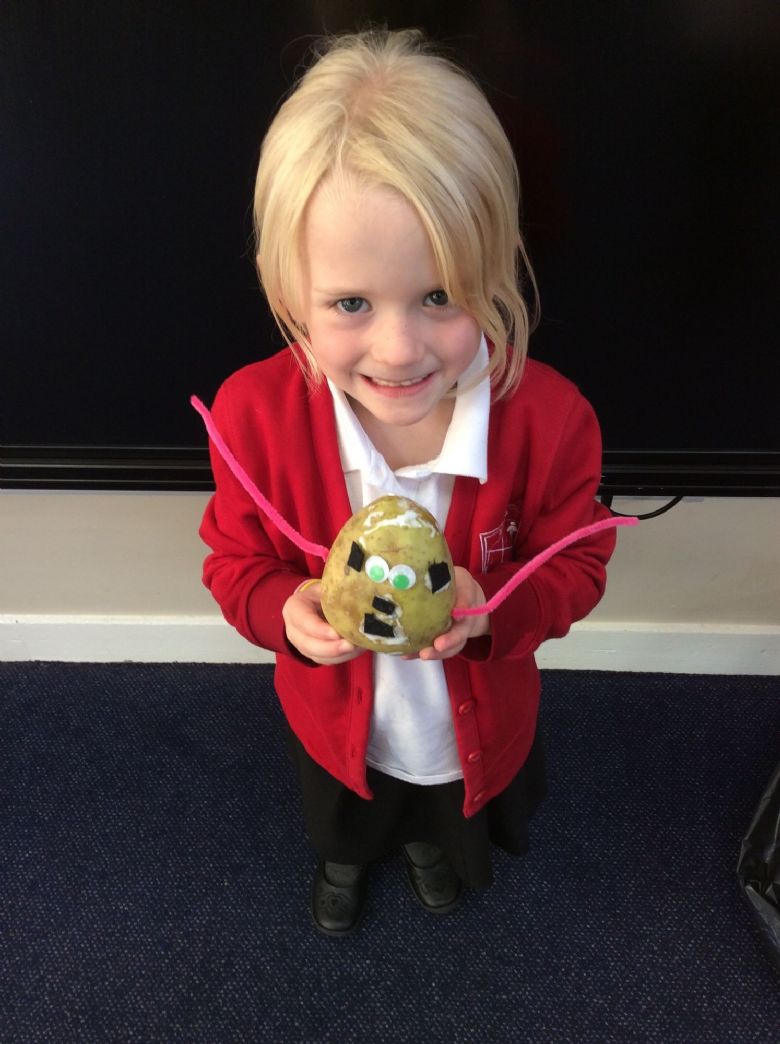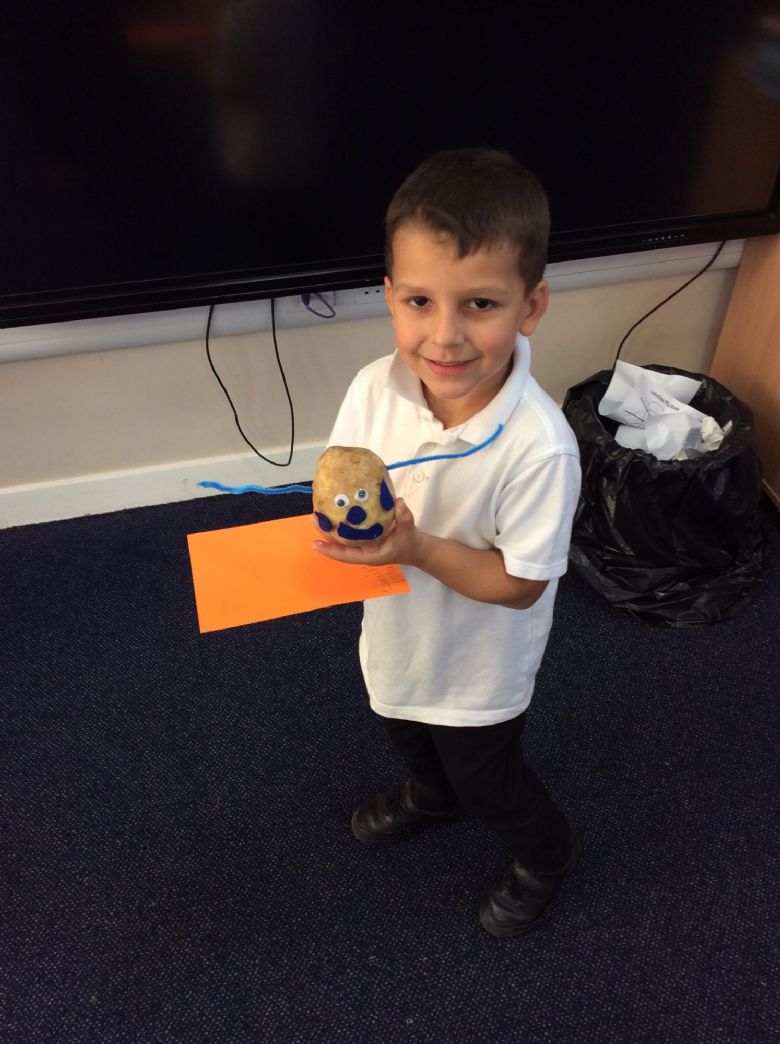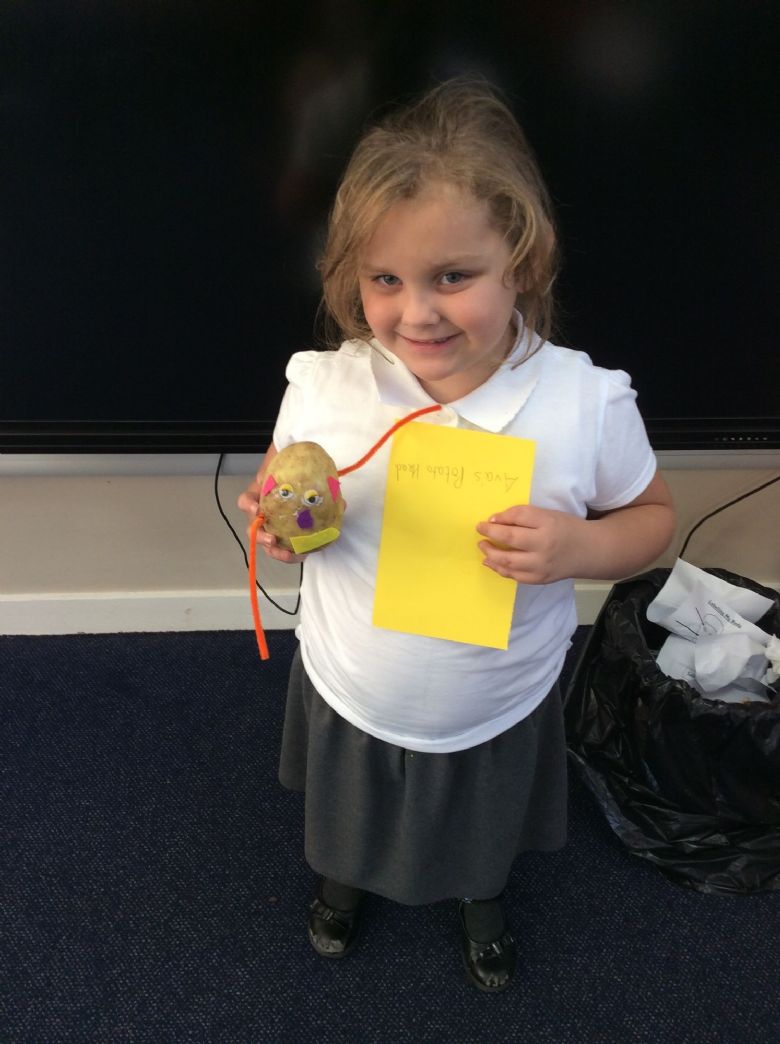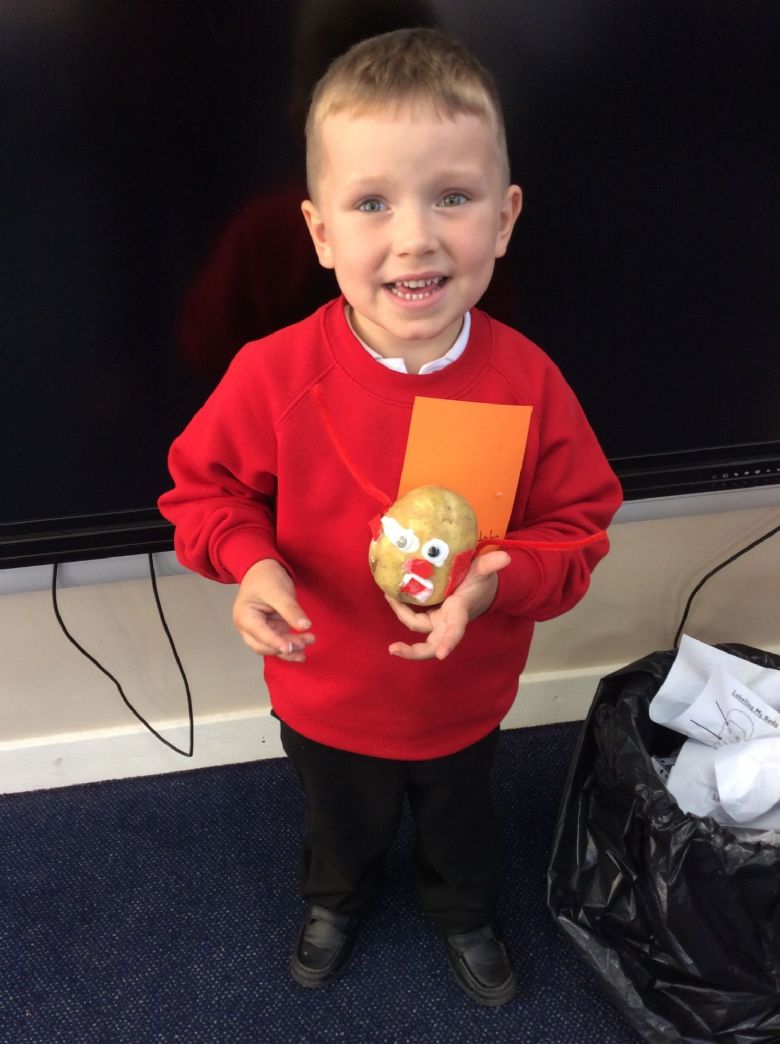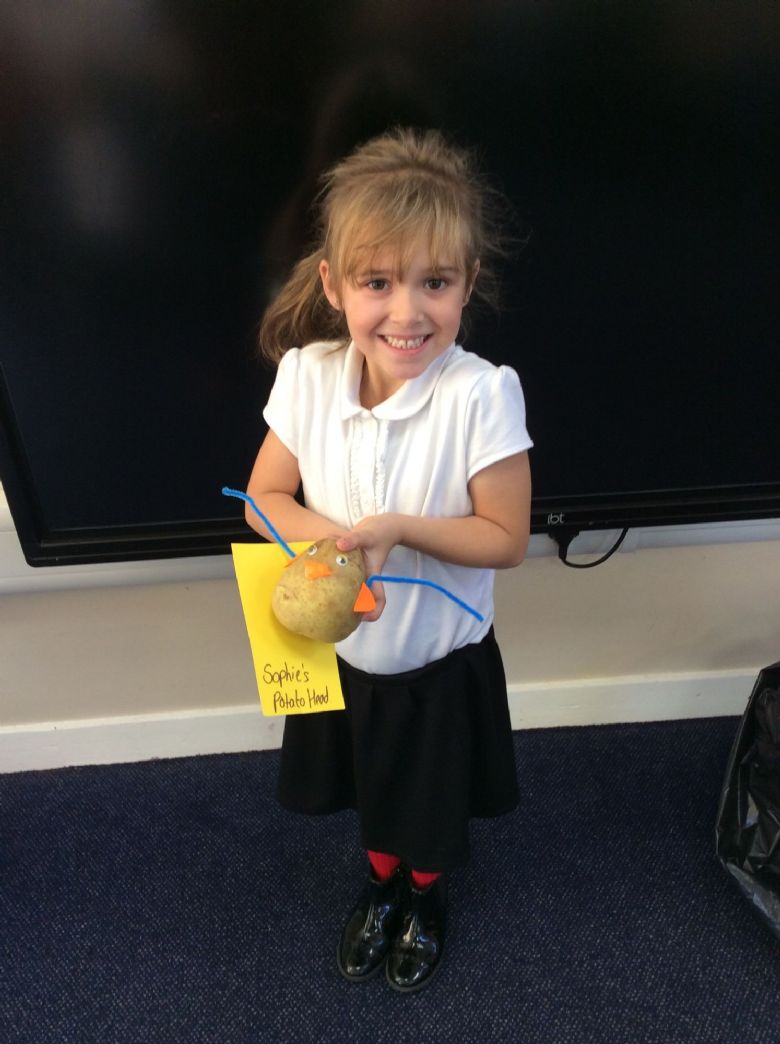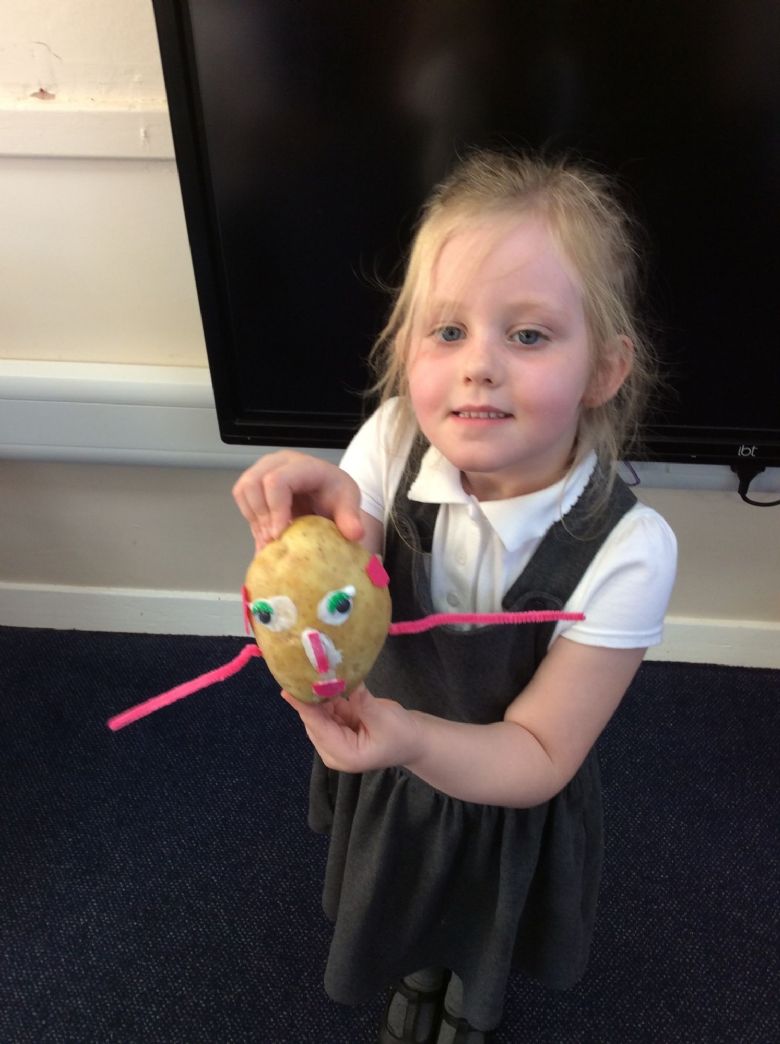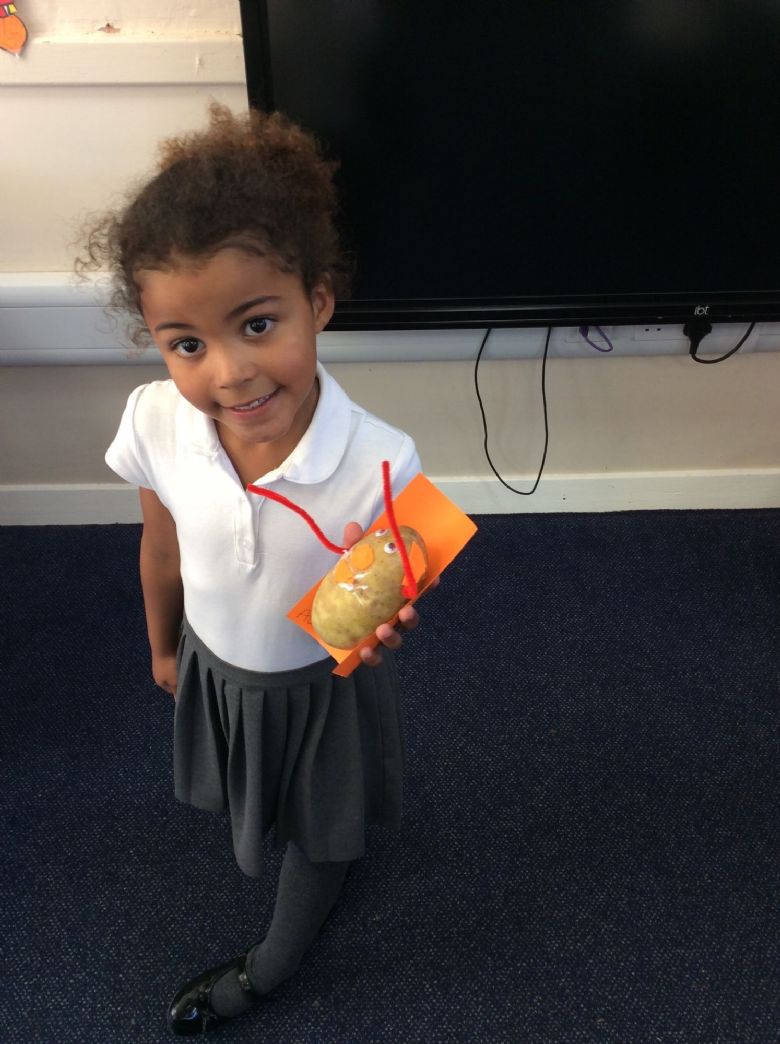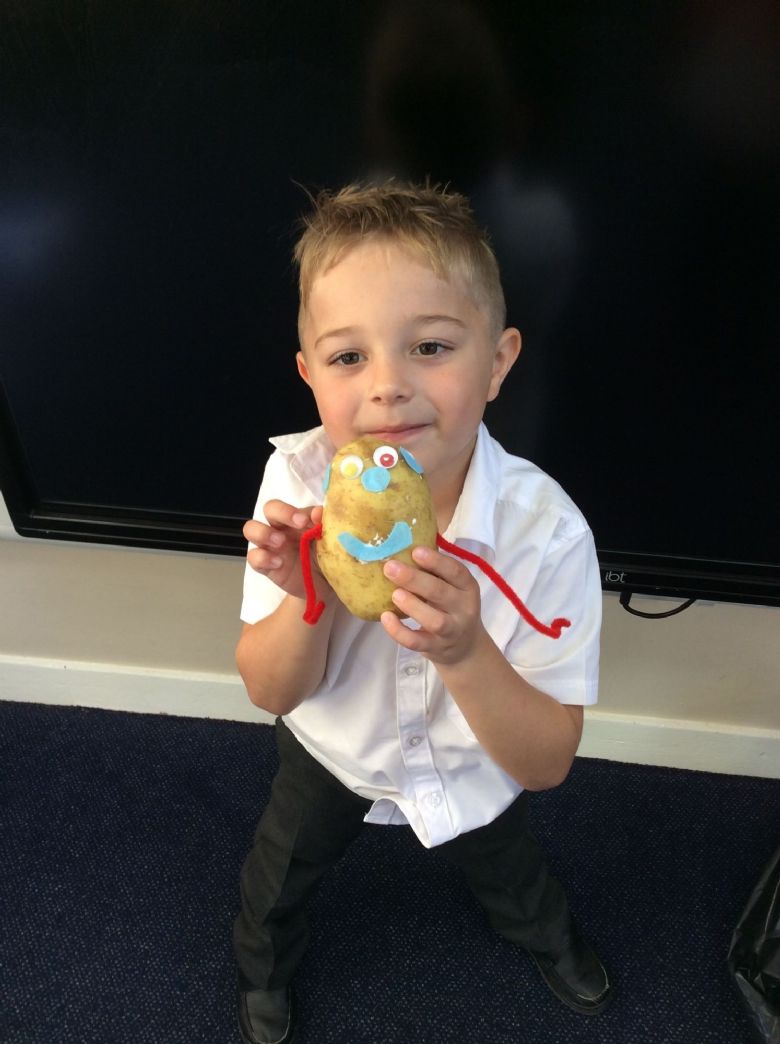 Senses Detectives
As well as learning about our Body Parts, we have also been identifying our 5 senses and the body parts associated with them. In class we have 4 different boxes. One box had things in for us to taste, another had things for us to smell, another to touch different times and another had things for to hear. Once we had experimented with each box we then discussed our findings as as class.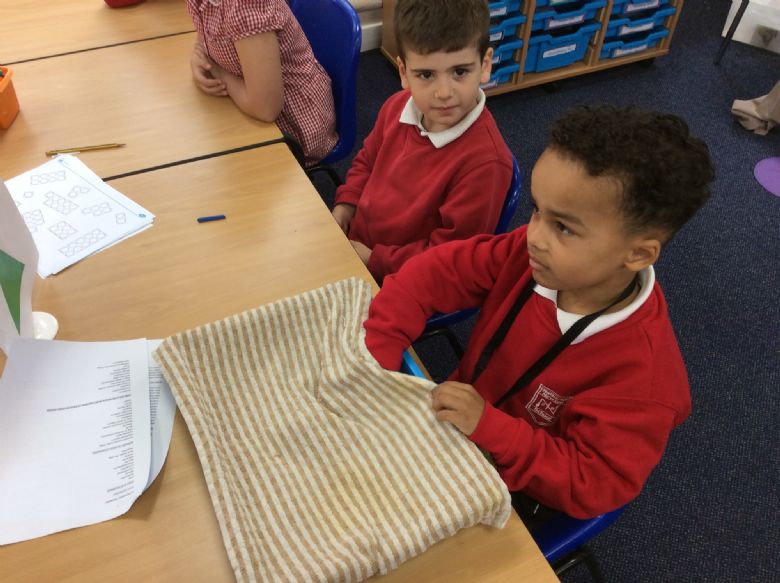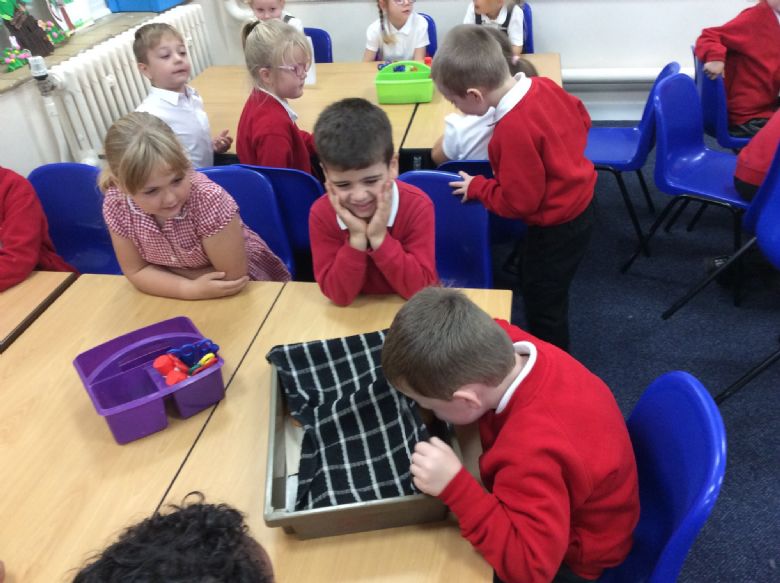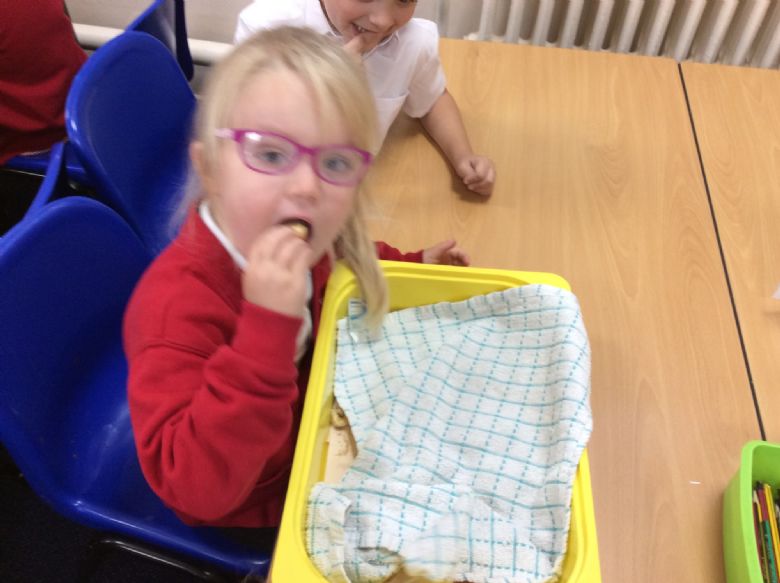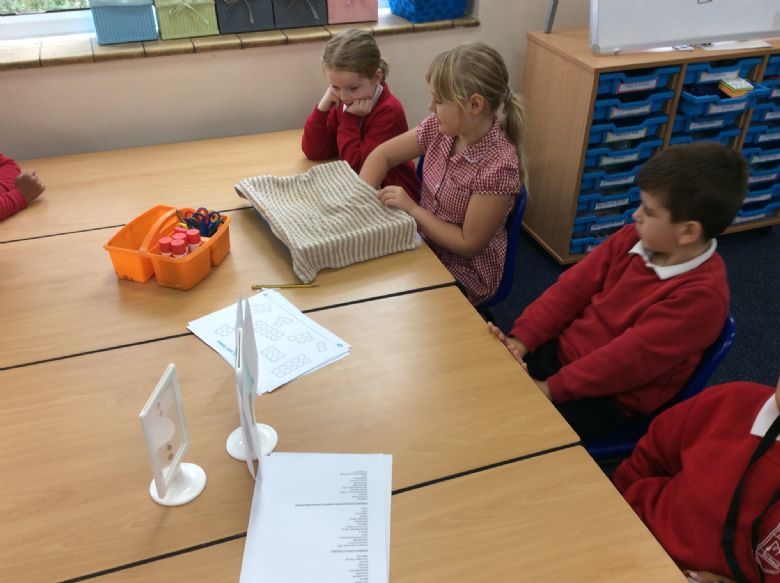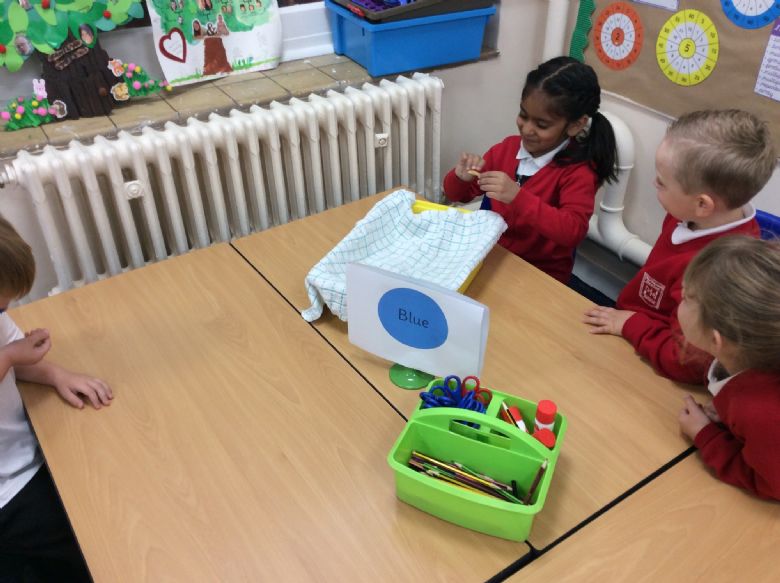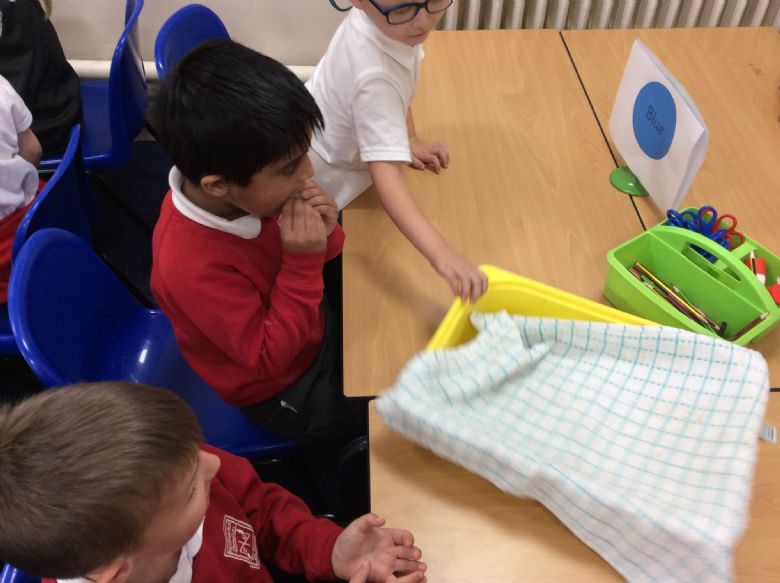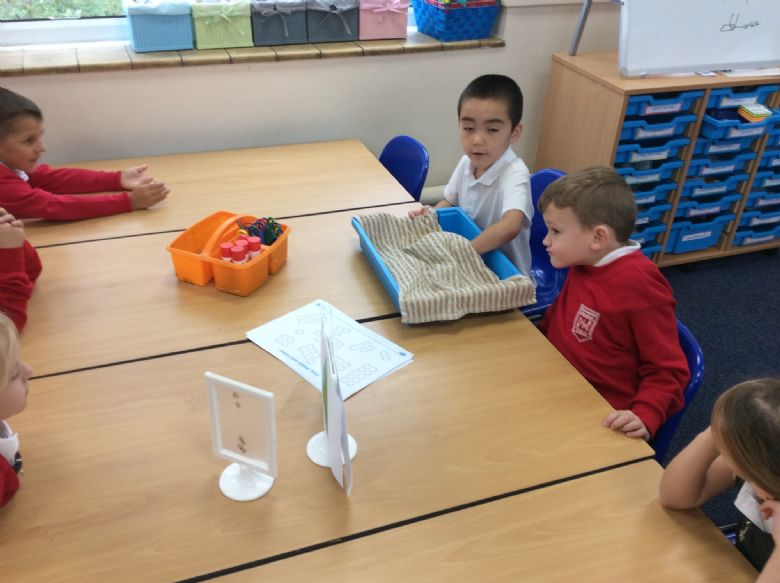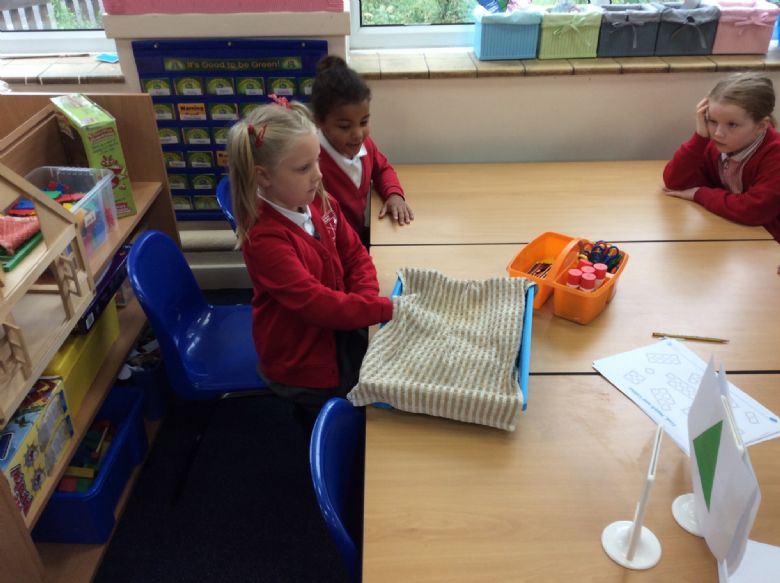 All About Our Body
In Science this half term, we have been learning about our body so we can name and identify all of the different parts. One of the activities which we completed was Body Bingo. We had to listen to the body part being said, check our cards to see if we had it and if we did, put it next to the person lying on the floor. We had lots of fun!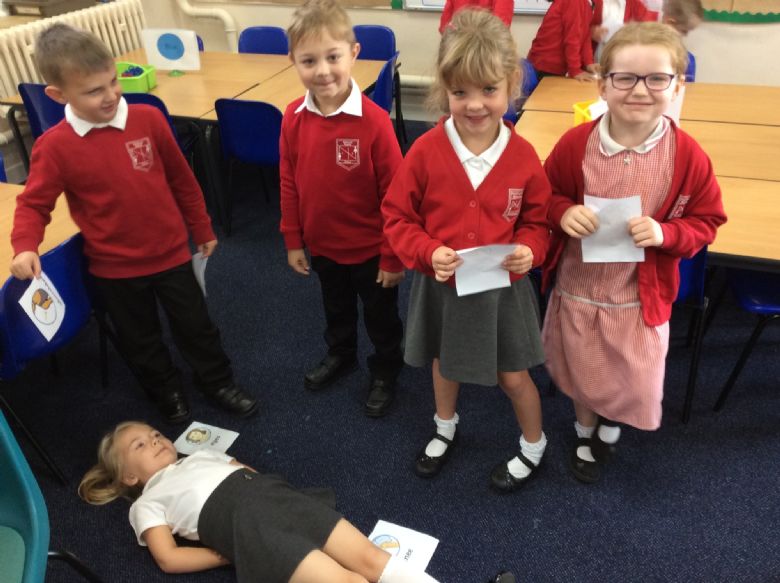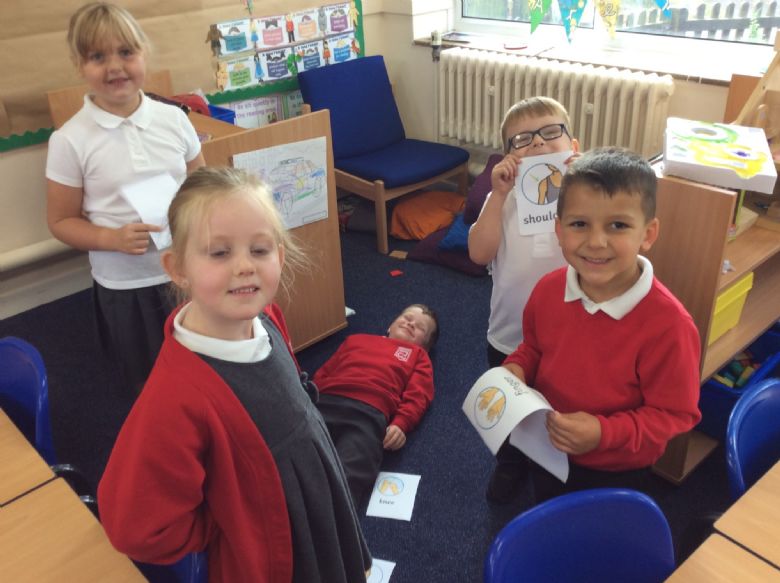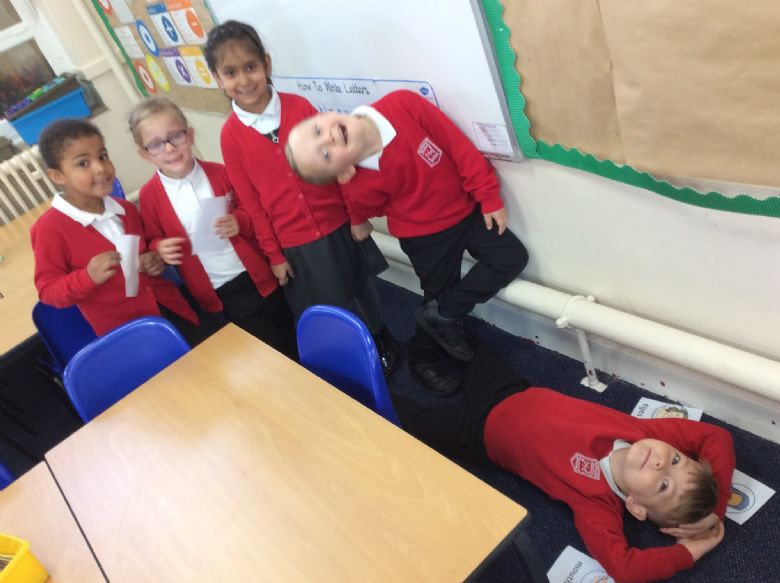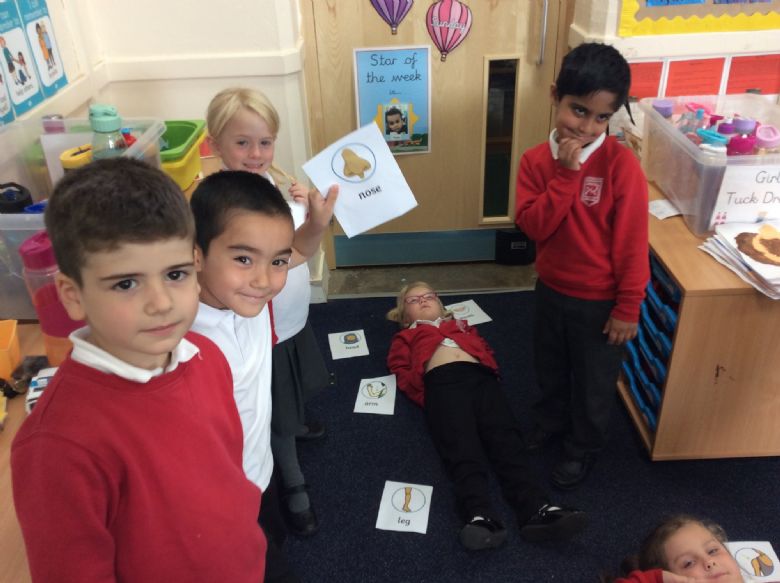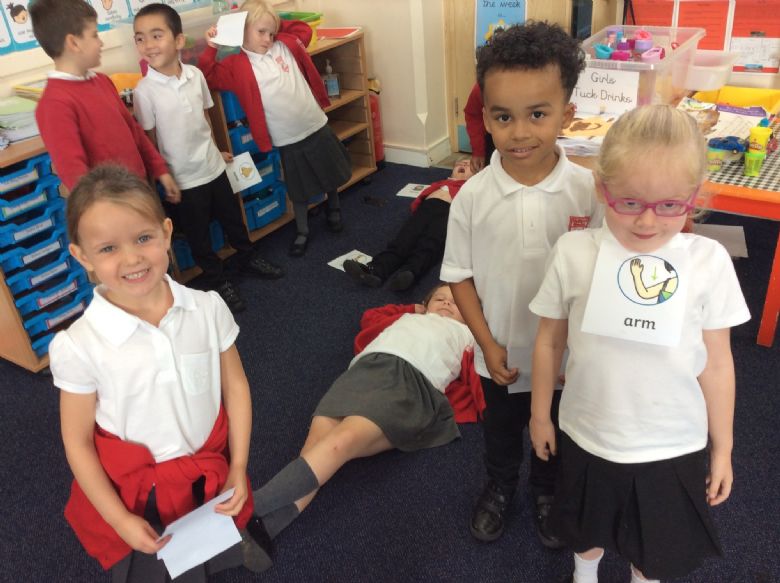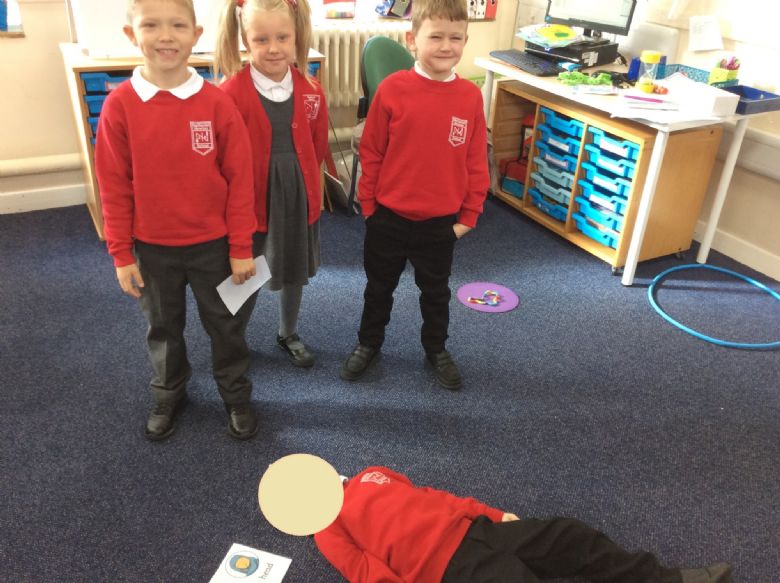 Unifix Maths
As well as using numicon to support our maths, we have also been using unifix cubes to support us too. We firstly started by using the unifix cubes to identify numbers, before moving on to applying them in solving addition and subtraction sums.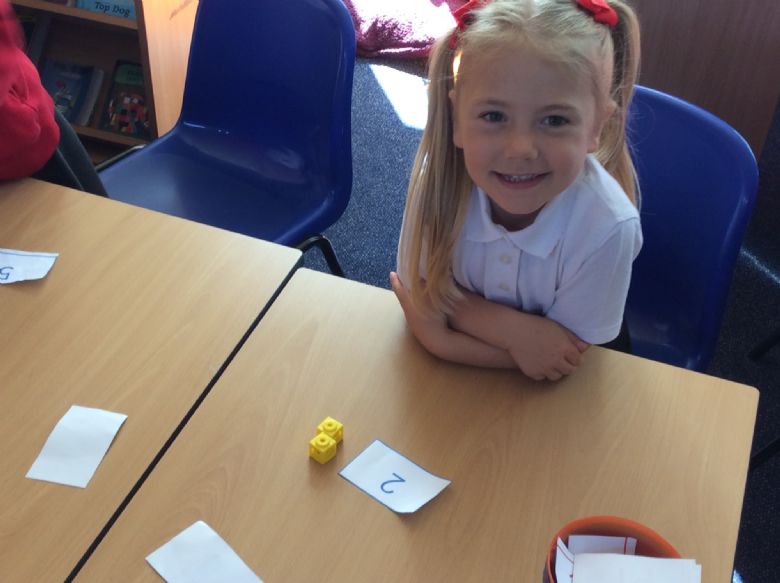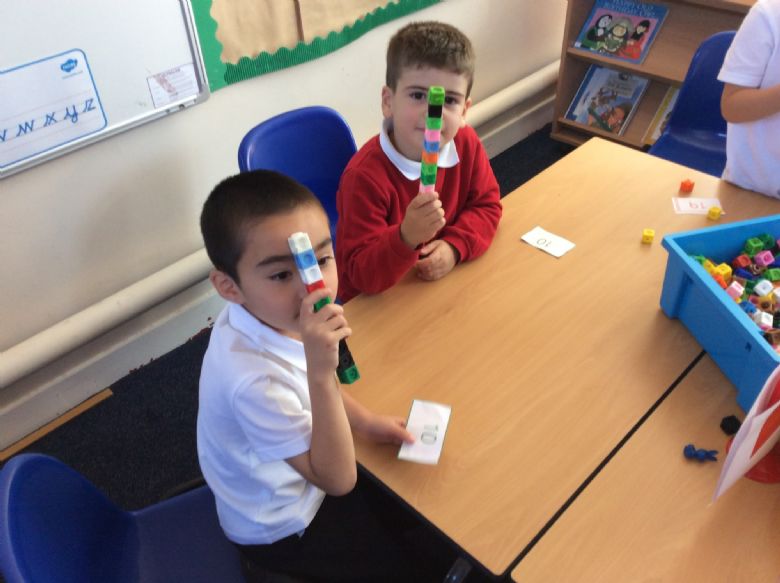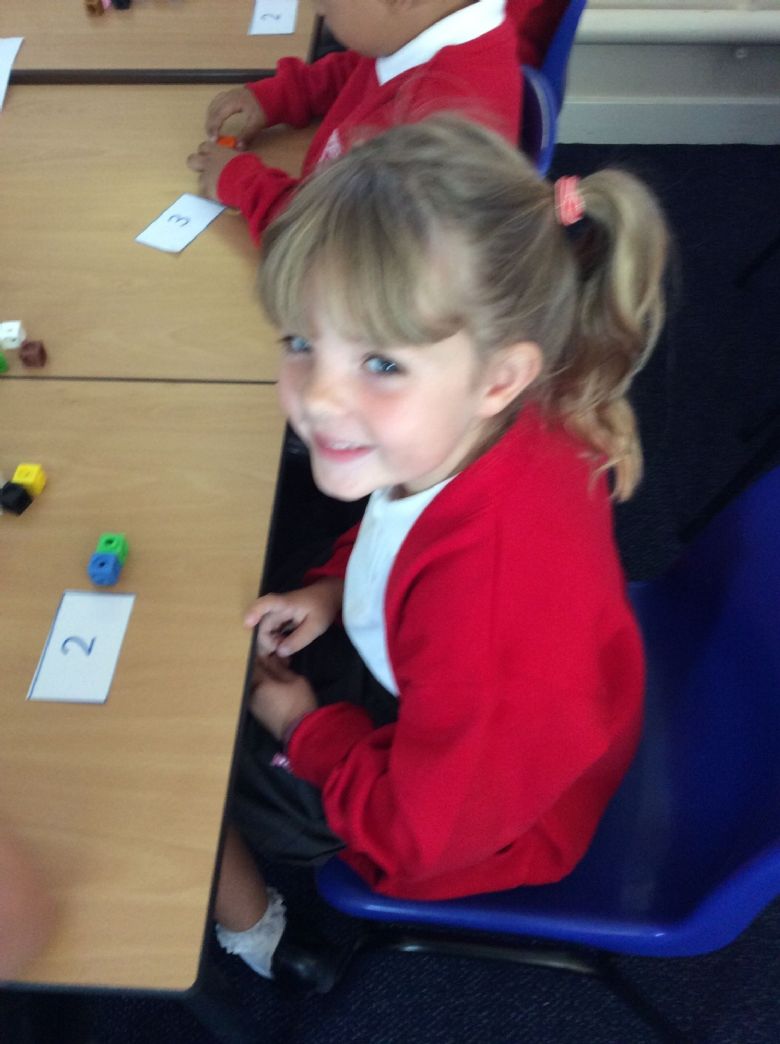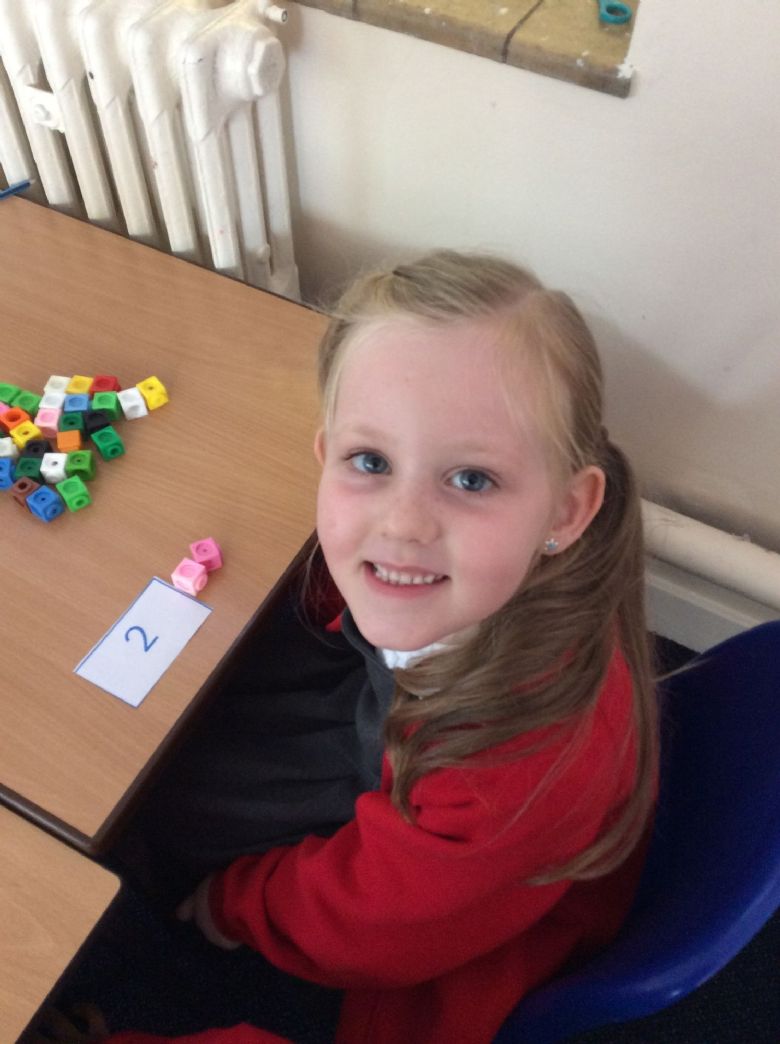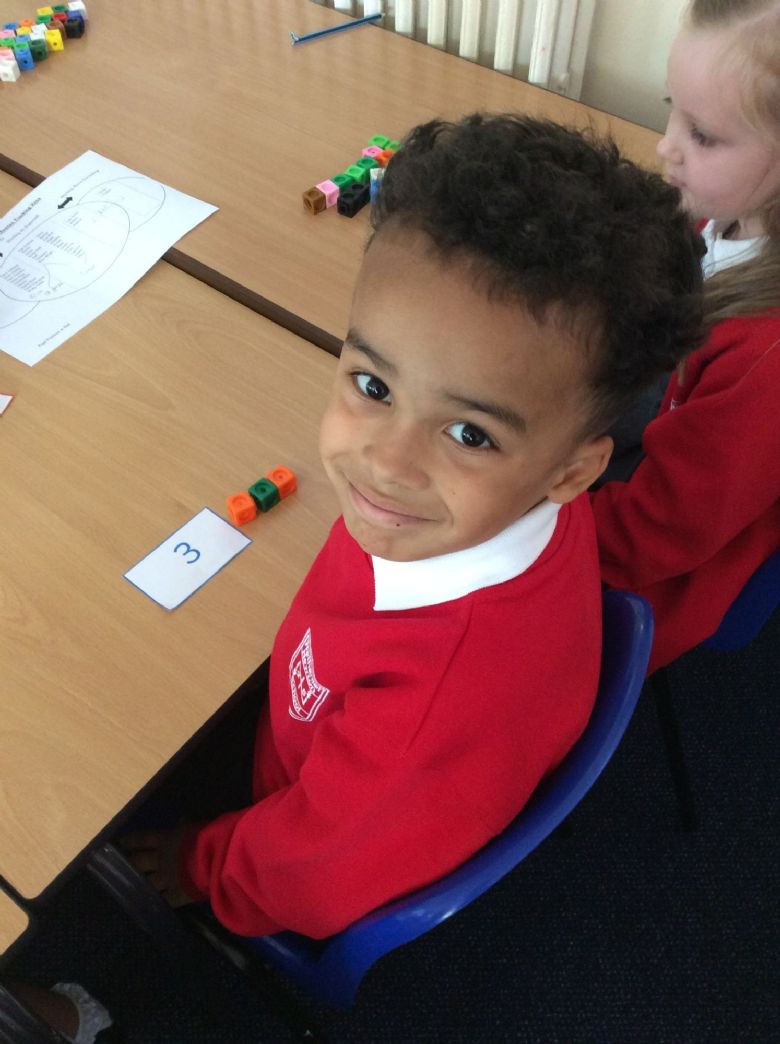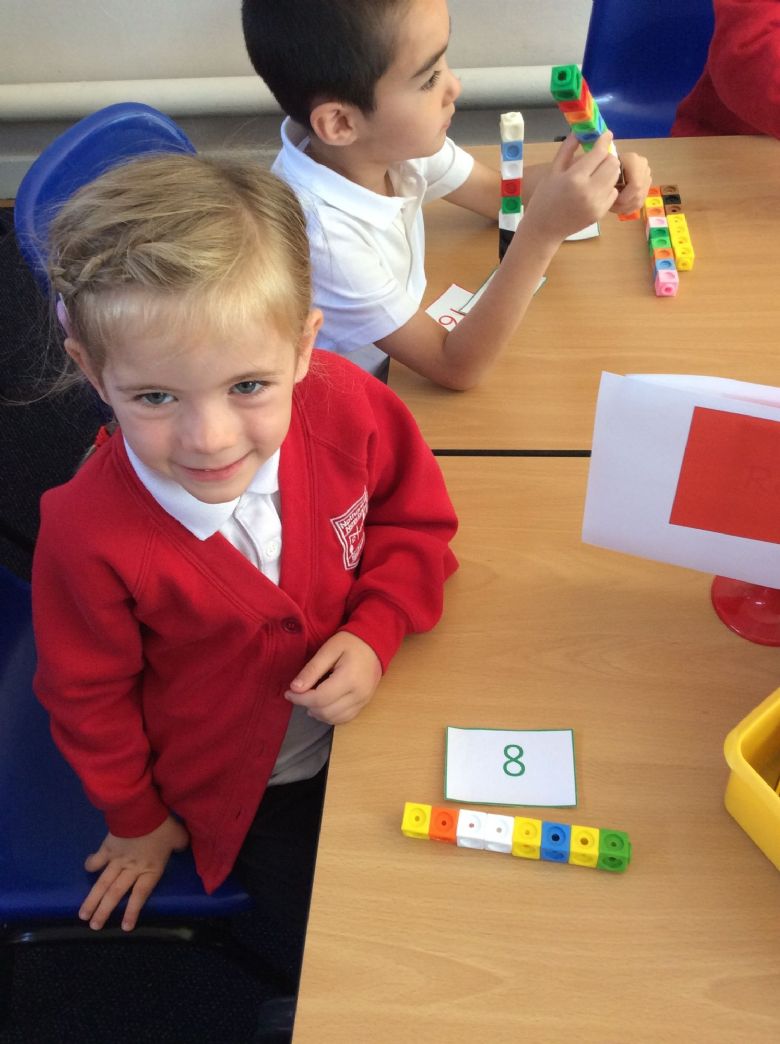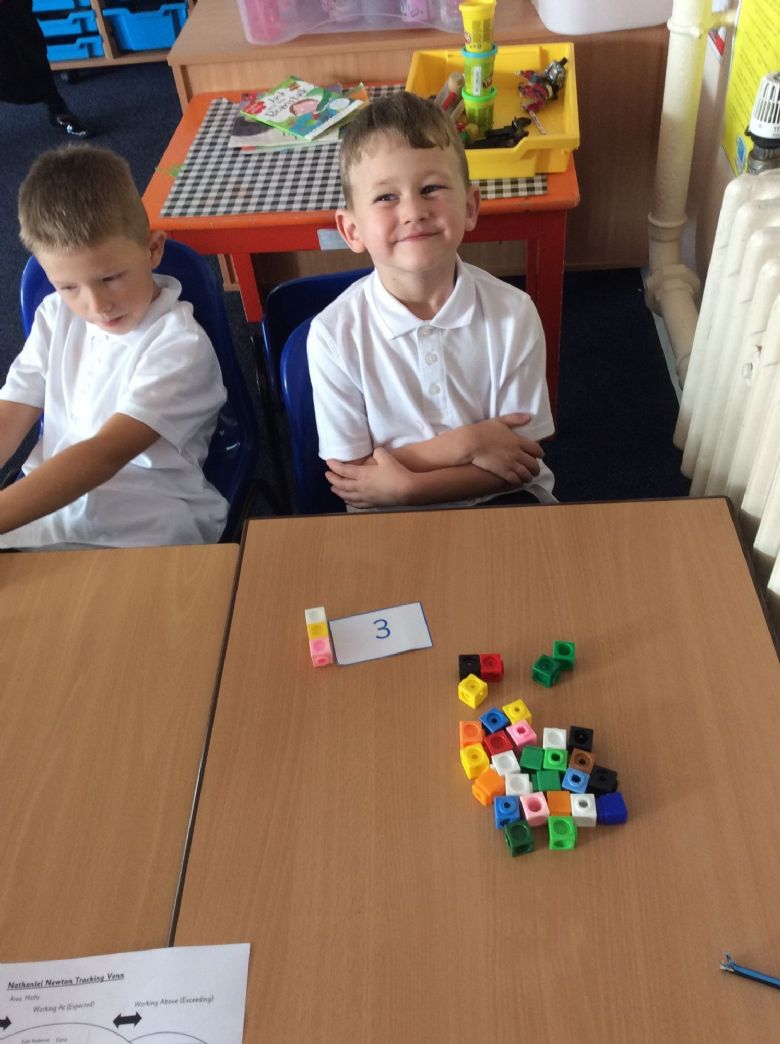 Numicon Maths
Over the last couple of weeks, we have been working really hard on solving addition and subtraction sums using lots of resources such as numicon. Using the numicon, we have been solving lots of tricky sums which we first solved on a whiteboard and then recorded in our maths books.