In this section...
Little Bear's Chair
This half term we have been reading the book Goldilocks and Just the One Bear. After rewriting the story last week, we then decided to create our own chair for Baby Bear, which didn't break. With our partner we firstly designed our chair and decided what materials and equipment we wanted to use. Afterwards we spent a whole afternoon designing it. We were very proud of our designs! In the final lesson we then tested our model out and even though some worked, some our chairs broke! After we then evaluated our designs.
Please click here to see pictures of our designs and us hard at work!
Hand Puppets
To finish our Topic 'Go Wild', 2McG have been busy making our very own animal hand puppets. We started off by exploring lots of different types of puppets, before creating our own design, which required us to not only draw what we intended to make, but also label. After we had labelled what each part was and the materials we needed, we then created a prototype of our design, which focused on the importance of making sure our puppets were big enough to go over our hands. Afterwards on the Thursday we made our very own puppets!
Thank you to all of the parents/carers who came in to help us, as without you we would not of completed our fantastic puppets.
To see images of our hand puppets please click here
#Mothers Day
On Friday Afternoon we had a lovely time celebrating mothers day with our mums, aunties and grandmas. We did lots of colouring, had afternoon tea and was even lucky enough to go outside in the beautiful weather!
To see pictures of our lovely afternoon, please click here
Working Together
In PE this week, we have been working in partners for the first time, which we found really exciting! We firstly had to move forwards and backwards whilst holding hands and then we had to move side to side, without loosing our balance!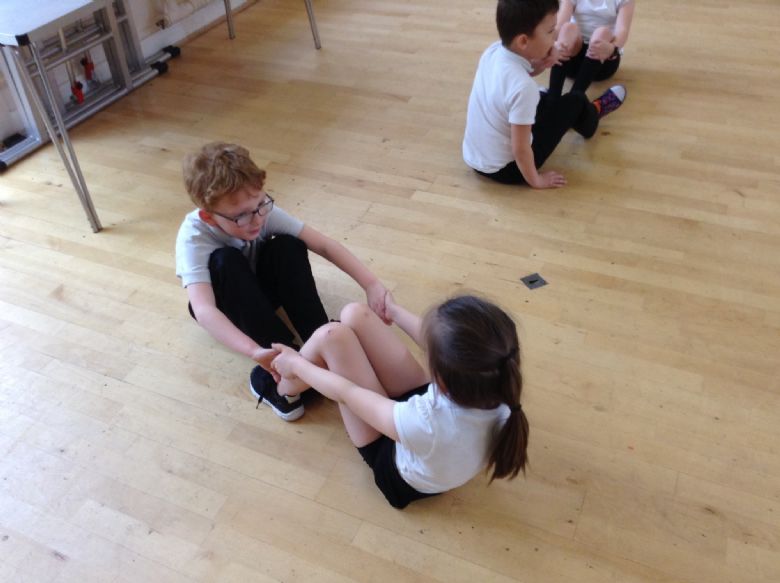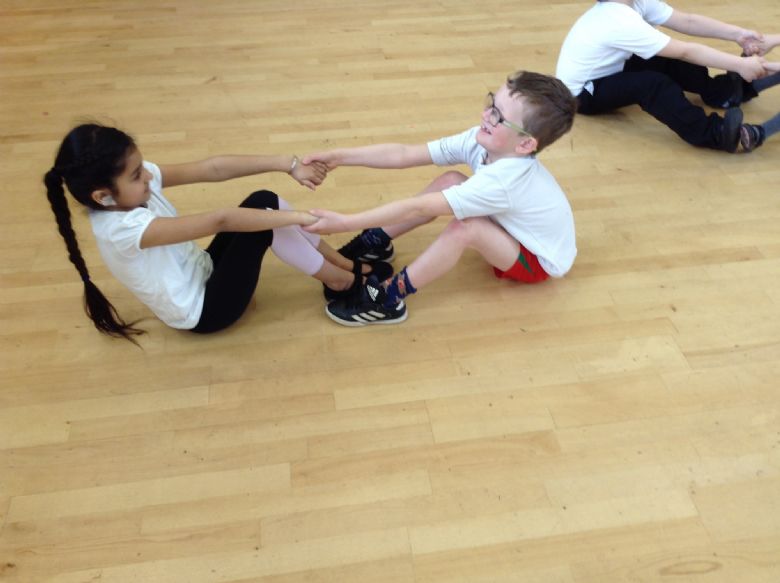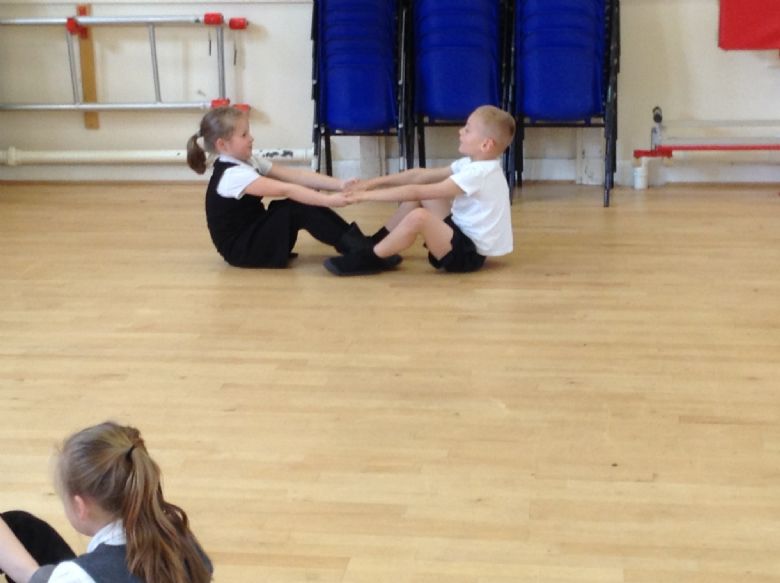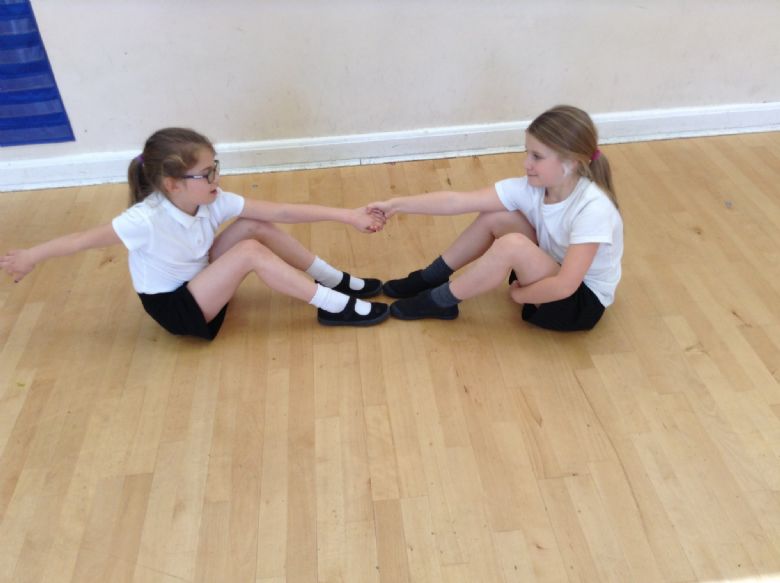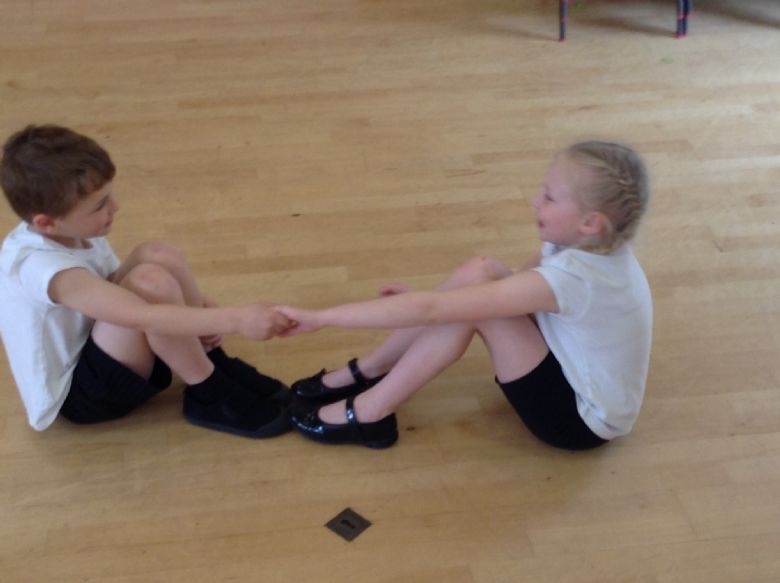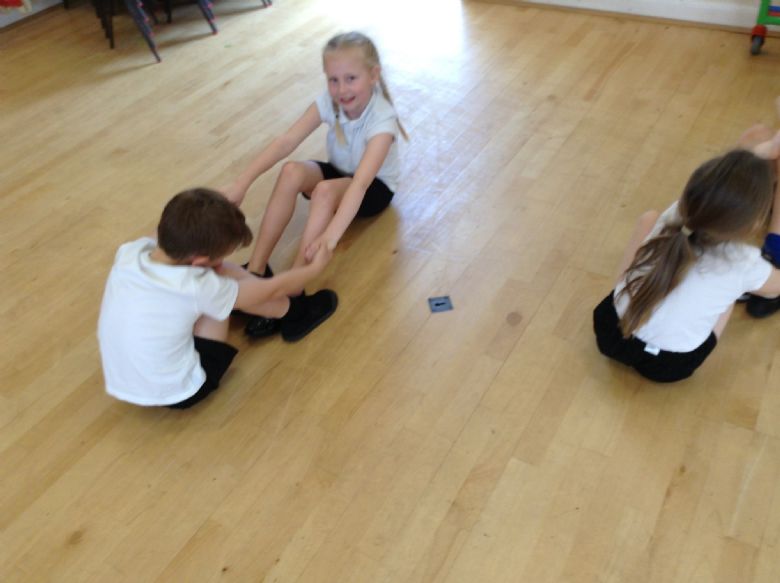 Road Safety Morning
On Wednesday, Year 2 were lucky enough to have a visit from a road safety teacher, who taught us lots of different pieces of important safety information. First we had to become road safety spies and complete lots of exciting jobs. We also learnt the Crossing Road Code, which we will always use to help us cross the road safely.
To see images of our really fun morning please click here.
World Book Day!
Wow! What fantastic costumes you all had on today! We had lots of princesses, superheroes, cats, tigers and police officers. As well as dressing fantastically, we also enjoyed doing all the activities. We firstly learnt about an author who created Claude books which is a dog who goes on lots of adventures. We then created our own mini story book too! We were also very lucky because Miss Ford came to our class to read her favourite book to us which was really nice of her!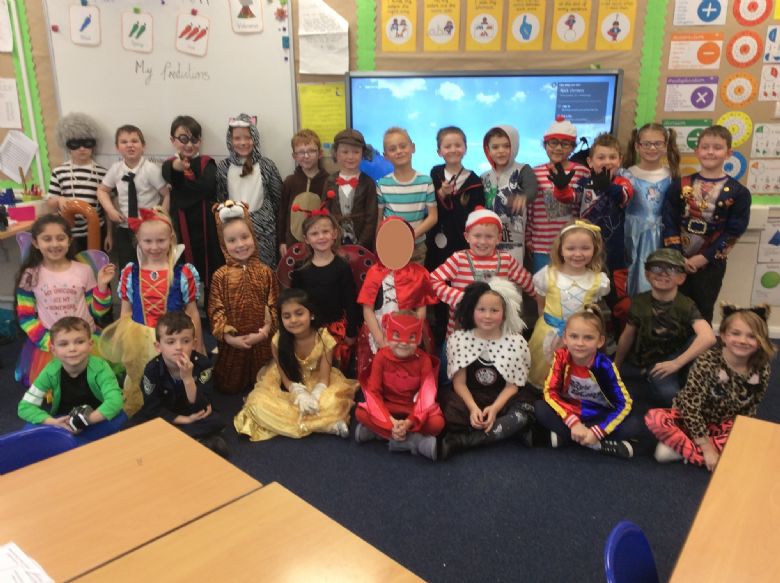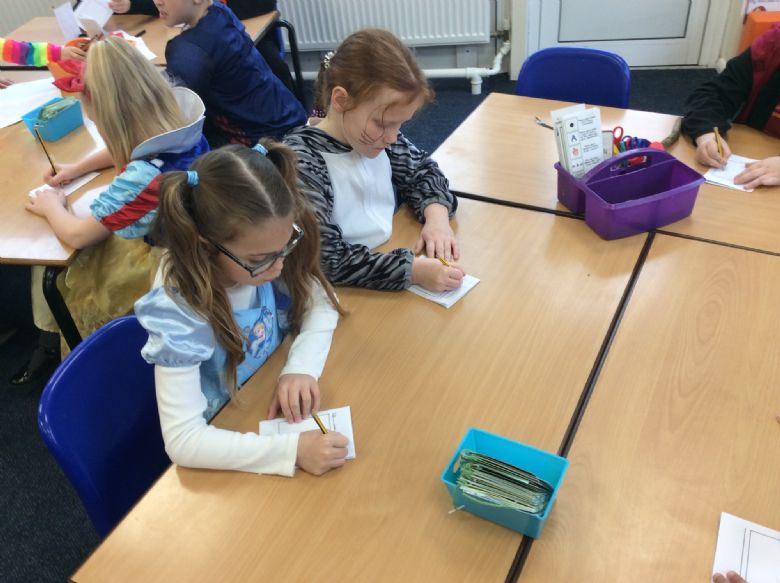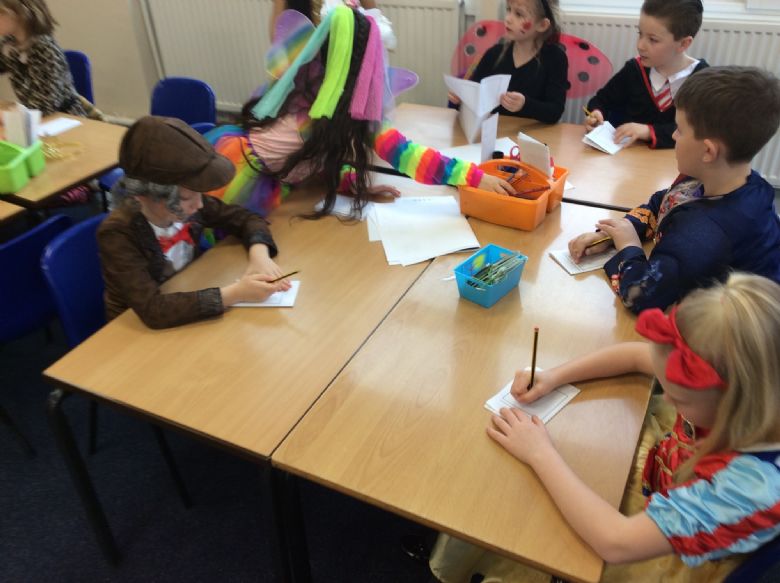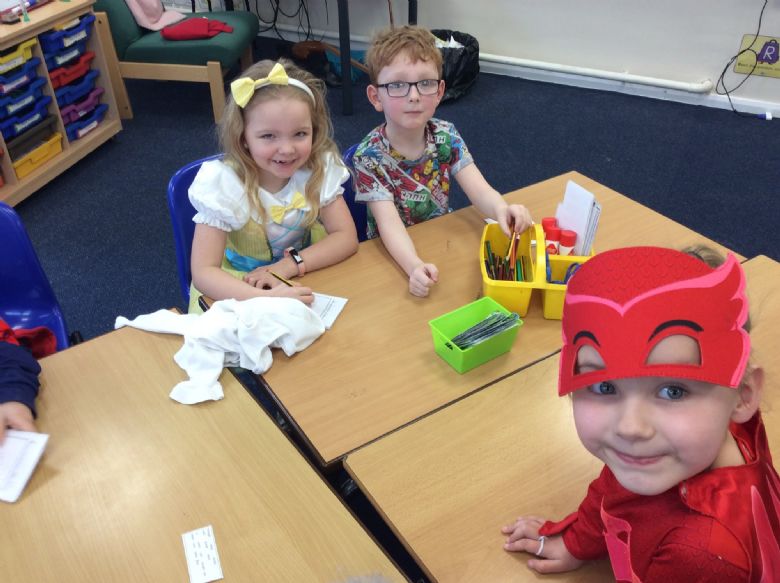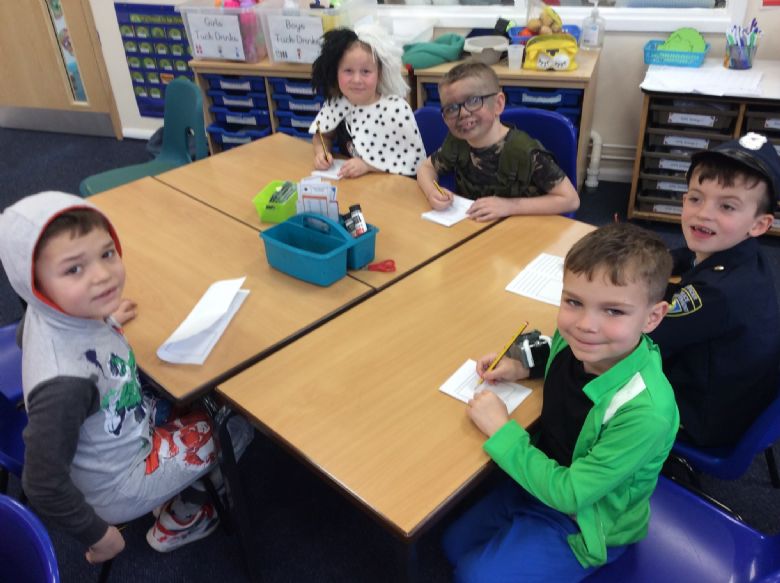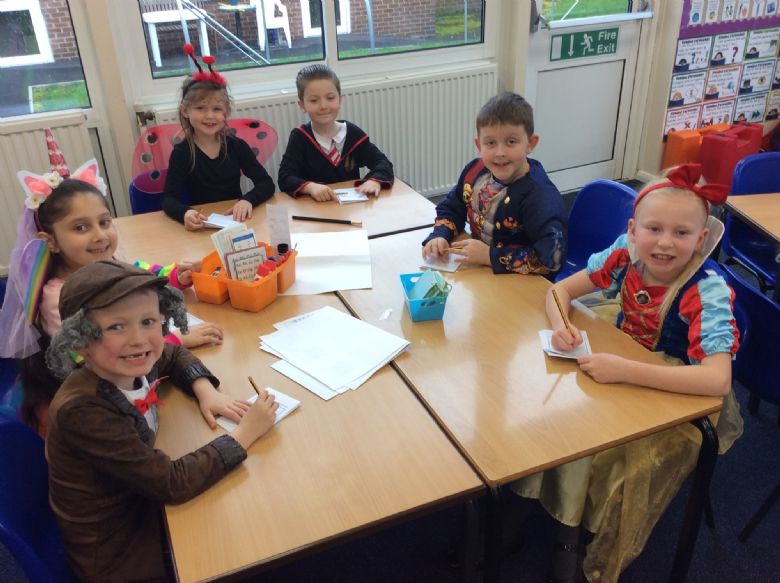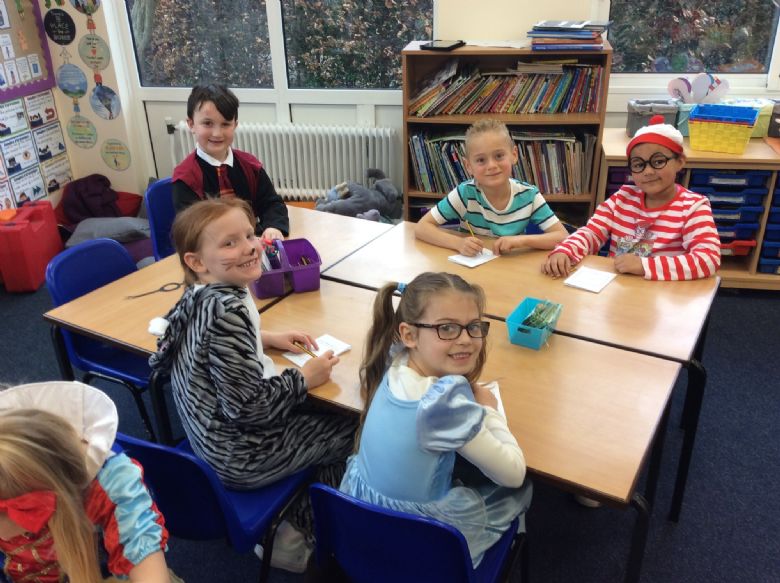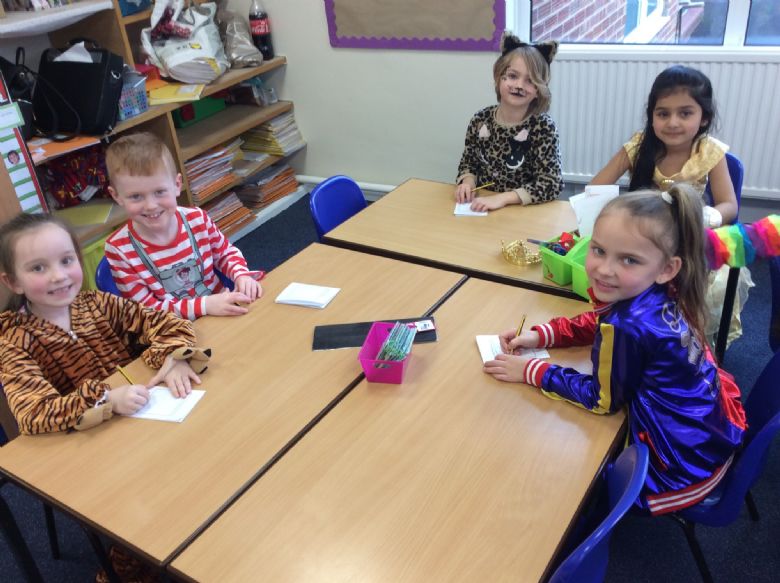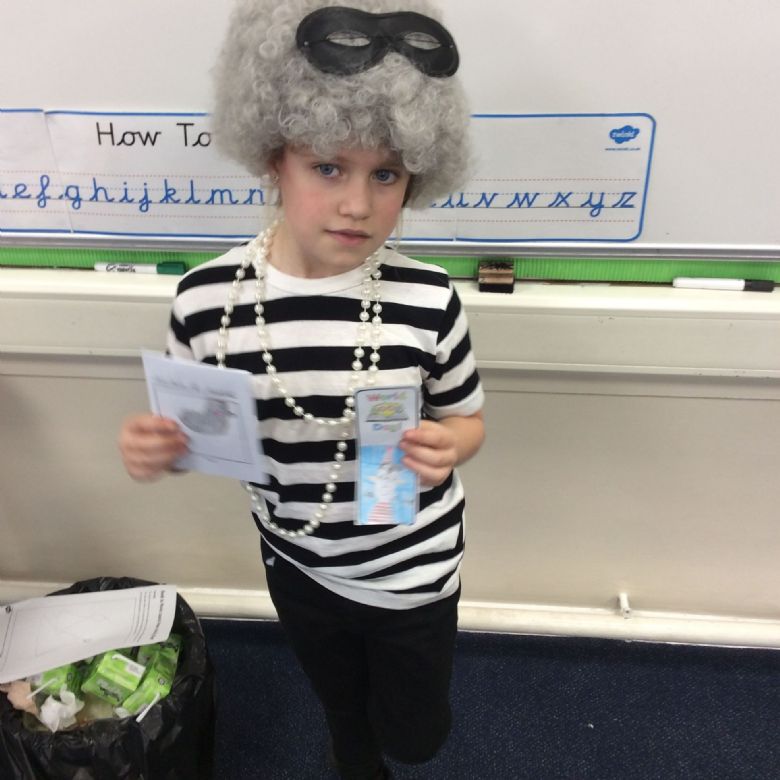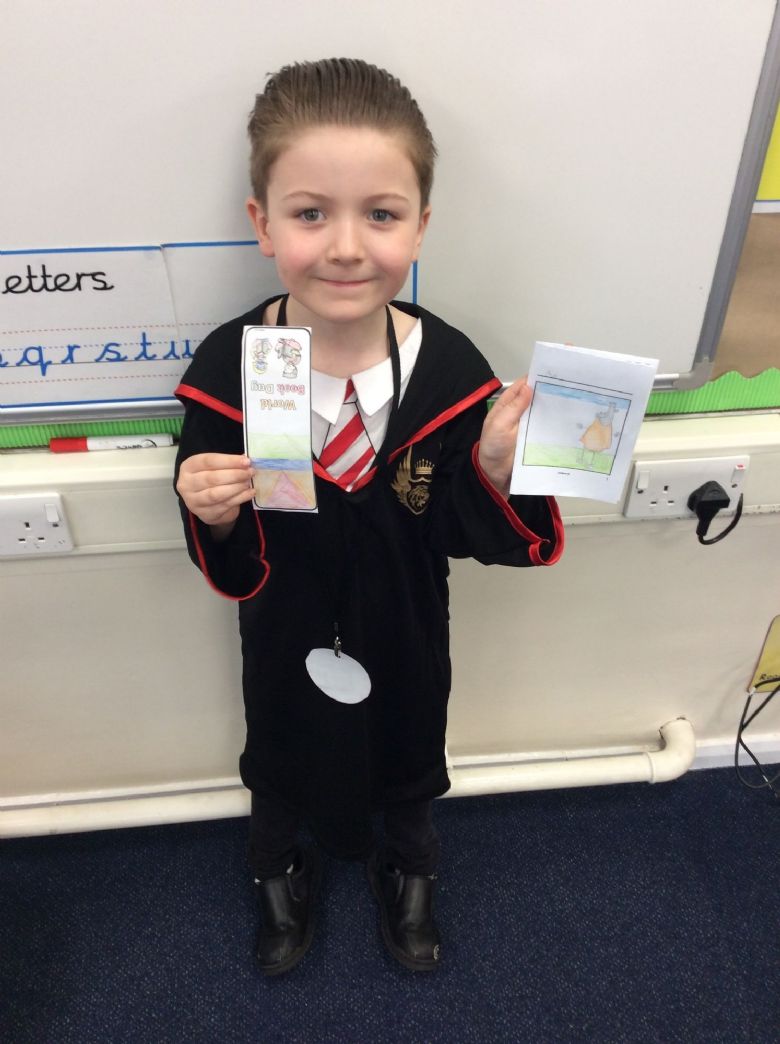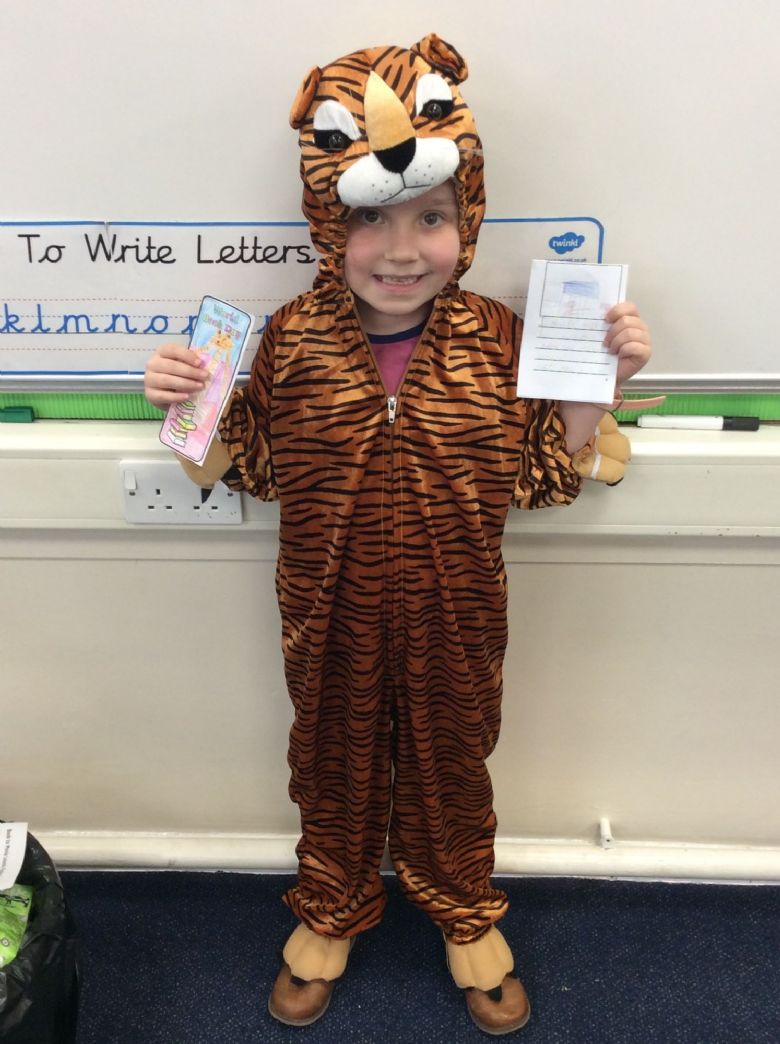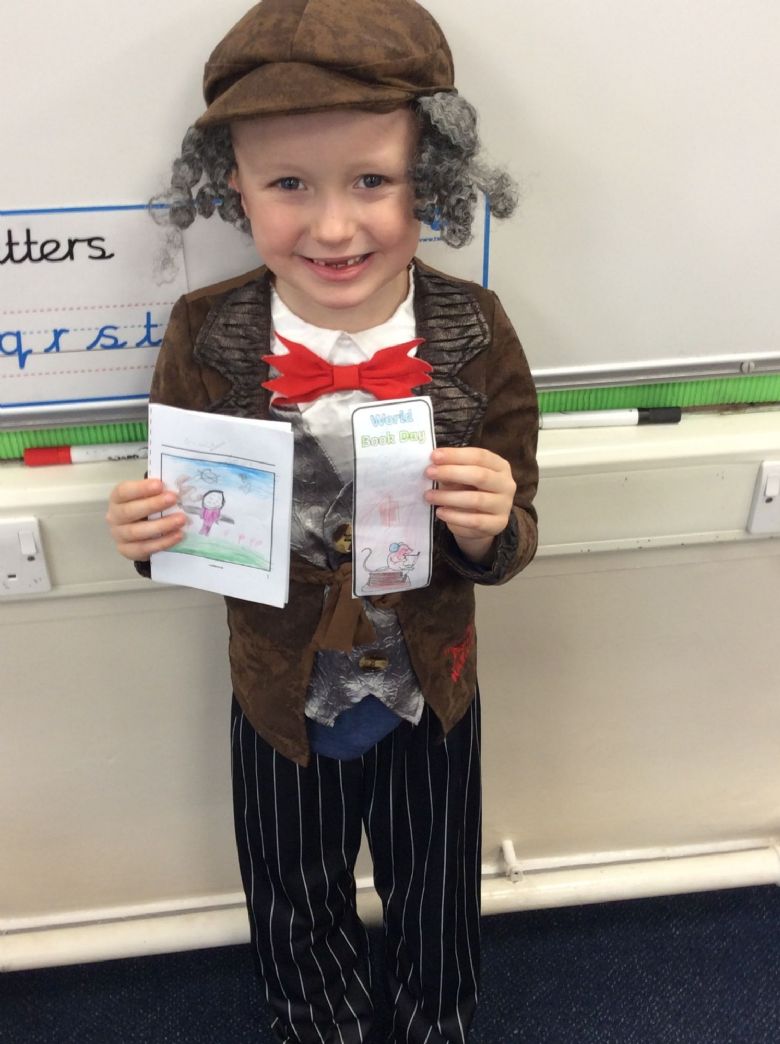 Is it a Camel, Polar Bear or Sloth?
This half term as our new topic is Go Wild, we have been exploring all about the desert, rainforest and Artic. After learning about each of these, we then moved onto learning about animals that lived in those habitats. First we all focused on one particular animal and used the ipads to research facts about them. Afterwards using all of the notes we had created from all three classrooms, we had to identify which fact belonged to which animal, which was really good fun!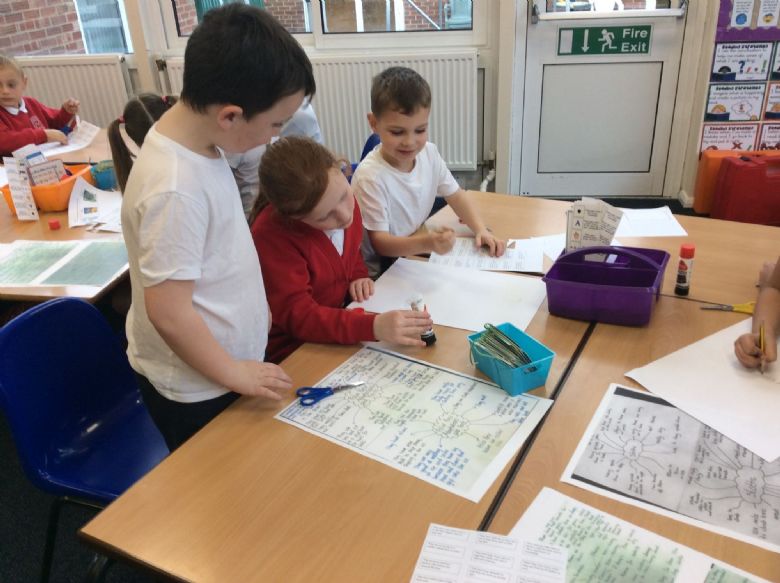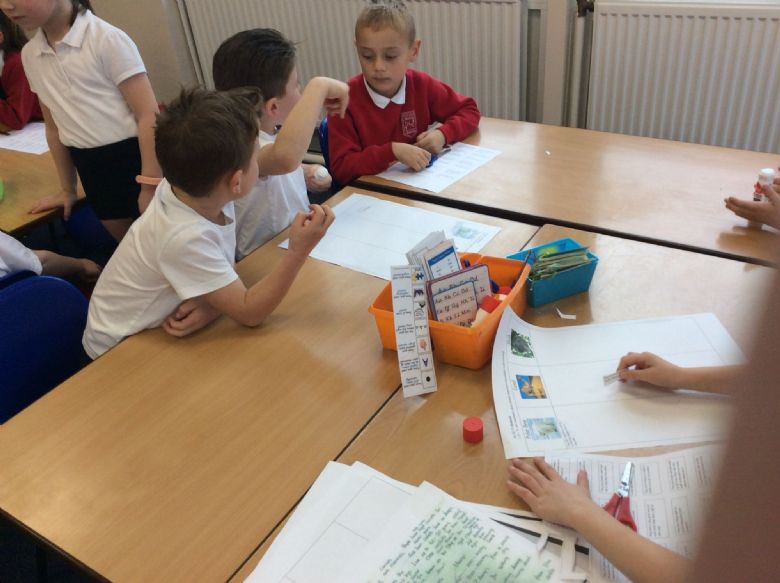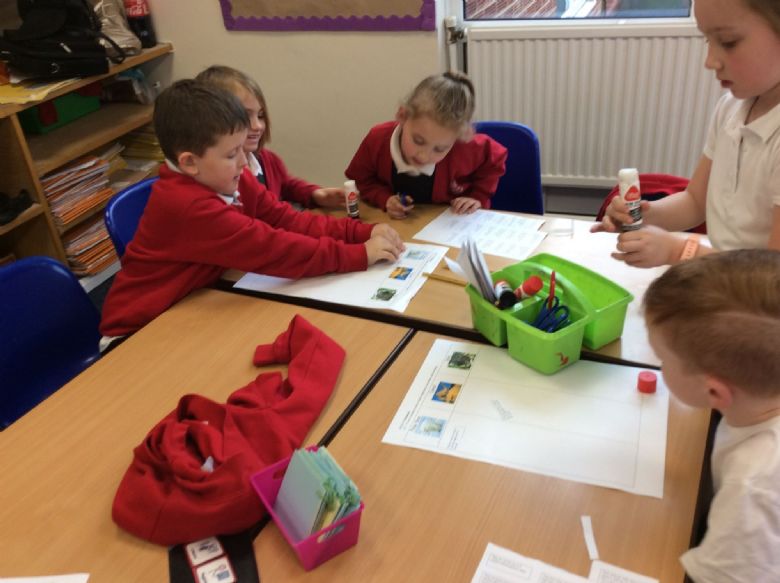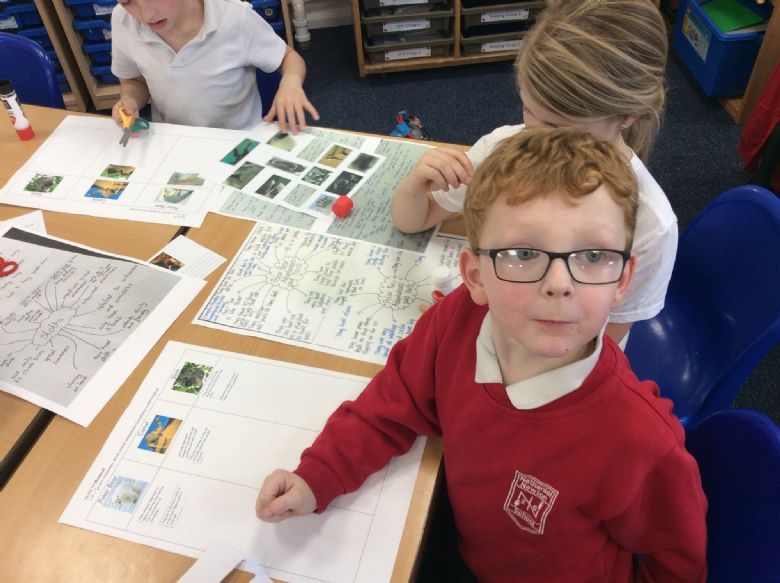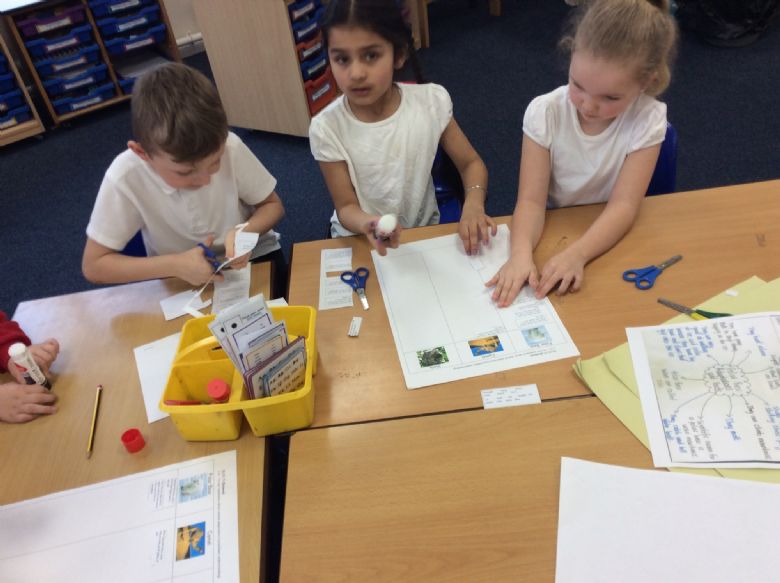 Creative PE
In our Real PE sessions this half term we are looking at the 'Creative Cog.' Our first lesson, involved us doing a lot of rolling with a ball up, down and across our body using at first both our hands and then using one hand. We found it trickier than we thought!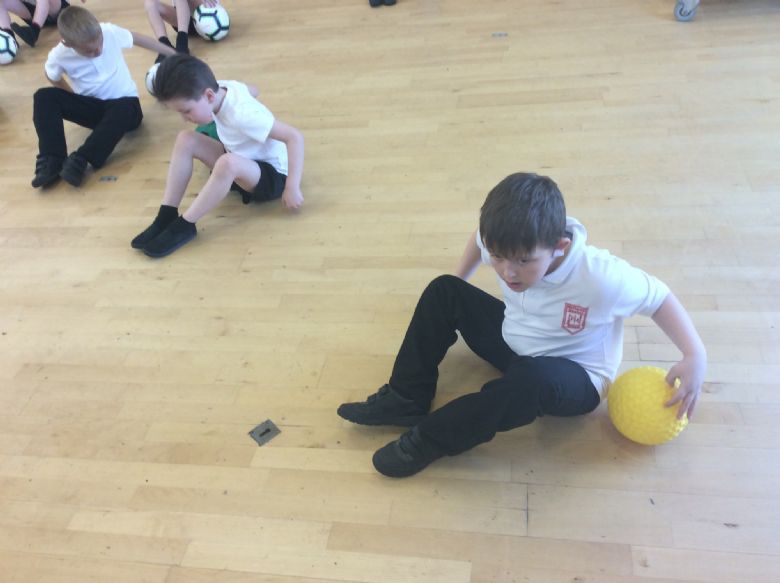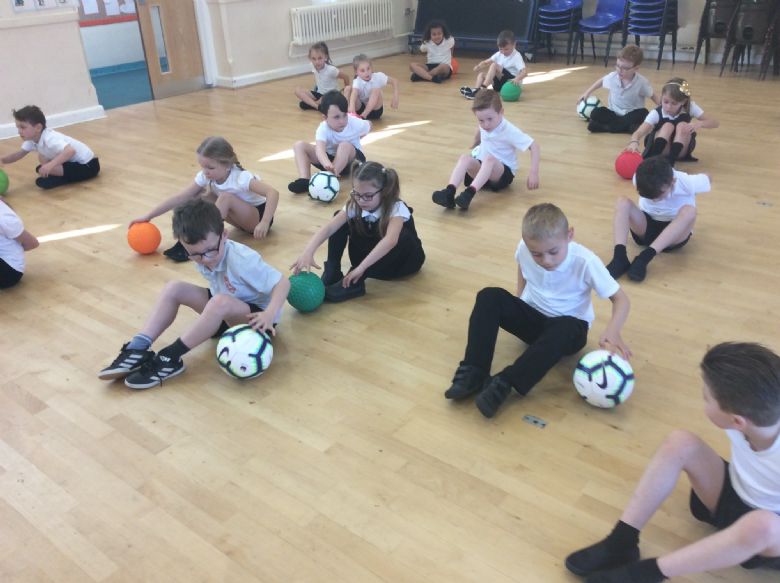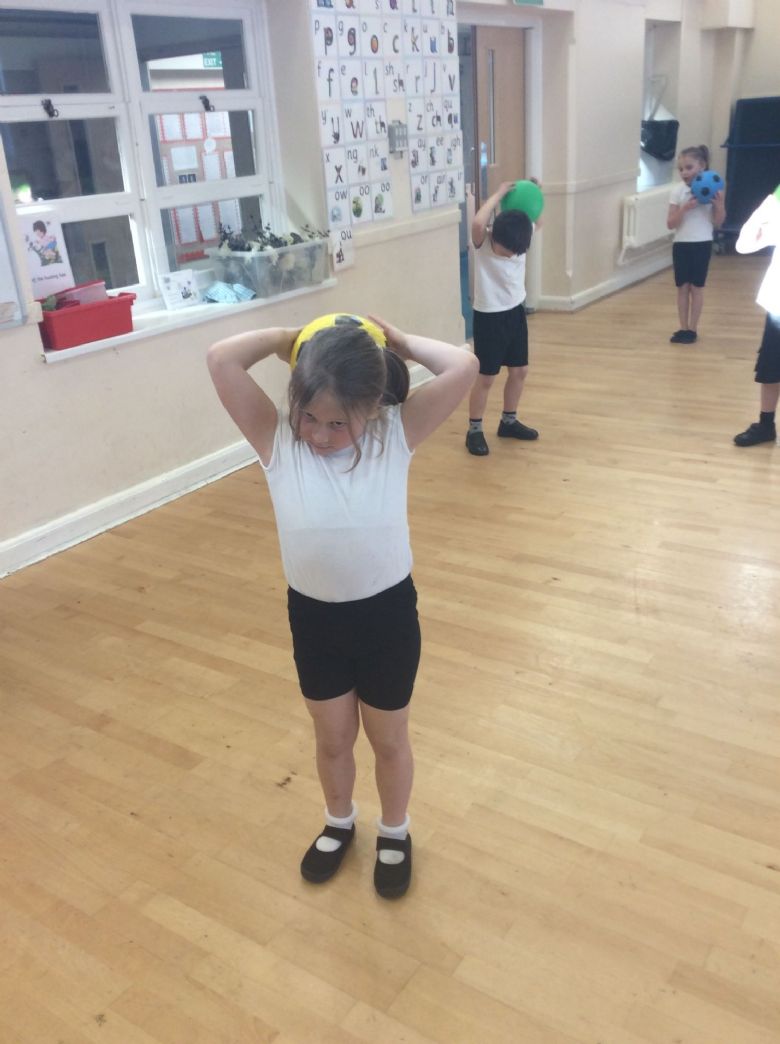 Transport Museum
To finish our topic of Wheels in Motion, we visited the Coventry Transport Museum. We had so much fun, as we had opportunities to look at many different modes of transports from the both the olden days and the nowadays. Our favourite was certainly the world's fastest car! We also had a fantastic lesson about when different bicycles were invented, as well as some lovely activities for us to do!
To see photos of our fantastic day please click here.
'Wheels In Motion'
To start our brand new topic, we received a postcard from Eddie Explorer, who loves travelling all over the world in different modes of transport. He asked us if we could make him a boat using an appropriate material which would be able to float for a large length of time. Firstly we sorted a variety of materials into appropriate and inappropriate and discussed are reasons why. For example we explained sponge would be no good as it is too absorbent. Afterwards using a selection of appropriate materials we created our own boat in groups and then tested whether it was good enough on water. We discuss why some of our boats would be good and why some of them wouldn't be as good. We all really enjoyed the start to our topic.
Please click here to see more of our pictures from our science afternoon.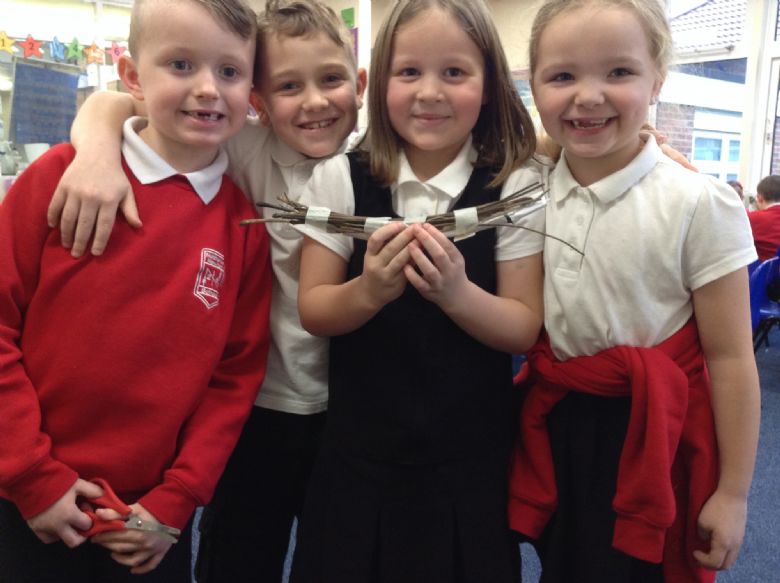 GingerBread Men
As part of our Christmas activities, we had a lot of fun baking gingerbread men. We all had the opportunity to bake our own and then decorate them using lots of icing. The best part was when we were able to eat them whilst watching our movie! To see us making our scrumptious snacks click here.
On behalf of 2McG, I would like to wish you a very Merry Christmas and a Happy New Year. I would also like to say thank you for all of the lovely presents which I and Mrs Martin have received, as well as thank you for all of your support this term.
Light Circuits
As our topic this half term has been 'Let There Be Light', we have created our very own light circuit. As a team, we had to use the equipment and work together to make the light come on. Although we worked really well as a team, we did at the beginning find it very tricky to make, but eventually we all managed to light our bulb.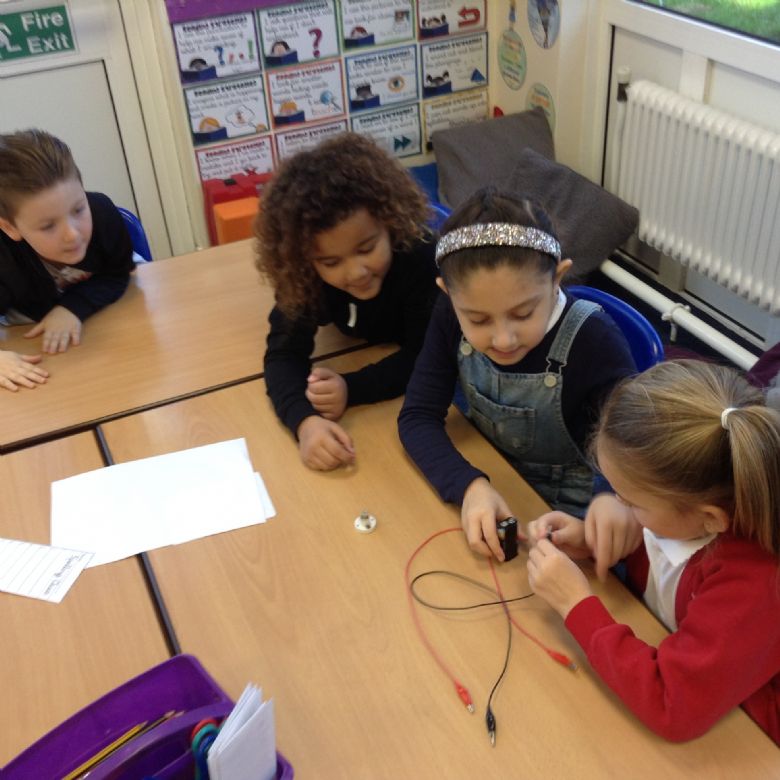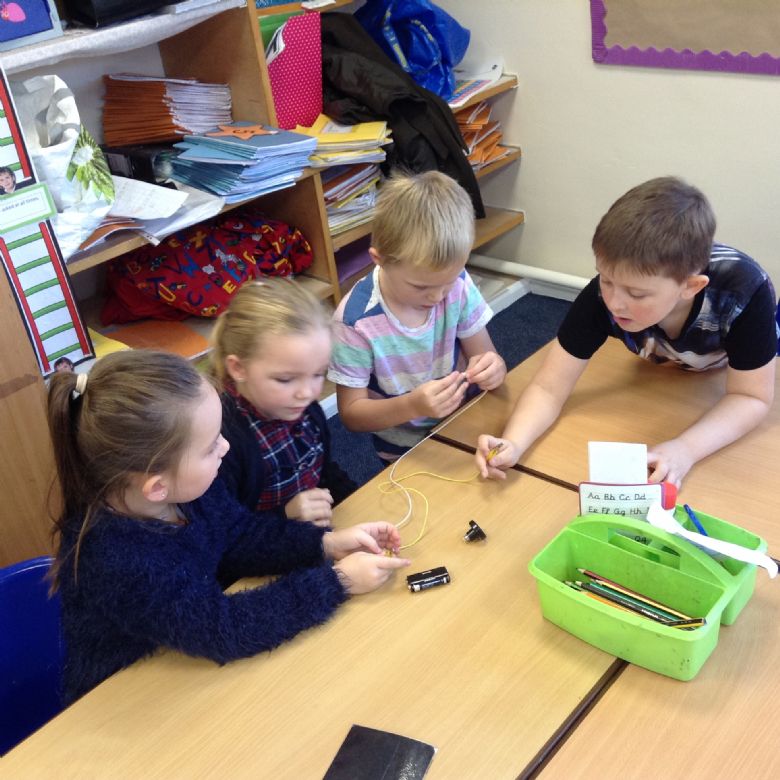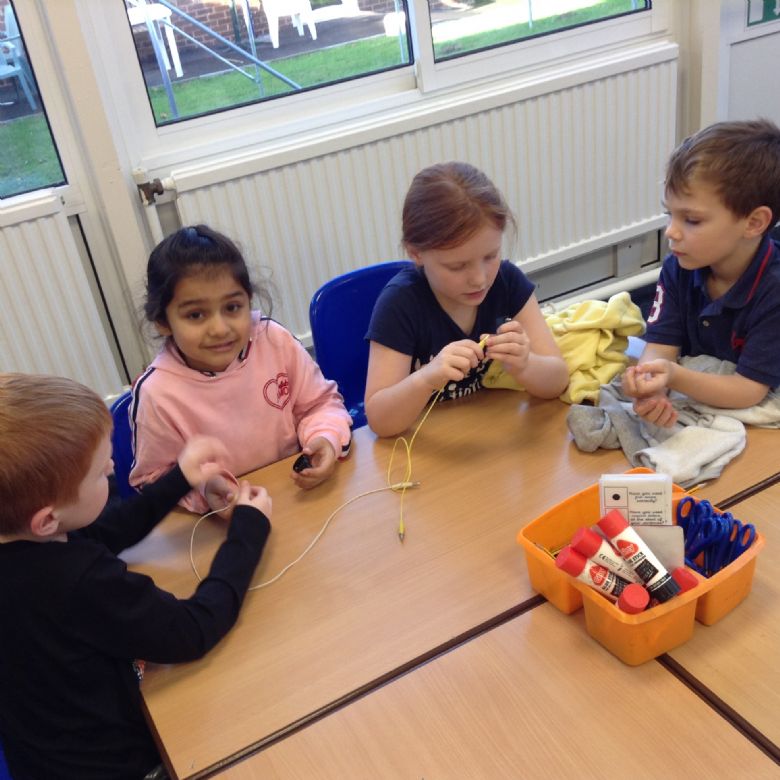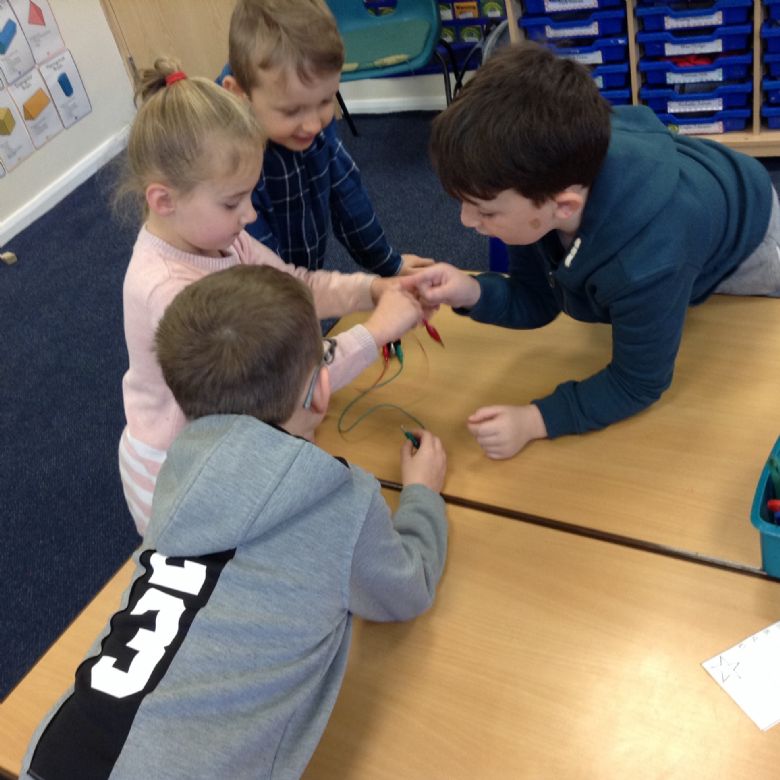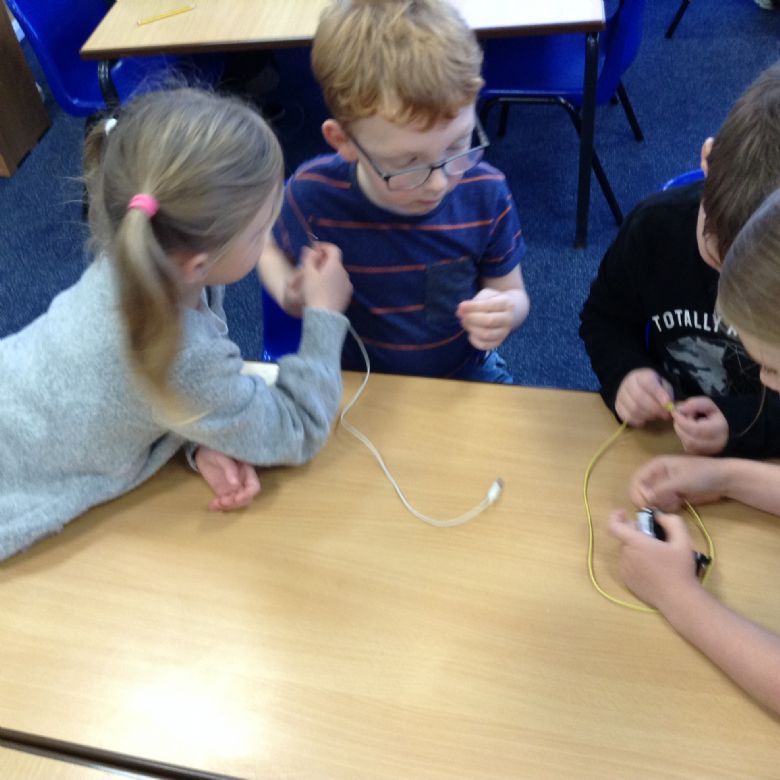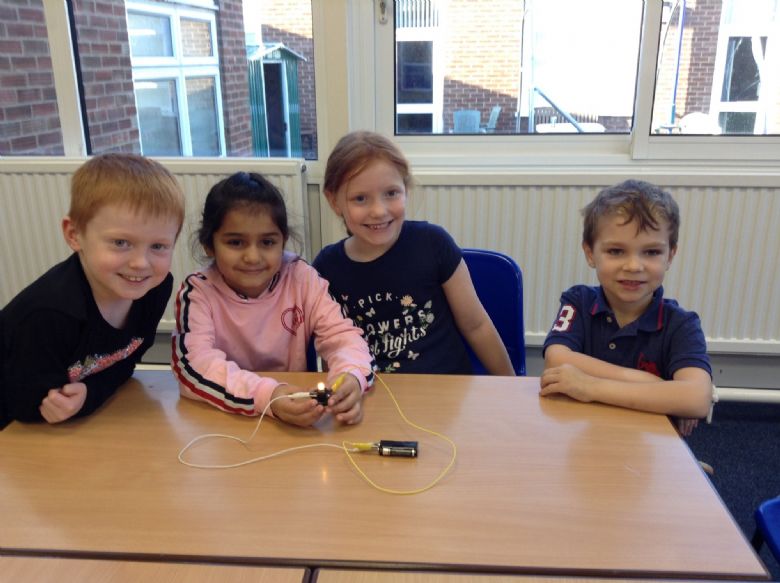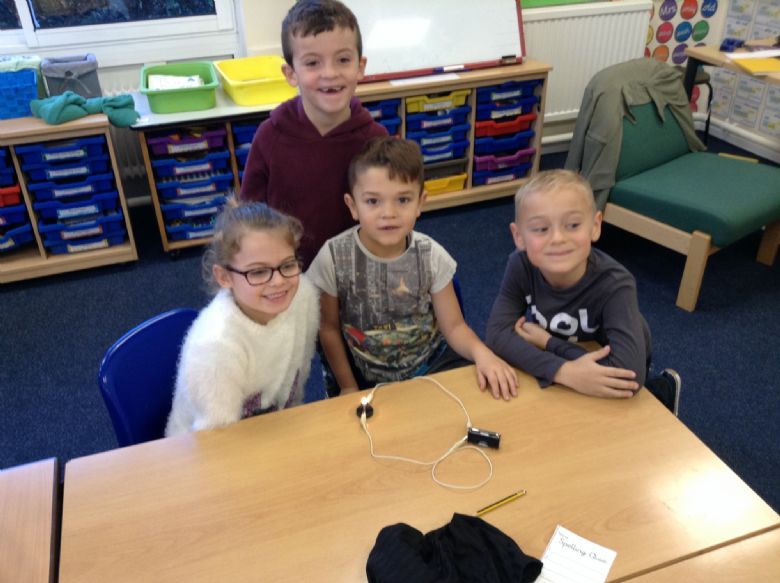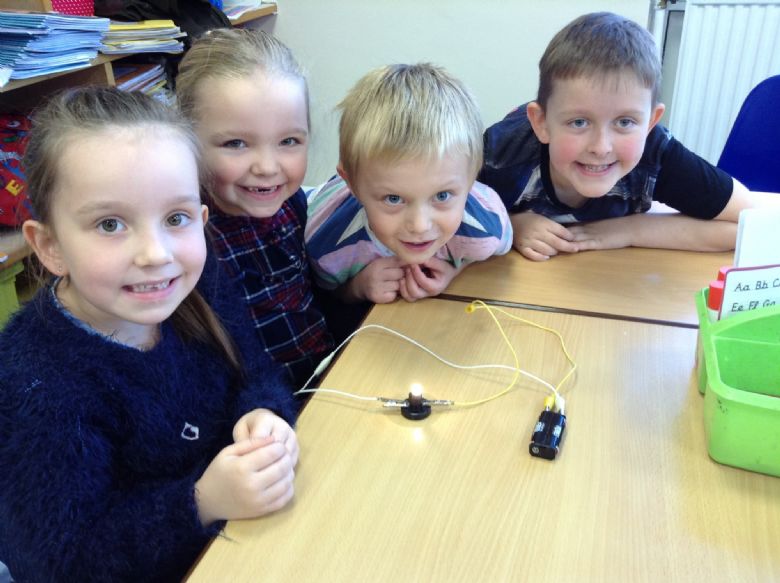 Day of the Dead Festival
Last week, we have been exploring and learning about the Mexican festival 'Day of the Dead. We have learnt that this festival is a happy one and it is a time to remember those who have died over the 31st October until the 2nd of November. People create altars on the graves of people who have died to remember them. On their altar they put the person's favourite objects and foods on it, as well as a candle and photo of them. The candle is for the spirit to follow. As well as learning lots of information about the festival, we also created our own symmetrical Day of the Dead mask.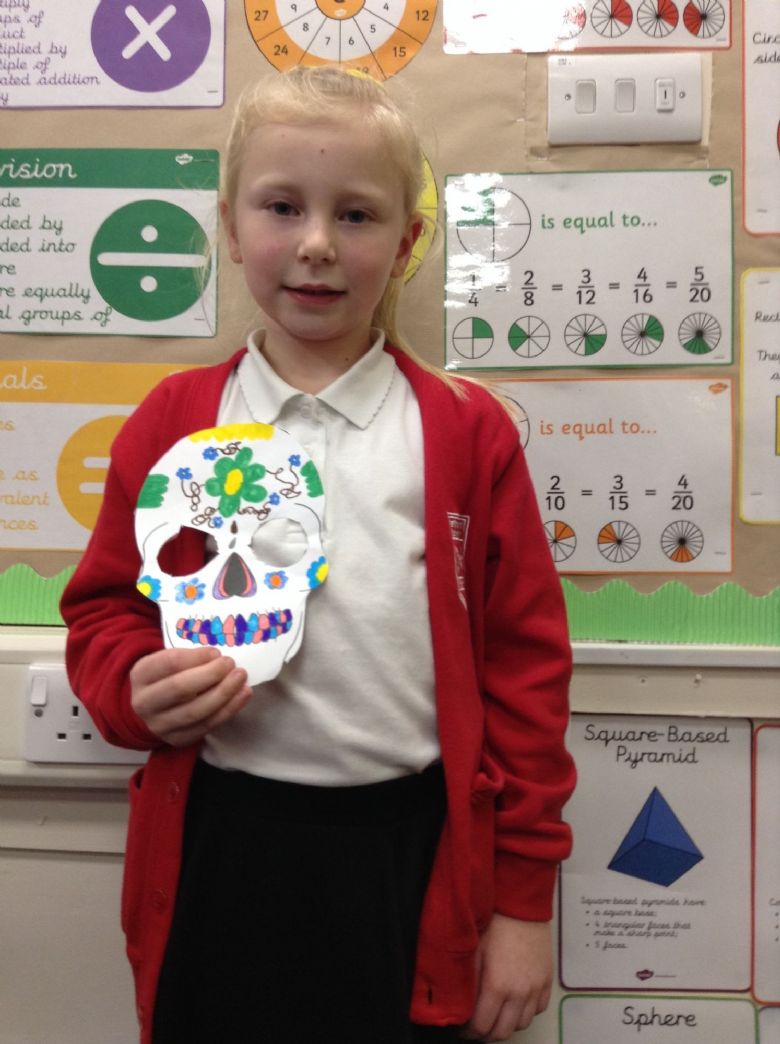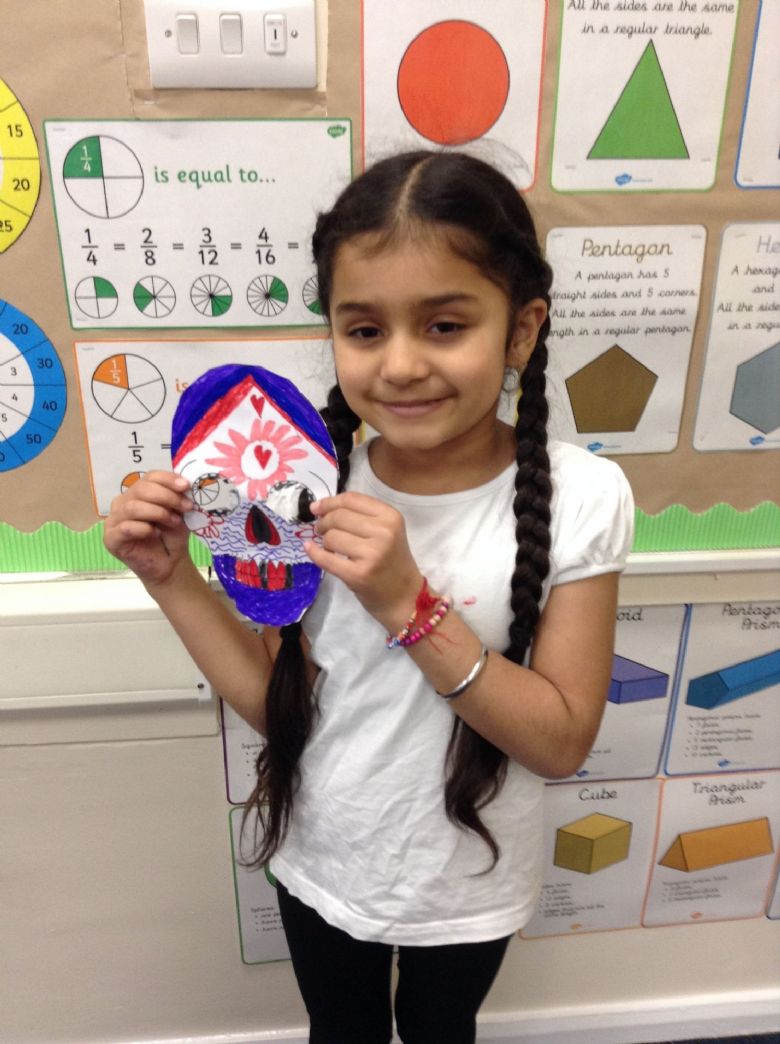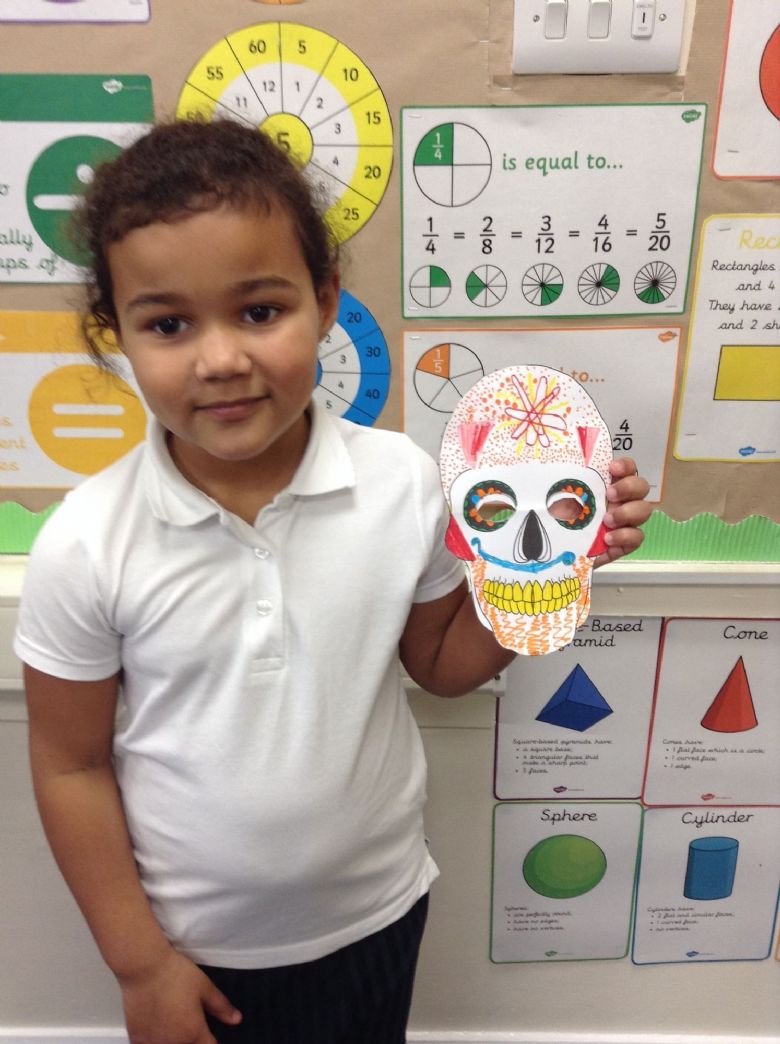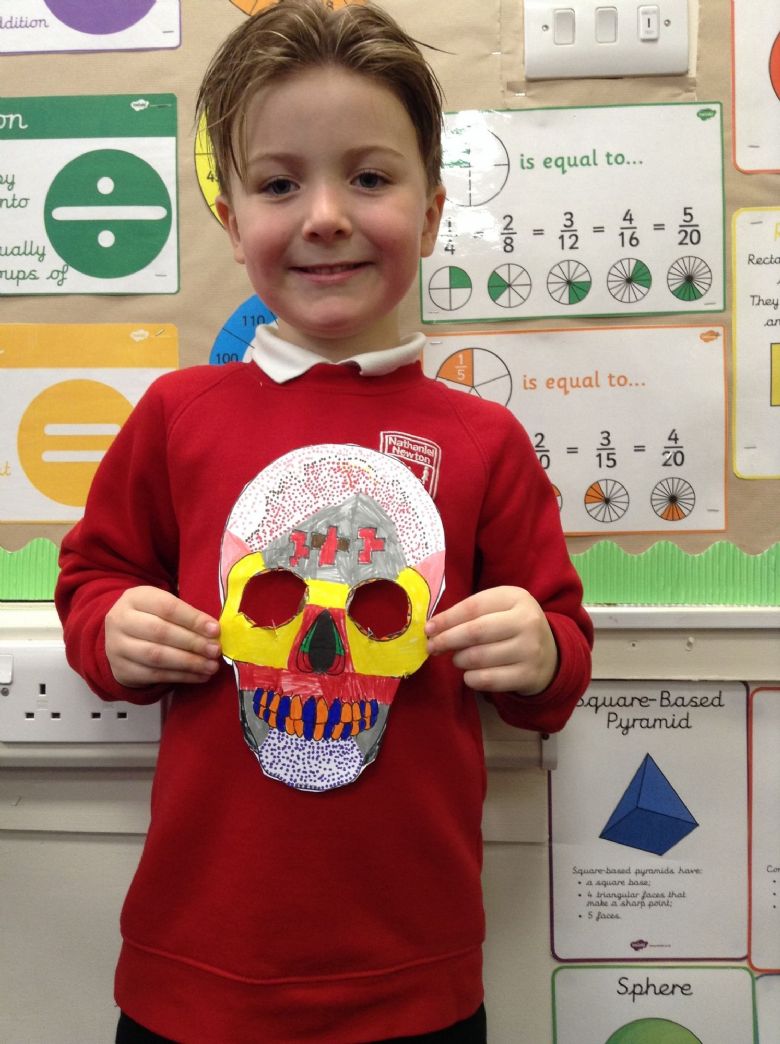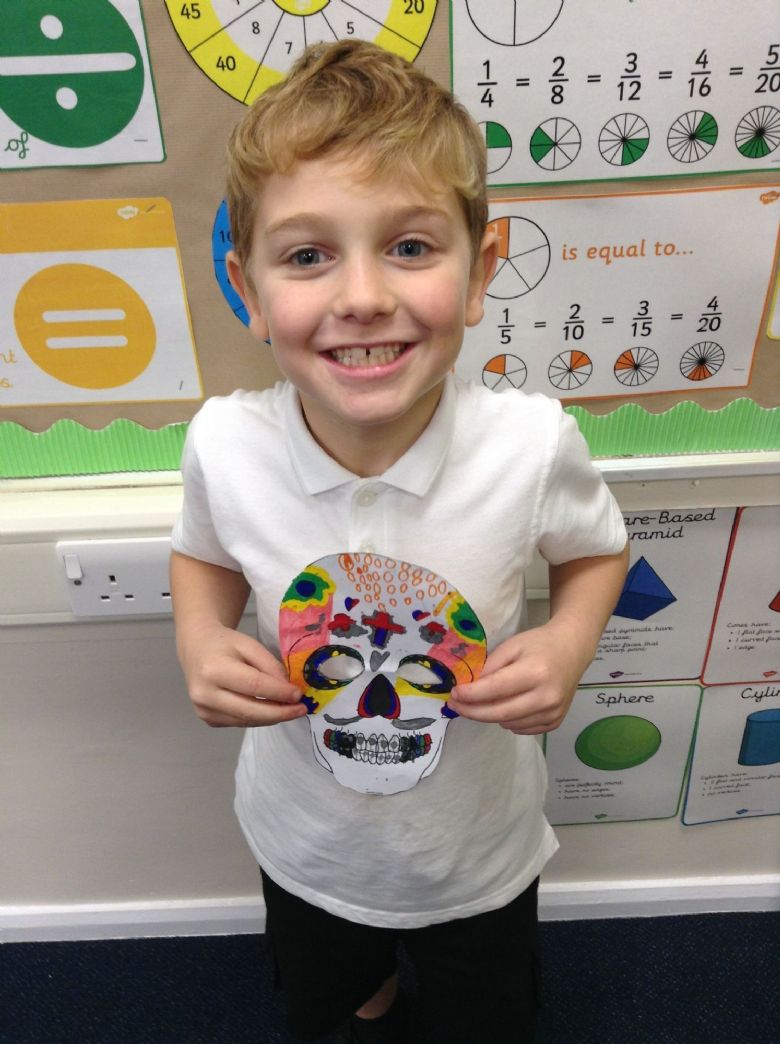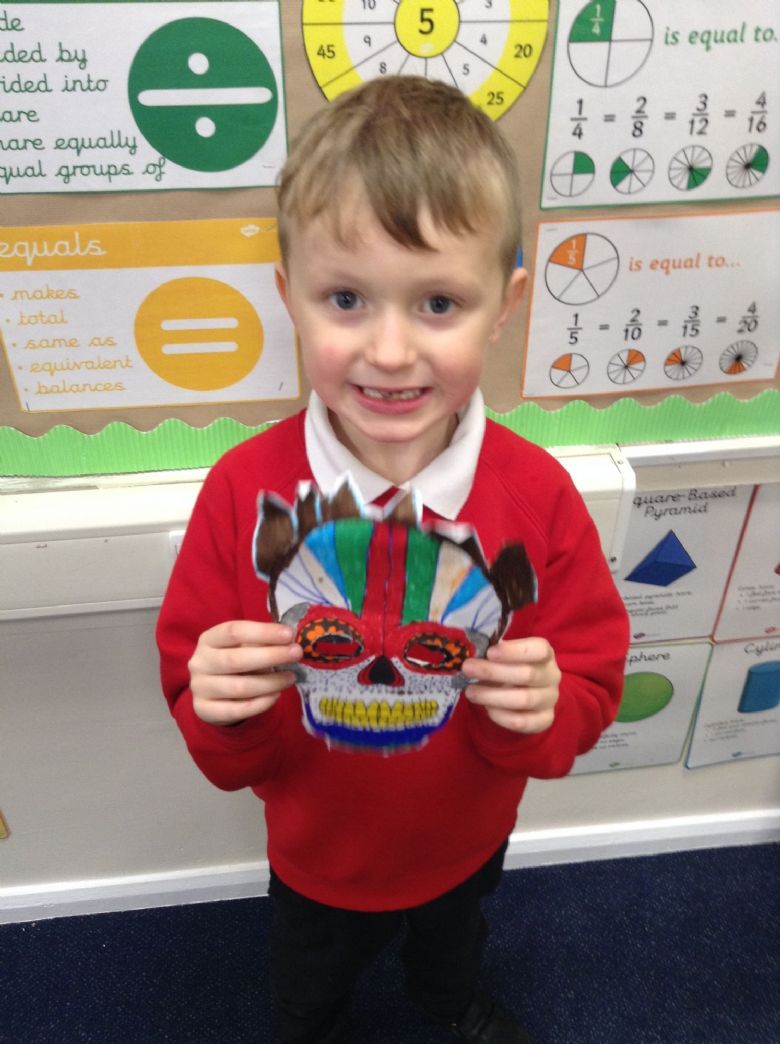 Children In Need
On Friday 16th November, we celebrated Children In Need. We all came ot school in spotty, bright clothing and lots of us came with fantastic Pudsey ears on our head. We first learnt lots of facts about Children In Need such as Pudsey Bear was named after a town in Yorkshire and that he was created in 1985 by Joanna Ball. We then had the opportunity to write down all of the facts which we have learnt about the significant event. We then attended a special assembly all about Children In Need, before putting our £1 donation on the large Pudsey in the computer room. After lunch we then decorated cakes in lots of colourful spots. The most exciting part was that we got to eat our creations afterwards! Miss McGrath even managed to get a class photo of us all after our very busy day!
To see photos of the fun which we had today, please click here.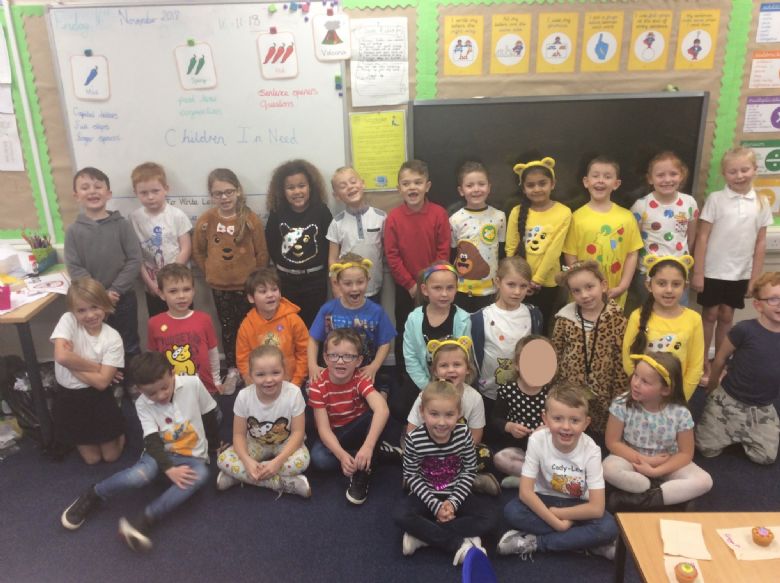 Anti Bullying
As this week has been Anti Bullying Week, we all created our own anti bullying leaflet, using Book Creator on the Ipads. In our leaflets we gave ways of how to be a good friend and how not to be a bully to others.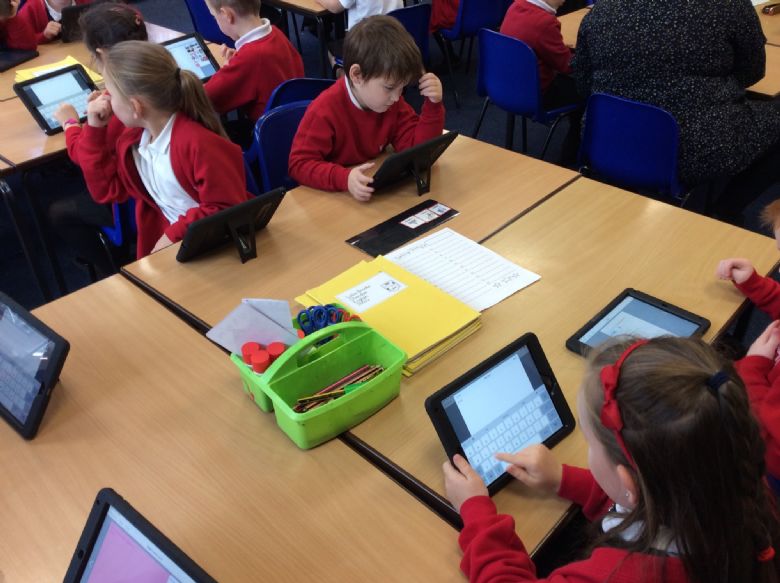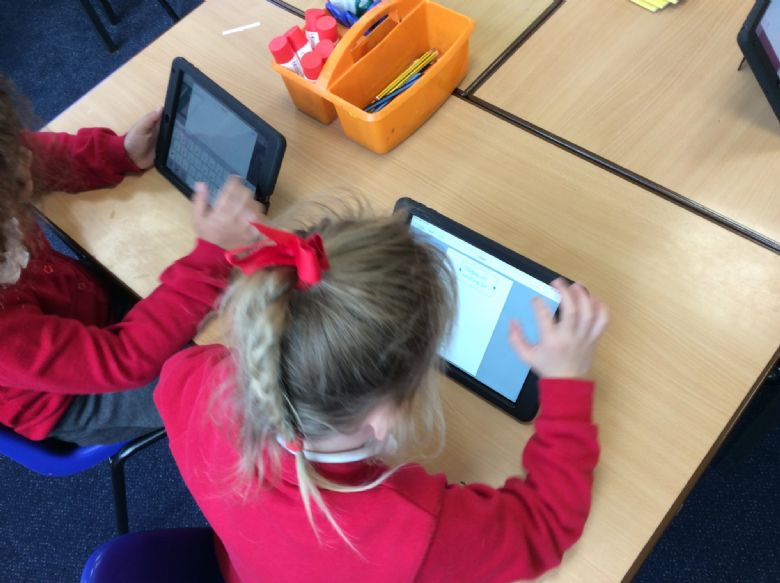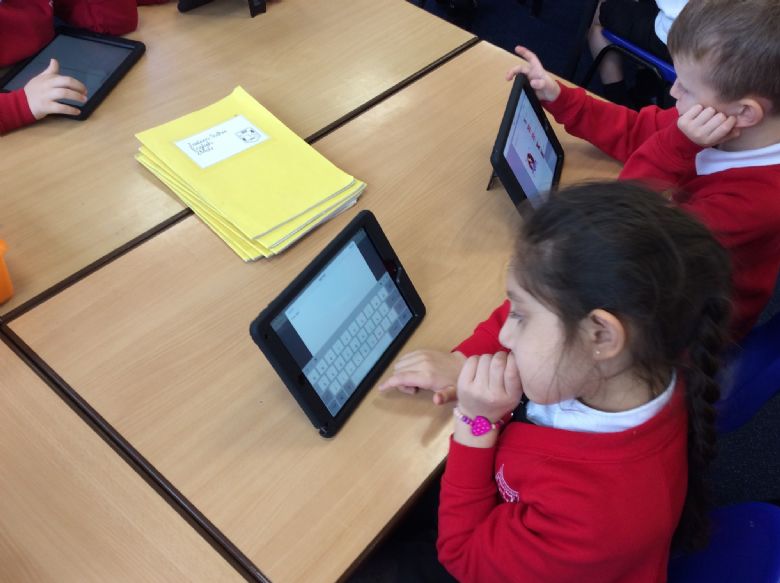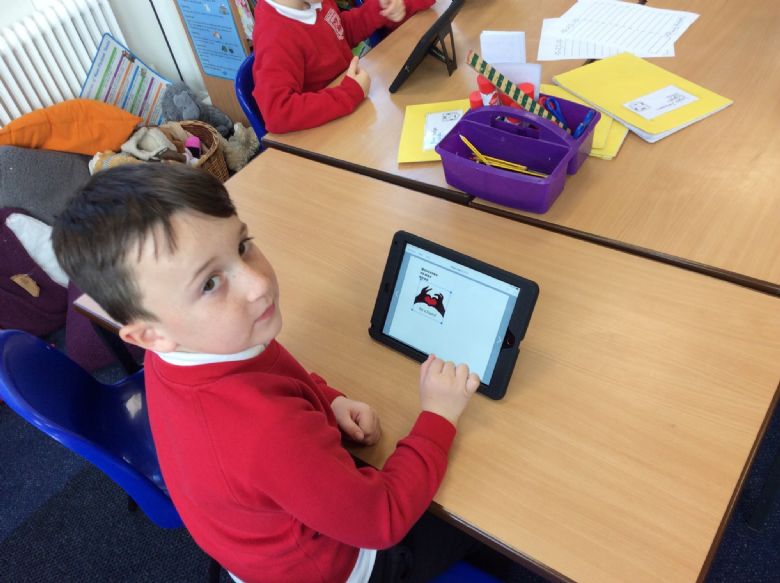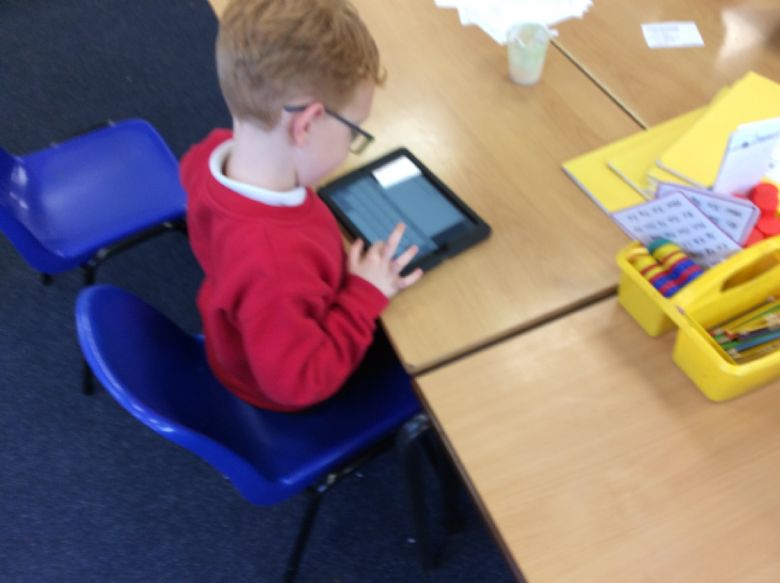 Nathaniel Newton
Today we were very lucky to receive a visit from the Quakers, who very kindly taught us lots of very exciting facts all about Nathaniel Newton. We have learnt lots of things, including how his neighbour was George Fox, who was the first ever Quaker.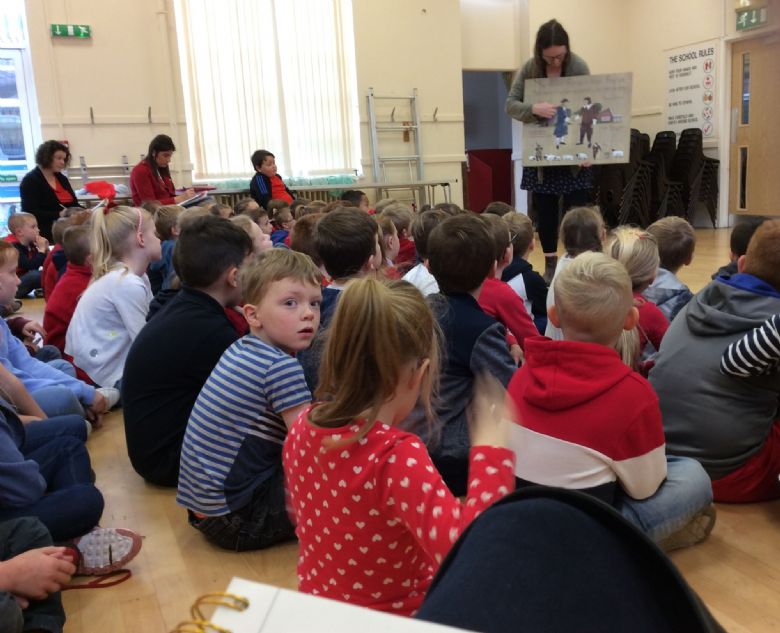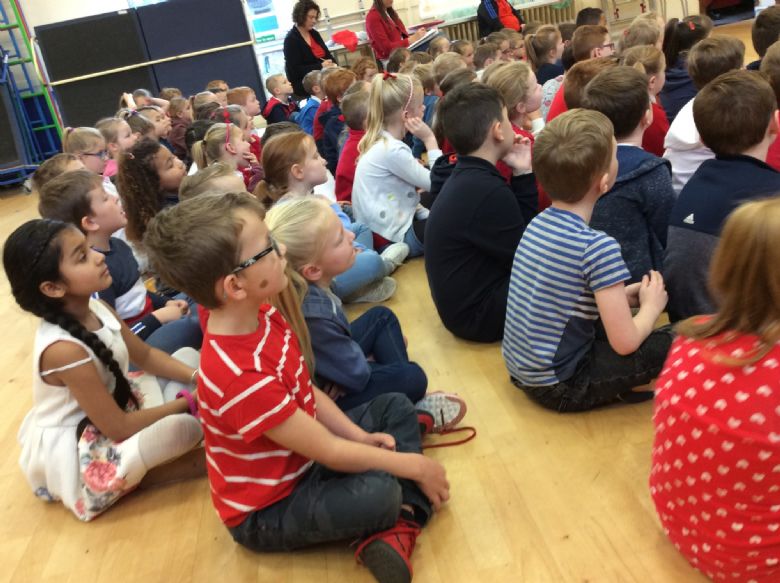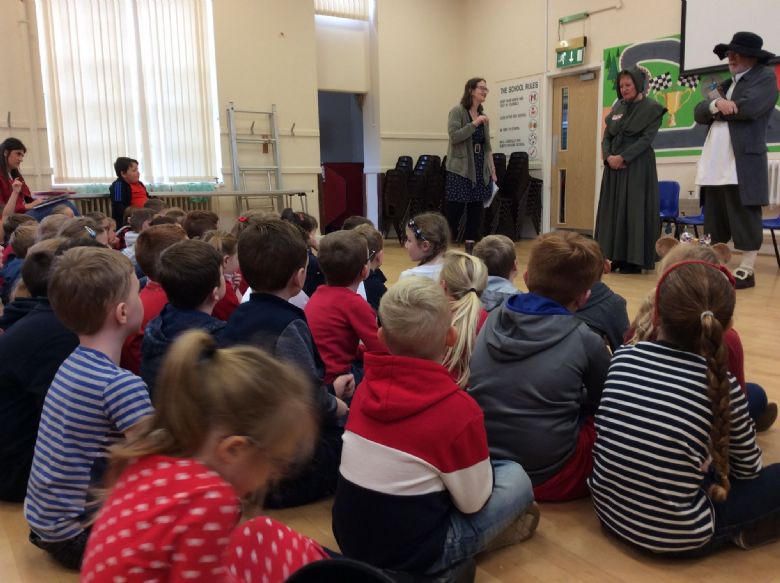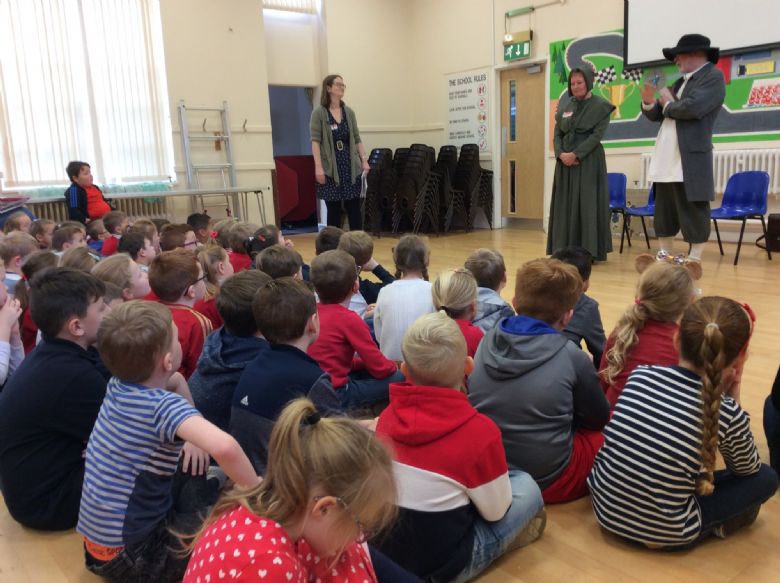 Remembrance Day
As it is 100 years since World War I, this week we have been celebrating and remembering the soldiers including those who are still serving now. All of us had the opportunity to learn about what life in the trenches was like for soldiers, as well as being able to create our own poppy to pay our respects. Some of us were also able to place a poppy stone in the school garden.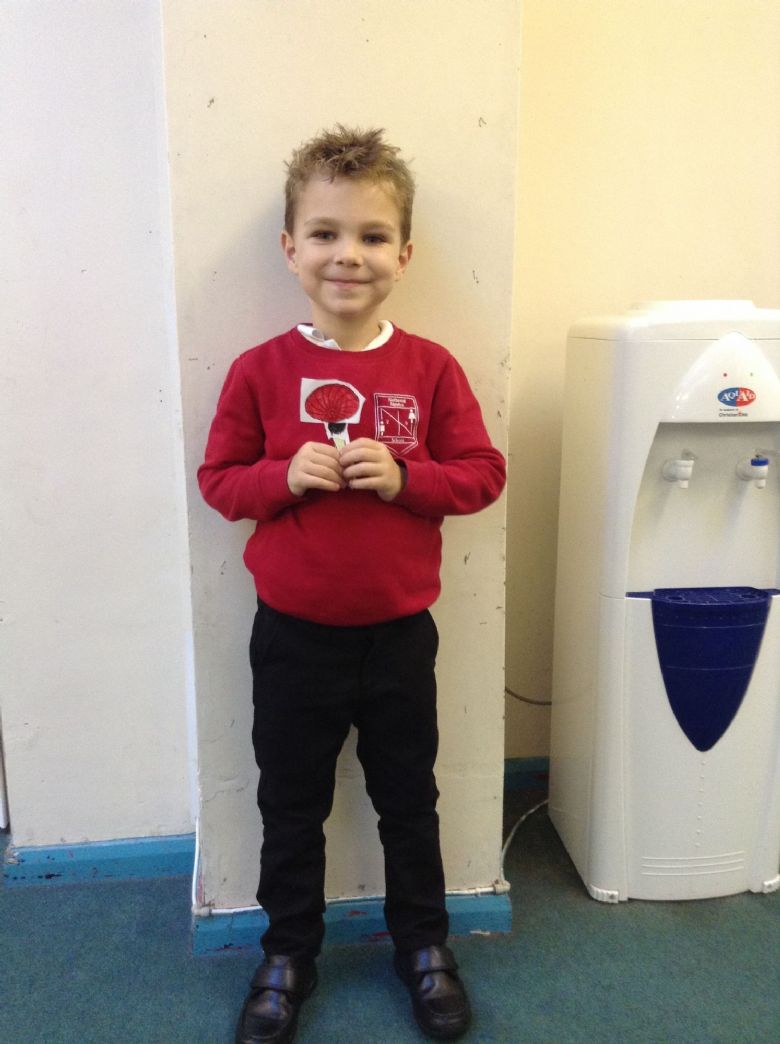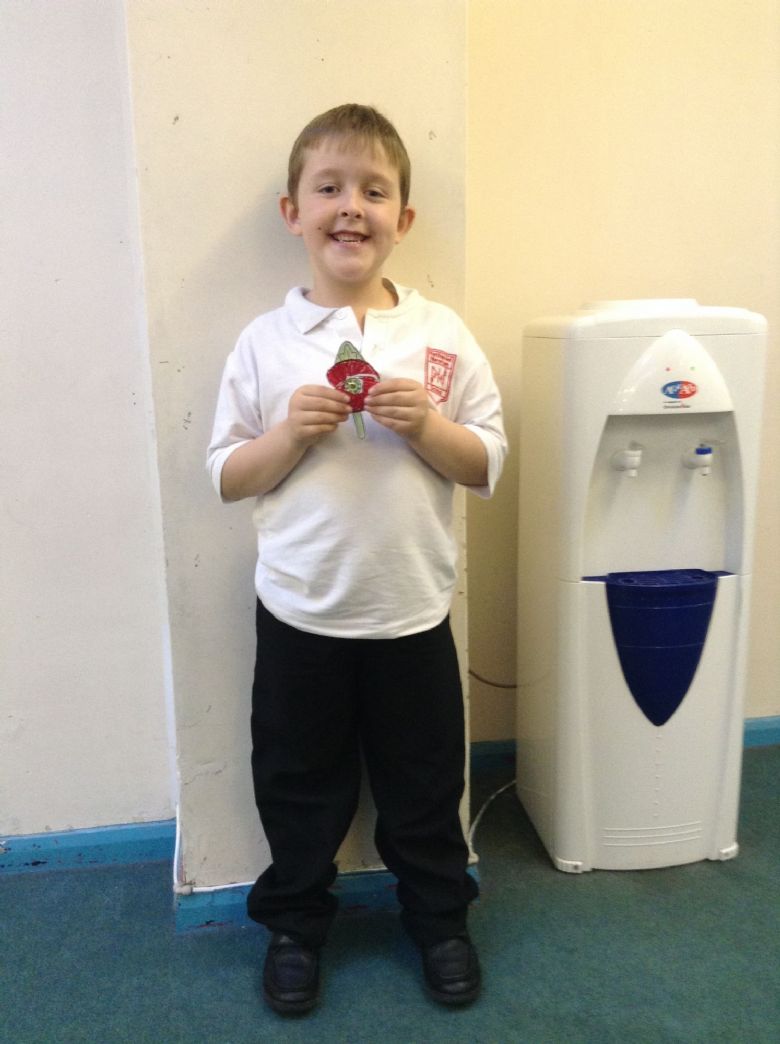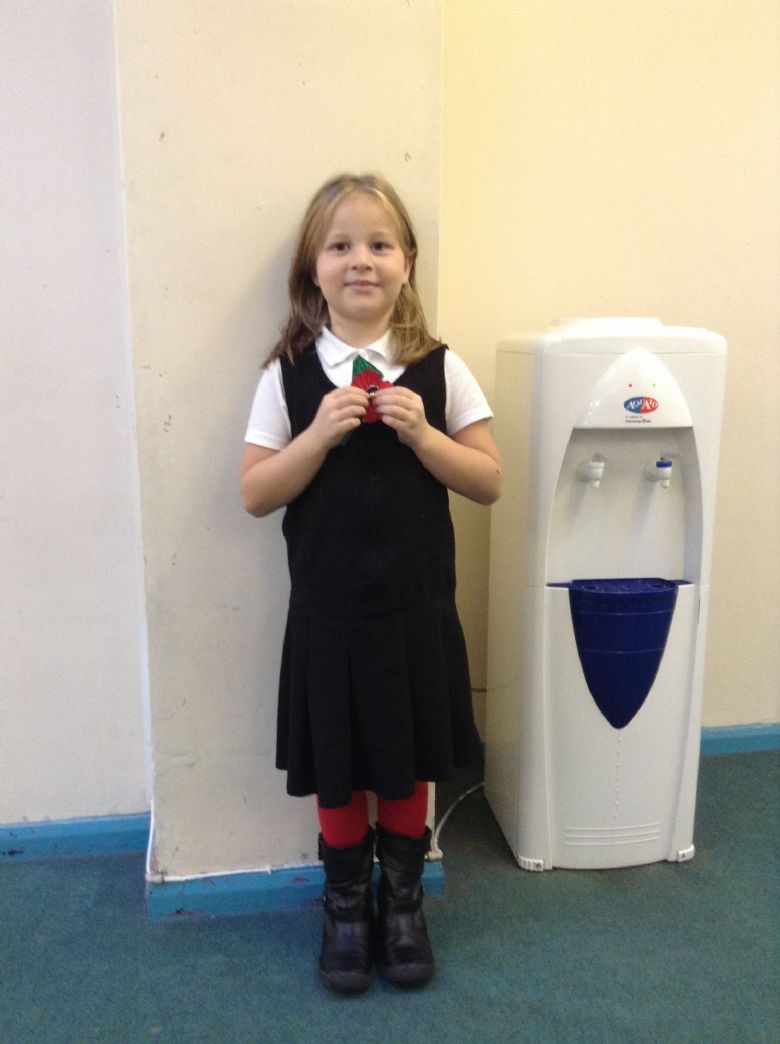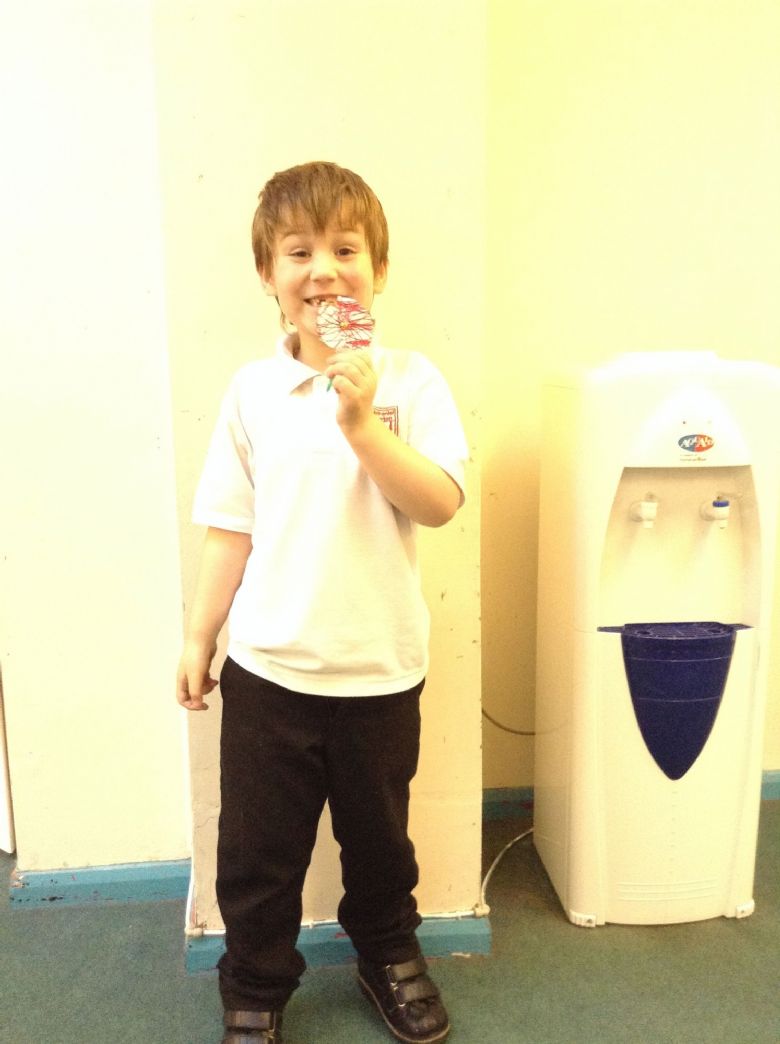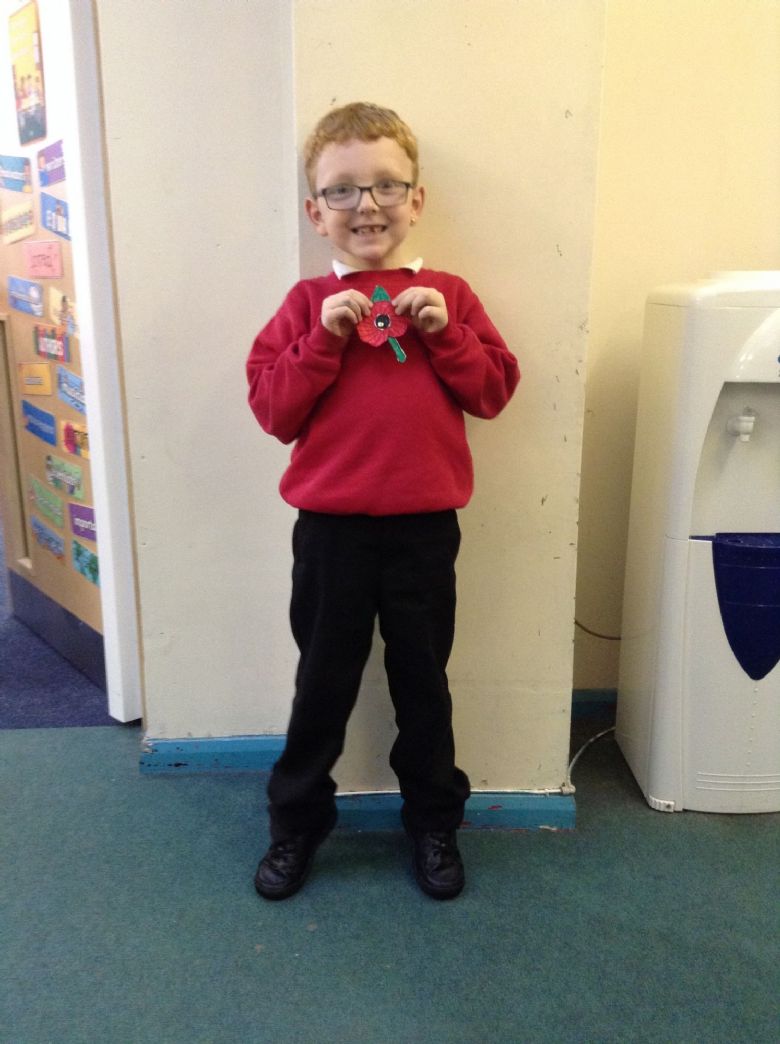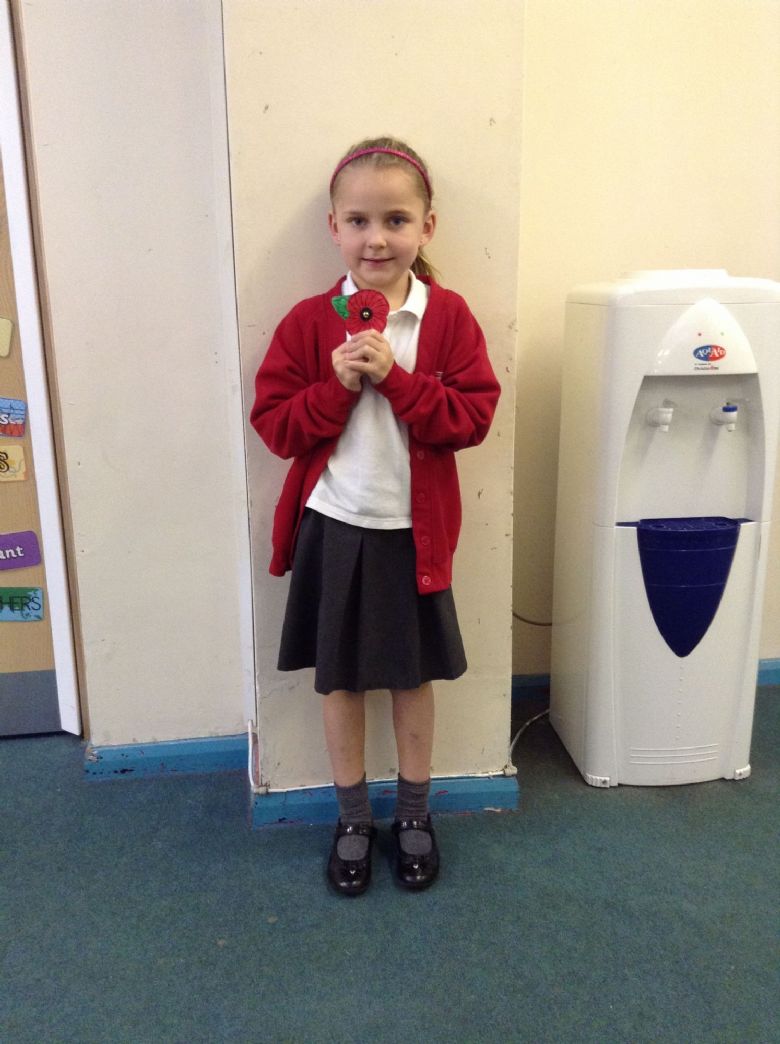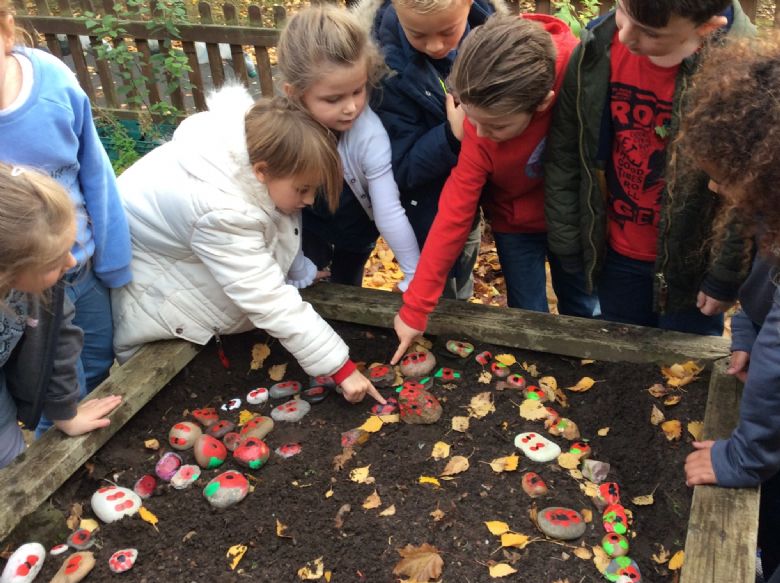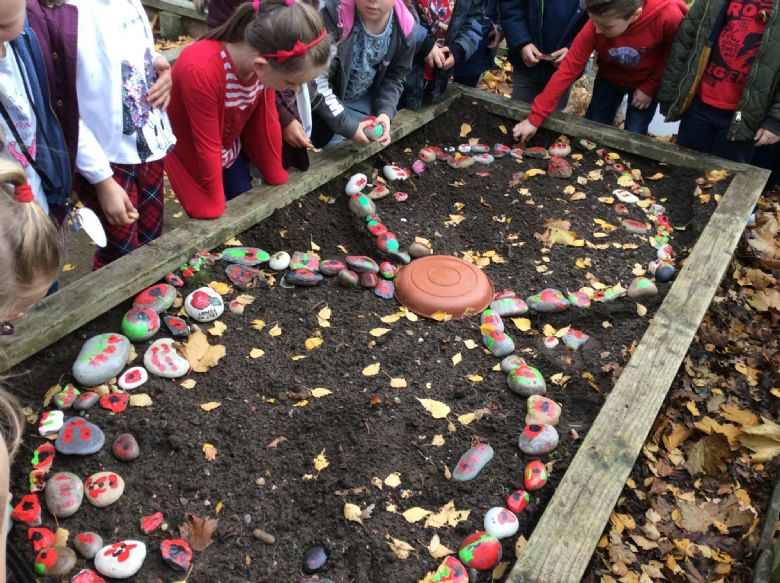 Music
In Music with Mrs Westley this week, to celebrate Bonfire Night, we have been learning a bonfire night song. First we sang the song and then had the opportunity to choose our own instruments to reflect the sounds of the fireworks. We did have lots of fun!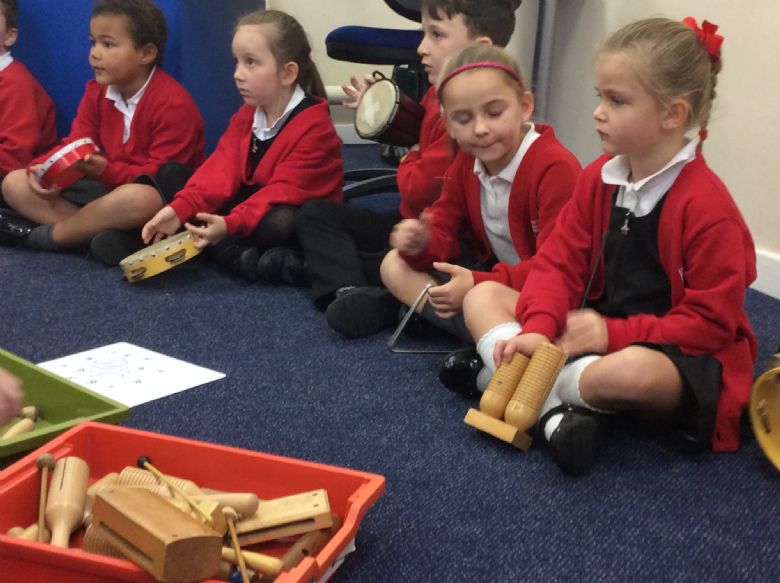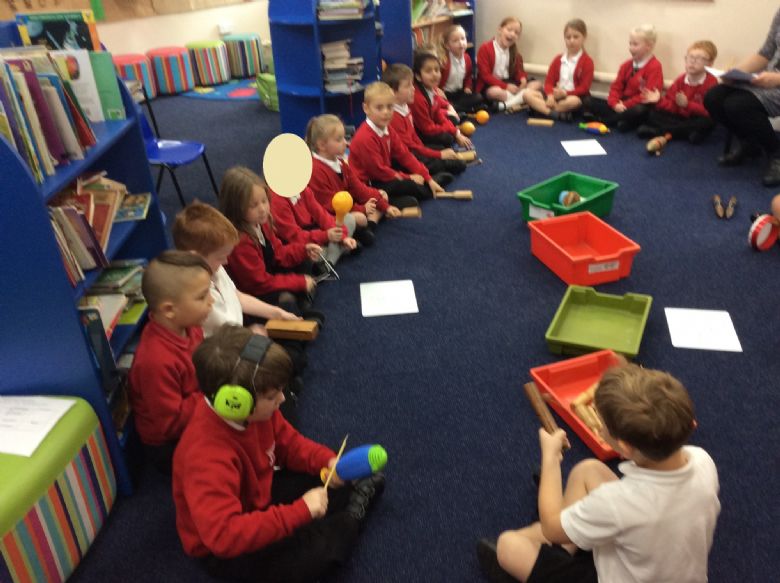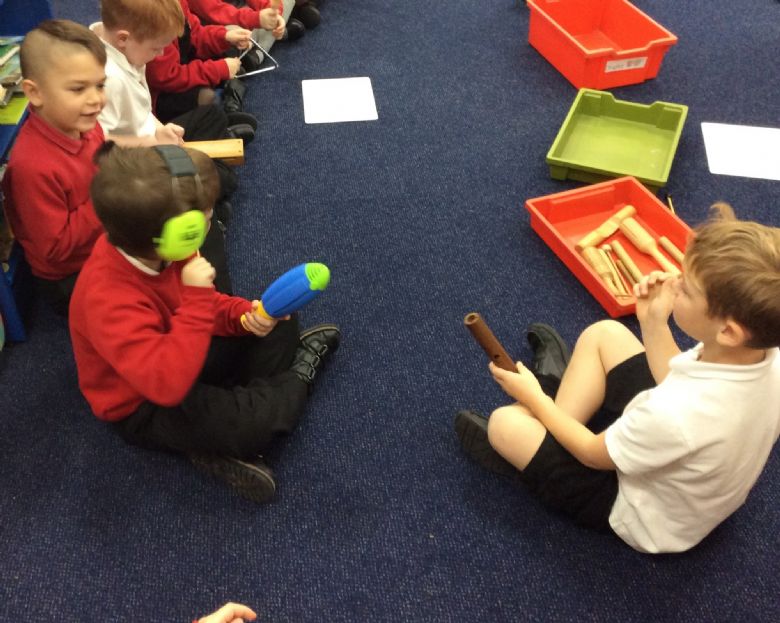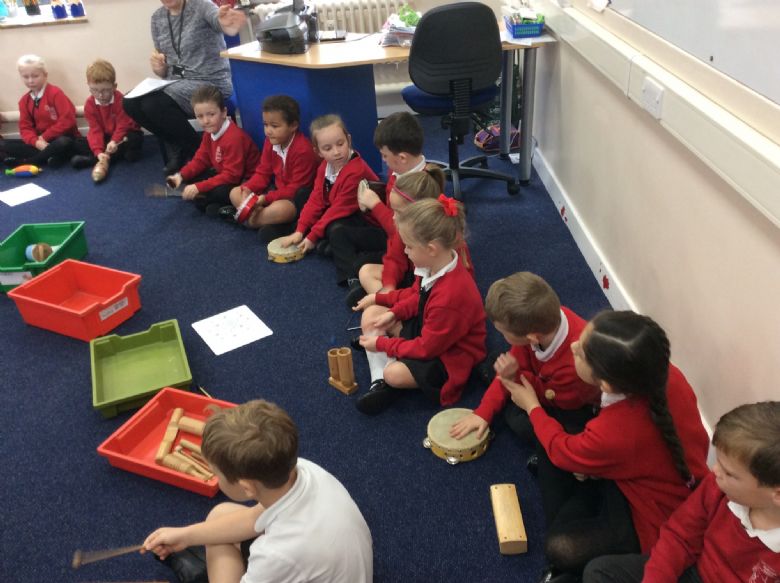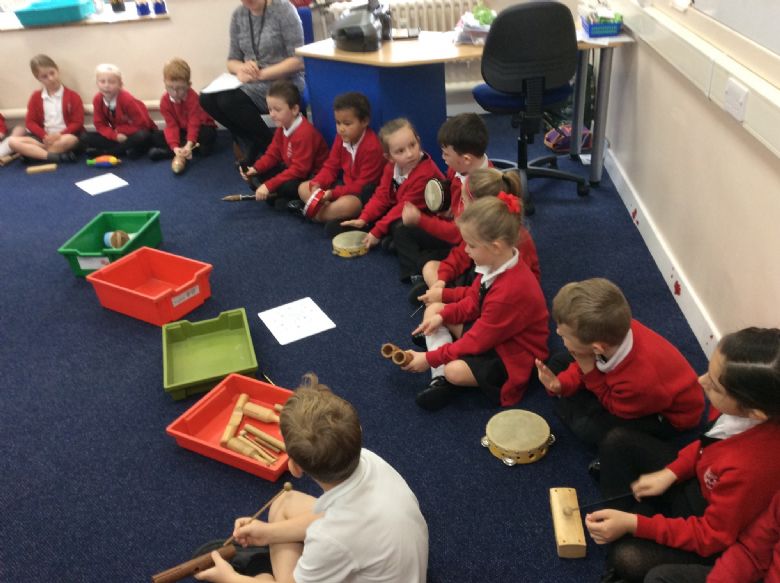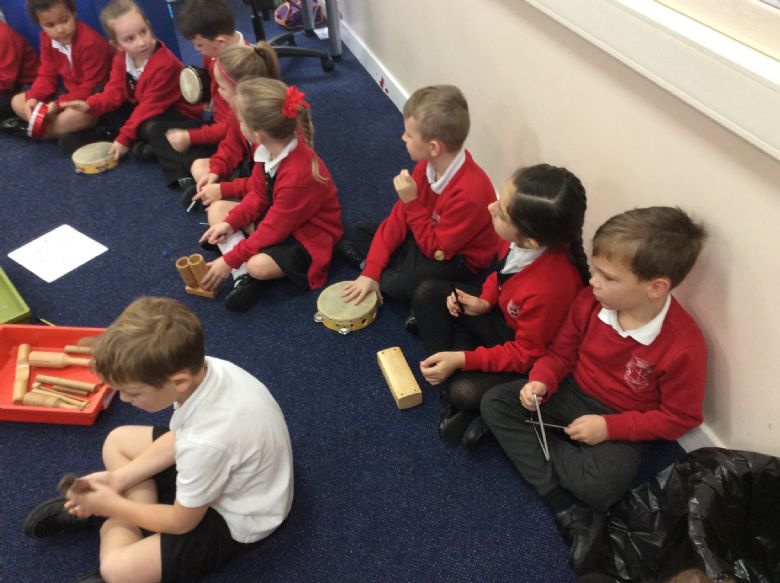 RE
This week we have been exploring RE and as part of our topic, have been looking at words which we feel are important to us and how they make us happy. Some of though peace and love were important and others thought kindness and fun were equally as important too.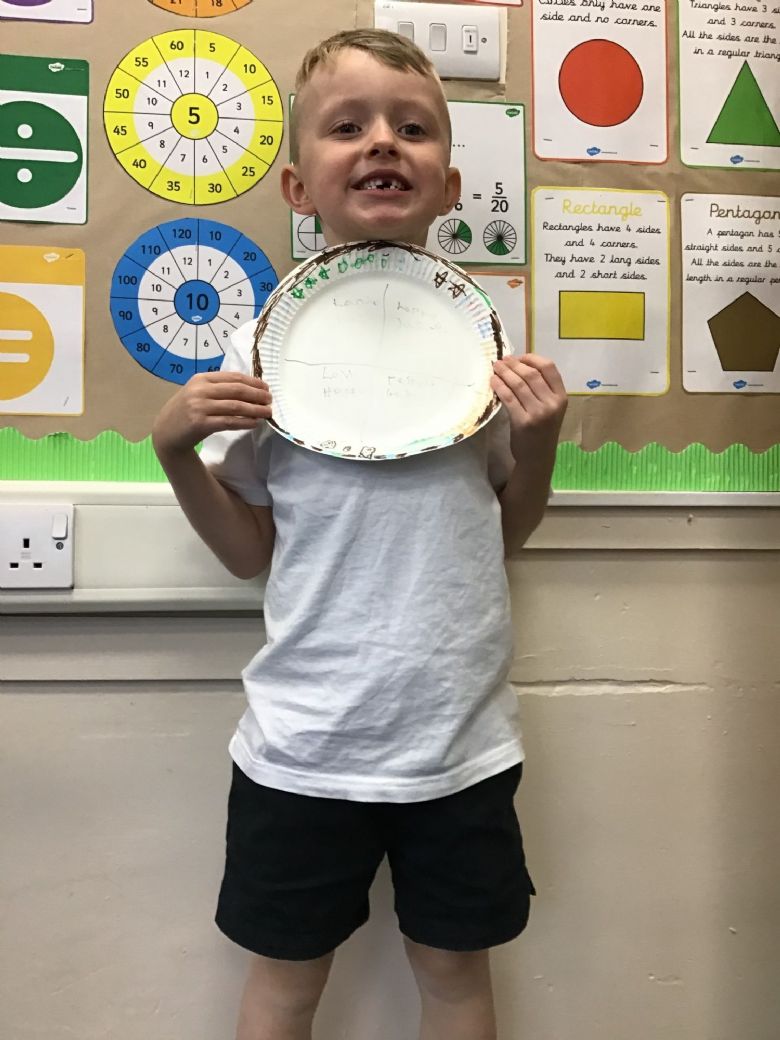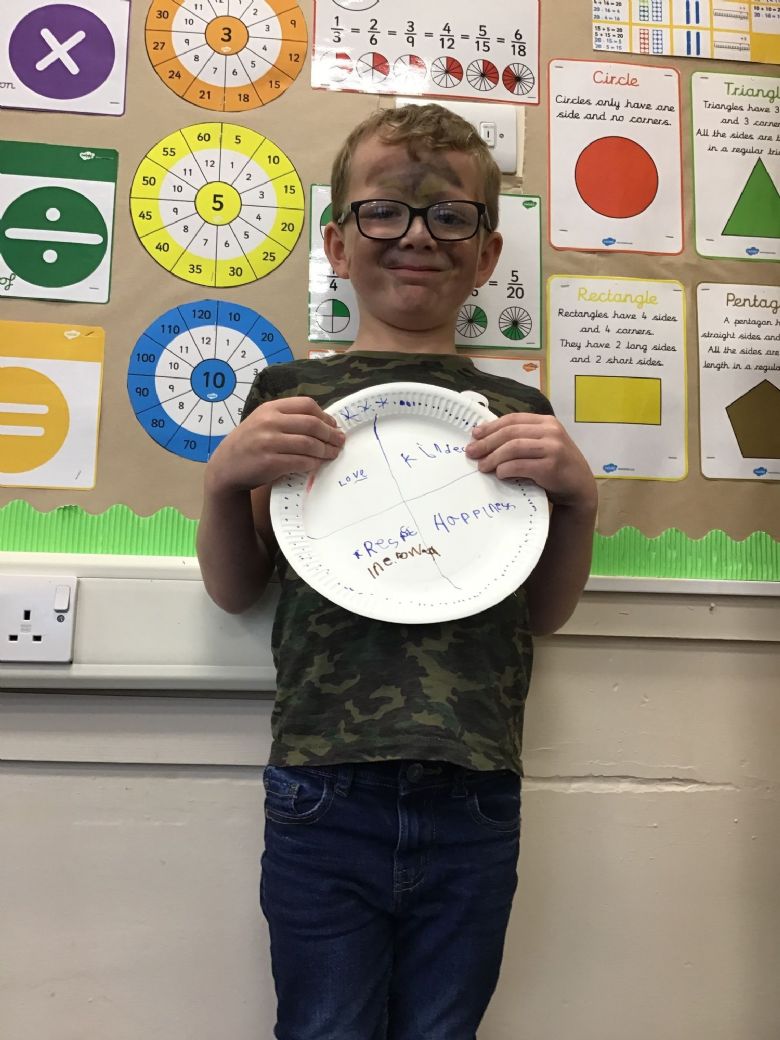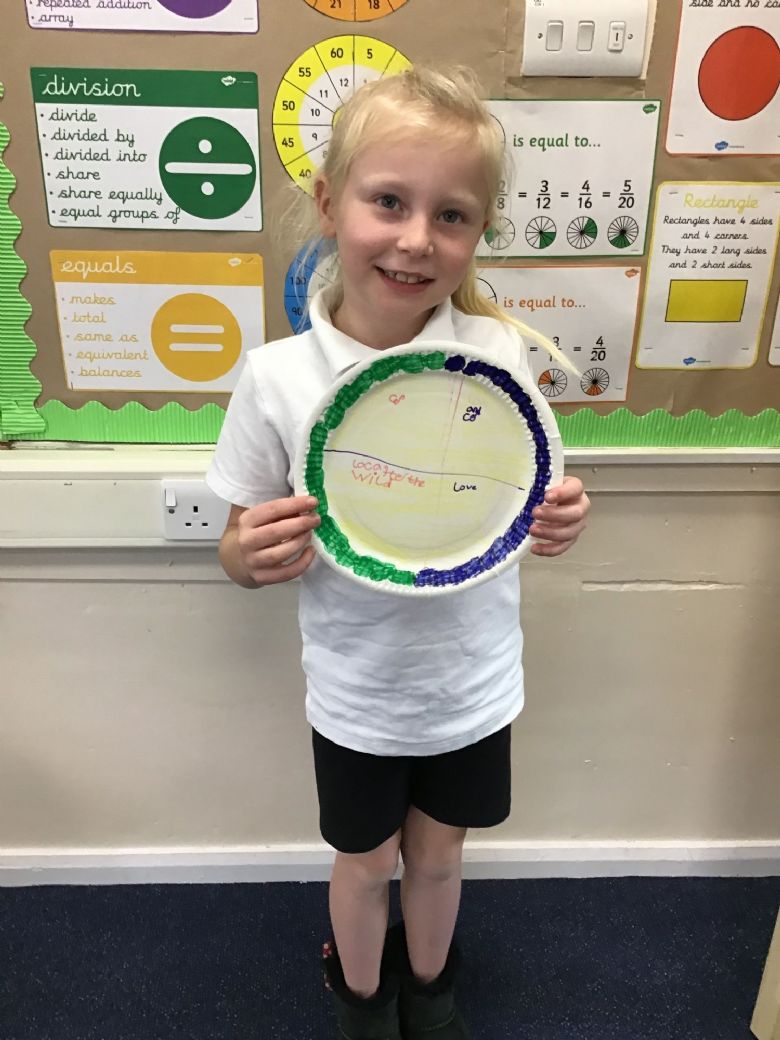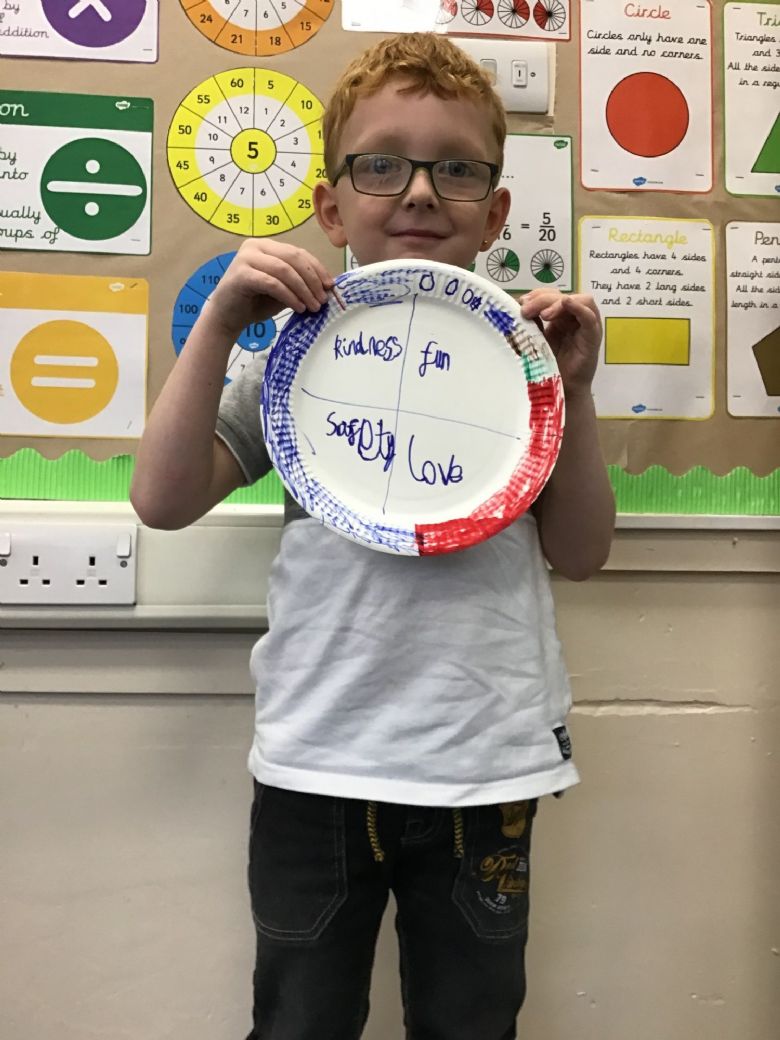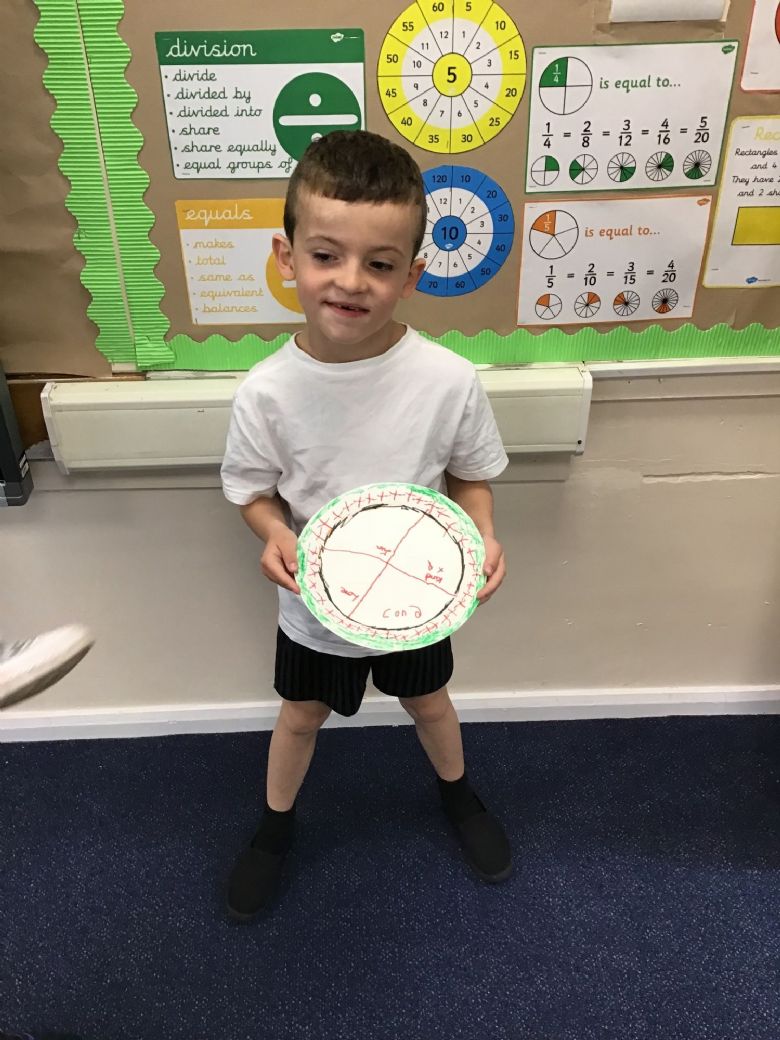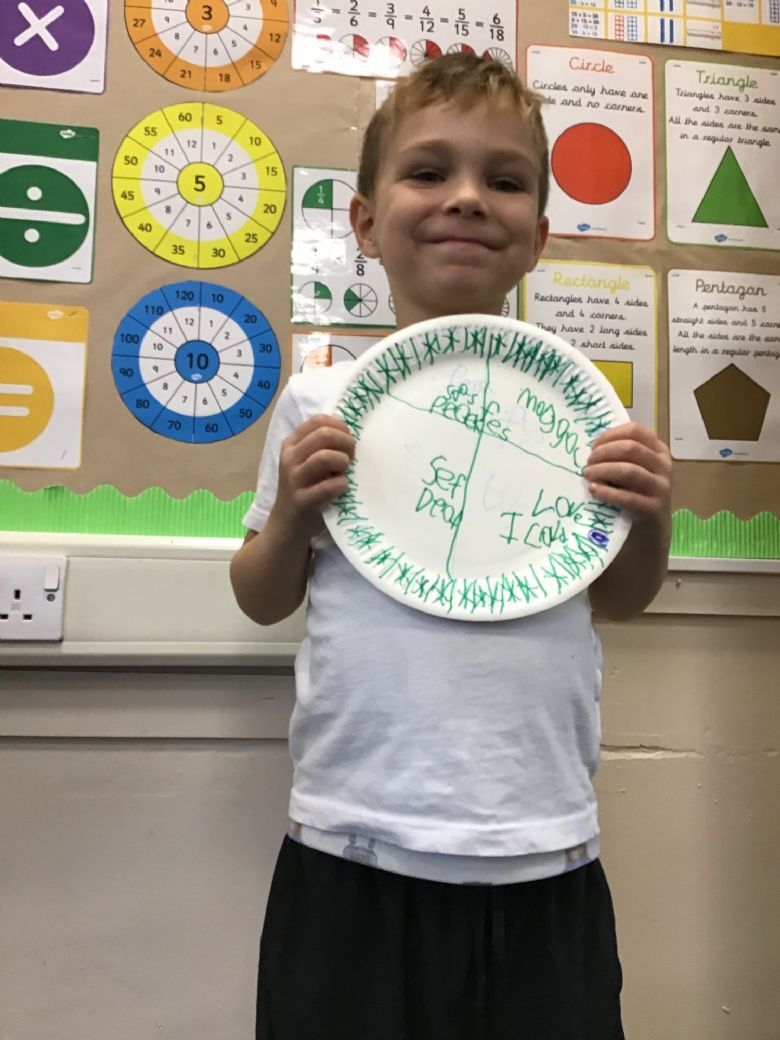 Balancing Act!
This week, during our lessons, we have been practising balancing different objects on our arms, hands, shoulders and head. First we were balancing these objects standing on both feet. Then we moved on to balancing them whilst standing on one foot for 5 seconds. The hardest challenge was to then walk around for 5 seconds, making sure we didn't drop anything!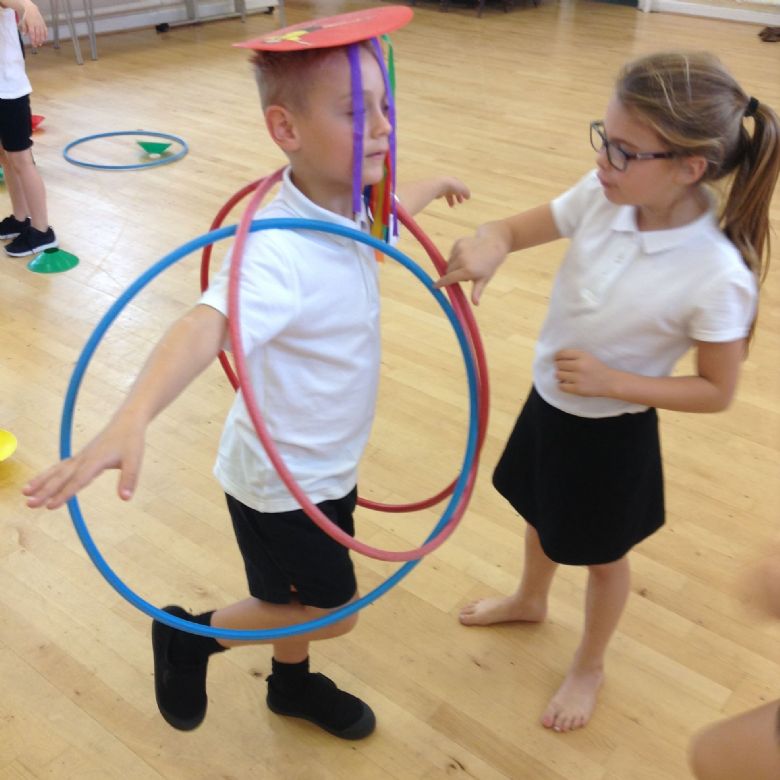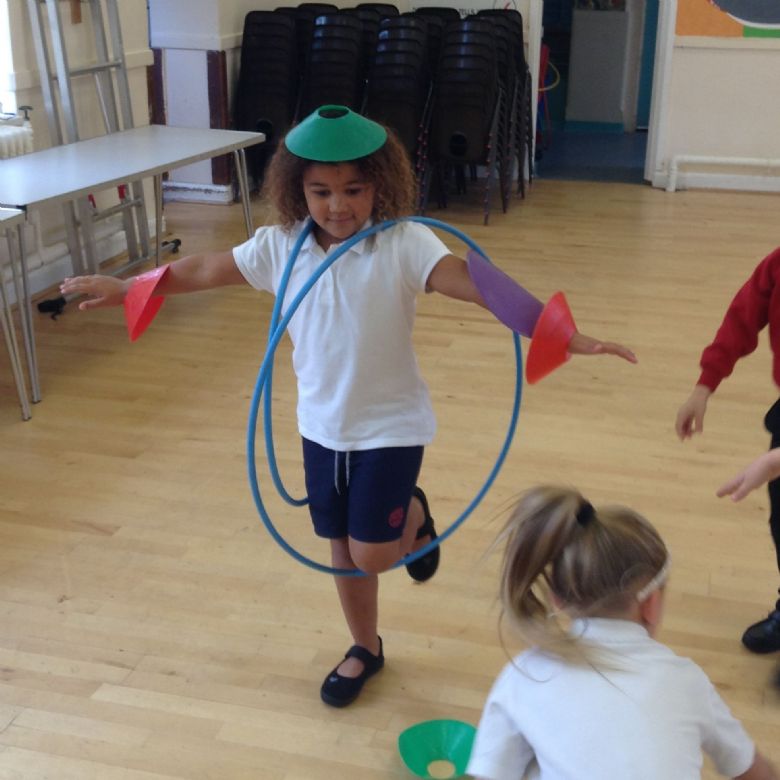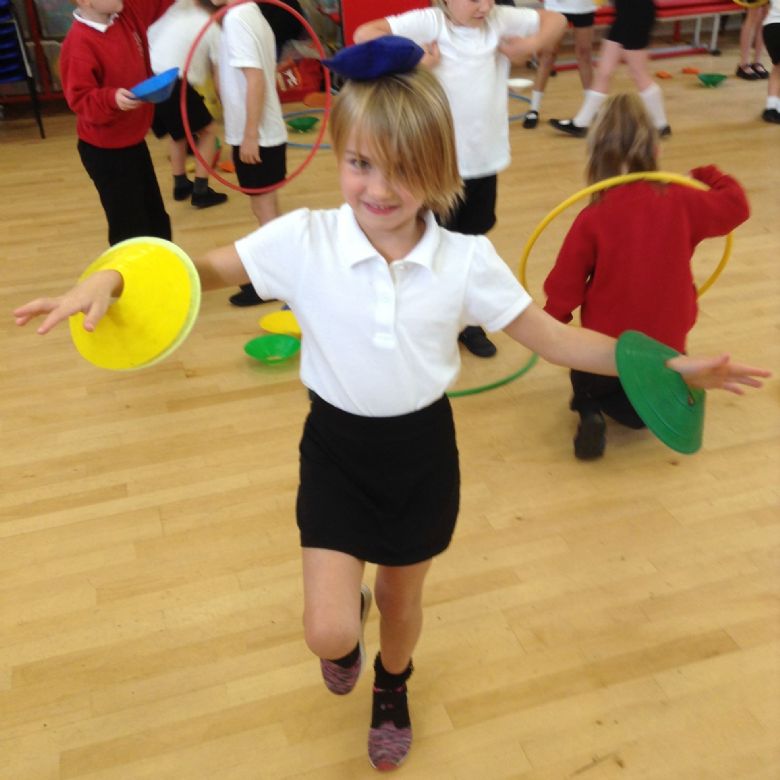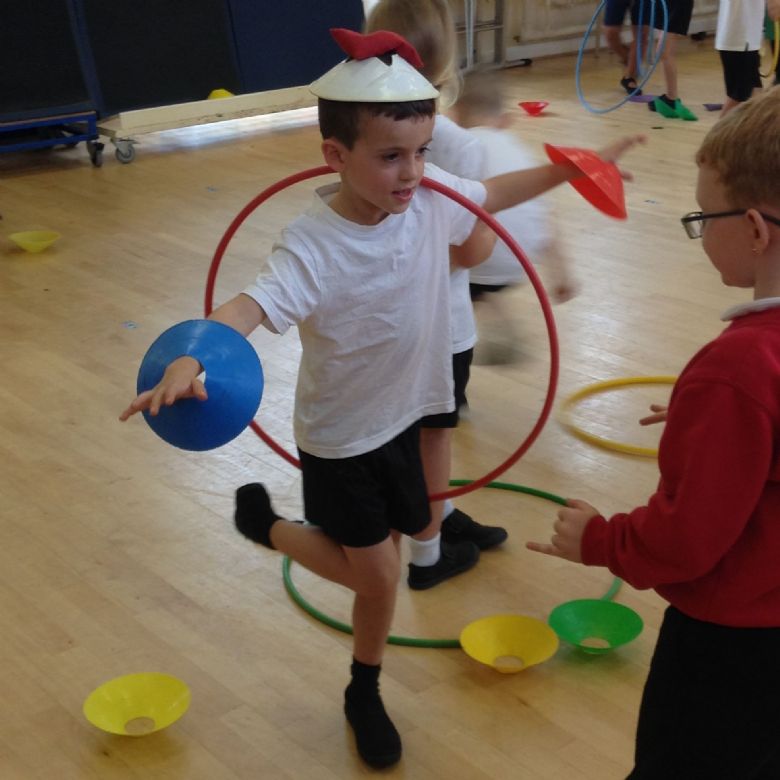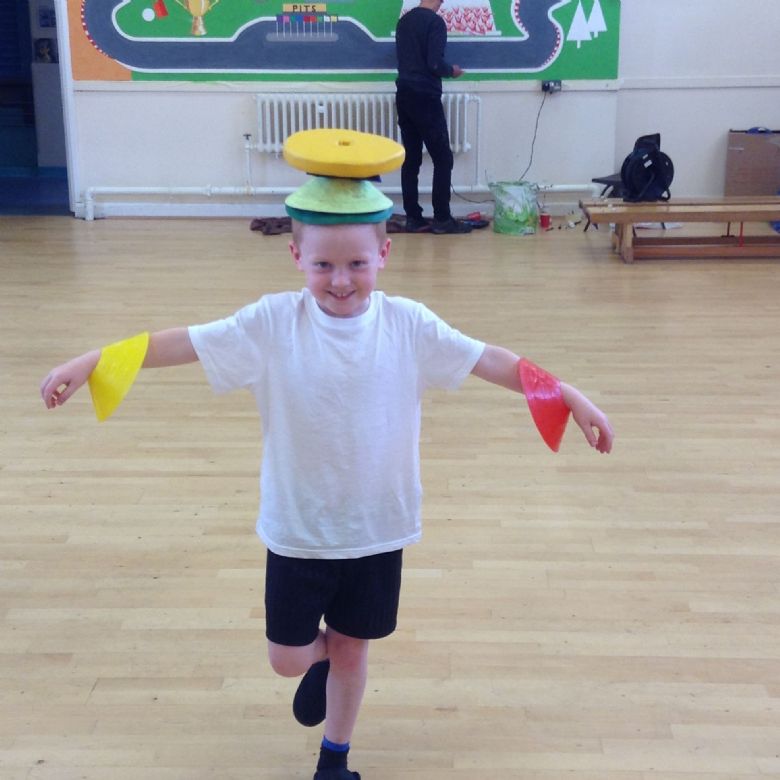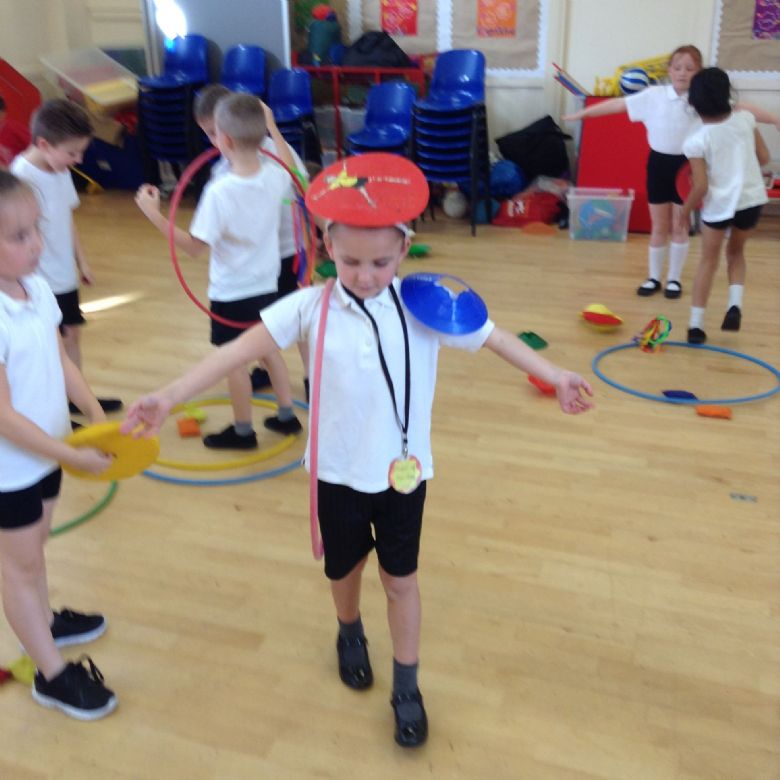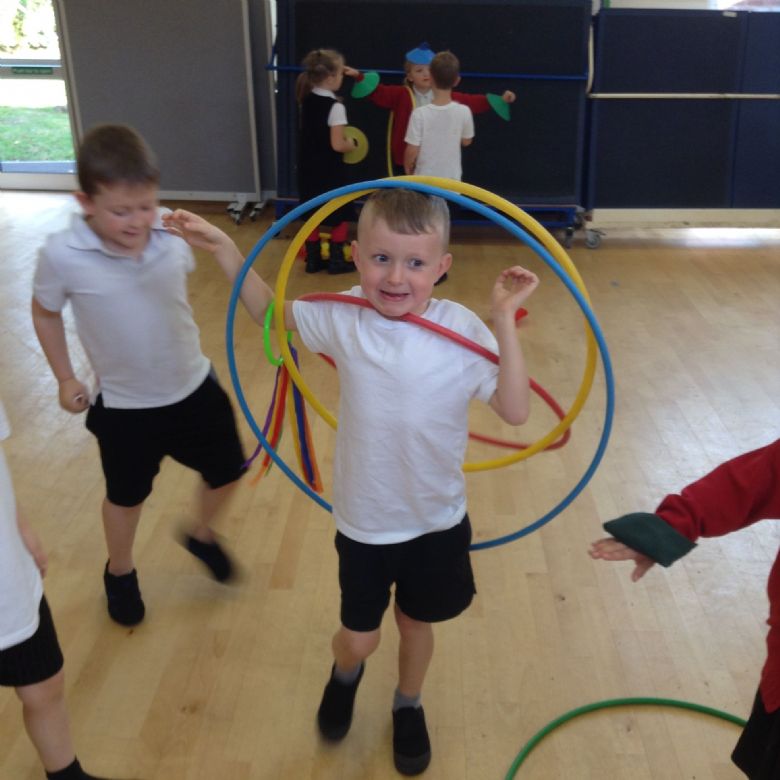 Following the Compass!
This week, we have been reading compass directions on a walk around the local triangle. We then used the compass directions we had found, to help write instructions for someone to follow.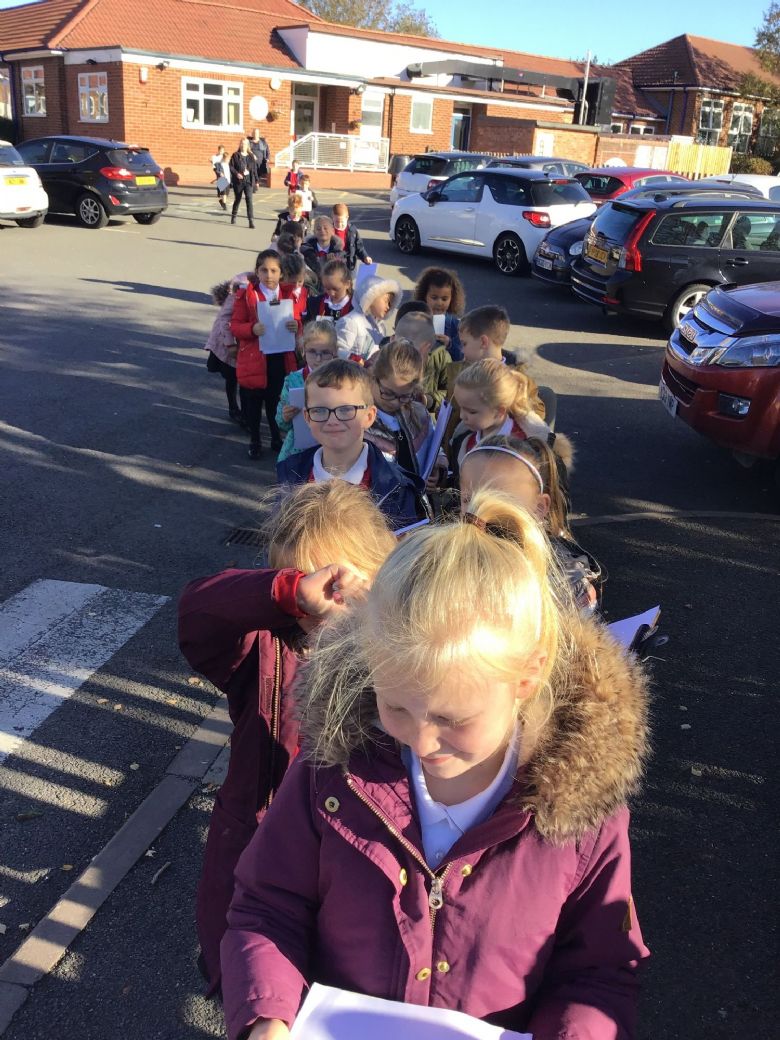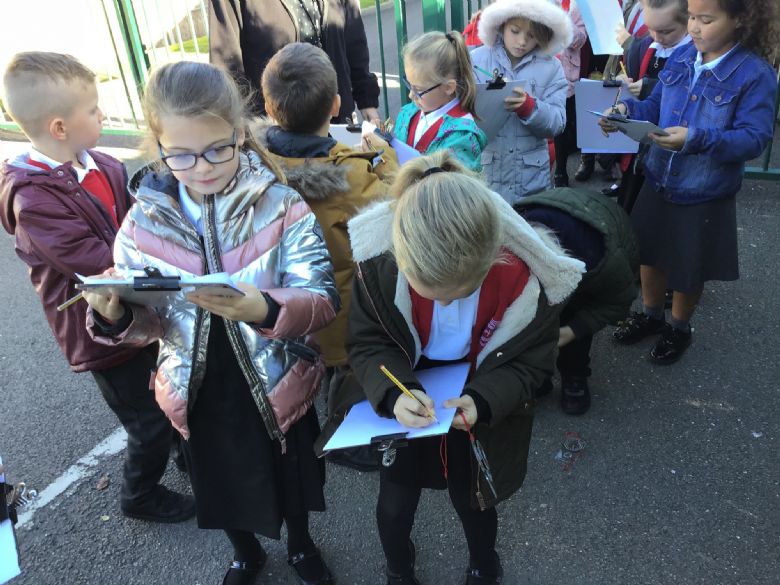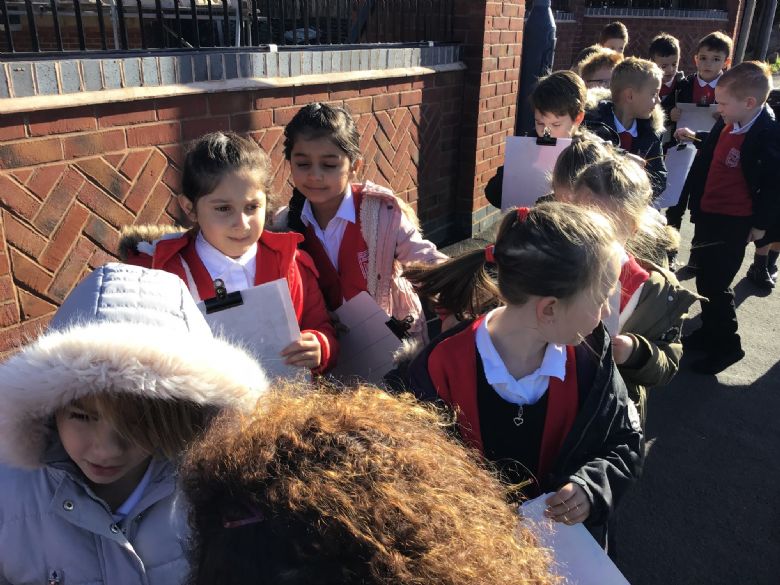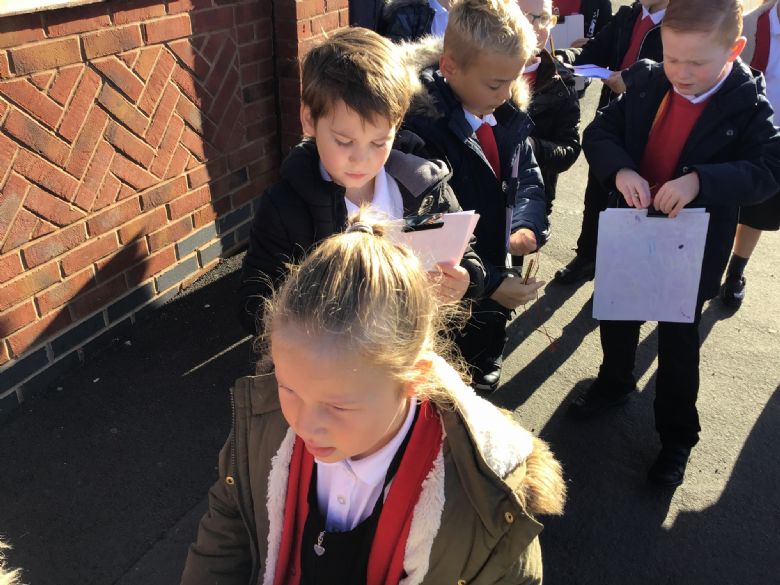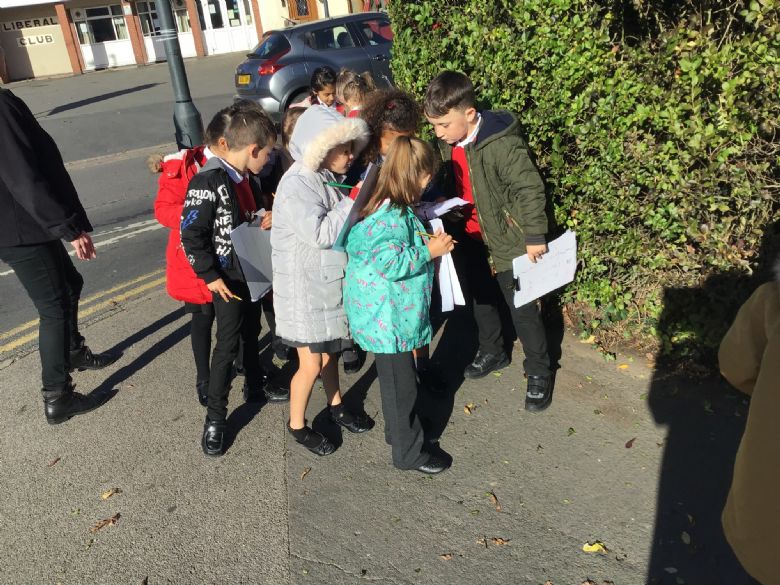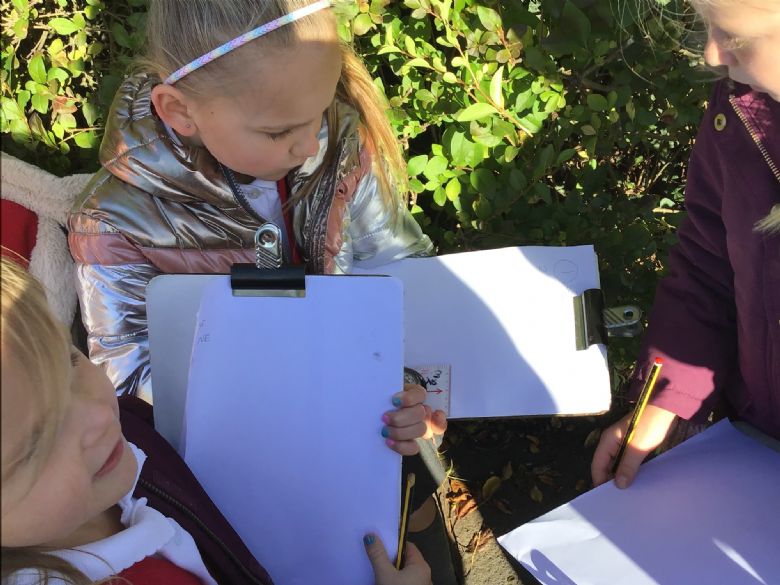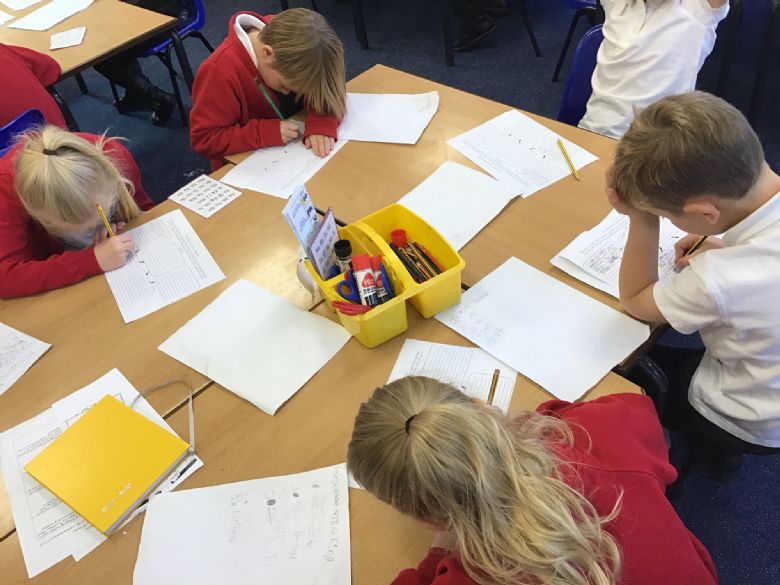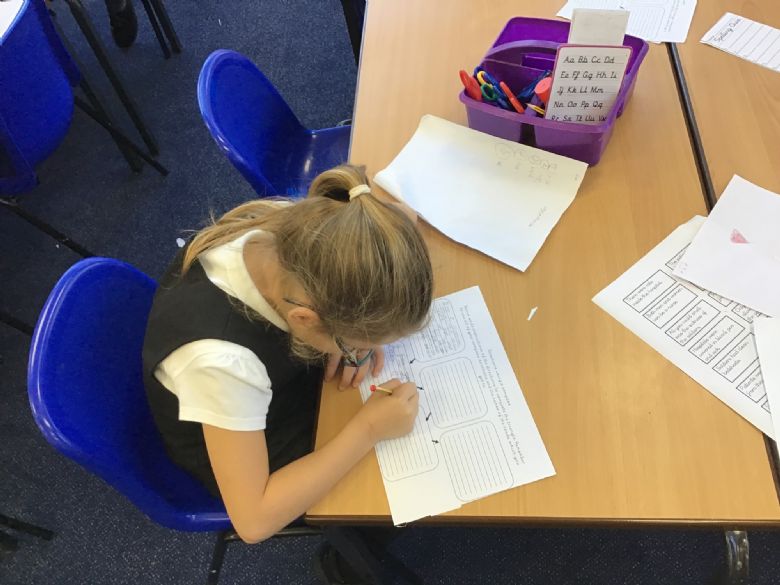 Bench Ball!
In our PE lesson this week with Mr Blackmore, we have been learning how to play the game Bench Ball. We have been learning how to throw a ball with accuracy to enable our team member who is on the bench to catch it. Also we have been working on defending our opponents from getting the ball, to make it even tricker for them to get the ball! We had lots of fun, especially when we were able to play a huge team game at the end!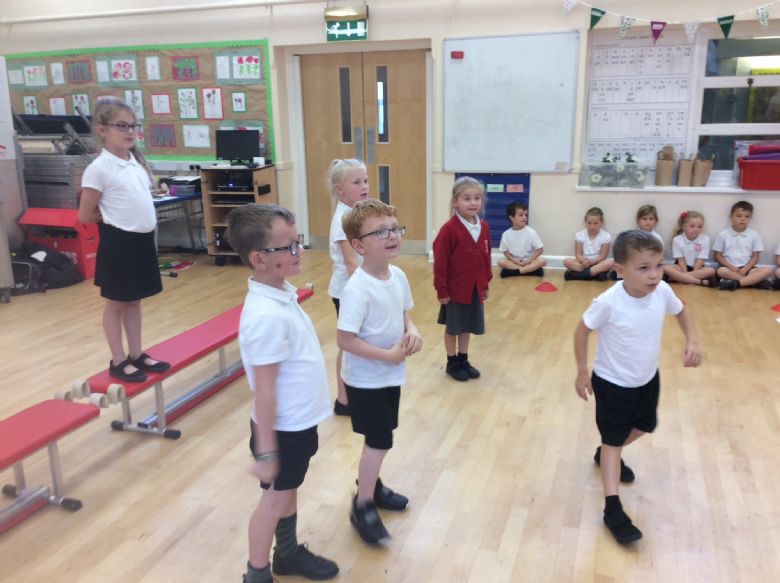 Germs!
This week, we have been conducting our own scientific experiment using bread, to prove how important it is for us to wash our hands. We firstly touched one piece of bread with a glove on, so no germs were able to touch it. Next we touched the second piece of bread, by having one person wash their hands and then touch it because we have learnt that even though we wash our hands some germs still remain. Finally for the third piece of bread, we rubbed our hands on our shoes and floor so that are hands were covered in lots of dirty germs. We then passed the third piece around the circle. Now we are waiting to see what happens to each piece of bread, to see if our predictions were right.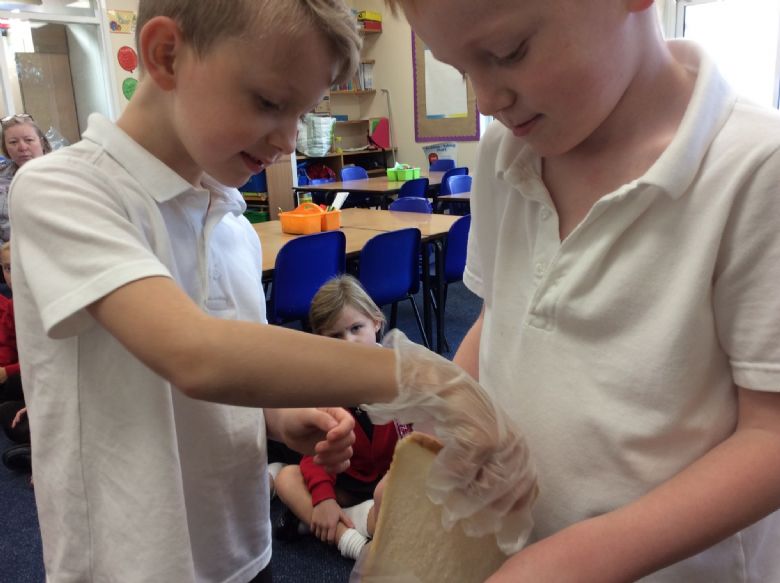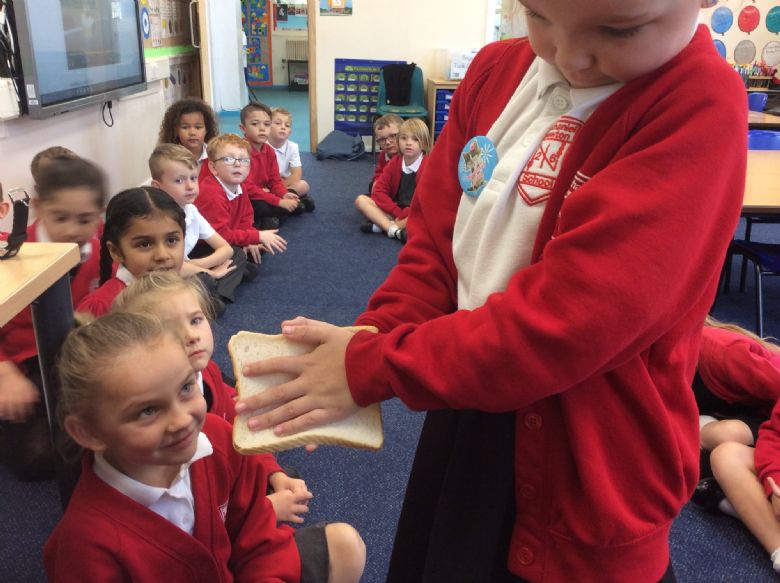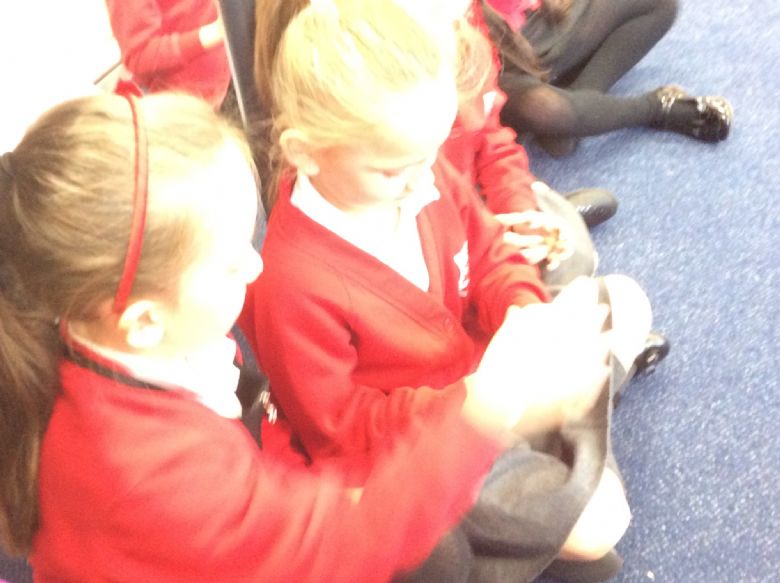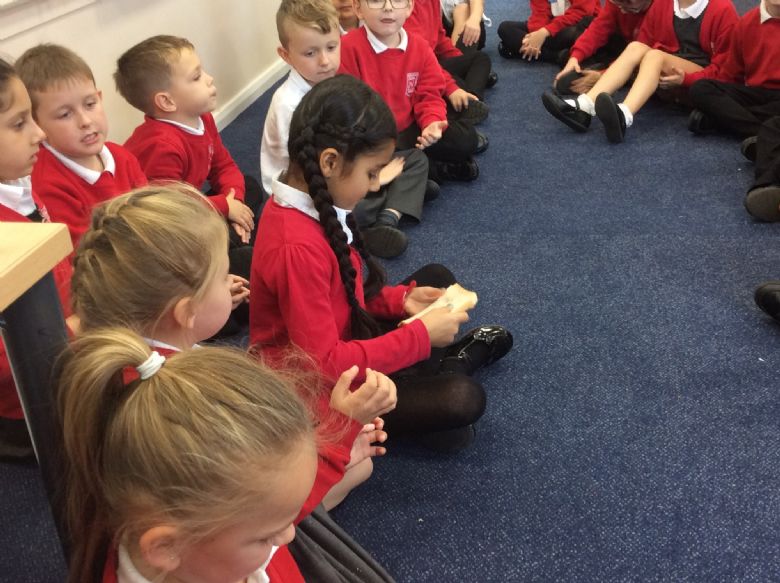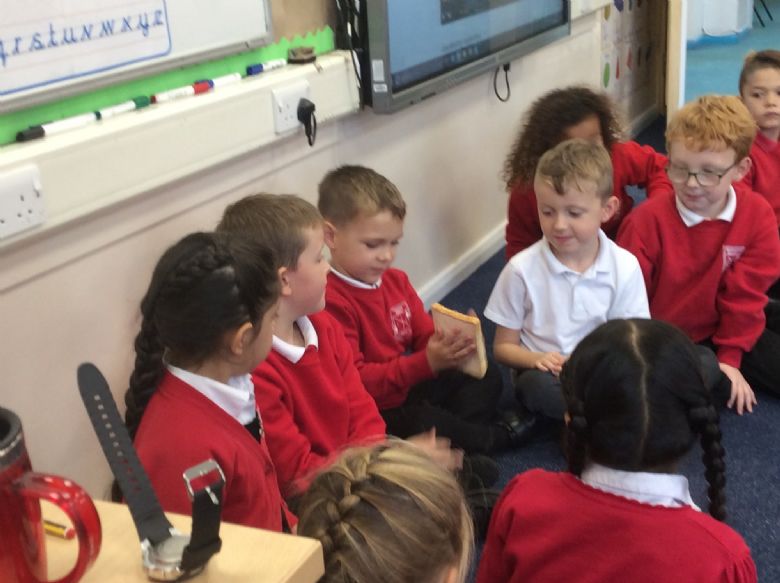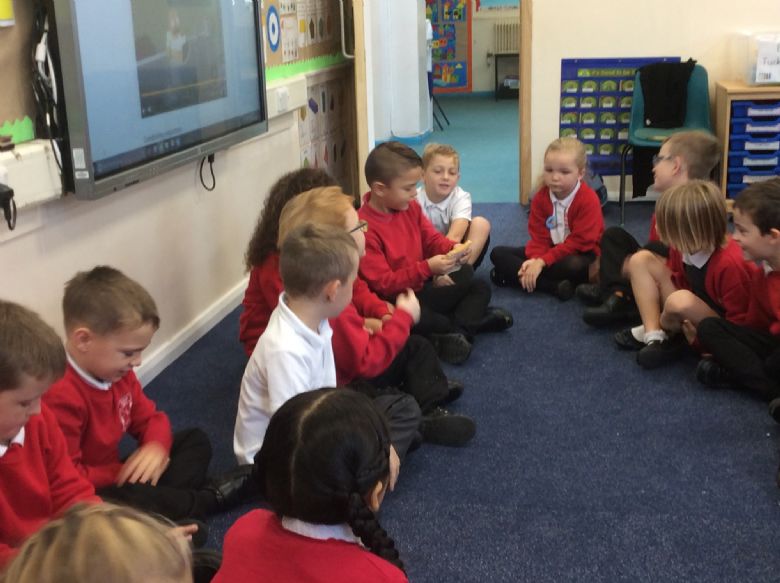 Dotty Painting
We have all made a fantastic start to Year 2 and have so far been enjoying our topic 'Me, Myself and I'. This week we have been learning lots about a pop artist called Roy Litchenstein. After researching all about him, we have learnt that he was very famous for his dotty techniques. As we really enjoyed exploring the paintings he did in this technique, we decided to create our very own paintings in this style too! First we drew an outline of ourselves and then afterwards went round it in black pen to make it really stand out. Then using lots of bright and bold colours, like Litchenstein, we then created our dotty paintings with great success!