In this section...
Summer Term 1 - Story Explorers
Visit to the local shop
After learning all about money and ways to make 10p, we went to the local sweet shop to have a go at spending a real 10p! We chose different sweets, but they had to total 10p!
We all enjoyed eating our treats at home time!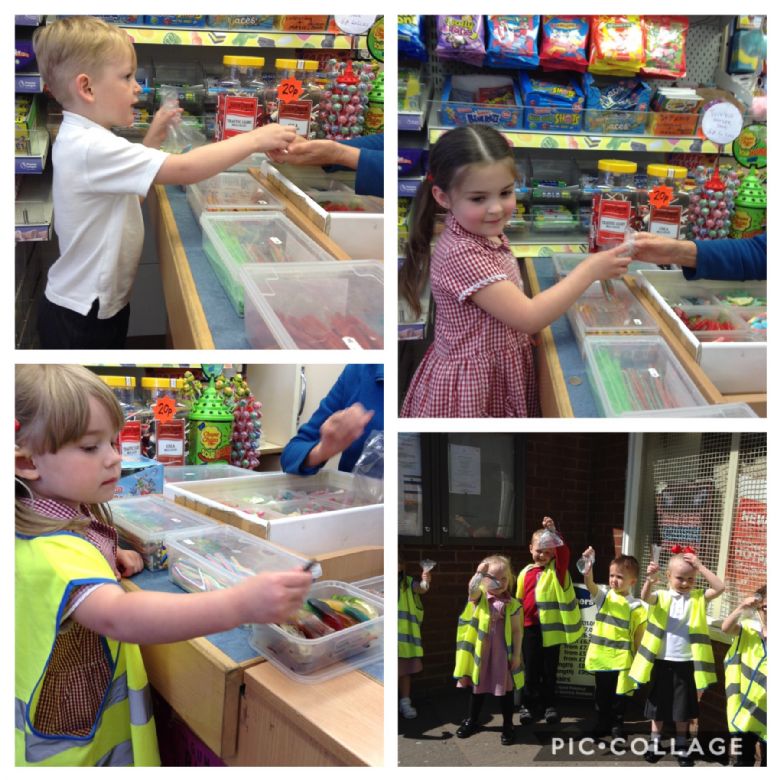 Money
We have been learning to recognise different coins and make amounts using pennies.
We then challenged ourselves to find different ways to make 10p.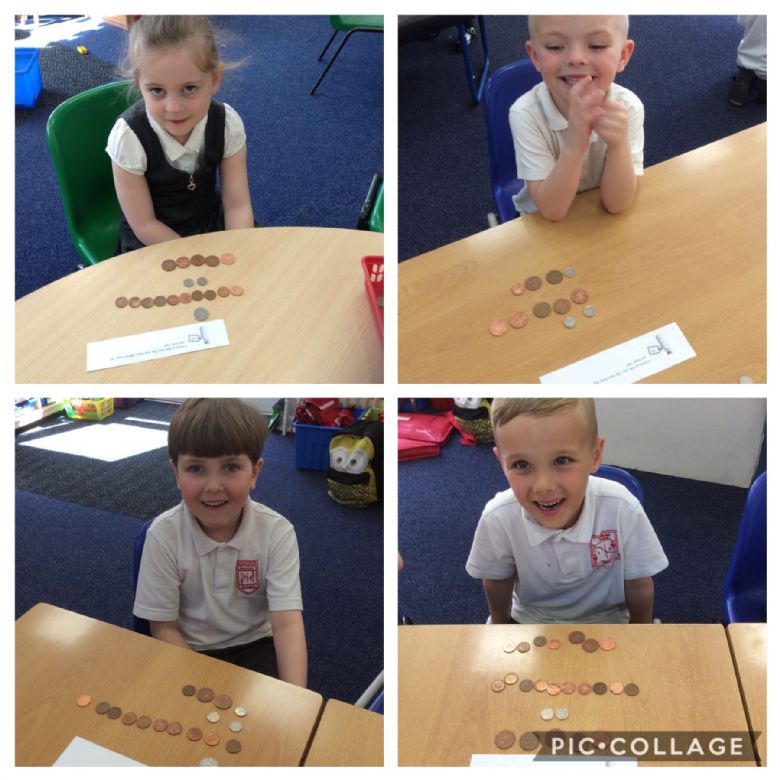 Trip to Ryton Pools
We went on a trip to Ryton Pools Country Park. We made wands and then used their magic to help us find numbered fairy doors. We had fun in the woods, painting with mud, digging for treasure and building homes for the animals. Then we got to become bug hunters and found some amazing minibeasts. A fun day was had by all! Many thanks to our parent helpers for giving up your time to join us.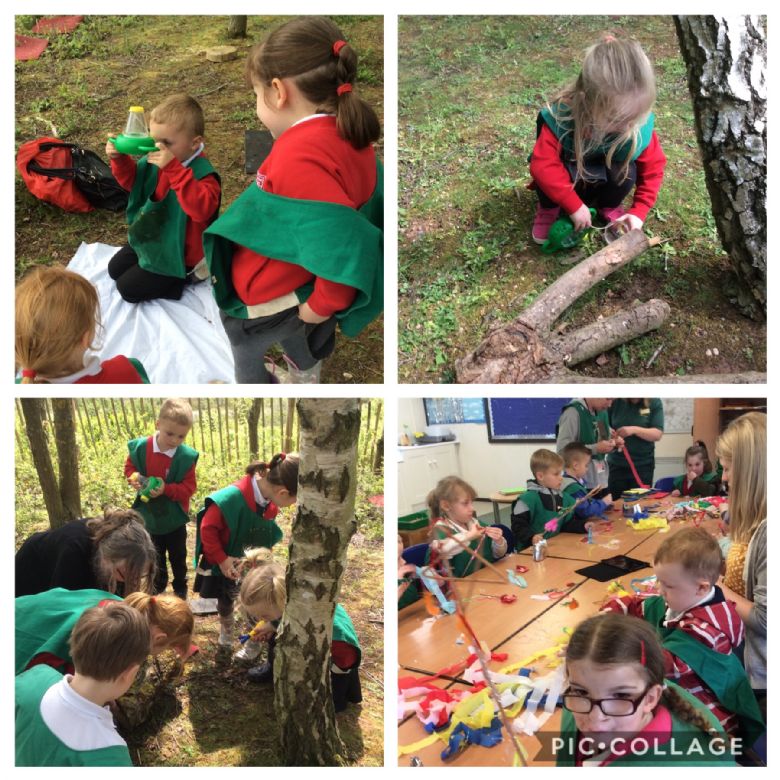 They've hatched!
We had some very exciting news over the holidays, our butterflies hatched from their cocoons. We had five Painted Lady butterflies which we set free.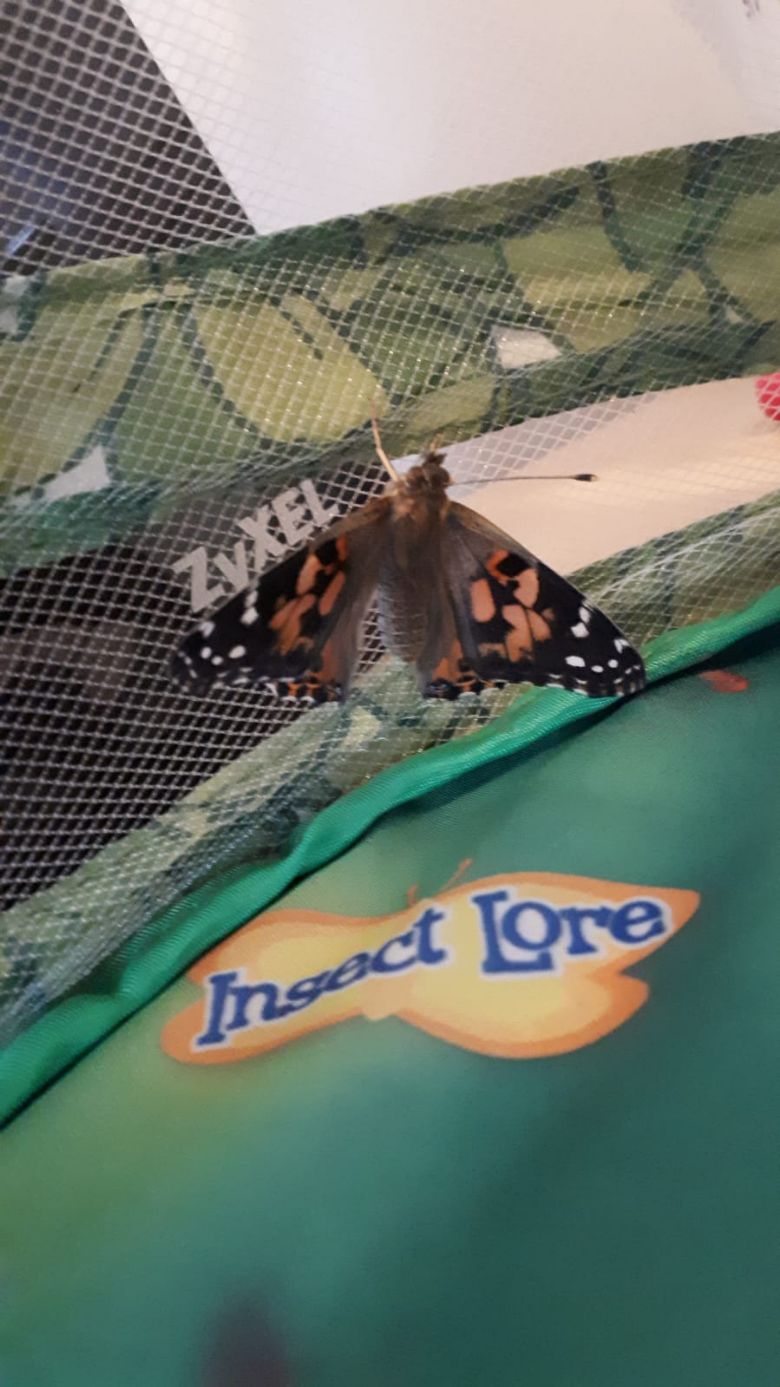 Spring Term 2 - Secret Garden
Mother's Day
We had a lovely time celebrating Mother's day. Thank you to all of you who came in to share the afternoon with your children.
Life cycles
We have been looking at a new term called life cycle. We have learnt that all living things have a life cycle, including us!
A life cycle is a series of events that a living thing goes through from the beginning of its life.
We have some caterpillars and frog spawn in school and are enjoying observing changes that happen.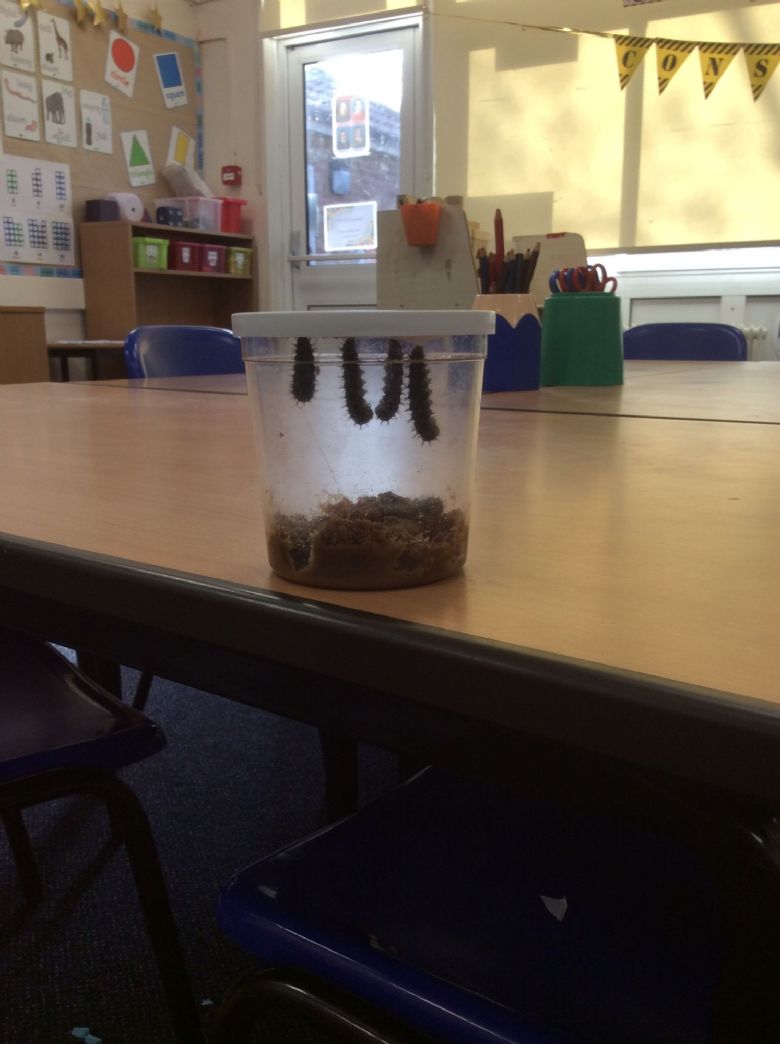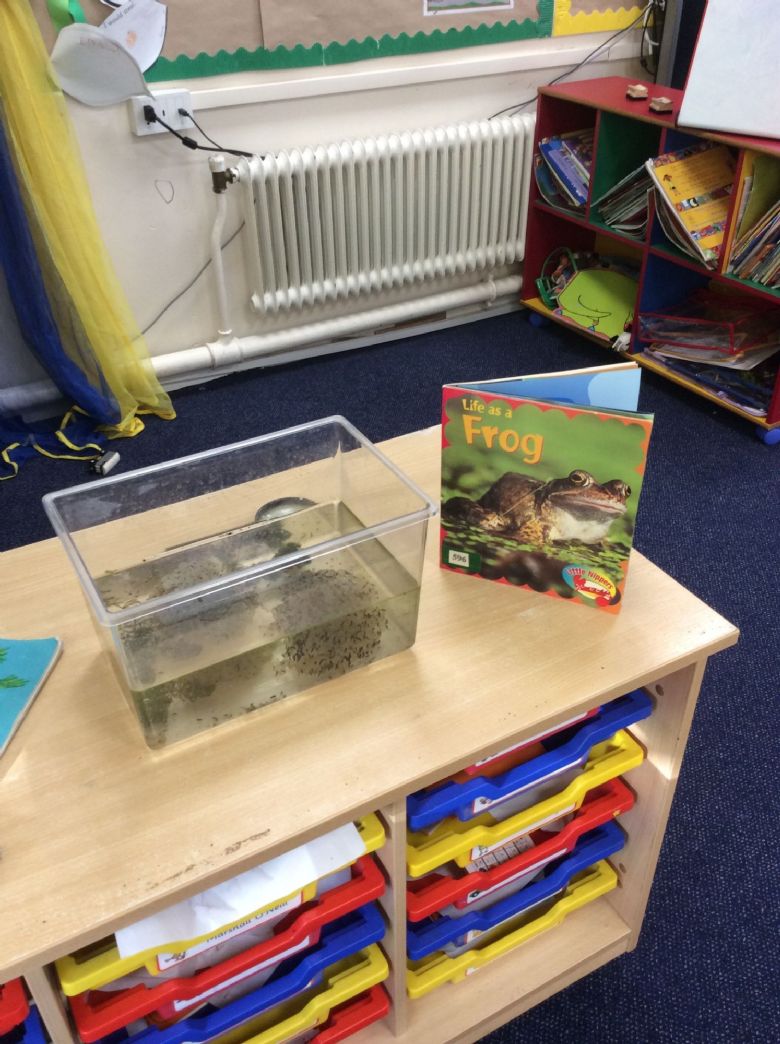 Worms!!
We have enjoyed reading the story Superworm by Julia Donaldson.
We wrote some super sentences about Superworm, using our phonics to help us to spell words.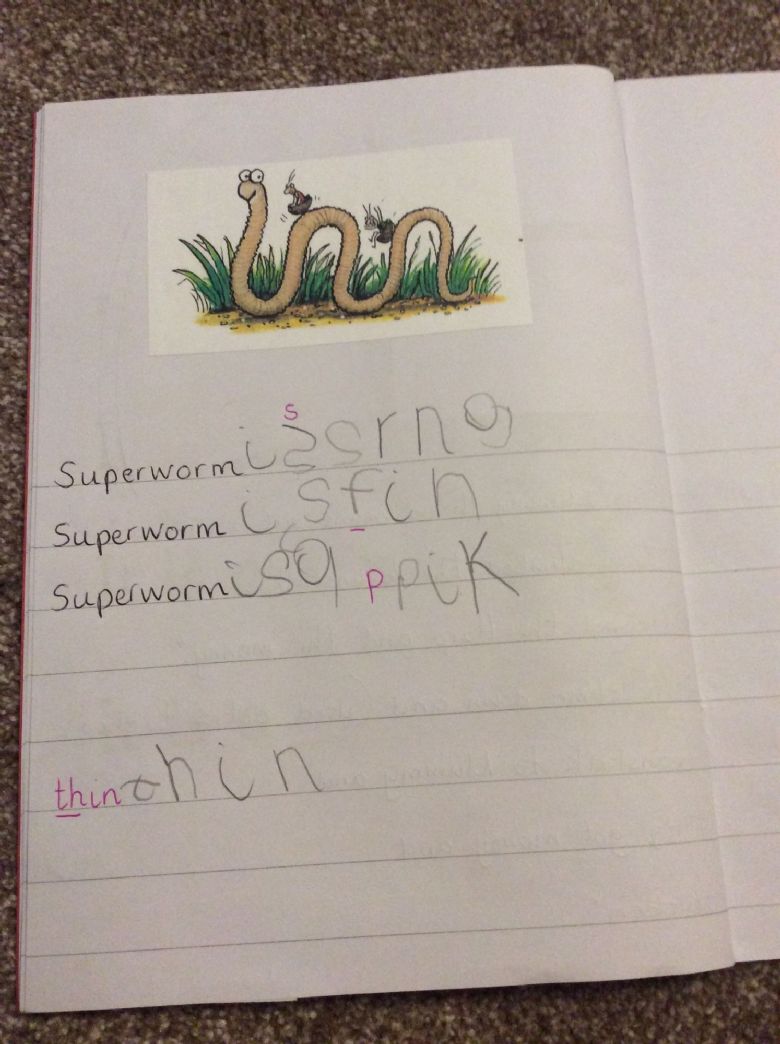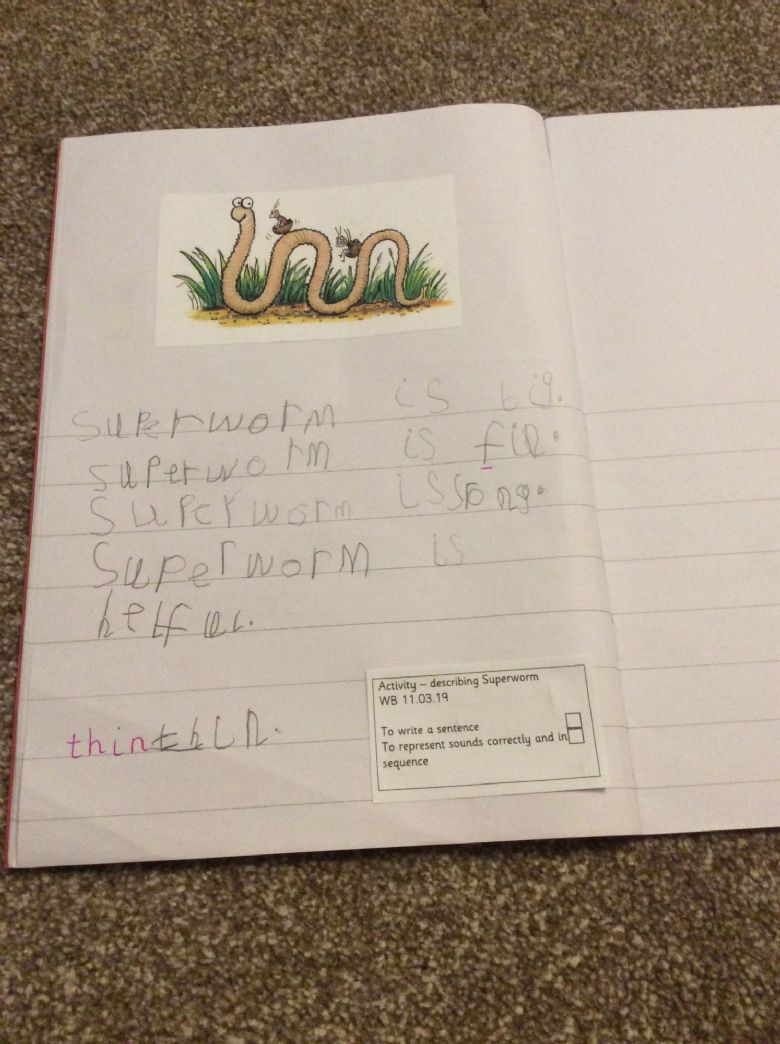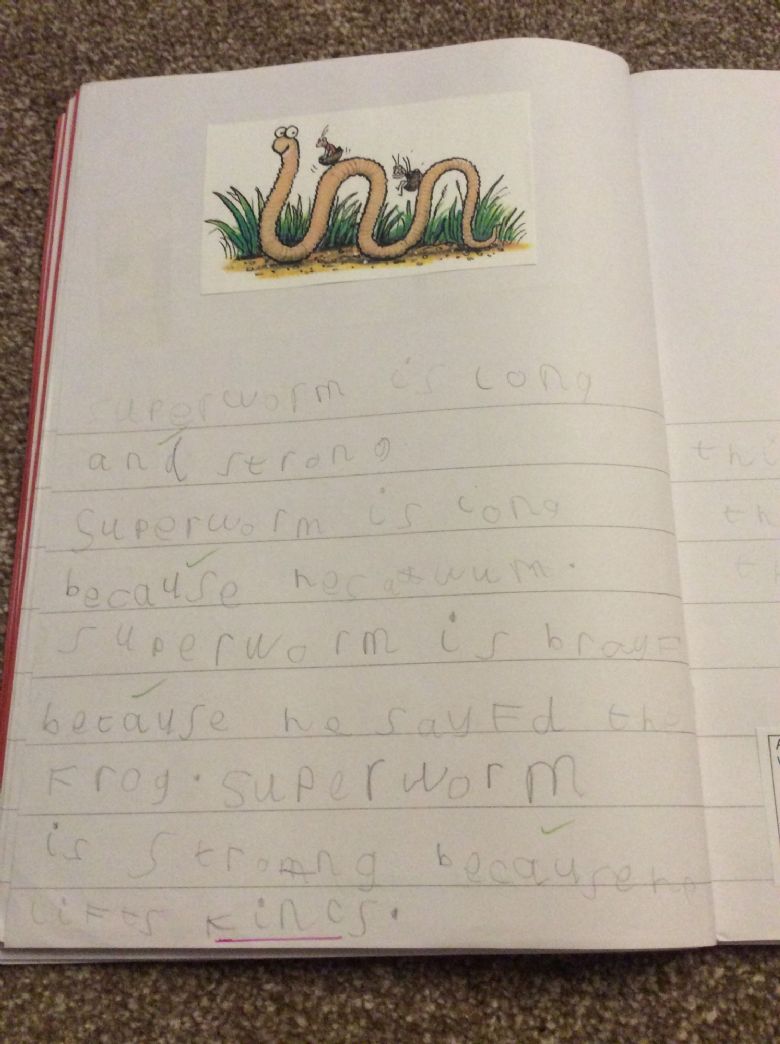 We made our own wormery to observe real worms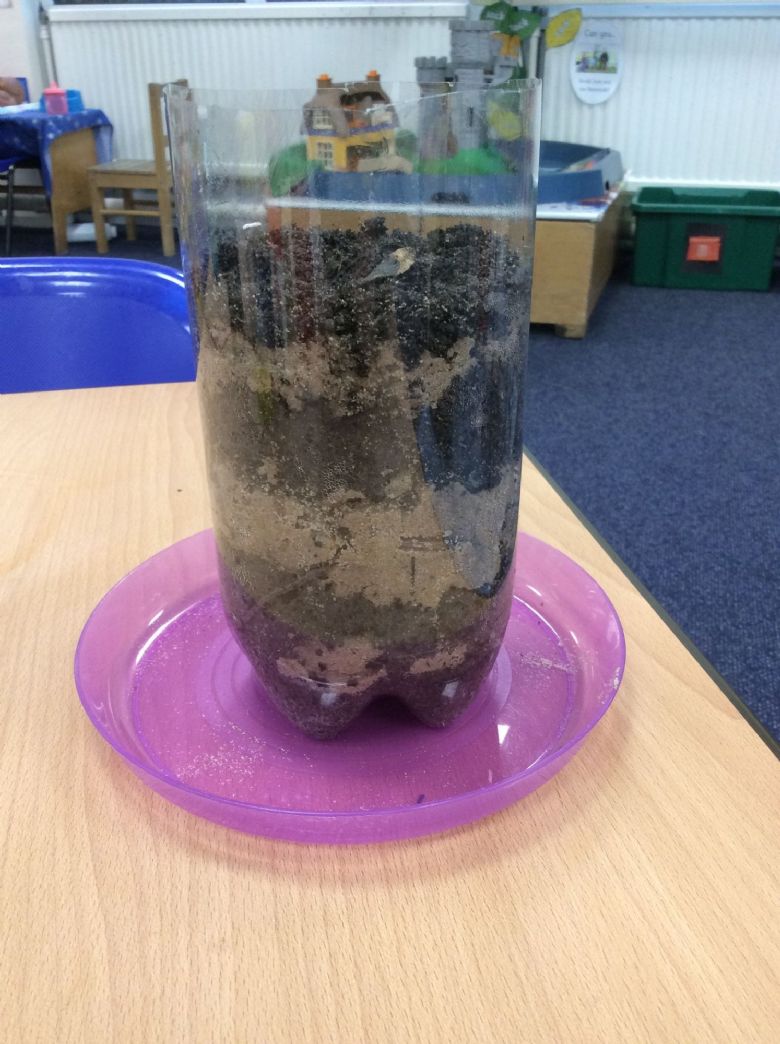 BEANSTALK!!
When we returned to school after the holiday, we discovered a giant beanstalk in Reception. Where has it come from? What could be at the top?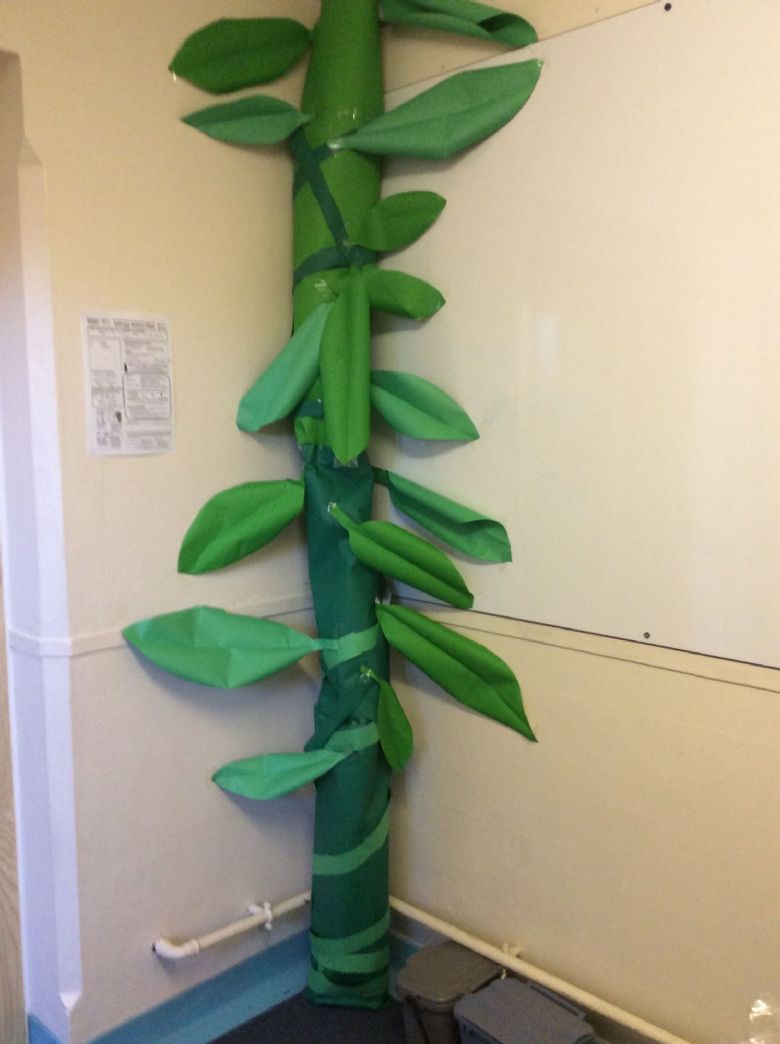 A great way to start our new topic Secret Garden and get the children thinking!
Spring Term 1 - Space
Maths
We have been using balance scales this week to weigh some space rocks sent to us by Spacemen Spencer. We have been using the language of heaviest and lightest. We felt the rocks and predicted which we thought felt the heaviest or lightest and then used the scales to check.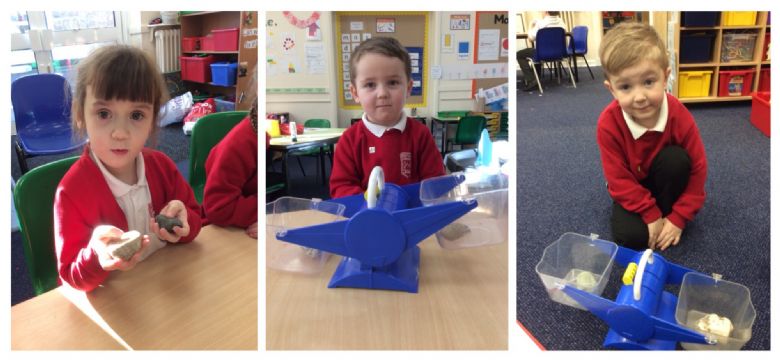 PE
We have started our new PE scheme called Real PE. Our focus this half term is on jumping. We have been learning to jump forwards, backwards, side to side and even adding a turn! We are trying hard to keep our feet together, bend our knees and use our arms to help us.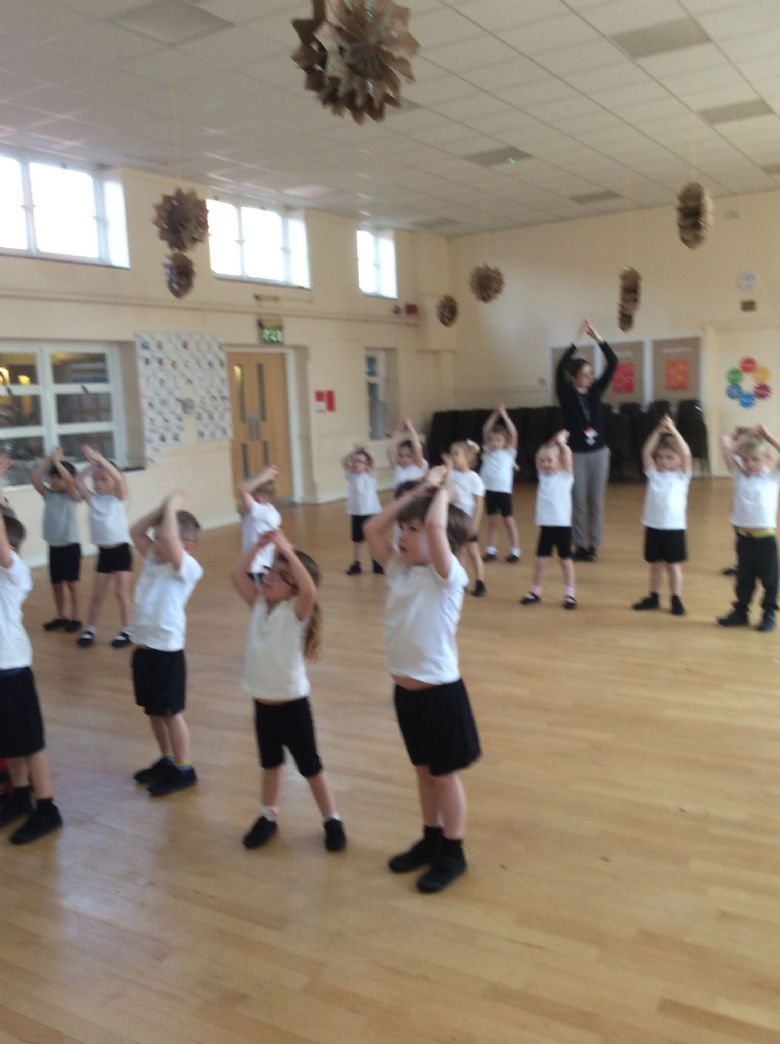 Our families came into school to help us make our rockets, we had lots of fun!
Thank you to those who came.
It was fantastic to see you and the children working together (and the tidying up was excellent too!).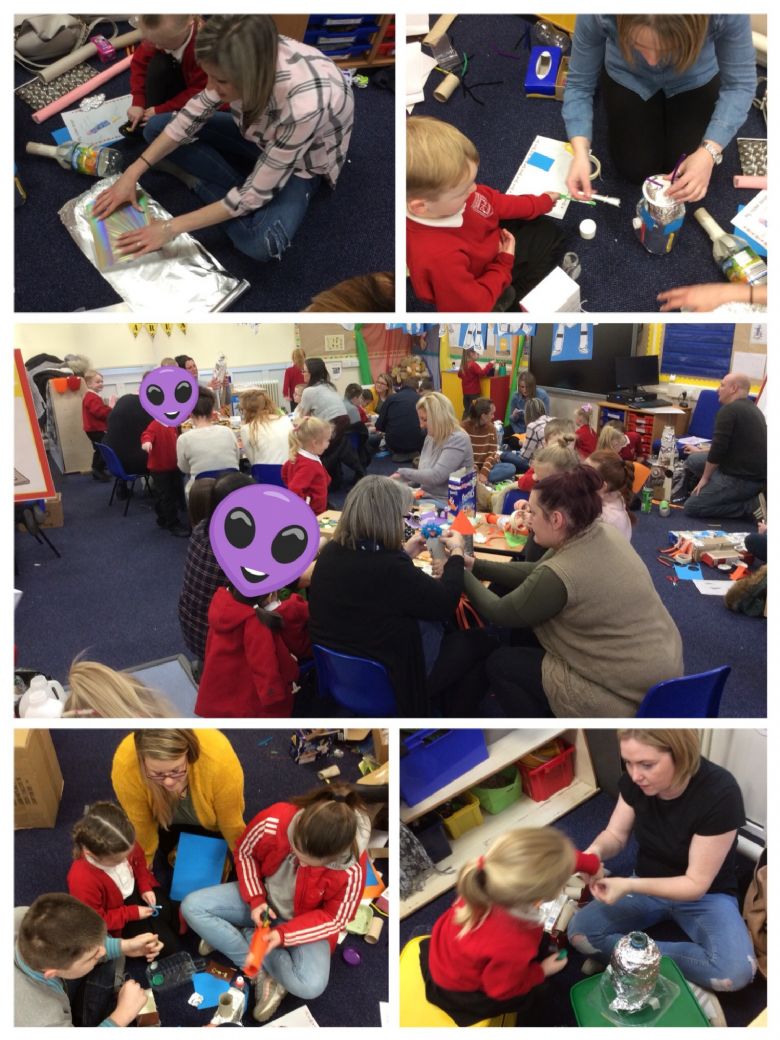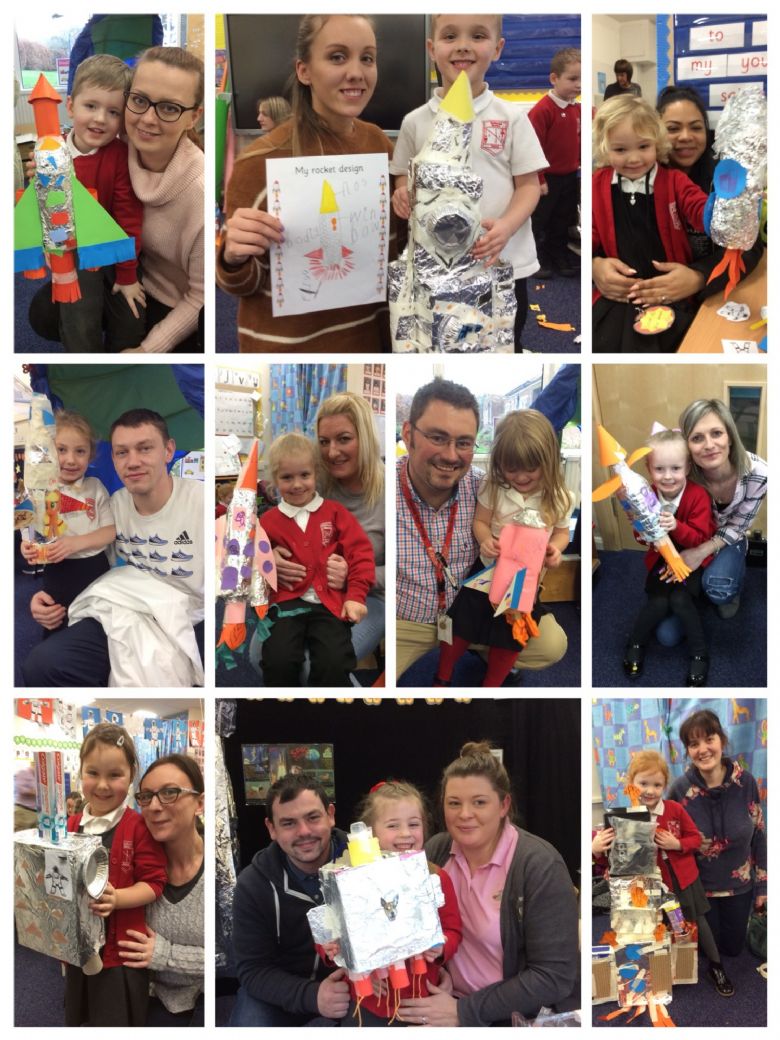 Then we received a letter from Spencer the astronaut explaining that his rocket had crashed and asking us to design him a new one.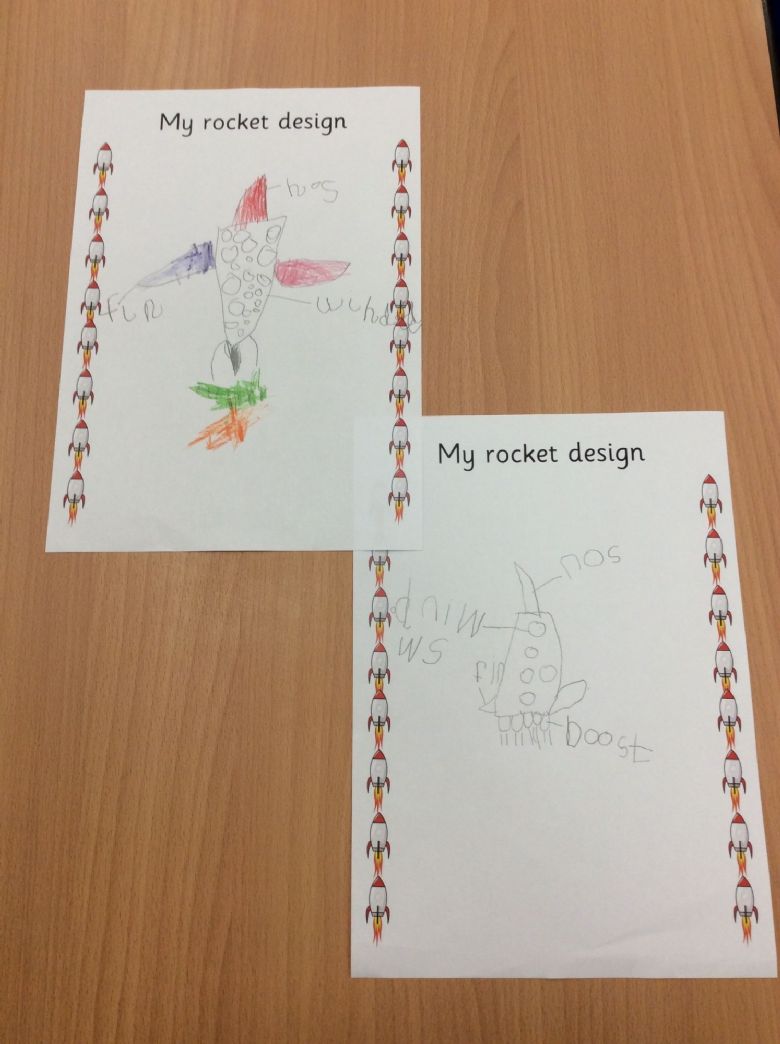 We made some guesses about what we thought they could be and why.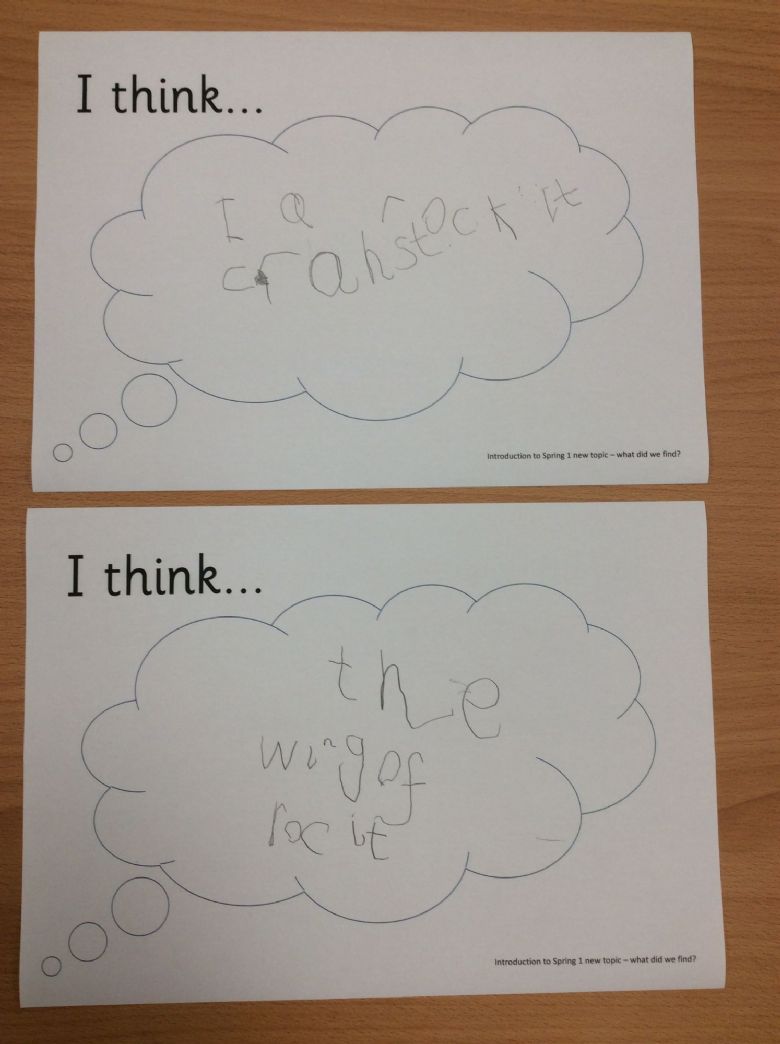 We had an exciting introduction to our topic when we found some mysterious objects outside.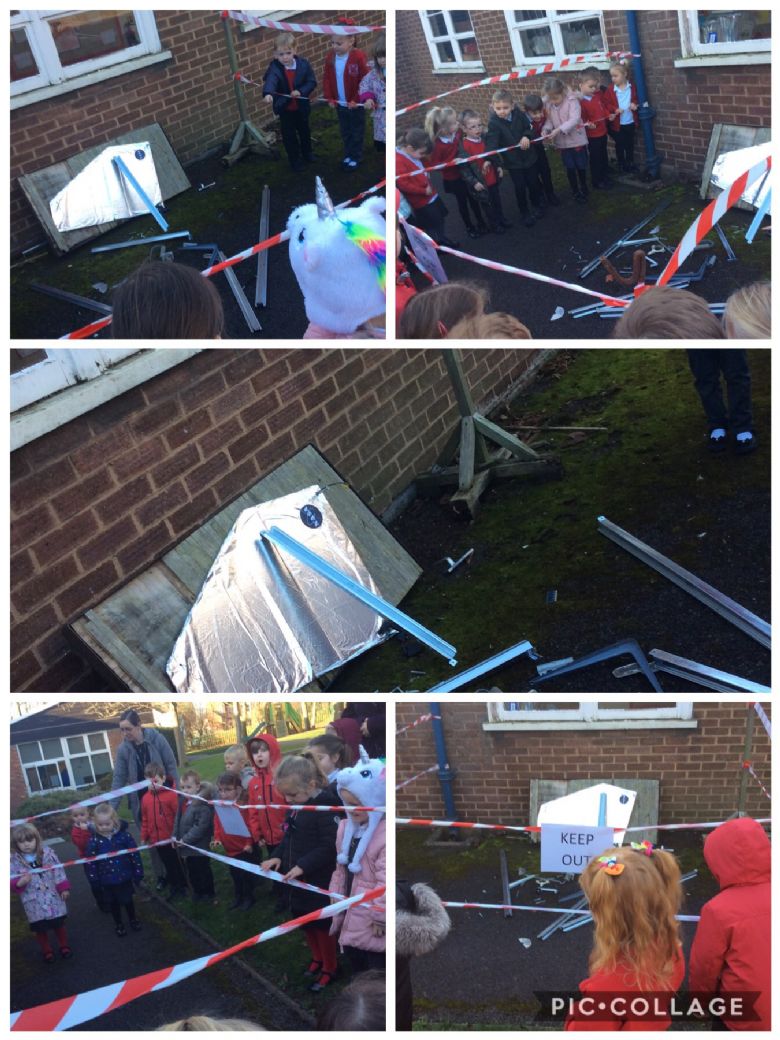 Autumn Term 2 - Let's Party!
Happy Christmas to all our families.
Thank you for your continued support this year and the kind gifts and wishes.
Christmas concert
A huge well done to all our Reception children for their amazing singing, dancing and story telling during the performances of 'The Little Blue Star.' They were all superstars and we are SO very proud of them, well done!
Wedding!
We had our own wedding in Reception. The children all looked very smart and had a lovely time. They experienced a pretend ceremony where everyone was upstanding for the bride and groom. We all enjoyed having food and a dance at the wedding reception!
Thank you for all the donations to the wedding buffet:)
Coats
Now that the colder weather has arrived, we are working hard to learn how to do up our own coats. Is your name on the coat yet? If not keep practising!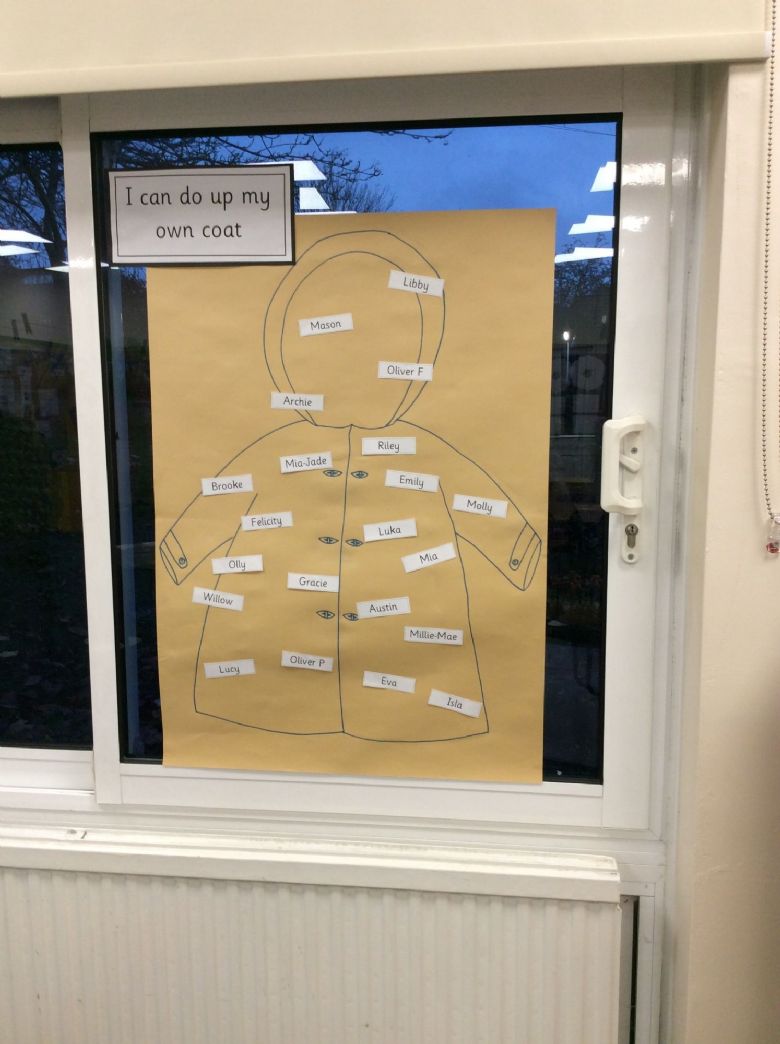 Road Safety
Last week we had a visit from 'Road Safety Katie'. She taught us all about how to cross the road safely with help from her friend Warwick Bear. We learnt that before we cross a road we must
Stop
Think
Look
Listen
and Hold Hands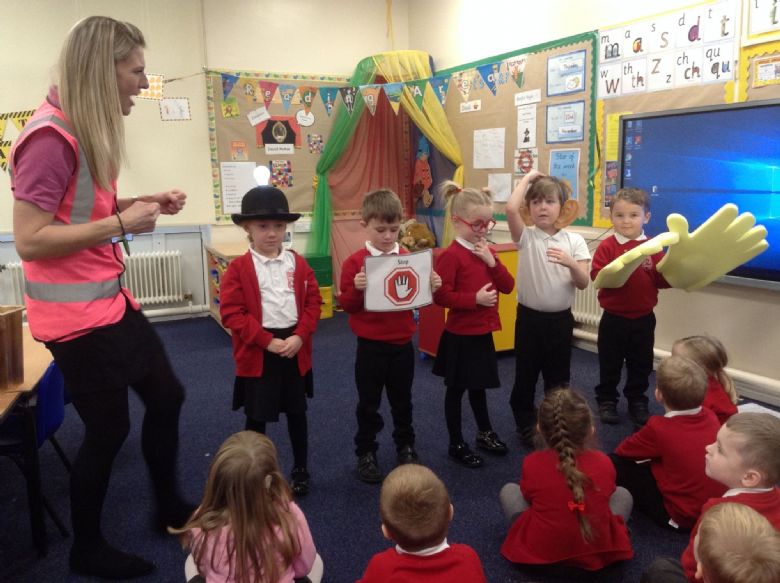 Children In Need
We all looked fantastic and colourful when we put our own clothes on for BBC Children In Need the other week! RDO were the first class to put our donations onto Pudsey.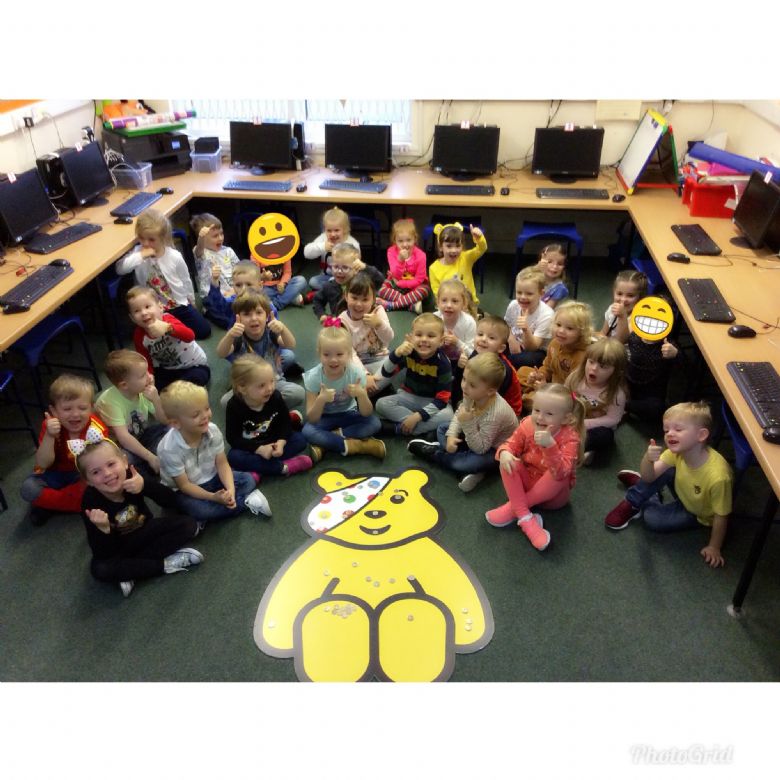 After this we got very busy mixing...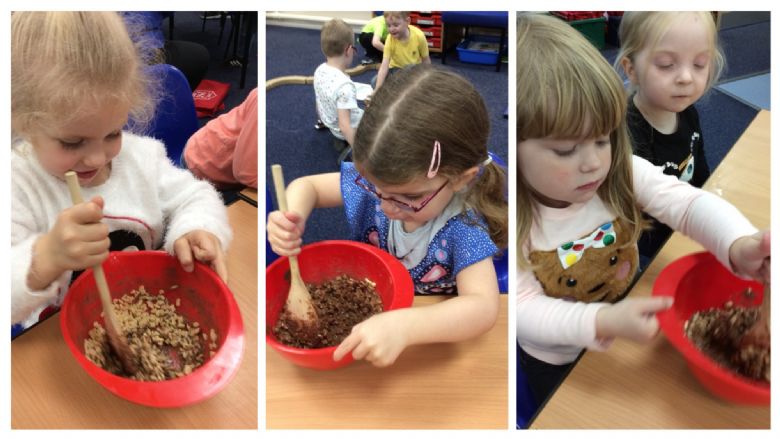 Spooning...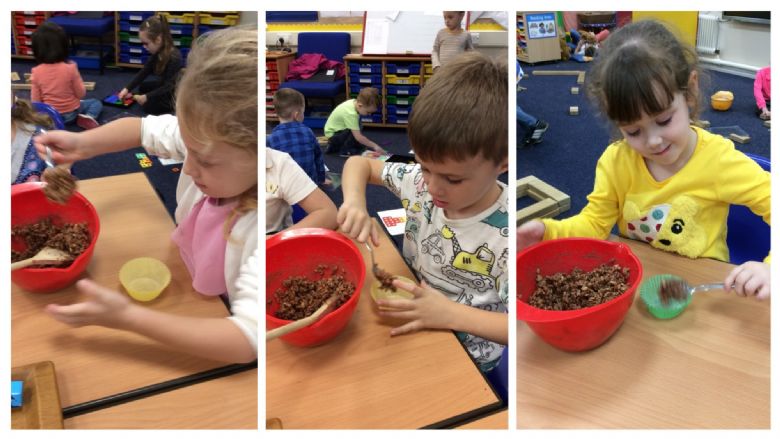 And finally decorating our super, spotty Pudsey chocolate crispy cakes!
Remembrance
We learnt about Remembrance Sunday and why people wear poppies.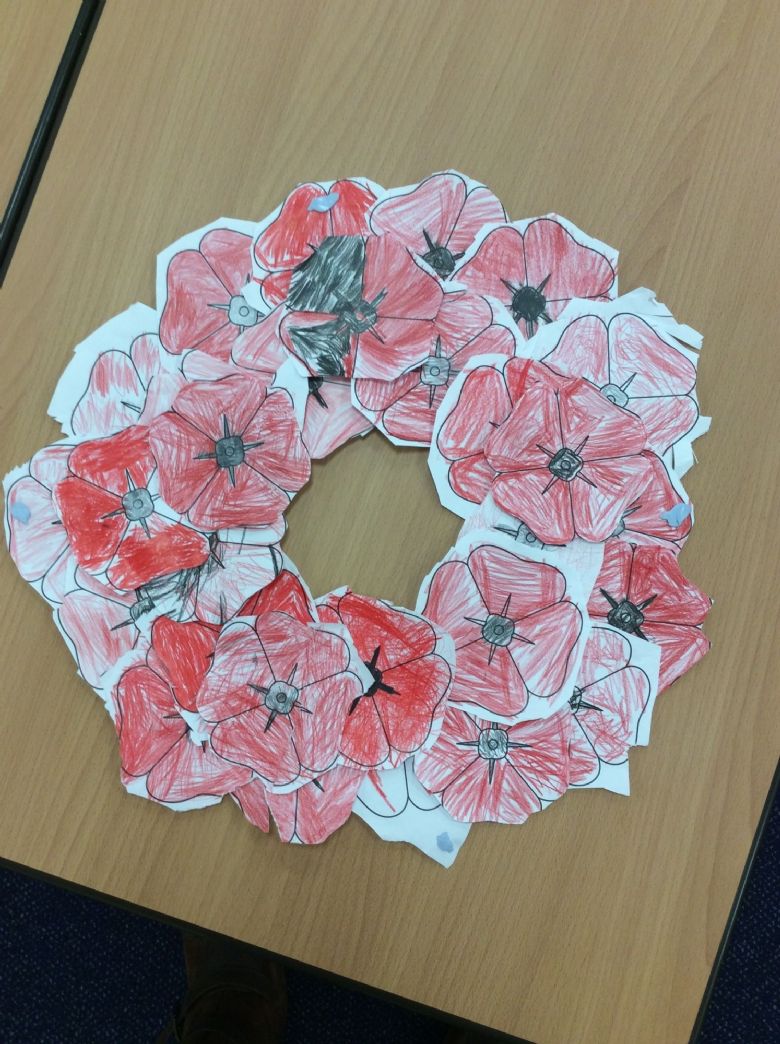 Some of us enjoyed making our own memorial poppy pebble and putting in in our special garden.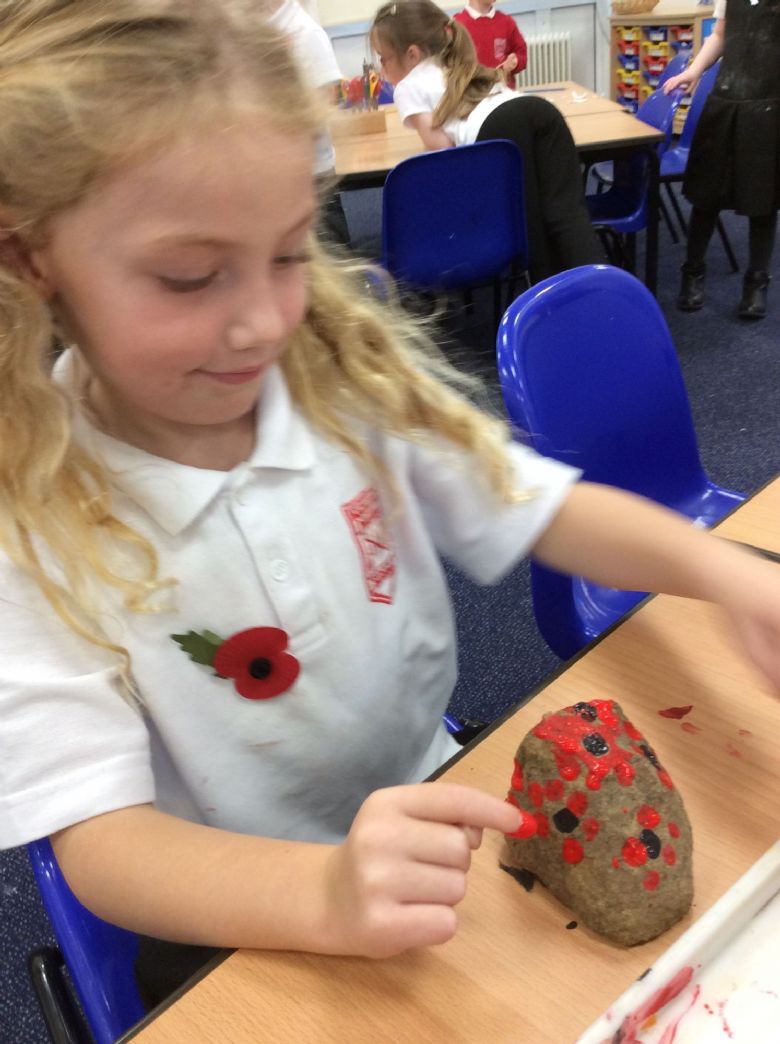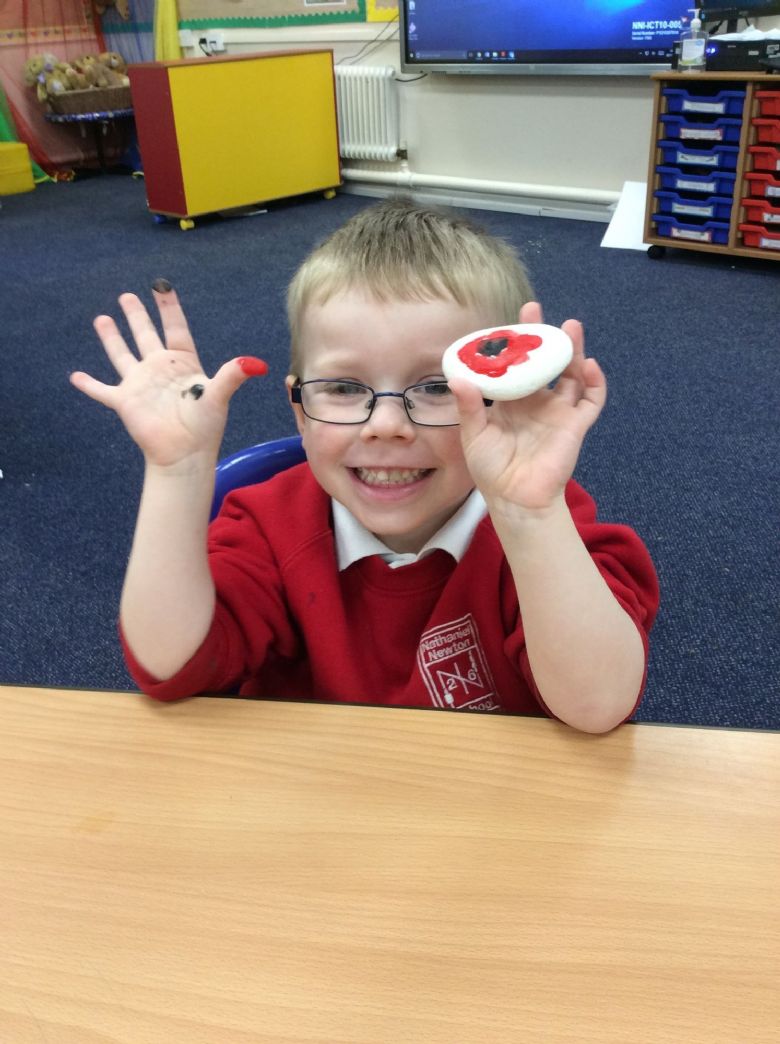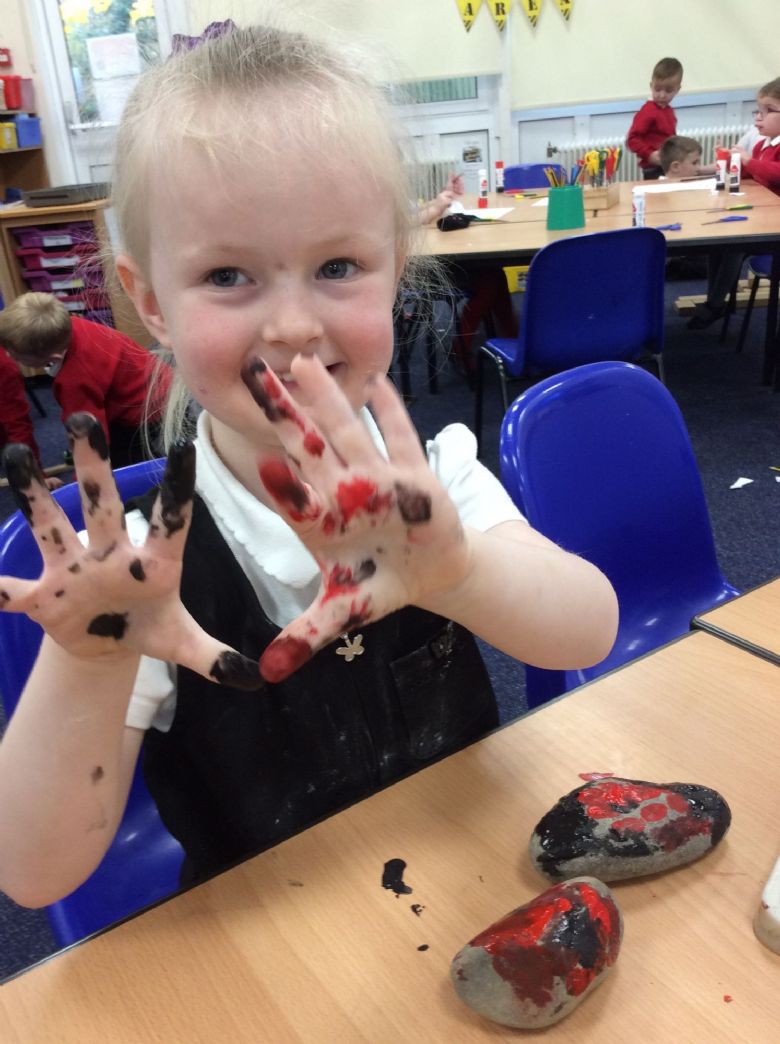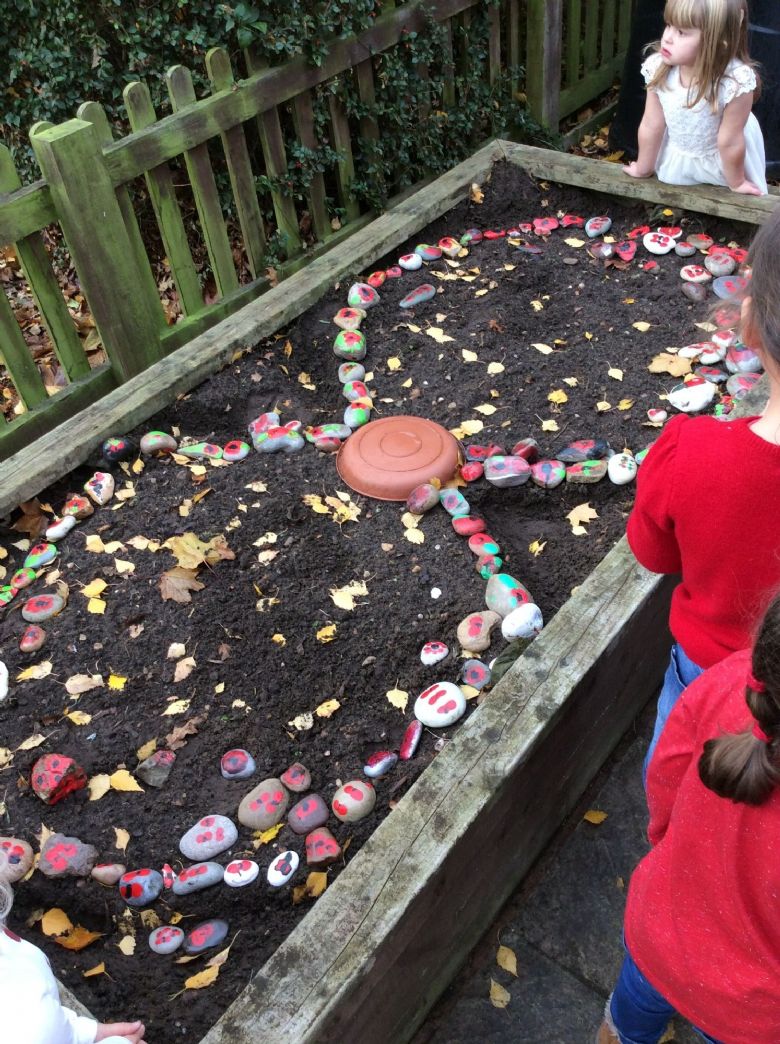 Bonfire Night
Remember, remember the 5th of November,
Gunpowder, treason and plot...
We have been learning about Guy Fawkes and enjoyed having our own bonfire party. We sang songs around the fire and enjoyed drinking hot chocolate and eating marshmallows to celebrate!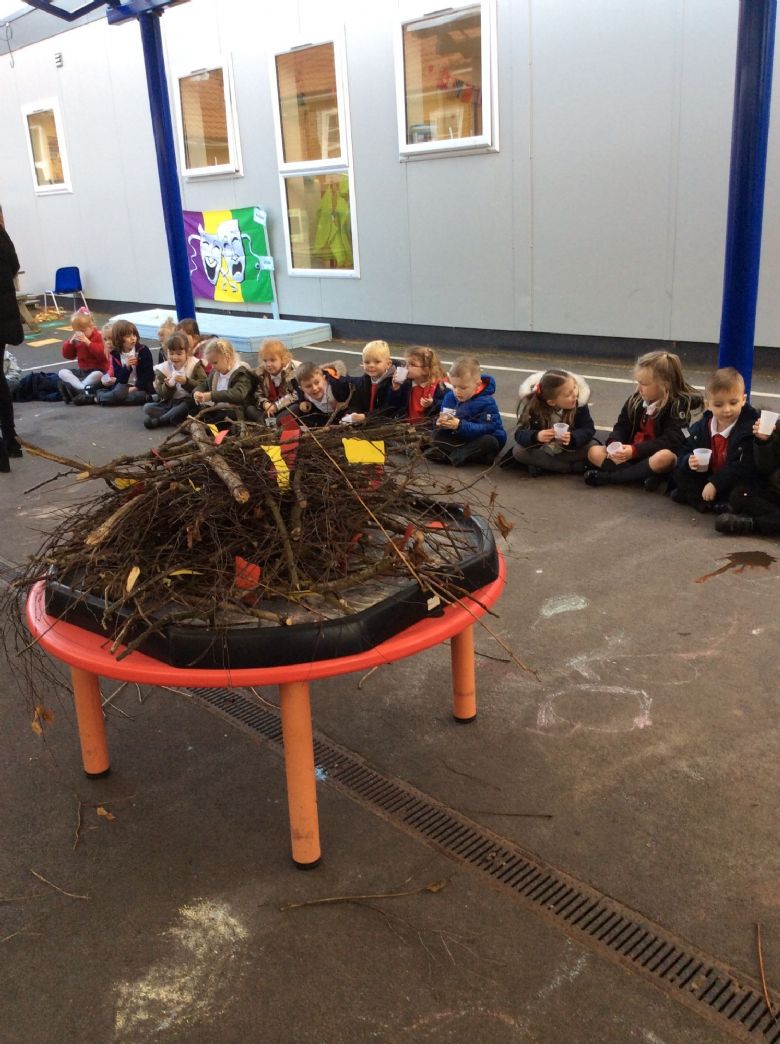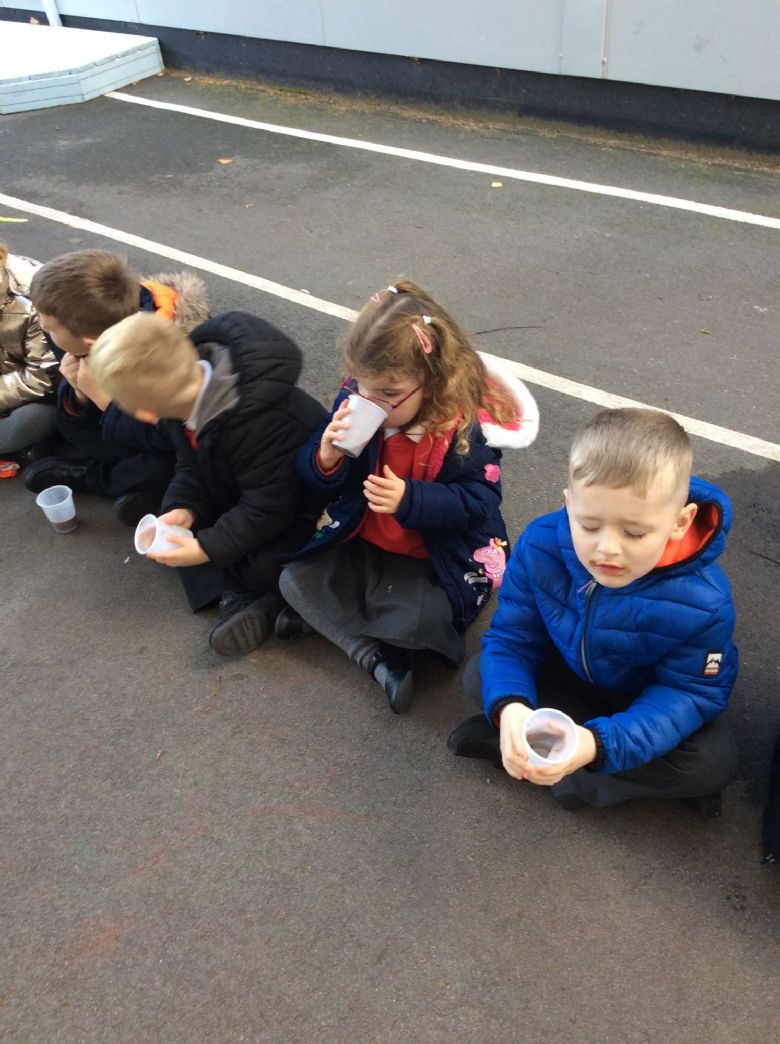 Autumn Term 1 - All about me
Writing letters
We have been learning lots of sounds in phonics and are getting very good at writing the letters to match each sound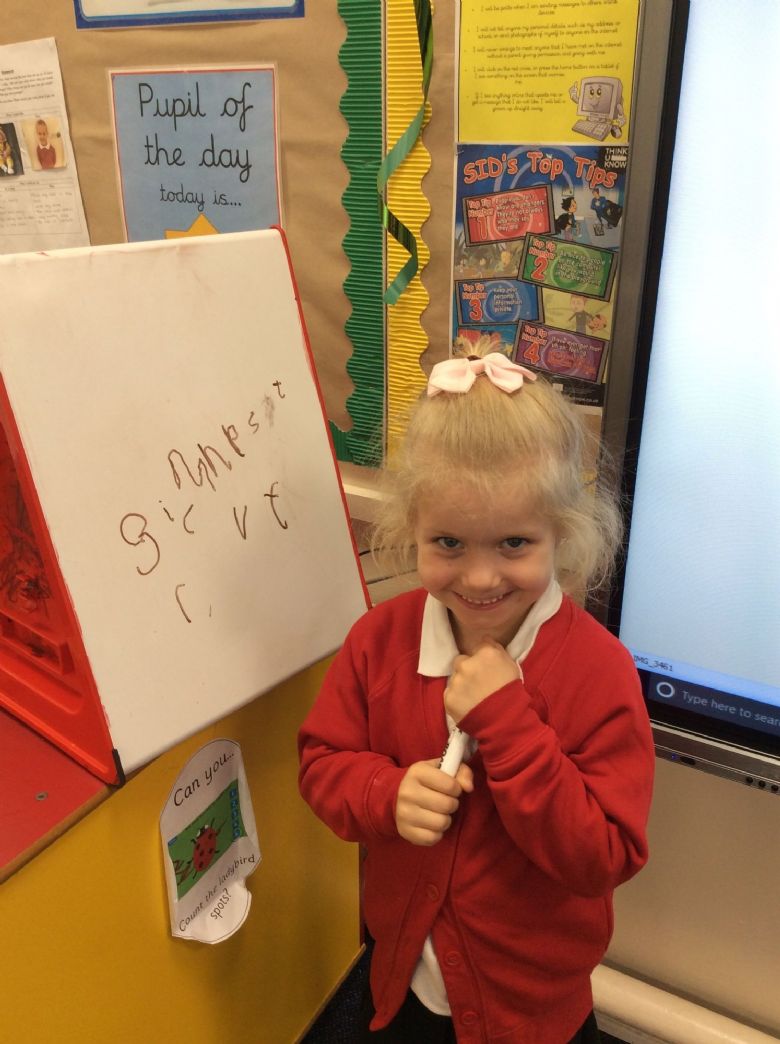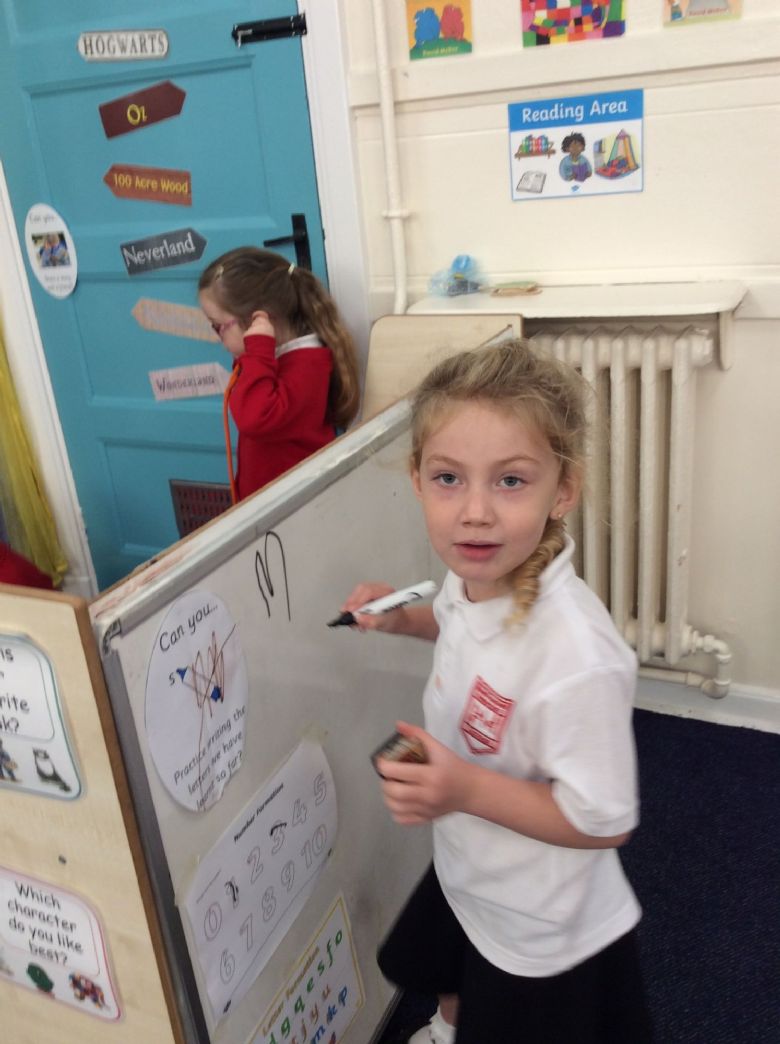 Using scissors
We have been practising our cutting skills. We used a rhyme and put a smiley face on our thumb nail to help us hold our scissors correctly
Two fingers on the bottom and a thumb on the top,
Open the mouth and go chop, chop, chop!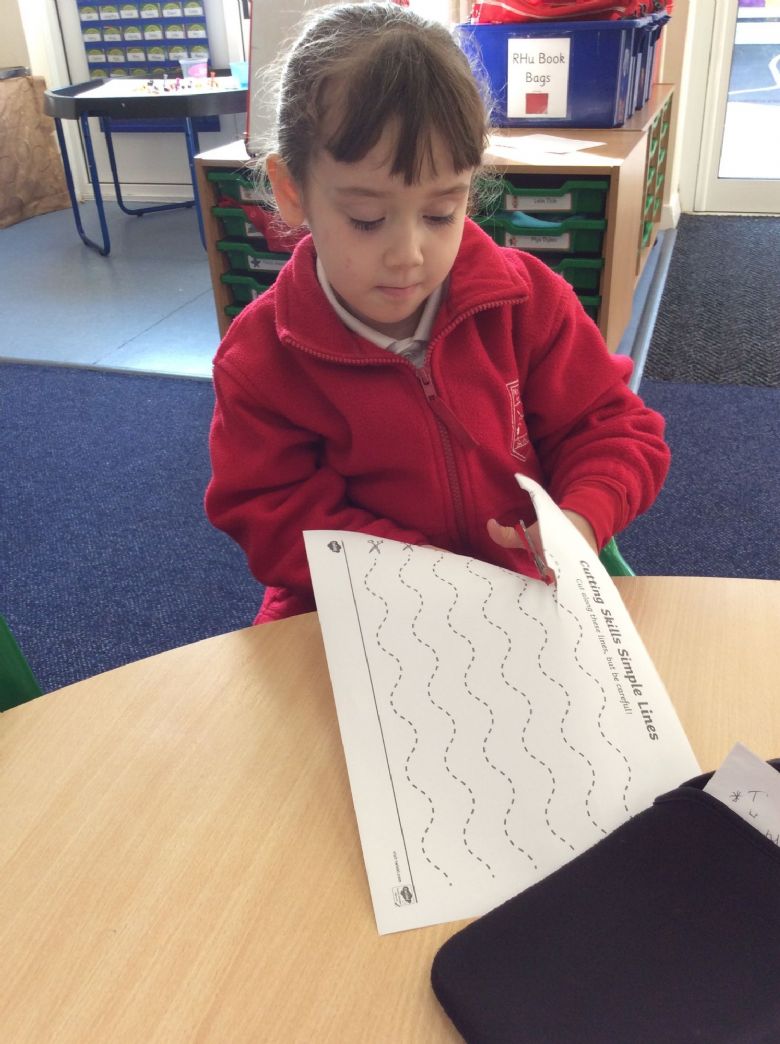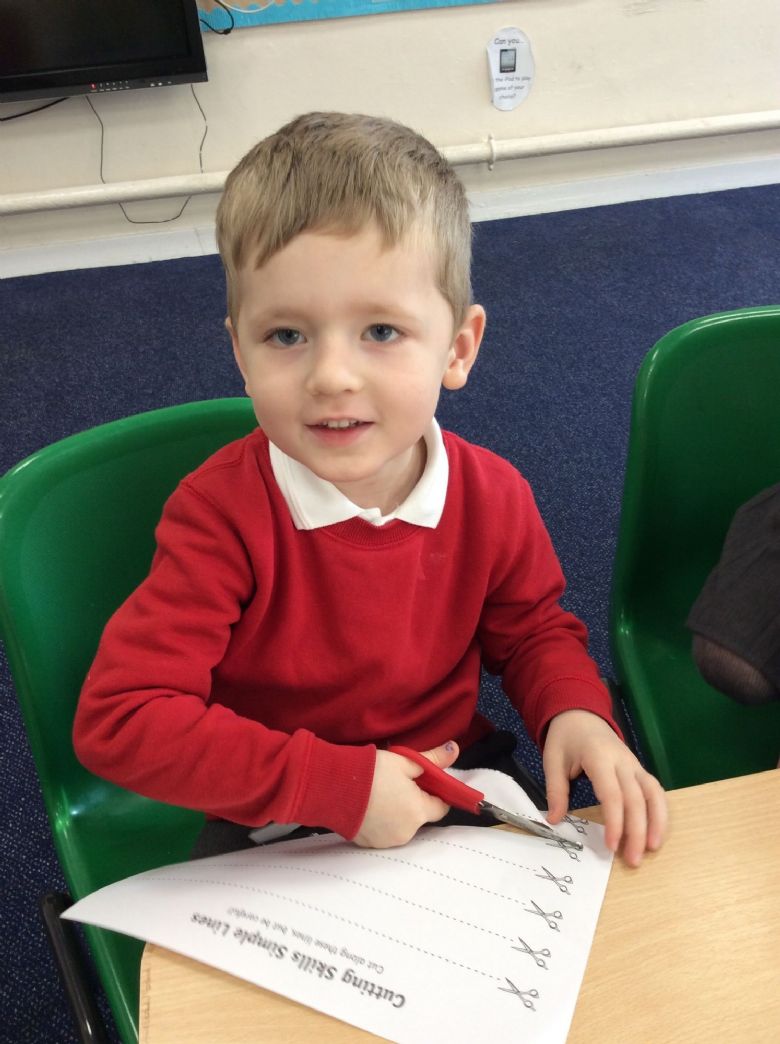 RDO have made a super start to school. The children have been exploring activities in the classrooms and outdoor area and have made lots of new friends.
Have a look at some of the things we have been doing:
Taking on the role of Doctor!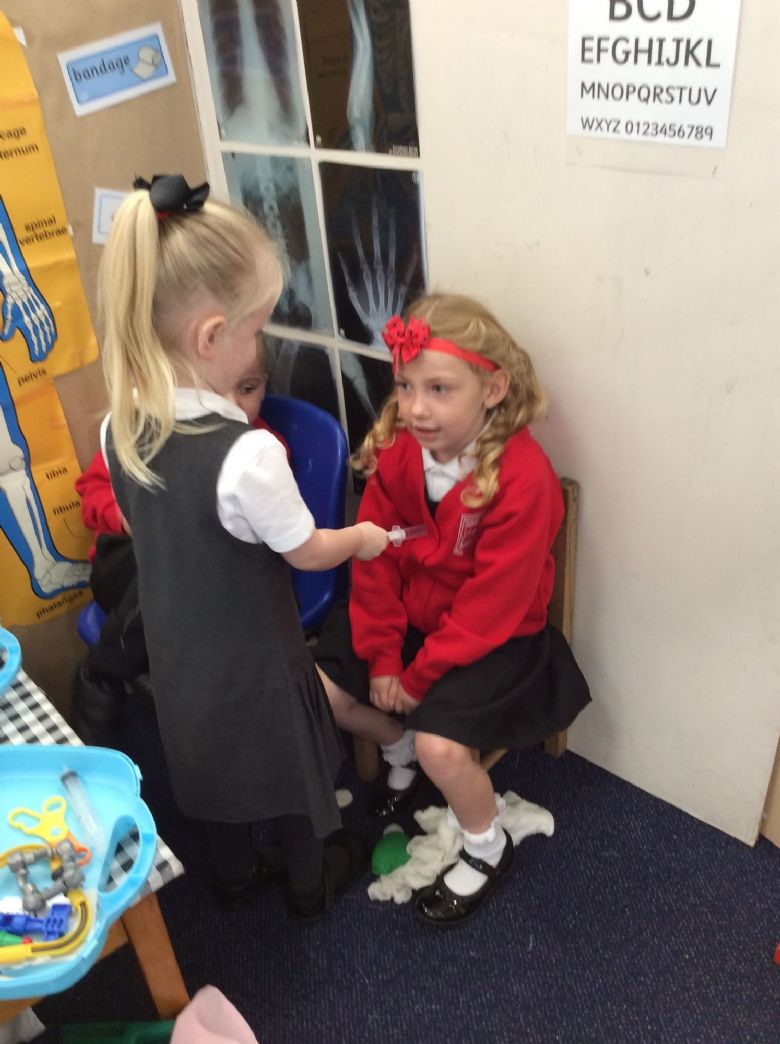 Counting different things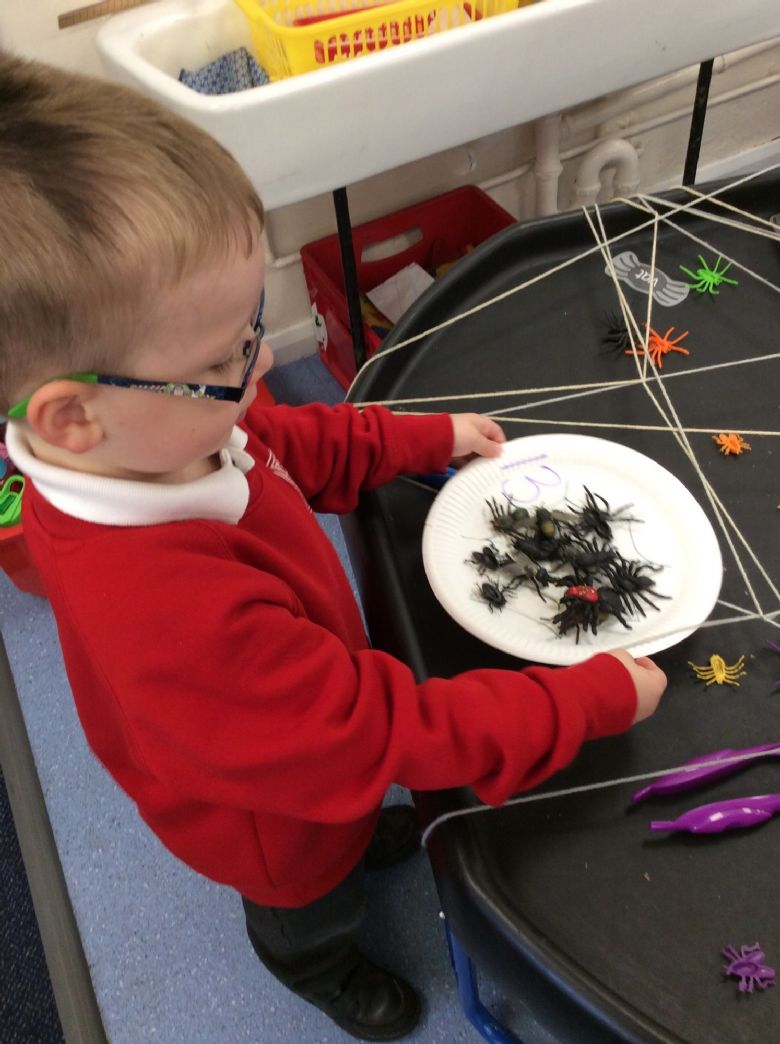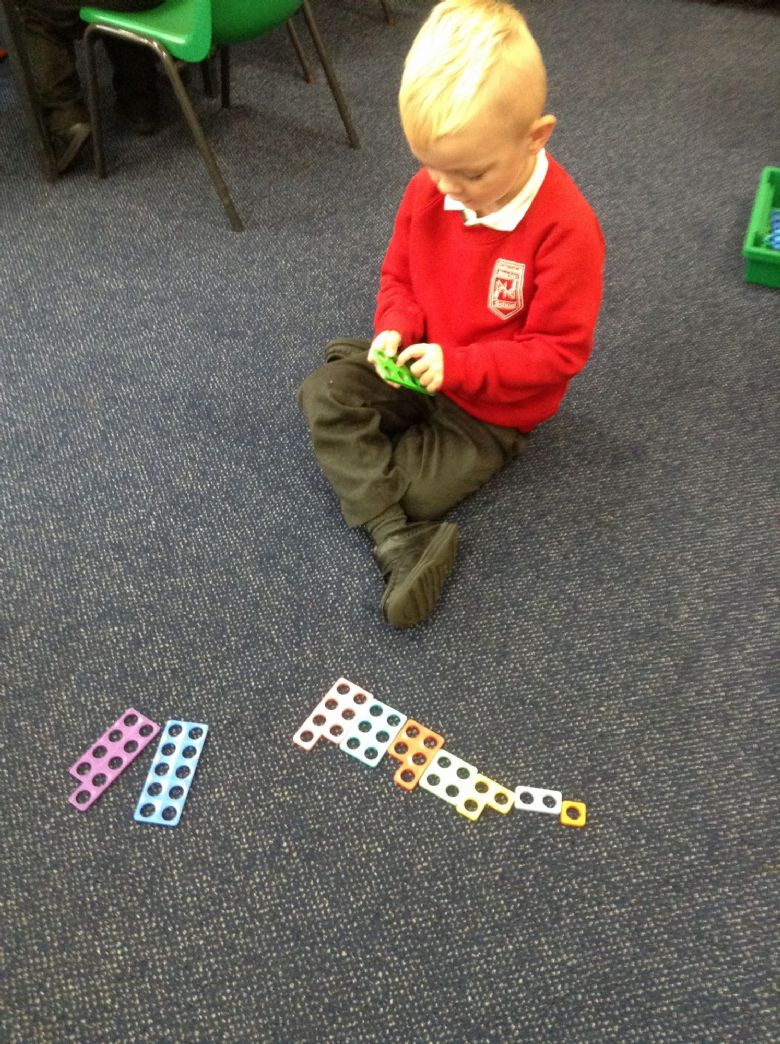 Developing our physical skills outside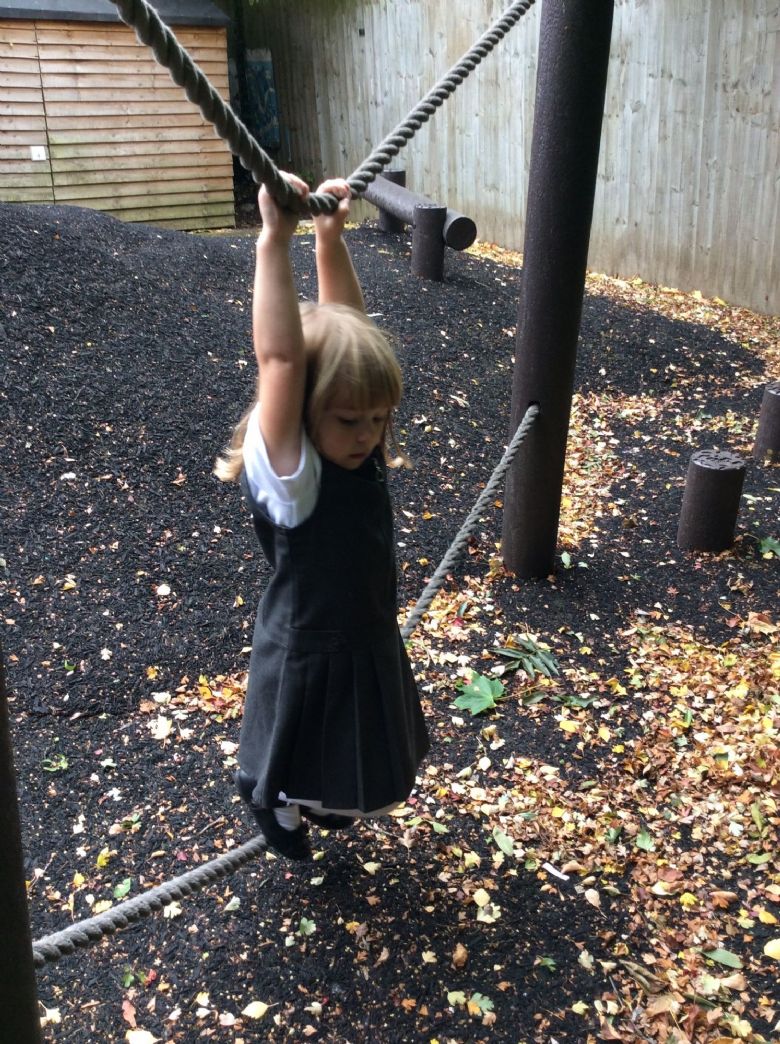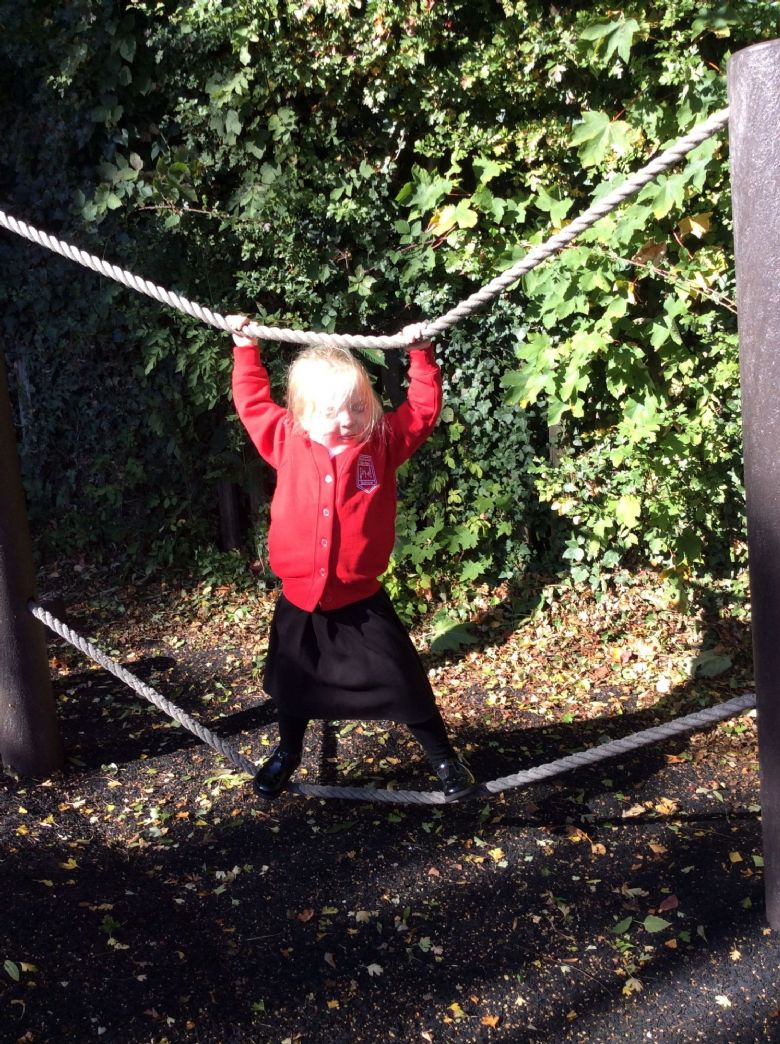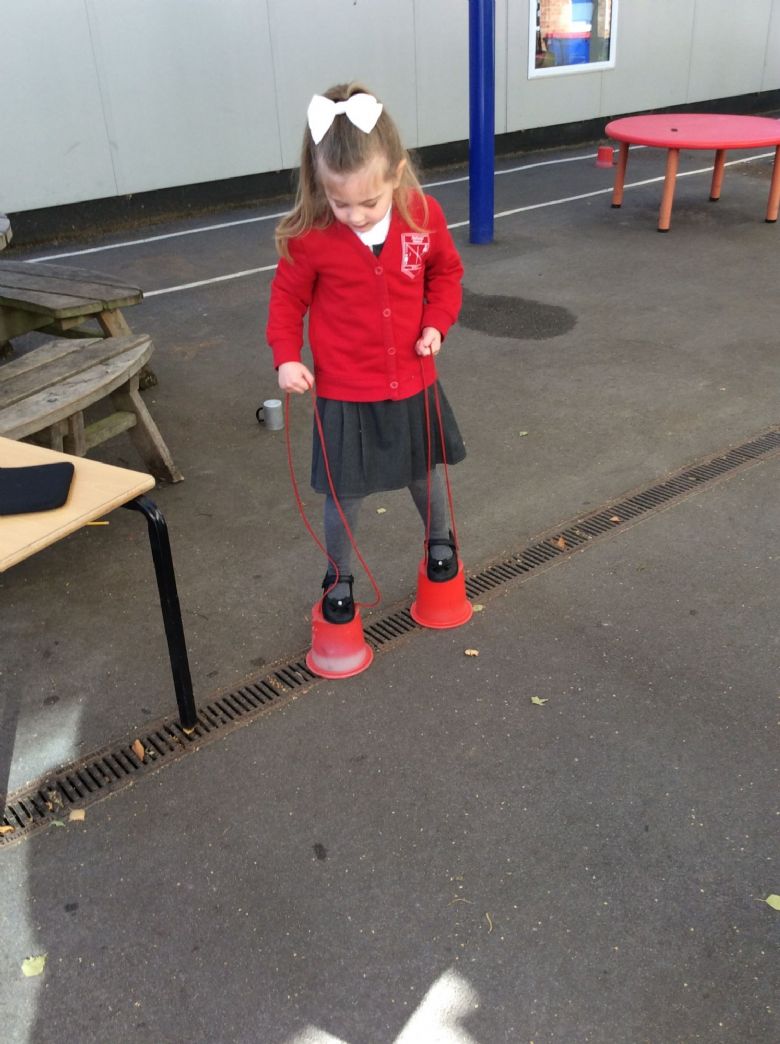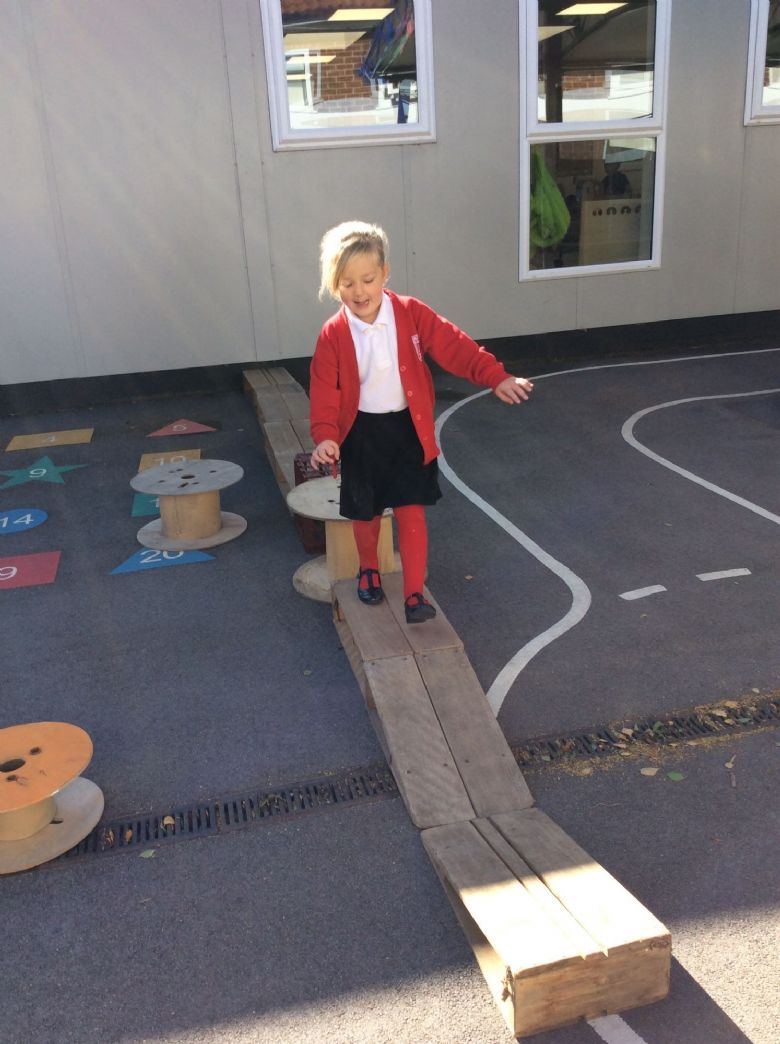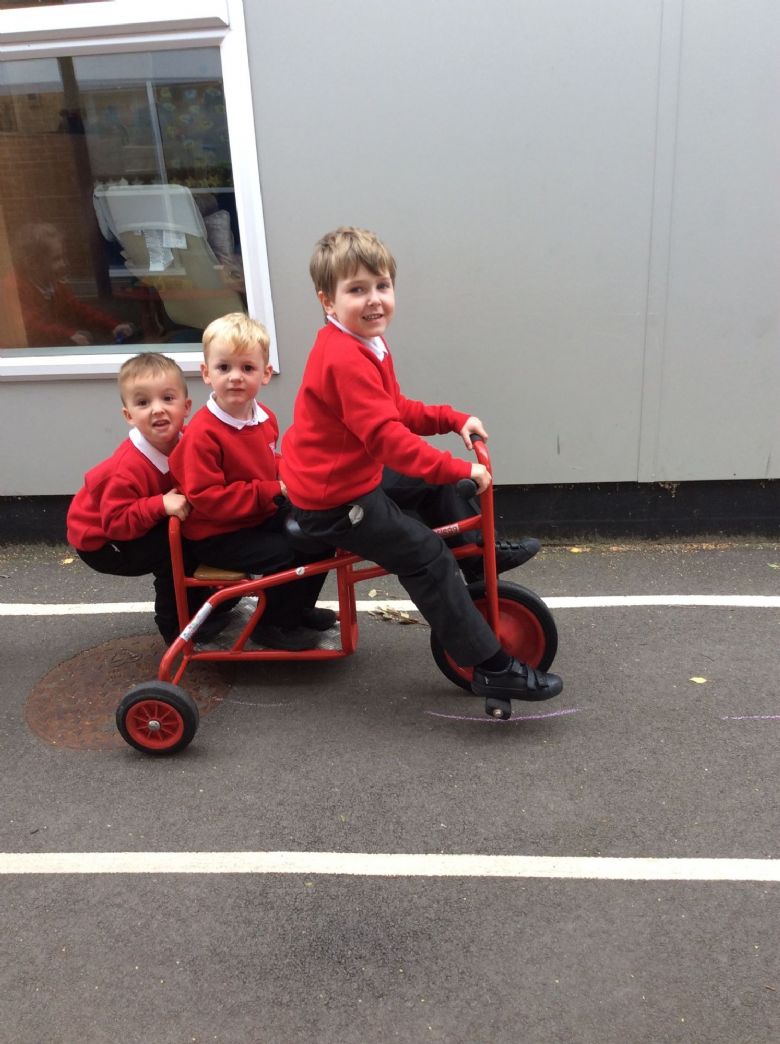 Exploring cornflour!
The children enjoyed mixing the cornflour and water and commented that it felt slippy and slimy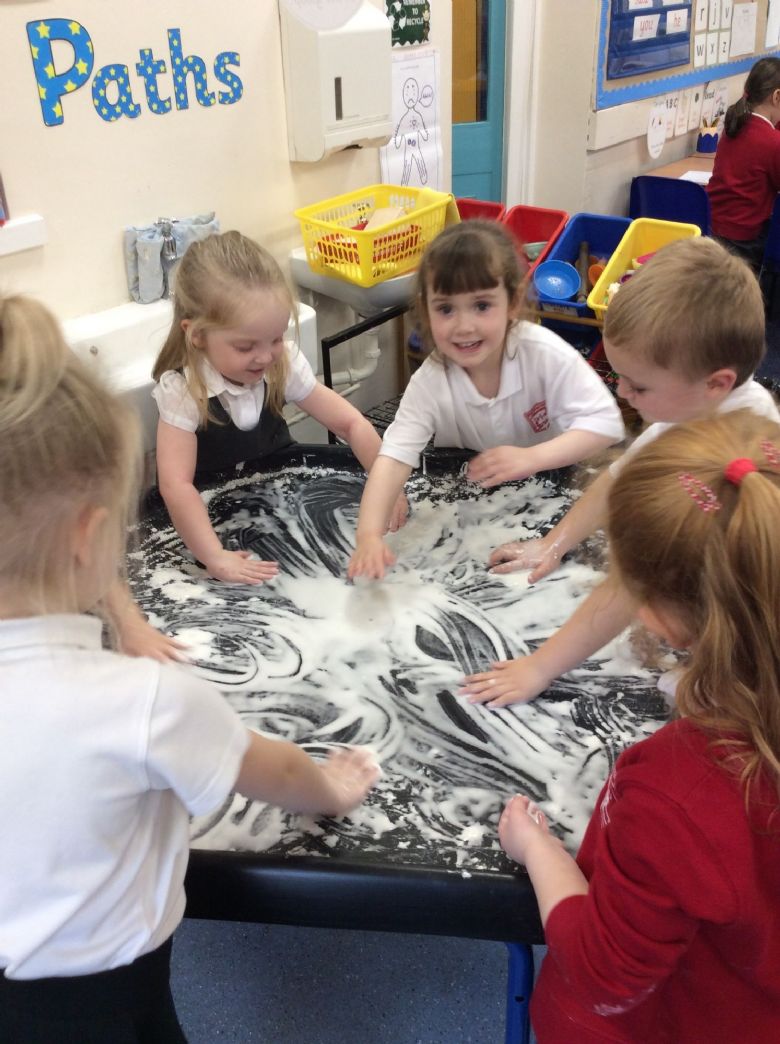 Constructing
The children enjoy making different things and are showing good concentration