In this section...
Goodbye Mrs Tompkins!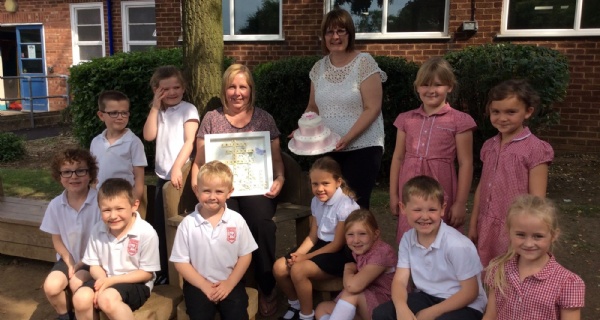 Our farewell assembly for Mrs Tompkins.
On Wednesday we held a special assembly for Mrs Tompkins who is leaving us at the end of this term and taking early retirement. She has been a teacher here with us for 20 years, and has bought her own special brand of teaching and fun to hundreds of children in that time. We managed to keep the assembly a surprise in the main, although some children have asked a few questions which aroused suspicions! Reception children painted some wonderful pictures of her, with added sparkle in honour of her love glitter and bling. We know that singing is one of her favourite things, so Year One learned and performed a rap dedicated to her and Year Two re-invented one of our assembly songs with words written just for her. The children all made cards for her and presented them at the end. They all did brilliantly well and a very emotional Mrs Tompkins was lost for words. We will all miss you very much Mrs Tompkins!