In this section...
CONTACT US!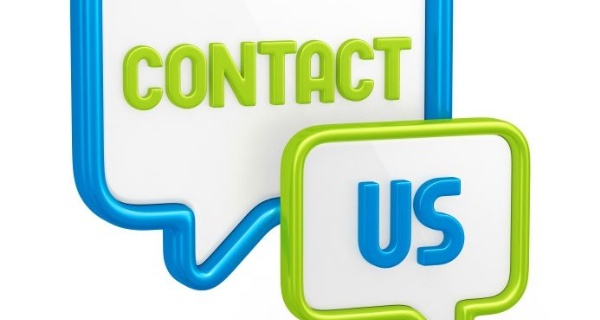 If you need to contact the school you can do so in a number of ways -
Emergency Covid 19 positive test reporting line
If your child should receive a POSITIVE Covid 19 test result when the school is closed (between 4.15pm - 8am and during the weekend, please call the following number to report this so we can make the necessary arrangements as soon as possible.
07726 611994
This number will be constantly monitored between 6am - 11pm but should be used ONLY for reporting positive cases. If the school is open please ring the school number - 02476 392236
Email - admin2029@welearn365.com
Get in touch via text/message via MyEd
Call - 02476 392236 (answering machine messages will also be accessed)
Facebook - via a direct private message
Contact your childs class teacher directly using the following email addresses:
Mrs Lowen - rlo@welearn365.com
Mrs Doherty/Mrs Hancox - rdh@welearn365.com
Mrs Ireland - rir@welearn365.com
Miss Bilic - 1bi@welearn365.com
Mrs Fussey - 1fu@welearn365.com
Mrs Dicken/Mrs Varney - 1dv@welearn365.com
Miss McGrath - 2mcg@welearn365.com
Miss Ford - 2fo@welearn365.com
Miss Cooper - 2co@welearn365.com
Safeguarding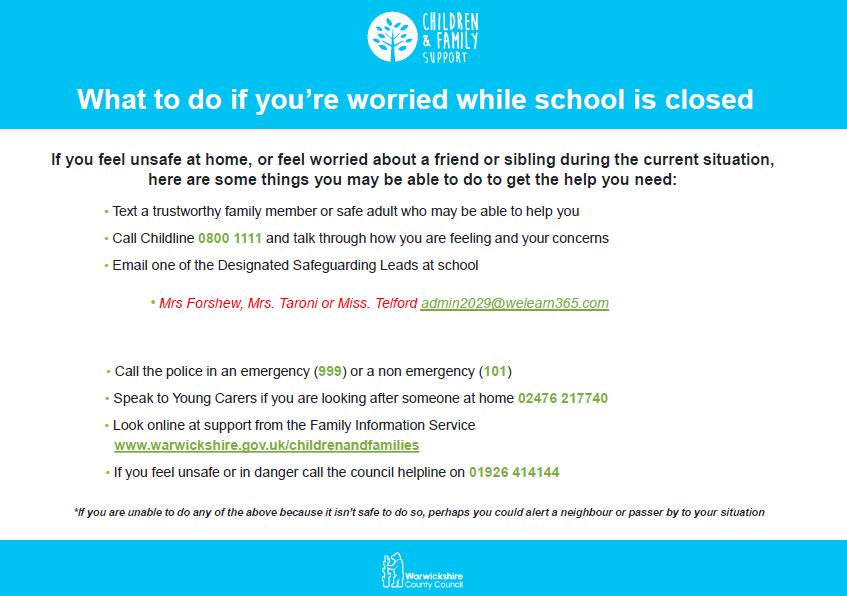 Our designated safeguarding leads are Mrs Forshew, Mrs Taroni and Miss Telford. They are always available to contact by emailing
admin2029@welearn365.com
Other useful support sites
Warwickshire Welfare Scheme - www.warwickshire.gov.uk/localwelfarescheme
Family Information Service - www.warwickshire.gov.uk/childrenandfamilies
Domestic Abuse Helpline - www.nationaldahelpline.org.uk
Citizens Advice Service - www.citizensadvice.org.uk
Samaritans Helpline - Call 116 123 or email jo@samaritans.org
Young Carers - Call 02476 217740
Childline - Call 0800 1111
Bereavement support -
Visit- www.nhs.uk/conditions/stress-anxiety-depression/coping-with-bereavement/
Email- helpline@cruse.org.uk or call 0808 808 1677
Read- Bereavement guidance for adults supporting children and young people​​​​​​​