In this section...
2McG - Miss McGrath
Welcome to our class page!
London's Burning
This week we have been creating our own art pieces which reflect The Great Fire of London. First we tore strips of red, yellow and orange tissue paper and vertically layered the pieces on to an A3 piece of paper. Once it had dried, we then cut strips of black paper and created houses from them. Afterwards we glued a speech bubble onto our design with what we would say if we were in the fire!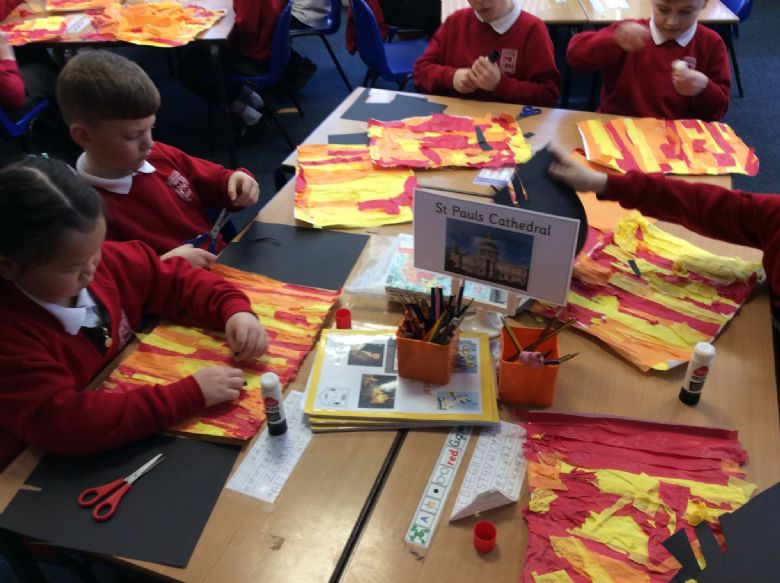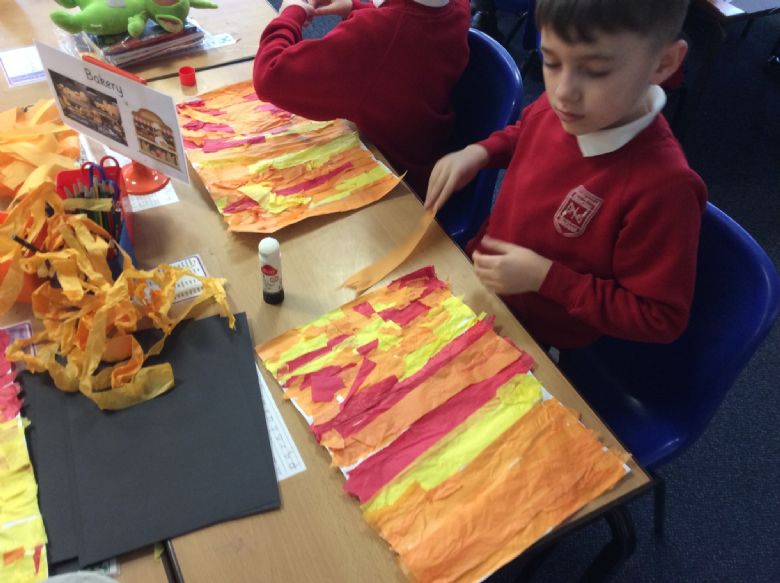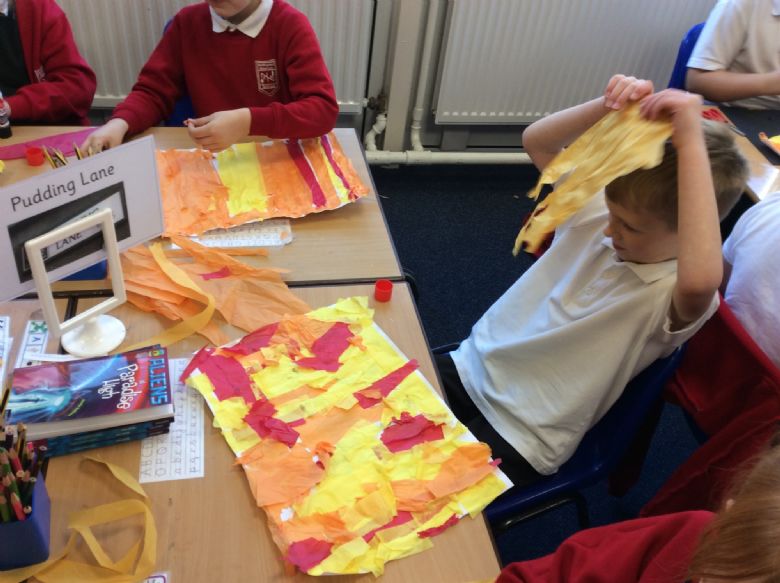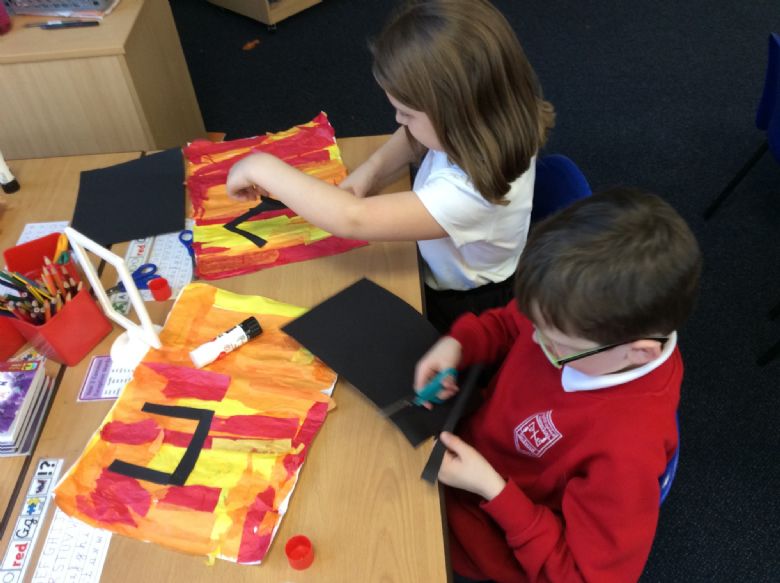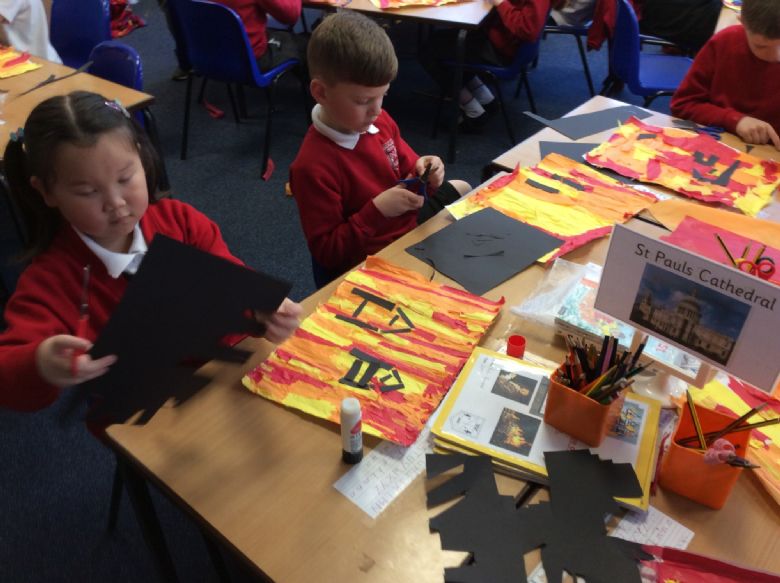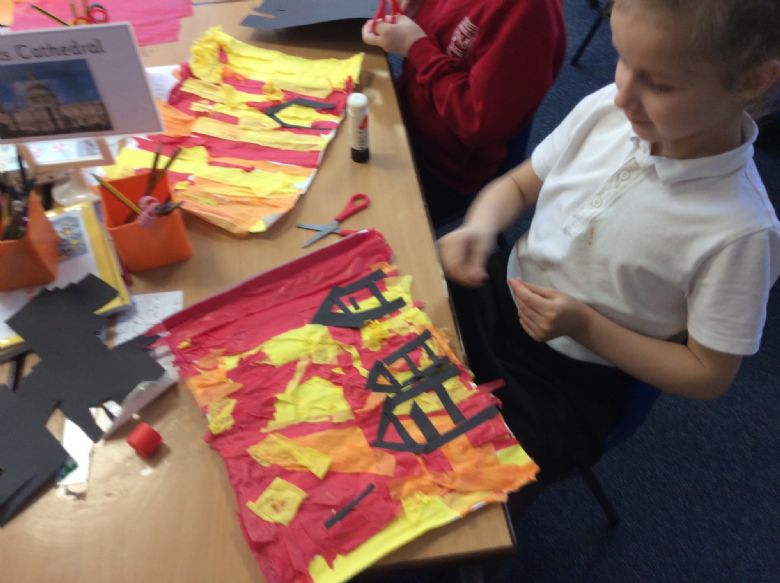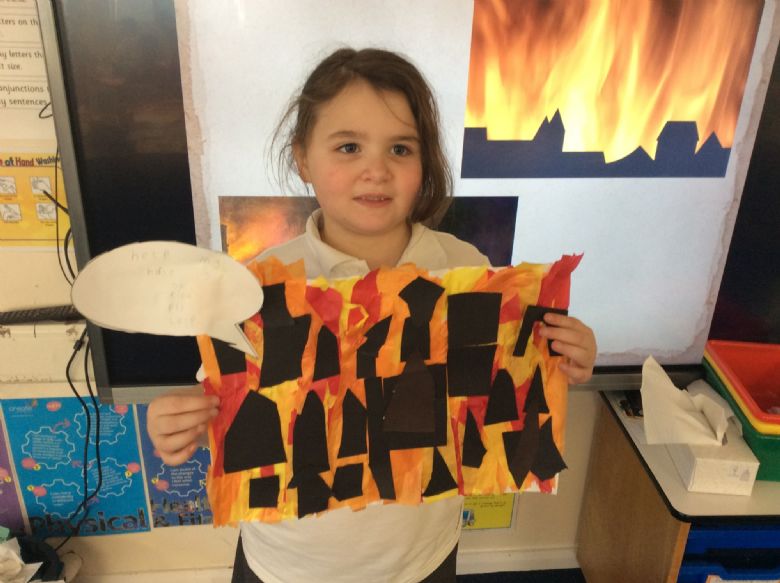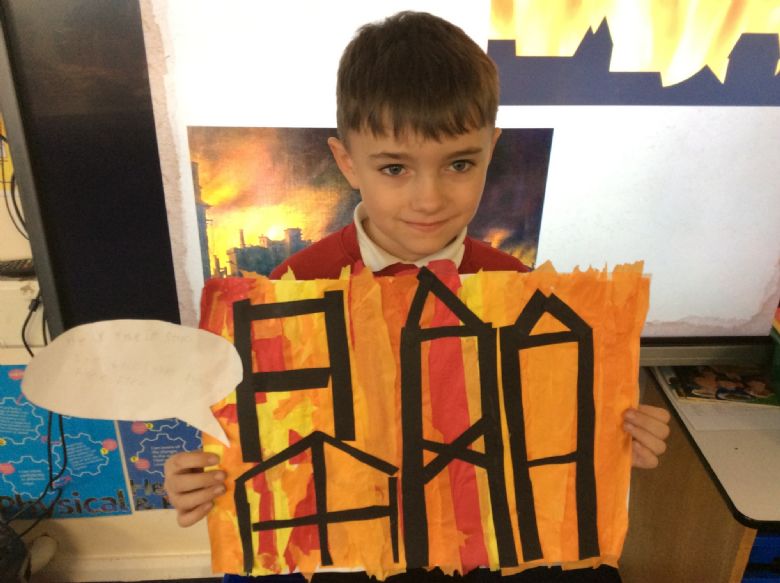 Core!
In PE over the last 3 weeks, we have been working really hard on developing our abodimal muscles. We have been working hard on lifting our feet and hands off the ground and using our tummy muscles to balance up. We started by only staying in this position for 10 seconds and then we moved onto staying in this position for 20 seconds. Then in this position we moved a cone from side to side again without putting our hands or feet on the ground. We found it tricky at first but by the end of the 3 weeks we found in much easier!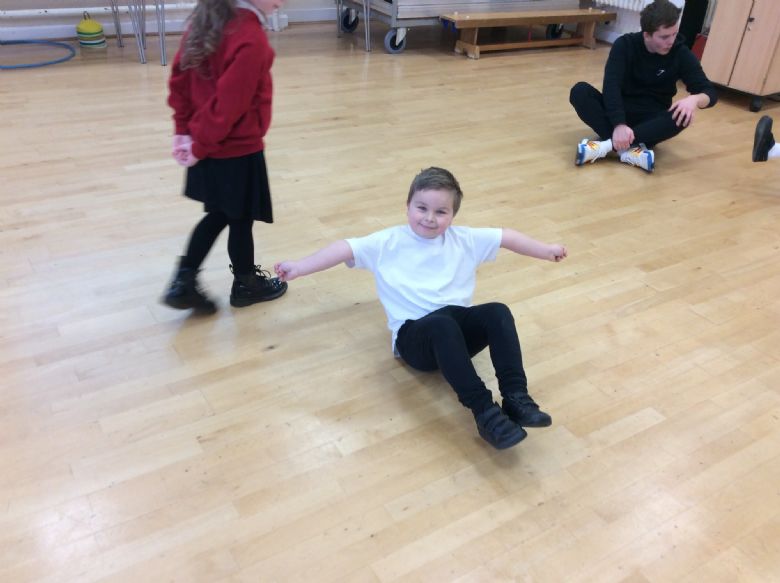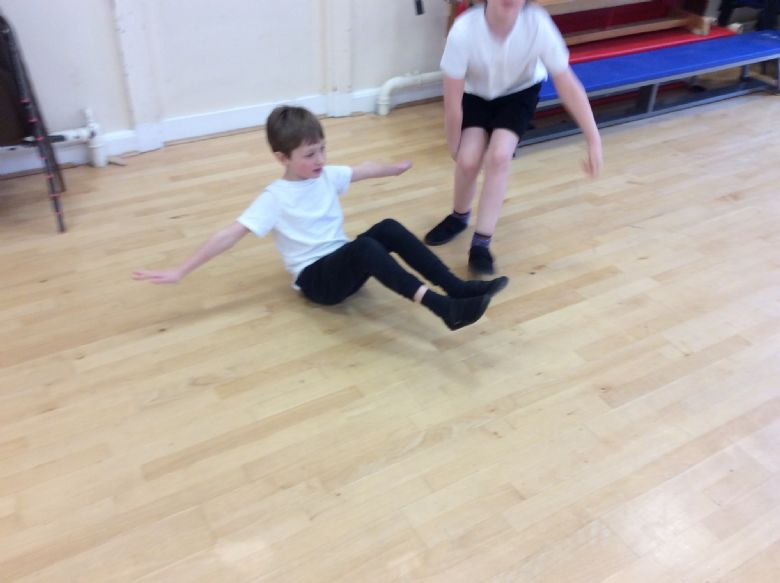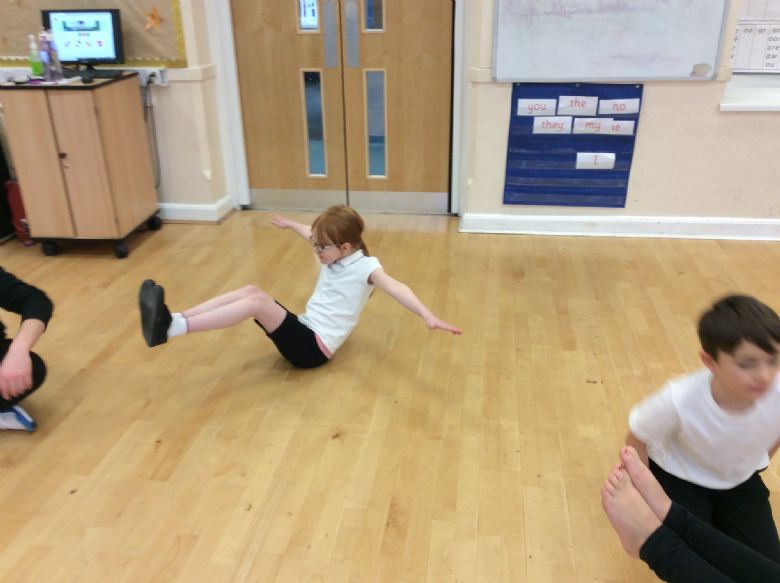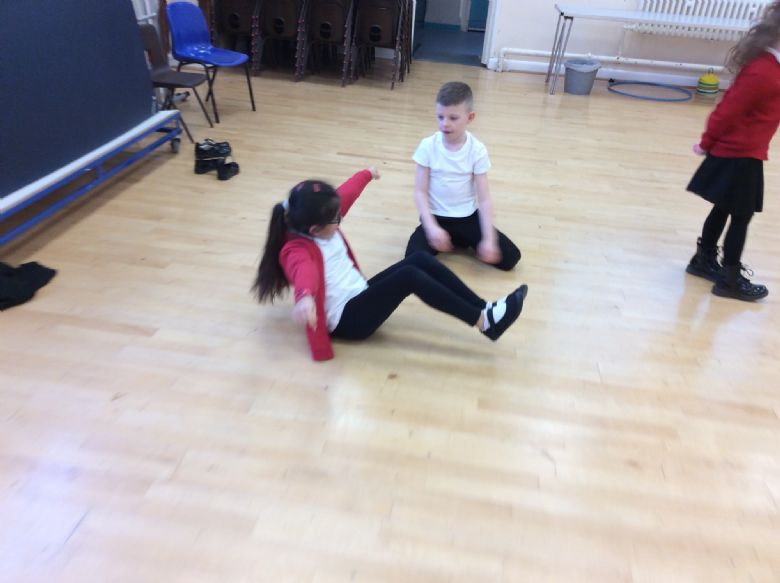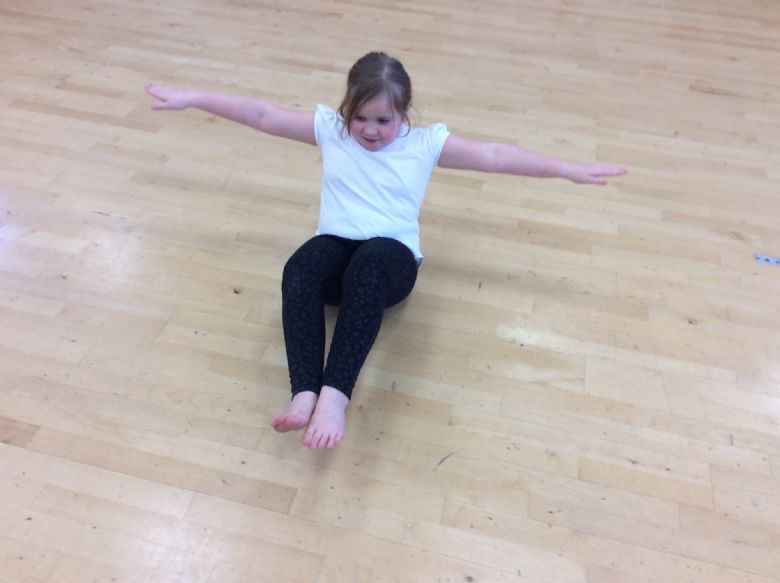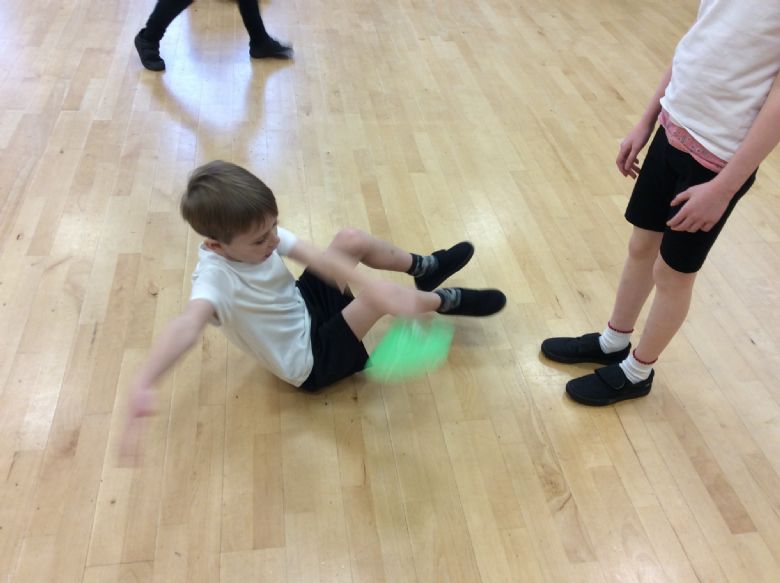 Samuel Pepys Mashup!
This week we have been learning why Samuel Pepys was such a significant individual during The Great Fire of London. Once we had finished doing all of our writing relating to him, we then logged onto an Ipad and our Purple Mash account and became Samuel Pepys. We had a lot of fun pretending to be him!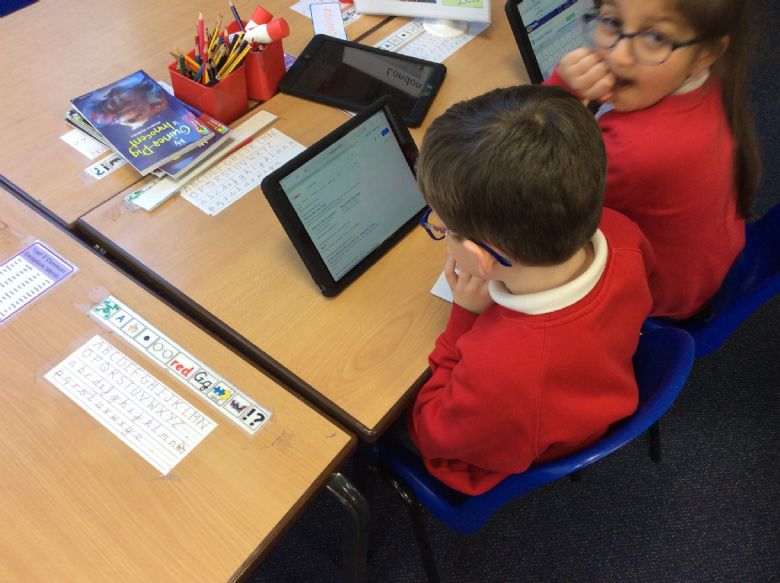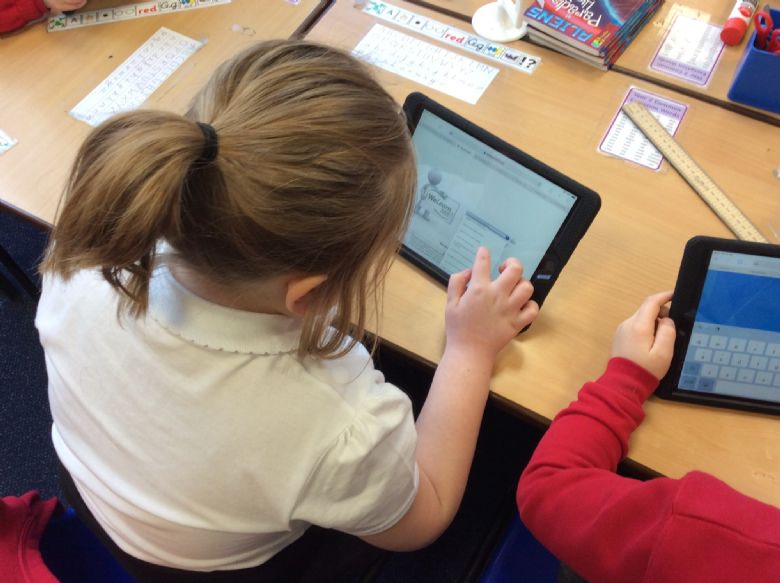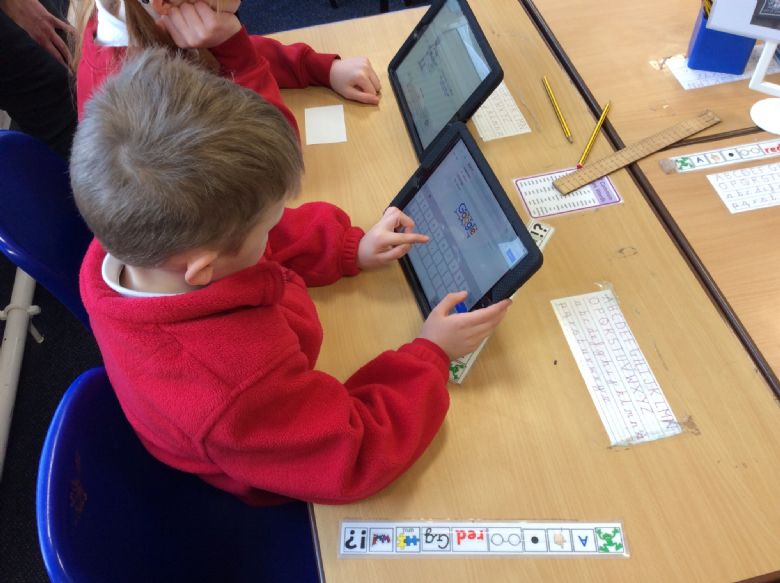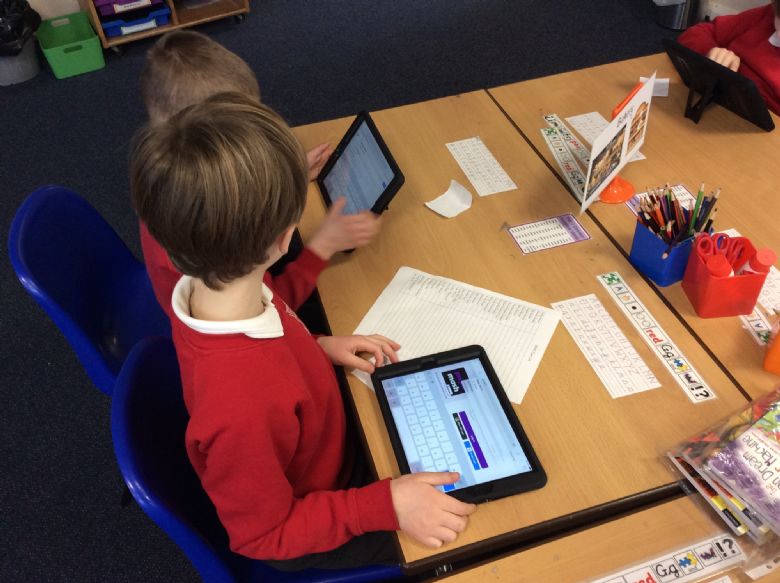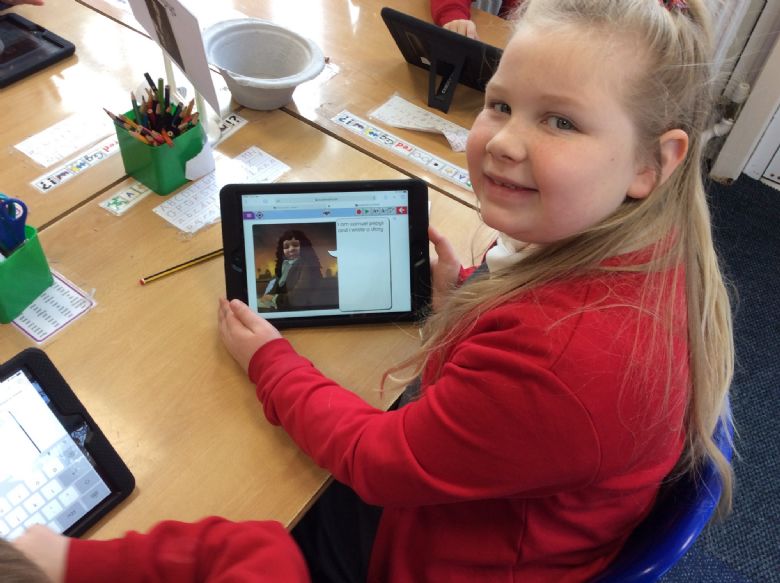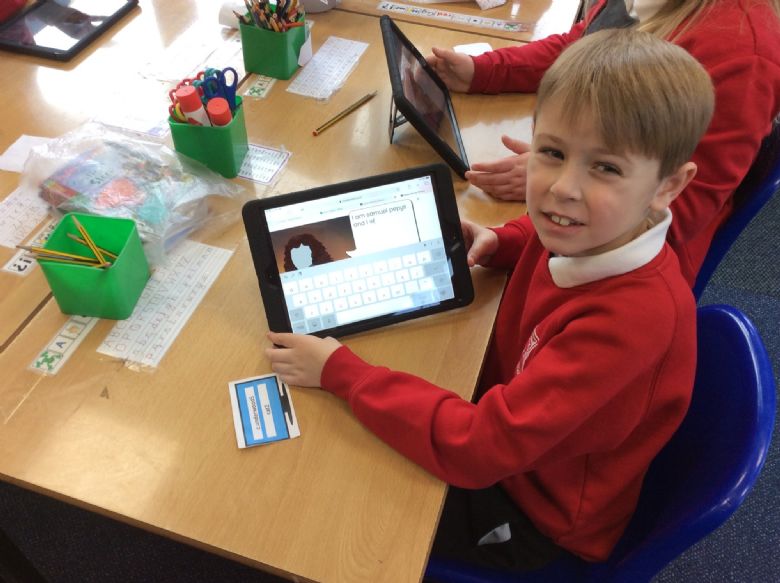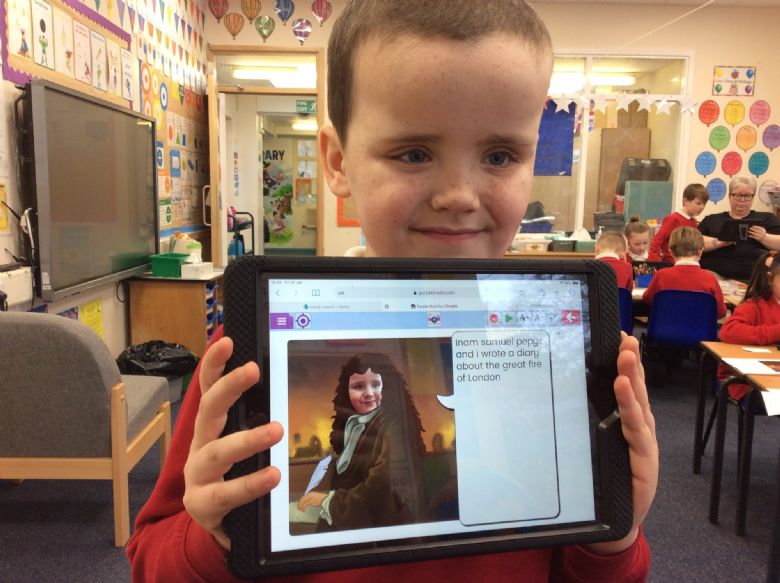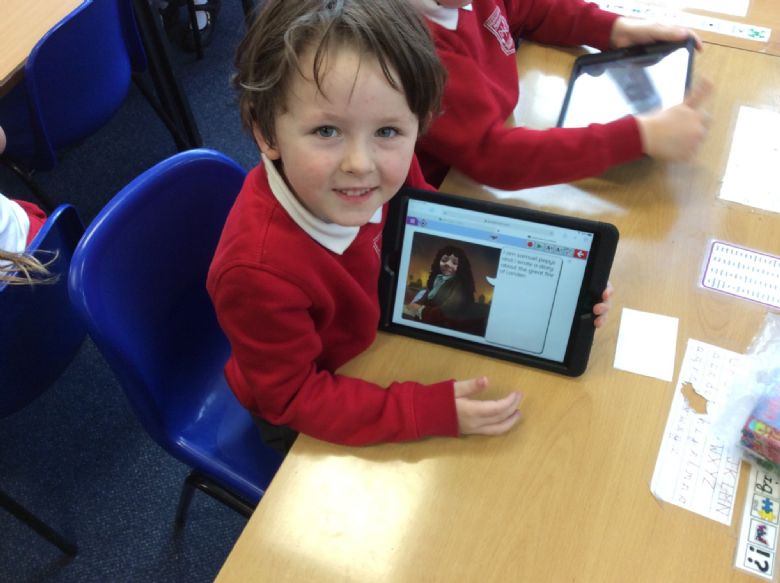 Waterproof Investigation
During our new topic 'The Great Fire of London' we have learnt that unfortunately during 1666 there were no fire services available to put fire out. Therefore, people had to put the enormous fire out by simply throwing buckets of water at it. The buckets were usually covered in a waterproof material known as leather. This then gave us the idea to investigate what other materials we could potentially have used that are waterproof. Once we had predicted what materials we thought would be waterproof, we then tested our predictions out! We wrapped 7 cups in different materials and poured 300 ml of water over each of them. We then watched them for 1 minute to see what happened to the material once the water was poured on top. We had a lot of fun testing our predictions!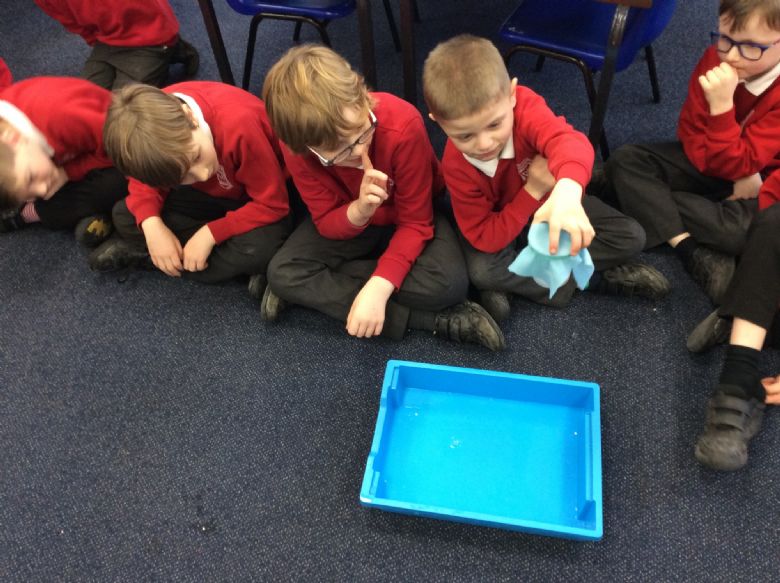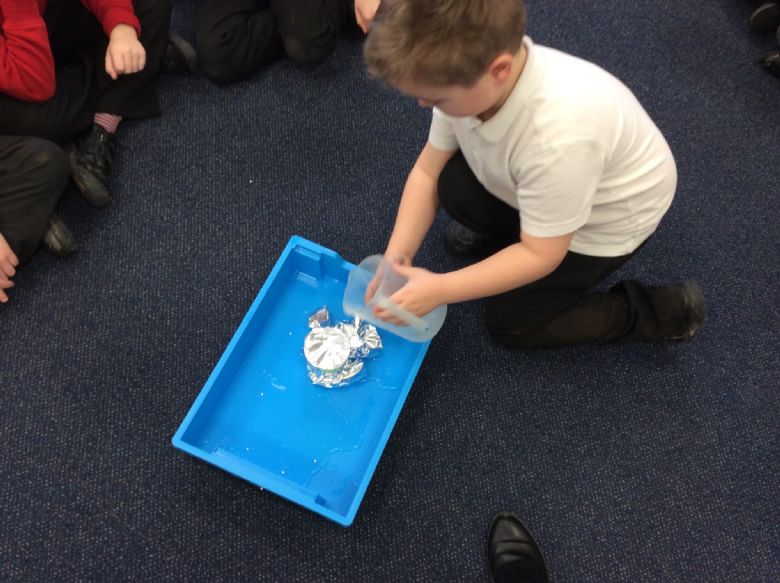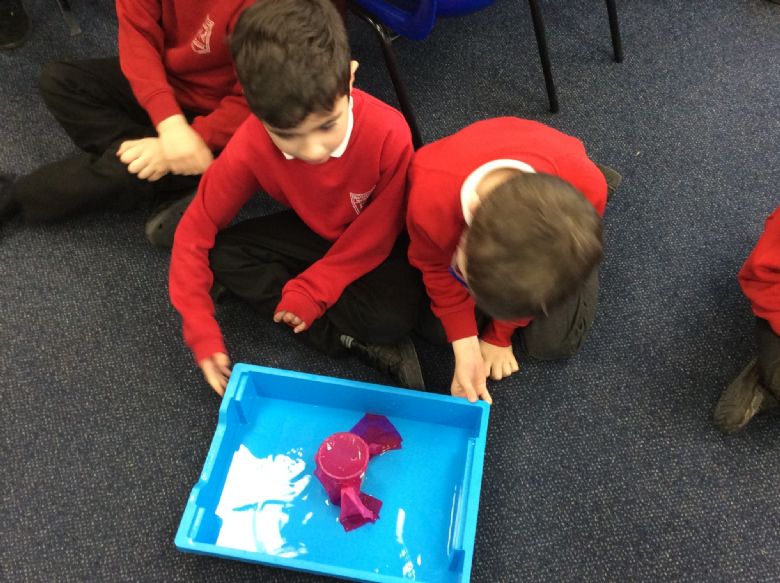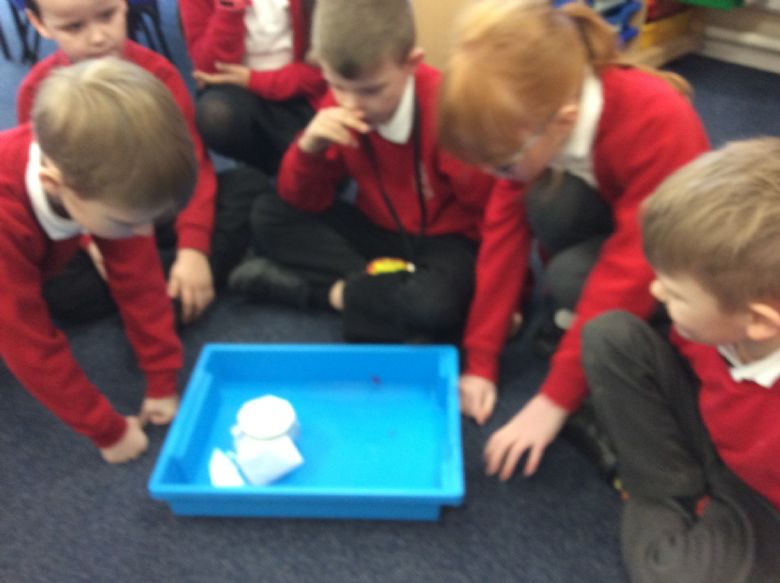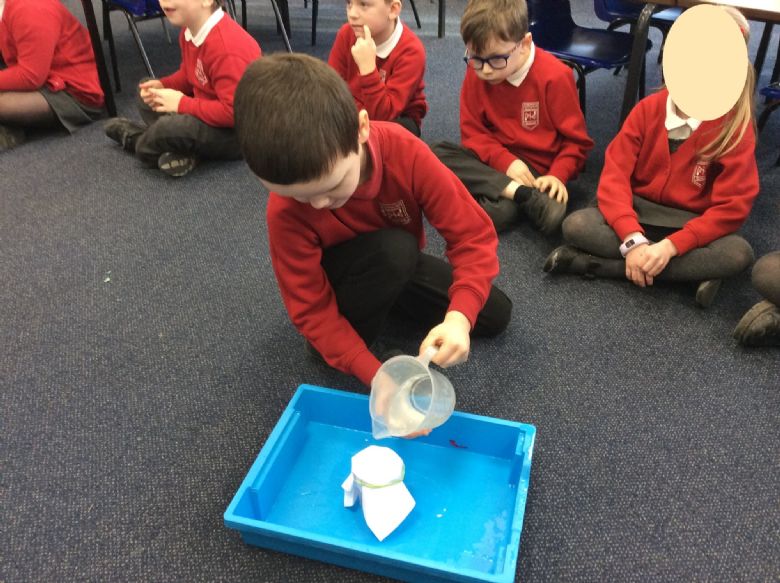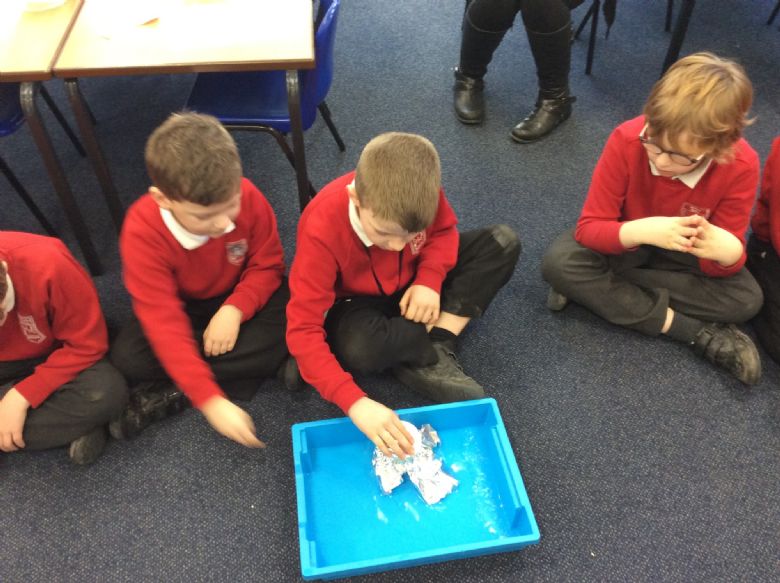 Christmas Performance
WOW 2MCG! You were all absolutely fantastic doing your performances. I am so proud of how well you all sang, spoke, danced and played instruments. Every single one of you tried your absolute best and you all looked amazing. Well done to everybody you are all superstars.
Thank you to all of your parents who helped with learning lines and songs and also for providing some of the brilliant outfits the children wore! Merry Christmas everyone!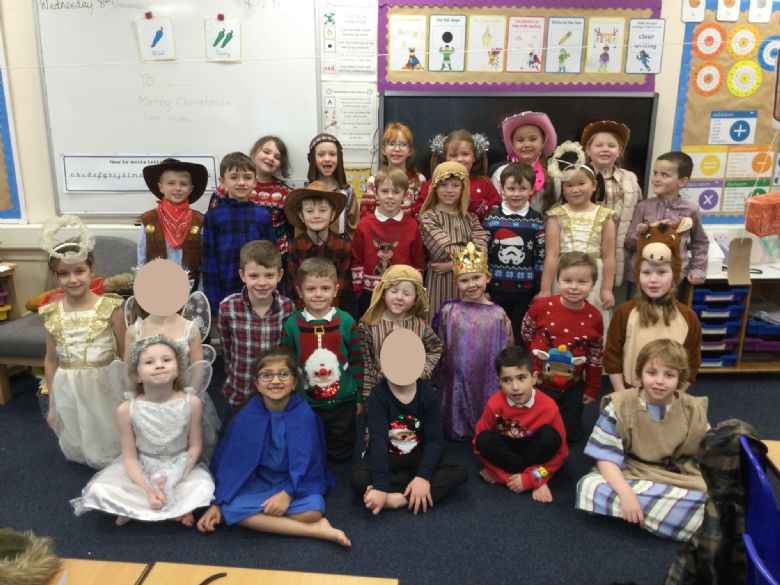 Class Treat!
On Friday not only did we have a great day dressing up for Children In Need, but we also had a great day because we got a class treat! Last half-term (September - October) we won best class attendance so Mrs Forshew said that we could have a film afternoon. We all voted to watch Despicable Me 2 and whilst we were watching it we ate lots of popcorn too! Well done 2McG- lets see if we can win the best attenders again!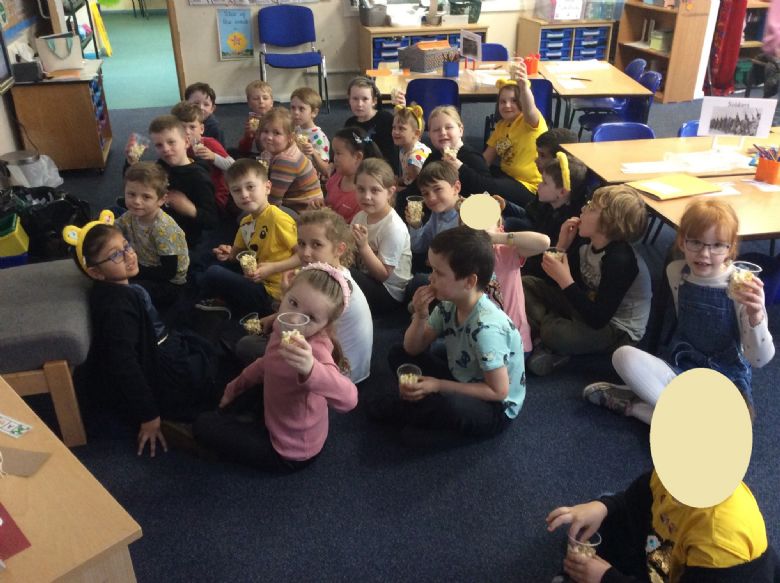 Anderson Shelters
This week we have been busy designing and then building our own Anderson Shelters. The design brief was to make the strongest Anderson Shelter we could using recycled materials. Some children chose tin, cardboard and even wood. They worked really well together to create strong Anderson Shelters. Next week we are going to complete a fair test and drop a bomb (a weight from 1 meter) and see how strong the Anderson Shelters we have created really are.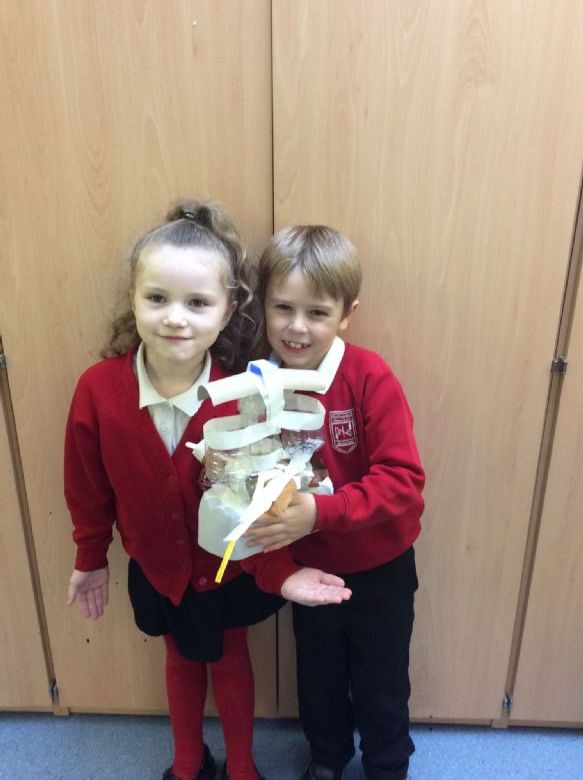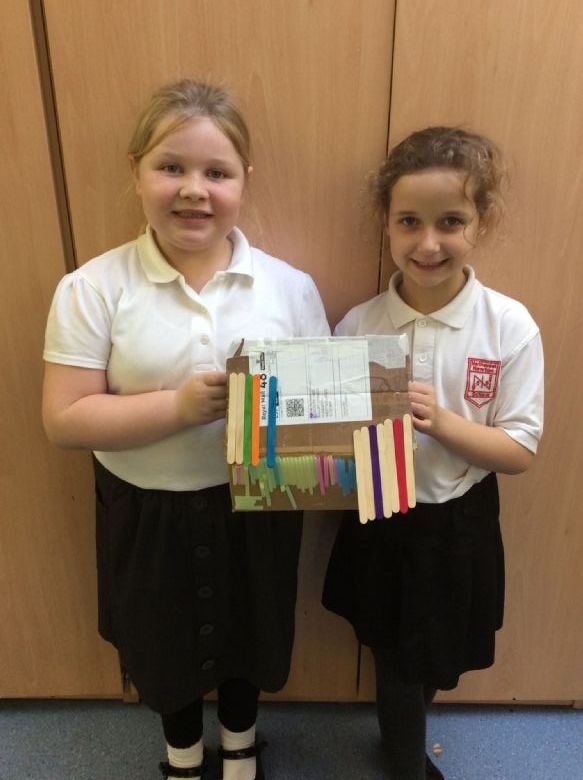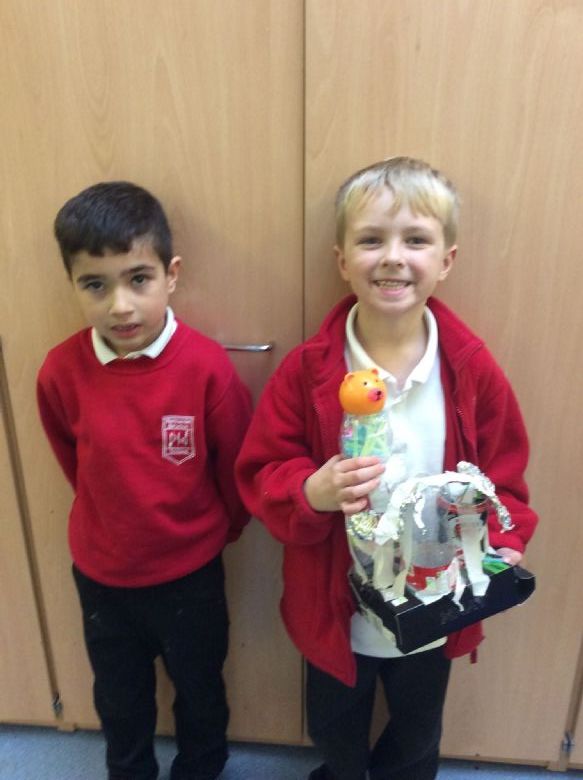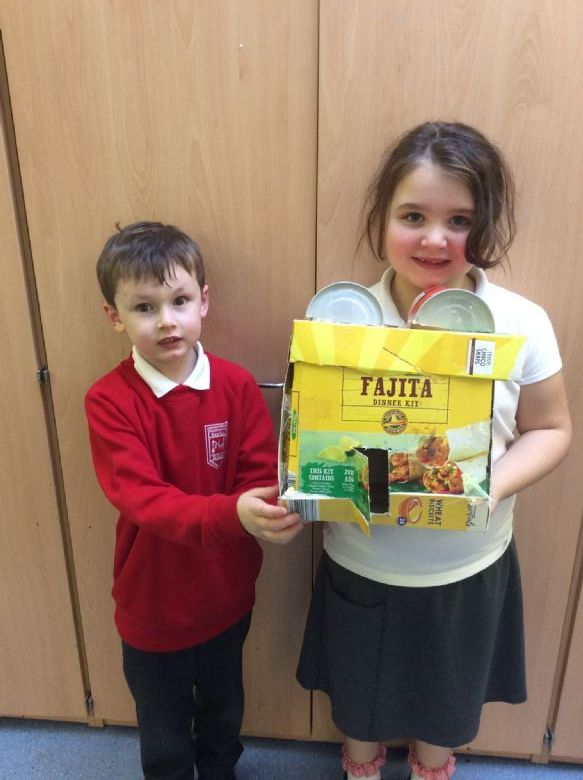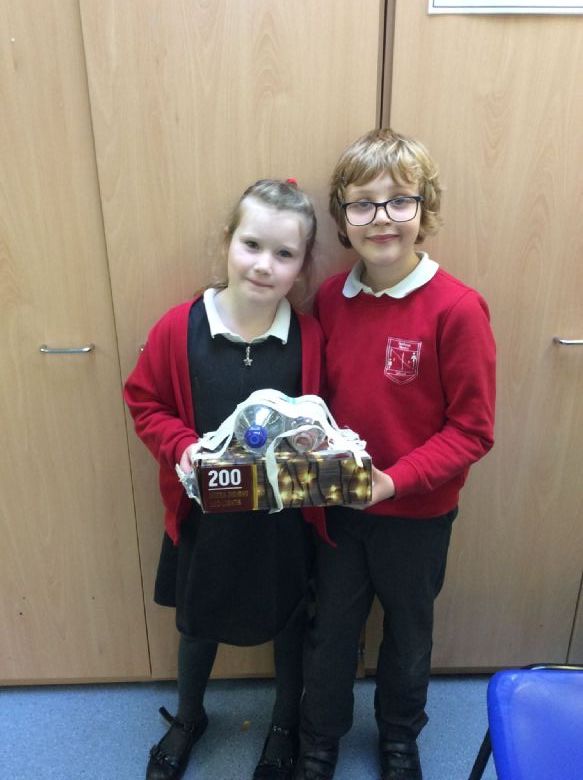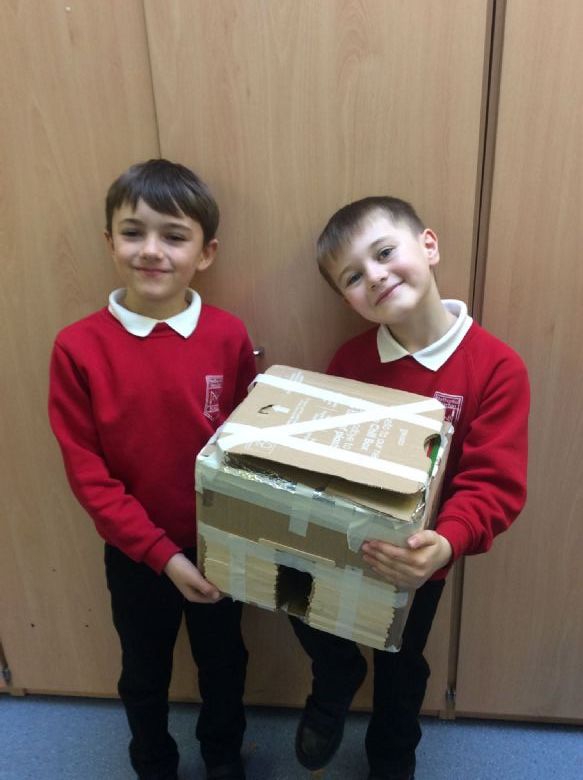 Gas Mask Boxes
This week we have been creating our very own gas mask boxes, as during the World Wars it was essential that everyone carried a gas mask with them. We started off by firstly cutting out the cuboid net. Then we coloured in it in brown and began folding it. When everything was folded, we then glued it all together and attached string to it so that it can we worn around our necks. Finally we attached a name tag so that if it ever got lost it could be returned to us.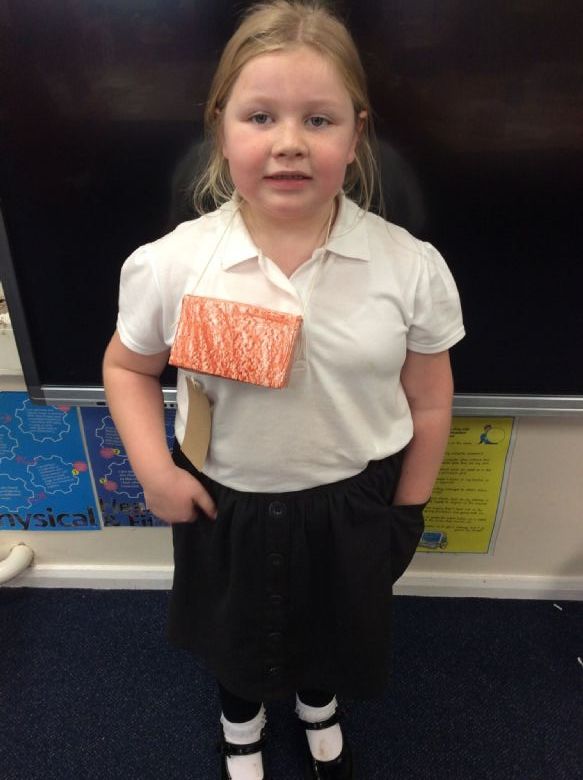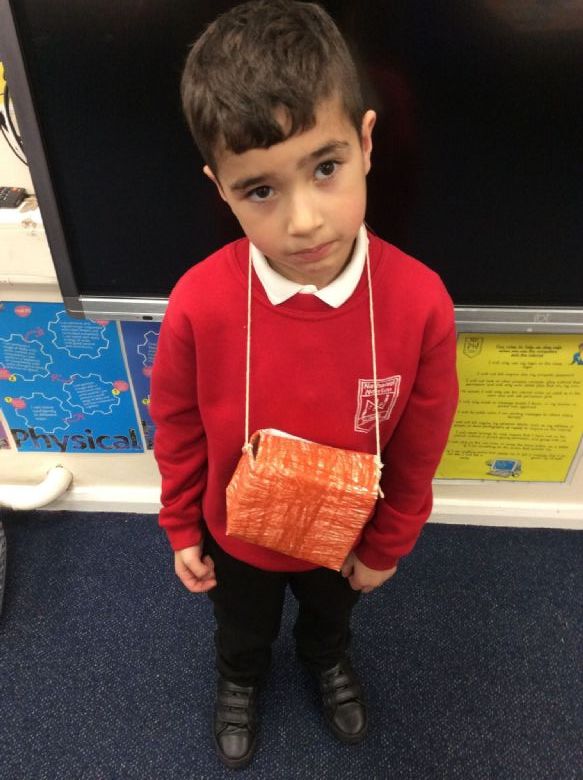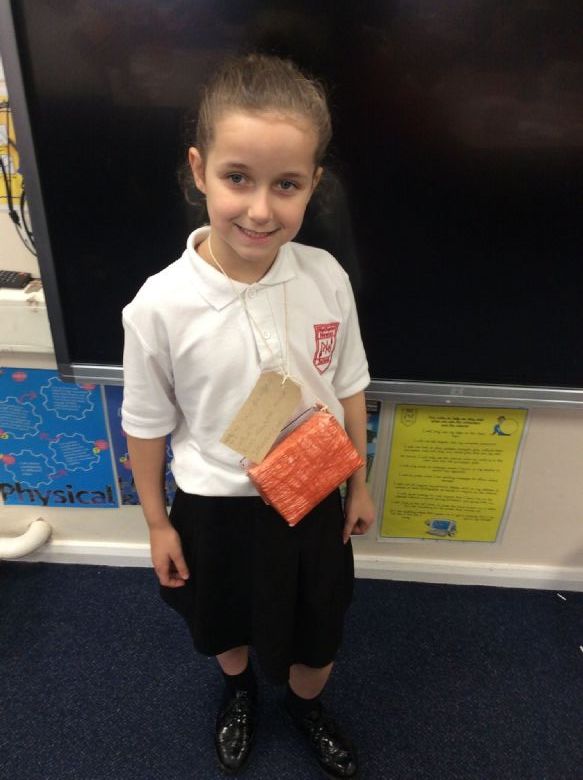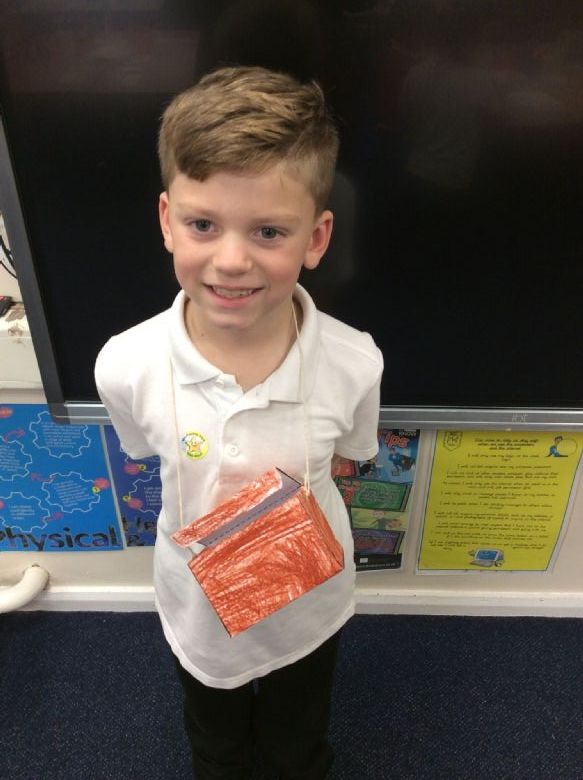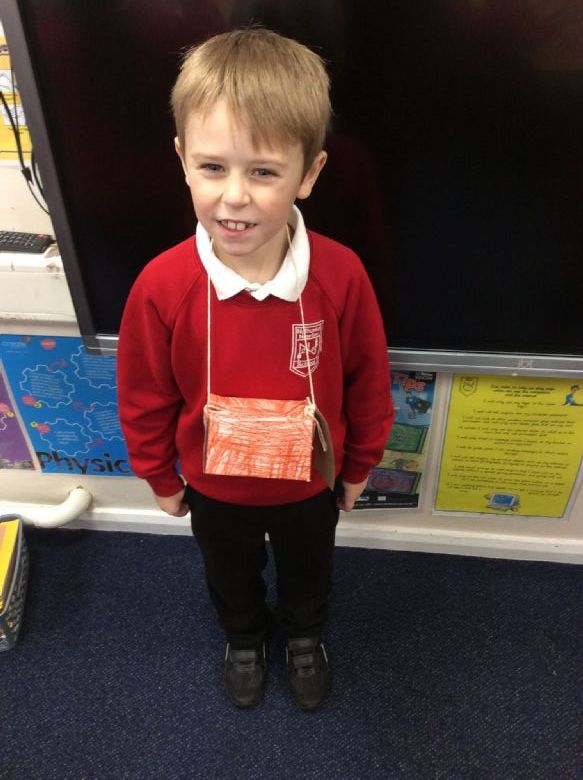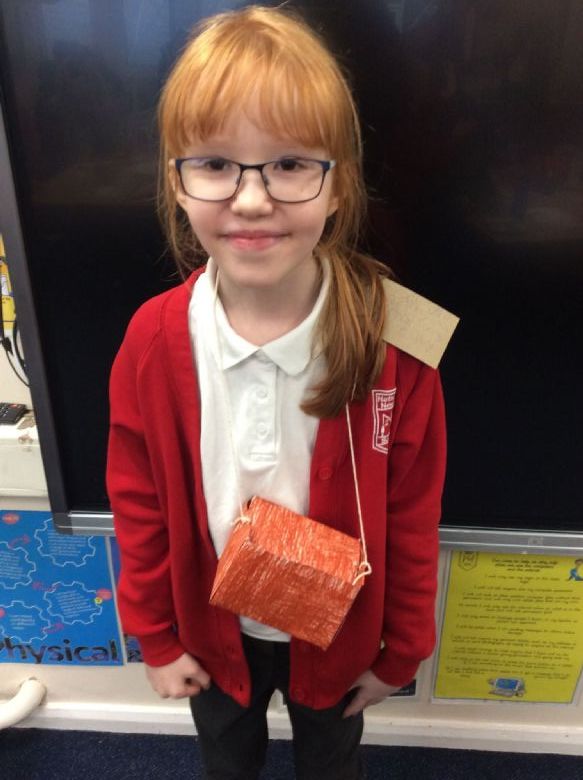 Evacuee Suitcase
Today we have been learning about what happened to the children who were in the War. We discovered that many of them who lived in the cities, were sent away to the countryside to live with another family. They were allowed to take one suitcase with them filled with things that were important. In class we had a discussion about the different items we would take if we were evacuated from our homes and sent somewhere else to live. We then created our own suitcase filled with possessions and have then written sentences about why we would take these items with us.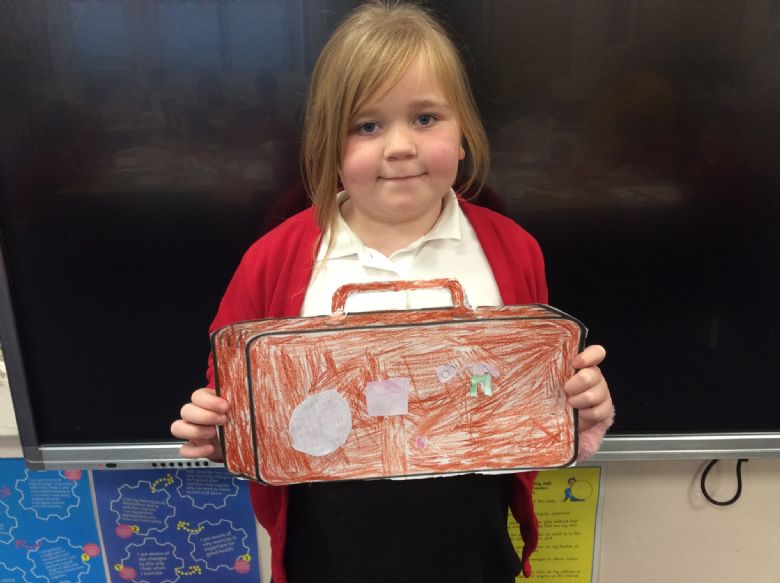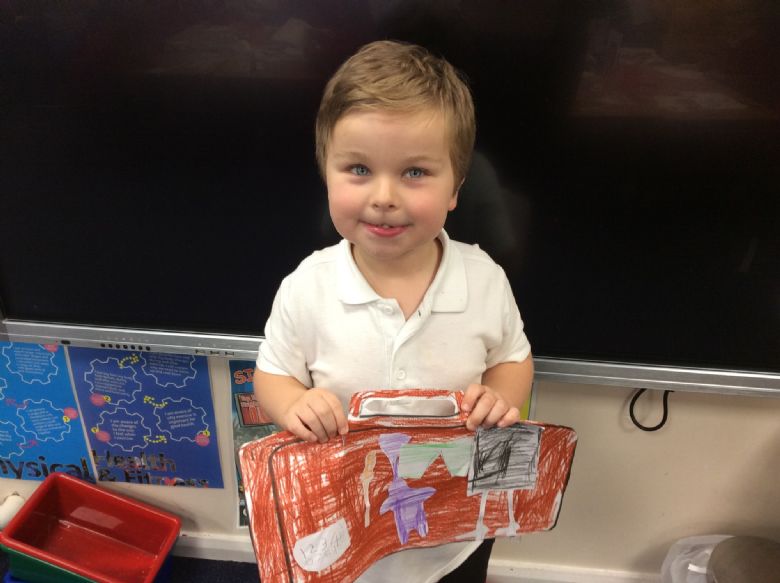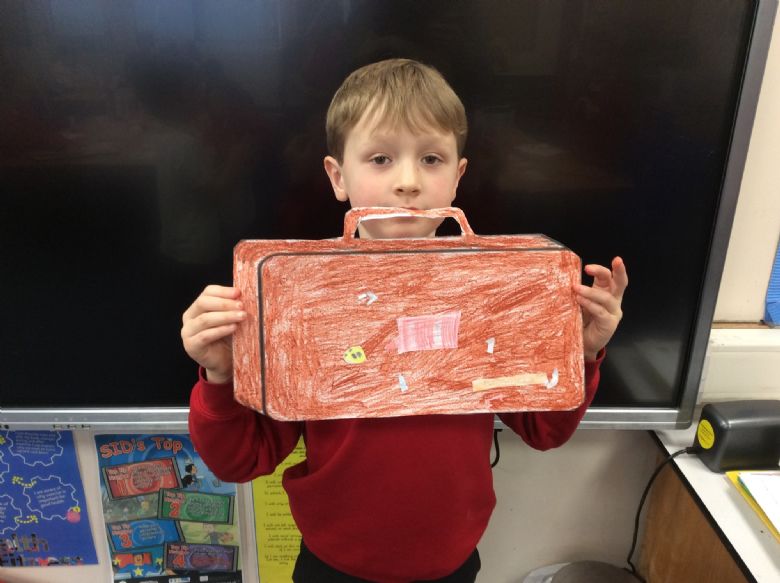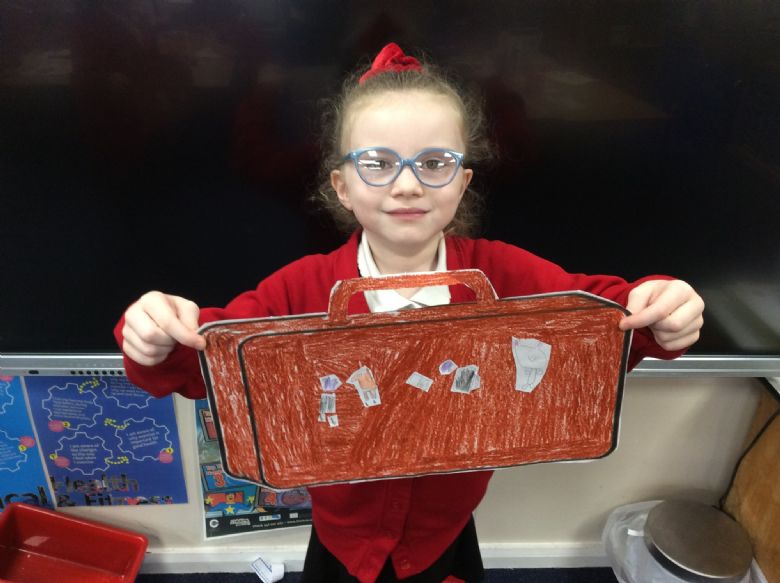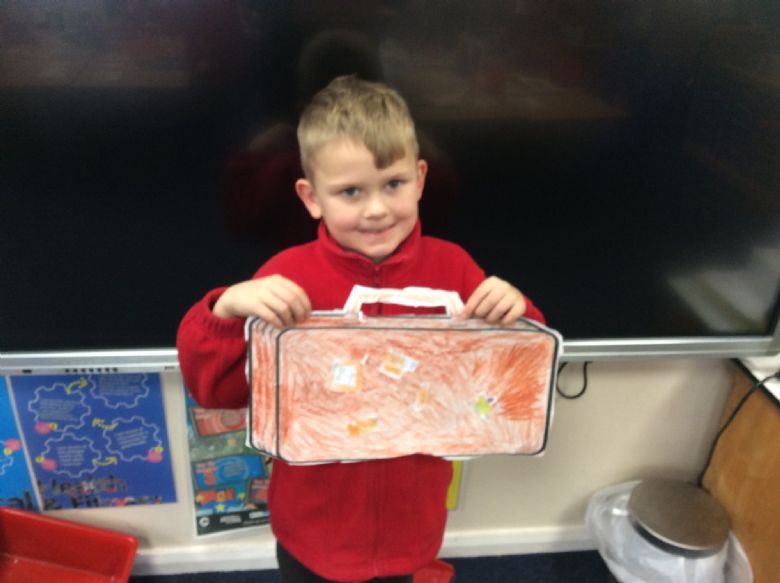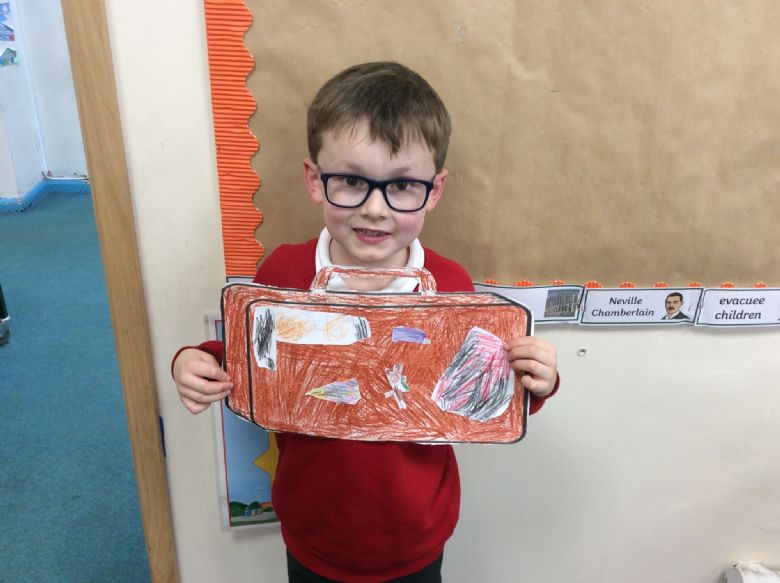 World War II Helmet
In our topic box, there was a helmet that was worn by a solider in World War II. We all got the chance to wear it and some of us found it quite heavy to wear as it is made from metal. We discussed why we thought metal was a good material for the helmet. Also we discussed why the soldiers needed to wear the helmets too and how hard it must have been for them to wear them all of the time, especially as they are so heavy.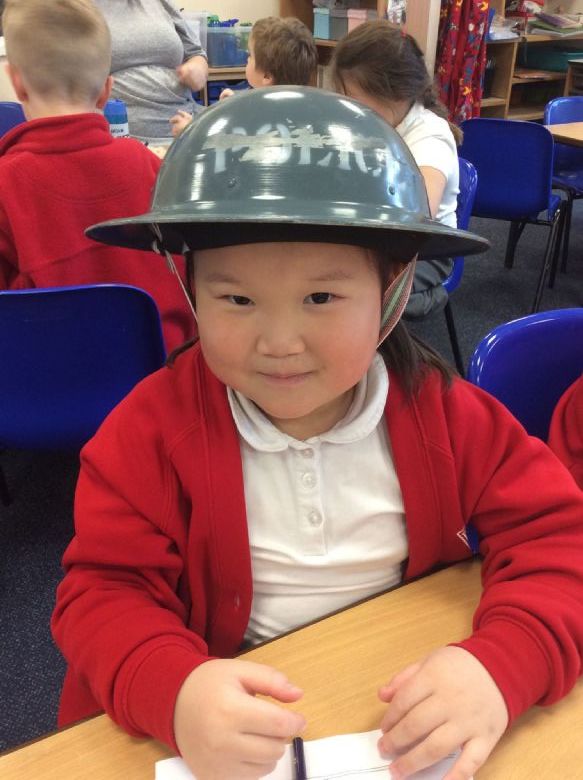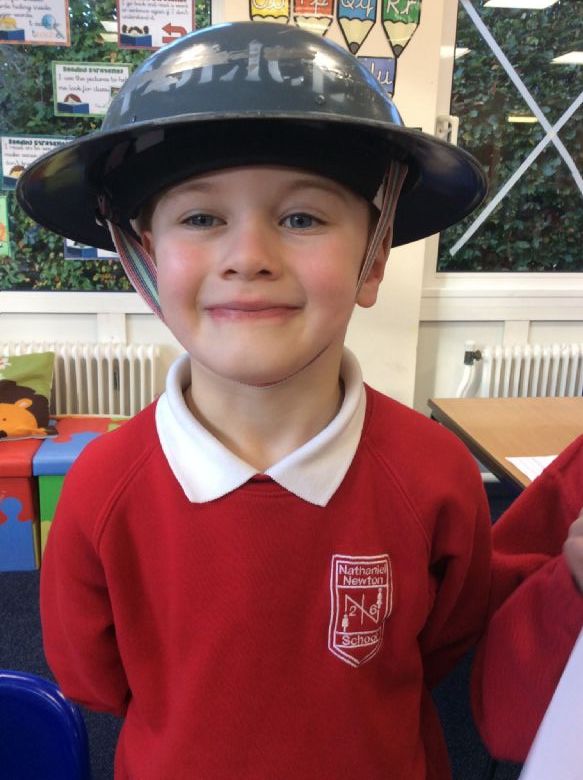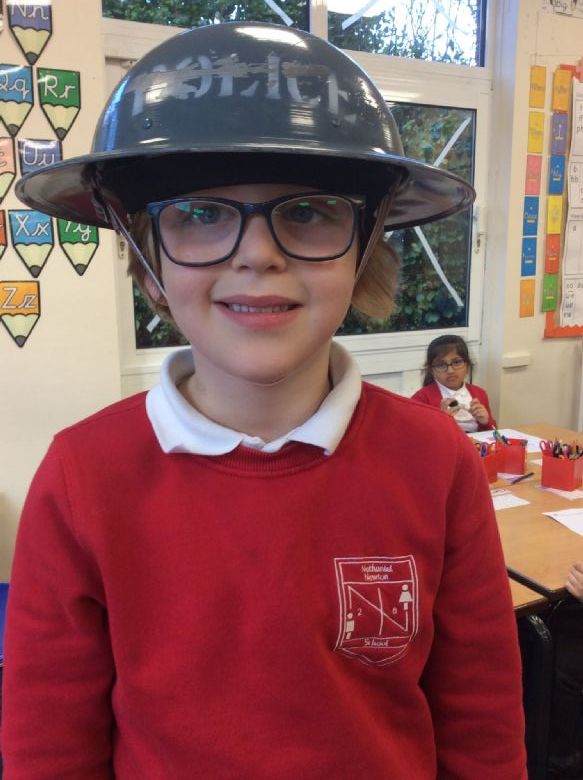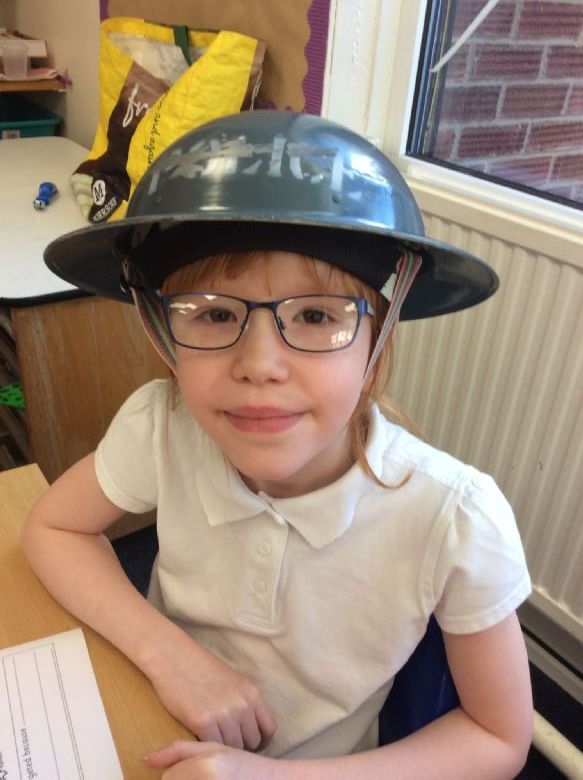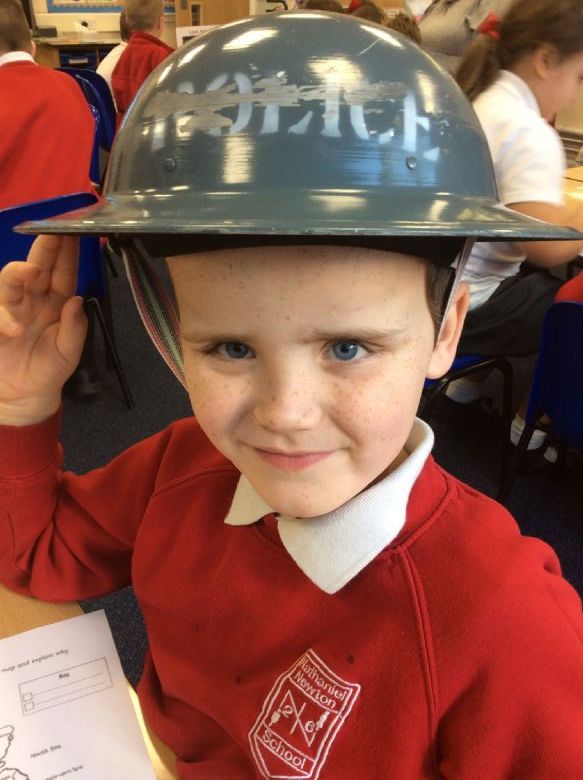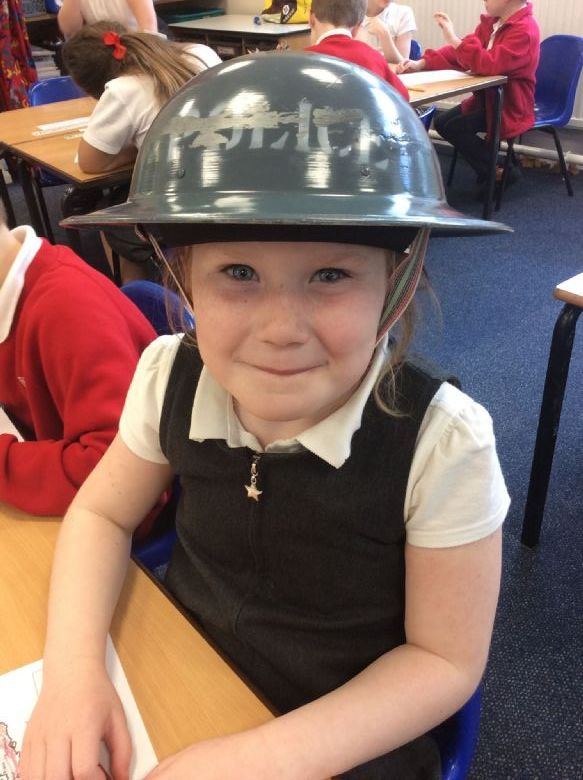 Identity Cards
In World War II people were given identity cards to prove who they were. To prove who we are, we have created our own identity cards, which we have put in our draws, so that we can prove our identity to any of the other teachers and children!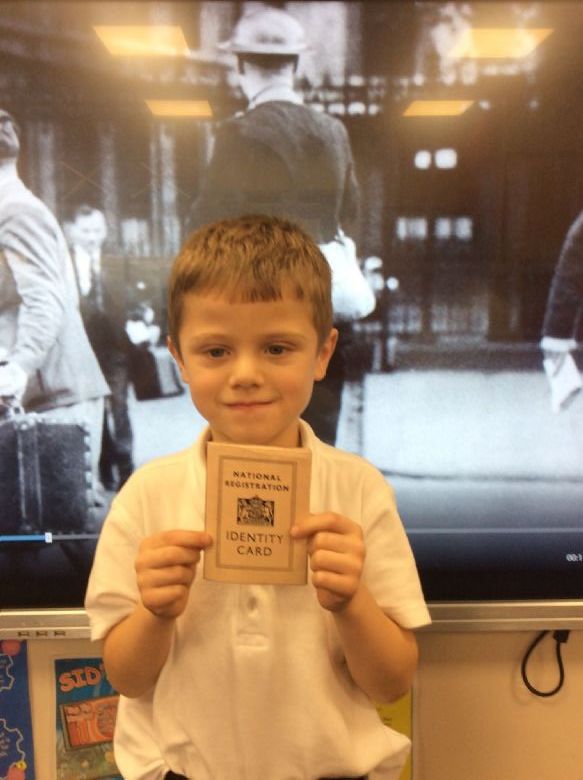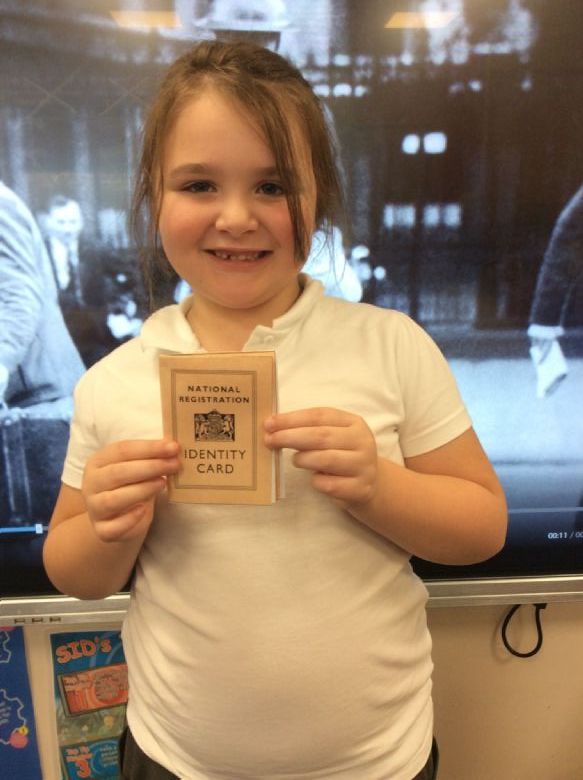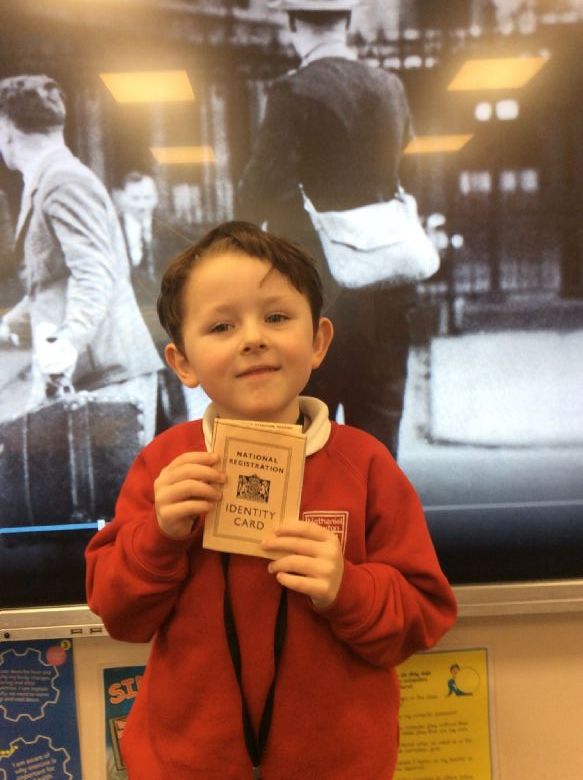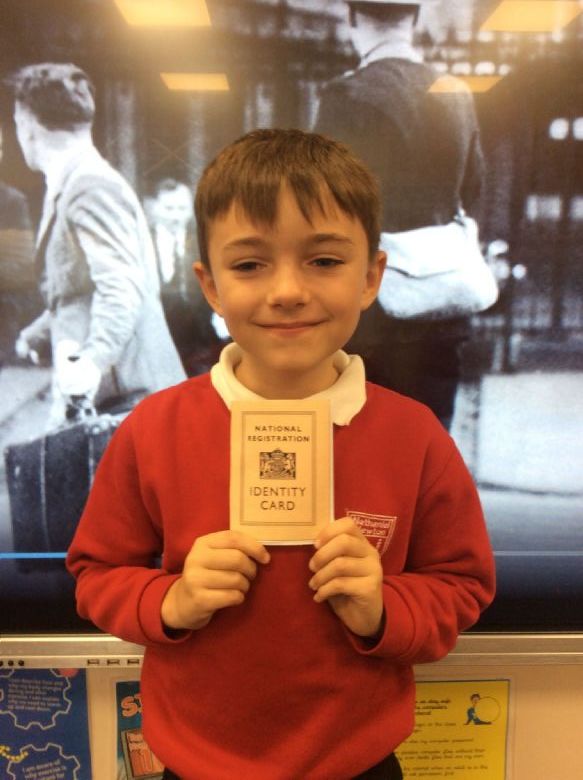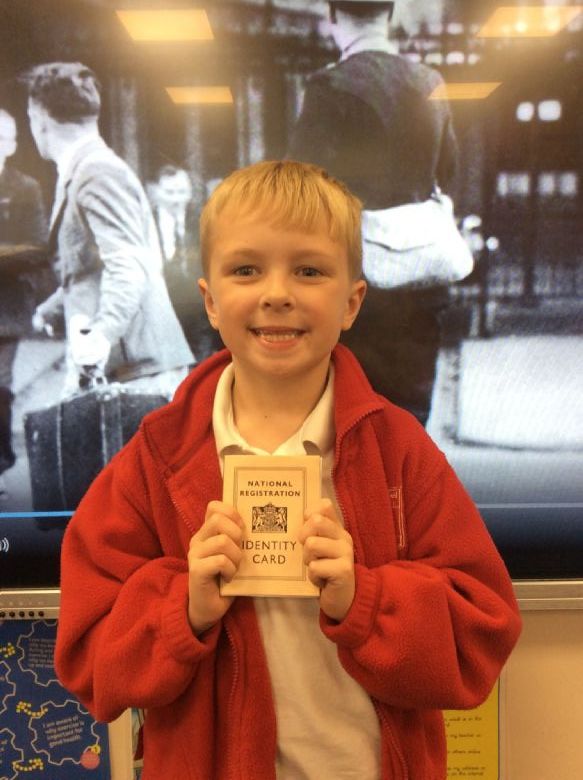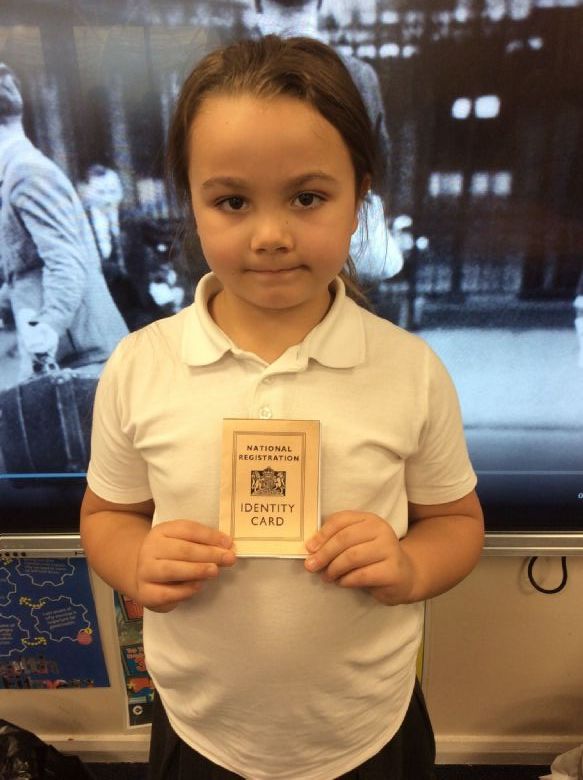 Air Raid!
This half term our topic is all about World War II. Today we experienced what it would be like during WW2, The Blitz. When the air raid siren began we had to quickly take shelter and hide under the tables to keep safe. We knew it was safe to come out when we heard the siren for the second time. The children were also fantastic at noticing how the classroom windows all had tape on them. We discussed how something similar was done during the war to try and stop as much glass as possible from hurting the children when a bomb was dropped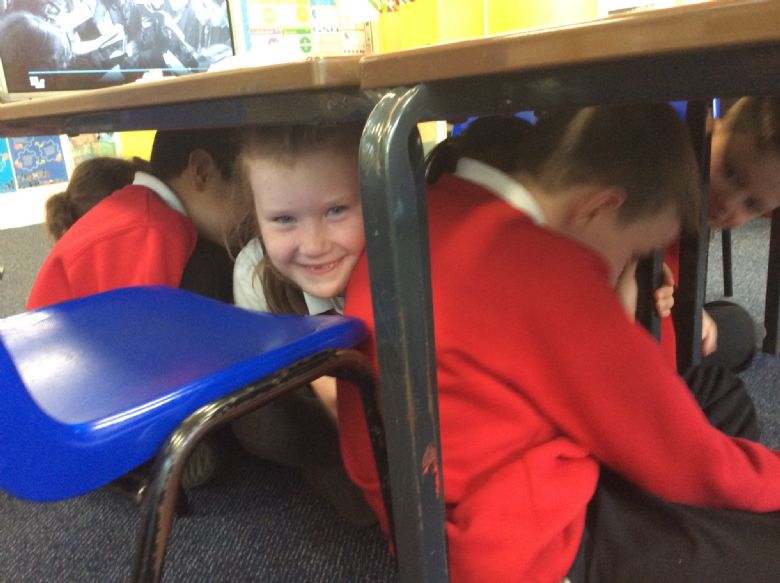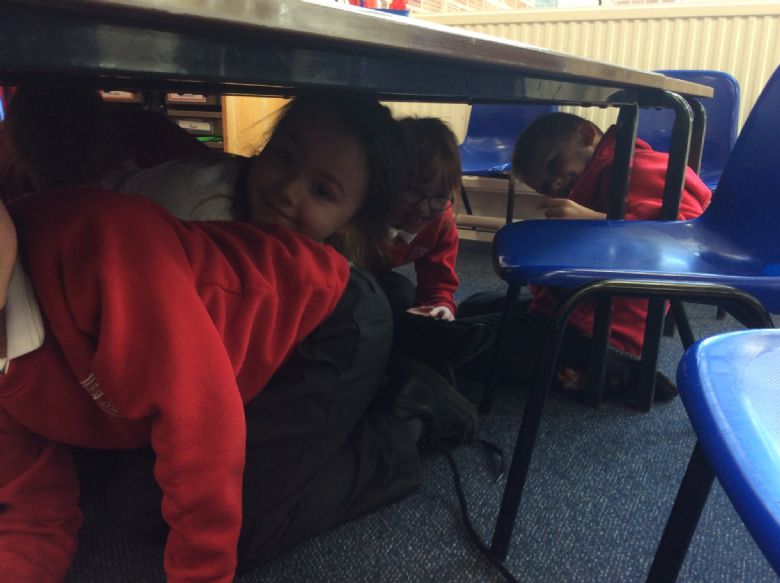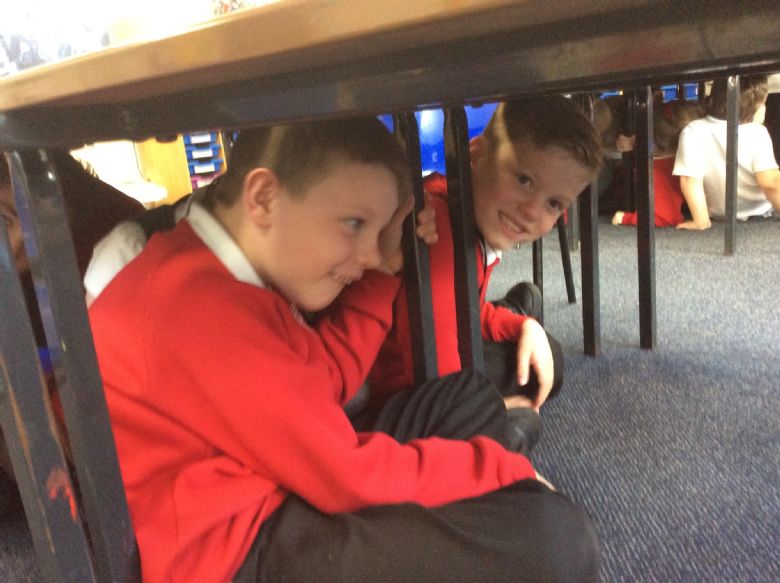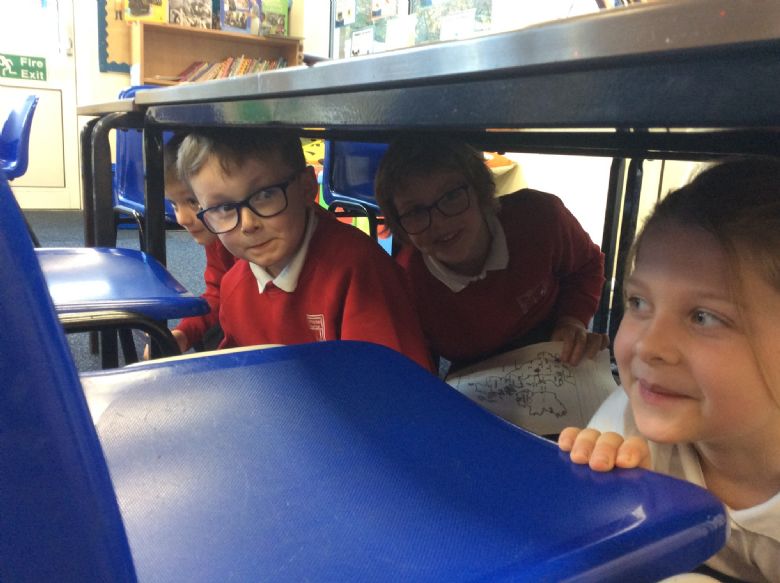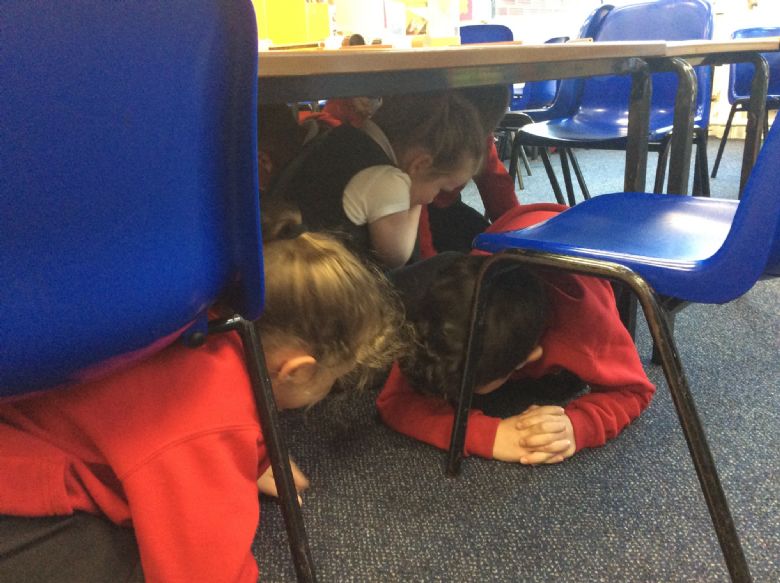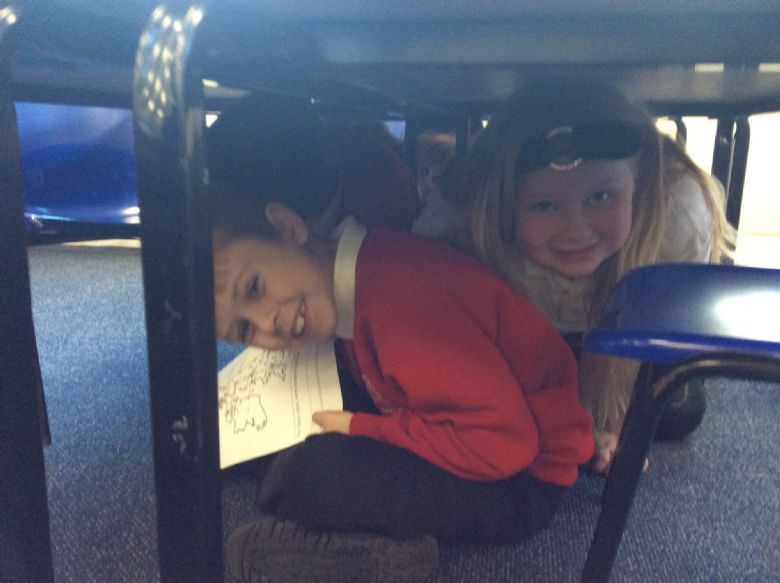 We have made a fantastic start to Year 2 and I am super proud of how well all the children have settled into Year 2. Below are some brilliant work that we have been doing during the first half term!
Mandarin Writing
As we have been learning about the country China during our topic, we thought that we would have a go at writing our name in Mandarin. We decided to write our name in Mandarin because in China the main language which is spoke is Mandarin. We also discovered that in China they do not have letters like we do but instead characters!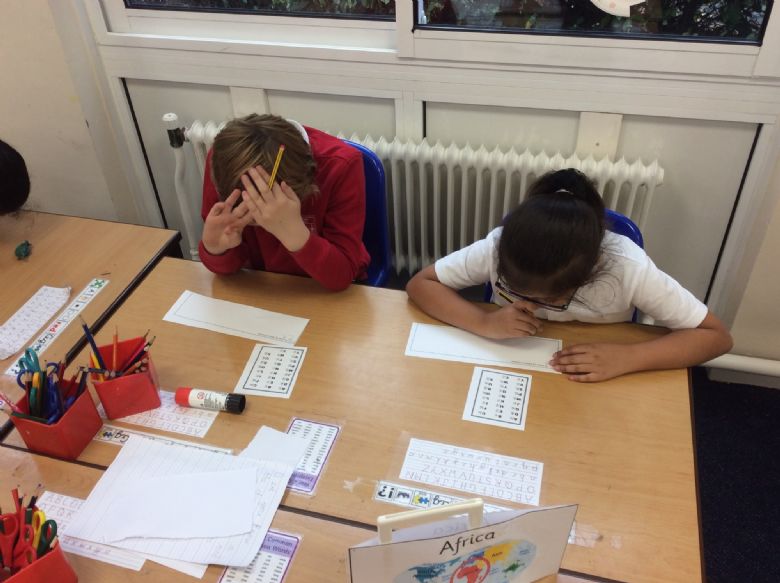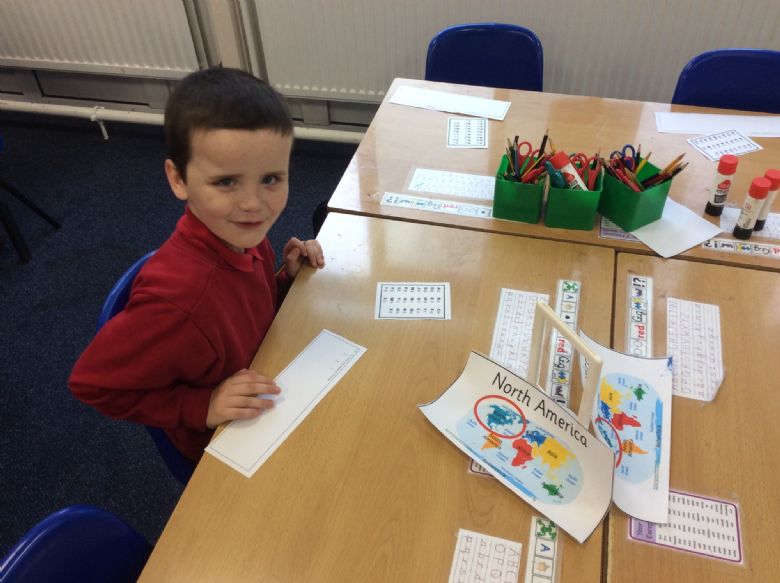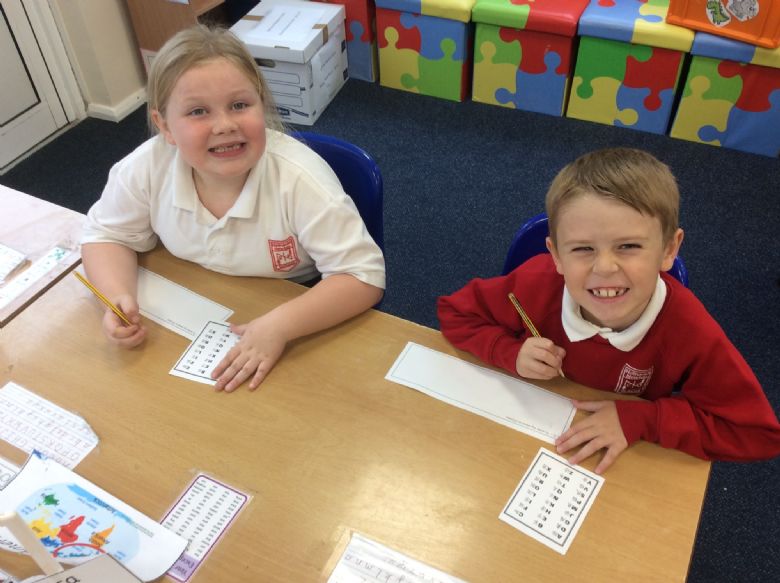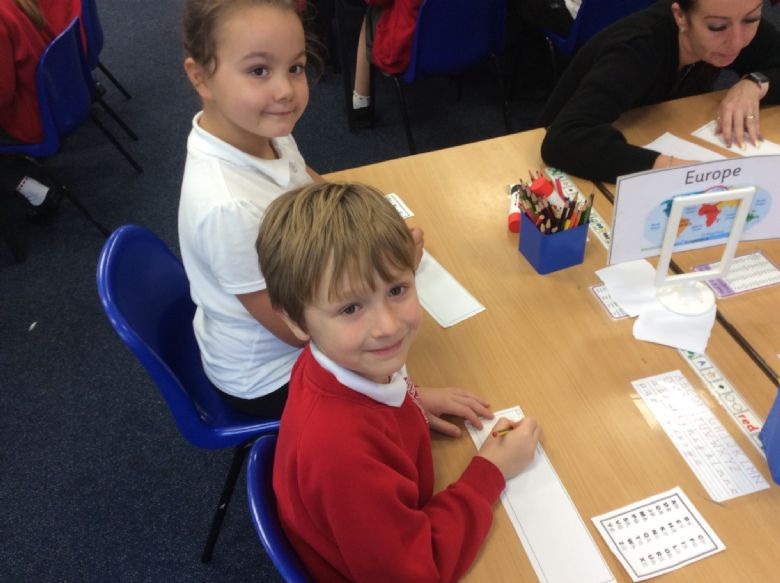 Giant Pandas
During our learning of the country China, we discovered that the Giant Panda is a signifiant animal there. In fact any other country that has Giant Panda has borrowed it from China! We decided to create our very own Panda Art work. Firstly we painted the background in green to create grass. Afterwards we then followed a video to help us draw the outline of the panda and then used wax crayons and cotton wool to add detail to the panda.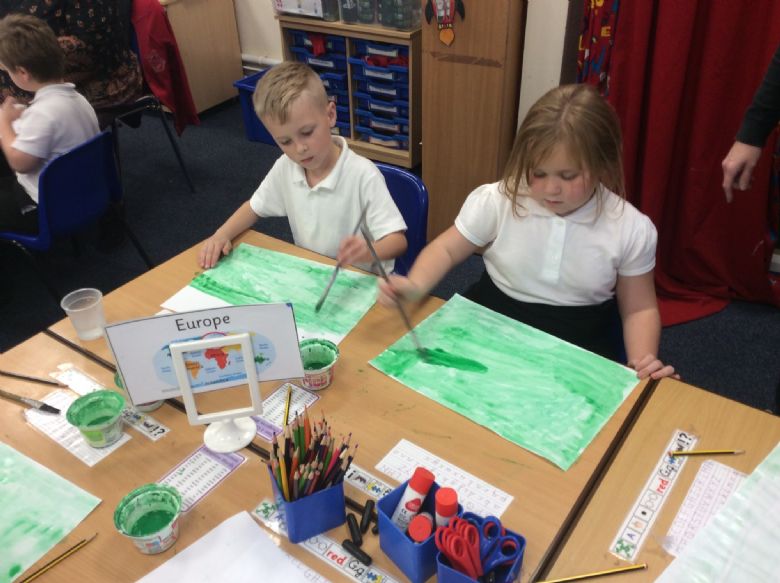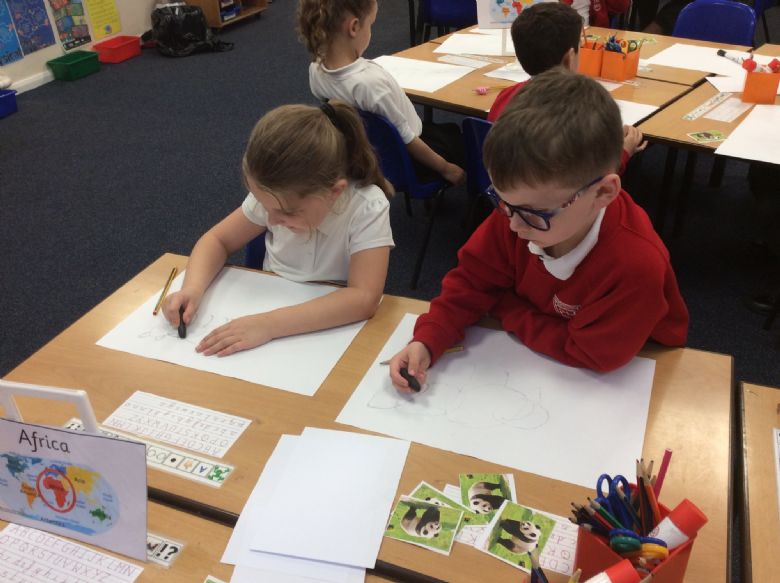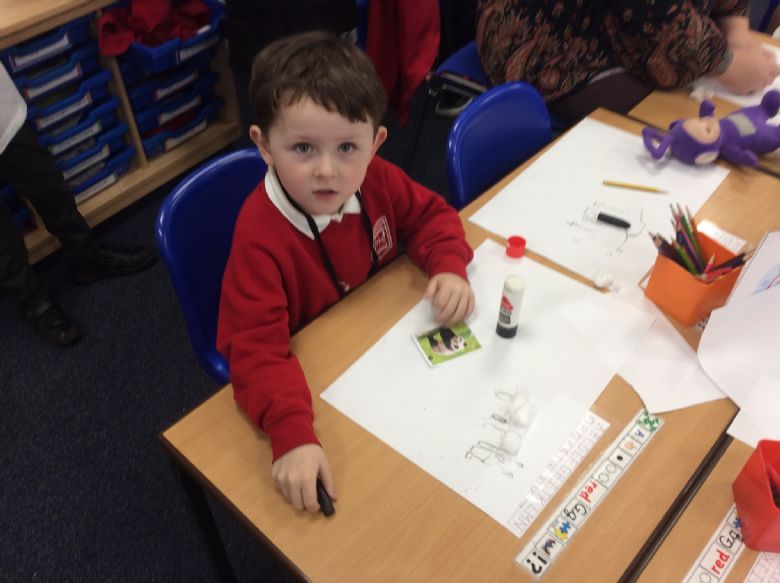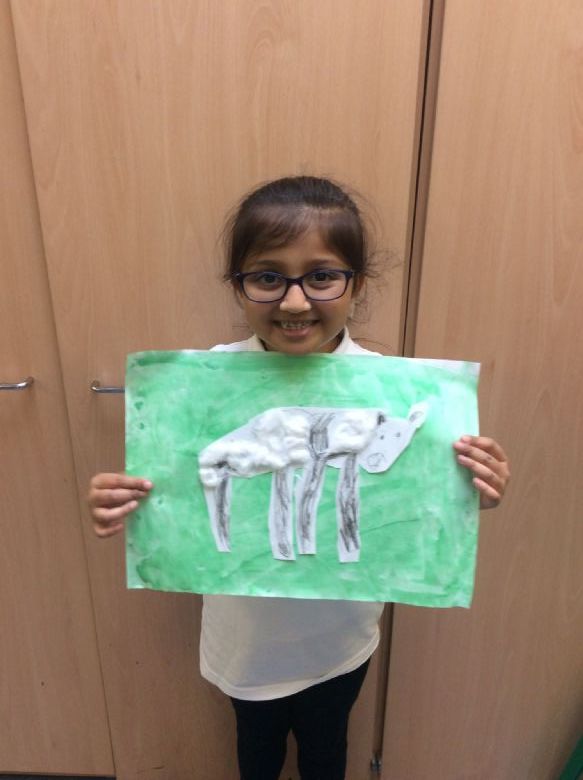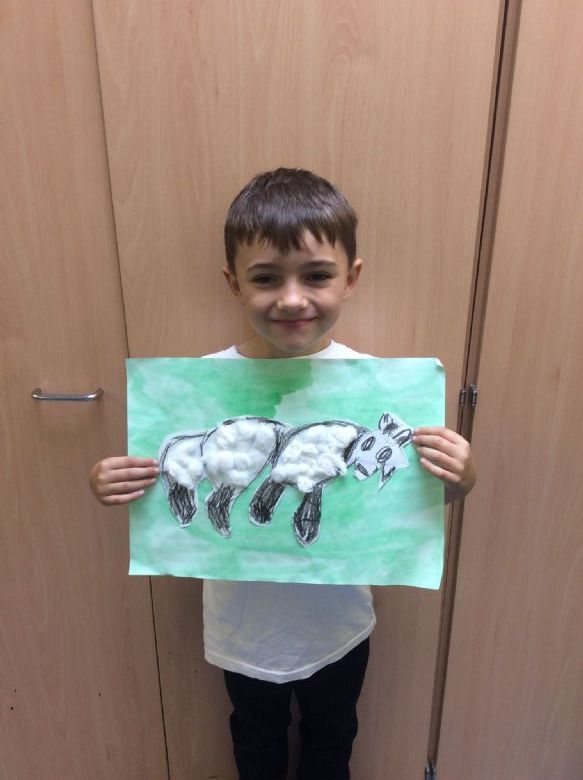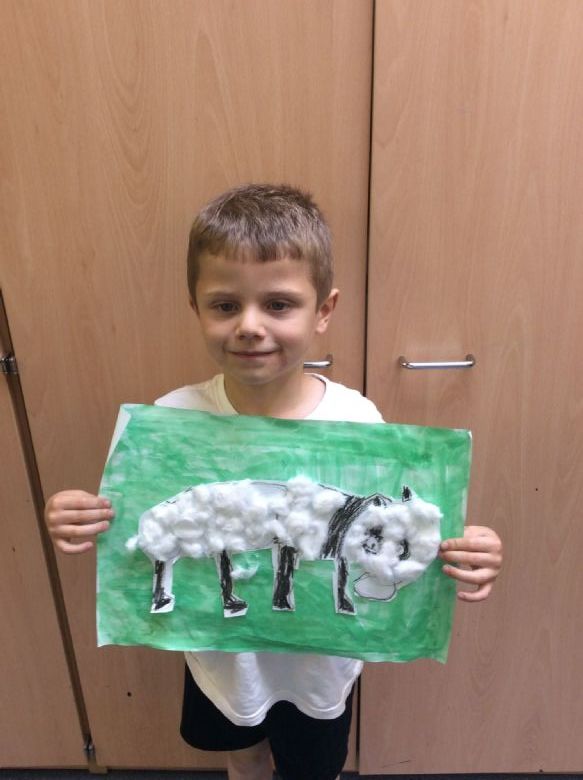 Food Chains
During our topic we have been learning about Food Chains. We have learnt what the words: producer, prey and predator mean. We have also been able to create food chains from knowing the definitions of these words. For example we know that plants and grass our producers because they produce their own food.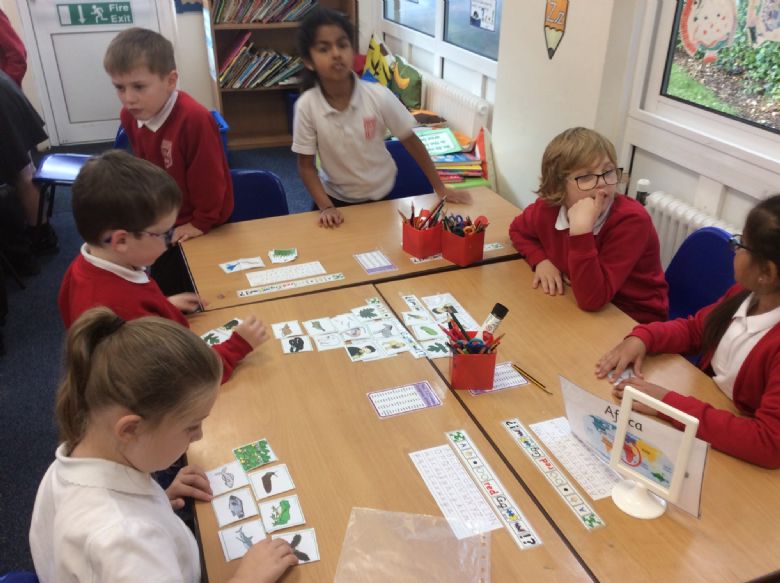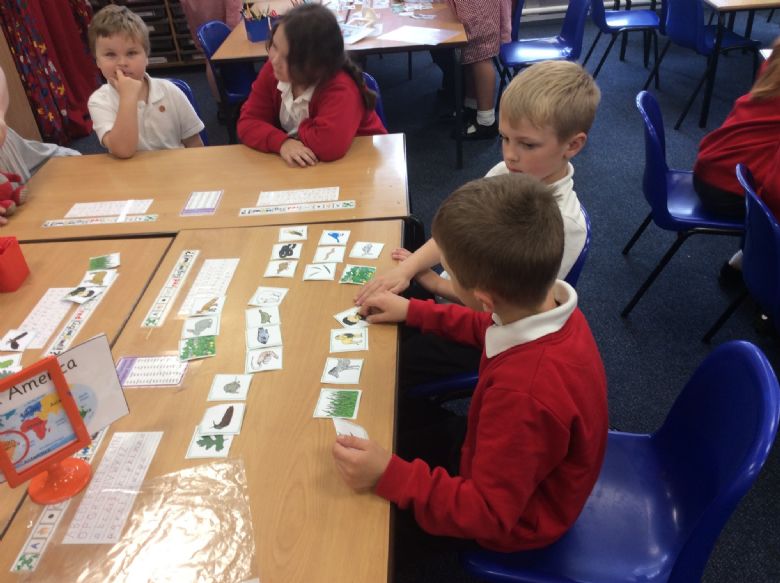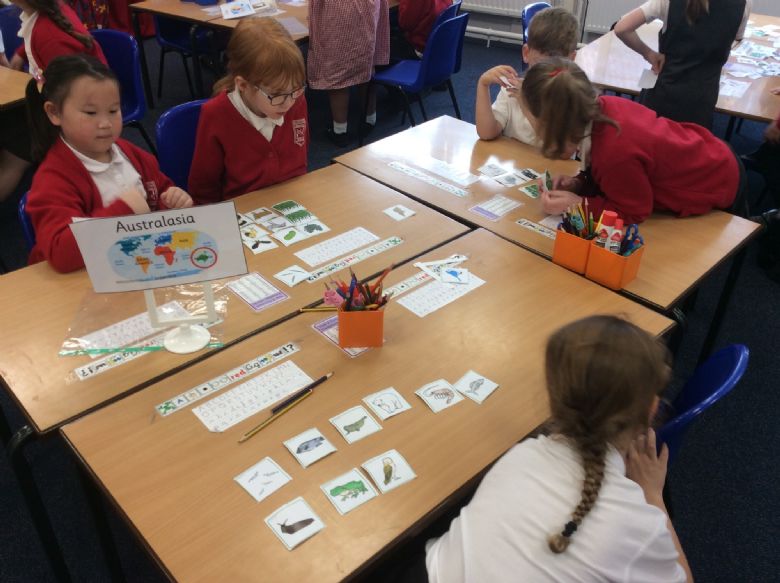 Globes
To start our brand new topic, Antarctica and Asia we have created our very own globes. We firstly identified the 7 continents so that once we had created and painted our paper mache globe we could correctly place them on the globe! We had lots of fun making our paper mache globe and loved gluing the newspaper and kitchen roll to the balloon.