In this section...
Extended Services
The School provides a range of services and activities beyond the school day, to help meet the needs of the children, their families and the wider community.
We have an extensive range of after school clubs for the children to enjoy. This year we have offered varying activities including board games, non contact boxing, Chinese culture, sewing, football and dance.
The children earn certificates every time they participate in a block of 6 clubs. These are presented at the end of the lst session of the block of clubs. Children can also work towards bronze, silver, gold and platinum medals.
Reception children are invited to join these clubs from Summer Term in order to give them chance to settle into school.
Links Day Care Centre
Links operates on the School premises and runs a before school (breakfast) club, an after school club and play schemes during the school holidays. A variety of activities are on offer at Links - further details are provided later in the prospectus.
Please click the link for more information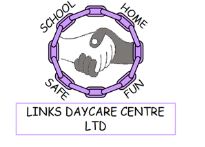 Adult and Community Learning
Courses take place throughout the year usually to help parents and carers understand what their children are taught in the first few years of their education. This year for example we have facilitated courses in Phonics, Literacy and Maths. We hope to extend the range of scope of these courses in the future.